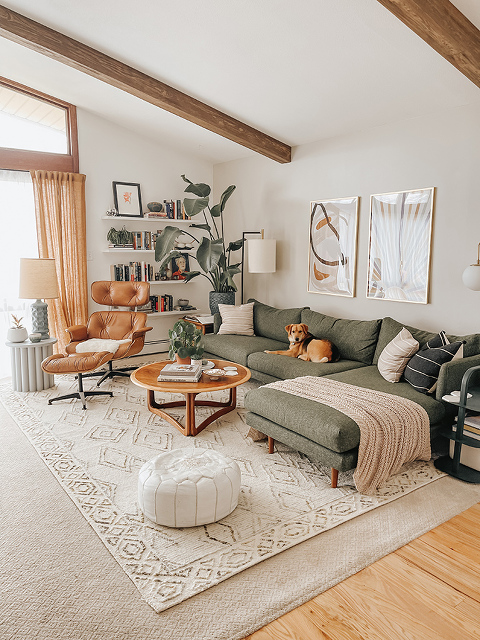 John and I have some exciting household news to share—we adopted a rescue dog! We've been talking about adopting another rescue since our dog, Rocky, passed away back in 2020, and with the loss of our sweet 15-year-old cat, Luna, earlier this month, it just felt like the timing was right. We love opening our home to rescue pets, and even though it's heartbreaking how little time we really get to spend with our furry companions, there's no question that it's our calling in life to adopt as many as we can while we're on this earth. Cheesy, but true!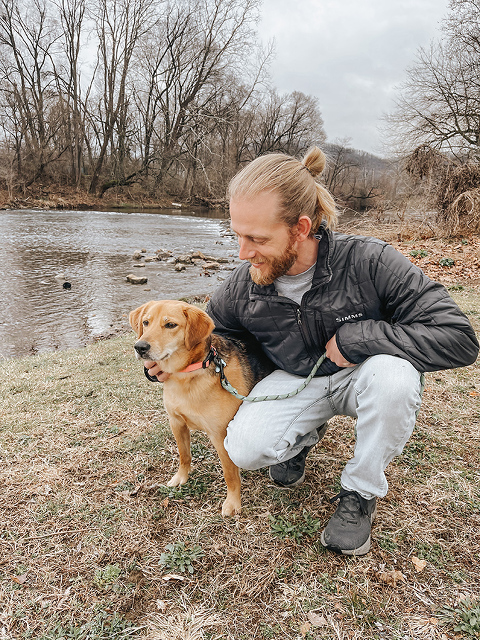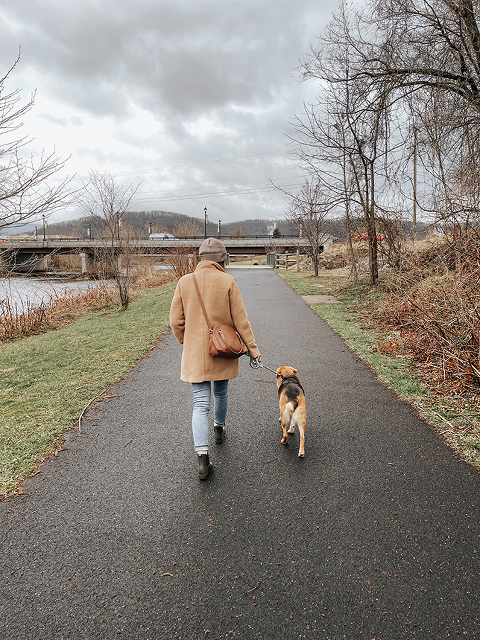 I had actually been scheming about getting dog for months, which is a little odd since I consider myself much more of a cat person. For some inexplicable reason, I couldn't let the thought of a dog go! I knew a third cat wasn't the best idea. Our current two kitties, Tonks and Ginny, are a happy pair, and I didn't want to compromise their relationship. I figured a new dog might be an easier addition to the pack. Tonks, we suspect, is a "dog person." She was really sad when Rocky passed away (even two years later, her head sits right up whenever she hears a dog bark), so, in a way, I thought it might be nice to adopt a dog for Tonks.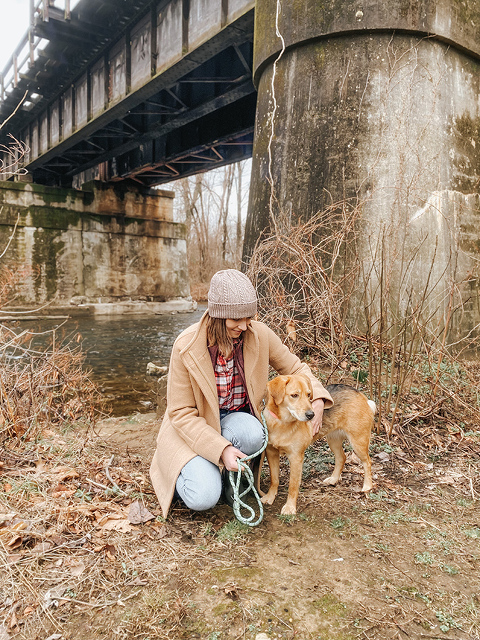 I spotted our would-be new dog on the local SPCA website, but actually wrote her off immediately because her age was listed at four and half years old. I had just gone through the loss of our cat at that point, and the grief was unreal (still is, to be honest). I hated the idea of adopting an animal that was, theoretically, already halfway through her life. To go through the pain of another pet's passing within a handful of years was too much to think about.
But then my mom texted me and asked if I had seen this dog on the SPCA website. I told her, yes, but we wanted a young dog. Her response was, "She's only four and a half…" That really got me thinking. As I said, I'm really more of a cat person. I love peace and quiet, and the thought of a puppy or a young rambunctious dog really didn't sit well with me. Maybe Mom was right, and we should be looking for an older dog who's gotten past her wild energetic years.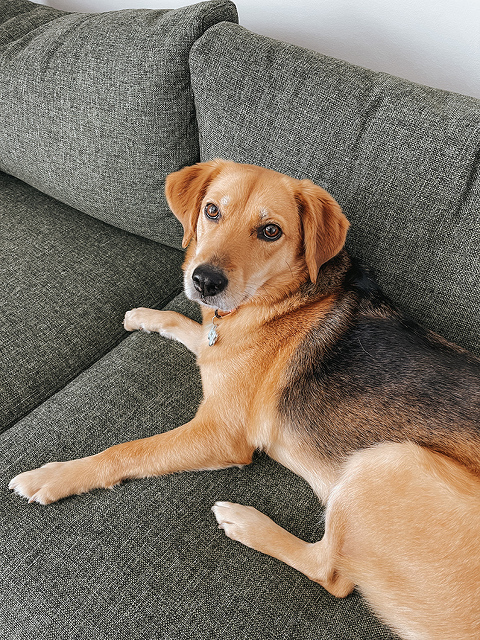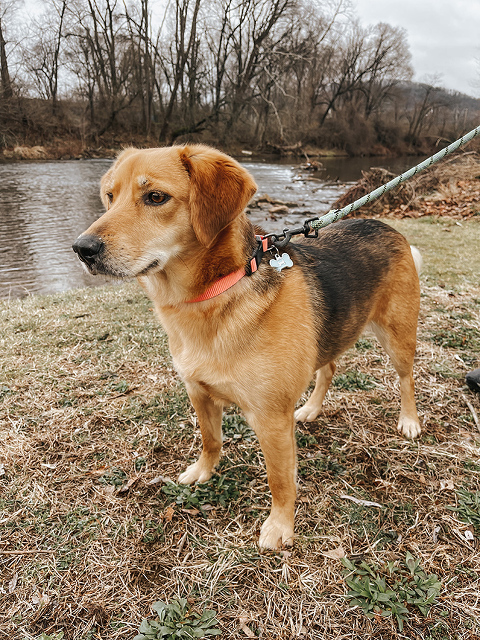 I slept on it, and then told John the next morning that I was going to visit the dog at the shelter. He smiled and shook his head, but said, "Do whatever you want." I should mention that he wasn't nearly as convinced as I was that we needed a dog right now. I following my gut, though, and made the appointment to go see the dog.
As soon as they led her into the visitation room, I was hooked. She never made a sound, was alert, but not jumpy, and smaller than I expected (a plus for me since I wanted a dog under 40 pounds). I spent about 20 minutes with her and took her on a small walk outside around the shelter. We came back into the visitation room, and I don't mind admitting I was pretty anxious. I had never adopted a dog of my own before (John already had Rocky when we got married), so I was worried my instincts wouldn't be the best.
I was sitting on the floor alone in the room with this dog trying to figure out what to do when she came over and pushed her nose gently under my hand to get me to pet her. It was that moment when I knew it was the right thing to do. I asked her if she wanted to come home with me, and she nuzzled me again, and then a few minutes later we were signing the papers.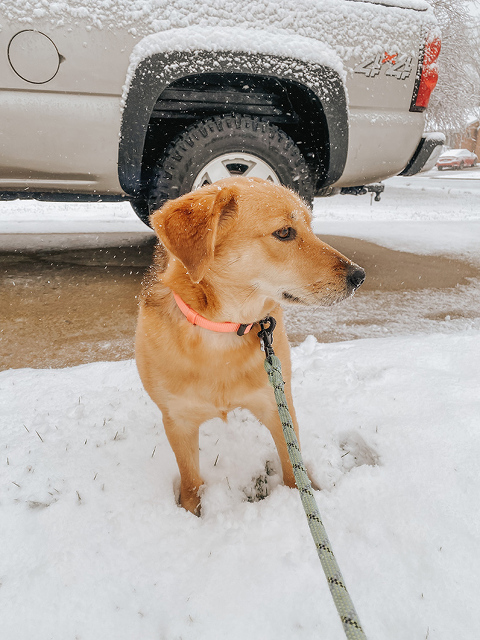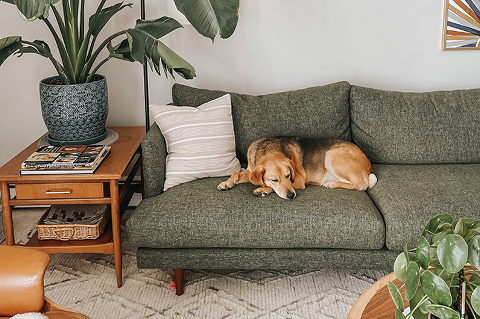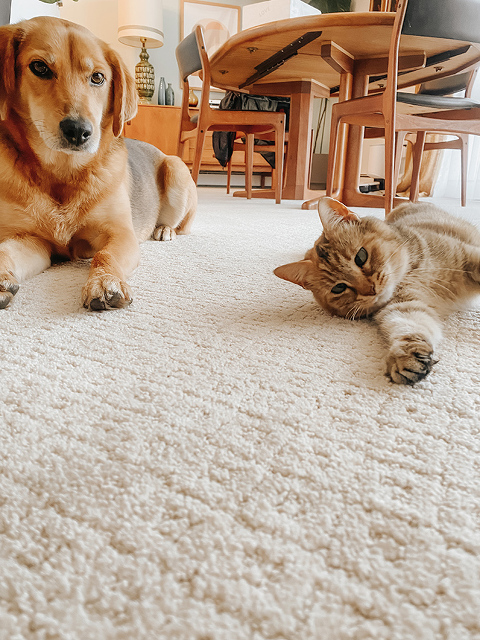 I called John from the SPCA parking lot to say I was bringing home a dog, and he just laughed. Happily, it has been two weeks since the adoption and everyone (including John) is smitten with this pup. We decided to name her Chessie—for me, it's after my favorite character in The Parent Trap, but we spelled it for the Chessie Nature Trail, which is right near one of John's favorite fishing rivers.
The cats, John, and I are over the moon to have Chessie in our lives, and we're so glad that we took a chance on an older dog. I think, as hard as it is to say goodbye to a pet at the end of their life, it does get a little bit easier every time, and there's nothing better than giving a deserving animal a happy home to live in for the rest of their days.
If you have a sweet pet adoption story to share, please do in the comments below. Suffice it to say, I think you'll be seeing lots more of Chessie on the blog and over on Instagram, so make sure you're following along if you want more photos, videos, and stories about her!