(Witty post title credit goes to John who announced it to me while making lunch over the weekend :))
With the new warm Spring air blowing in and the soon-to-emerge sweltering Summer heat, we decided to update our living room fan. The previous owners did an update before John bought the house last year, but we figured we could do better…A couple of weeks ago we came across this beaut at Lowe's: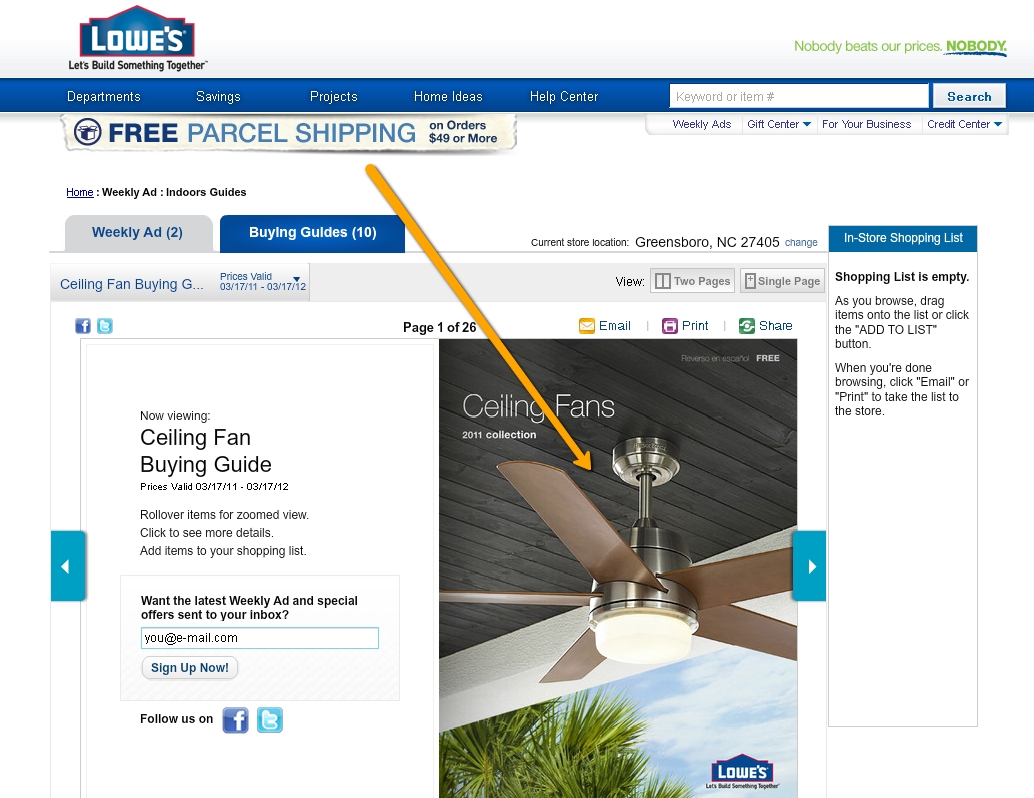 We though it was a little out of our price range at the time ($159), but John scored a great gift card from a work promotion and I got one for my birthday. So our Easter day activity consisted of driving to Lowe's at 9:30 in the morning to pick up our brand new fan!
Cost to us after gift cards did their magic (and we opened a Lowe's credit card, earning us an extra 5% off) was $26.05!!!! We figure we'll be using the credit card fairly often for future home projects so it was worth the added task at the check out line. Plus building good credit is the way to go!!!!
We also stocked up on other supplies – like a trellis for some flowering vines that popped up thanks to the gorgeous weather (see pictured below), wood for DIY shelves (to be revealed later this week) and miscellaneous stuff like screws, 3M tape and paint brushes.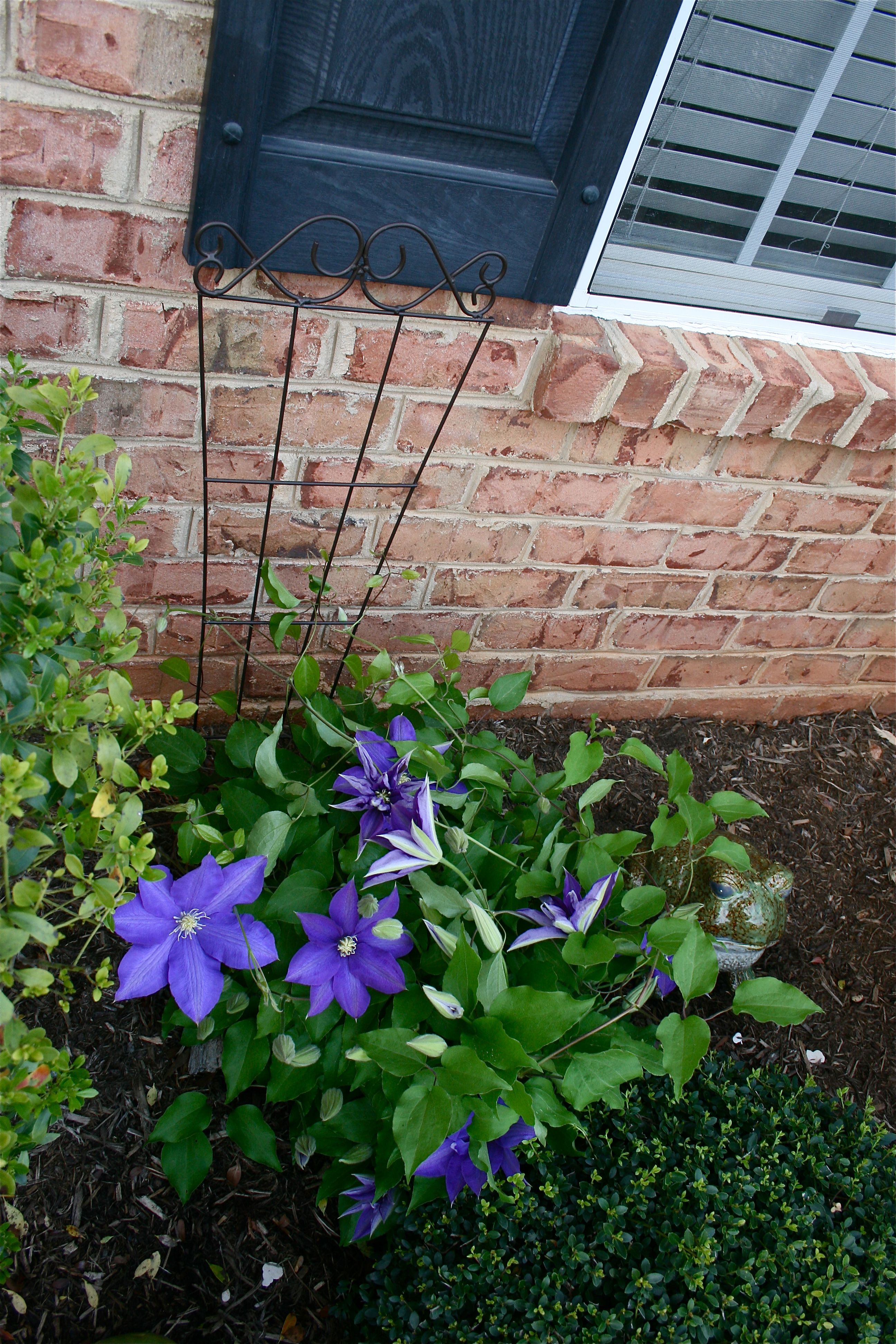 After unloading, we got to work on the fan!
First we opened the box and laid everything out. Next, we grabbed the instruction manual and decided to flip through it before jumping head-first into the install.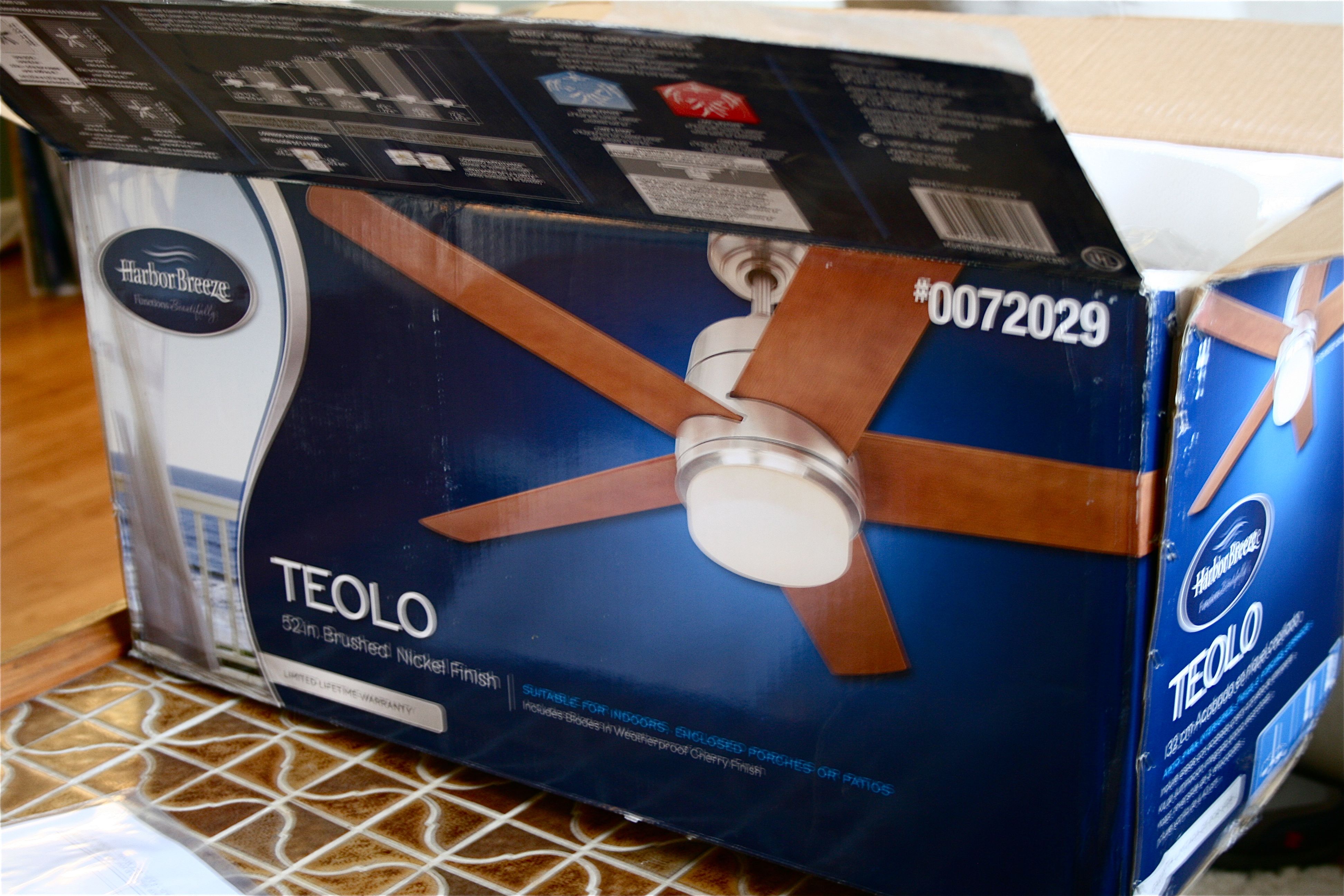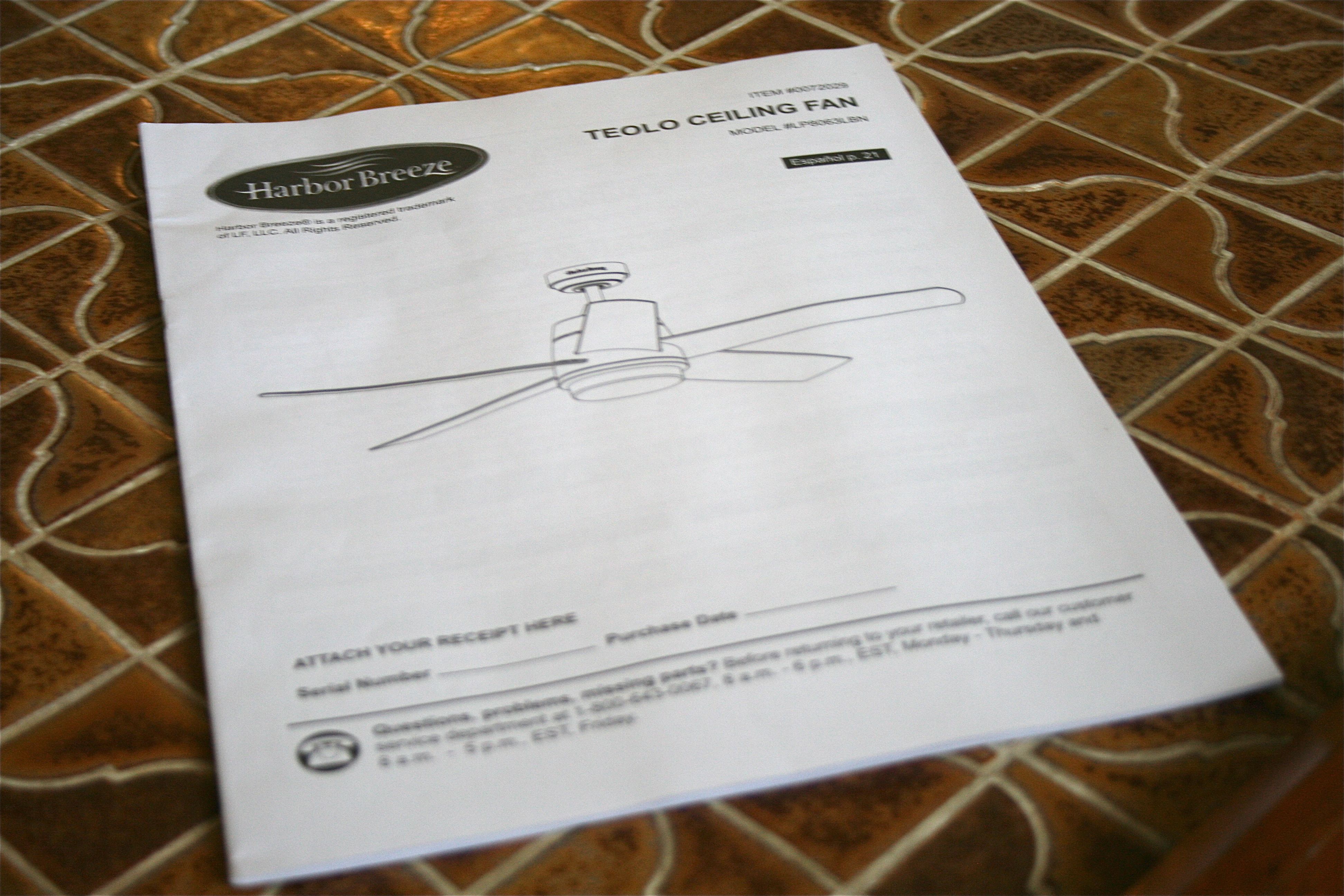 I turned to page one of the manual and then my stomach started to grumble, mimicked by John's across the room…This calls for lunch!
So we cooked up a quick batch of beef stir fry (recipe courtesy of our "Everything Binder") and did some glancing through the instruction manual while chowing down. Luckily, the process seemed fairly straightforward in print.
There's not much to complain about with the original fan (pictured below) – It's just not quite as updated as we'd like…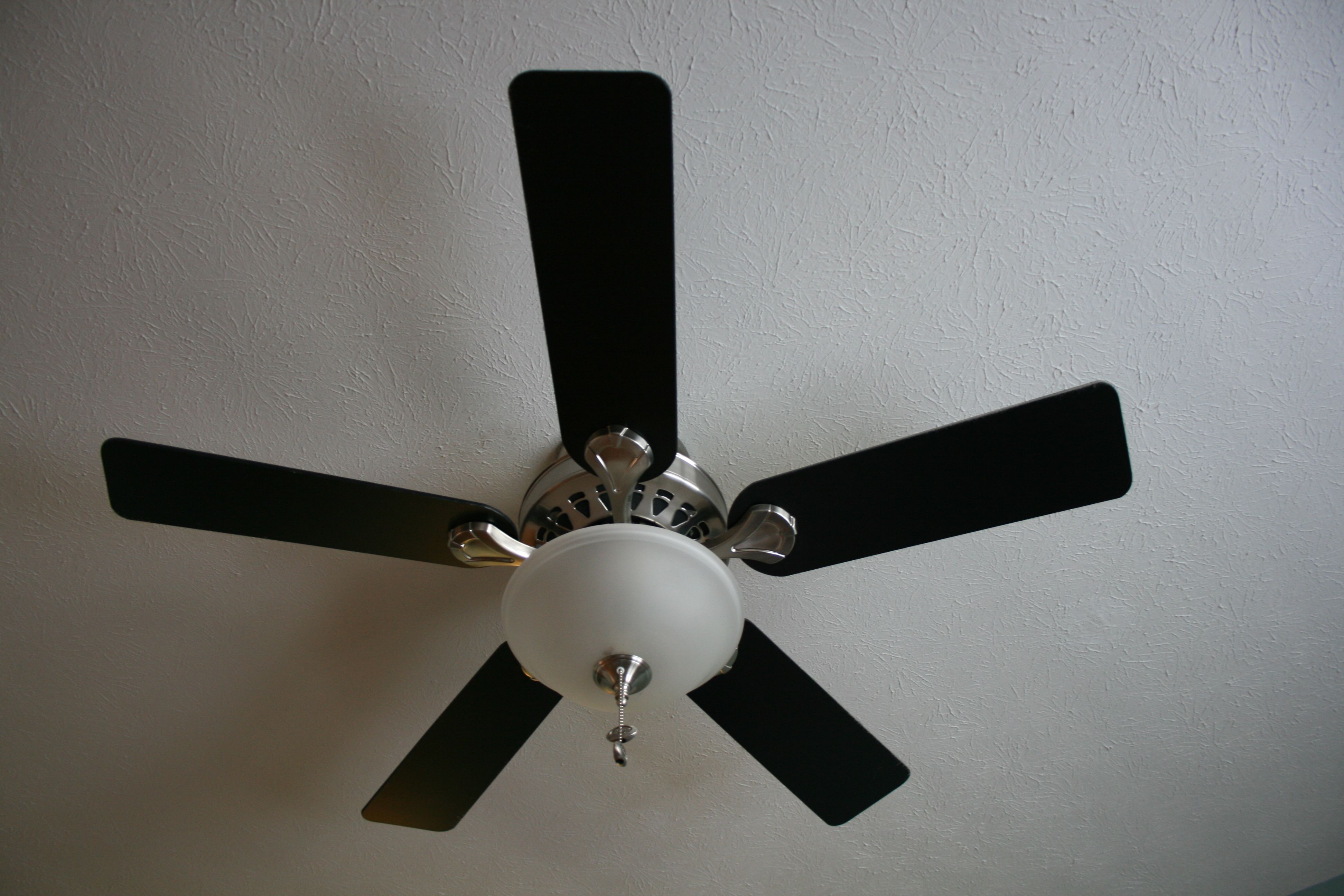 Although it's certainly much better then the one we recently removed from the kitchen: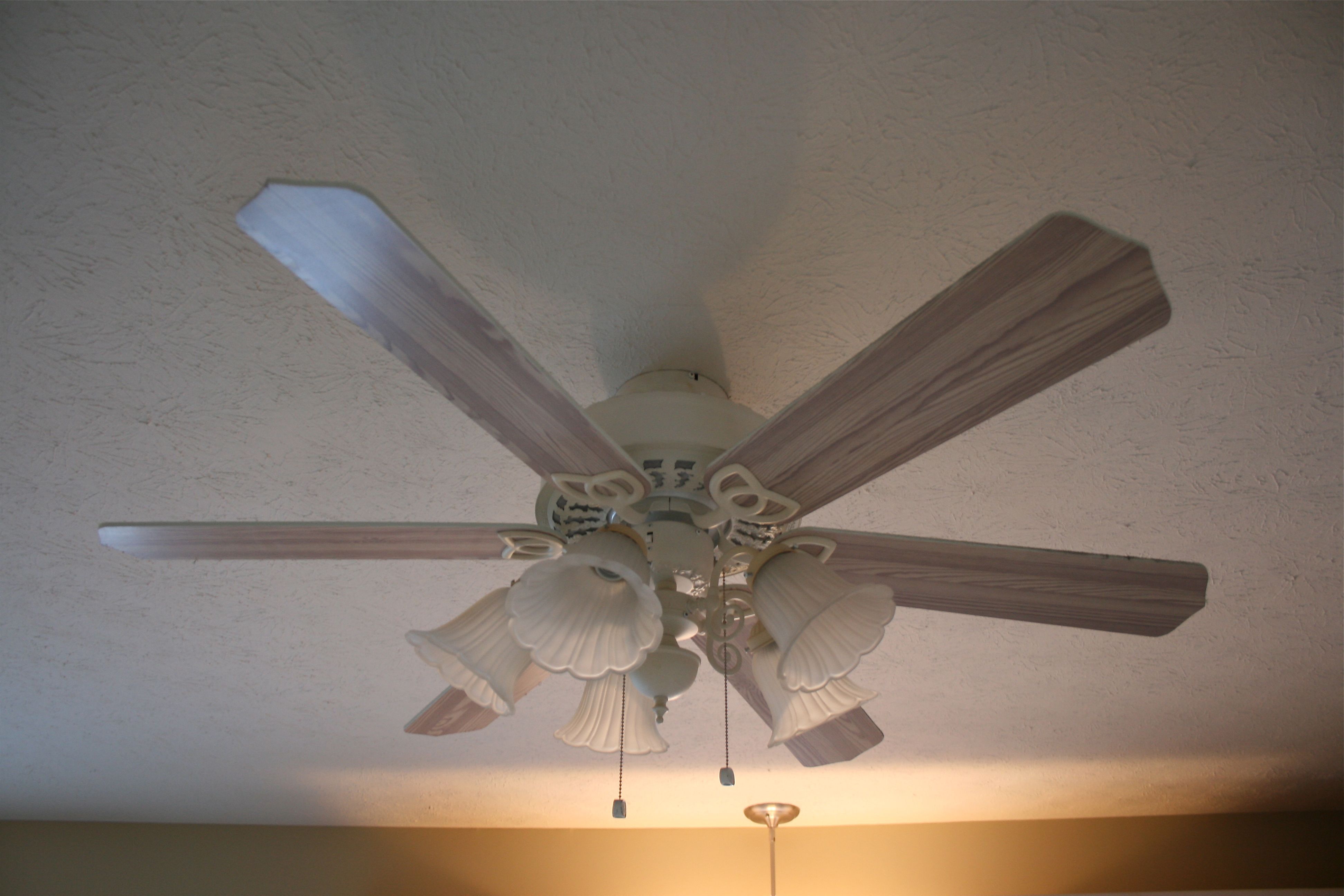 Ick…Glad we took care of that one first.
So we decided to take it from the living room and put it in the upstairs master bedroom! The fan up there now is very plain – Just a white fixture that's sort of "blah". The black fan blades of the one we removed from the living room will go great with the dark grey walls and black-framed art.
Here's a reminder of the master bedroom in case you're new to our blog or have forgotten: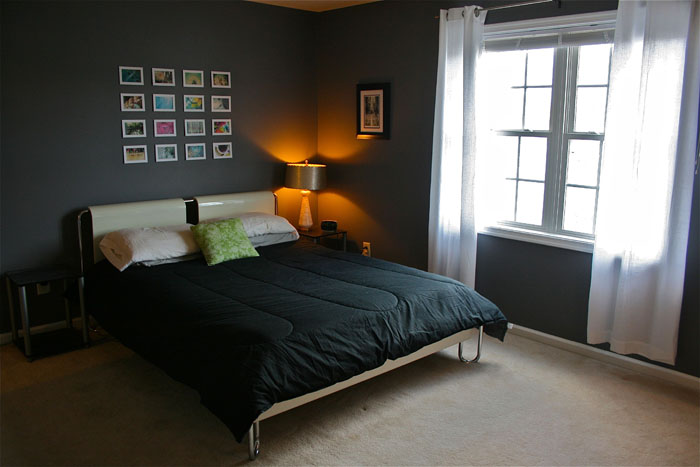 So after about 20 minutes of experimentation in removal of the black fan (since the original owners didn't leave any instructions behind), we were left with this clean slate: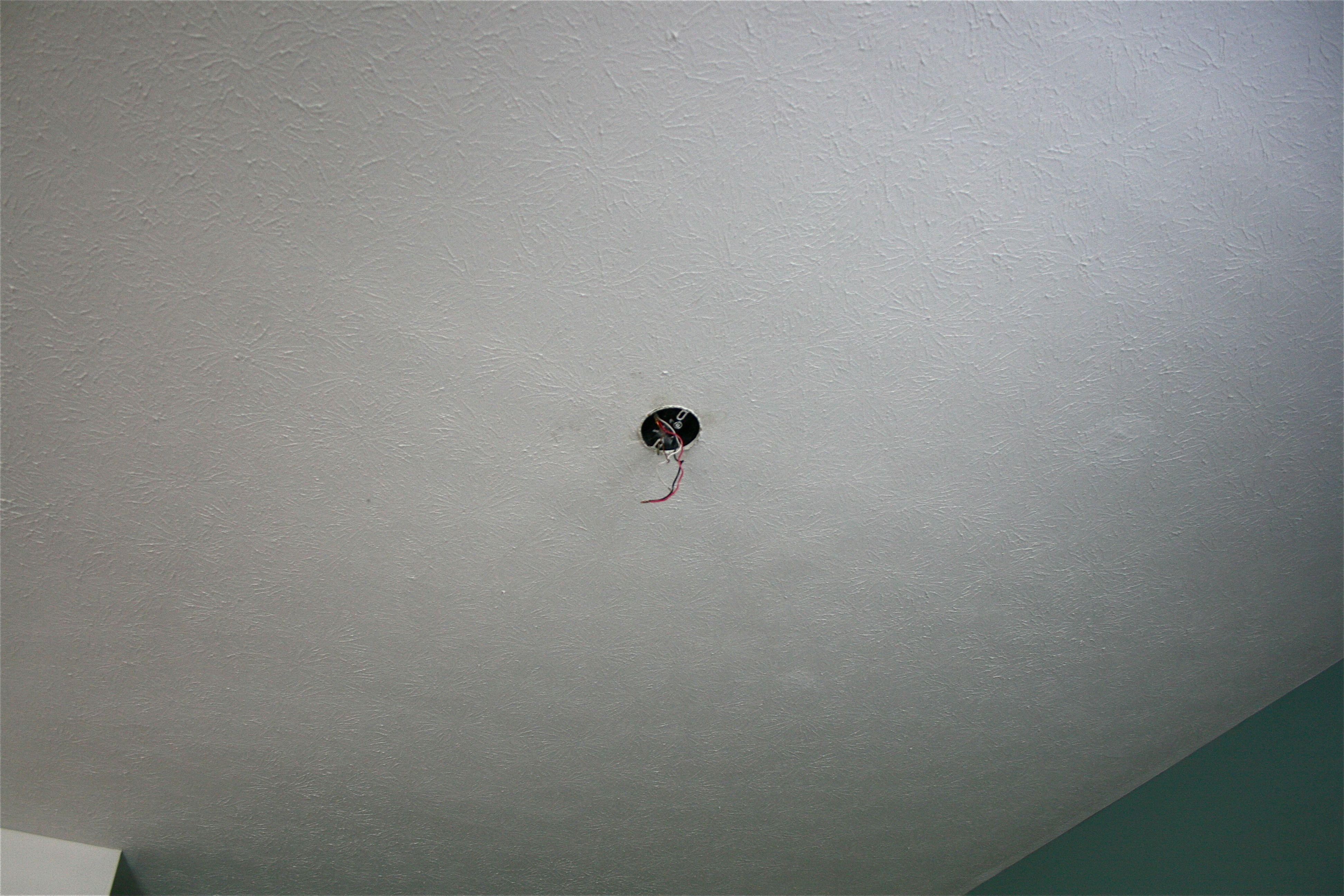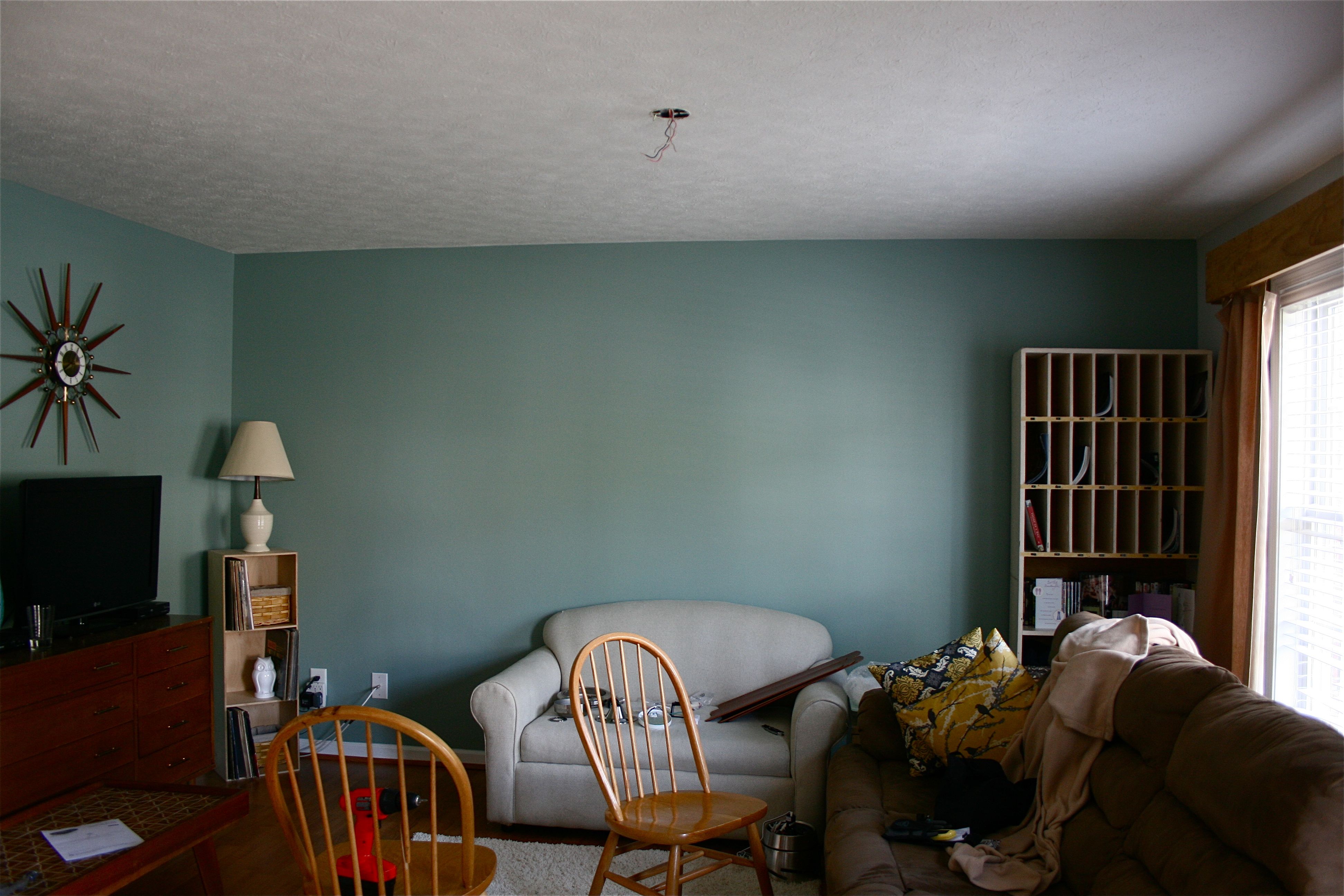 Yes…Those chairs were our version of a step ladder…Please someone remind us to grab one of those at Lowe's the next time we're out!!! We almost went back out because it would have been much easier, but we made do…
Unfortunately, I got NO pictures of this process because it required 100% concentration from both of us (I read the instructions while John did the actual install). So…After about 30 minutes, we got to this point!!!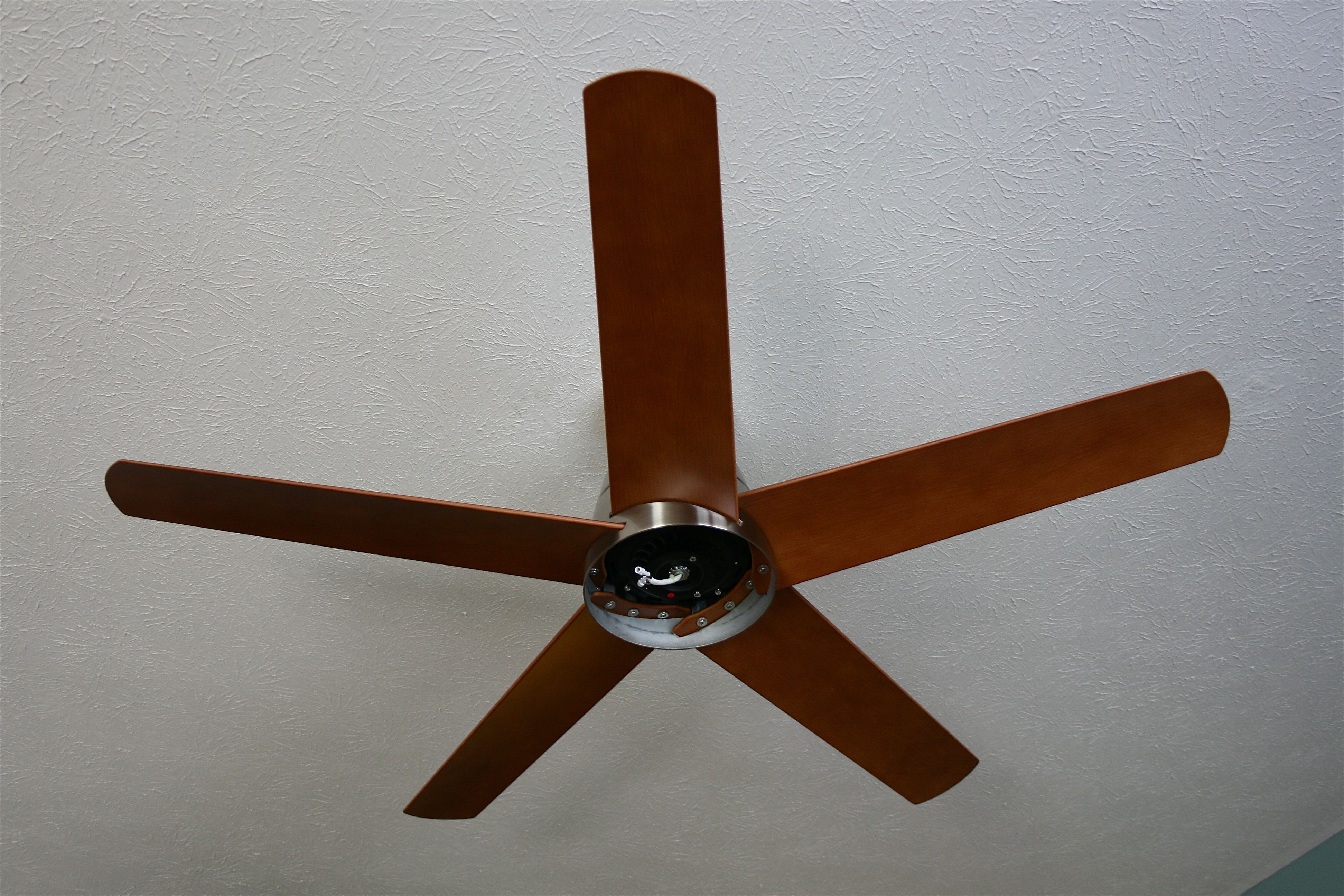 No light yet, but the blades and motor are up and ready to go! The new fixture even came with a remote – So cool…Although it did give each of us a bit of a heart attack when we tested the fan at this point in the install. We flicked the switch and – NADA!!!
Our shoulders drooped and chins fell to our chests in defeat.
But then John had the foresight to try the remote – After skipping to the operating section of the instructions, we discovered that we needed to push a button on the remote to activate it. One hair-raising moment of anxiety later, we had a working fan!
Time to finish the install with the light – Again, no progress pictures…but here it is all done up and perty!!!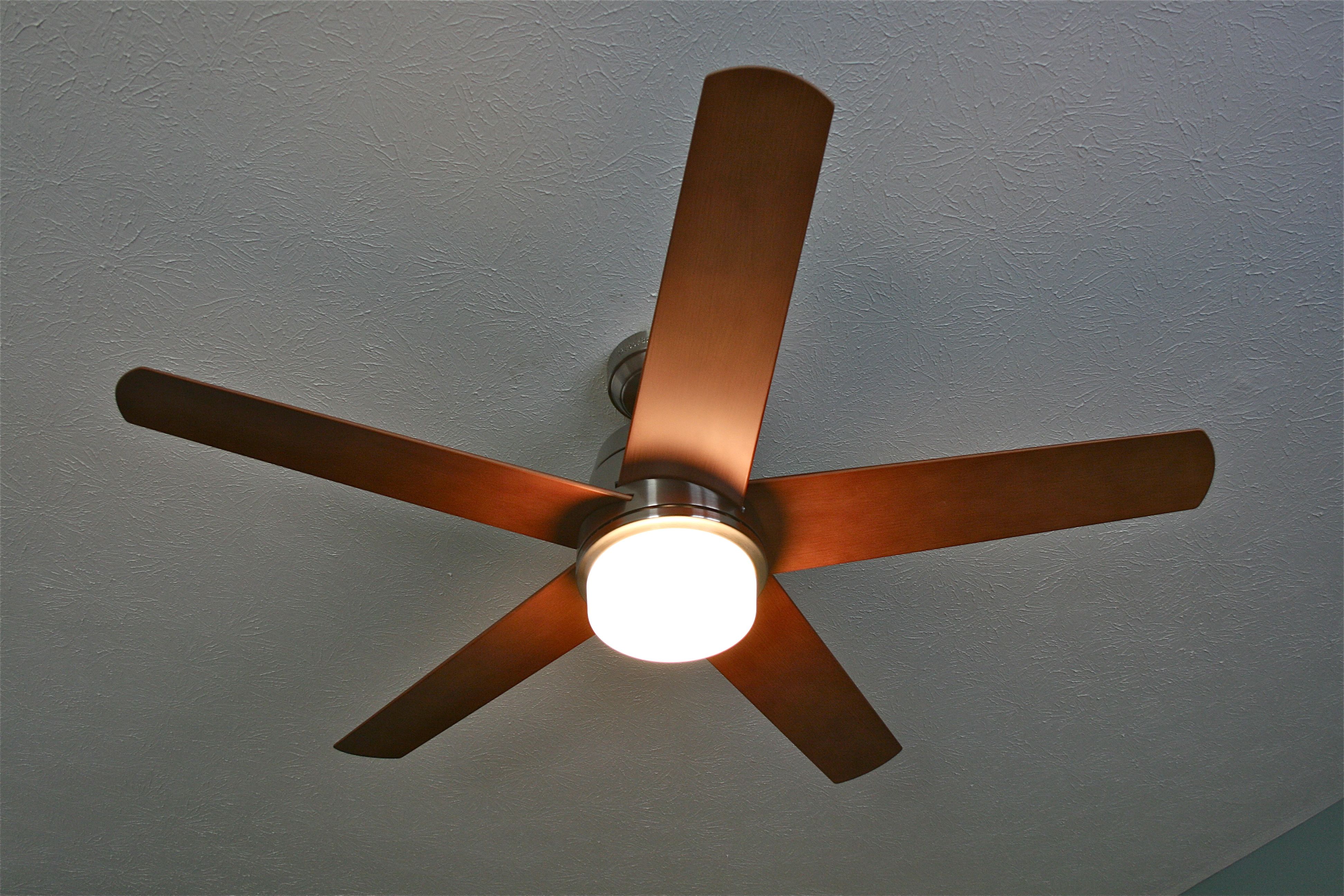 It reminds me of something I'd see in "Mad Men", which you know makes me smile 🙂
Here's the room before: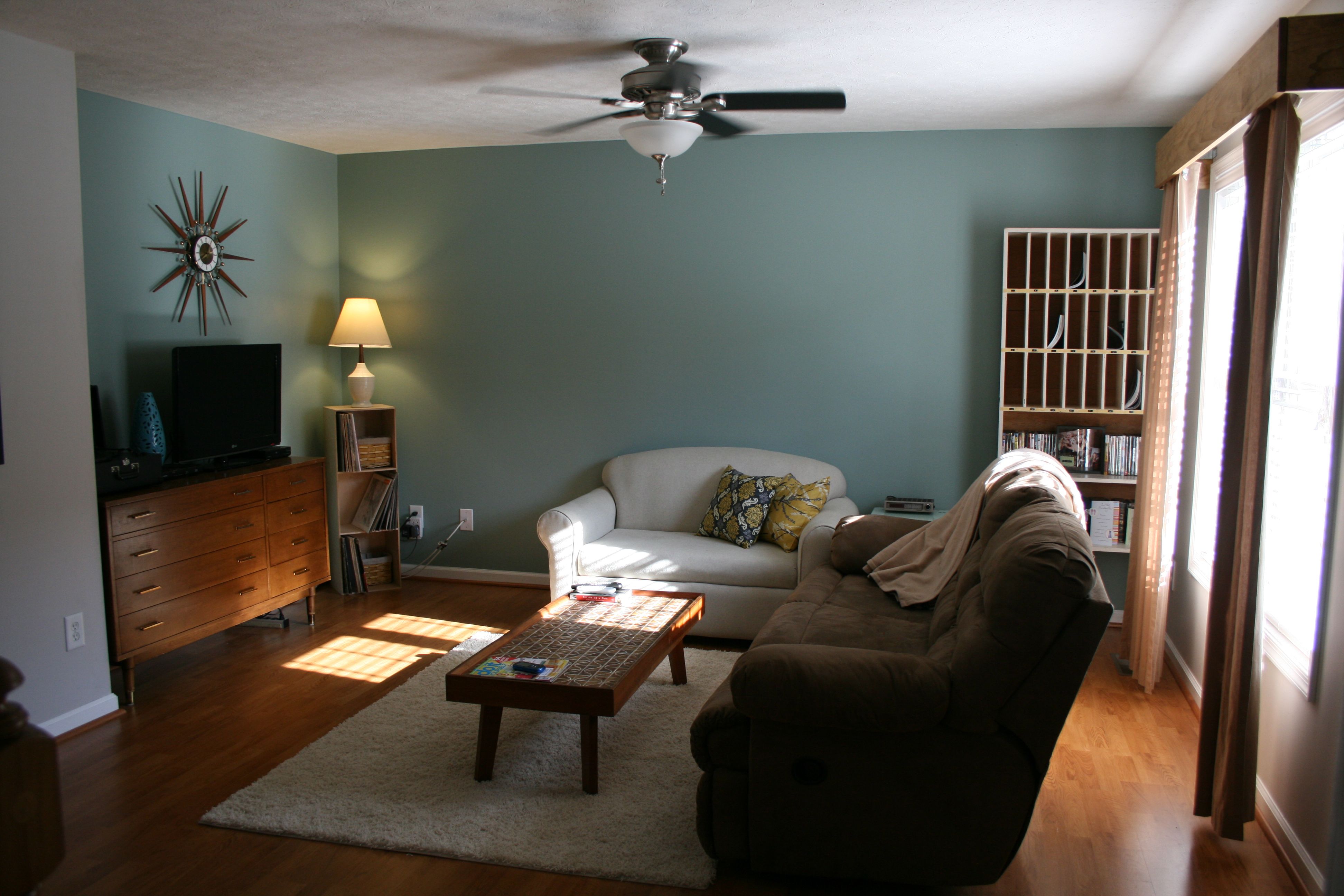 And now after!
We love how it picks up all the wood tones in the room and fits the style/era a bit better. Couldn't be happier!
P.S. Guess who bought a new couch over the weekend?? 🙂 We will share that journey with you tomorrow!