If you happen to follow me on Pinterest, you may have noticed that I've been pinning a bunch of bathrooms. If so, you probably also noted a color pattern…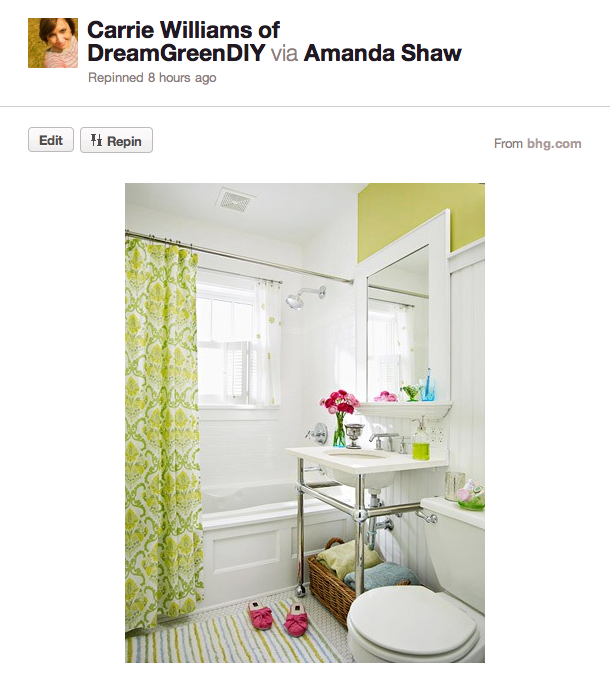 Source: Better Homes & Gardens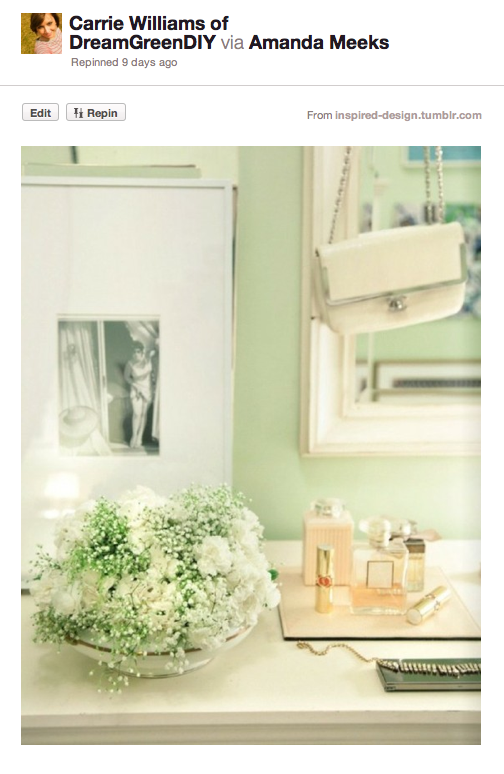 Source: That Inspirational Girl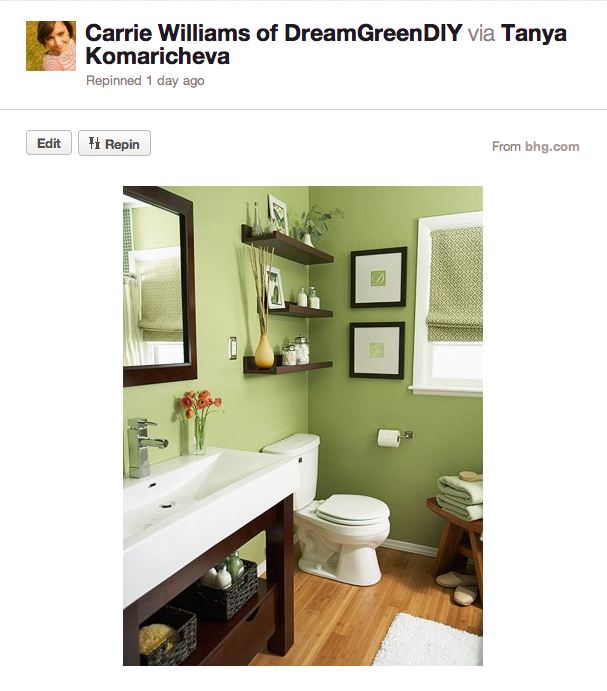 Source: Better Homes & Gardens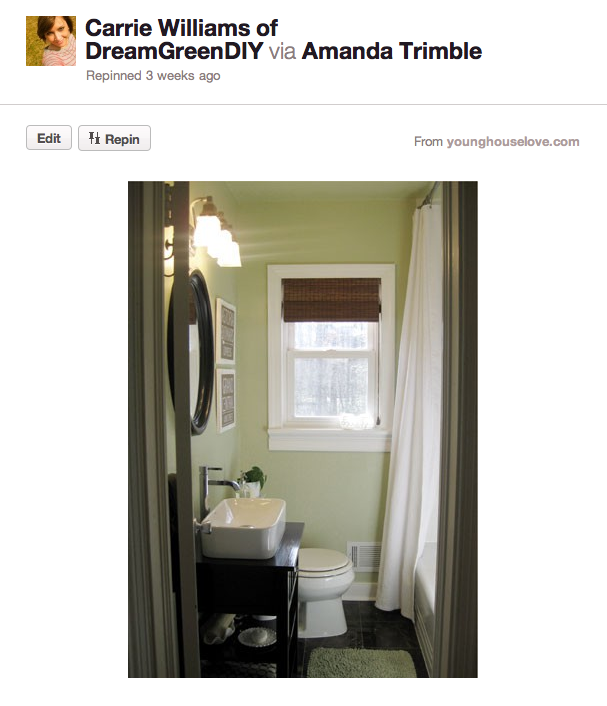 Source: Young House Love
Our little blog isn't called DreamGREENDIY for nothing (italics, bolding and all-caps added by yours truly) – Green is my all-time favorite color, especially the soothing, sage versions. The problem (and baffling conundrum) was that we didn't have a SINGLE green space in our house! So far we've painted a teal studio, a dark gray bedroom, a dark brown wall in the kitchen, a yellow wall in the living room and a light gray bathroom, but no green. Luckily I had just the spot to christen with my favorite shade.
Our master bathroom was devoid of color. It was a contractor white through which you could still see the chalky dry wall. Just not good. I made do with some colorful DIY silhouette art and striped shower curtain, but it still wasn't enough to distract from the plain white walls.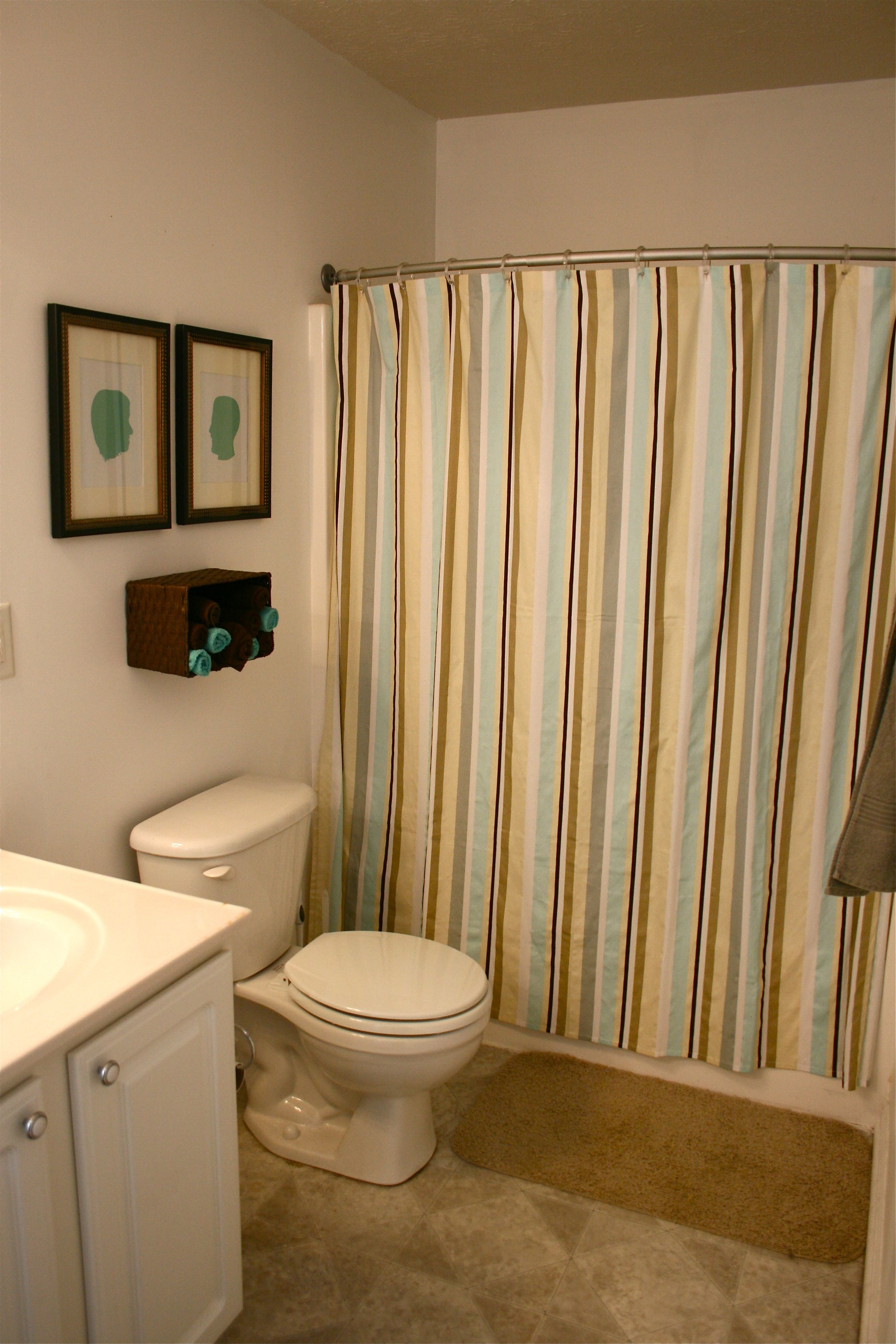 I've been wanting to paint it for months and by the time this past Saturday night rolled around, I just couldn't take it anymore. John was off to watch the Virginia Tech game with friends at a bar (P.S. You'll get 'em next time, Hokies!!!) so I took the opportunity to bounce over to Lowe's and pick out the perfect paint color. After a long time loitering in their paint chip aisle, I finally decided on Olympic "Aloe Vera" – Just the name itself embodies the idea of soothing quiet relaxation…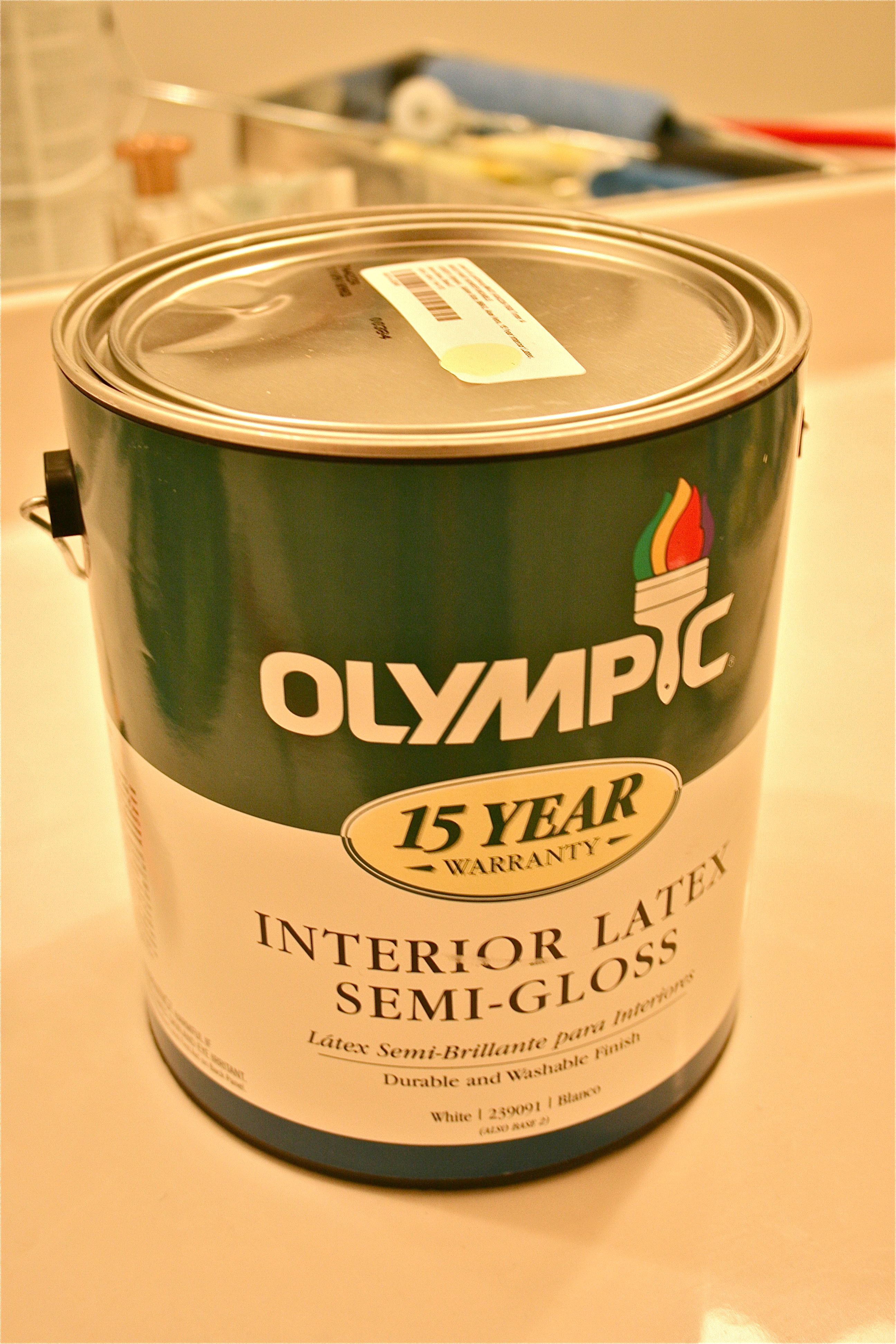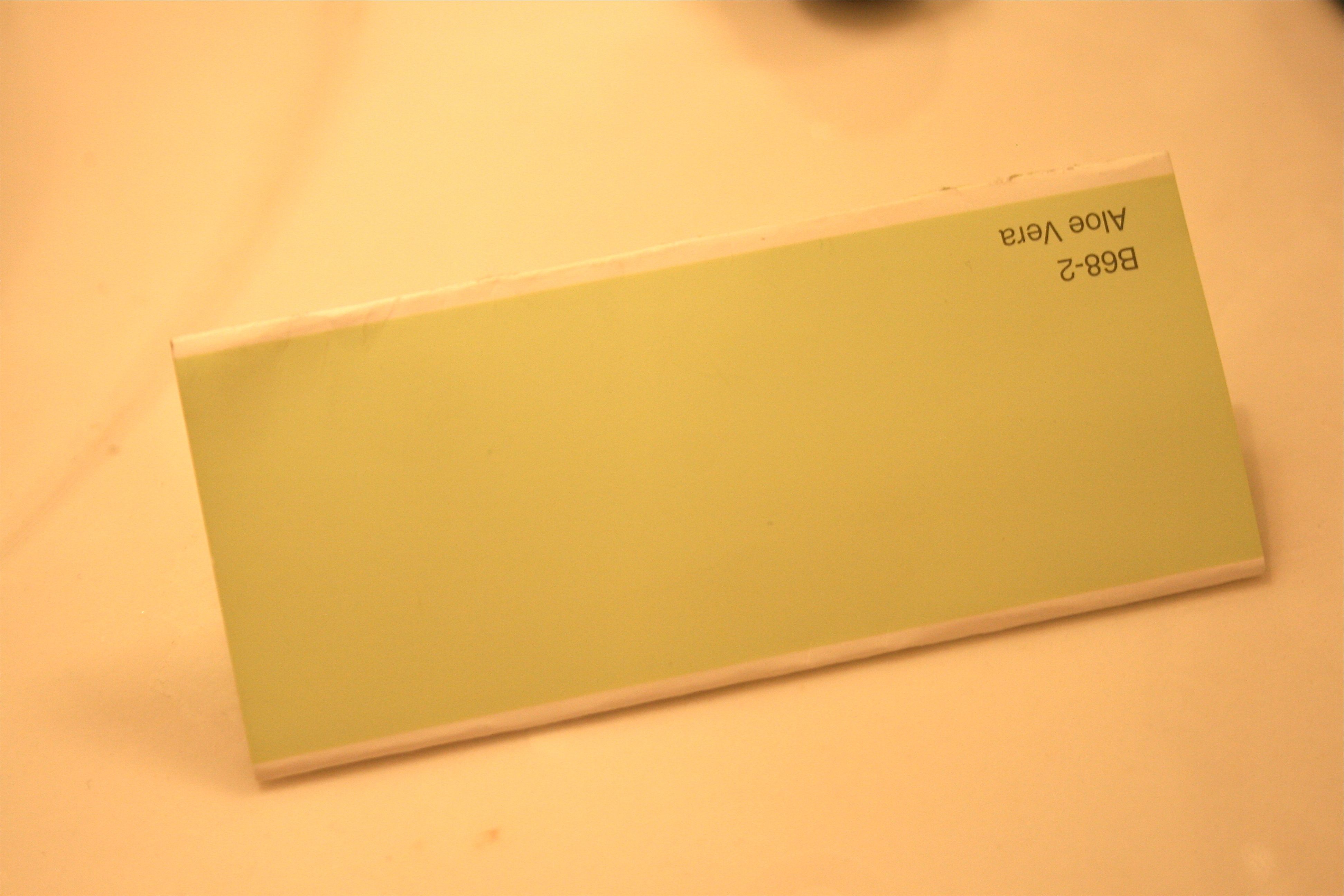 Within no time, I had the bathroom dismantled of all its artwork and wall organizers, ready to get down to business. I also had the iHome blaring Christmas music from the bedroom so that I had a little cheery motivation.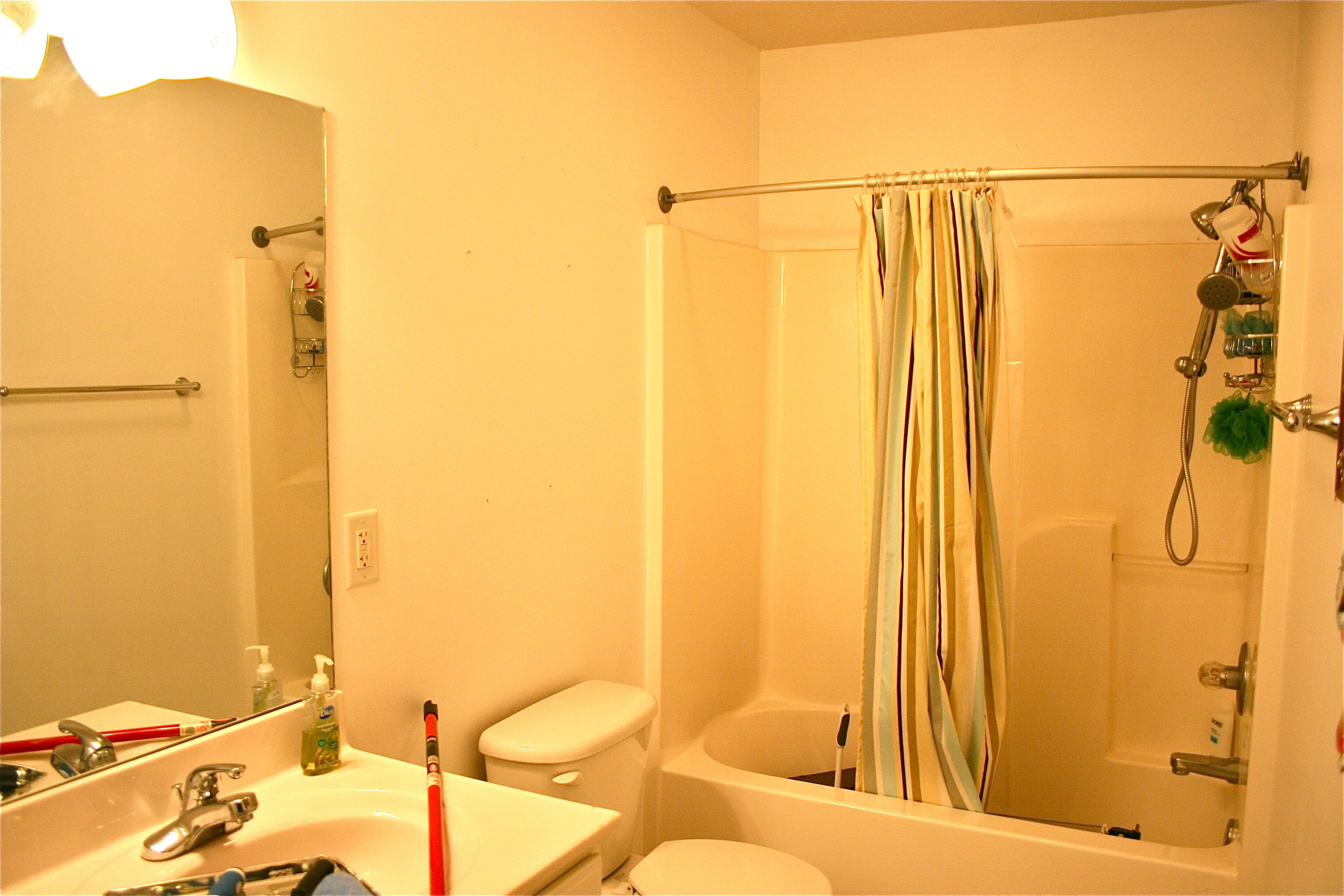 It actually didn't take me that long to get the first coat up on the wall…I started around 7:45 that evening and finished by 9 p.m. – Not too bad for doing it all by myself!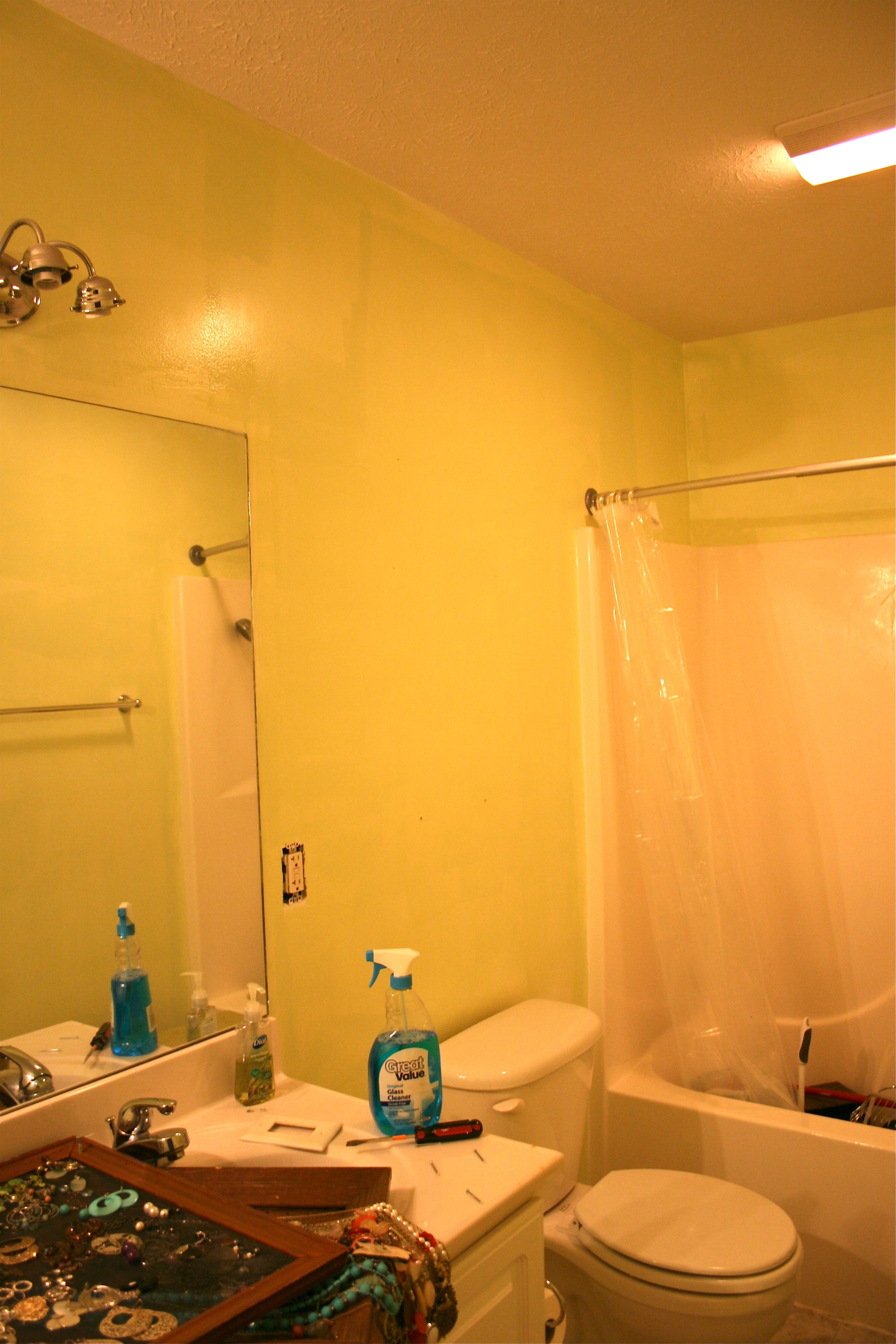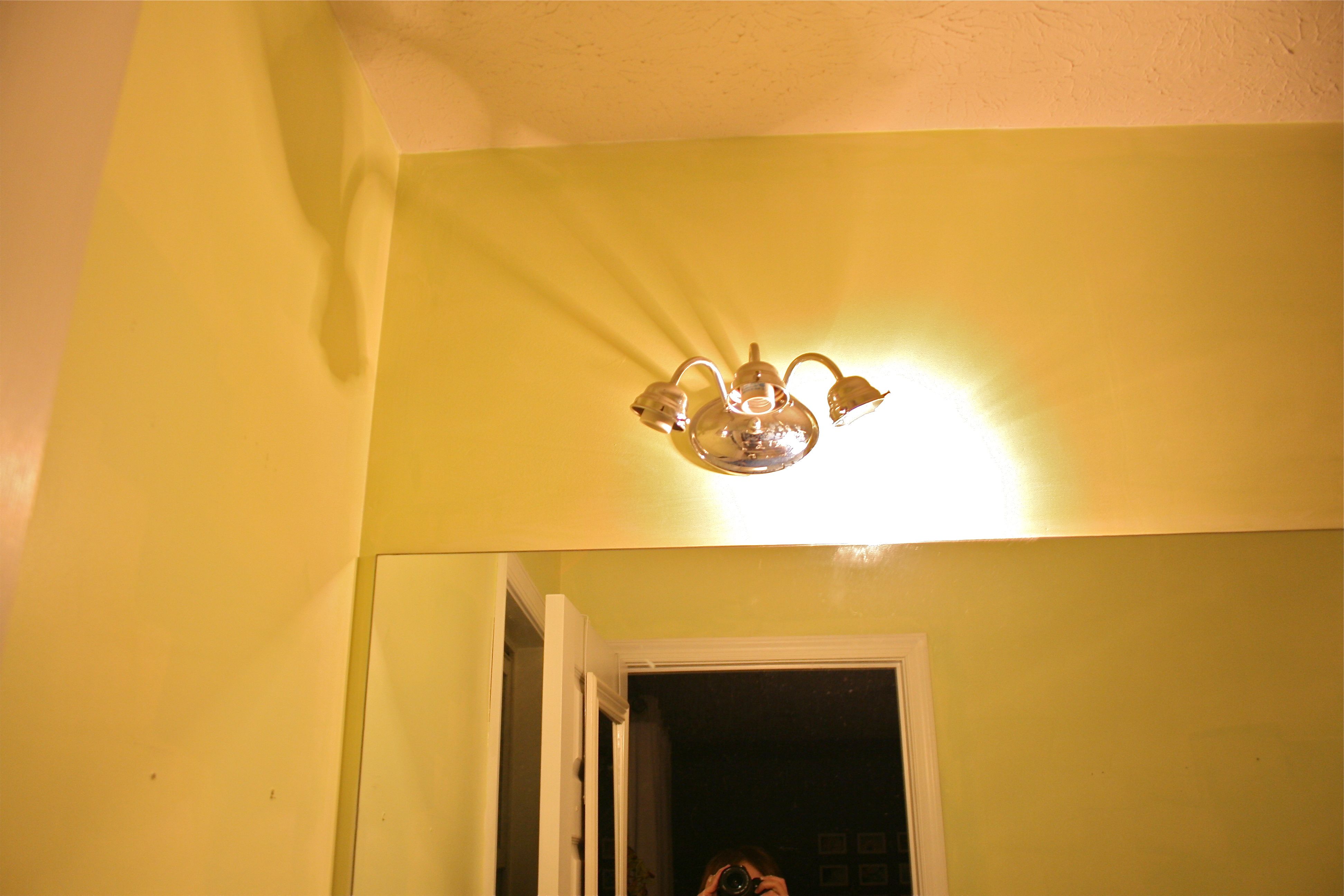 The color looks SUPER "grellow" in the photos above (i.e. greenish yellow)…These next few show it more true-to-form in the natural light coming from the window. It's definitely more granny-smith-apple-green then yellow-with-a-touch-of-green.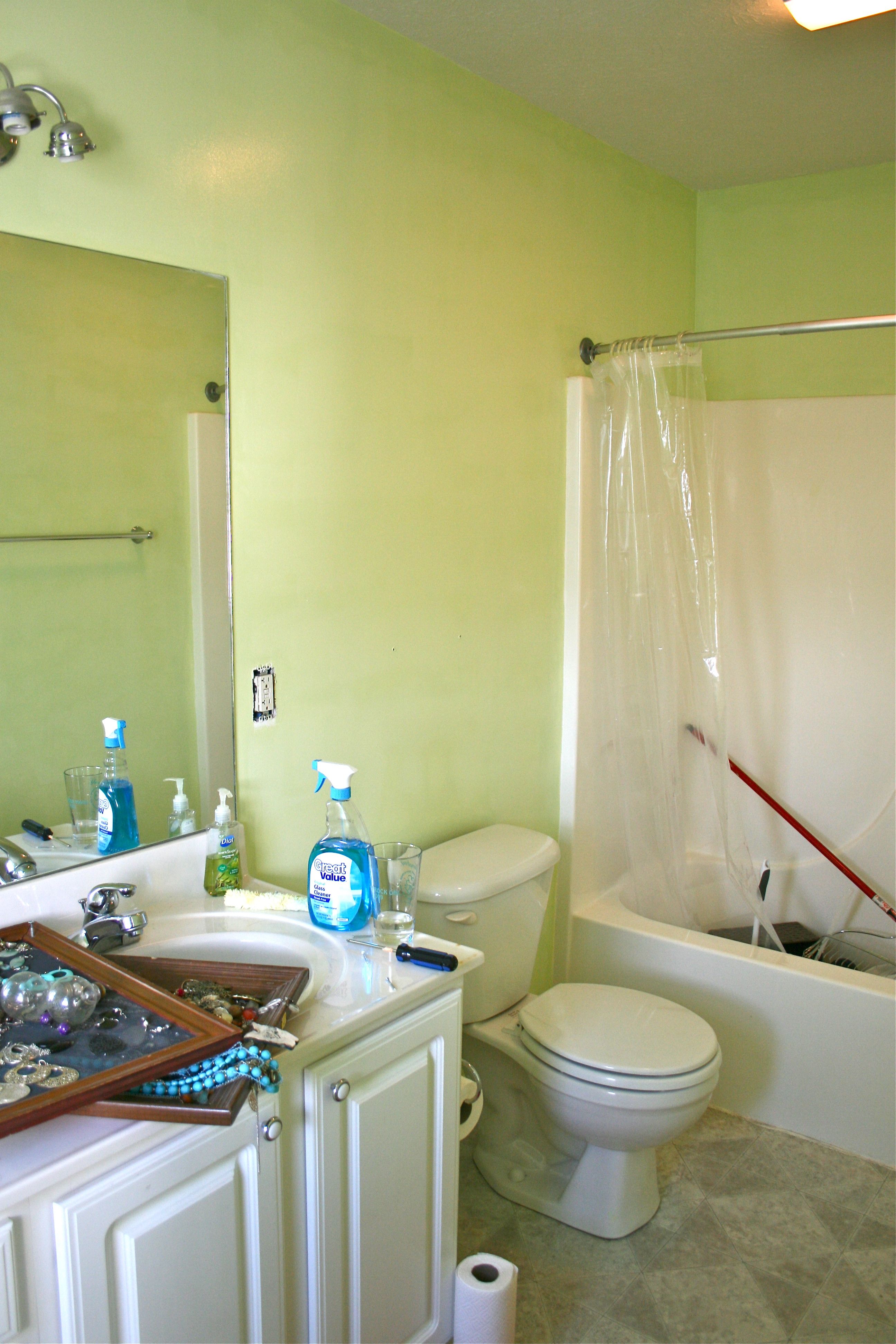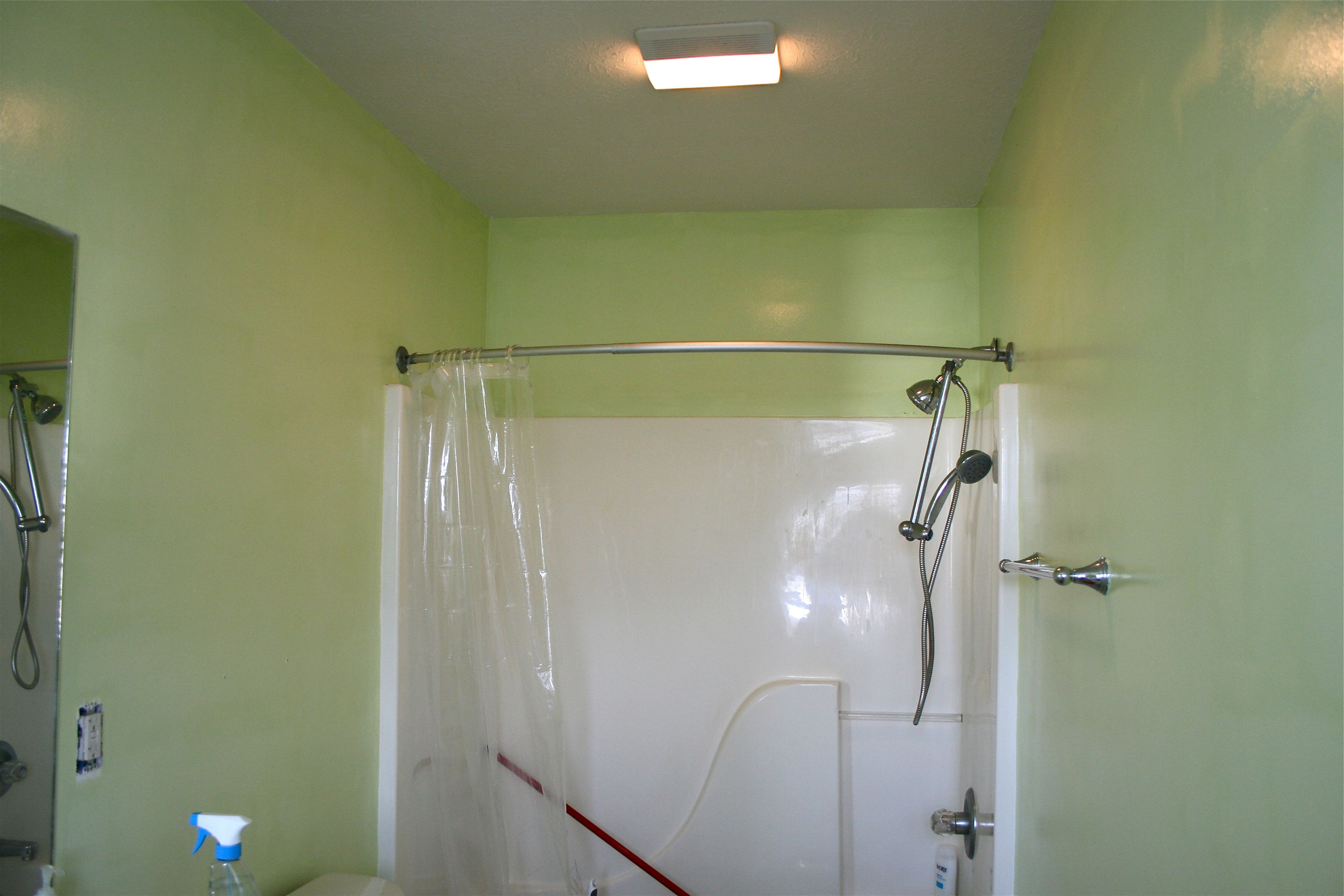 Oh, and now I'm going to throw you for a loop…A couple of weeks ago, I mentioned that I was planning on replacing our dated light fixture globes with something a bit more modern. This option was a lot cheaper than picking out two brand new light fixtures since my favorites came in at about $80 to $100 apiece. Simply replacing the globes for around $60 total seemed like a MUCH better plan. So I brought four options home to try out. (sorry – the lighting in the photo is horrible…It's not easy to photograph light fixtures head on)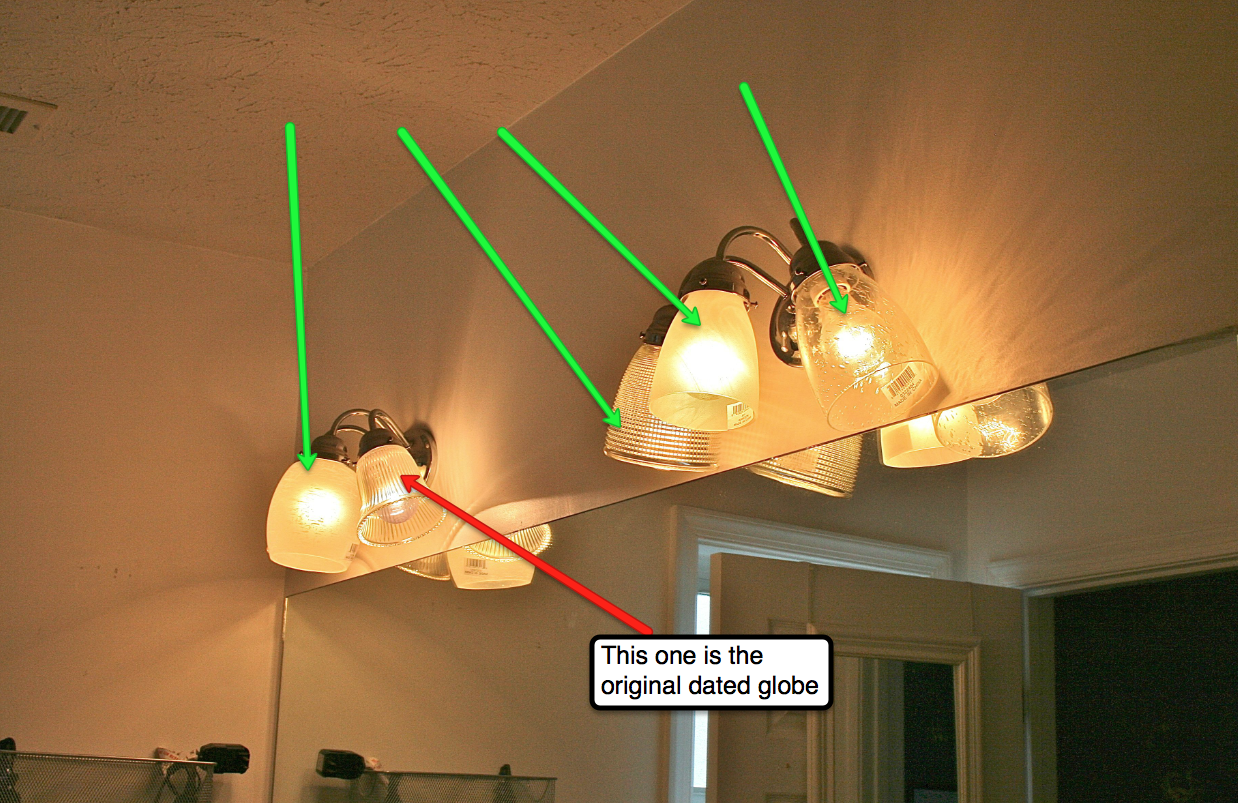 I THOUGHT I was going to go with the ribbed one (the second one pointed out from the left), but after a week or two of looking at them, I completely changed my mind and decided on the big frosted one all the way on the left! You guys had a lot of votes for him anyway, so he was the final winning champ!
In the photo below, you can better see the linen frosted detail on the outside of the glass. I LOVE it…At first I worried that they were a little too bulbous, but they work and are much more modern than the original globes. Very happy with my final decision (especially with the awesome cost savings).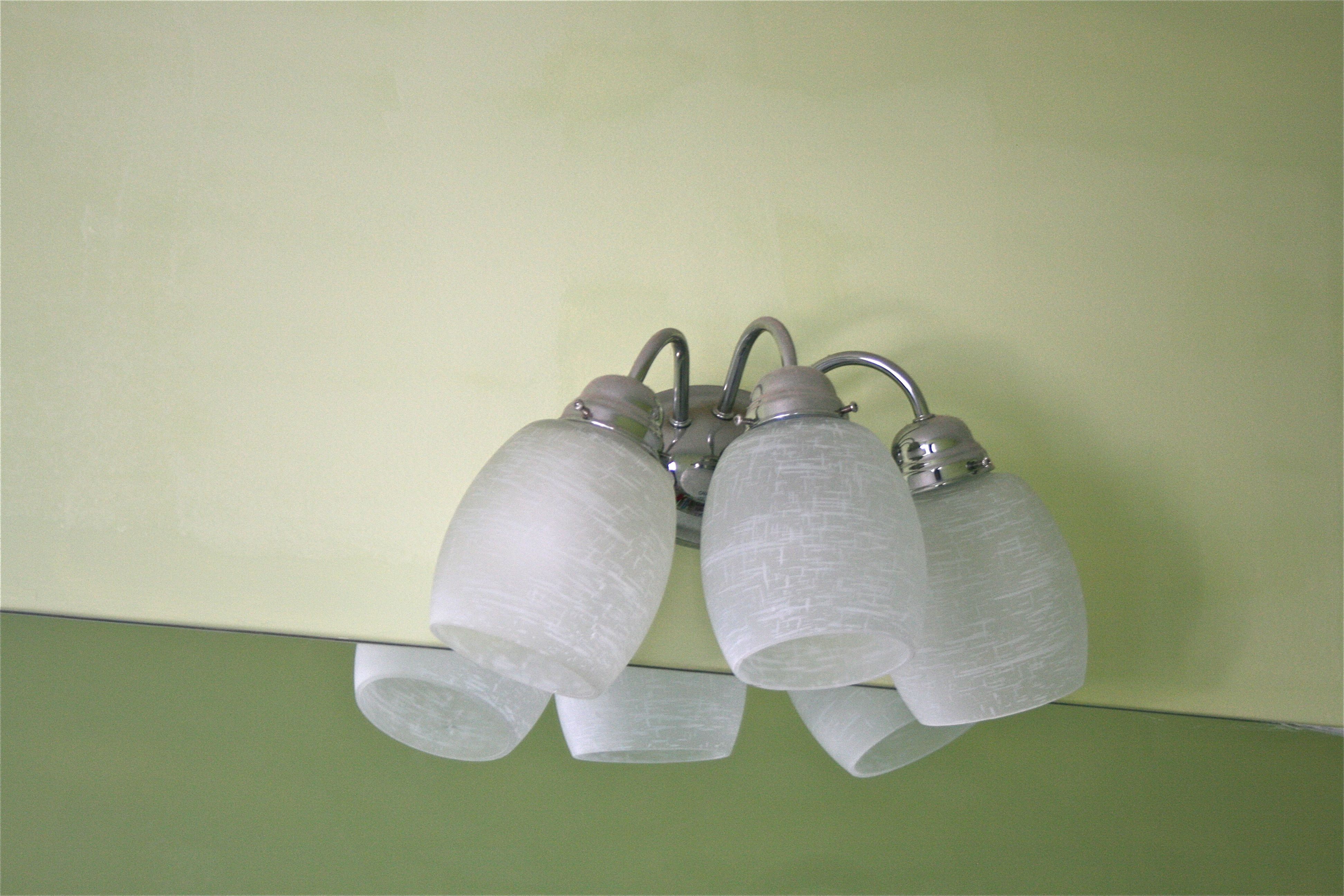 But back to the walls…I woke up early yesterday morning to roll on the second and final coat and then went out shopping with John for a new shower curtain and some green hand towels to coordinate. By mid afternoon upon further inspection, I quickly realized that what I thought was a "final" coat was definitely NOT. You may be able to see the splotches and uneven color below…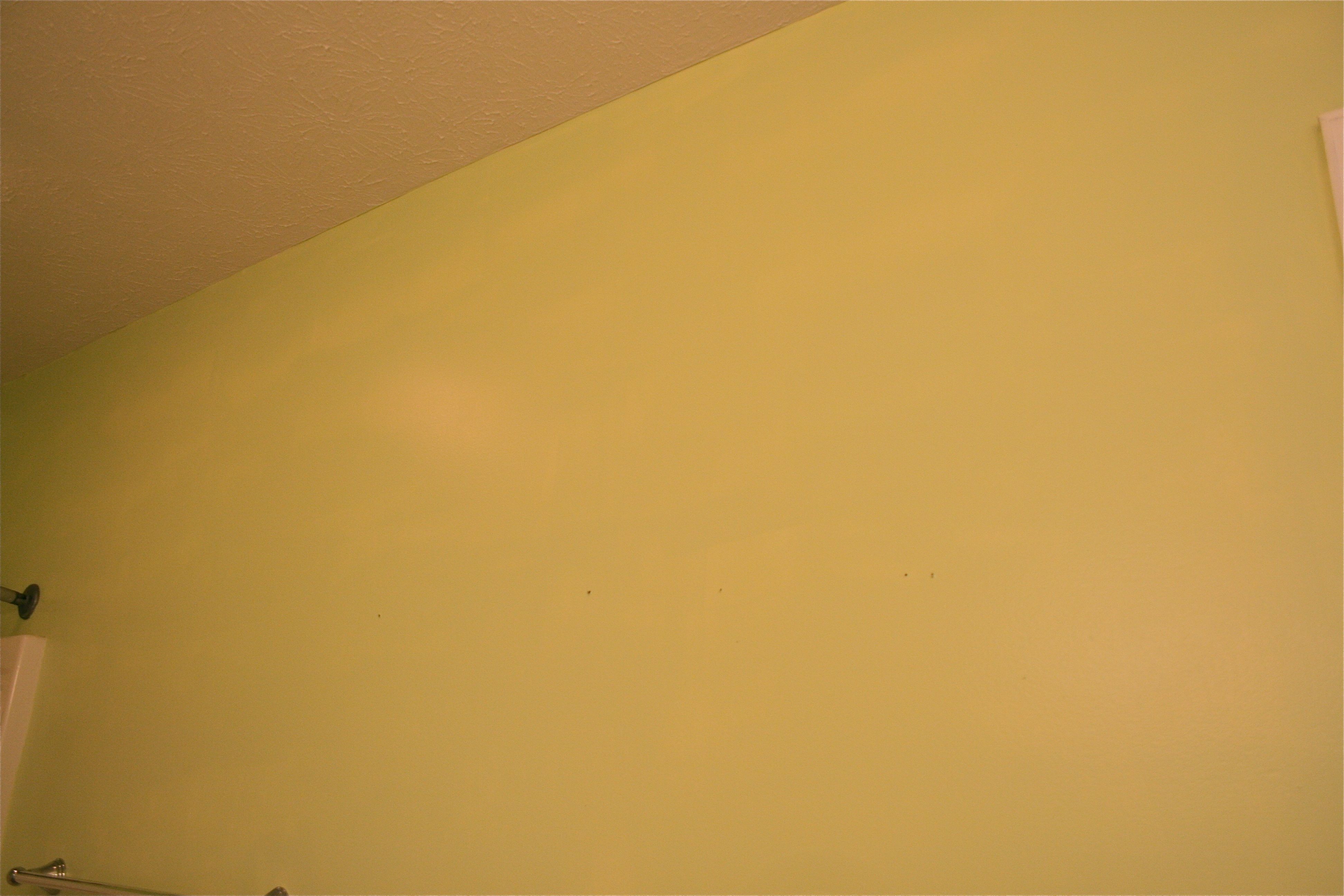 After a quick sigh and a nice chit-chat break with my friend Sarah who stopped by for an oil change a-la my wonderful, handy fiance, I was in a better mood and able to tackle what ACTUALLY ended up being the last coat. I am not going to show you the finished product because some things aren't ready for the full unveil, but I should have the "After" shots for you later this week! Here's a tiny sneak peek though before you go.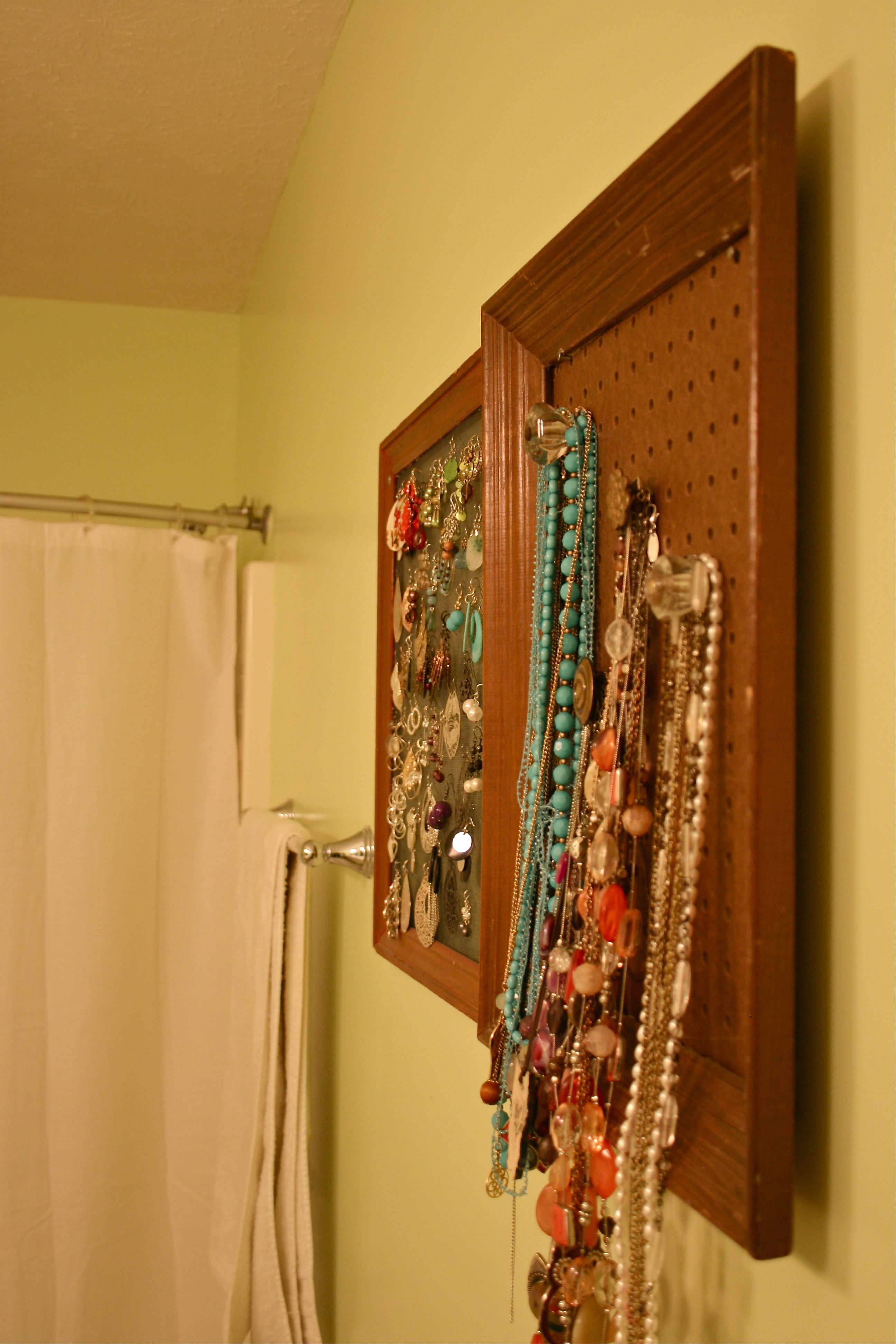 Hope you have a great Monday!