I've decided to take a quick break from home DIY projects and focus a post on another of my favorite things: Weddings…Is there anything better than dressing up, heading to a church and witnessing two people exchange vows??
Okay yes, there is – Like Italian food, beach vacations and staying in pajamas all day to watch "Mad Men" on DVD. But weddings are definitely up there for me 🙂
My best friend, Bethany (whose childhood picture is seen gracing the beginning of this page), grew up on a farm where her family hosted beautiful countryside weddings. Since befriending her 13 years ago, I have been involved off-and-on with the wedding production that typically ensued every Saturday at their house. I even became something of a regular before heading off to college when it came to waitressing, hosting and cleaning up after wedding receptions that would rage on into the wee hours of the morning. It was the most entertaining job I have had to date. I'm fairly certain that this is where my love for all things wedding originated from.
Oh and by the way – Here's an updated photo of her and I since the only reference you have to go off is that embarrassing old picture of us when we were 15: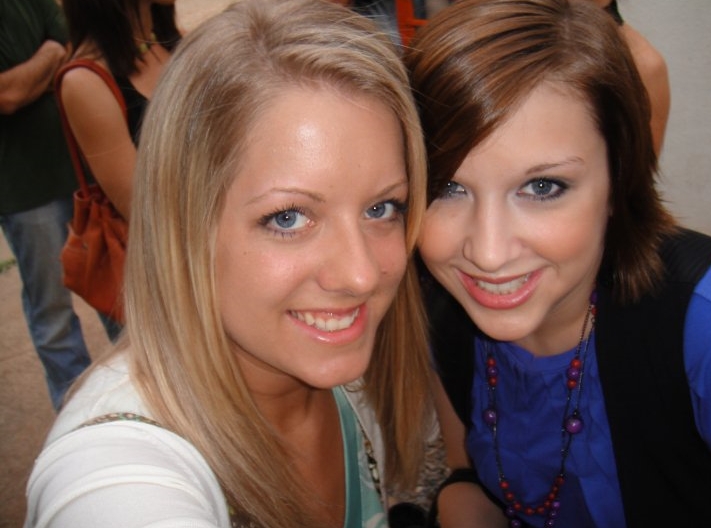 We're all growed up…In fact, she just had a baby!!! More on that soon though 🙂
Anyway, I am a regular over at the blogs of Kelly and Ryan Portnoy and also Katie Stoops – That's right, I peruse wedding photography just for fun! Whenever I take the plunge into marriage-dom, a hefty amount of my wedding budget is going to go towards good photography…
With all these images and memories of weddings gone by, I am constantly dreaming up what I like to think of as unique ideas for the details.
Which is why I was absolutely overjoyed when I was asked to write a piece about centerpiece ideas for the annual "Hitched" issue of Lynchburg Living magazine.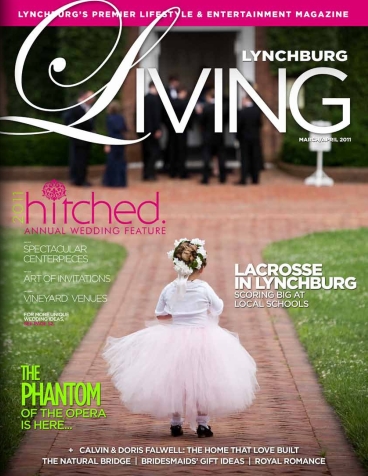 You can see the entire article over on their website (and also be sure to check out the other articles written by fellow freelancers like myself for the annual issue chock-full of wedding features).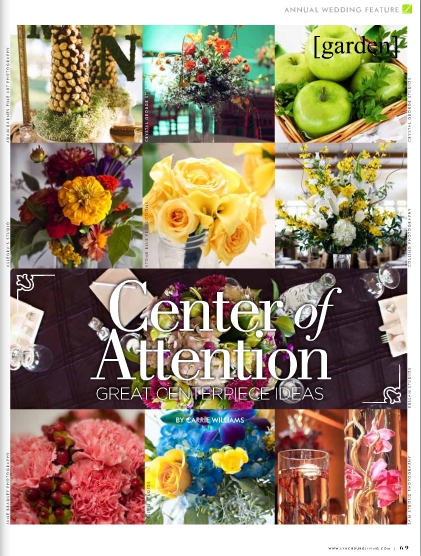 When I sat down to write the piece, my mind was on overdrive coming up with ideas for centerpieces. So I ended up coming up with more tips than I could contain in one 1,000-word article. So with my editor's permission, I am going to divulge a few little "extras" to you here!
In the published piece I quoted tips from one local expert – Elisha Dudley of the "Petal Flower Company". I'll let the magazine article itself do all the talking, but this is one fabulous floral designer – I recommend her to all locals (and semi-locals in surrounding areas)!
Without giving away too much, I will simply say that Dudley has crafted some very unique and exquisite arrangements.  While always maintaining and listening to her bride's vision, she is able to interject the reality of what can be done to make any dream come true – No matter how lofty!
Here are a couple of examples of her work (photos taken by a FABULOUS local photographer in town – Sara Ernst)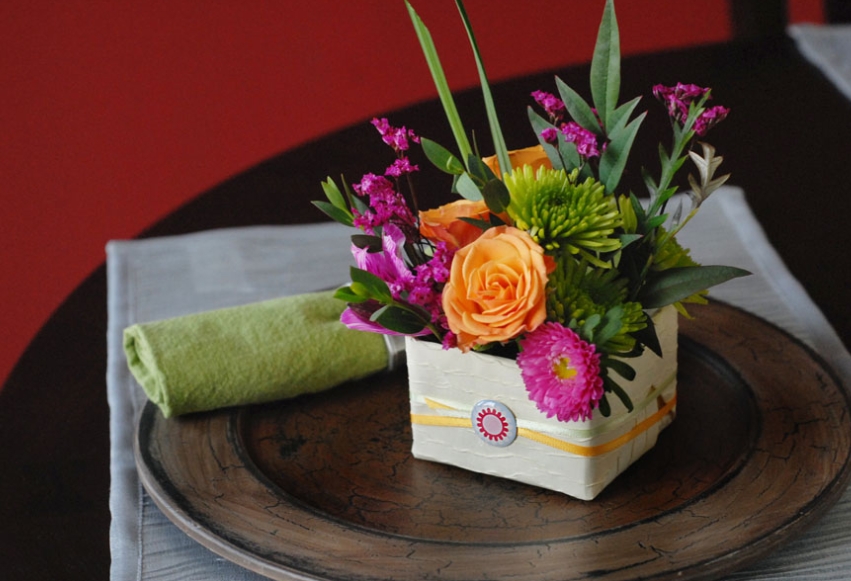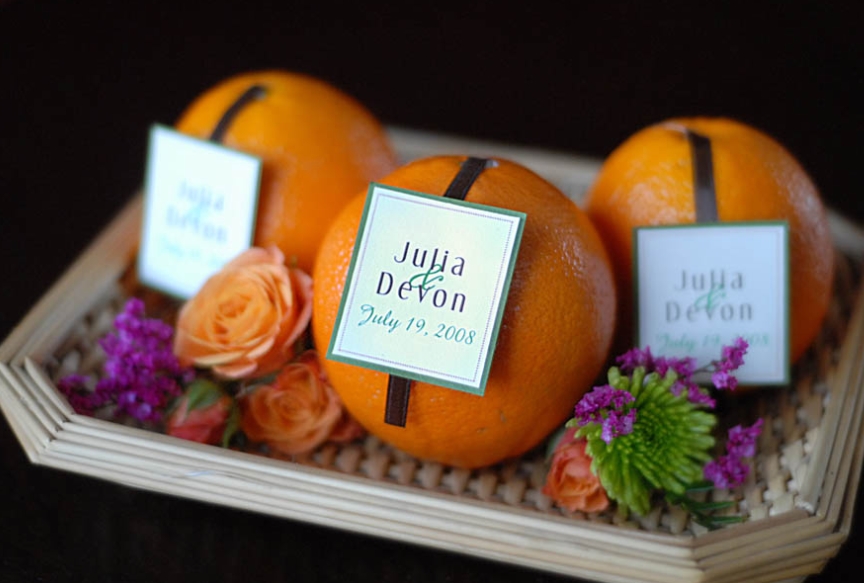 Definitely be sure to check out the article on the Lynchburg Living website for her full disclosure of tips, tricks and experience.
But now for some extra goodies not featured in the story 🙂
One of the best ways I've seen florists create a lot of visual drama at a wedding reception is with size – Creating something extra tall will not only add drama and elegance to any table, but also has the potential to anchor the décor of your entire event!
Take Bethany's wedding for example – Her mother (always the wedding pro) came up with these gorgeous arrangements in Beth's color scheme.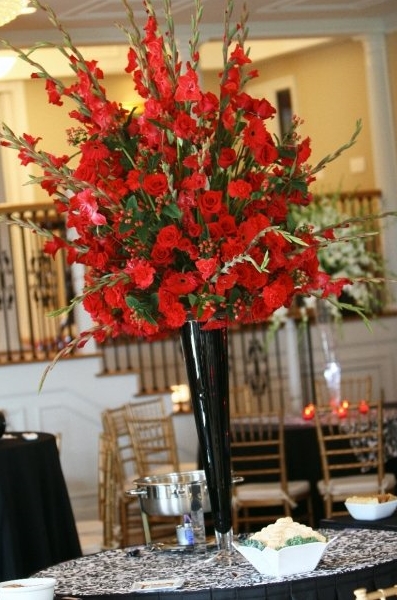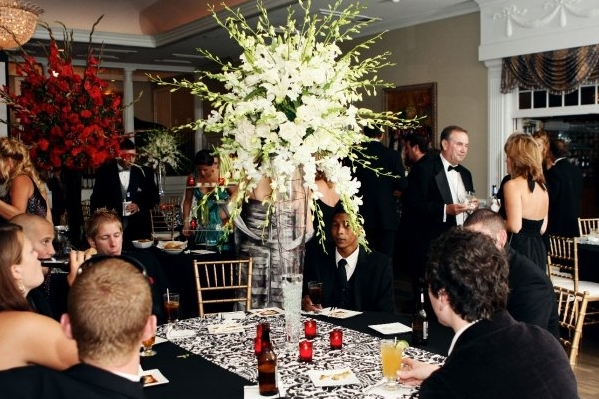 Tall centerpieces also allow room for creativity with the vase itself. If you want to incorporate more color, you could either use a colored glass vase or, to save money, fill a plain clear vase with color-dyed water – This may sound a little tacky, but the effect is actually quite beautiful!
Another way to add interest to your vase (this is something I also learned from Beth's mom) is to put crumpled up clear saran wrap down into the vase and fill it with water. Placing small tea candles around the base of the vase will make the texture of the plastic submerged in the water look almost like ice – perfect for winter weddings. A similar effect can be achieved by filling the vase with clear glass pebbles or beads.
While Bethany's family was able to DIY their own floral arrangements, not all of us are THAT crafty (myself included). But luckily there are plenty of ways to achieve a professional look with less effort/talent.
If you think about it, wedding centerpieces are usually all about shape, size and color. So that allows you the opportunity to play with anything that falls into those categories – Could be a collection of candles or even a painted birdcage!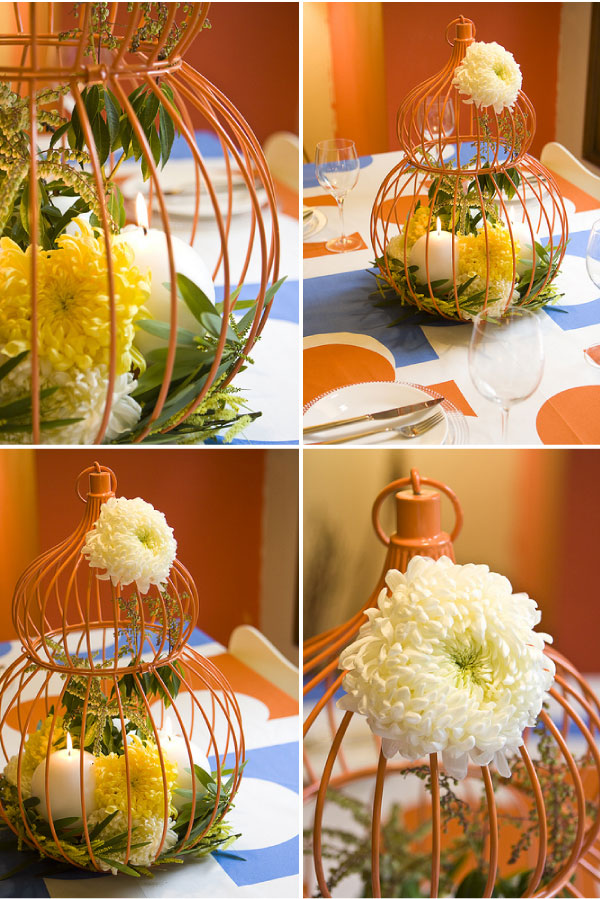 Want the color of flowers but also a little something different to set your arrangements apart? Try placing several mason jars in the center of your table and fill them with wild flowers, leafy herbs and vegetables. Bright red peppers still in a bunch on the stem are great for this because they hang over the side of the jar and give a great pop of color in an unexpected way. Herbs also give off a wonderful scent that flowers just can't match.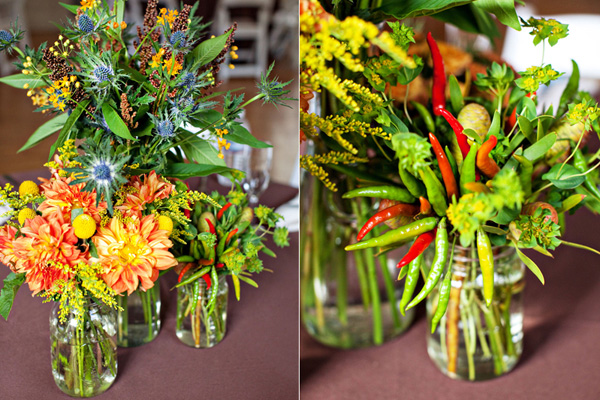 On a budget? You can still make the most of your wedding costs with this inexpensive tip:!
We all know that bridesmaids need to have bouquets – It's not often something you can be frugal with since they will be in all the bridal party photos. But why not make their public appearance last beyond merely the ceremony and pictures?
When your bridesmaids arrive to the reception site, have them place their bouquets in water-filled decorative vases on the guest or food tables. It's a great way to save on extra floral arrangements and puts the flowers you've already spent money on to added good use. My other best friend, Savannah, did this at her wedding and it was gorgeous!!!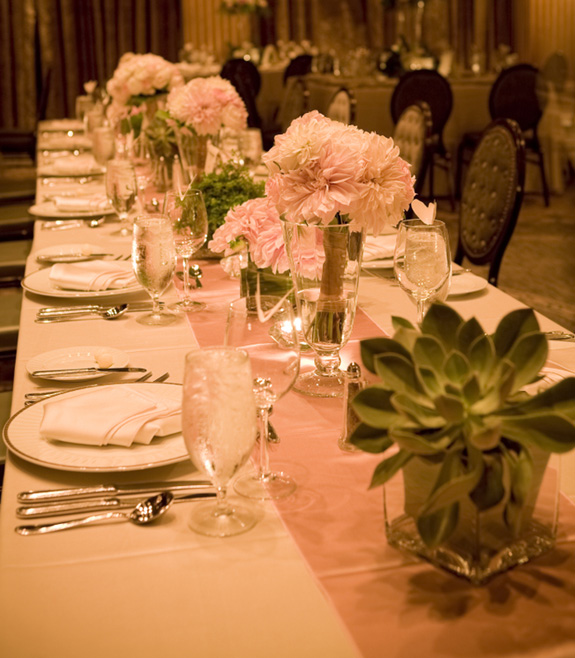 Here's a picture of Savannah looking beautiful for her wedding last year 🙂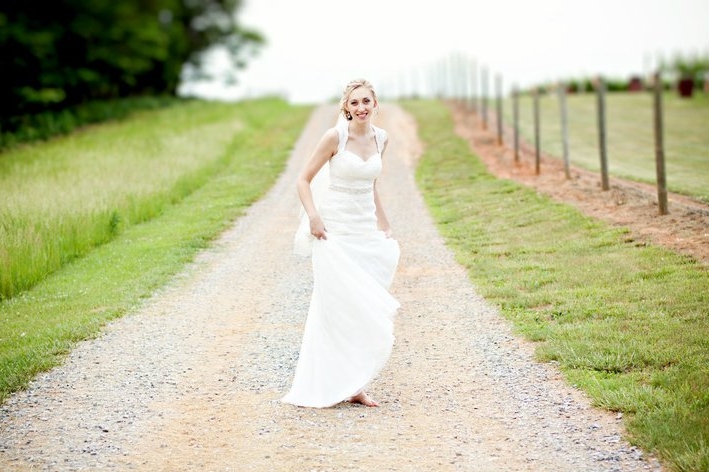 Ribbon is also another great accessory – The colors and textures can be an extension of your wedding day theme. For a modern, spring-time wedding choose a thick silk ribbon in a solid shade of your wedding colors. For a vintage-themed outdoor wedding, choose ribbon in a traditional pattern like paisley or gingham. Wrapping the ribbon around your vase of flowers could be the finishing touch you're after.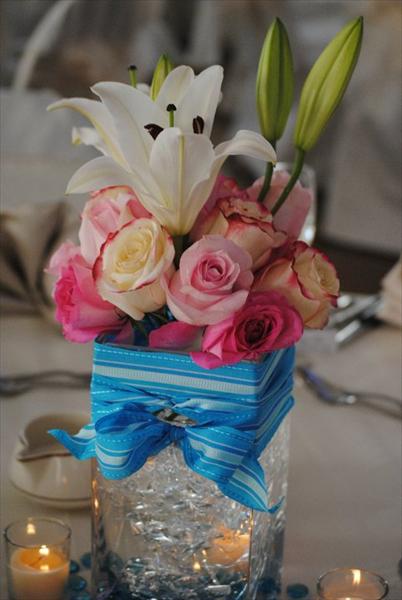 And you can't get much easier then a vase of colorful citrus fruit!! This is something I have ALWAYS wanted to try at my own reception. Cut fruit also gives off such a great scent!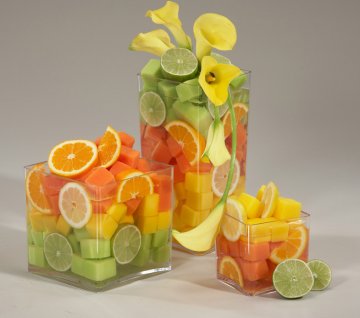 So there you have it! An extended look into my wedding-obsessed imagination 🙂 I know that people have done all of these tricks before I suggested them, but maybe you can use them for inspiration for your own event! Doesn't even have to be a wedding – Try them out at a baby shower, birthday party or brunch.
Isn't DIY-ing the best??
(Photo Credit for "Hitched" cover: here; for article cover: here; "Petal Flower Company" photos: here and here; photo of birdcage: here; mason jars: here; Bridesmaid bouquets as centerpieces: here; Savannah's bridal portrait: here; ribbon-wrapped vase: here; vase of citrus fruit: here)