Whether we mean to or not, our homes have a unique style specific to who we are. Even people who THINK they don't have a style probably do.
Take my sister for example – She basically lives like a hog. Clothes litter her floor and books are stacked in half hazard piles next to her night stand. But when you look at the room as a whole (and, if you're like me, take a deep breath and try not to start folding shirts and pants to be put away neatly), you can see that those piles of old, worn used books and the bright red lamp on her thrifted and chipping night stand really show a distinct style, albeit an eclectic one.
John and I decided early on that we are sort of "Thrift Store Chic" in terms of our style and the pieces we are drawn to. That initial style diagnosis has evolved a bit to include classic midcentury pieces as well.
If you're having some trouble nailing down your style, there are PLENTY of resources out there to help you. All you have to do is type something like "design style quiz" into a Google search and you'll be bombarded with options.
I thought I'd give a few of them a shot myself just to see what came back. Some were pretty spot on while others were a bit off…But I think you have to take these results with a grain of salt – Figuring out your style isn't really rocket science but a computer isn't going to "get you" as well as you can either.
I started my battery of style tests over at the Ikea Buisness website (click on your country and then on "Tools and Guides" towards the top/right of the home page, then go to the bottom of the page and click on the square to the left that says "Find Your Style" – Get started!).
This was a fun start to my quiz-taking because I got to choose all sorts of textures and looks – Below are a few screen shots from the questions as I went through it: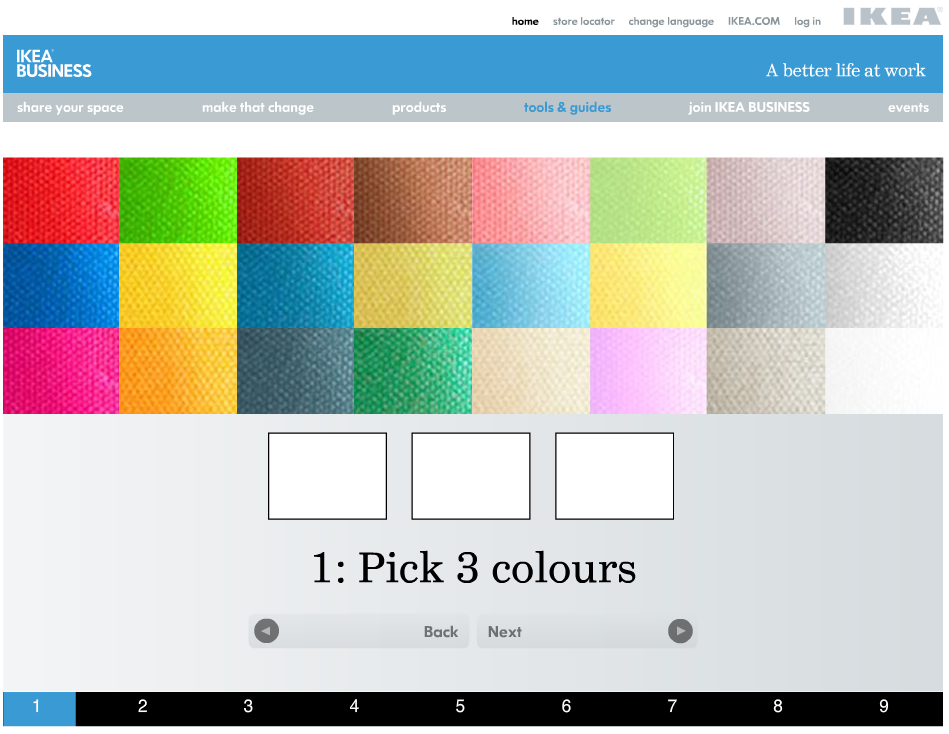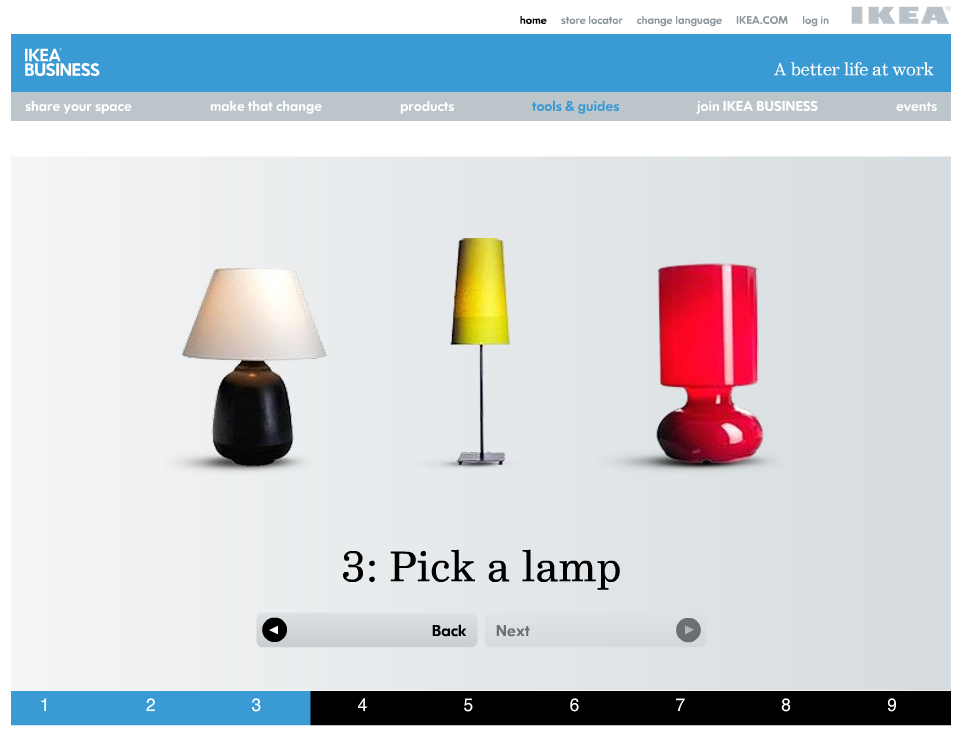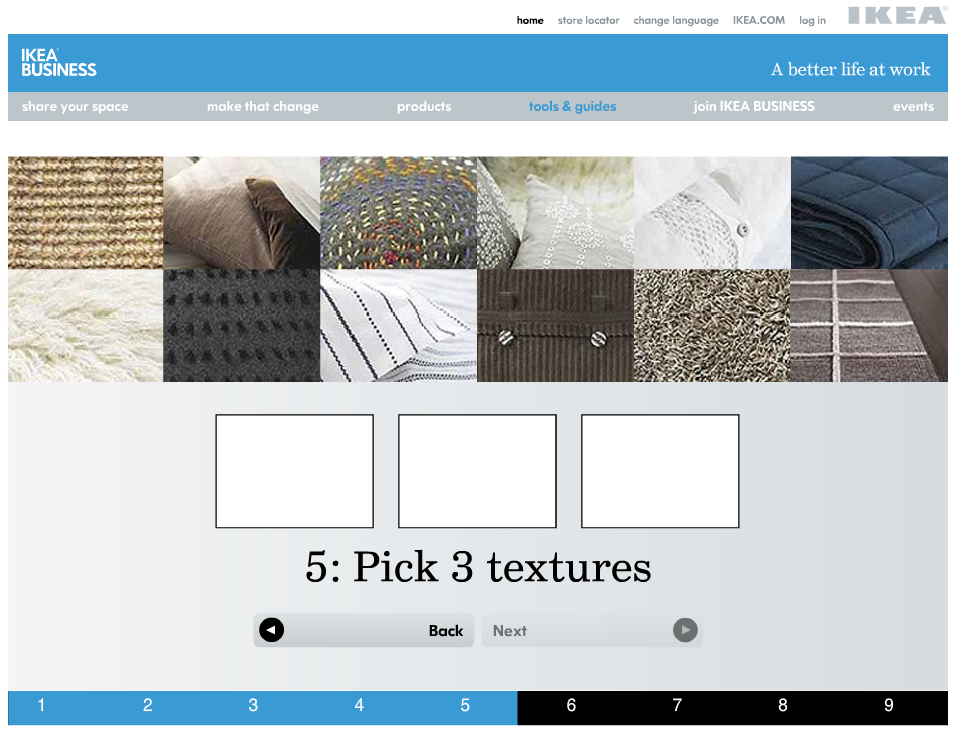 And my results: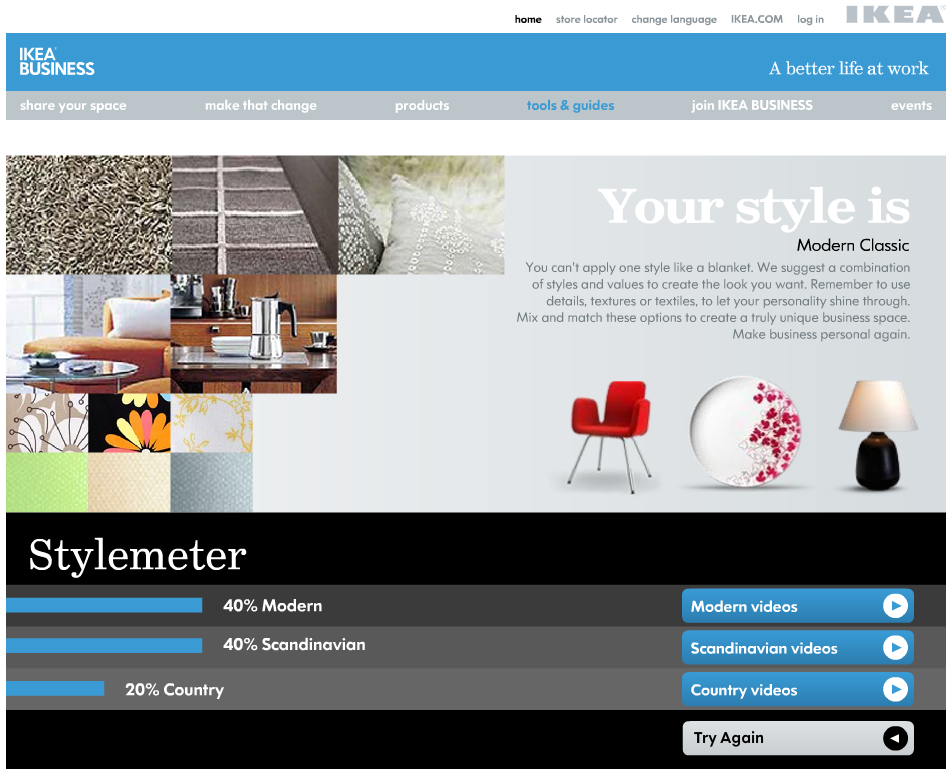 (In case you can't read the text: "Your style is Modern Classic. You can't apply one style like a blanket. We suggest a combination of styles and values to create the look you want. Remember to use details, textures or textiles to let your personality shine through. Mix and match these options to create a truly unique business space. Make business personal again.")
"Modern Classic" – That's pretty much spot-on actually! I've started to see that our style is a bit of an oxymoron – modern touches, like a flat screen television and sleek upholstered furniture, with classic/vintage accents, like a thrifted clock and midcentury wooden furniture.
Next on my style diagnosis was The Home Stylist quiz – This one is fun because it doesn't JUST focus on home decorative items and looks. It asks you things like "What types of clothes are you most likely to be seen wearing?" and "What type of meal are you most likely to serve?".
Personal style doesn't just translate into our homes – It can manifest itself in the wardrobe we own and the movies we watch. That it can affect the type of look our home has is really just one facet of your "style"!
The lead-in text for The Home Stylist quiz perfectly reflects this:
"Style is not determined by just what types of furniture you have in your home. It reflects a way of life. Style demonstrates your personality and is an extension of yourself."
Here were my results from their test:

I think the results from this one were pretty good too – Except for the parts where it says I don't see the appeal of most antiques…I certainly have a certain kind of ERA that I seek out when antiquing, but I would never be able to cut old vintage pieces out completely.
Silly quiz results…Again, "grain of salt".
The last one I tried out was over at Ethan Allen: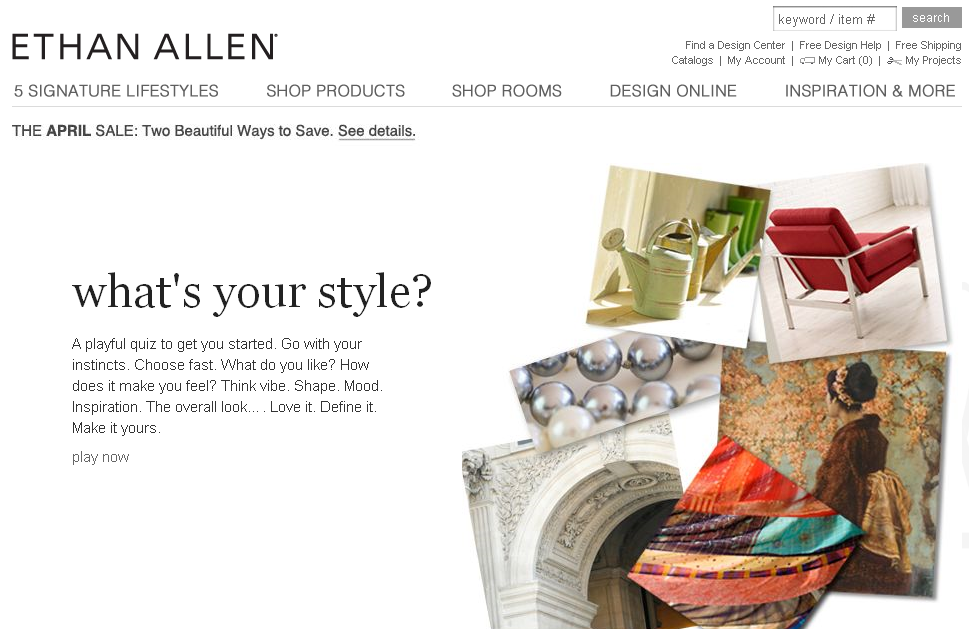 This one was a cinch! Just click on the pictures that jump out to you.  For example:
If you were wondering, I chose the left photo in each…
Here are my results from the quiz: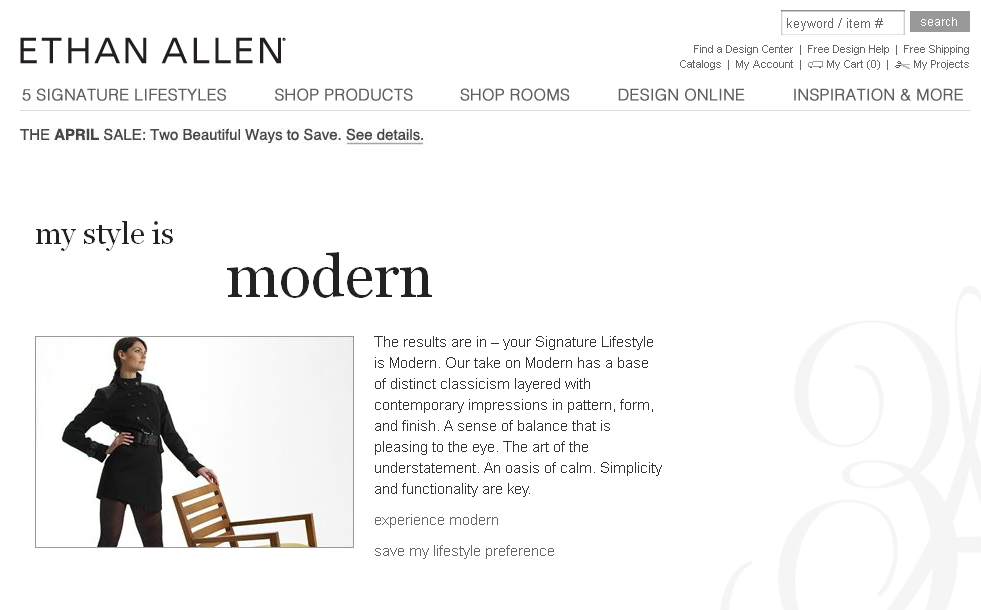 (In case you can't read the text: "The results are in – your Signature Lifestyle is Modern. Our take on Modern has a base of distinct classicism layered with contemporary impressions in pattern, form, and finish. A sense of balance that is pleasing to the eye. The art of the understatement. An oasis of calm. Simplicity and functionality are key.")
I'm starting to see a trend here…
"Modern" seems to be my catch phrase of the day, and I'm fine with agreeing. I definitely feel like our house has more modern lines then traditional, but I am having fun finding ways to combine hints of traditional in a largely modern/contemporary space.
What's your style diagnosis?
P.S. John also took the tests and these were his results:
Ikea: Modern Urban

The Home Stylist: Funky Eclectic

Ethan Allen: Vintage
I guess our combined style  is something like "Modern Thrift Store Chic" – The perfect combo of funky vintage touches and modern elements 🙂