Sorry for the momentary diversion from DIY decorating posts yesterday 🙂 But thank you for the warm response and "congratulations"! In John's words, which I wholeheartedly reiterate, "we are stoked"!!
But back to business…
Today I want to reveal a fun paint project that my friend, Megan, and I tackled recently. It all started when two clocks were donated for a silent auction event where she works. A good thought! But no one bid for them…So they just sat in her office. Eventually, Megan decided to take them to Goodwill, but hesitated and emailed me (which I'm SO glad that she did!!) to see if we could do anything fun with them.
She came over to the house and we got to work on our clock overhaul. Since there were two of the clocks, she graciously offered to give me the second. Here's the before: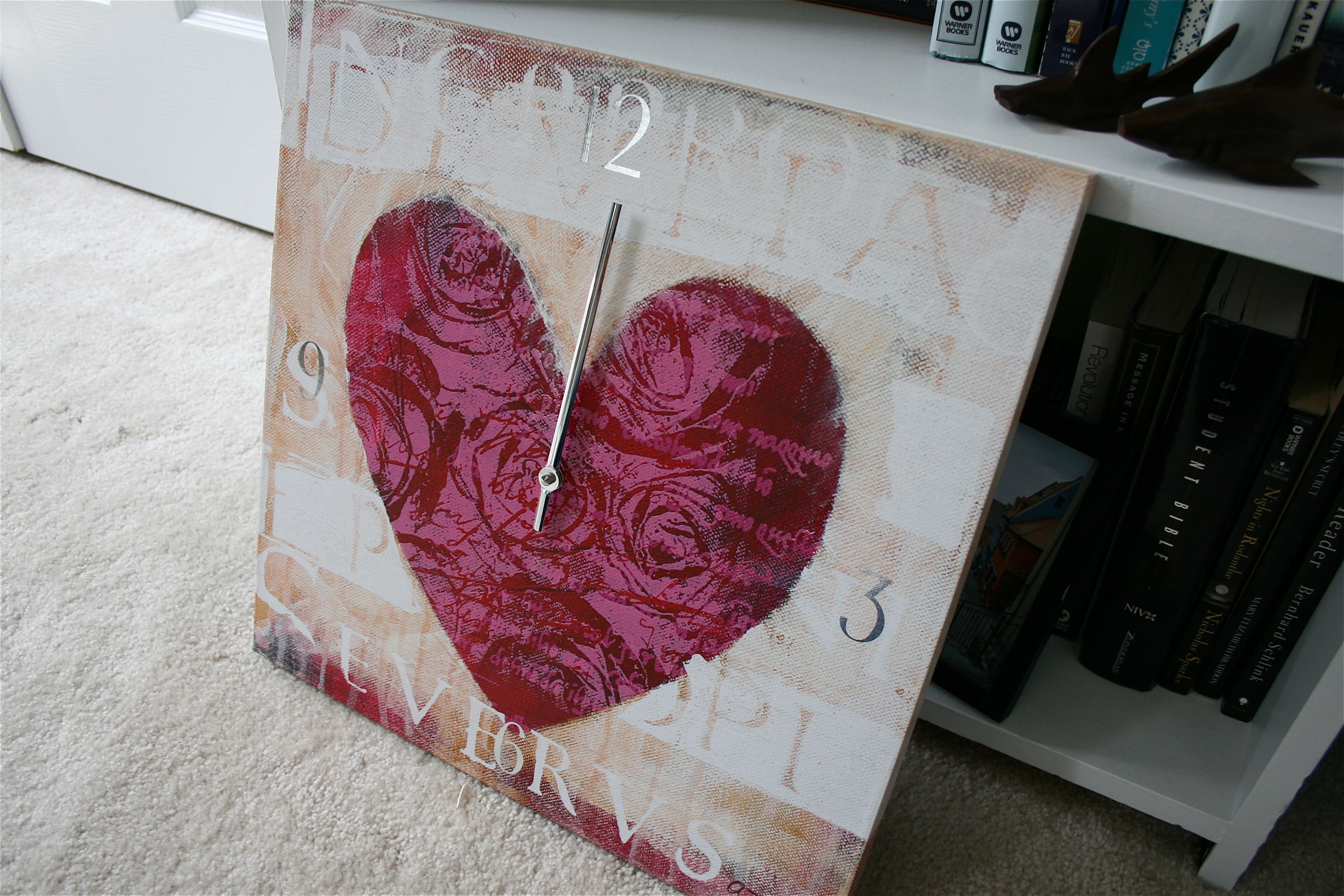 I know that this would probably be adorable in a sweet country-style living room or kitchen, but you know that John and I are more modern and sleek…
Here was the plan:
Remove the clock hardware for later
Paint the square surface (which is actually a hard, solid structure – Not the thin canvas that it seems)
Add a stenciled detail and some bling (i.e. tiny, jewel details with adhesive backing – We were trying to establish a little touch of "feminine" in our clocks)
I don't know that I would actually call this so much a "plan" though…We pretty much picked a color for base paint and made things up as we went – Sometimes that seems to be the best way to do things though!
Megan decided to go with a black chalkboard paint base and I went with a glossy green spray paint.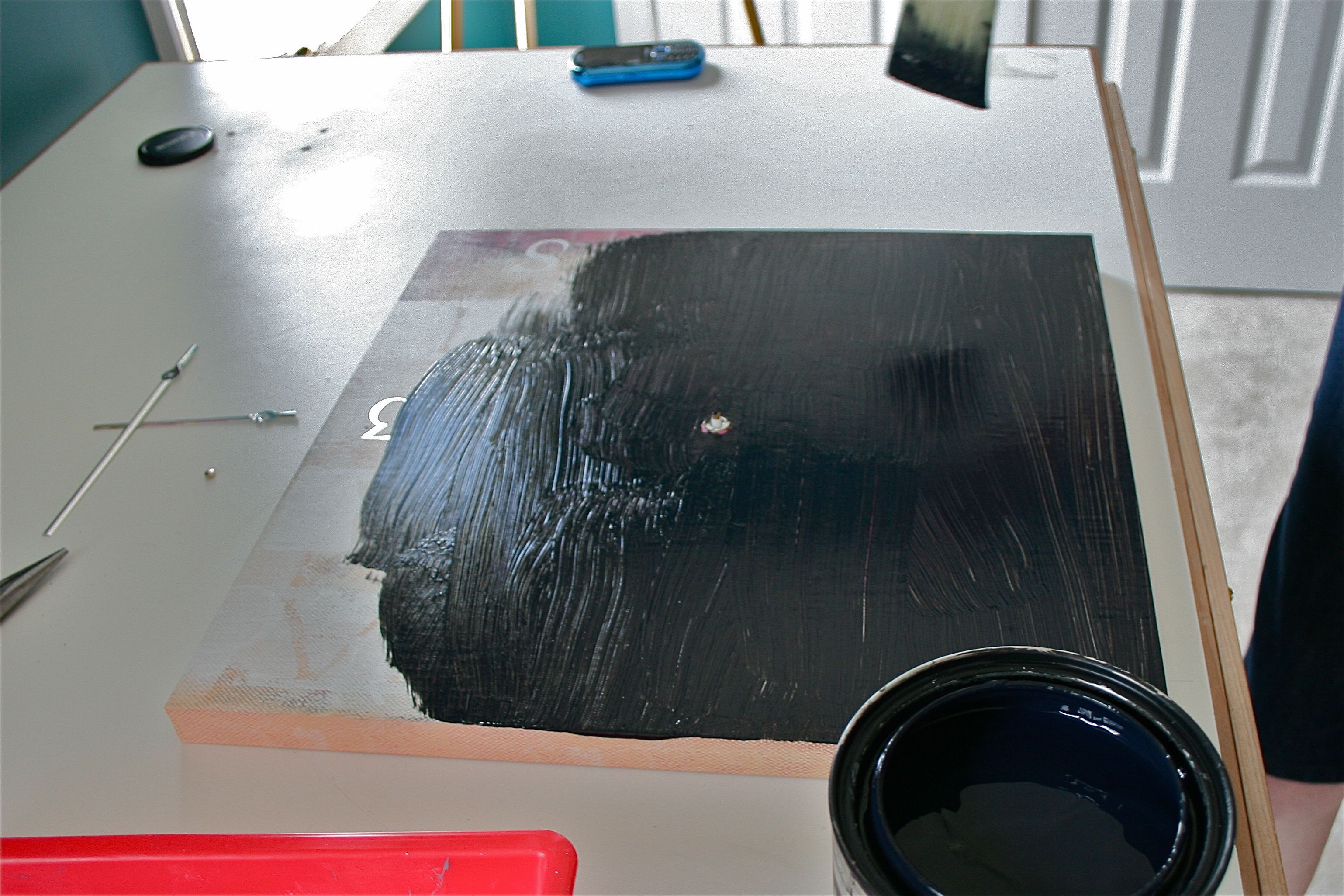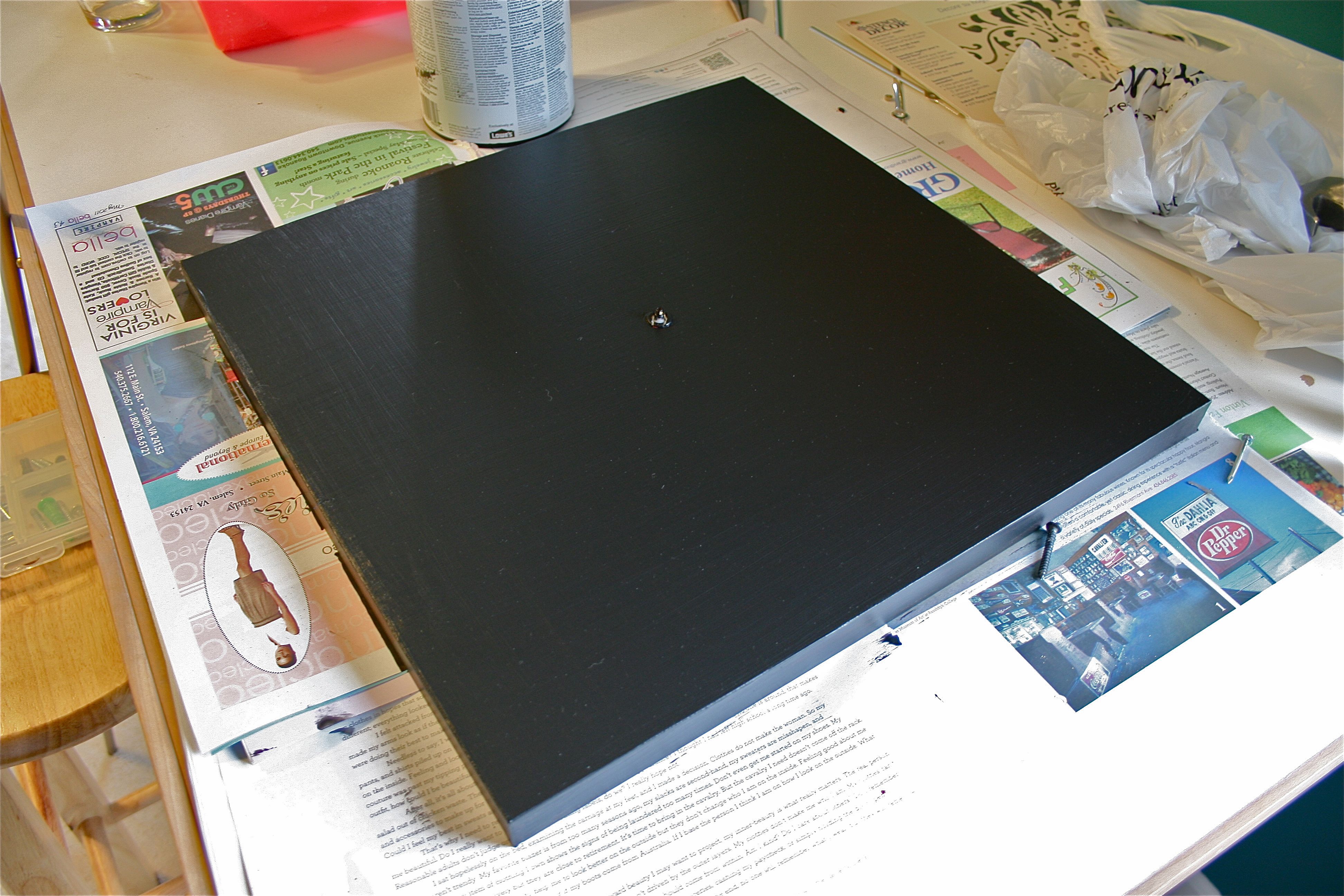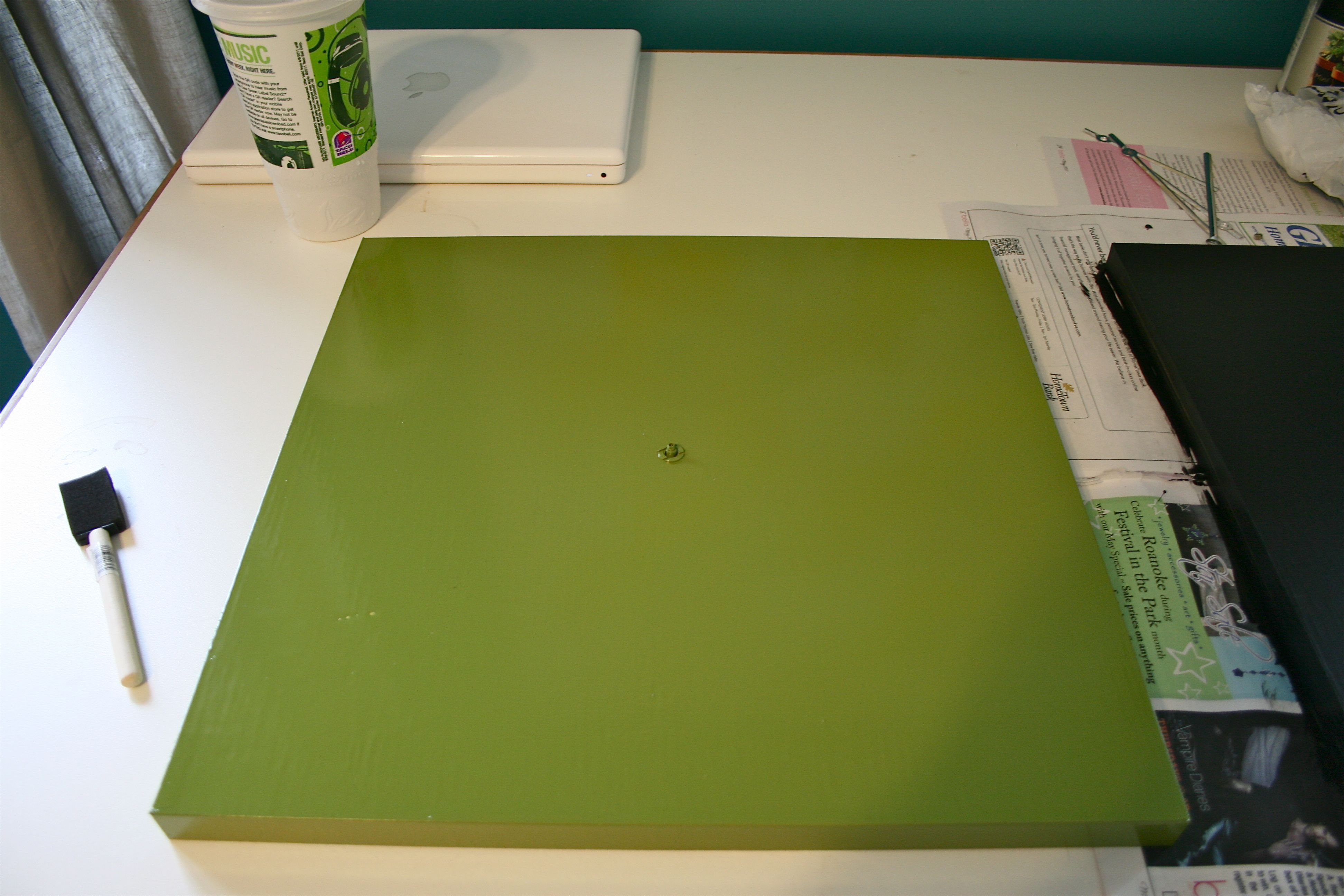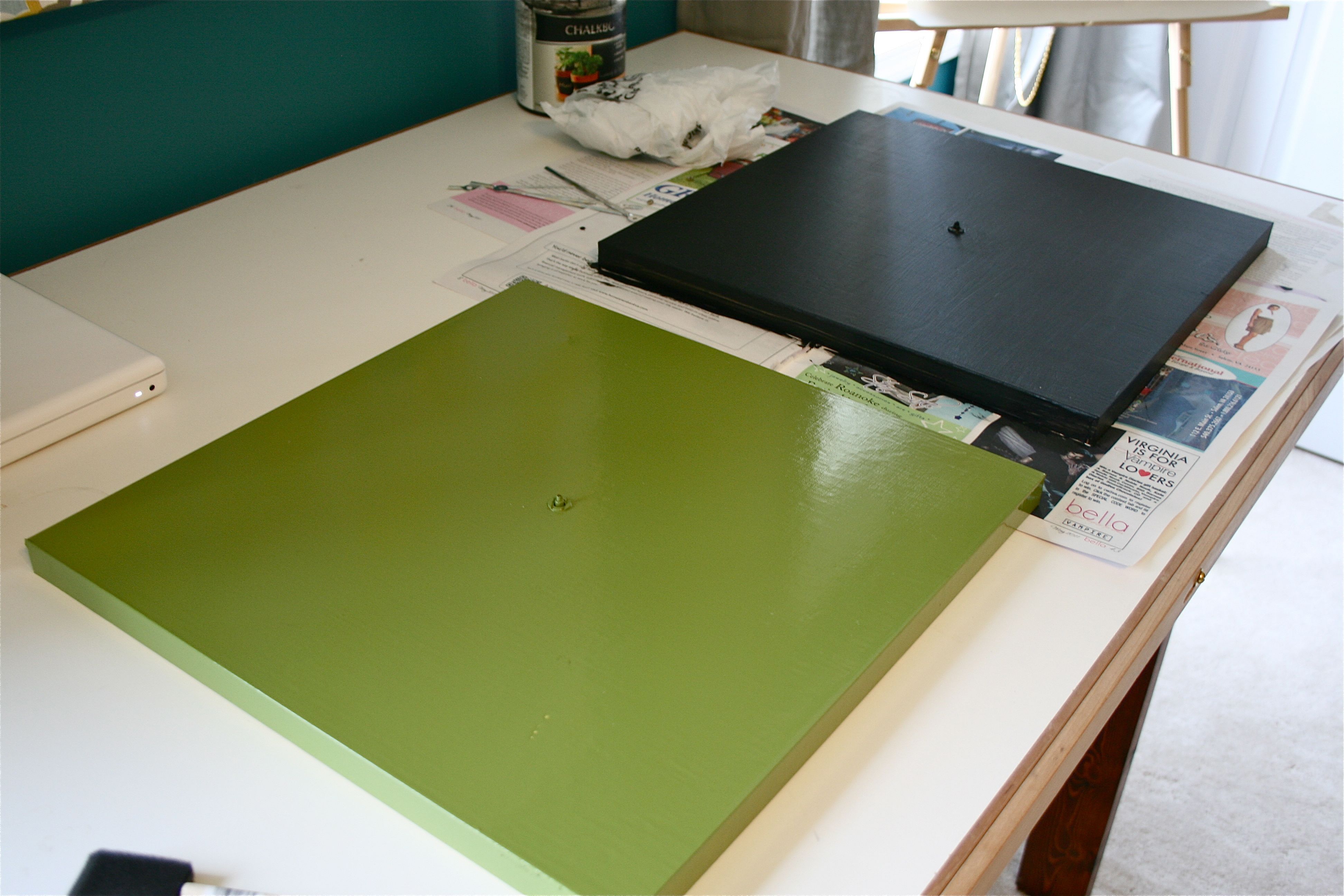 Day two of the project (we had to let the paint dry…) involved stenciling and bling-age 🙂
She and I made a quick trip to Michael's during Day One of the project after realizing that the paint drying would push us into multiple steps…So while there,  I picked up this inexpensive stencil and decided to put it in the middle of my clock: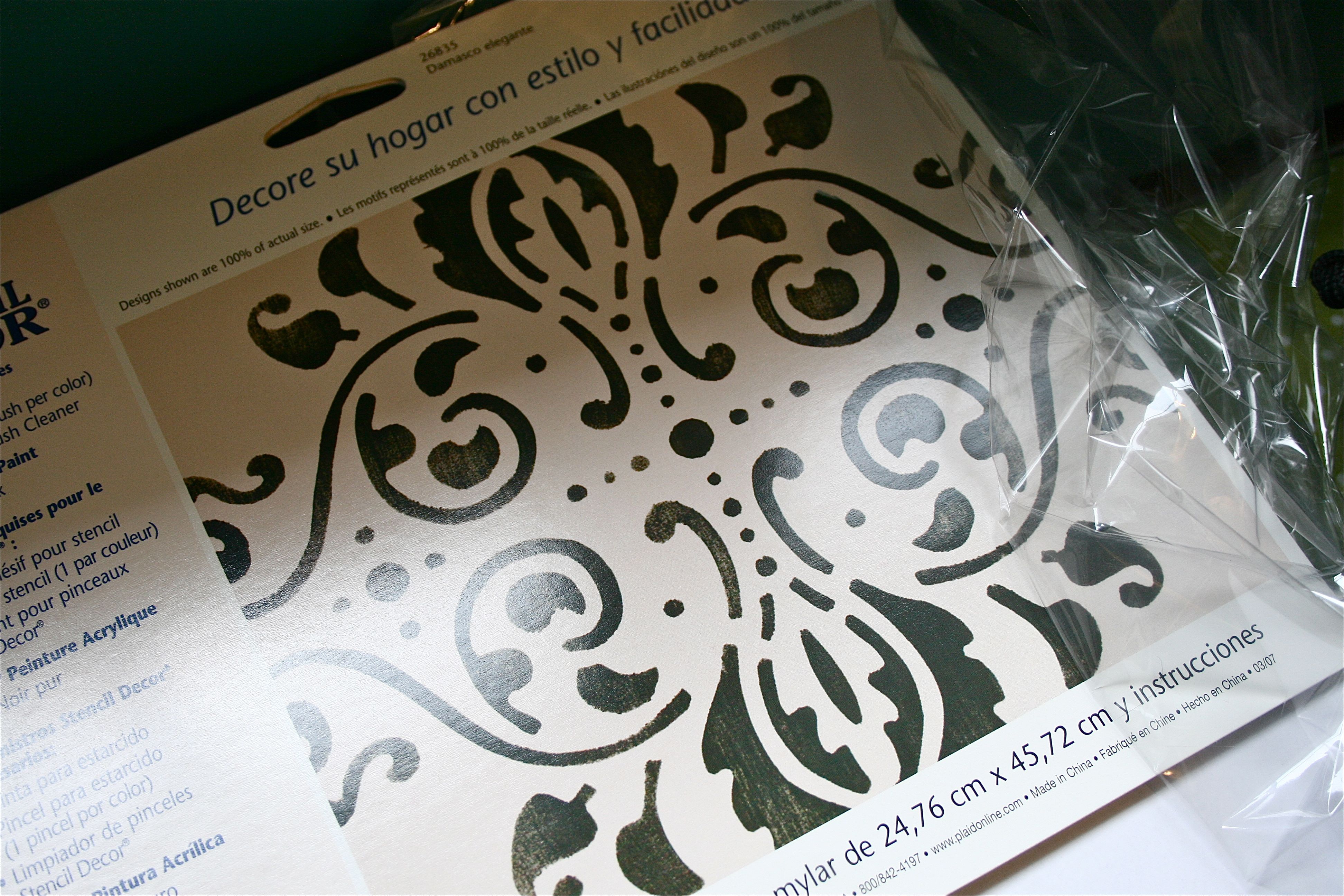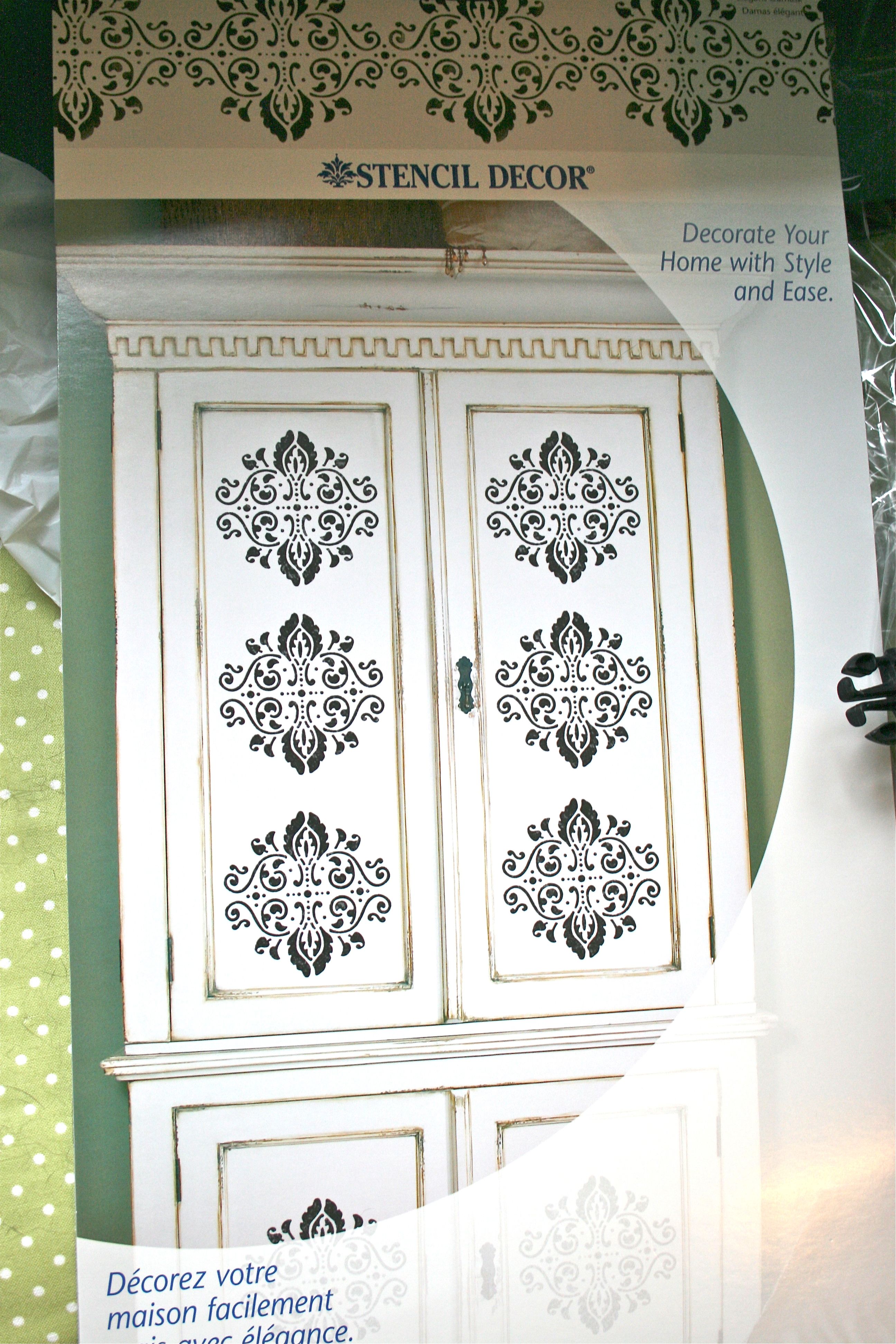 I love the vintage feel of the stencil with its swooping lines and leafy details. It seems elegant but feminine, something that I am allowed to do in my studio since it's "my room".
As luck would have it, there was a tiny opening in the center of the stencil that slipped RIGHT over the piece for the clock hardware, so it was a cinch to get the stencil in place and ready for paint.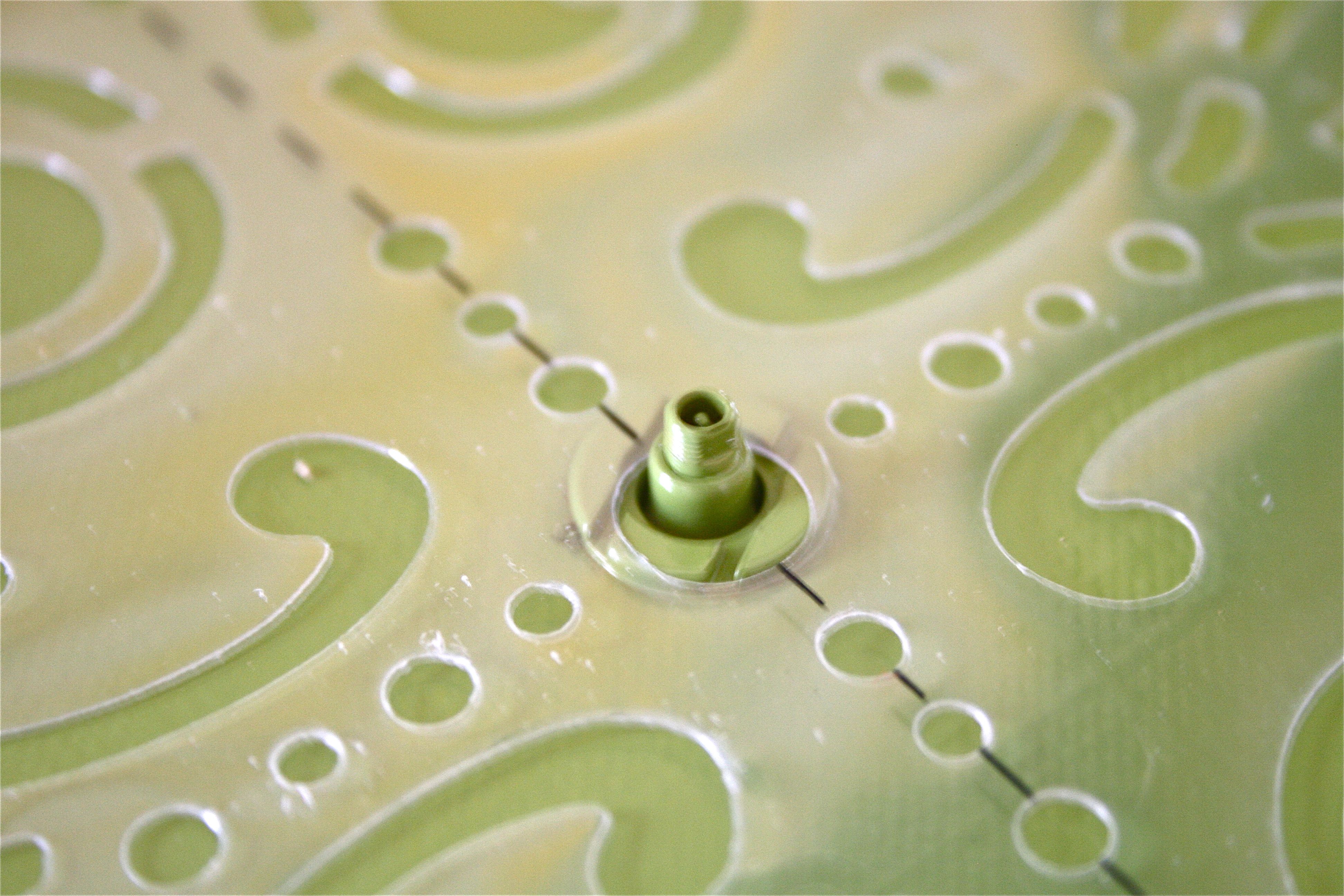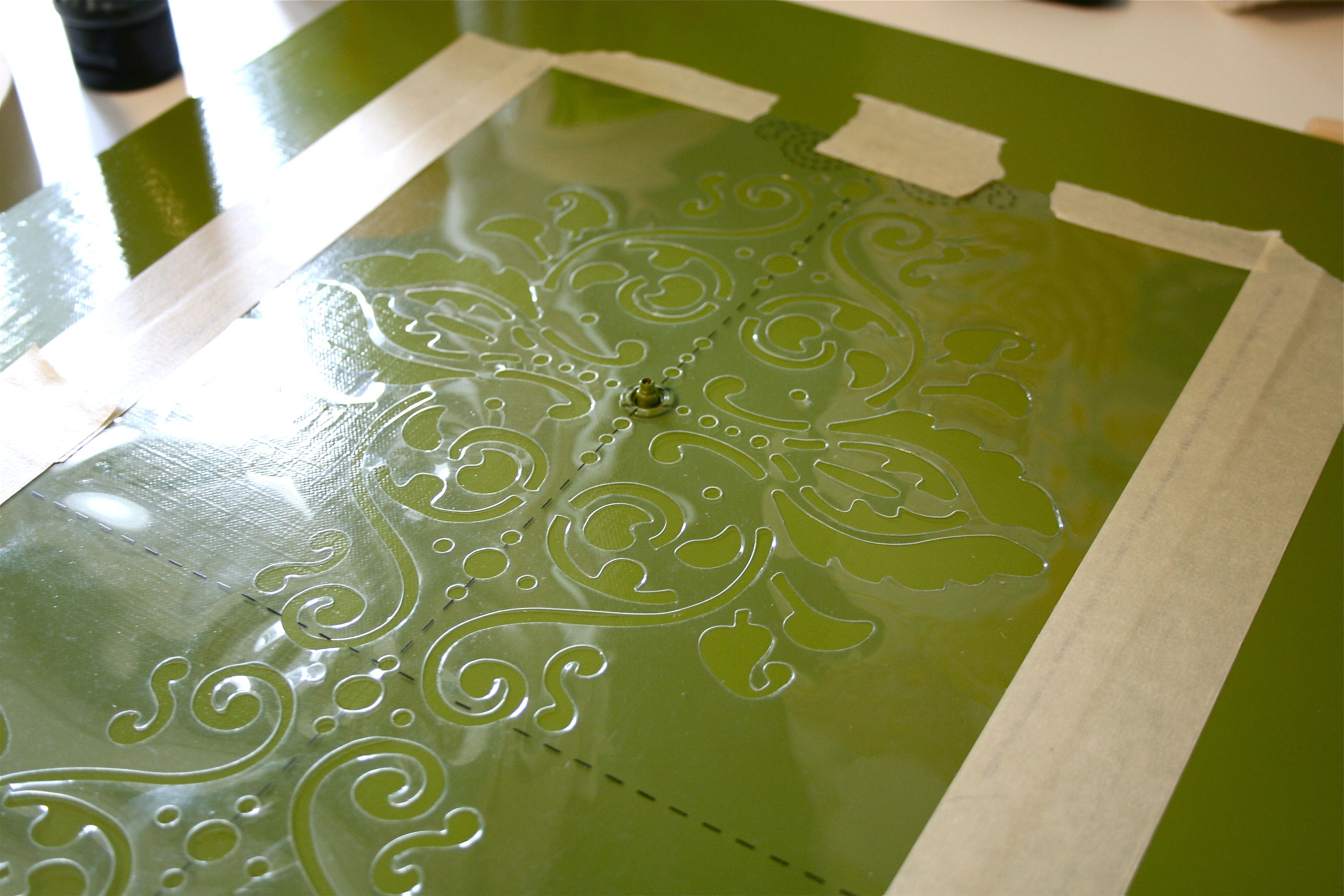 Next, I grabbed my thin foam brush (also a result of our Michael's trip) and put a very small amount of paint on it – I went with black for stark contrast.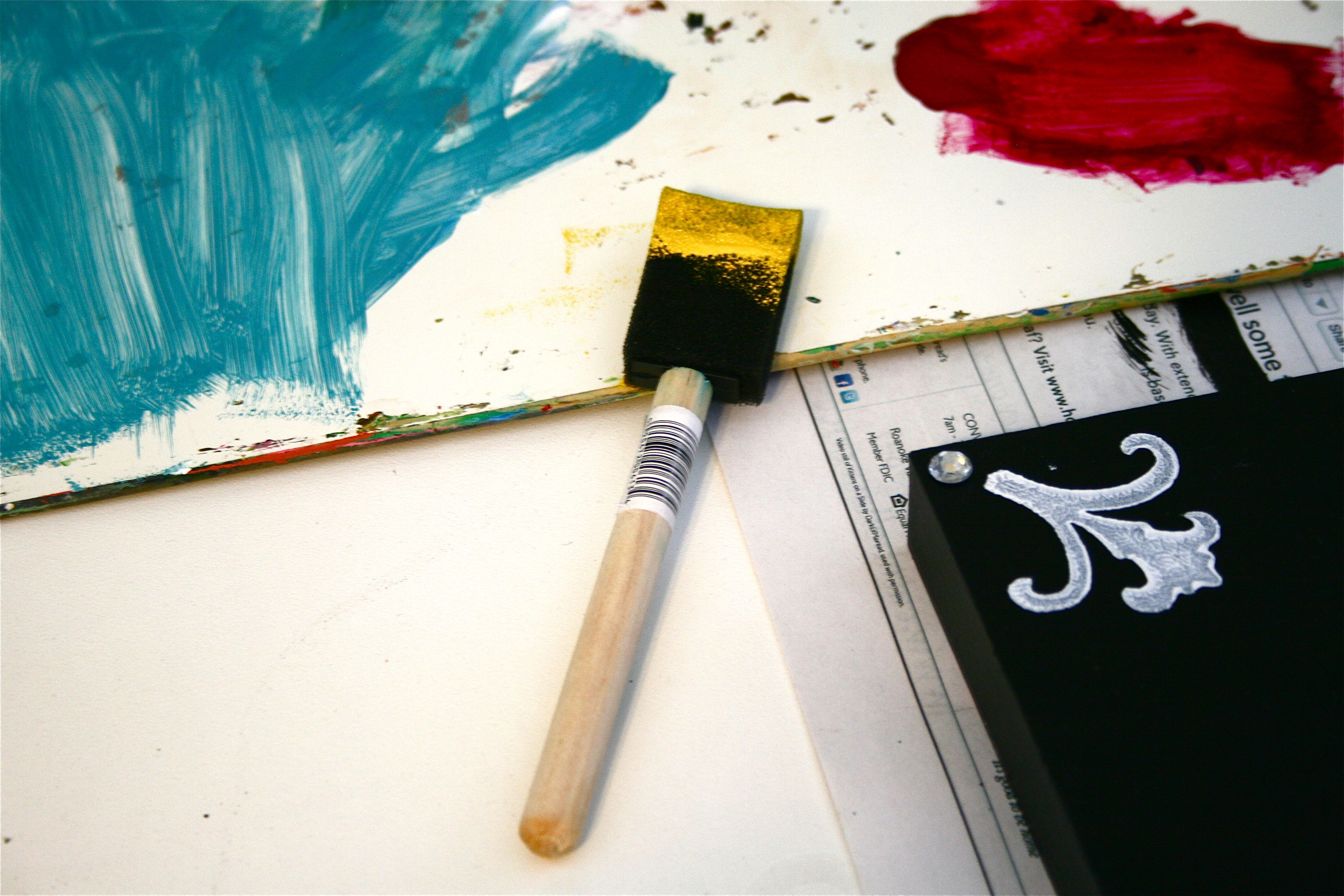 (The yellow on the brush pictured above is from a later step – But it's the same brush I used for the stencil)
I then dabbed the brush/paint lightly over the stencil, being careful not to make any kind of "sweeping" motion that might make the paint creep underneath causing my lines to be blurry – Which is more than I can say for the picture below…Sorry it's so out of focus! I must have been shaky with anticipation – I REALLY didn't think this was going to work.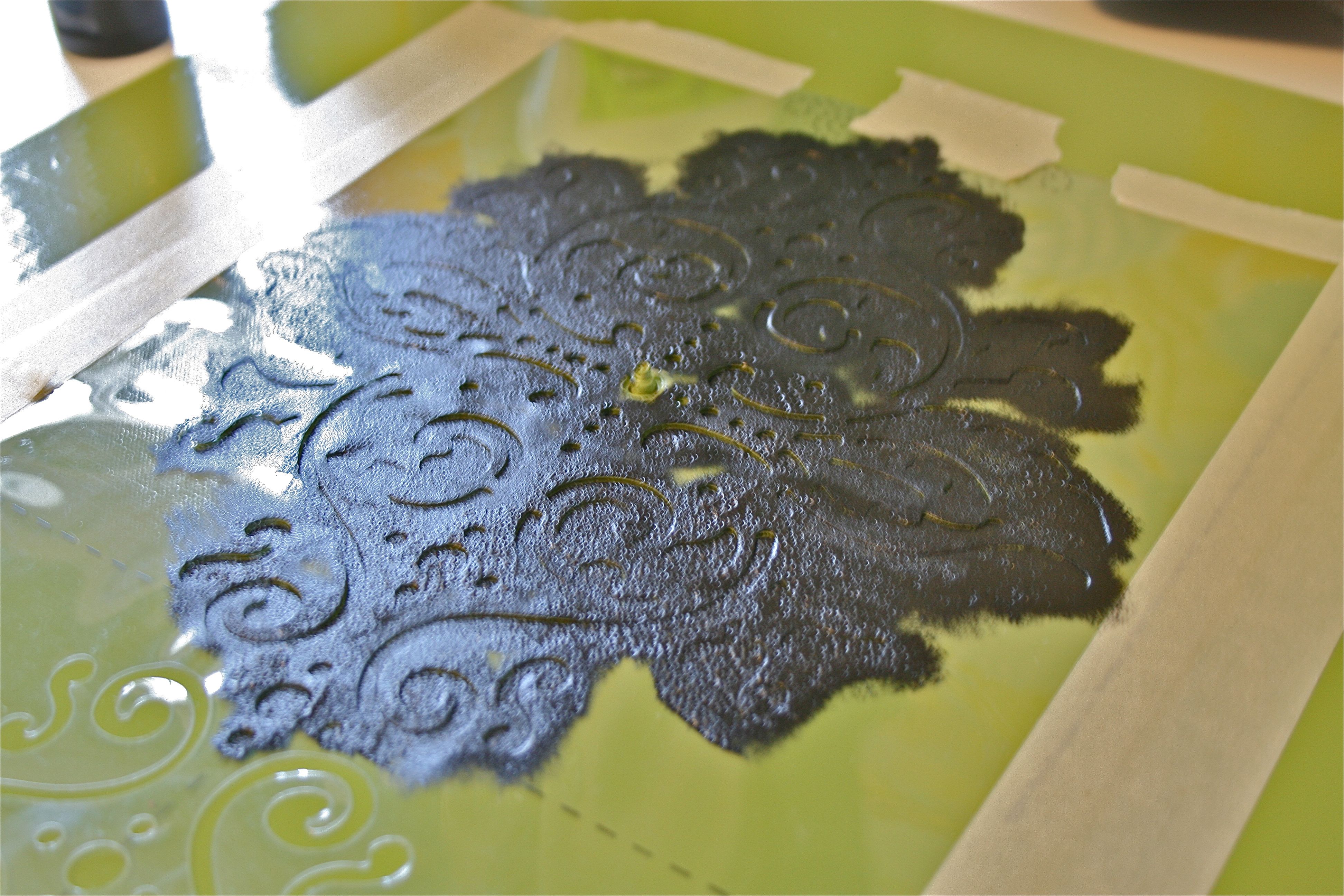 While the paint was still wet (pulling tape/stencil/etc. away from dry paint can potentially pull EVERYTHING with it), I gently and slowly removed the tape and the stencil. I was a little stunned to see this result underneath!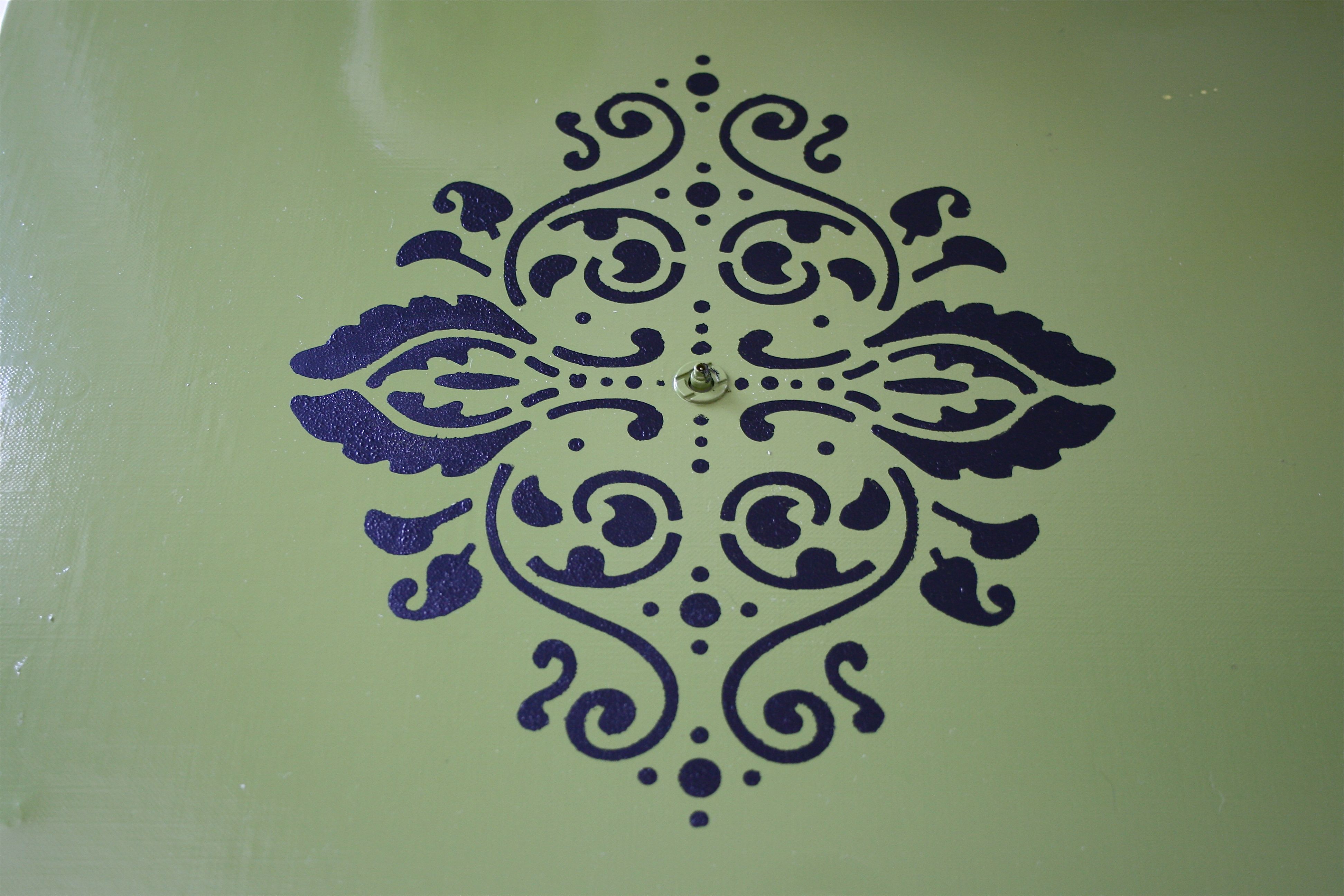 Crisp lines and no wonky paint!!!!!!! I think the moment I saw this my mind instantly went into hyper-drive brainstorming other uses for this stencil. I'm thinking the doomed-to-fail painted posters are going to be next  – I refuse to give up!
Anyways, Megan quickly decided to do the same thing to her clock, choosing a gorgeous, rich magenta for her paint color.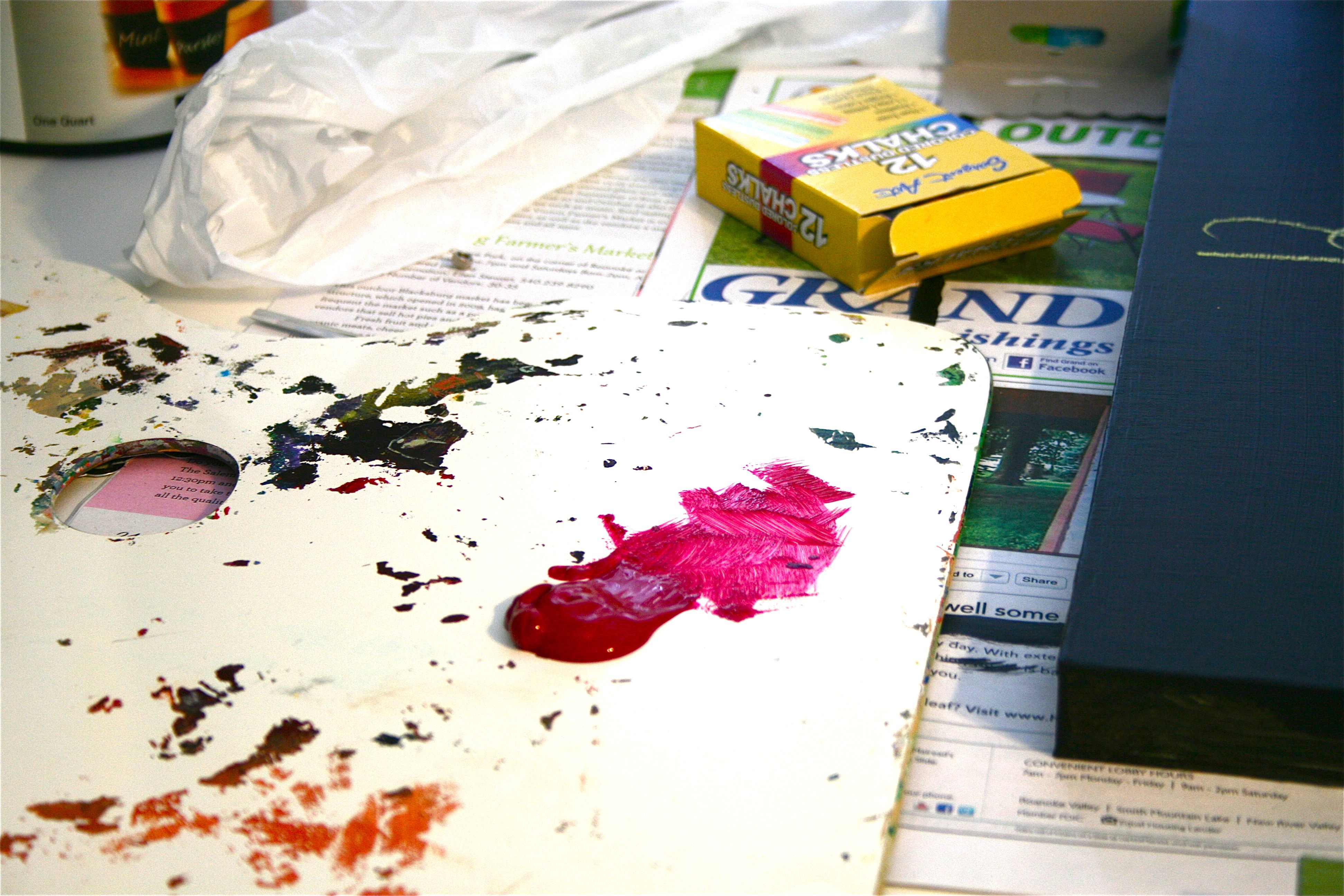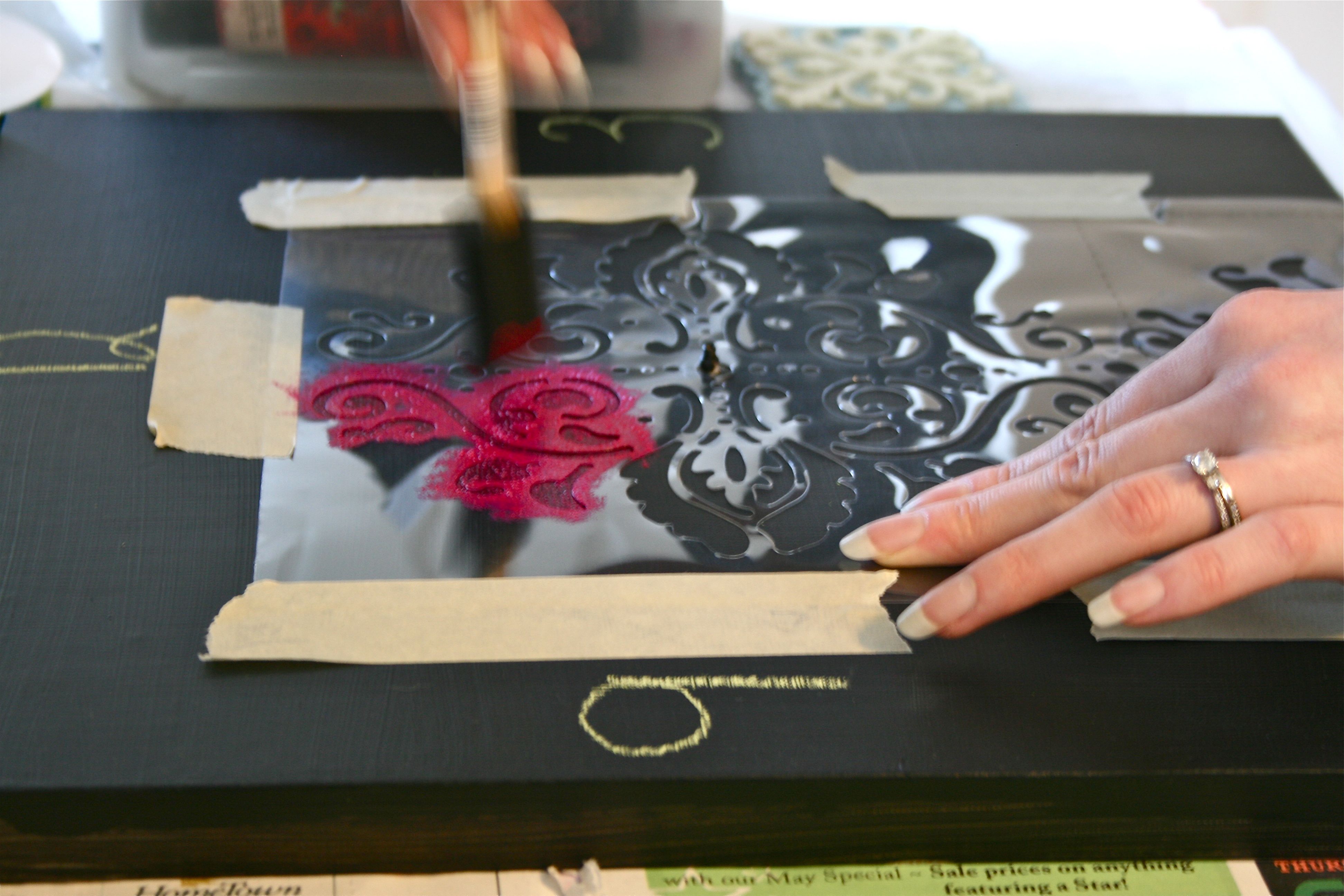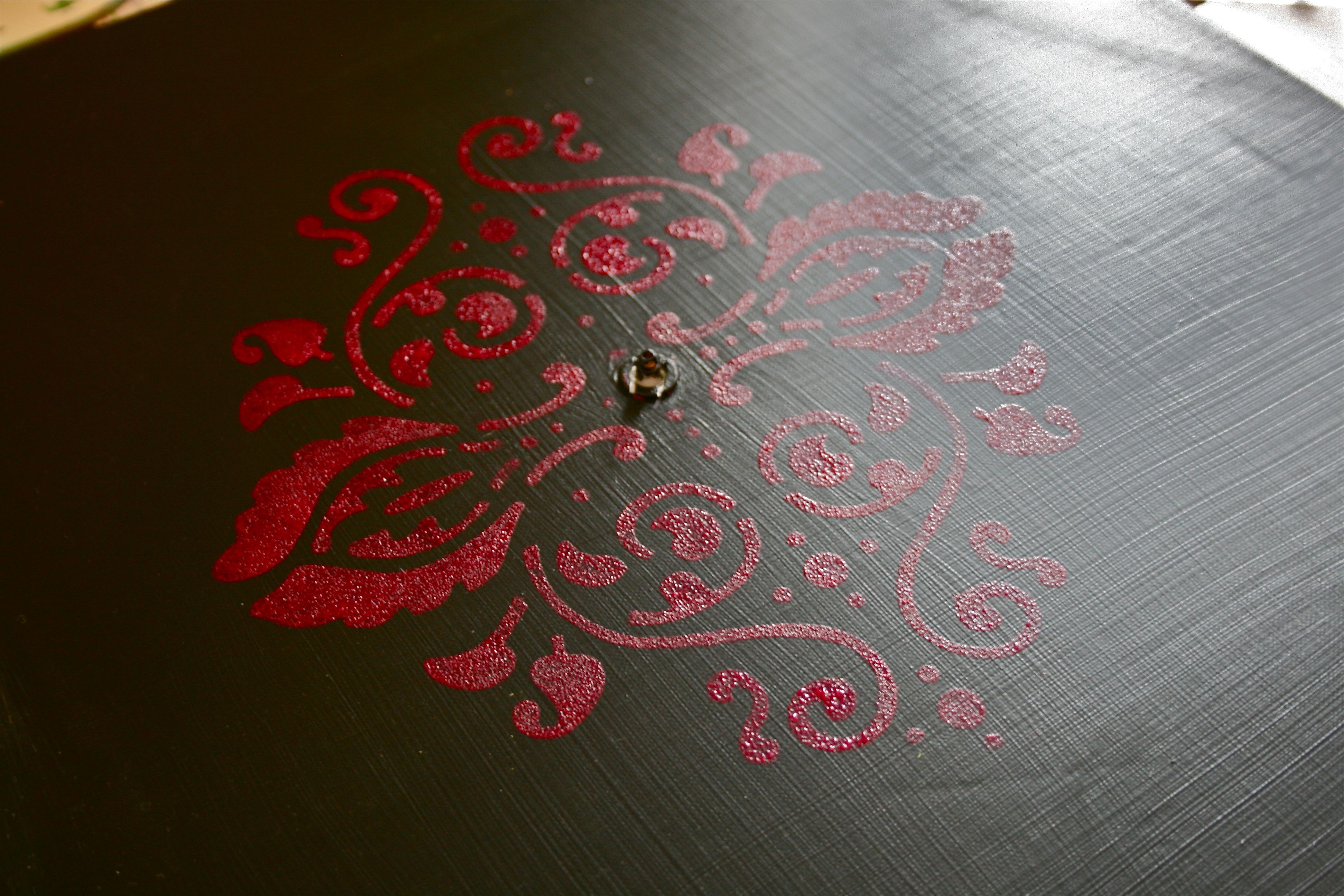 Did you notice the little chalk numbers that Megan added to her clock in the second photo above? She briefly thought about utilizing the chalkboard paint for its intended purpose, thus the experimental numbers, but then decided to nix that idea in lieu of a more streamlined look. She could always put little messages on there though in the future, especially if it's in a guest room – A little personalized "Welcome!"
Together, our stenciled clocks look like a great pair: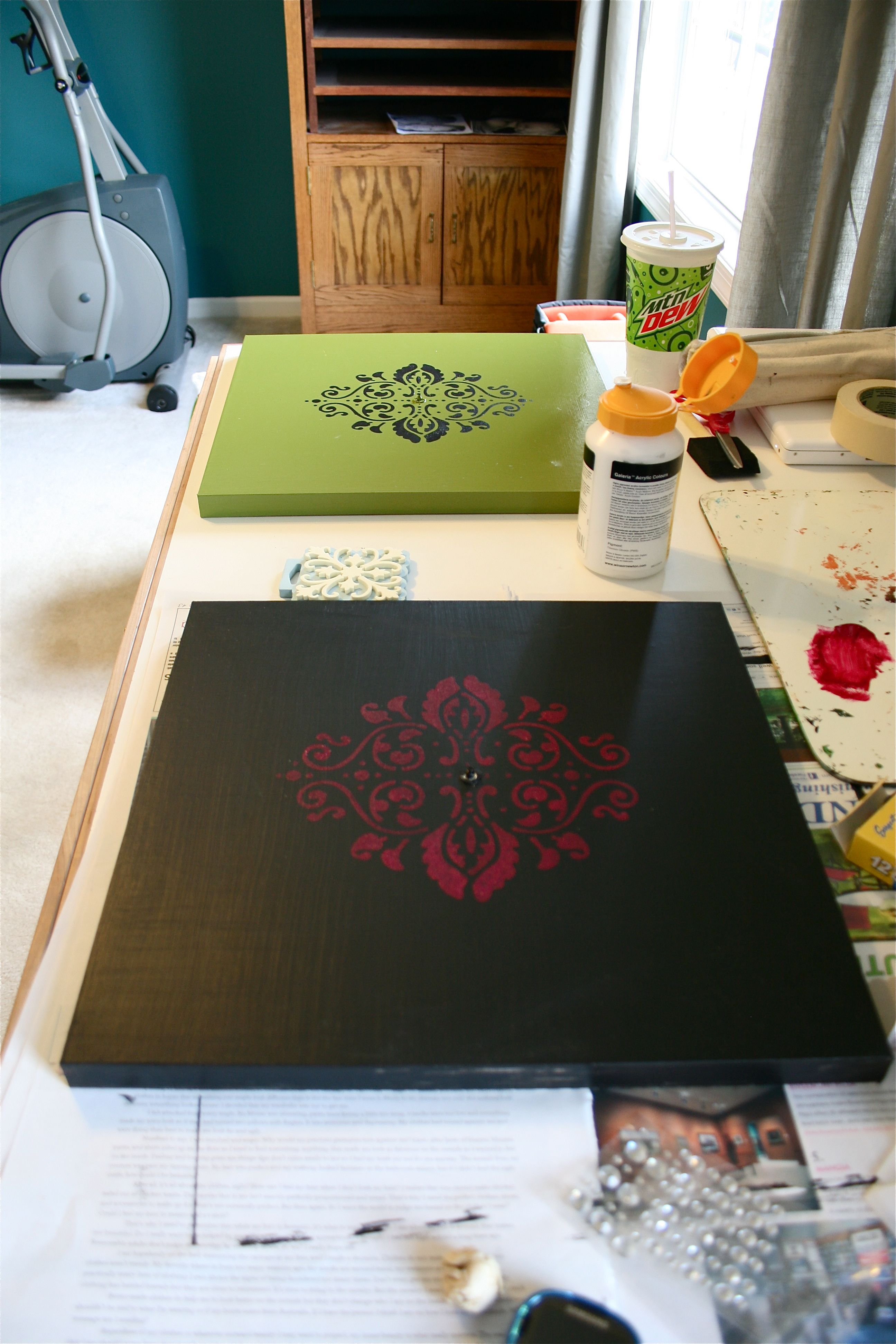 It still wasn't "just right" though…So we decided to use the corner of a stamp that Megan had picked up on our outing to Michael's to embellish the corners. She went with a white detail and I decided on yellow: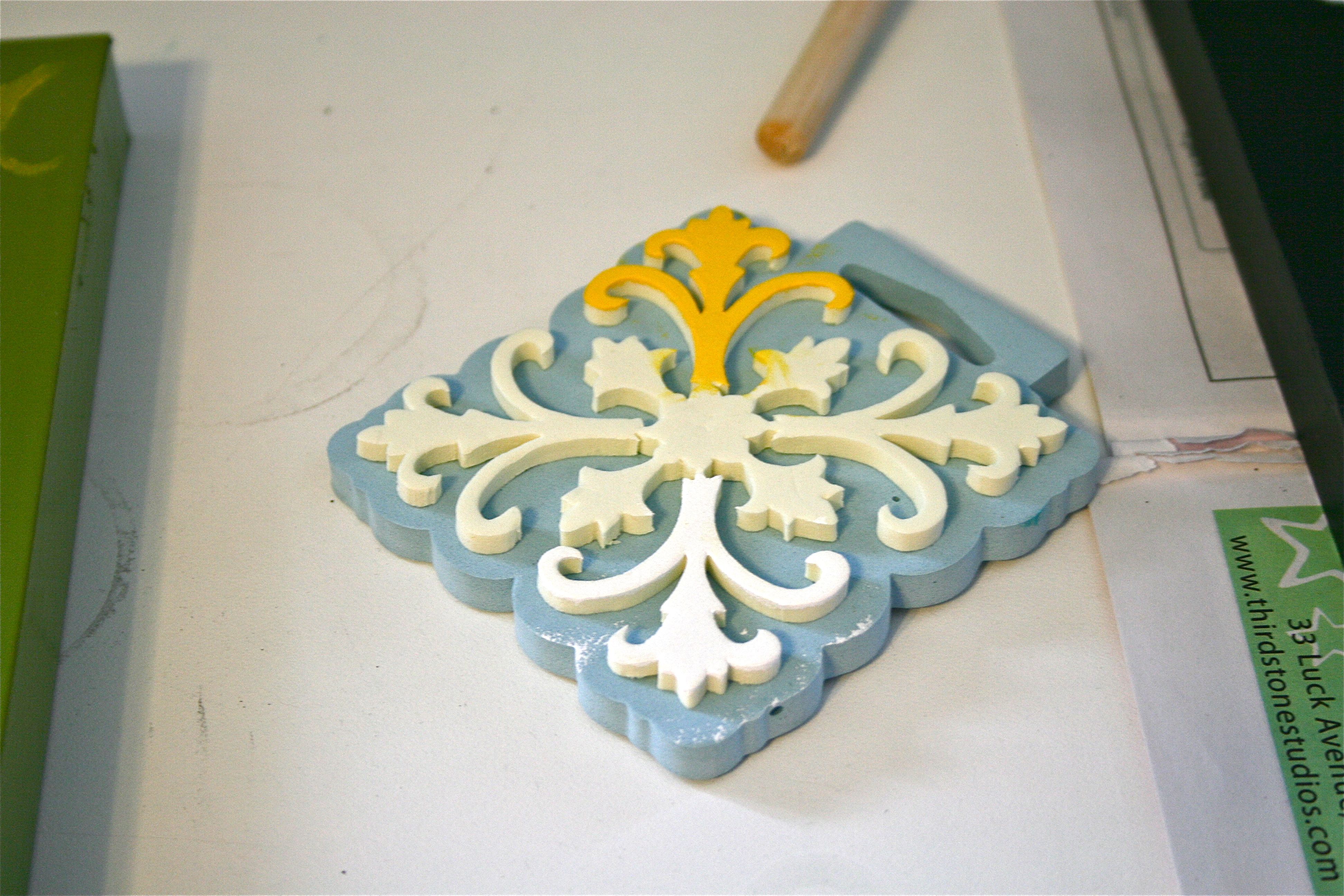 Pretty straightforward process: She went first, putting a thin layer of paint on the stamp (only on the part of the stamp she wanted to use), positioned it over the corner of the clock and gently pressed it down. I used the same technique and, while the first corners completed came out a TAD imperfect, we both got the hang of it and the other three corners came out great!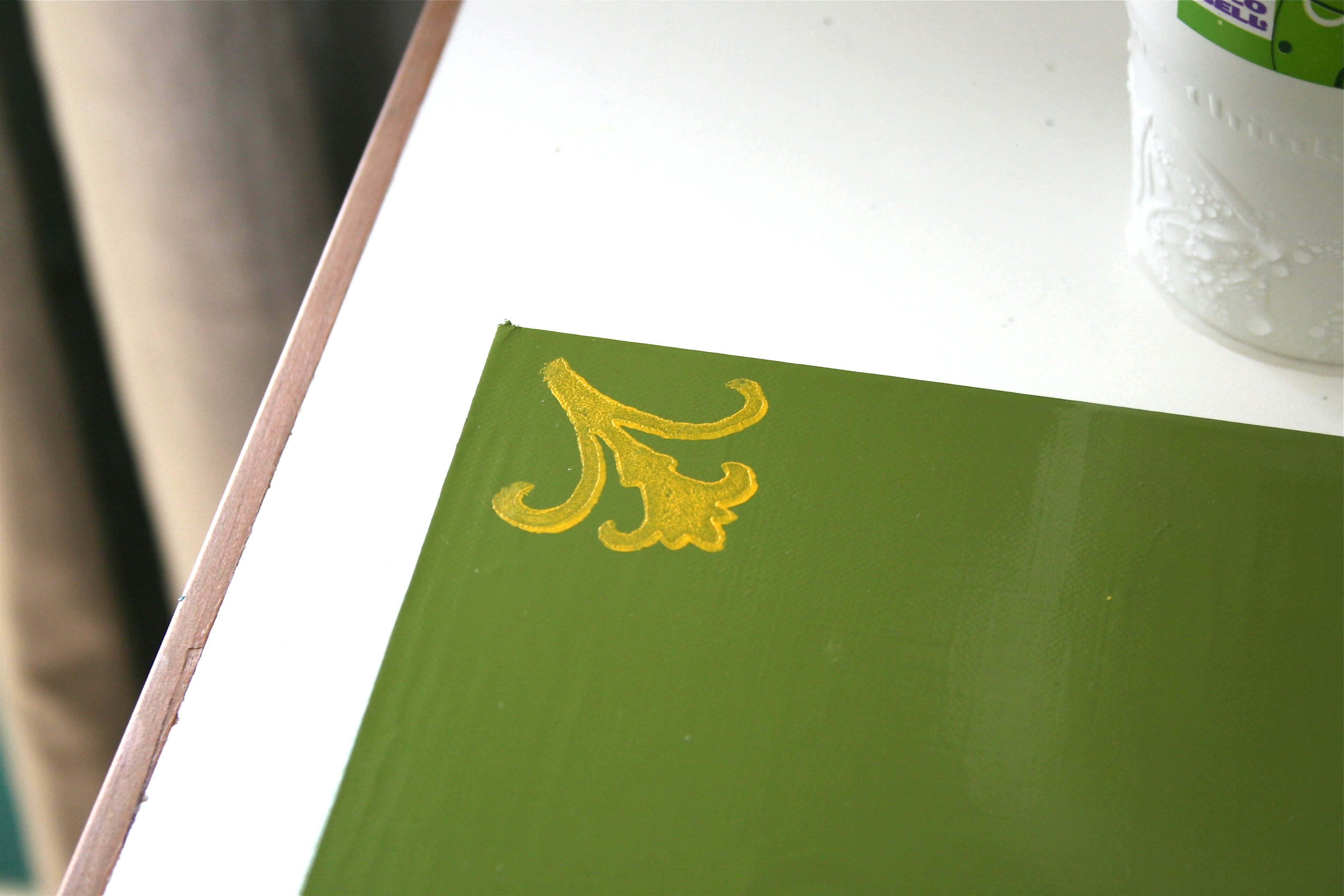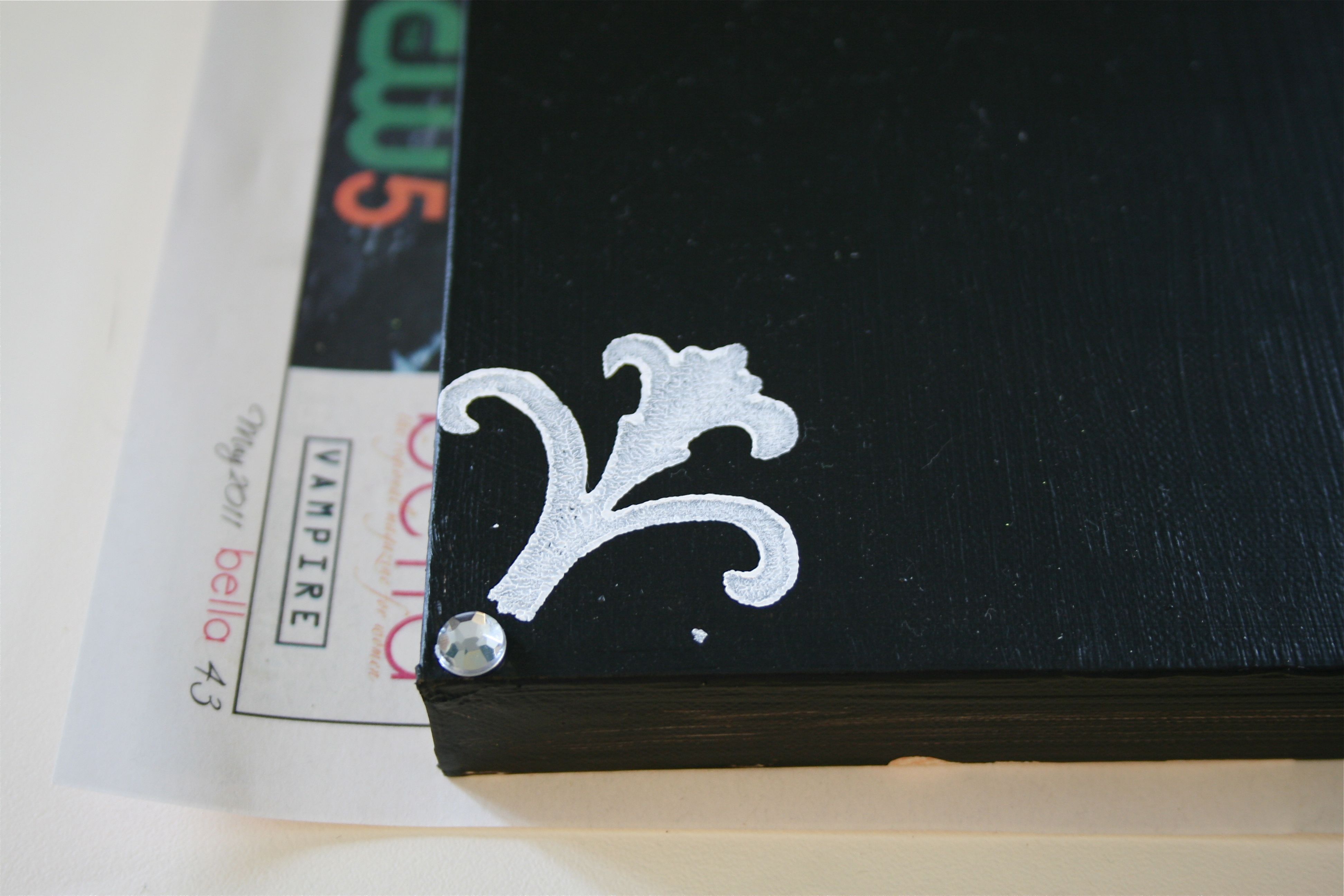 Notice the bling?? 🙂 Here's the little sheet of adhesive gems that Megan picked up, which we both ended up using: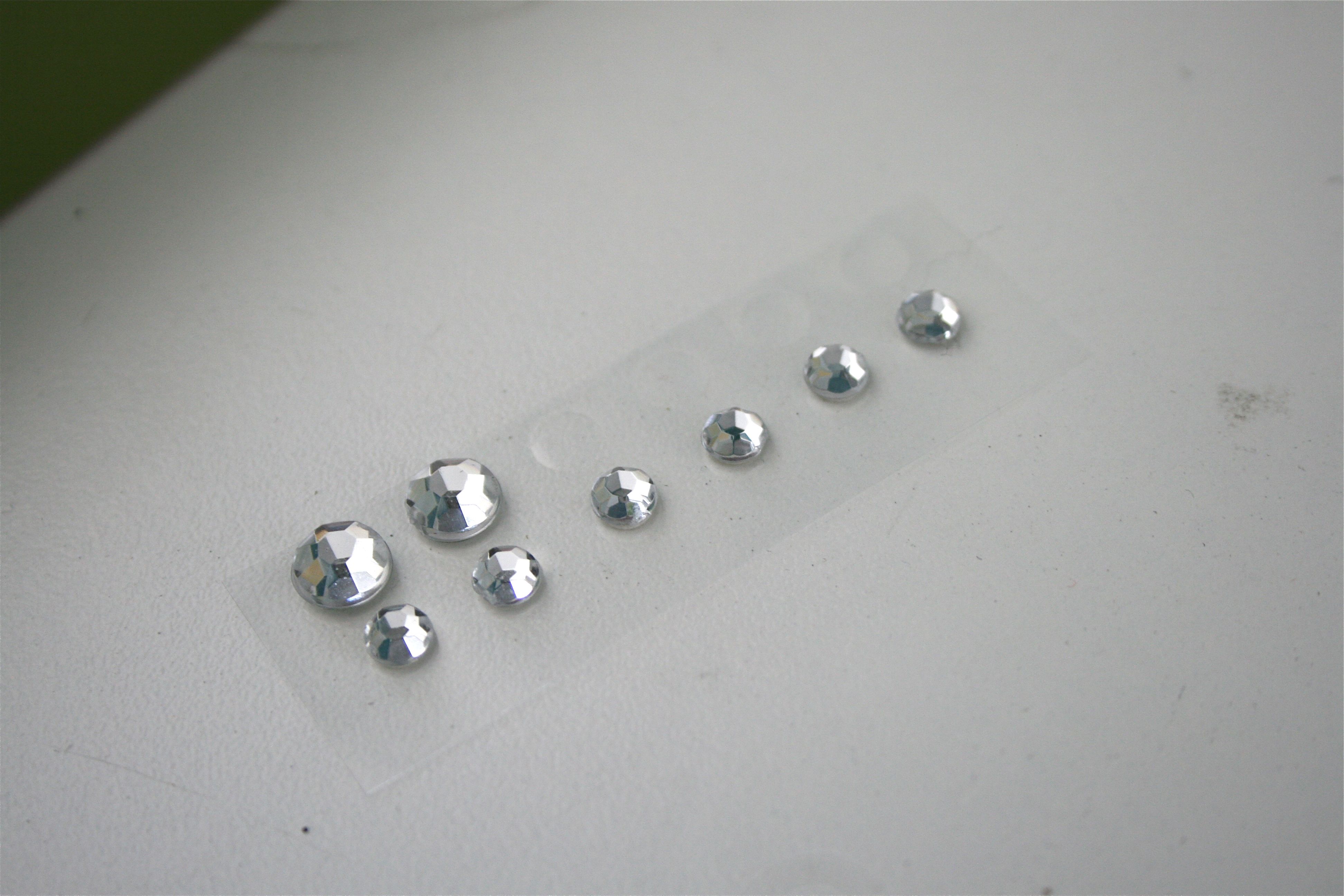 We tried to be pretty sparring with it, not wanting the clocks to read as "tacky" – But I think the little sparkle is perfectly cute and quirky!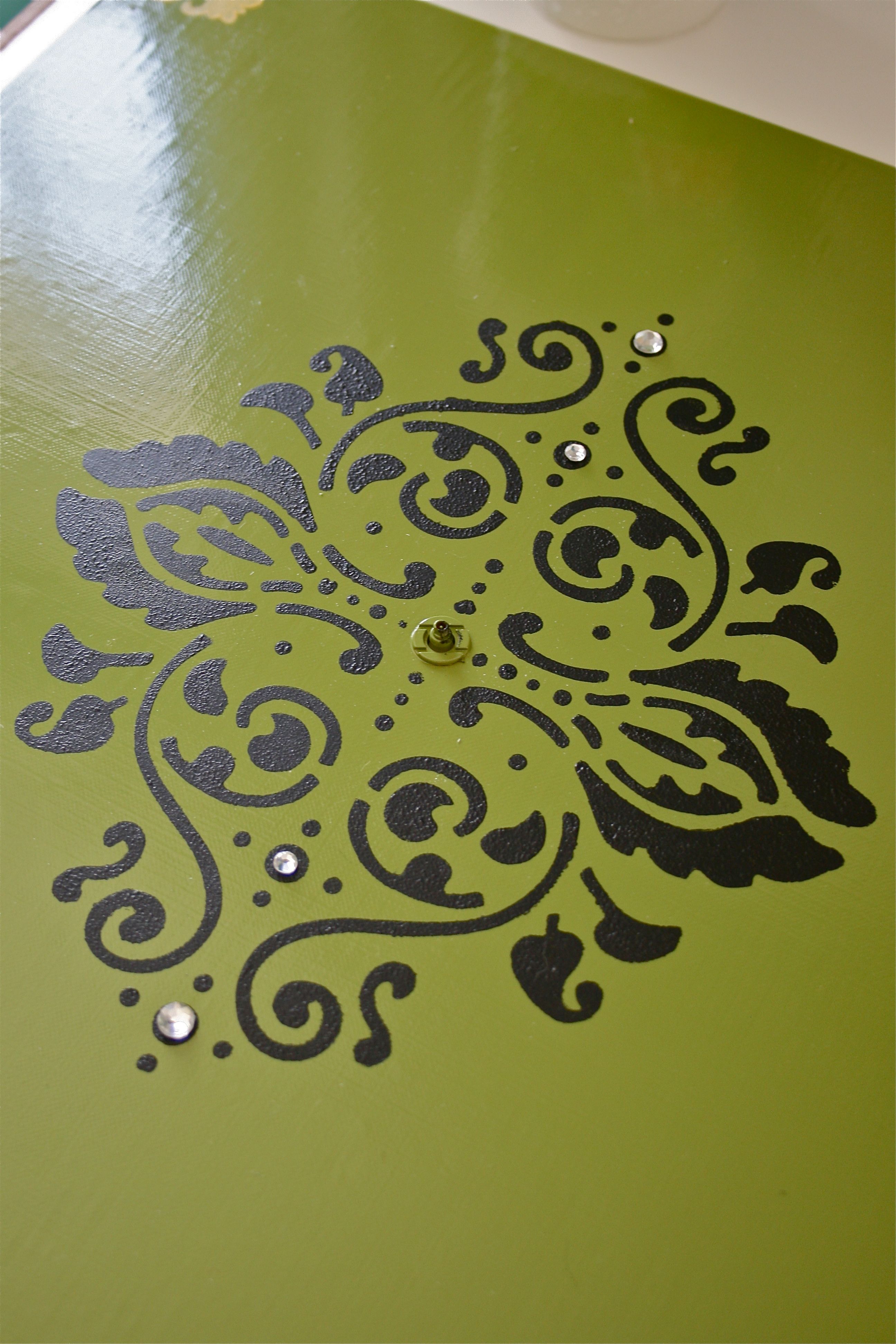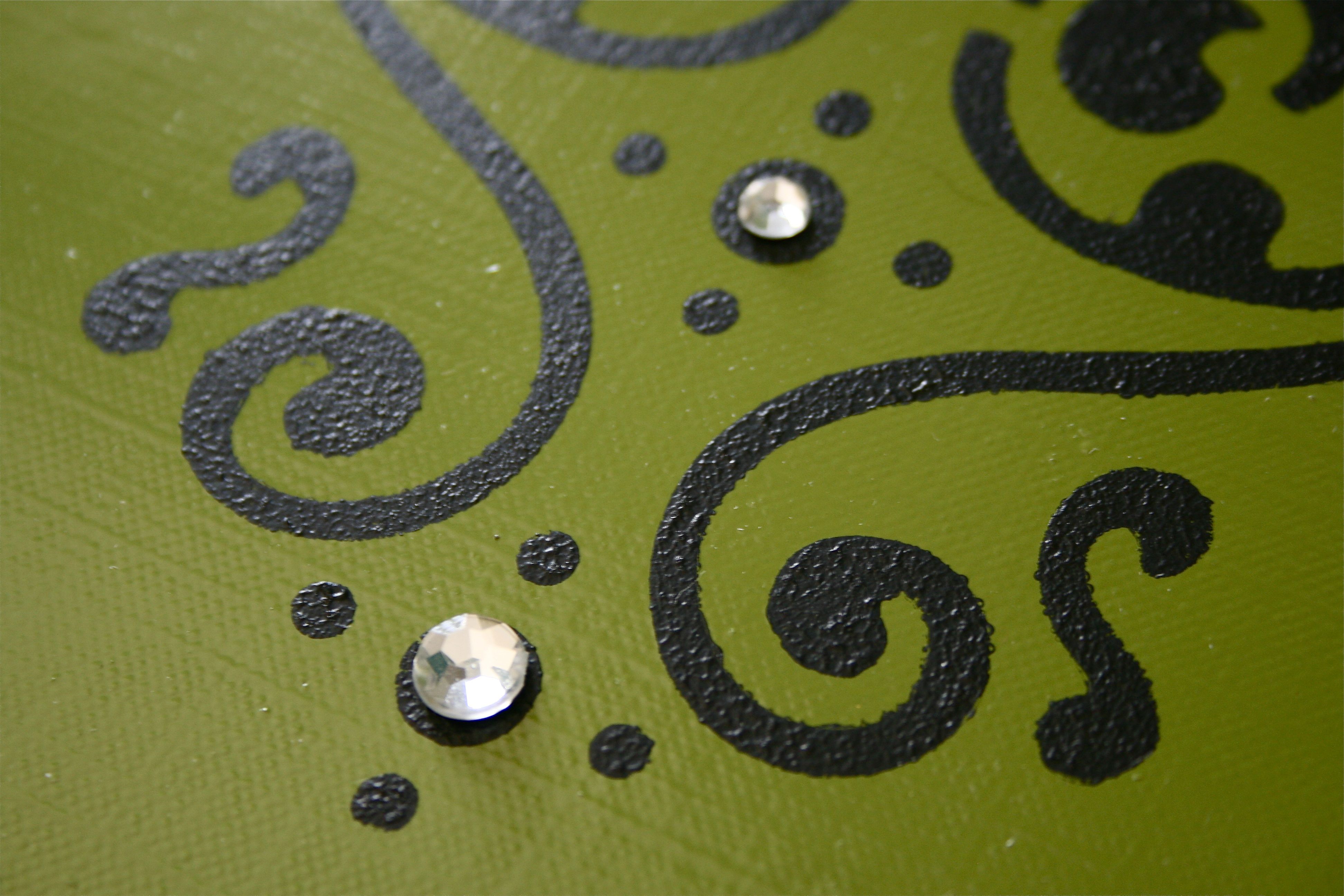 After we both replaced the hardware on our clocks, we were done!!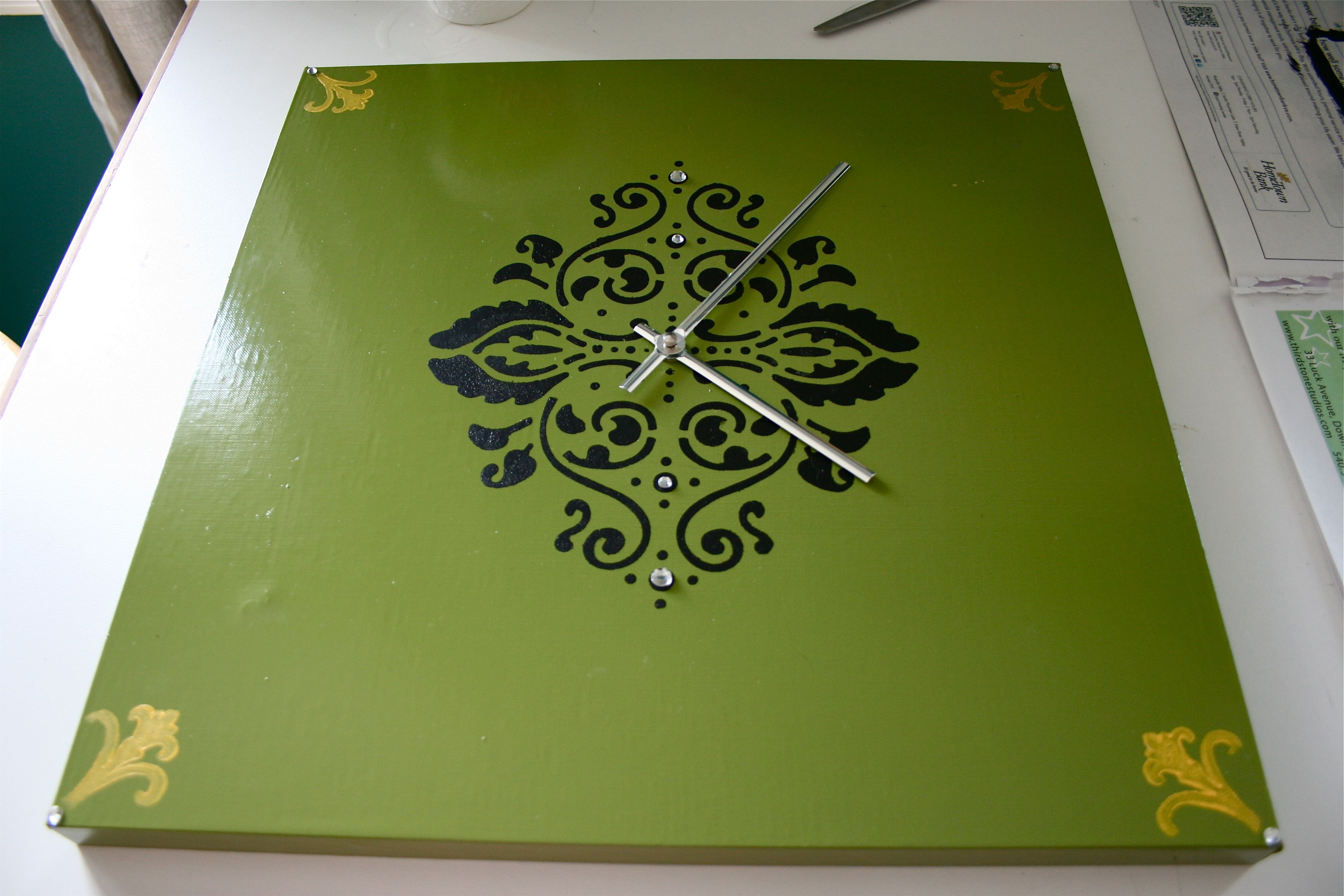 I thought it would be cute to get a picture of each of us holding our finished clocks, but unfortunately I COMPLETELY forgot 🙁 Probably because we decided to run out and get ice cream with our men after we finished painting – Can't blame me too much for choosing to focus on yummy ice cream on a hot Saturday afternoon instead of pictures!
But here's a lovely photo of Megan and her husband, Eric, on their wedding day so that you can at least put a face to her name!! Aren't they such a cute couple?? They radiate happiness…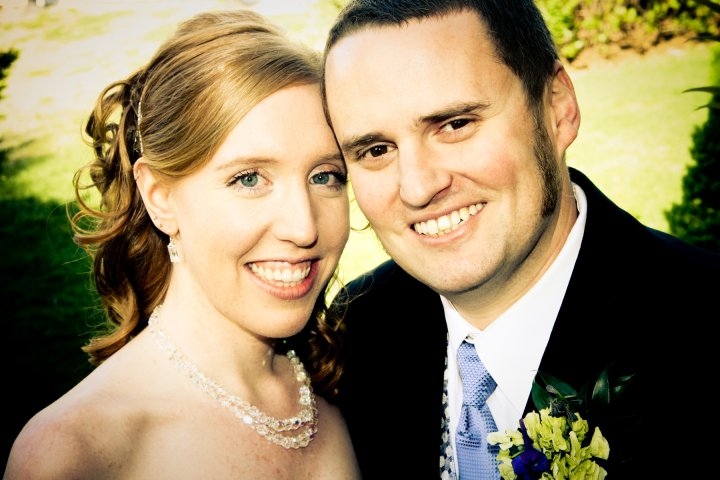 After we parted ways at the ice cream shop, John and I returned home and I DID remember to snap a few shots of my clock in place. I decided, possibly temporarily, to put it up on the shelves in the studio. It seemed to make sense there with all the other similar shades of green in the accessories.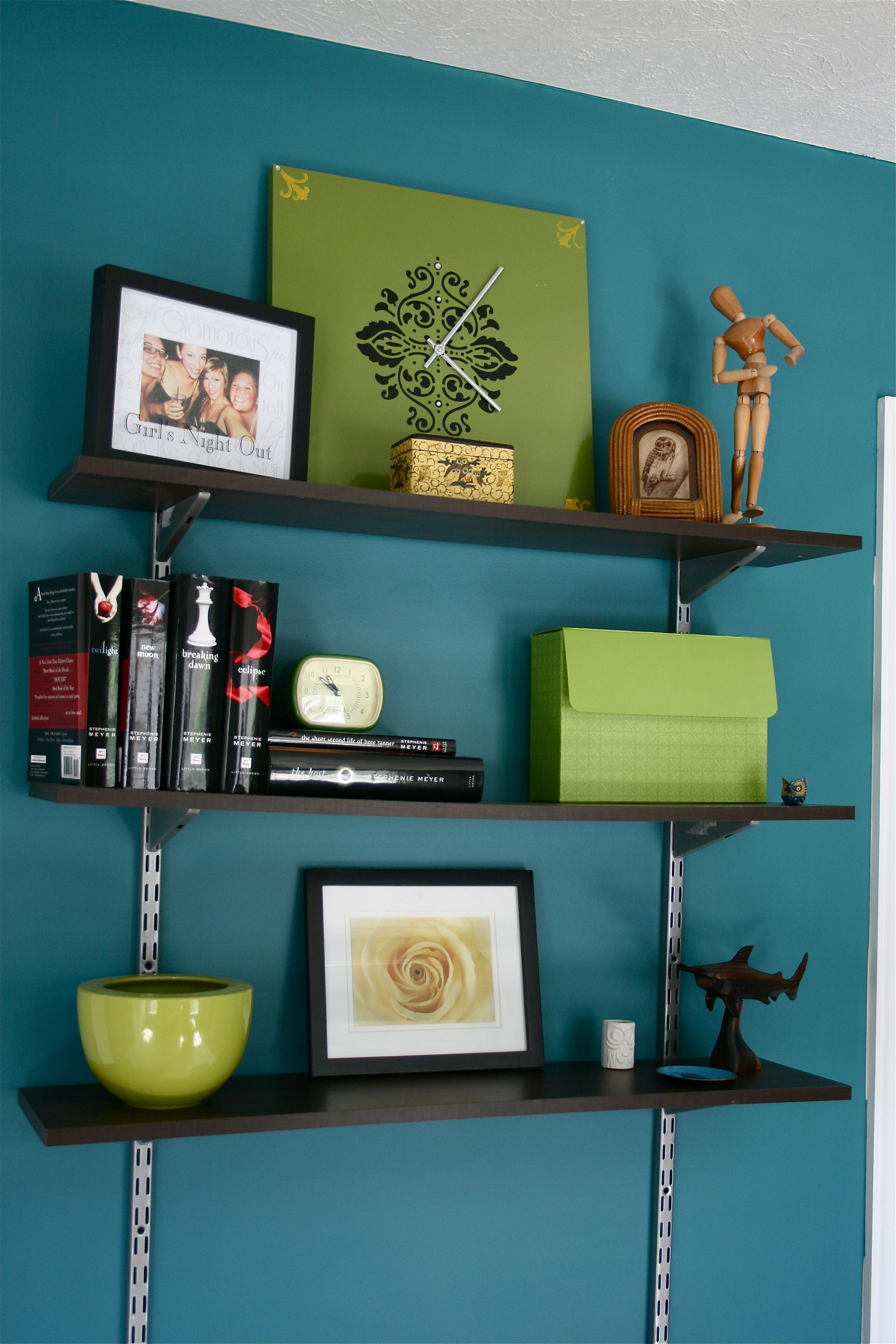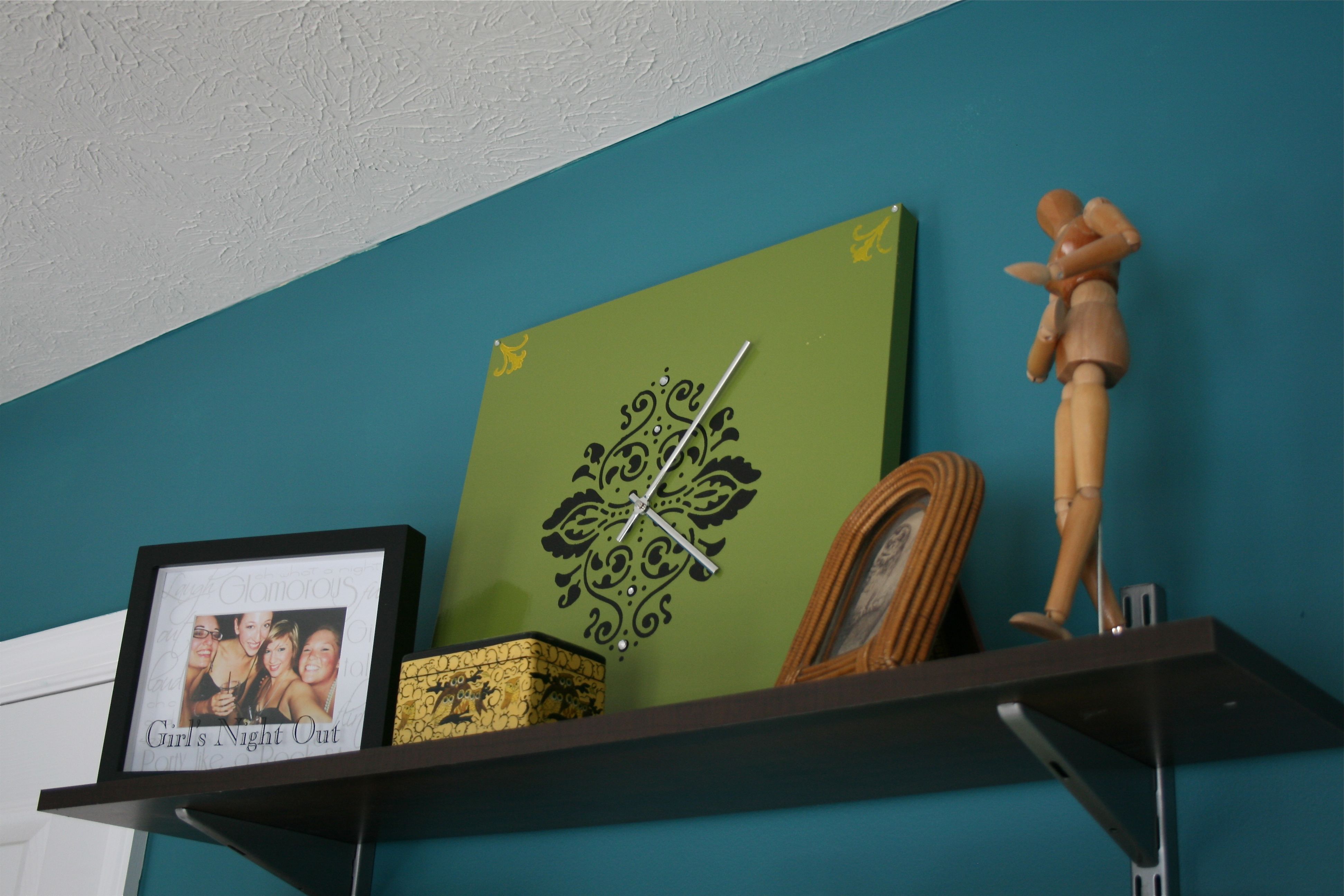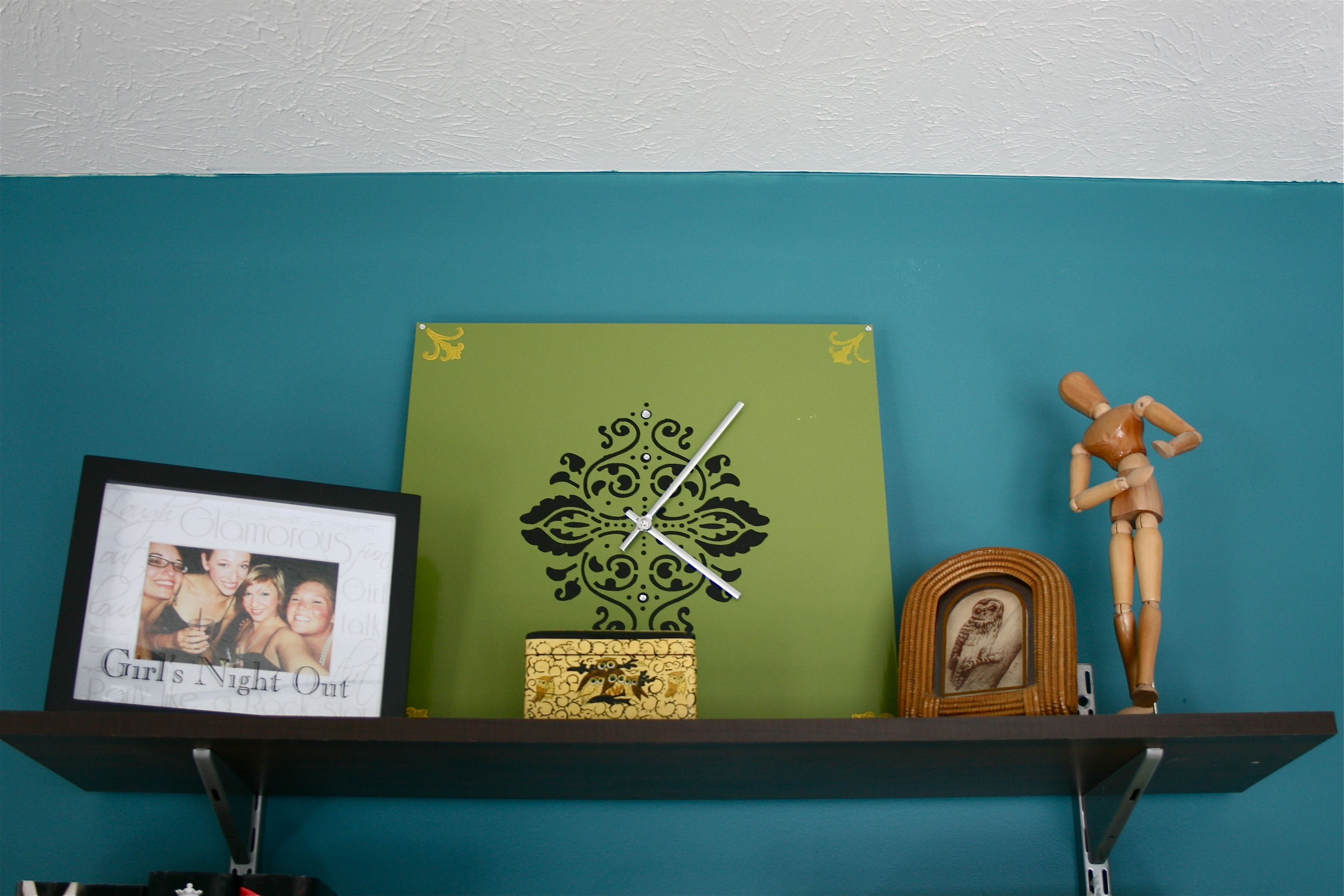 I think it's a fun-looking clock, but the great thing about paint is that it's easily painted over – I love that it's versatile and quick to change if I decide to put it in a different room of the house on down the road. I think Megan is already thinking about making some changes to hers! Maybe she'll share pictures of her future final product 🙂
Coming Soon: Stenciling Project #2 – Stay tuned!!!