I thought it might be kind of fun to mix things up today and show you what a few past "Thrift Store SCORES!" are up to now. Many of our second-hand treasures are restyled or given a new lease on life with a couple of coats of spray paint or a new lamp shade after bringing them home – But I often leave you hanging after revealing our "SCORE!"s, so here are a few quick updates to bring you up to speed.
We'll start today's post by giving you an update on last week's "SCORE!" – The bright yellow/orange lamp I picked up at Goodwill for $6. Here's a quick reminder of it before it nestled into its new home: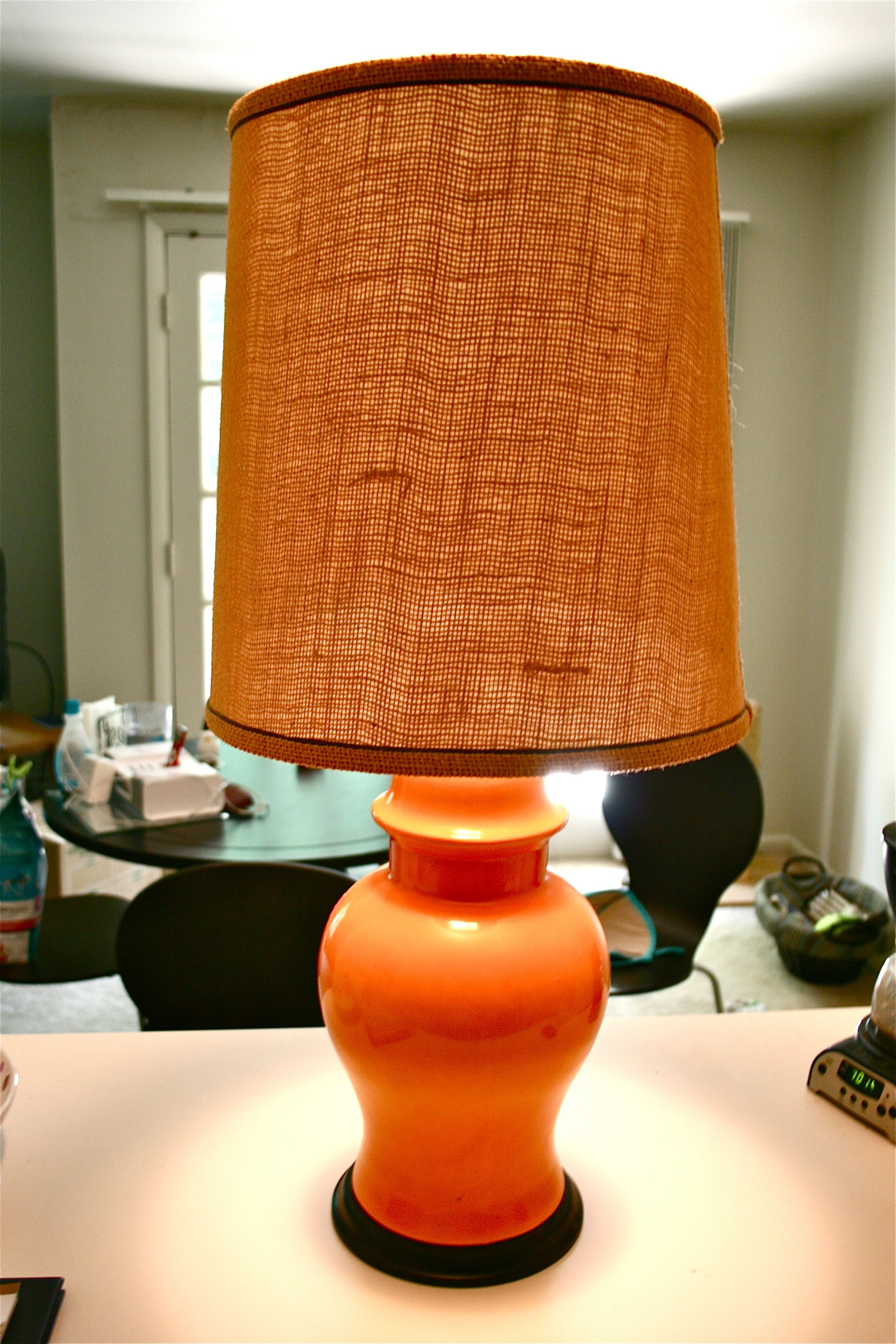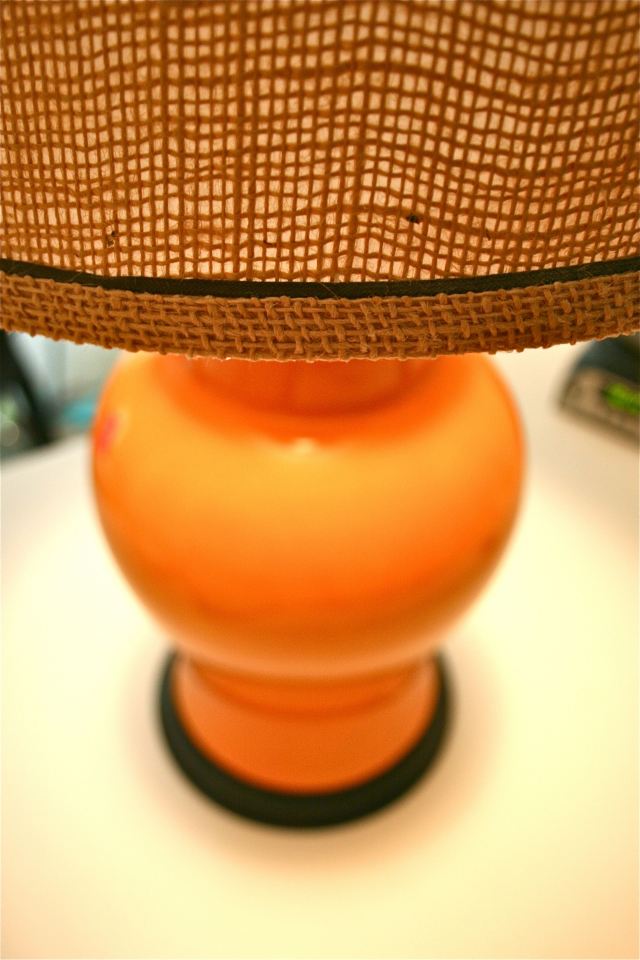 And here it is now! We placed it in the living room on the thrifted side table – I LOVED the neat black lamp that used to be on the table, but it was pretty puny for the space…This beafy lamp with its dramatic height and color really fills the space nicely and adds a bit more balance to the sofa configuration.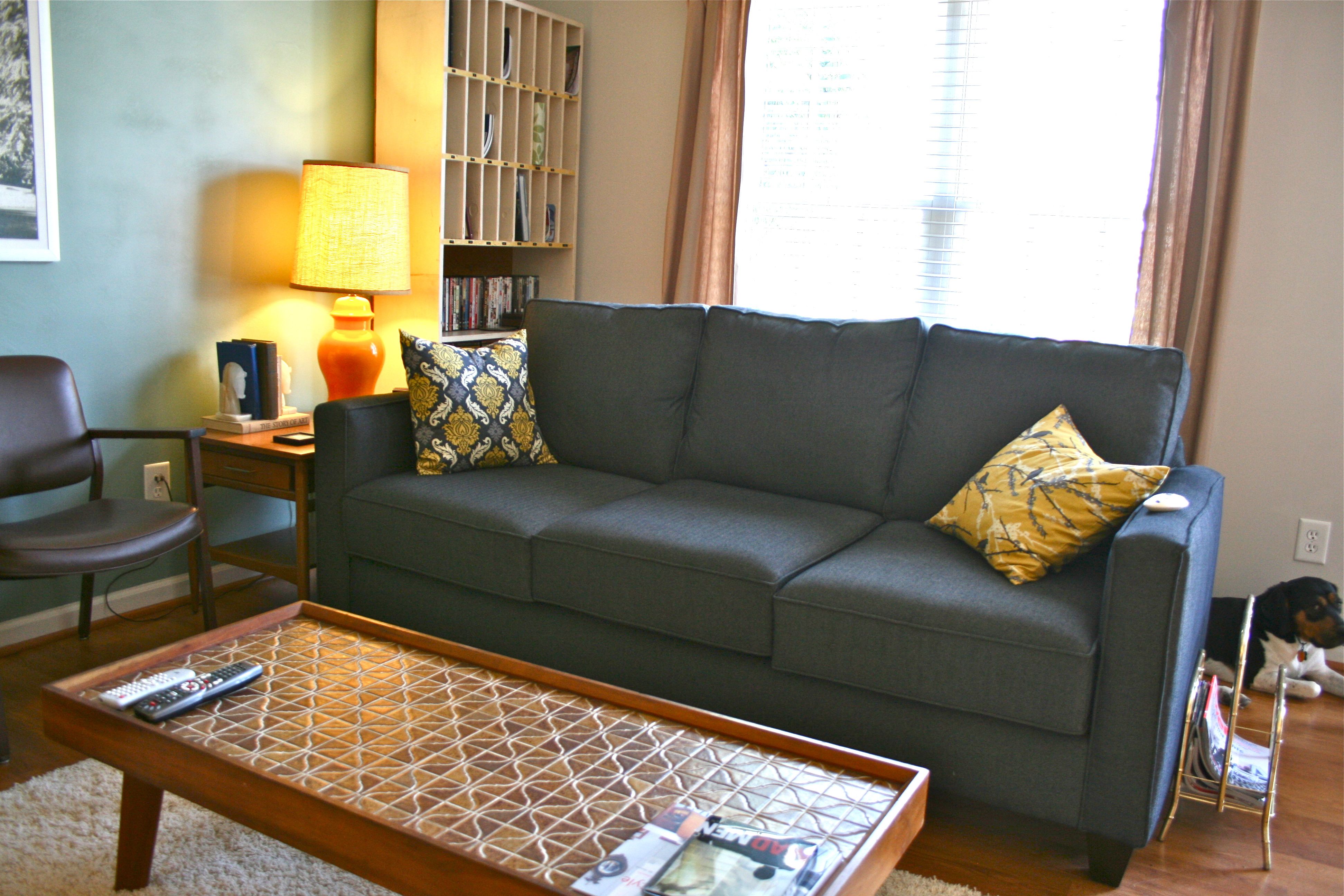 Here's what it looked like with the other lamp in place for comparison purposes: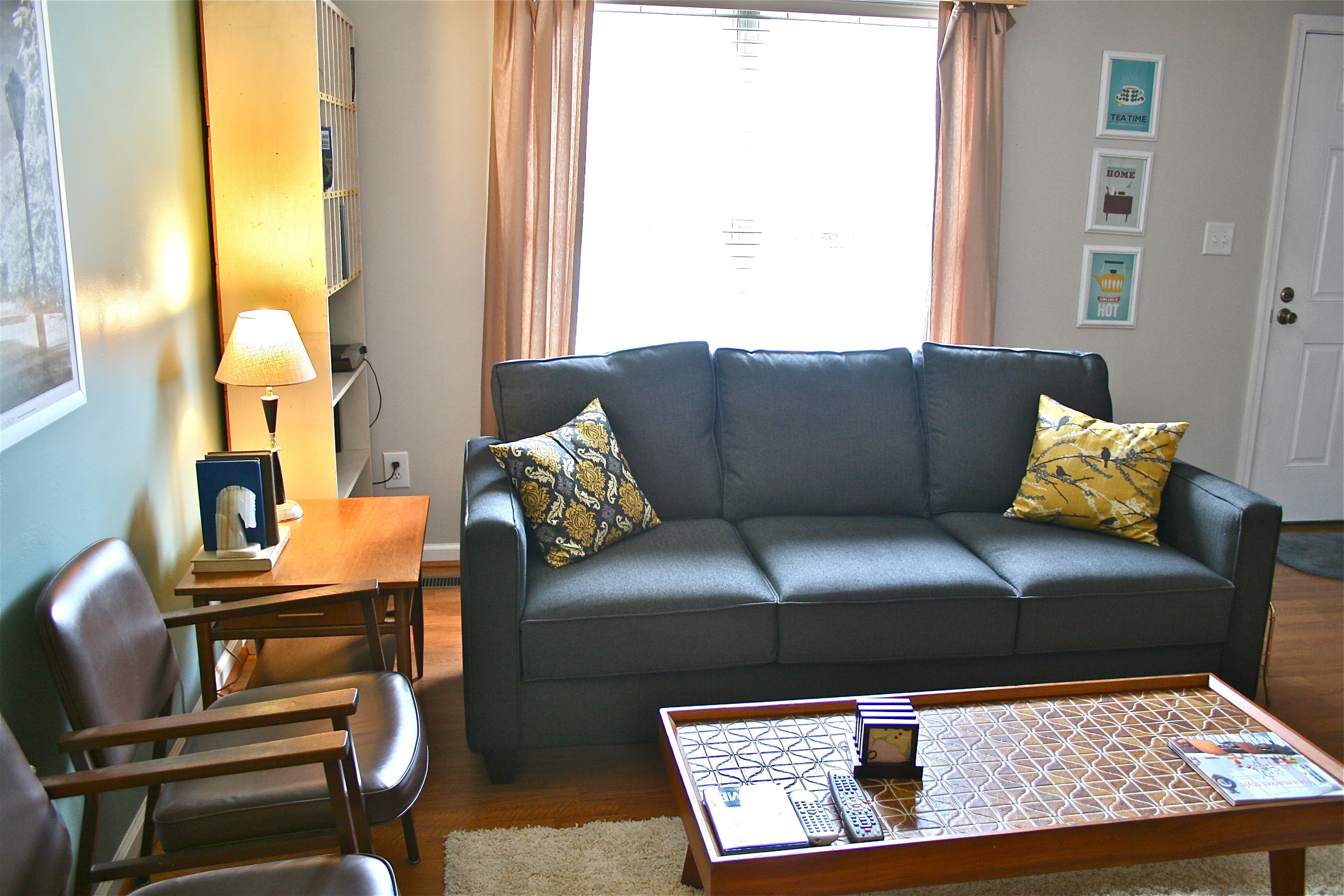 Just not quite the right scale…But don't worry – This skinny little guy worked his way into the kitchen.
Back to the orange lamp: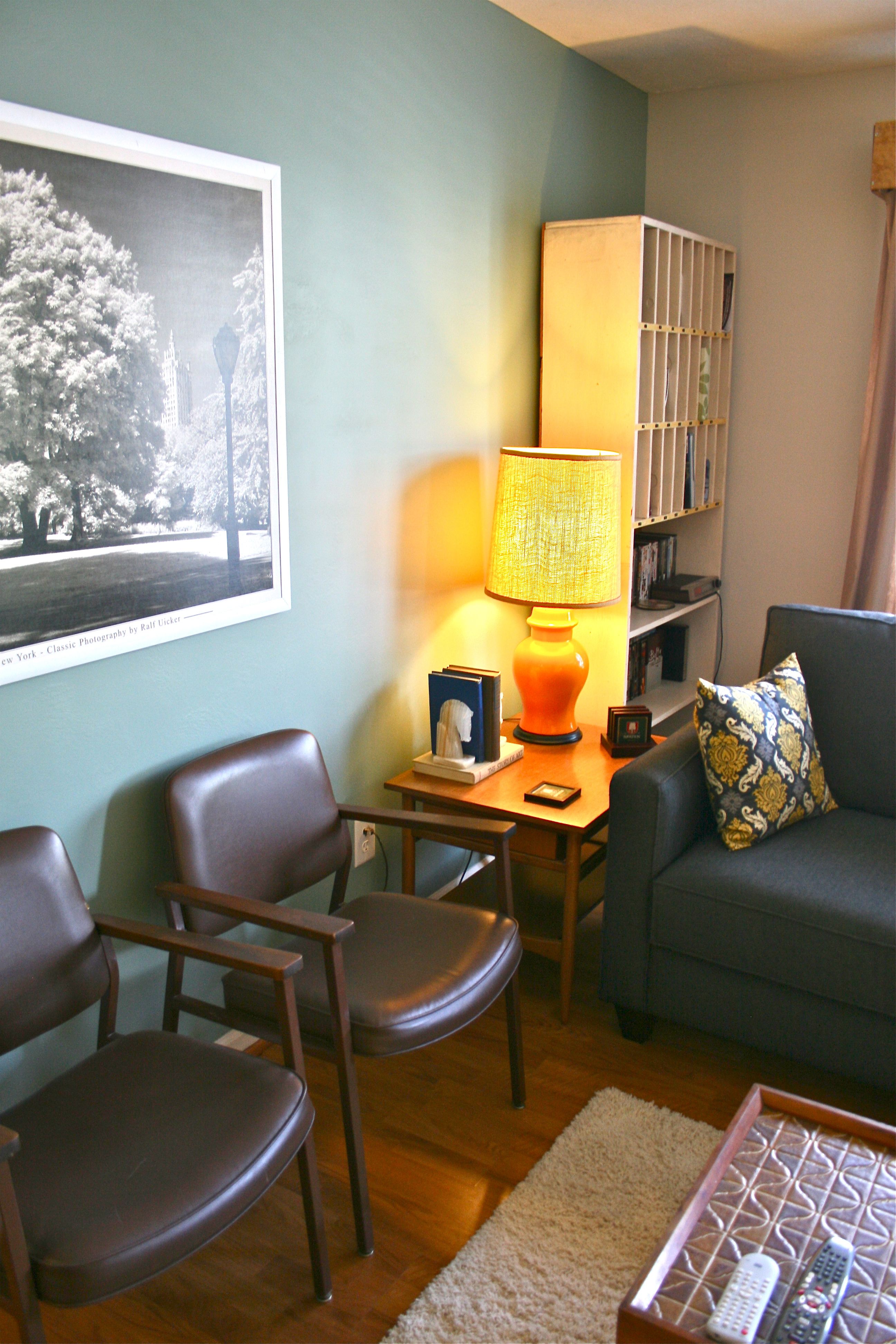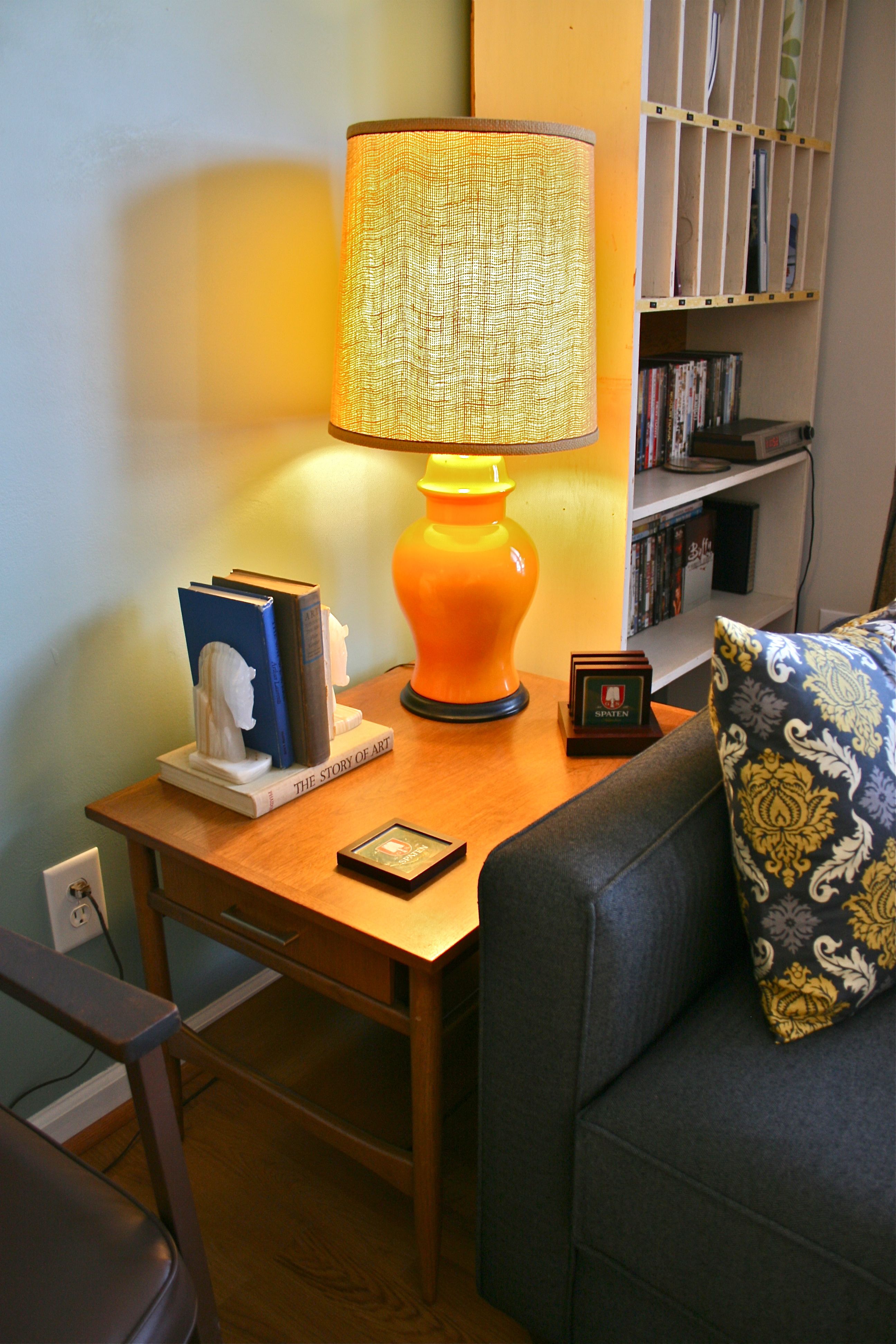 I DID go out and buy some spray paint in the correct shade of yellow to match the living room pillows (see photo below), but I've never been one for matchy matchy looks (you should see the outfits I put together) – Therefore, I decided to leave the more-orange-then-yellow lamp alone. It brings a little more dimension to the room and also that 1960's flair I l-o-v-e.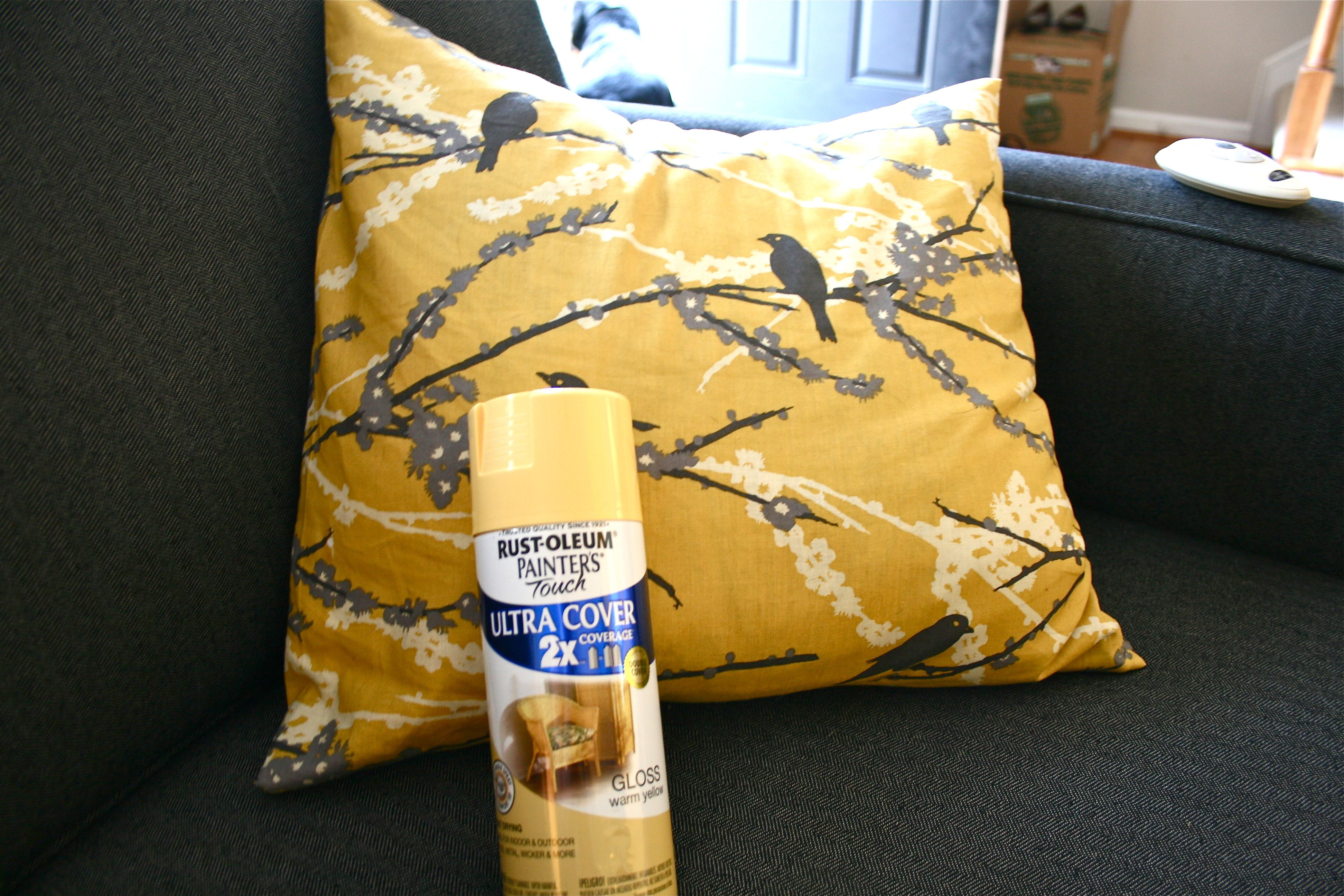 To be sure about my choice though, I put the can of paint right next to the lamp base to see if I could visualize the possible new color with the lamp shade. I could tell that the lighter color might actually wash it out a bit and make it look super top-heavy since the lamp shade is pretty dark…You may be able to see what I mean in these next couple of pictures.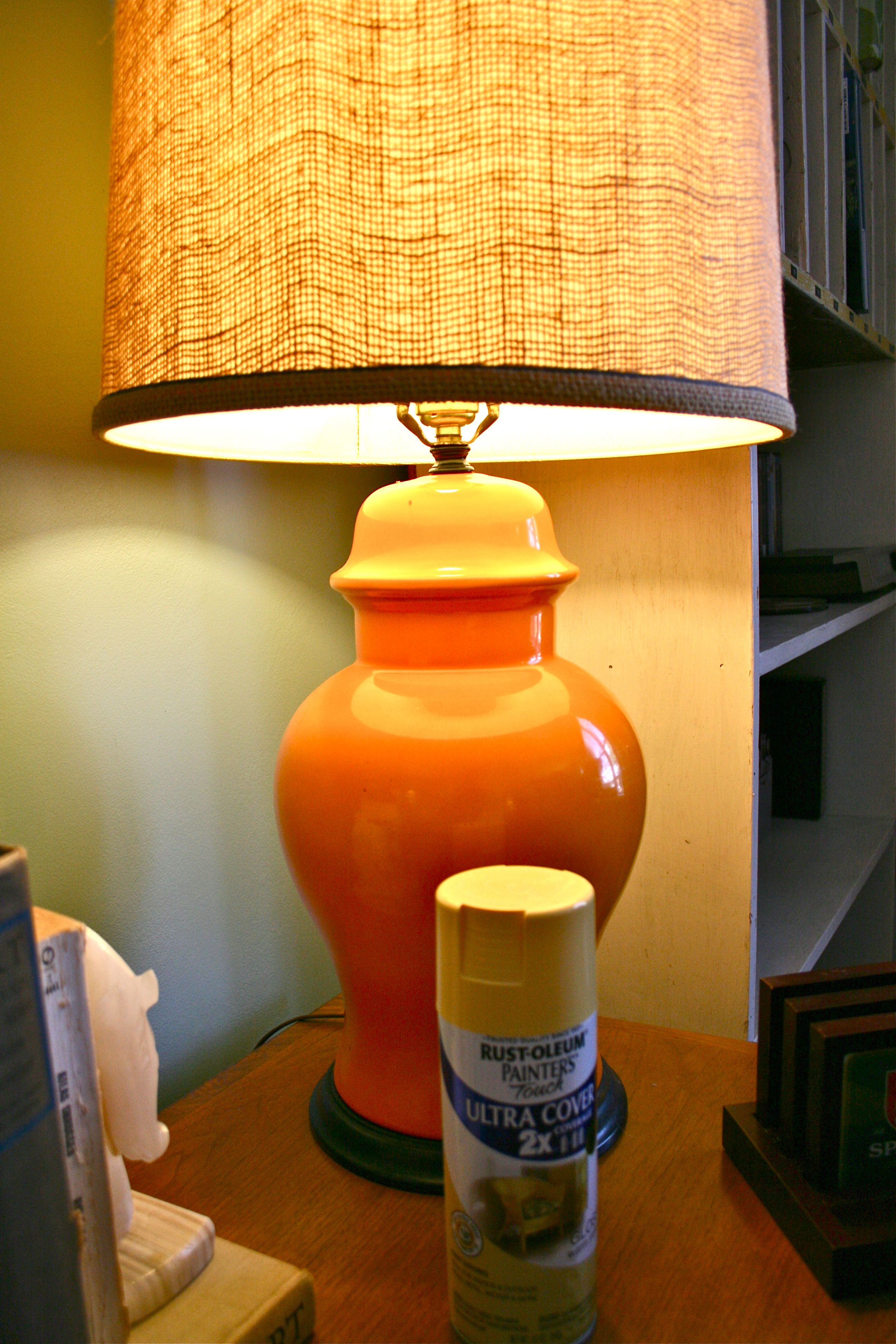 I'm glad that I left well enough alone in this case…Plus, I think the rich color kind of balances out our crazy new yellow wall (which is continuing to grow on me, by the way…More on that soon!).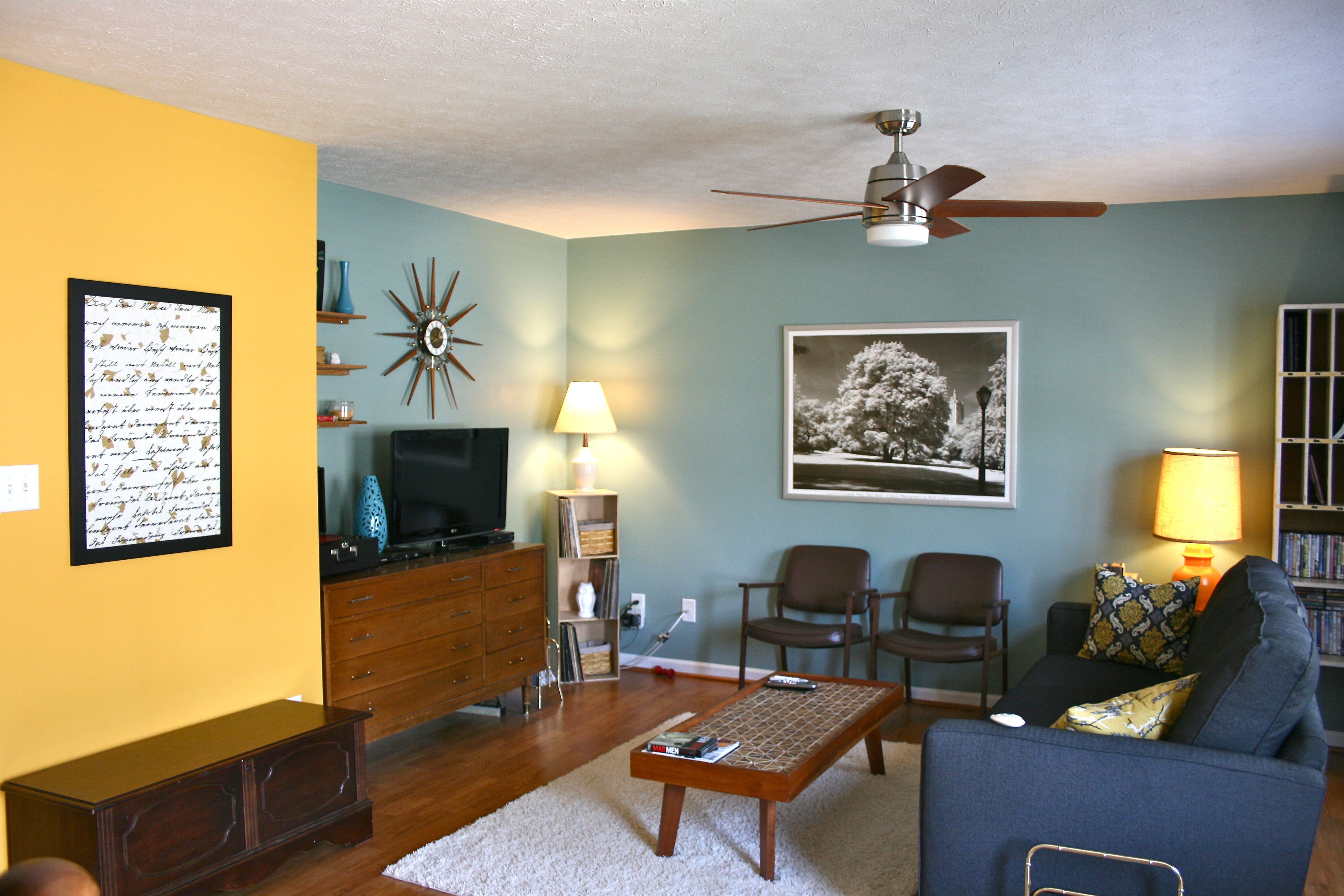 Onto our next "Where Are They Now" thrifted treasure! Let's talk candle holders…
Remember these little guys that I picked up last month? They were brass, dirty and dark – aka needed a LOT of TLC.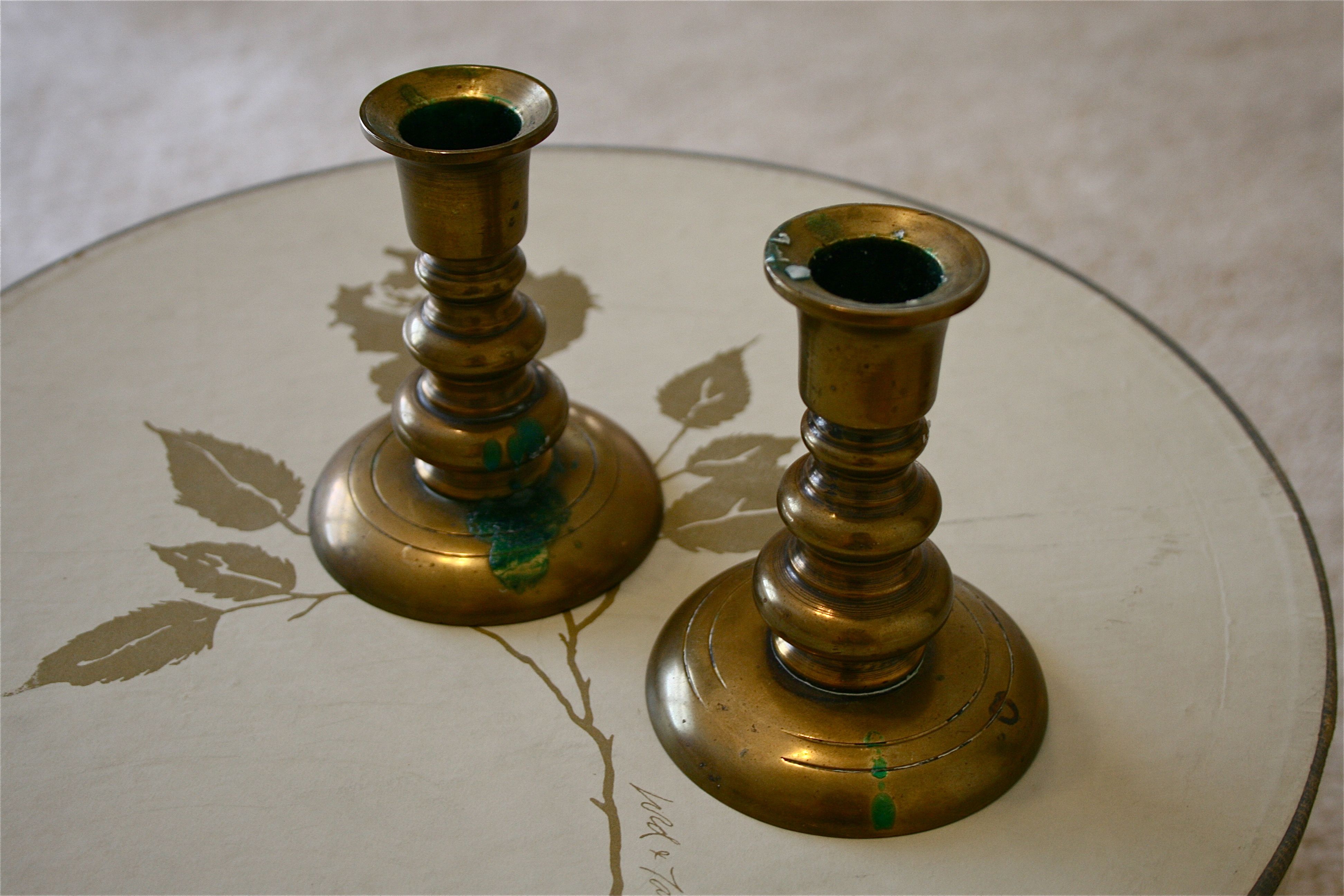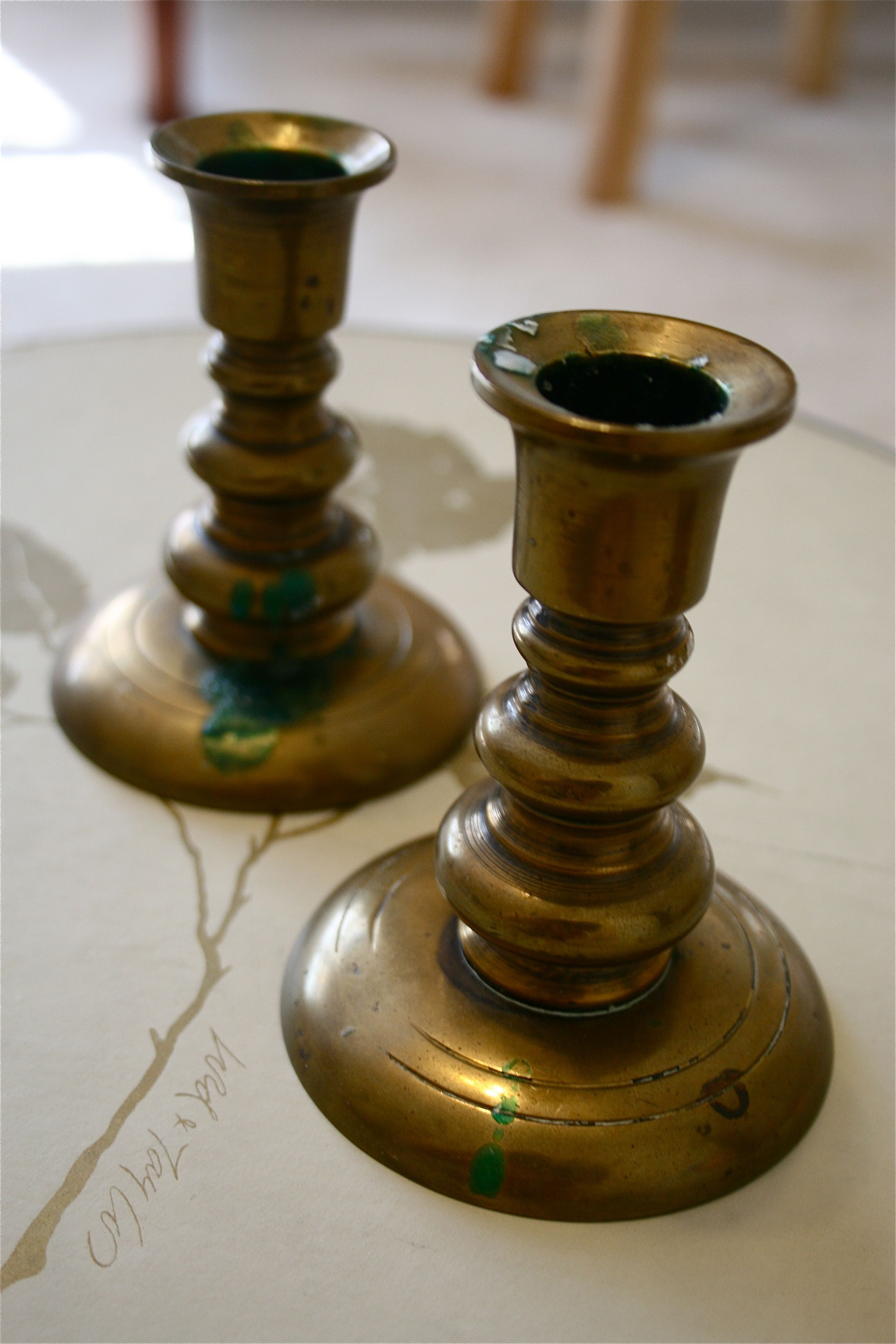 So John helped me by cleaning them up with a bit of rubbing alcohol and then I got to work with a can of white spray paint. As you saw in yesterday's post, white spray paint can easily modernize an old-looking piece – I'm also a firm believer that it highlights all the unique lines, angles and details of an ornate piece. These two brass candle sticks were screaming for it 🙂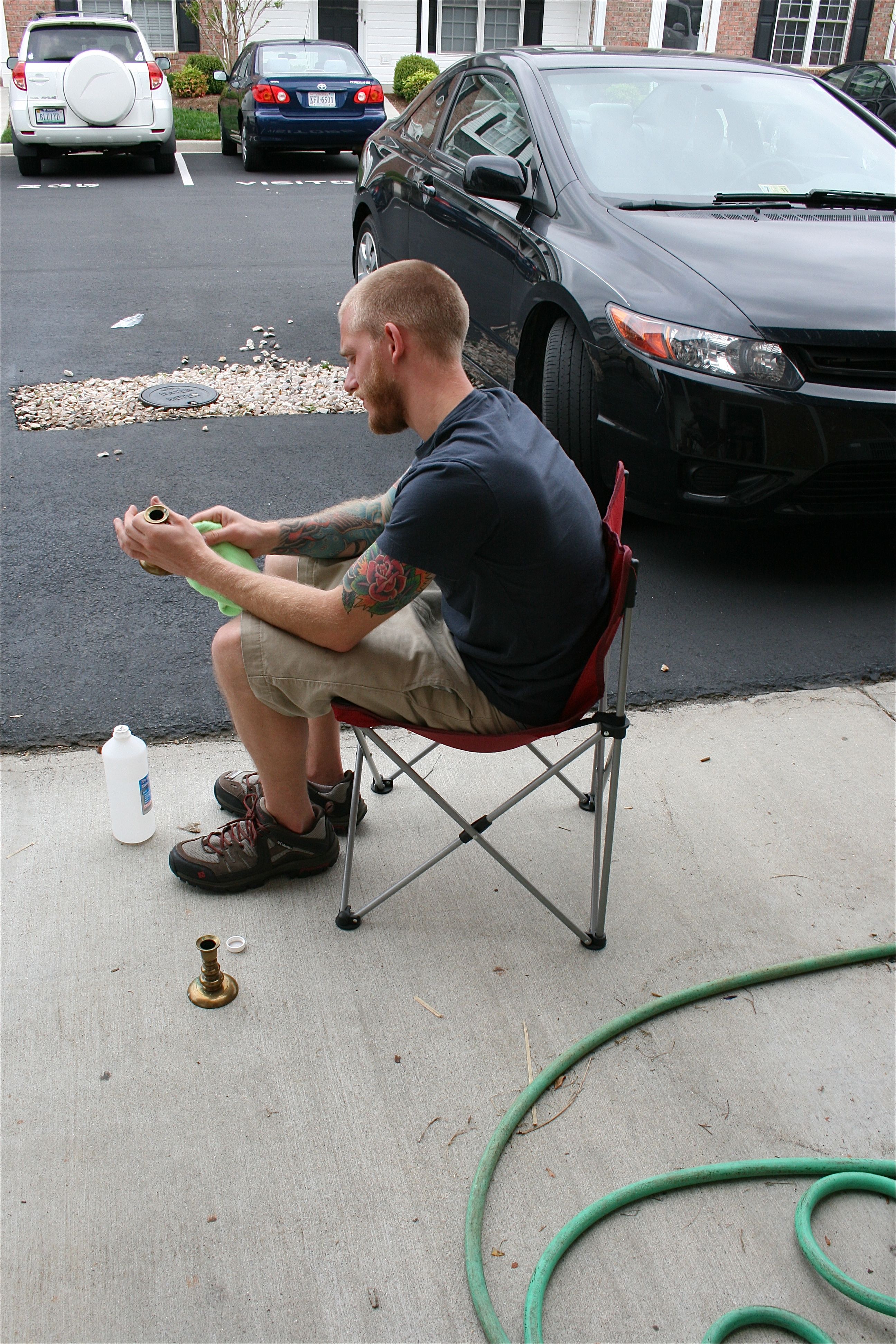 Clean and ready for paint!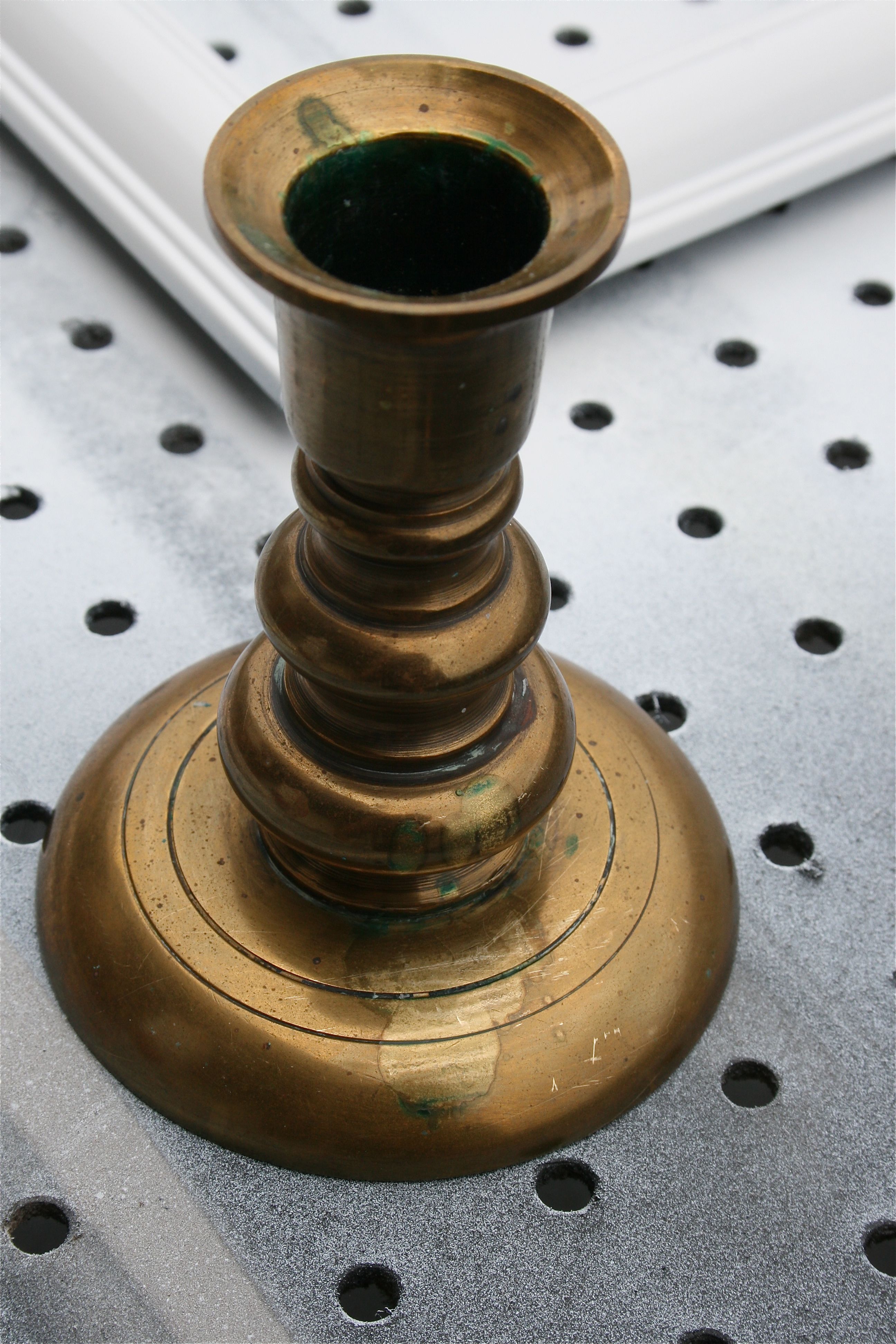 All done!!!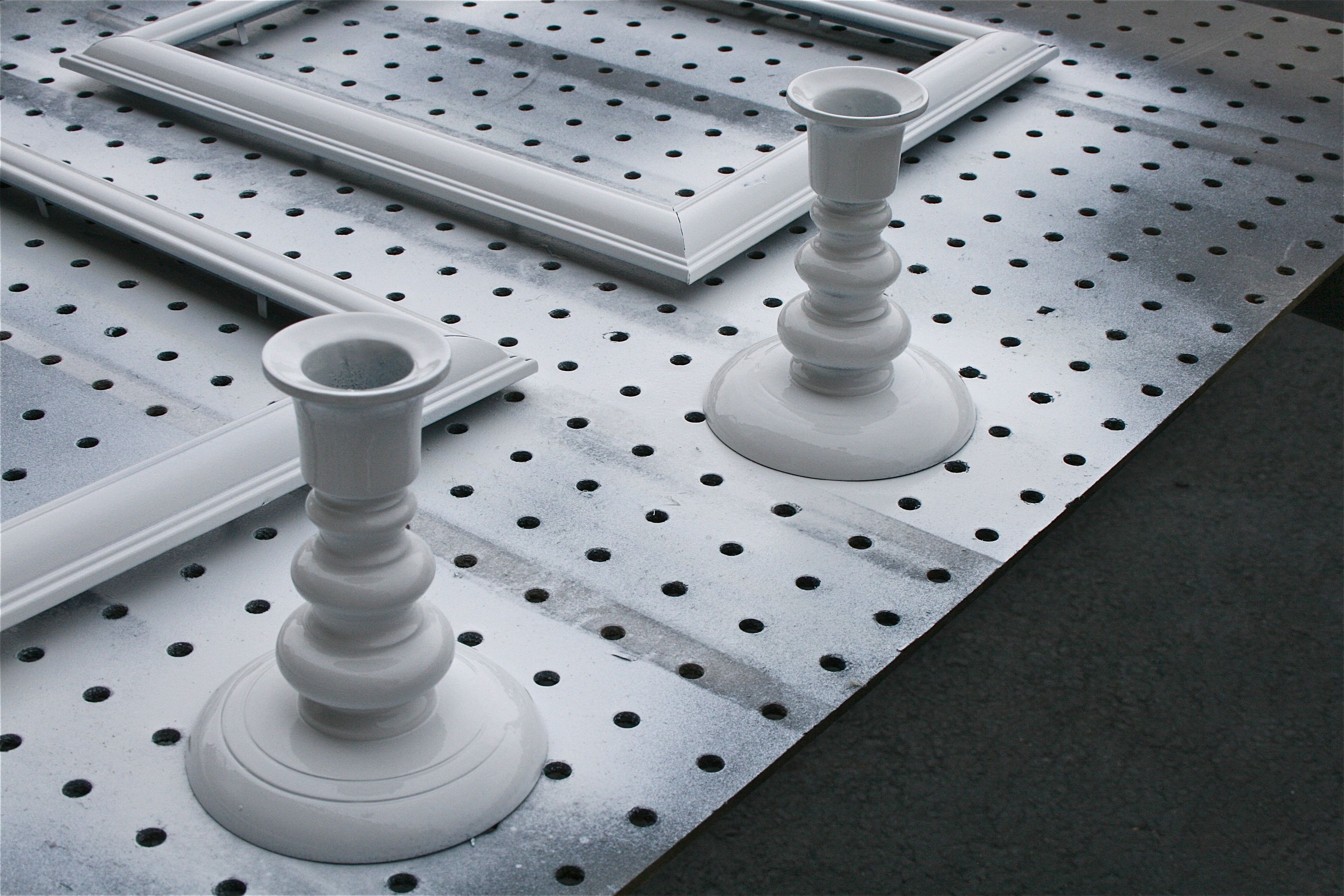 I love the shadows that the new white finish brings out and they look much more contemporary. I feel like you could get something similar at Urban Outfitters or even Pottery Barn for a much higher price tag – These cost about $3 (including their painted facelift)!
I'd love to show you EXACTLY where they are now, but unfortunately that would give away another big reveal I've got coming. So you'll have to be patient…But don't worry – It'll be soon!
For our final "Where Are They Now", I wanted to show you another makeover from the candlestick thrift store haul – the yellow vase. Here's what it looked like after bringing it home that day: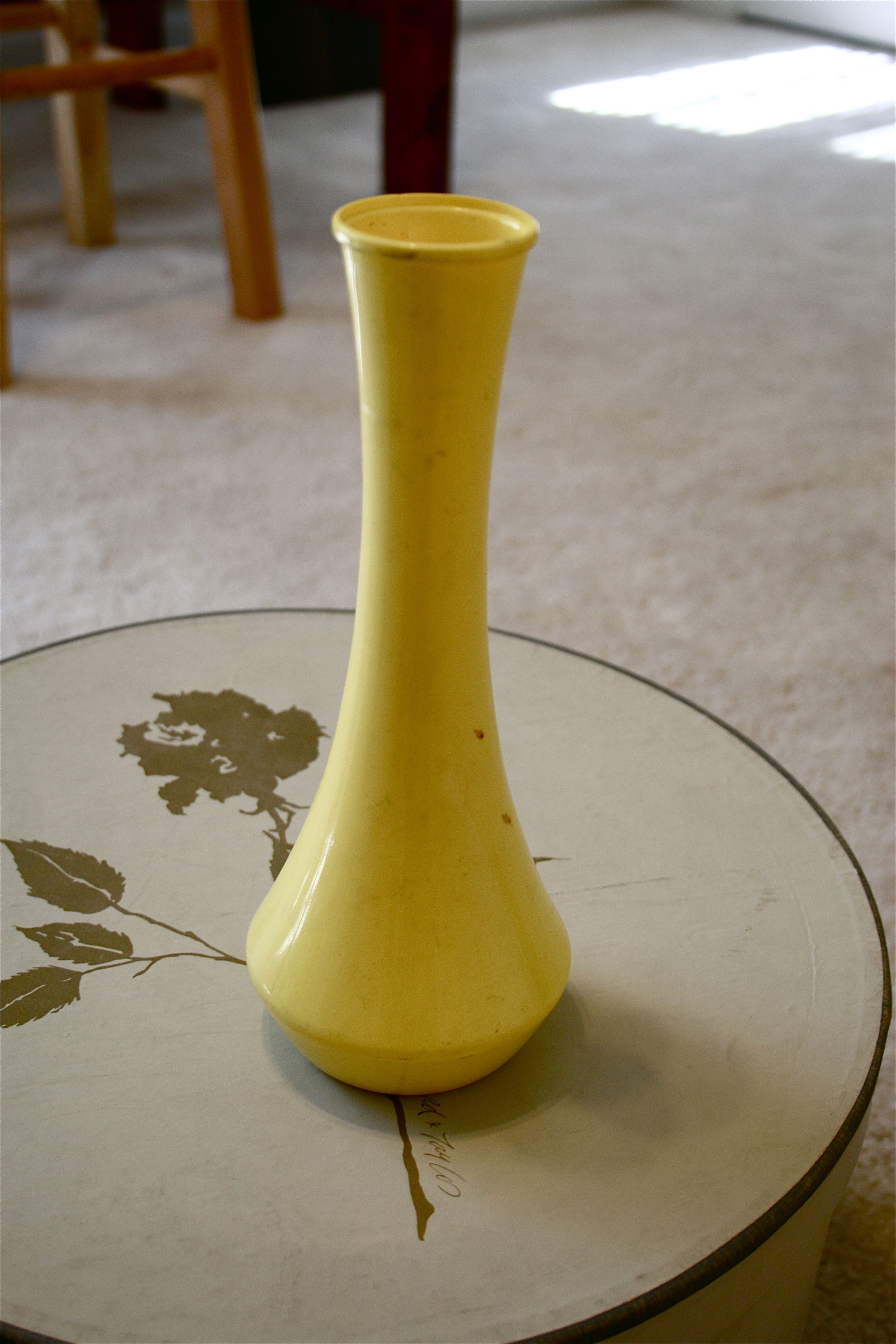 It was looking pretty dull…The plastic was dirty and stained and it needed some restyling BADLY, but I loved the shape of it – So out came the spray paint again! This time, I went with a more bold teal color (the same color I used on a lamp way back when) to really make it pop: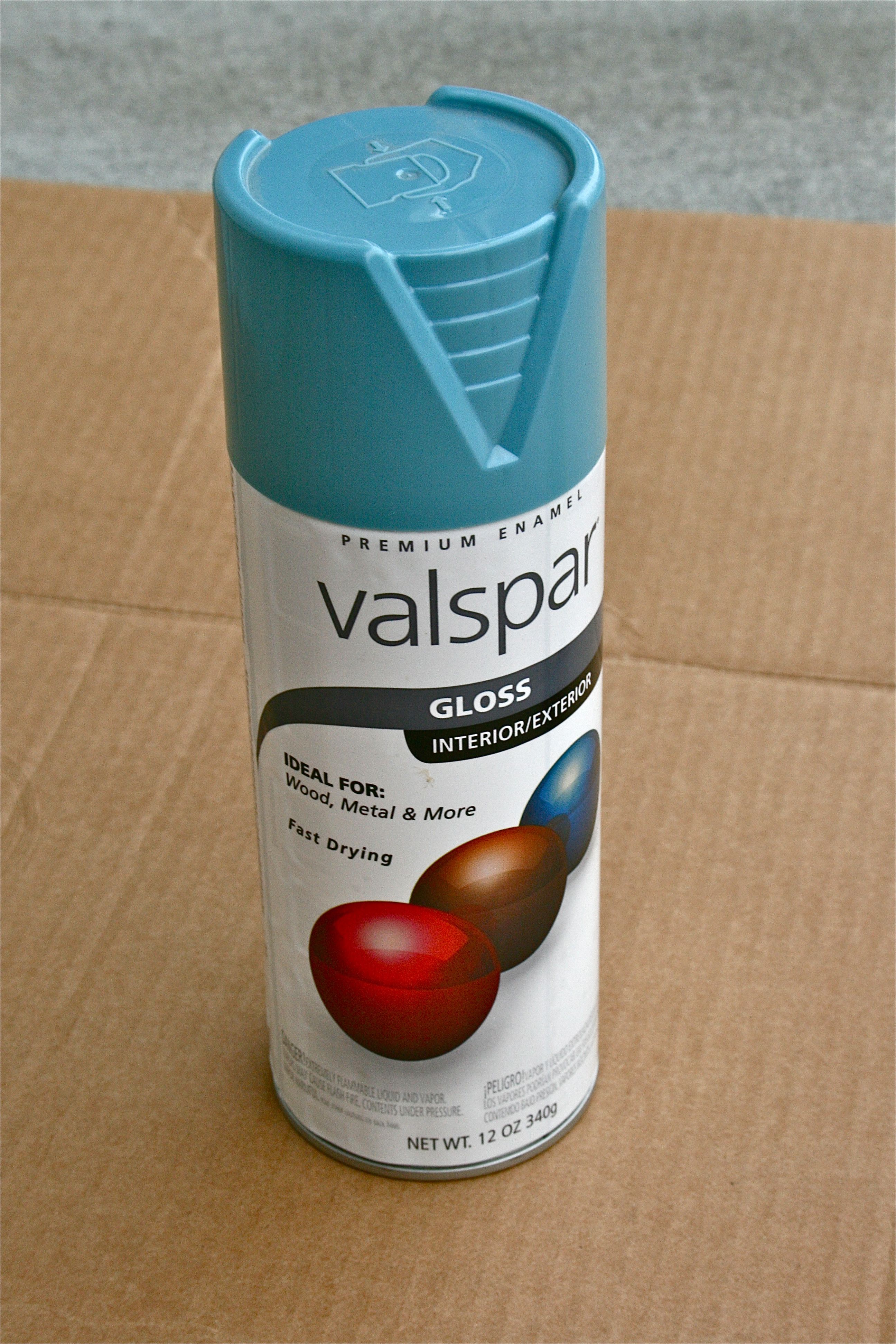 All cleaned (except for the pesky stains that wouldn't go away) and ready for its new coat of paint: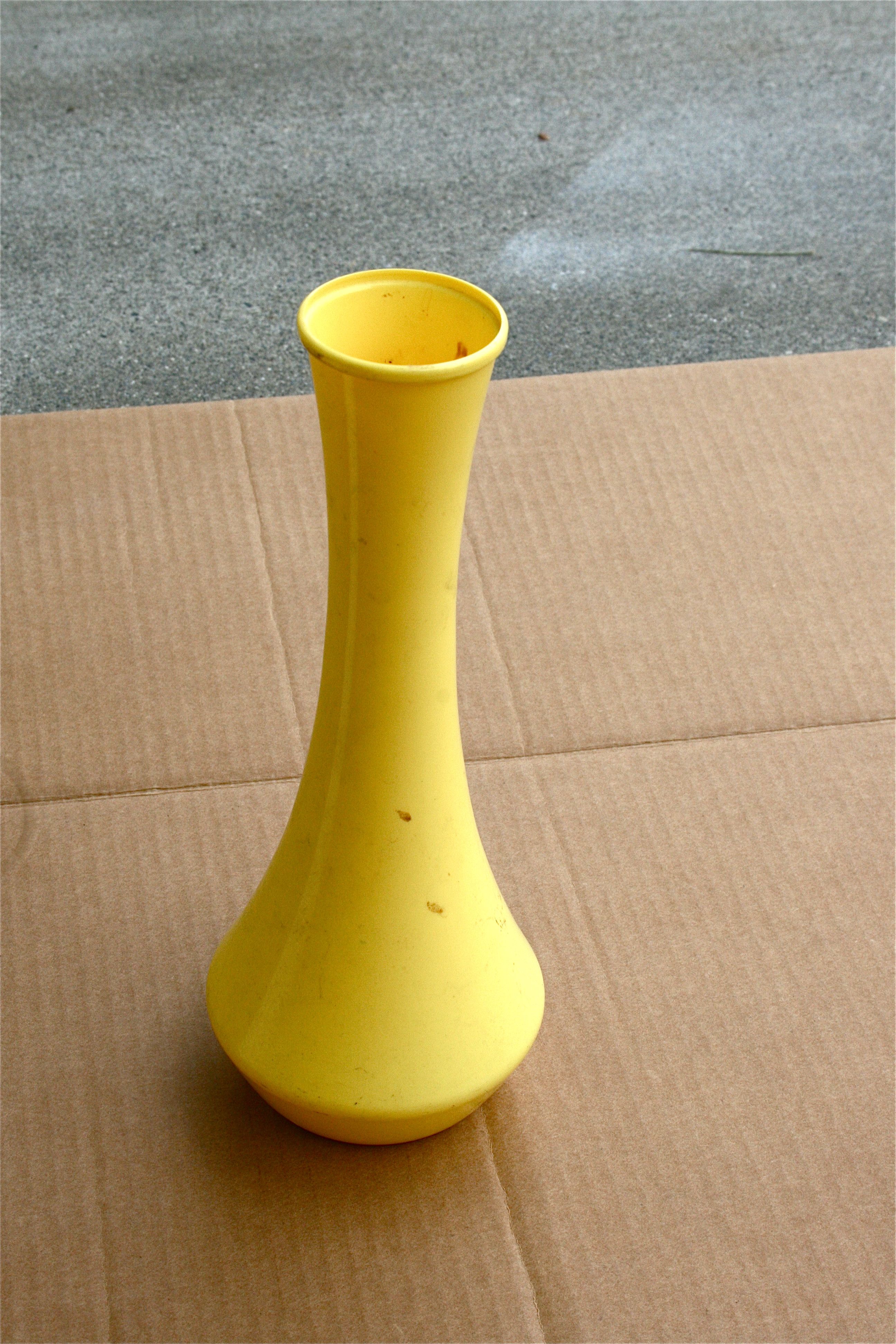 Tada!!! The sleek new color got rid of all the pesky stains, making it look brand new:
Even though in real life this little vase is SUPER light (probably the weight of a small metal fork), I think the new coat of paint makes it look a bit heavier and more stable. Up on the oak shelves in the living room, you'd probably think it was porcelain or painted glass (at least that's what I keep telling myself). Sorry for the messy shot, but here's the wide-angle view I have of it in place on the shelves in the living room: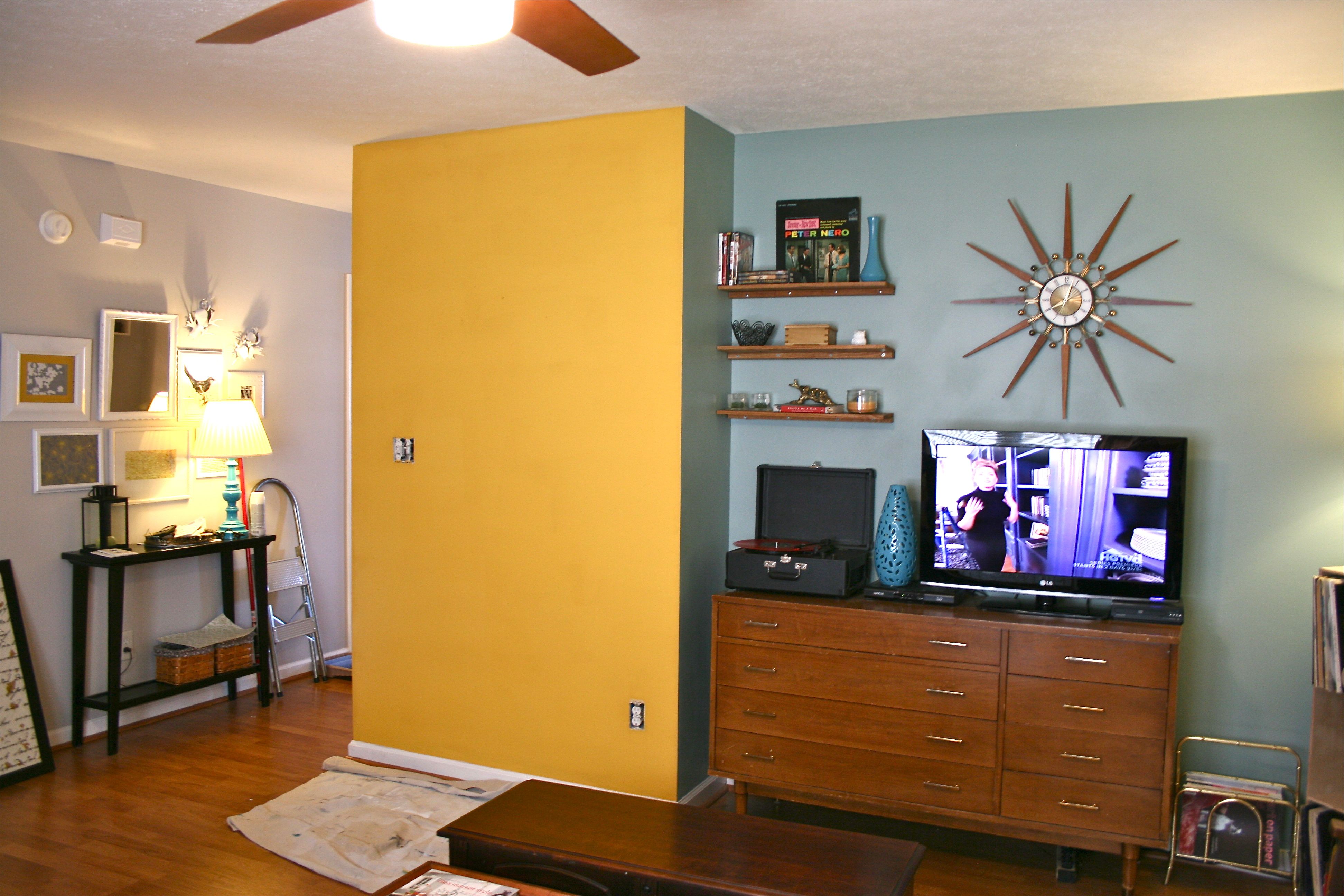 Looking schnazy and quite a bit more expensive then the 50 cents I paid for it!
Hope you enjoyed seeing where some of our recent "Thrift Store SCORE!"s are now. I rarely buy a piece knowing exactly where it's going to go – But they always seem to fit right into our space somehow. It's so much fun to see where they end up 🙂