So in doing our best to show you the good, the bad AND the ugly, I am going to reveal the results of my latest project…But I must warn you that this is one of those times when things didn't quite work out as planned.
As you may already know, I've been making it my special goal to beautify our laundry room (you can see the progress here and here) – I don't think John is very interested in this redo as it is only a laundry room, but I want to maximize EVERY room in our house! So I'm going this solo. The good thing about that is that I am giving myself free rein and creative license 🙂
The next big step in the transformation is art – So where did I go for inspiration? Pinterest of course! That's where I found these images: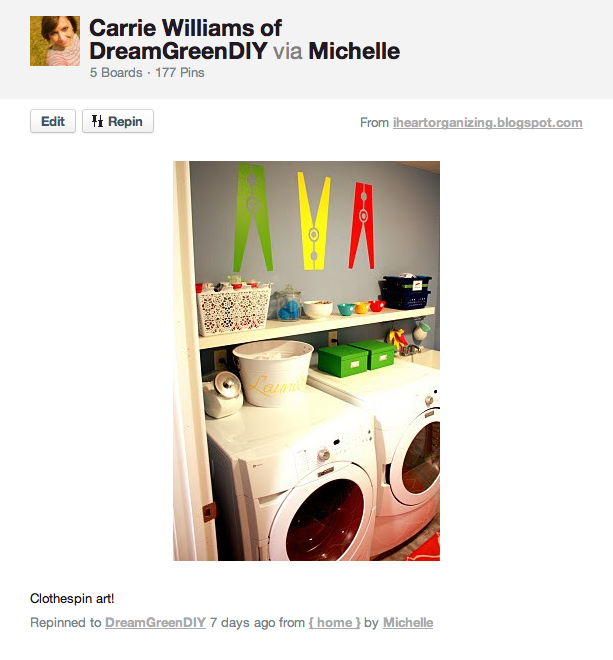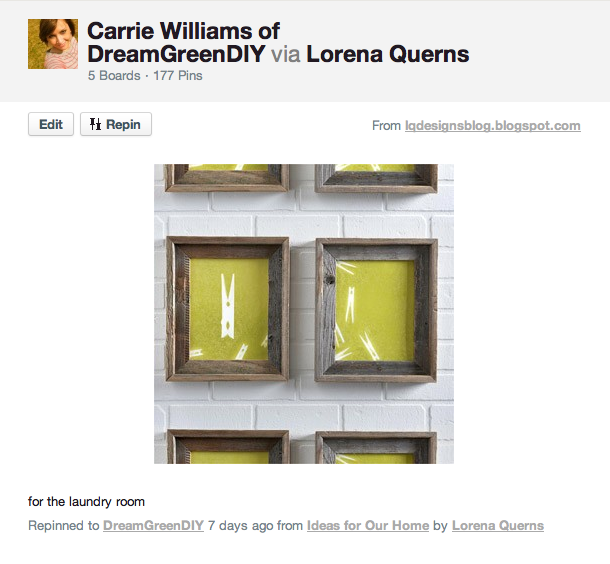 What could be more appropriate for a laundry room art scheme then clothespins??
After getting some direction, I Google-searched images of clipart clothespins. When I found the perfect ones, I printed out a few in varying sizes and then got to work cutting them out. My plan was to use them as stencils for four canvases I picked up at Wal Mart for about $10.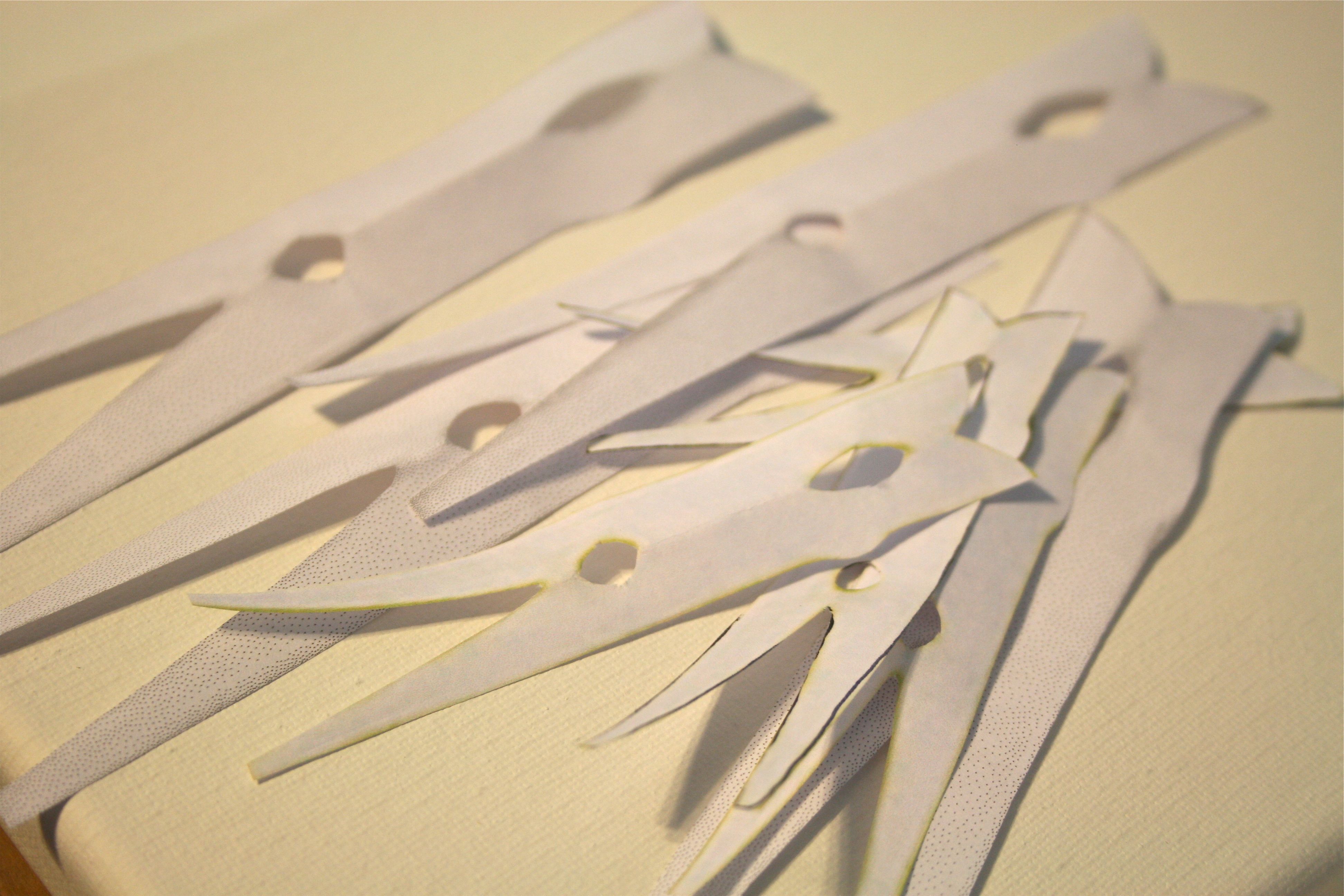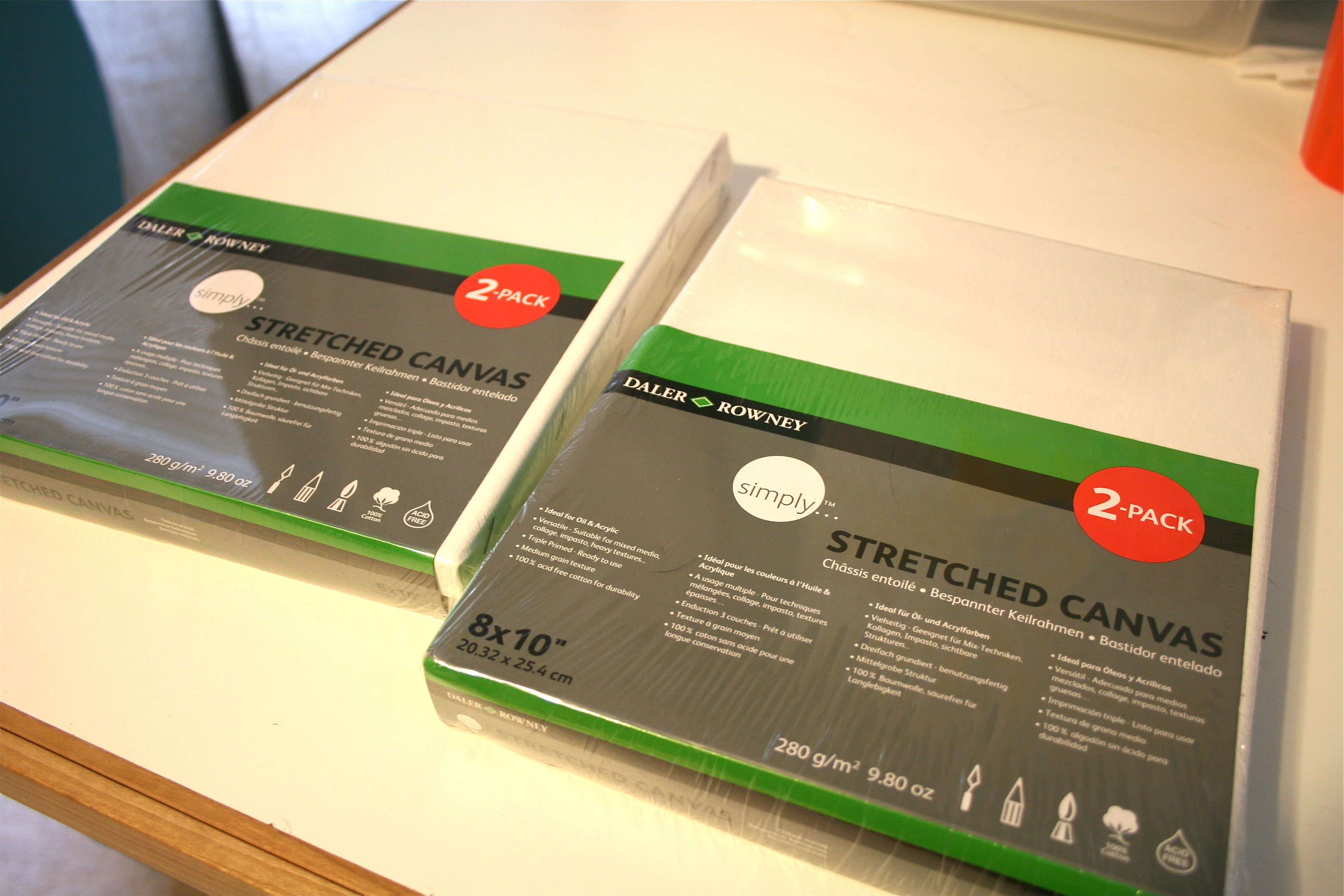 After laying the cut out paper clothespins across the canvases in a random arrangement, I took some rubber cement (which I used because you can often gently peel things off a surface when adhered with rubber cement) and attached the first couple of paper stencils to the canvas.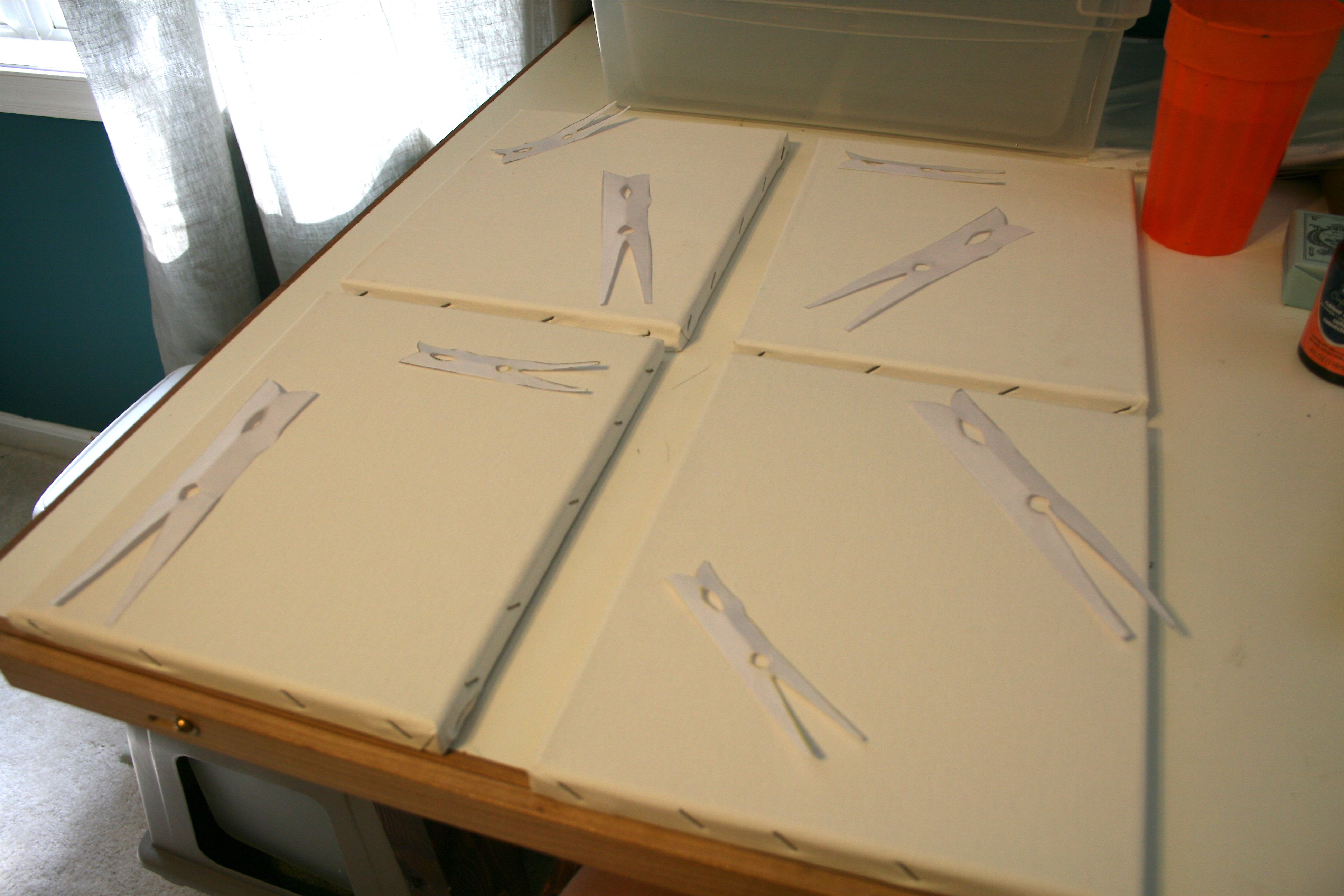 Then I grabbed my paint brushes and paint and got to work with a rosey color on the first trial run of my art project.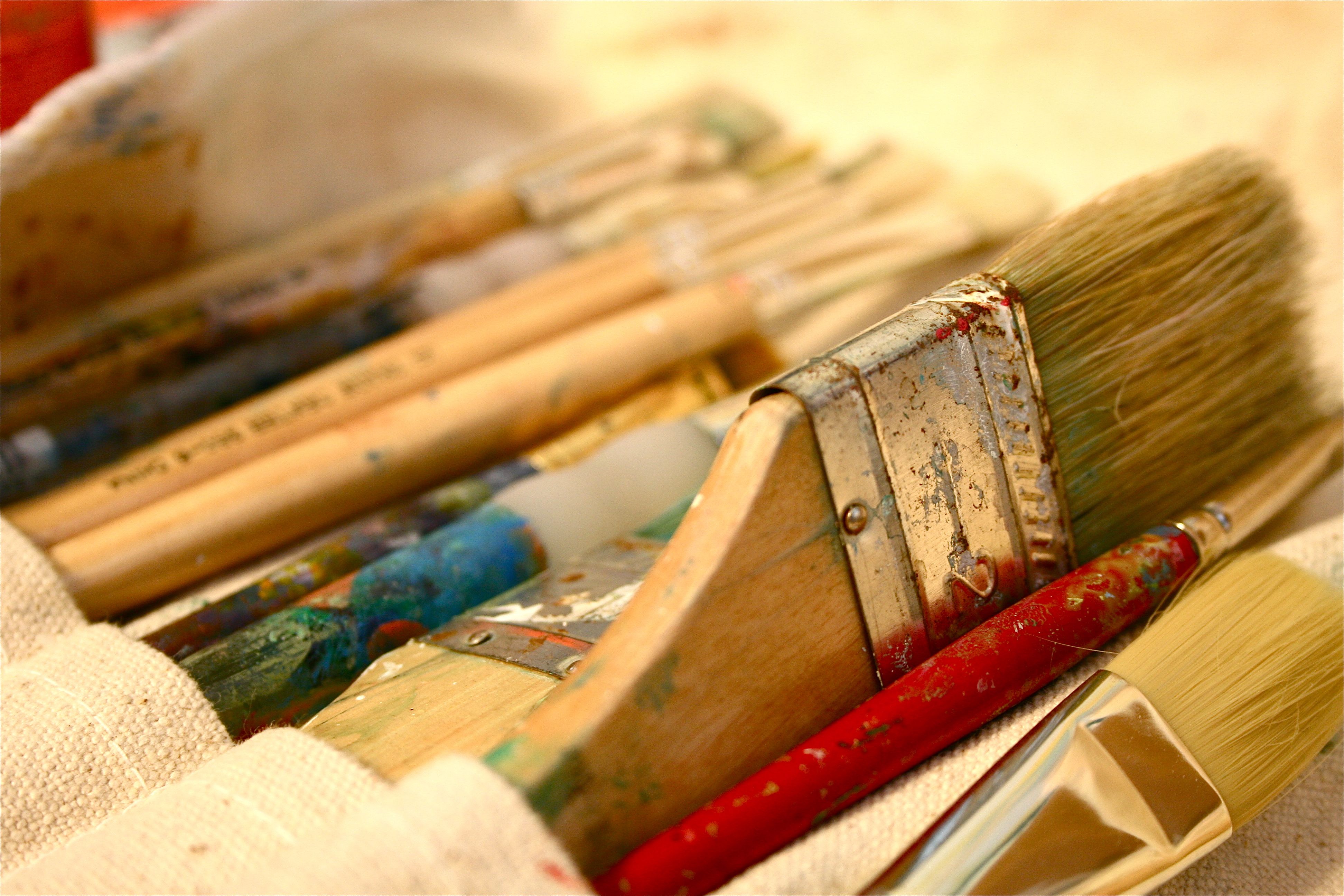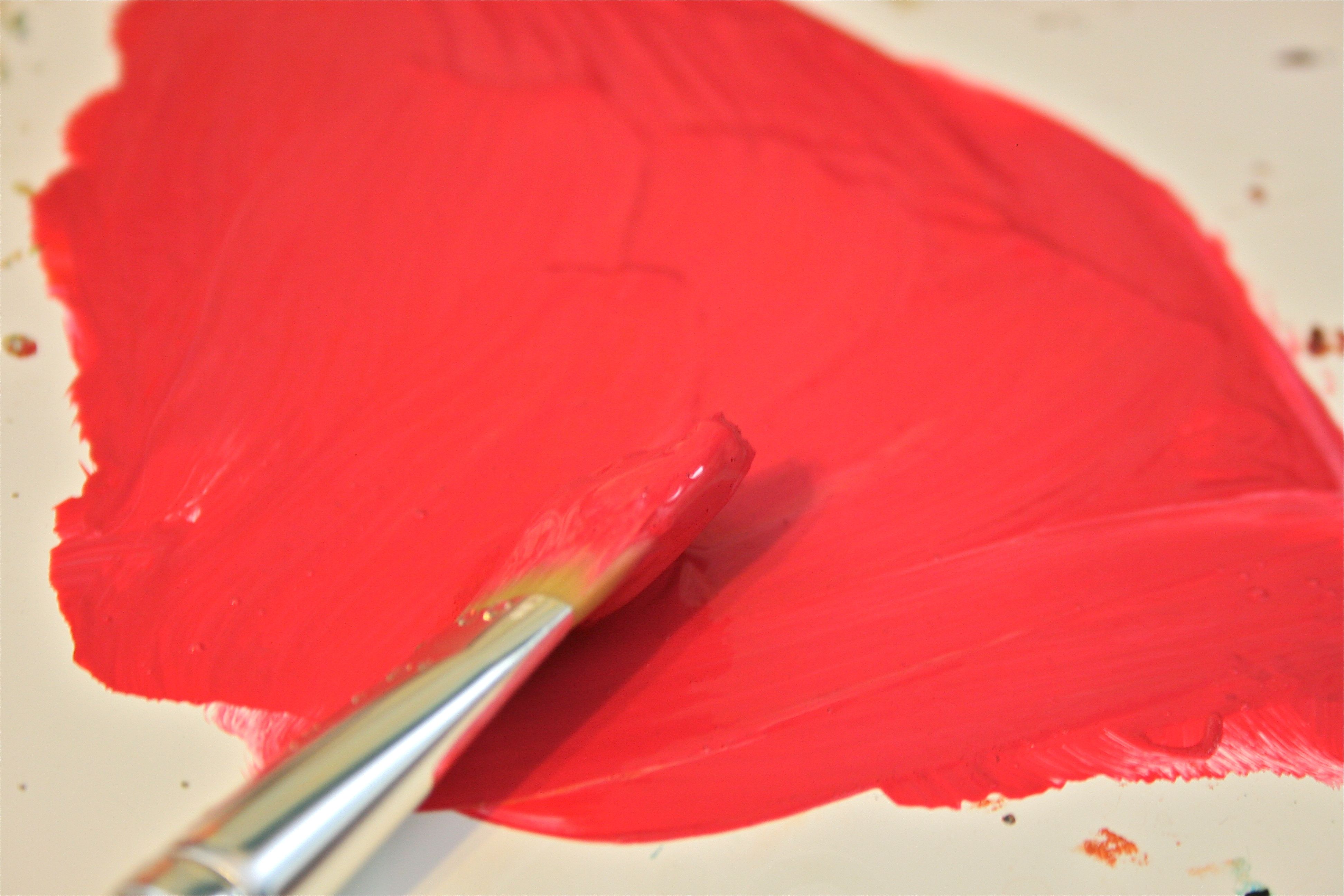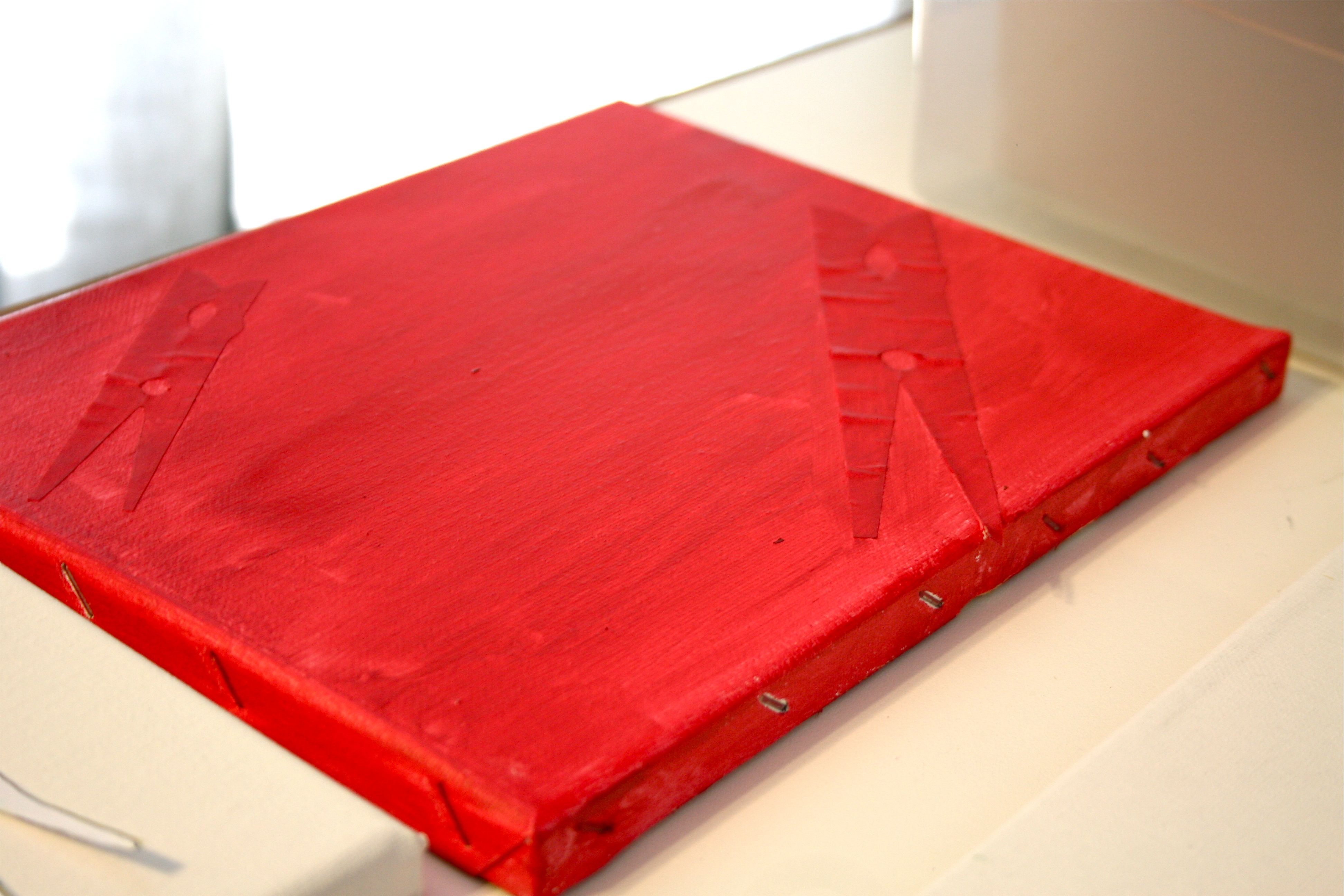 I just painted right over top of the paper cut outs expecting them to mask off the paint and, when peeled back, would reveal a clean white silhouette of a clothespin. As you can tell by my hypothetical phrasing, this was not the case at all…You may even be able to see what happened in the photo above.
The paper I used to print the clipart onto was just standard copier paper and pretty thin. As soon as the wet paint hit it, the paper started to wrinkle and bubble in places, allowing paint to seep underneath. I also found out when I moved on to the next one that I had gotten extra lucky on the first canvas when using the rubber cement. I only managed to glue on one more paper clothespin without it sliding right off, like this guy: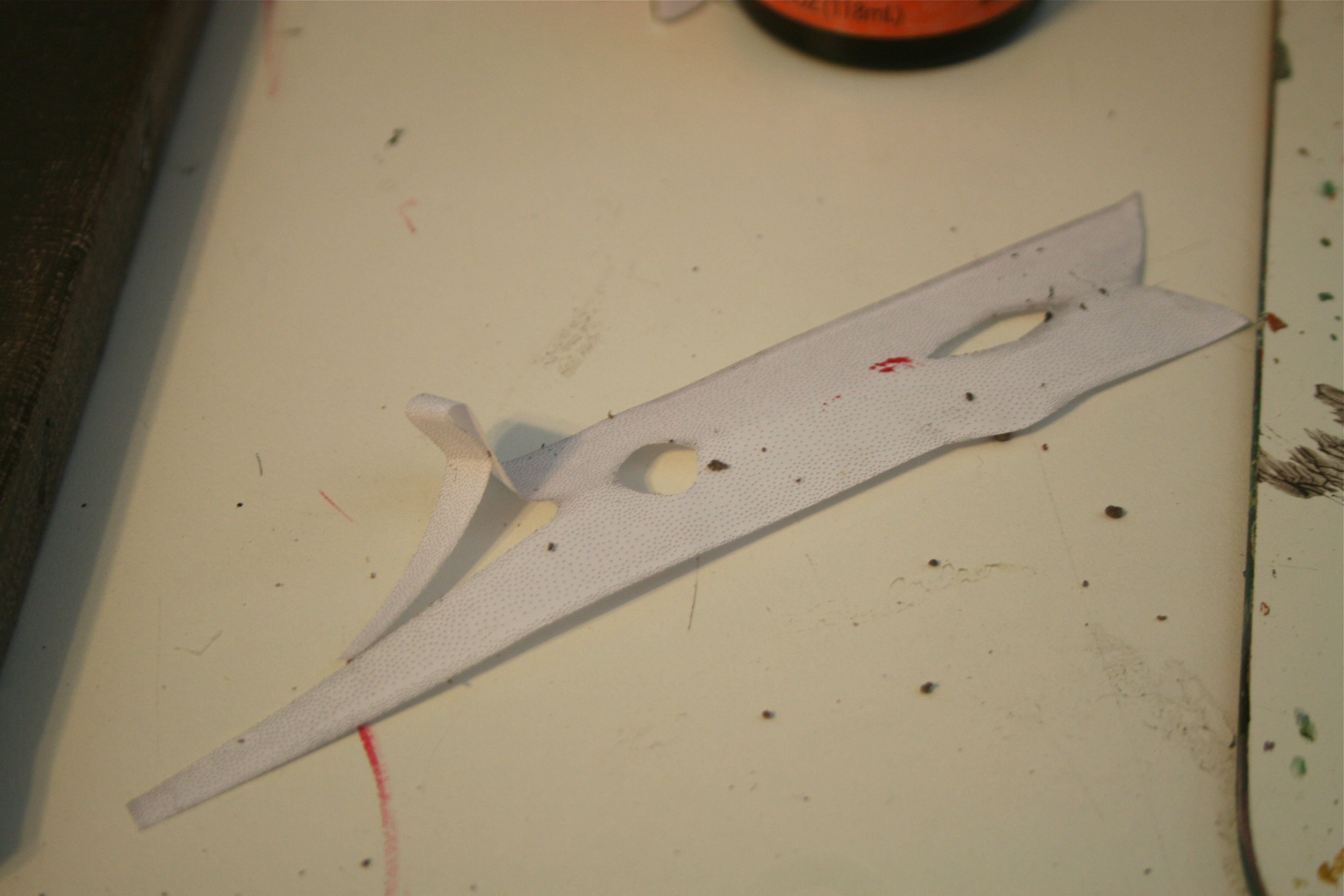 So only two of the four canvases actually got the silhouettes on them. The other two were just plain washes of color, like this: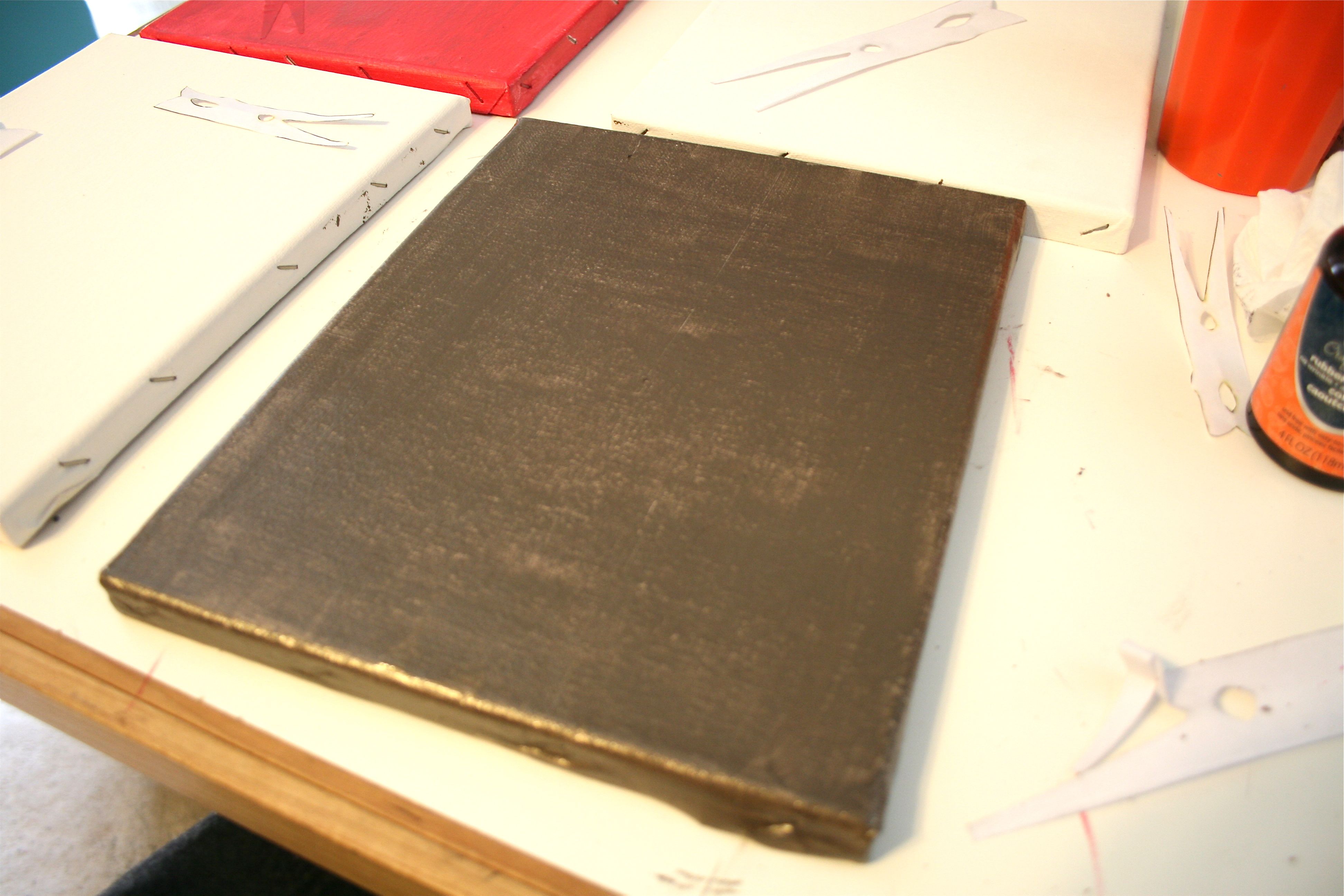 I didn't think it would be a huge catastrophe for some of the canvases to be solid colors, but once all was said and done, I knew the project was a failure…Here's the "finished" product: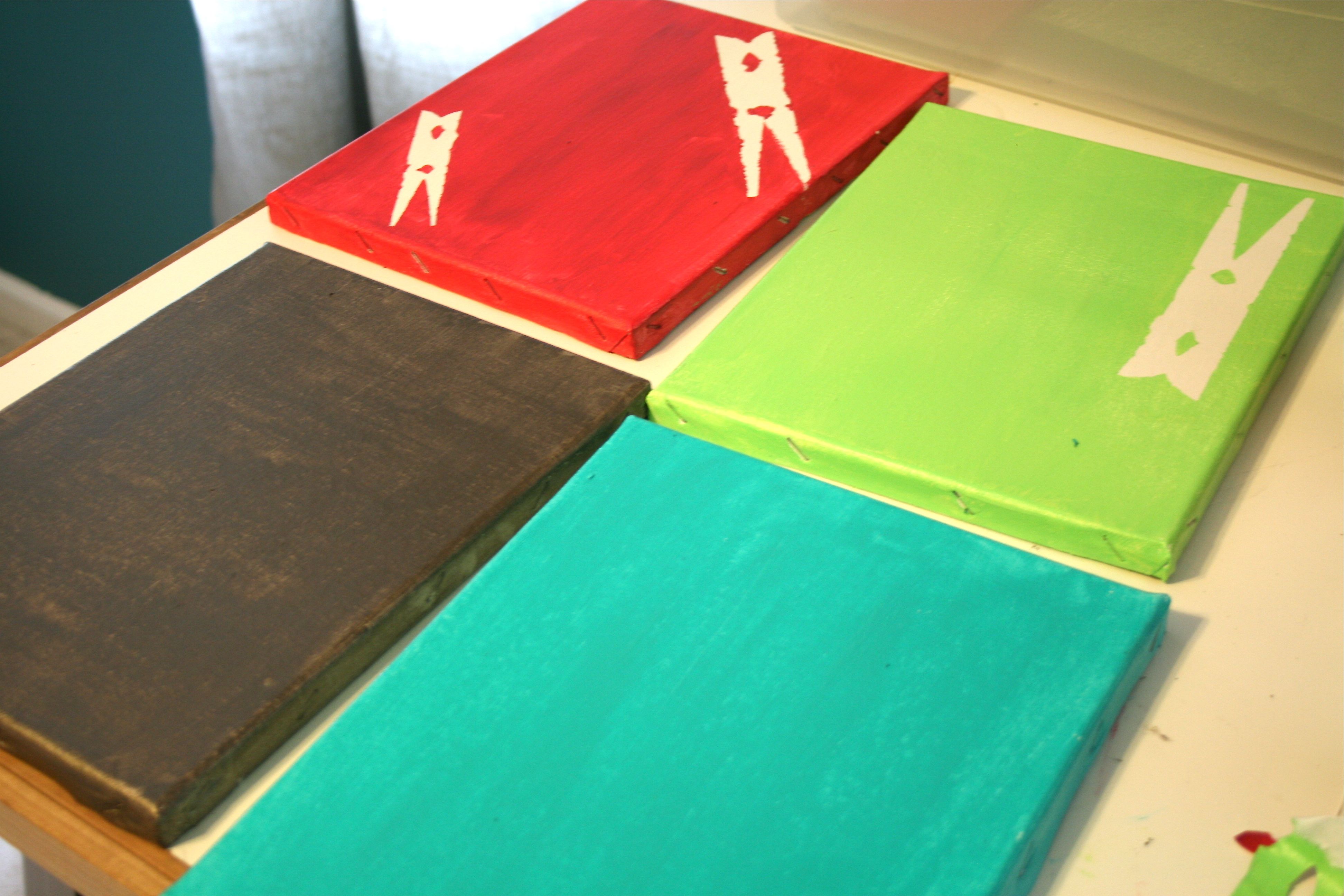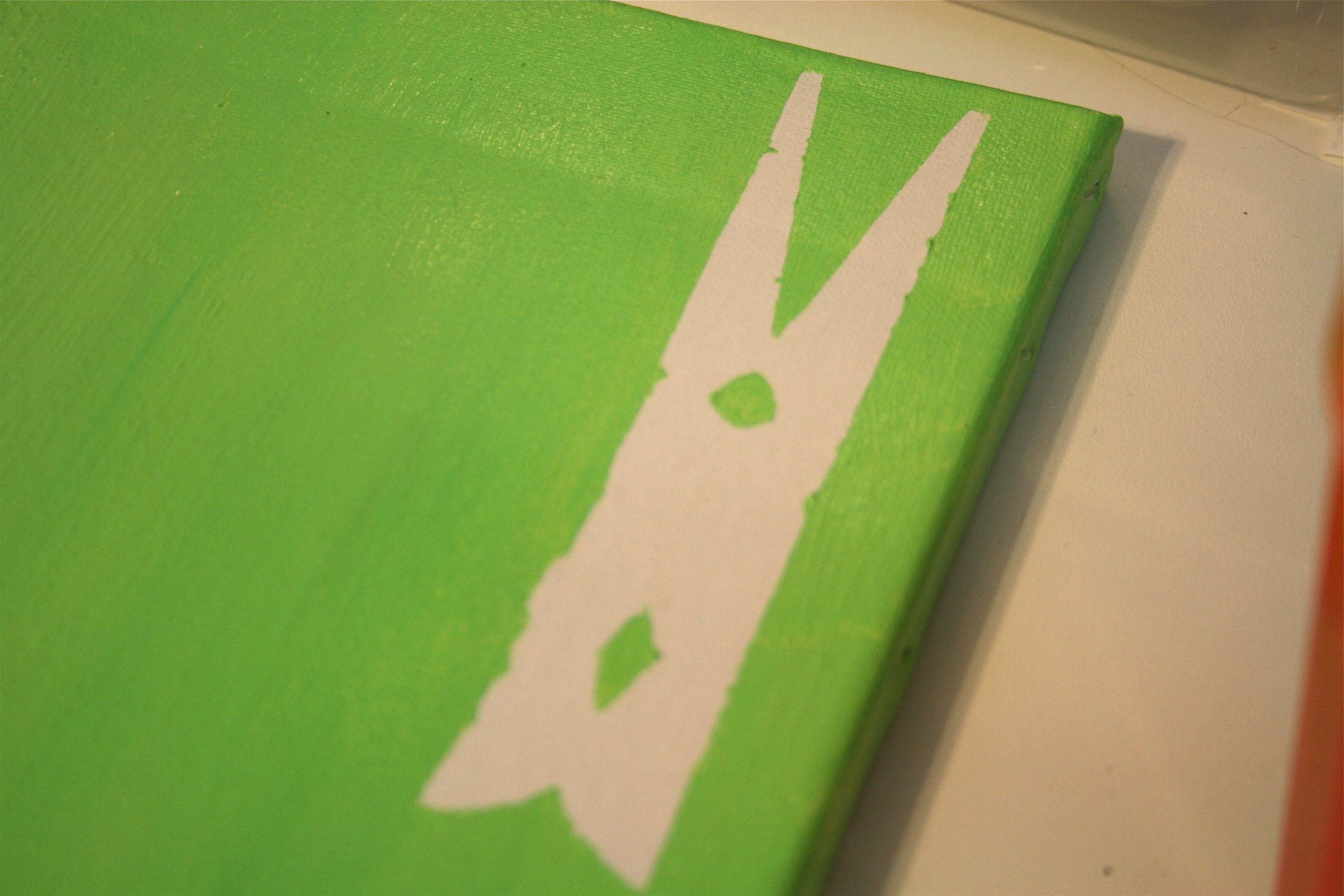 As you can see, there was a lot of bleeding paint under the paper template…I think it would have been MUCH more successful had I used plastic for the clothespin stencils and a different kind of semi-permanent adhesive to get them on the canvas during painting. I also should have put on several coats of paint for a solid finish instead of a watered-down mess on the canvases themselves, but I pretty much knew the whole thing was a wash (haha…) so I didn't want to waste more time or paint.
So on to Plan B! Which I'm still not sure of yet…I think I might use pray paint to give all of the canvases a nice, even finish and then hand-paint the clothespins on. Or maybe cut them out of patterned scrapbook paper and permanently adhere them to the canvas?
What do you guys think I should do? I definitely like the direction and think it'll be fun and punchy up on the wall – But the process needs to be revamped in some way.
Crossing my fingers we get something cute out of this! Here's the original Pinterest inspiration to remind you of how I WANT it to look…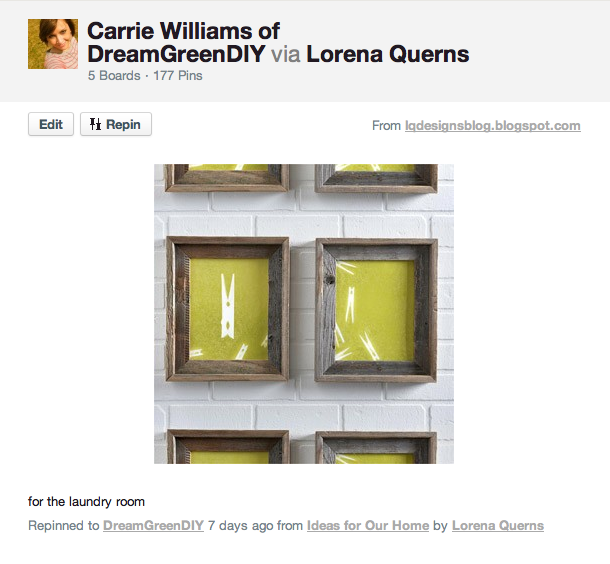 Wish me luck!!!!!
P.S. I wanted to thank you all for the postive feedback after Friday's announcement of a new Monday/Wednesday/Friday-only post schedule. I am so thankful that you will still be coming back each week despite the shift from daily publishings. I promise to continue making it worth your while 🙂