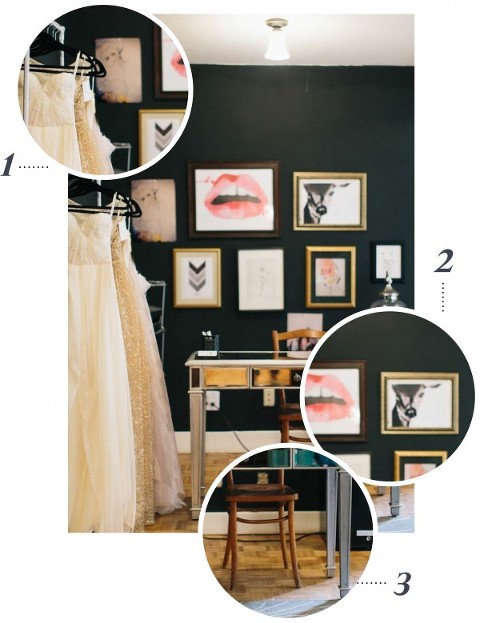 Source: Rue Daily
I caught sight of this gorgeous "office" space over on Rue the other day, and couldn't help but share. I'm placing the word "office" between quotes because, really, this space is so much more playful than the word implies. Sleek black walls, insanely precious garments lined up on velvet hangers and mirrored finishes make this room a place where inspiration and creativity don't just play – they are born.
1…I know that the wedding dresses hung in this showroom serve more purpose than decoration, but I couldn't help but call out the fact that they sure do feel like well planned accessories. The layers and layers of white chiffon and silk add this inscredible contrast to the space when set against the black walls. You must (I repeat: MUST) click through to the full feature for more photos of this room. The closeups of the dresses are to die for and make me want to indulge in an adulthood game of dress up ASAP.
2…Although I attempted a black wall in my own studio (a story I refuse even to link to) it was a disaster quickly remedied with a can of mint colored paint. But here, the idea of an ebony feature wall is done right. The room has tons of light and the mismatched gallery wall hung on top balances the bold color, making it recede just enough.
3…While the wedding dresses hung front and center in the room pack a budget-busting punch, the rest of the space could easily be recreated on a dime – or at least a handful of $20 bills. A $19.99 IKEA rug on the floor adds affordable softness, the vintage wooden desk chair could be salvaged from a thrift store and a look a like to the mirrored desk could probably be found at a place like HomeGoods. I love when I get to say this but…Definitely try this look at home!
What are your favorite details?
P.S. If you haven't entered yet, I'm running another summer time giveaway – This time you have a chance to win your very own Andes pillow from Lulu & Georgia. Get the details.
P.P.S. Happy 4th of July!! I hope you're all able to have a relaxing day with family and friends – That's exactly what we plan to do anyway!