THIS GIVEAWAY IS OFFICIALLY CLOSED.
KEEP SCROLLING TO SEE IF YOU'RE THE WINNER!!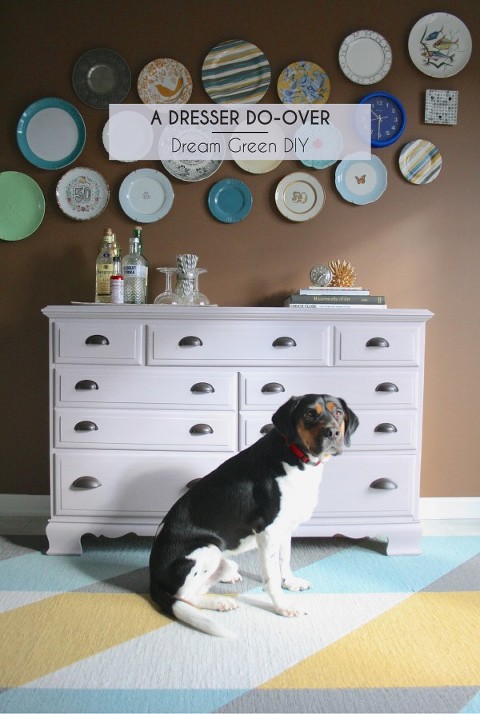 A long, long time ago I lived in, what I lovingly have dubbed, my "bachelorette pad." It wasn't my first apartment on my own, but it was my last and that makes it almost more special than that immediate post-college lease. It was there that I started playing around with a distinct style above and beyond the mishmash of hand-me-down furniture that, up until that point, I had carted around with me.
Case in point one dresser in particular. It was picked up at my favorite estate shop in town and definitely reflects the country/eclectic style I gravitated towards back in the day. Antique brass drawer pulls, sculpted feet and beveled drawer fronts – Those details plus the natural finish that initially had me at "Hello," eventually guaranteed that it would find its way into the closet here at in our distinctly modern and retro married home.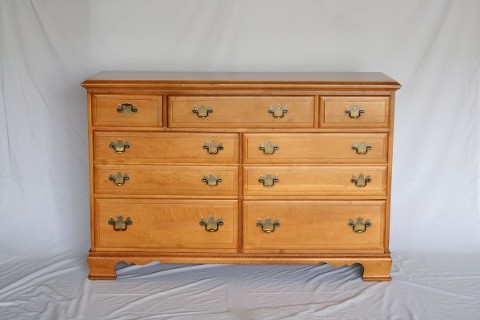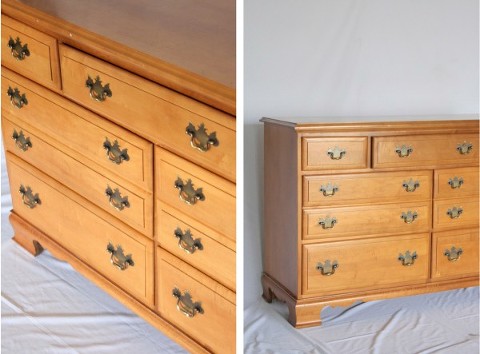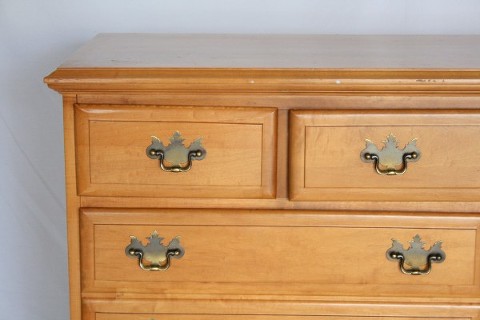 After being faced with a recent lull in projects, I decided now was the time to give it a little bit of a wake up call. A fateful email from Wallpaperdirect finally sealed the deal and I knew exactly what I needed to do. Although I had never done it before, I ultimately came up with the idea to wallpaper the sides of the dresser, and with Wallpaperdirect's generous offer, I was able to pick out the perfect pattern. Namely, Blossom Soft Jade. The subtle minty color sold me almost immediately, and the Asian flower motif (incredibly) is what sold John. The other half to this puzzle was the paint.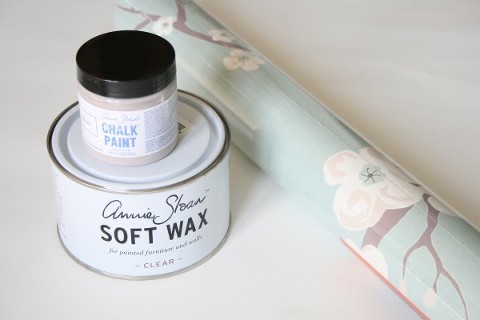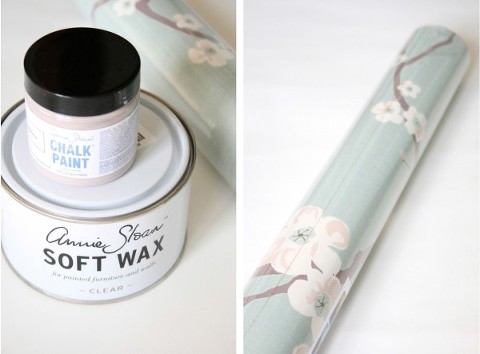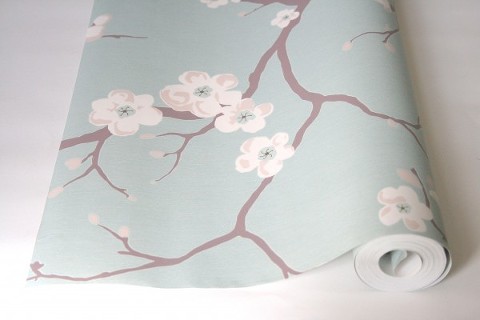 I also had never used Annie Sloan Chalk Paint before, but the promise of no sanding or prep work convinced me that I should give it a shot. So after a quick jaunt to our local Annie Sloan retailer, Studio Eleven, I came away with a test pot of Paloma chalk paint, which I was told by the shop owner would be plenty for a dresser project.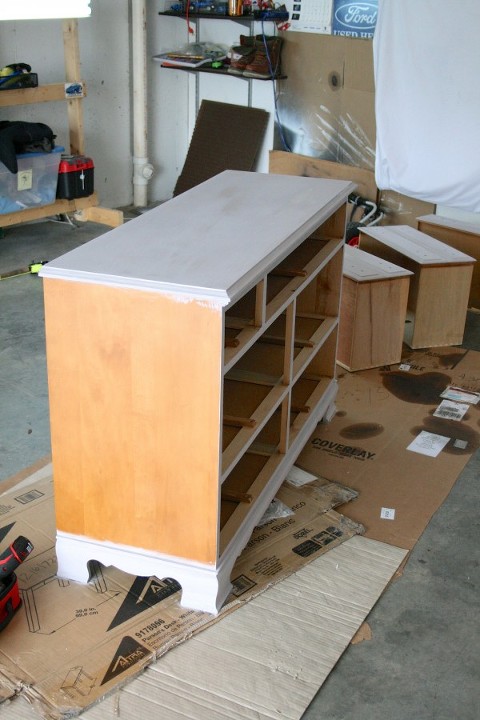 Despite hearing some mixed reviews from others who have used it, I really loved the paint! I was a little more than blown away to realize that the teeny tiny paint cup I bought really would finish the entire piece too – all two coats of it. It may have helped that I didn't have to paint the sides of the piece (where the wallpaper would go), but I even had a bit left over for touch ups in the end. To demonstrate the difference between one and two coats, I took a couple of mid-project shots, seen below. The left side is one coat and the right is two.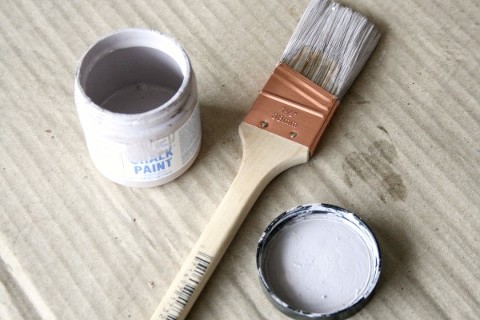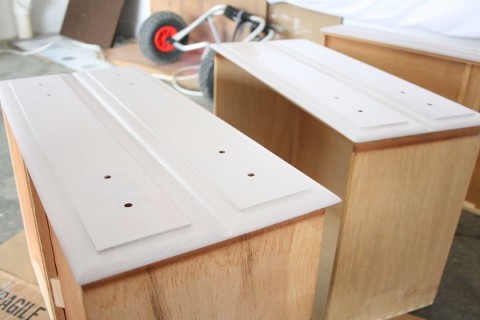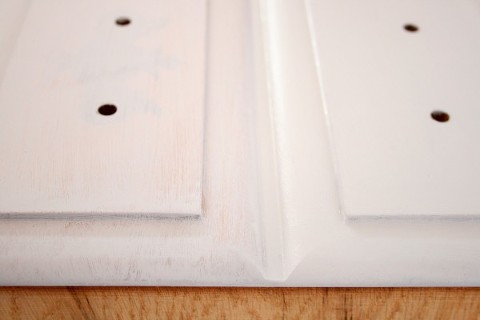 A quick coat of Annie Sloan furniture wax across all of the painted areas ensured that my work would be protected. Then it was on to the second phase of this project, which involved a quick coat of primer on the sides of the dresser to prepare it for the wallpaper. Since the wallpaper I chose didn't come pre-glued, I ran out to our local Benjamin Moore store and grabbed some border adhesive.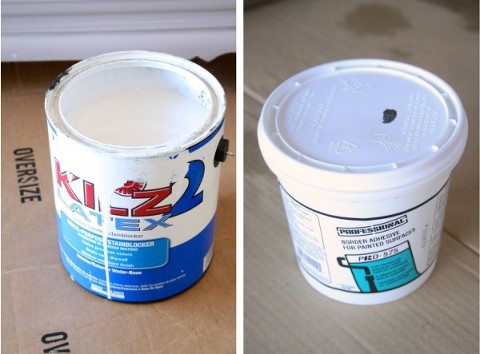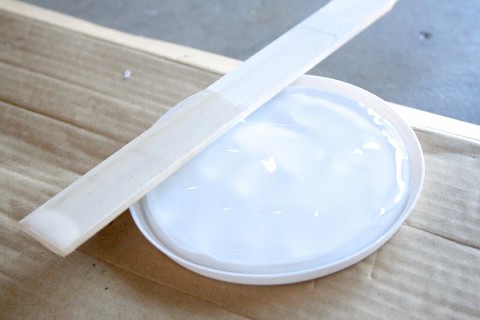 With the sides of the dresser primed and ready to go, I simply painted on a thin and even layer of the border adhesive and then gently laid my cut-to-size pieces of wallpaper on top. Using a small plastic squeegee, I was able to smooth away all of the pesky bubbles and wrinkles. Although I made sure to triple measure the width of the dresser for my wallpaper sections, I left a good two or three inches of overhang on both the top and the bottom. That way I could simply use a straight edge and razor to make those edges perfect.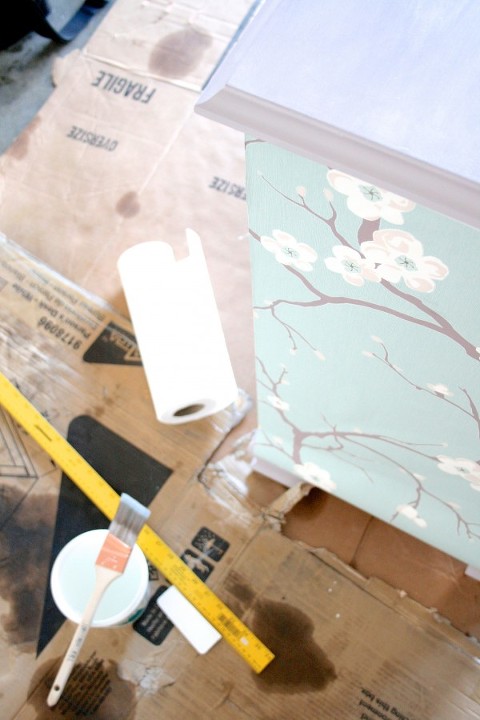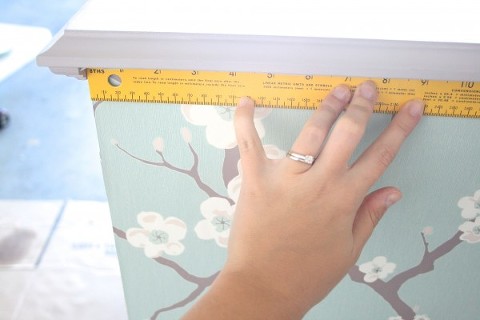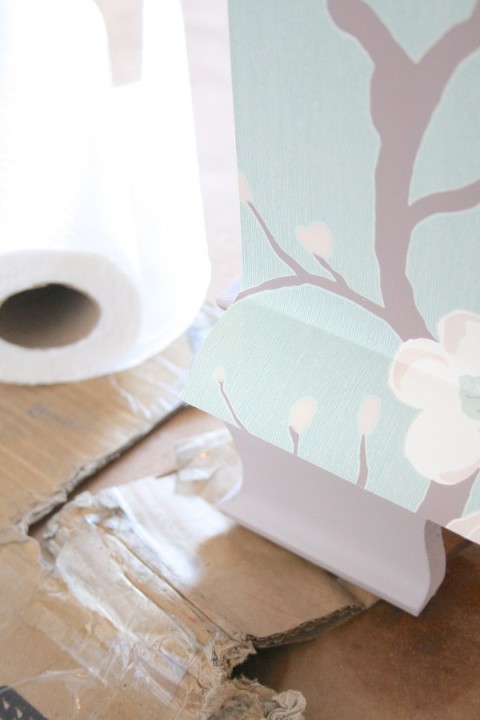 The longest part of this refresh had to do with the hardware, although not at the fault of the highly recommended and patient eBay seller I bought them from. Note to yourself (and to my future self): some dressers have different hardware on different sections of drawers…Long story short, I ordered, returned and ordered two more times, all because I failed to notice that there were both 2.5 inch pulls and 3 inch pulls. Happily, only several weeks past schedule, the dresser was finished (with all of the necessary hardware in place) and ready for its close up.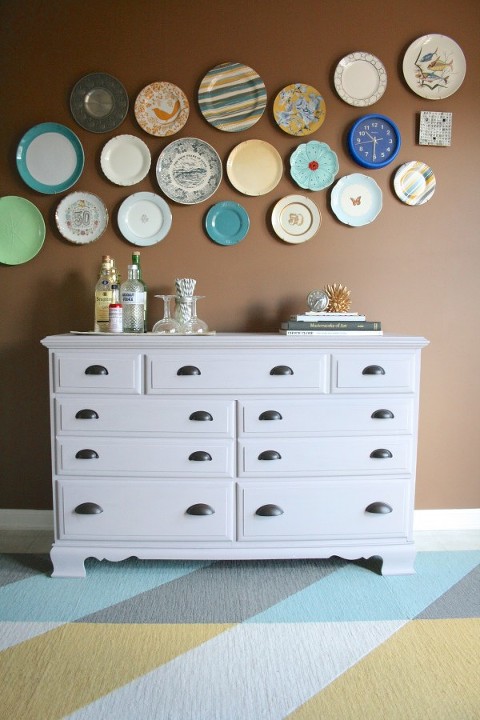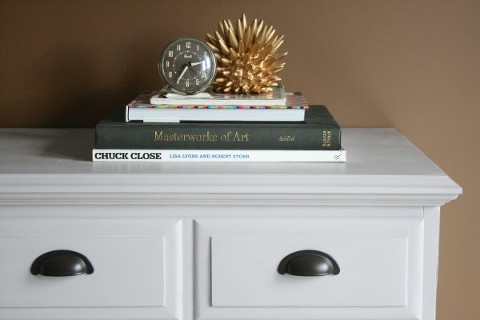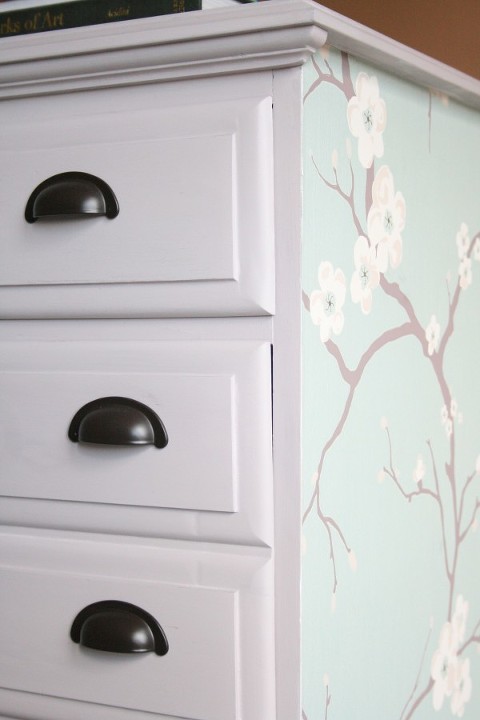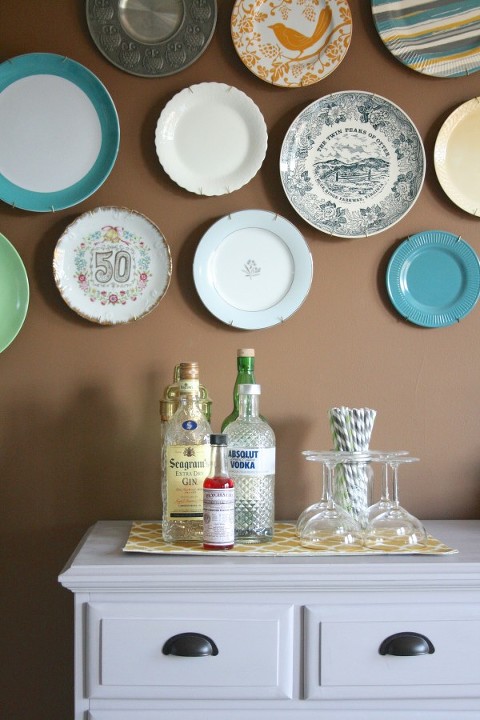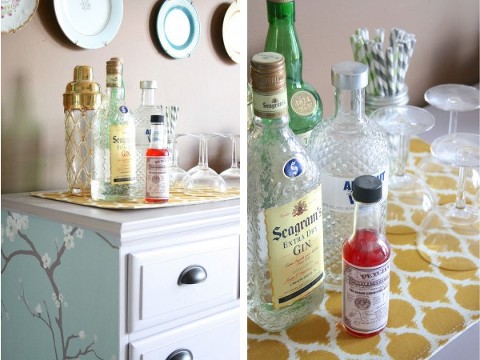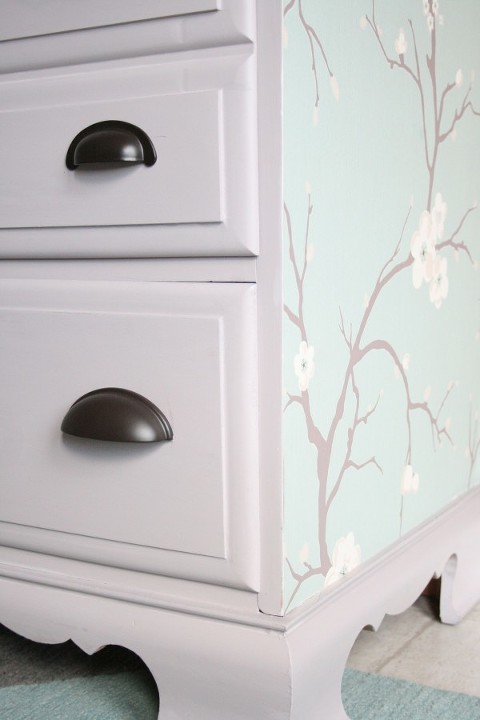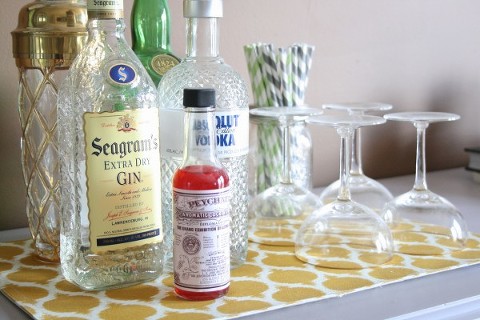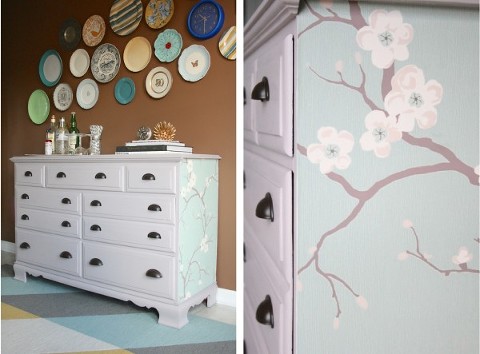 Although it took a bit longer than originally planned, I am head over heels for the new and updated look. The new oil rubbed bronze cup hardware gave it a fresh new style and that pop of unexpected pattern on the sides? I just can't get enough of it.
Want to know the best news of all, though? Wallpaperdirect has graciously offered to gift one of you a roll of your very own wallpaper to play with! Simply use the Rafflecopter giveaway below to enter your name into the drawing. Contest ends next Monday at midnight. In the meantime, feel free to click over to Wallpaperdirect to get your creative ideas flowing. Would you use yours on the wall? Or on something a little more avant garde, like a piece of furniture?
***************************************************************************************
GIVEAWAY UPDATE: Congratulations to Kristen R.!!
Kristen, I will be emailing you shortly 
with details
on your Wallpaperdirect prize. Thanks to everyone for participating!!