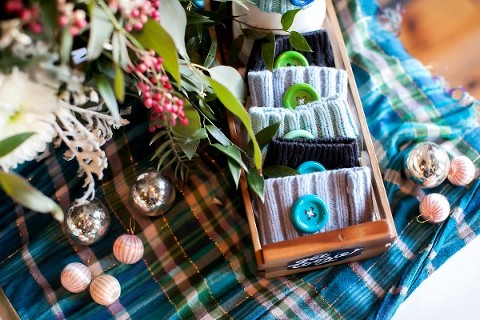 Photo: Sincerely Liz, Inc.
One of my favorite parts of the Coffee, Creamer & Christmas Cheer shoot that I shared last week somehow got buried in the holiday activity juggle. Luckily, it's not necessarily a Christmas-specific DIY, so I'm extending the fun on into the New Year's holiday with a super fast tutorial that you can try any day of the year.
The idea was to create a simple favor for party guests to take home and, sticking with the hot drink theme, I decided on knit coffee (or hot tea!) coozies. Of course, I didn't have to break out the yarn and needles – Instead, I made a quick stop in at our local Goodwill thrift store and picked out three cable sweaters. A quick hot water cycle through our washing machine made them good as new.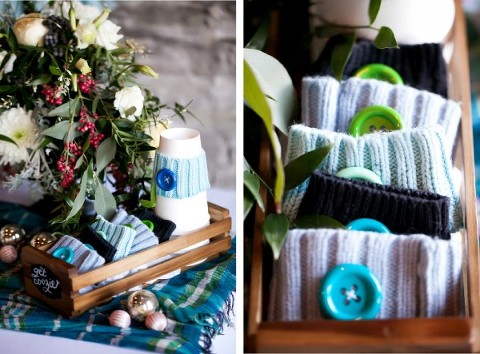 Next, I took a pair of sharp scissors and clipped the ends of the sleeves off. If you're a wiz with a sewing machine, you could easily hem the cut edge, but I used my trusty liquid hem solution to eliminate the threat of unraveling. Although I decided to forgo needle and thread for that phase of the project, I did grab our little sewing set to add neon buttons, one on each coozie, for a bit of flair.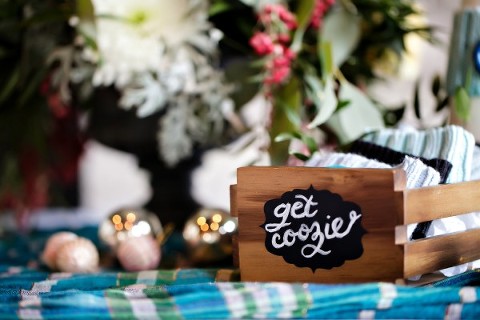 For display of the favors, I bought a pretty wooden box from Target and carefully stuck a chalkboard label to the front edge. A quippy "Get coozie" quote on the front using a chalkboard marker was the final touch.
Easy as that! What other fun favor ideas have you come across? I'm all ears.
For a whole bunch more from this shoot, click through to Glitter Guide.