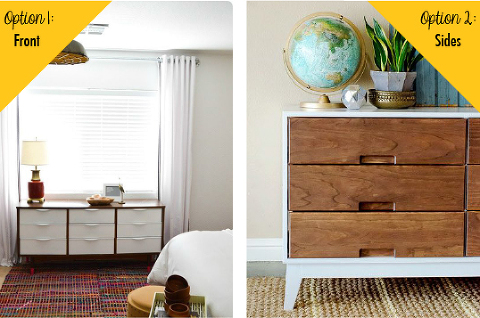 Today's "Options" feature is actually a bit of a sneak peek. Or, rather, a second sneak peek if you follow me on Instagram. Case in point, I just recently tackled a two tone mid-century dresser makeover myself, to be revealed in all its wood + white glory first thing Monday morning. But rewinding a bit to the planning stages of said project, I had a bit of trouble deciding whether to paint the front or the sides of my thrifted dresser…
OPTION 1:
There's something undeniably chic about those sleek white drawer fronts. By taking them to the opposite end of the color spectrum and leaving the dresser surround in stained wood, you're able to achieve this really great geometric vibe without painting the entire piece of furniture.
OPTION 2:
That said though, you can still achieve that same geometric look with white dresser sides, too. This second option just does it for me. I think because the character and pattern in the wood really gets to shine when left exposed on the front of the dresser.
I know some of you won't care for either look (it's definitely a bit subjective and modern), but just in case some of you are as into this trend as I am, I have to ask…
[poll id="30″]