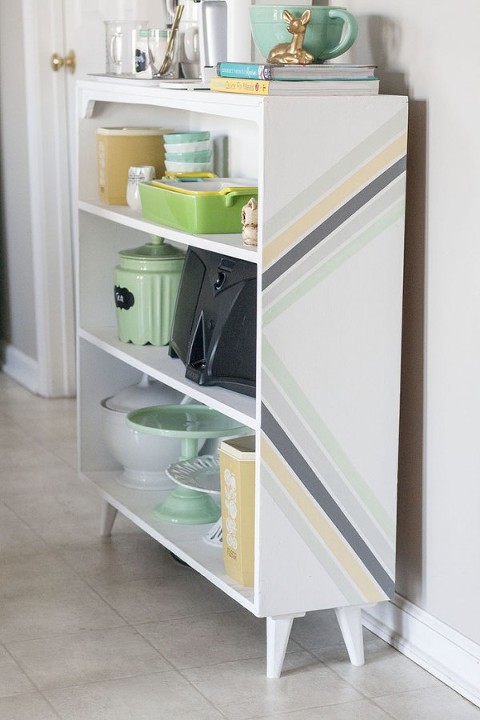 When I first moved out on my own, my parents sent me off with a slew of furniture—things like bookshelves, side tables, lamps and a desk. While the thrown together collection was perfect for my bachelorette days living on a dime and just settling into an adulthood style all my own, I've been on an unofficial quest to replace the hand-me-downs since moving in with my now-hubby.
So, over the past three years, we've scoured thrift stores and estate shops for the perfect pieces to add to our forever home, and have amassed quite an array of 1960's dressers, mid-century occasional tables and a chair or two. But one piece we had been in desperate need of was a bookshelf for the kitchen—something not too deep, not too tall and just right for storing dishes and our coffee maker and accouterments.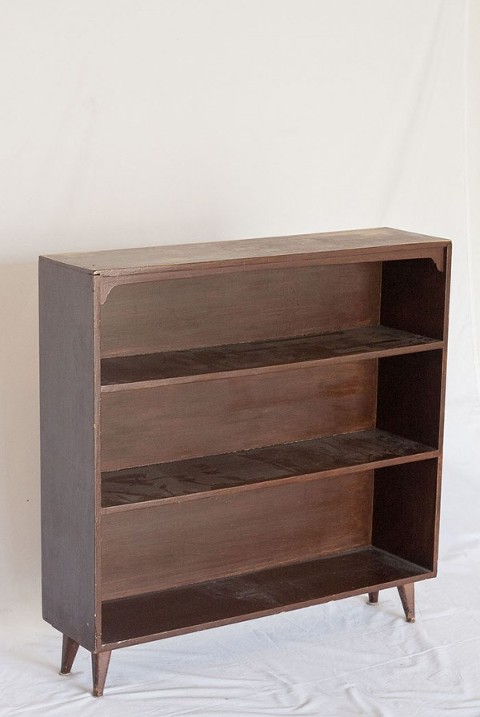 Happily, we recently found the perfect piece—an estate shop castoff wooden bookshelf hailing from the 50's, with just the right proportions and the perfect price tag to boot at just $40! The only problem? It was in pretty rough shape…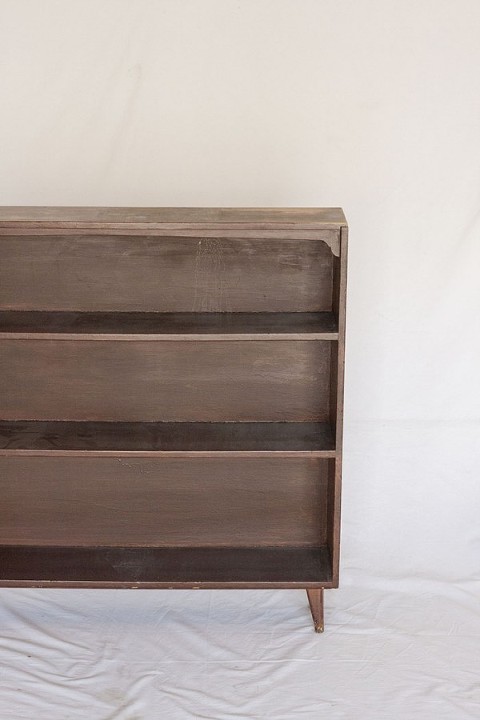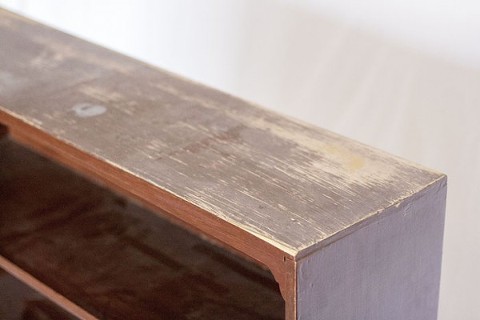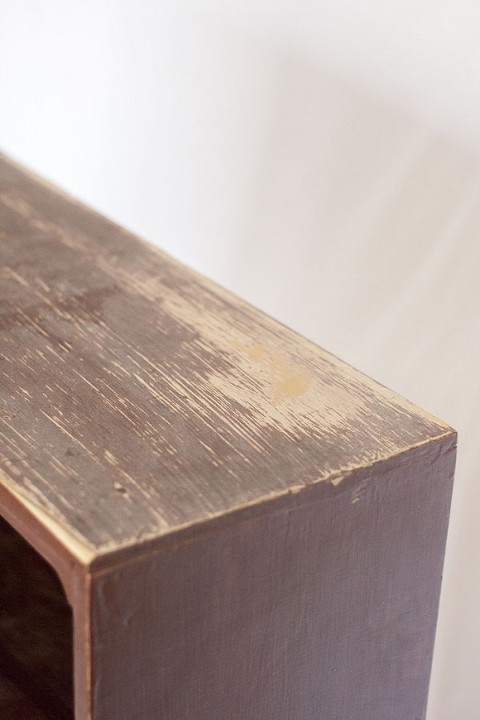 To remedy the dire situation, I turned to my all-time favorite DIY tool—paint. The plan was to take the dingy half painted, half stained, half sanded finish down to a clean and pure white. After that, I envisioned a little bit of pop art-inspired flair with painted stripes on the sides.
If you want to try this one at home, you're in luck! It was a breeze to complete. Here's what you'll:
Bookshelf
White paint
Sample pots of interior paint in your favorite colors
Paint brush, paint roller
Painter's tray
Drop cloth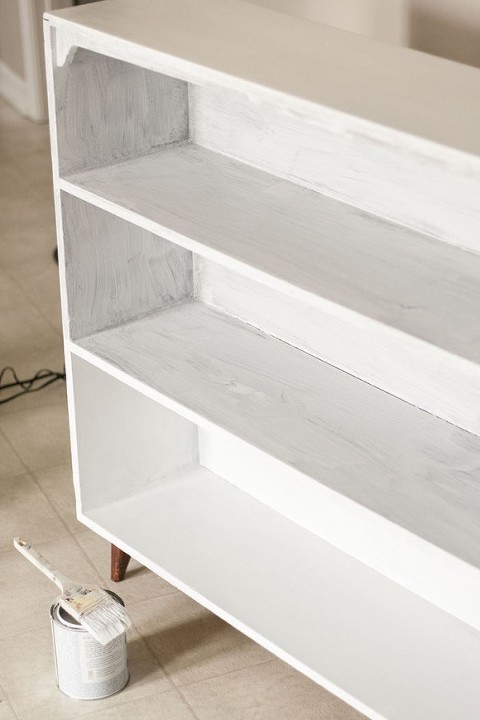 This time around, I went with white chalk paint in order to skip the hassle of sanding and priming. Although the process ended up taking more coats in order to cover the dark original finish, not having to wrangle a hand sander made it worth the extra step. Something like four layers of paint and then a topcoat of chalk paint wax later, Phase 1 was complete.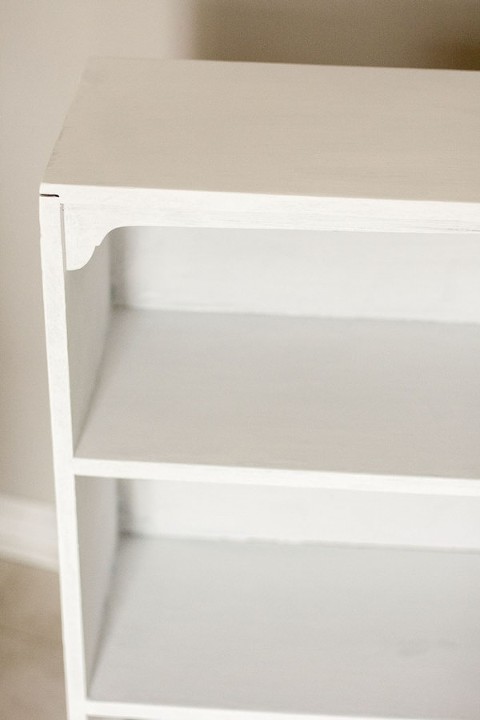 To help with the final step of our thrifted bookshelf redo—the stripes—I called in ScotchBlue™ Painter's Tape for Multi-Surface with Advanced Edge-Lock™ Paint Line Protector #2093EL. I've come to know and love ScotchBlue™ Painter's Tape with something akin to passion, and knew that I could trust it to give me extra sharp lines for the collection of stripes that I planned to paint down the sides of my now-white bookshelf.
Inspired by the bold colors and graphic appeal of the pop art era, I decided to incorporate two jagged lines of strips on just the sides of the bookshelf. So I grabbed a collection of test pots of paint that we already had in the garage and, after opening each in turn and putting them into a circle on the kitchen floor, chose five that felt cohesive with just a bit of edge. Then, with my ScotchBlue™ Painter's Tape in hand, I marked out my lines and got to painting.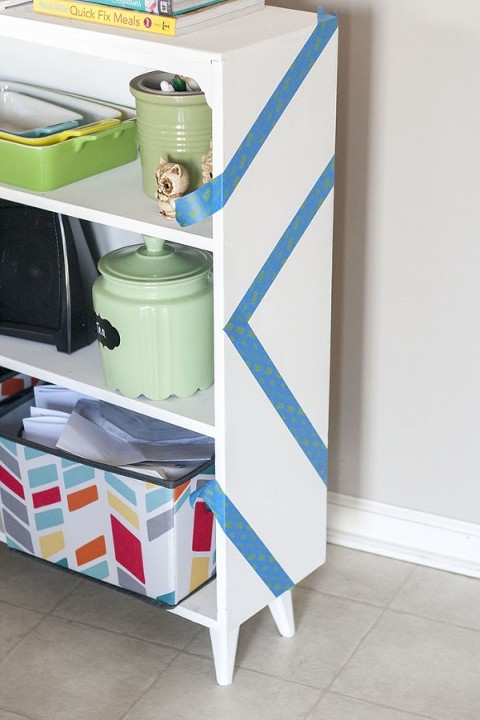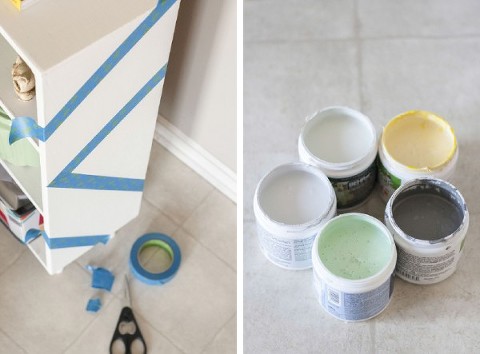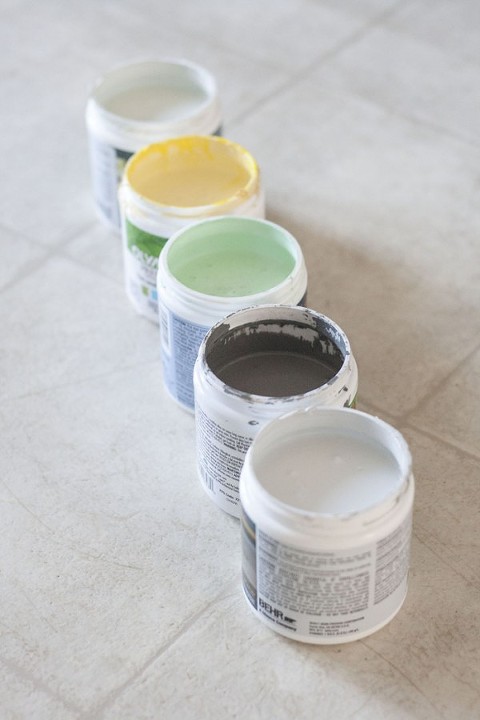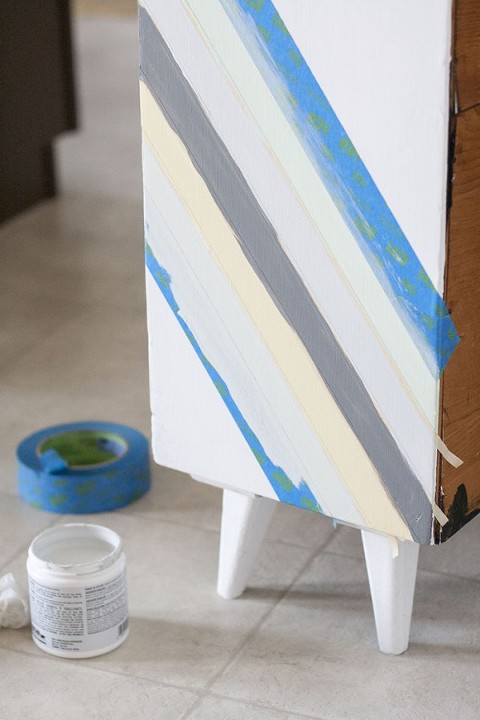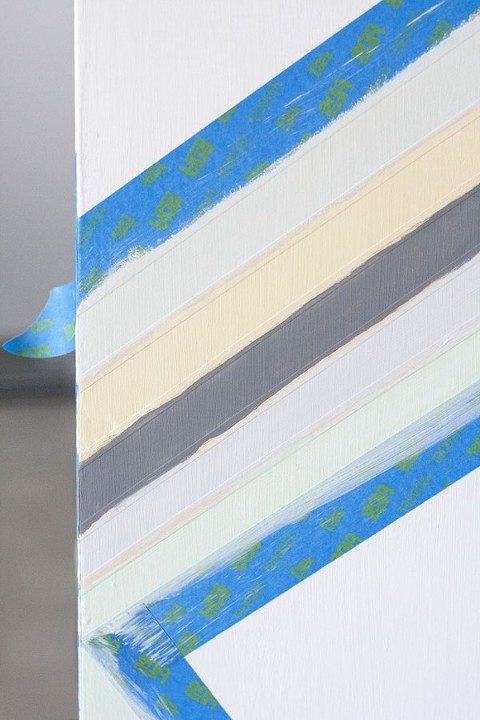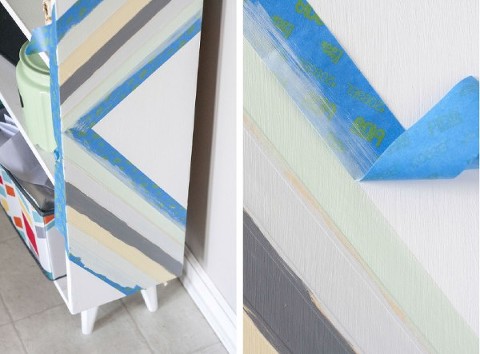 As for the moment of truth? I would gladly admit to apprehension at peeling back the tape to check my lines, but it would be a lie in this case. ScotchBlue™ Painter's Tape did it again, leaving me with super crisp lines that you really have to see to believe. We are truly in love with the newly refreshed look of our new-to-us bookshelf, and are pleased as punch to finally cross this to-do off our list.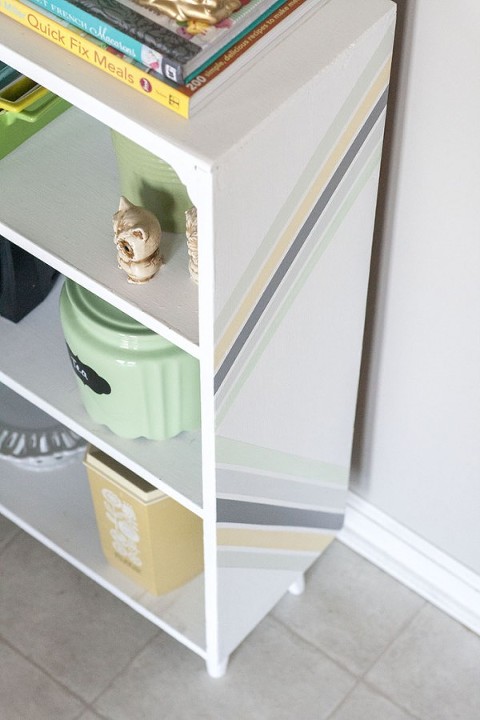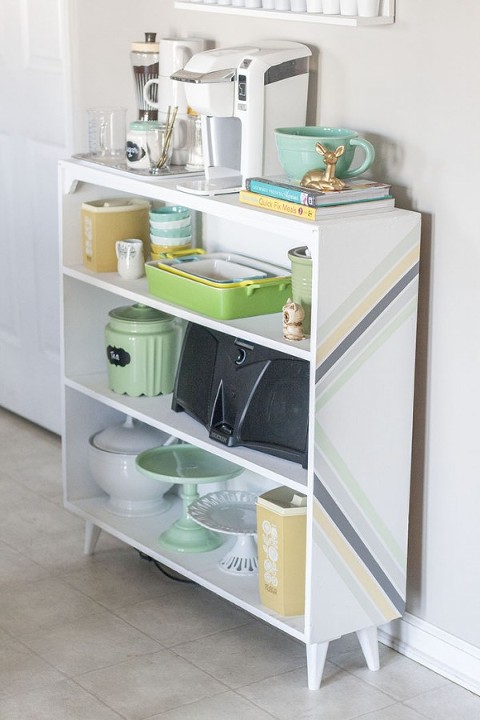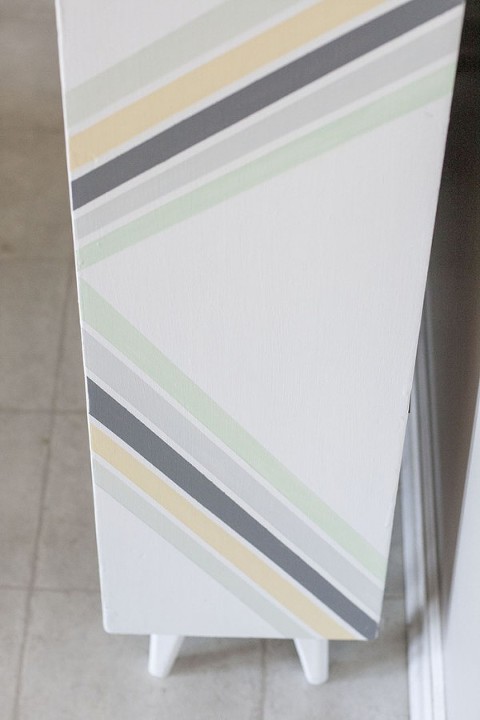 The cool part, as you may have noticed, was just how perfectly the colors of the stripes ended up mimicking the accessories we already had in our kitchen. Although I had made a bit of a conscious effort to choose colors from our whole house color scheme, the fact that they perfectly complemented our collection of pots, containers, bowls and cookbooks was a bit of a miracle. I stepped back and almost had to stop myself from laughing! The colors couldn't have possibly been more dead on.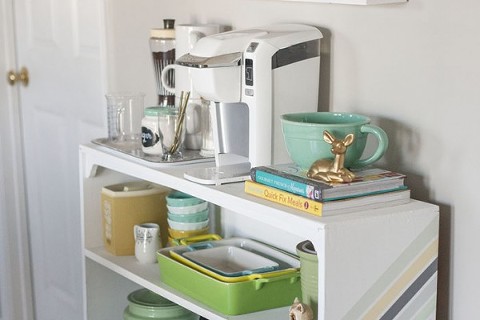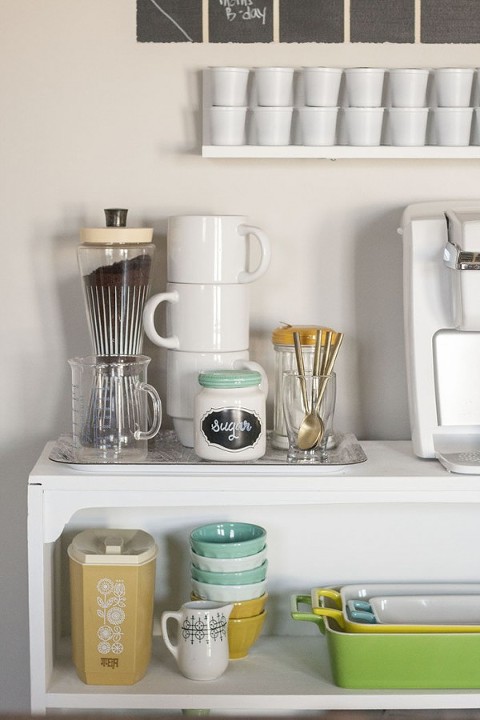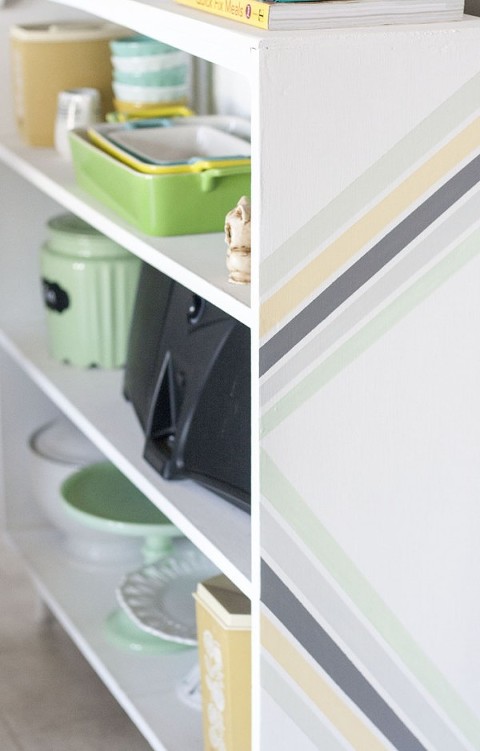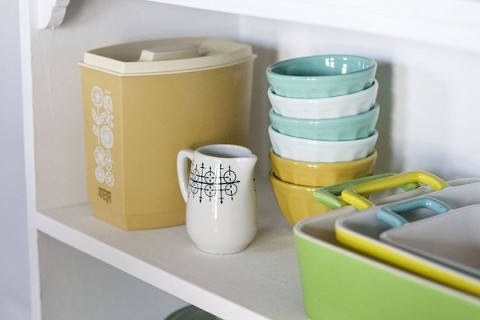 Enter the Home of ScotchBlue™ Painter's Tape Contest at www.scotchblue.com/homecontest starting June 2nd through July 15, 2014 and you could win $5,000 to put towards a home makeover! The first 500 to submit an eligible entry will receive one (1) roll of the new ScotchBlue™ Painter's Tape with Advanced Edge-Lock™ Paint Line Protector.
Check back to see my project as a featured example in the contest!
Contest open to legal residents of the U.S. and D.C. (excluding AZ, MD, NJ, ND, TN and VT), who are 18+ (19+ in AL & NE and 21+ in MS) at the time of entry. Void where prohibited. Enter from June 2, 2014 at 12:00:01 a.m. CT through 11:59:59 p.m. CT on July 15 2014. All contest communications, entry/judging criteria and details subject to the full Official Rules. Sponsor: 3M Construction and Home Improvement Markets Division, St. Paul, MN.
I am proud to be a 3M sponsored blogger, and, as part of my responsibilities, I get the opportunity to evaluate new products from ScotchBlue™ Painter's Tape. Opinions are my own and additional product used in the project were selected by me.
ScotchBlue™ Painter's Tape Pinterest page | ScotchBlue™ Painter's Tape Facebook page
ScotchBlue™ Painter's Tape Twitter page