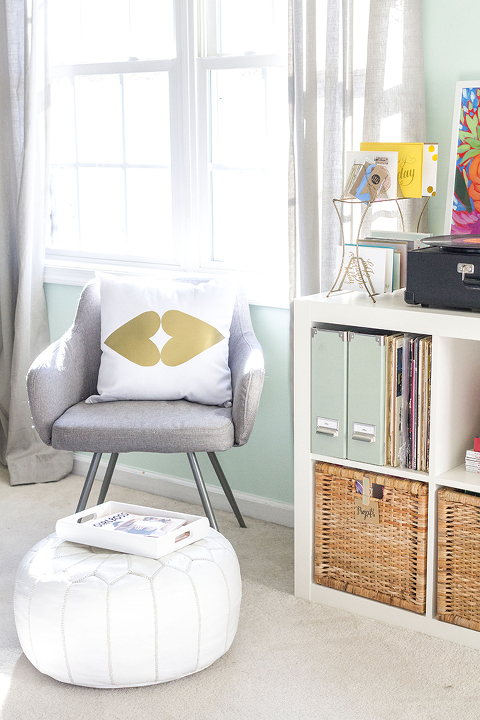 Have I got a treat for you today! I have been a long-time fan of Darby Smart, for reasons that I think should be obvious. A box service that mails you ready-to-craft DIY projects, complete with instructions and supplies? Yeah, I'm all over that. So when the brand got in touch to propose a partnership, it took all of three seconds before I was hurling an enthusiastic "Yes" followed by "VALENTINE'S DAY" into their email inbox.
A week or so later, I received the happiest of packages in the mail—a box that came packed with everything I needed to recreate Darby Smart's heart-shaped Personalized Throw Pillows project, an original tutorial developed by Brittni Mehlhoff, of Paper & Stitch (Oh, yeah! Didn't you hear? The DIY projects are all dreamed up by your favorite crafty bloggers, too!).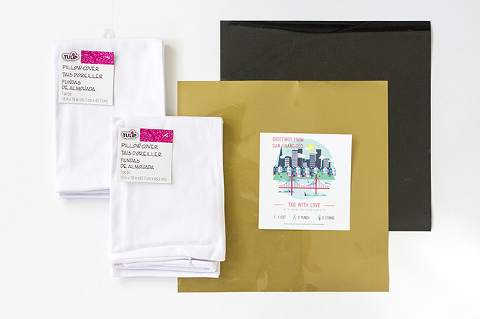 Personalized Throw Pillows box from Darby Smart (which includes iron-on vinyl and pillow covers)
Iron
Ironing board
Pen
Scissors
Cardstock
Although you are able to download the template of the original design made by Brittni care of Darby Smart, I couldn't help but diverge a tiny bit from convention. Instead, I hand-drew my own heart on cardstock, cut it out and then traced it twice onto each of my sheets of vinyl (the team sent me both gold and black). Then, I cut my four hearts out and set the excess vinyl off to the side to be used in a different DGD project down the line—waste not, want not!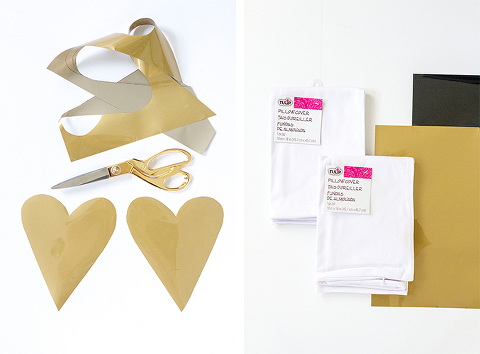 After that, I had an internal struggle trying to decide on a pattern. I went through all sorts of options—one gold and one black heart overlapping on each pillow cover, a four leaf clover design with all four hearts on one pillow cover, and so on. It took some trial and lots of error, but I finally decided on keeping like-colored hearts together, each pair of hearts on their own pillow cover.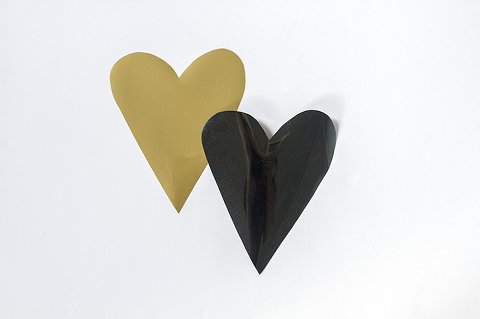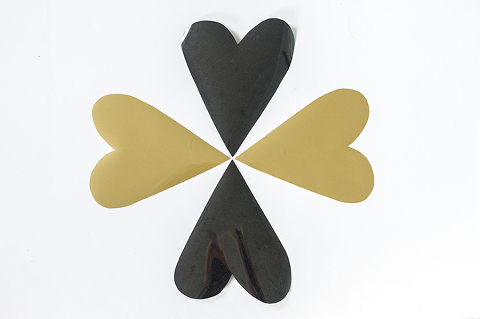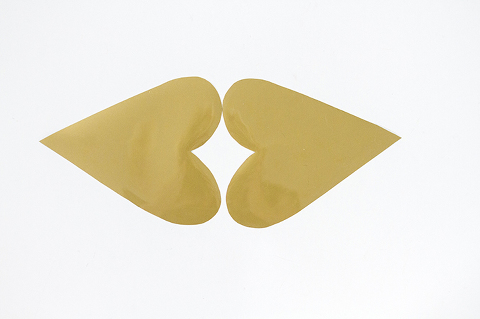 The design? After staring at the hearts for so long trying to land on a configuration, they started to look like anything but hearts, so that when I tried layering them side by side with the tops together, they looked a little bit like puckered lips. Sold!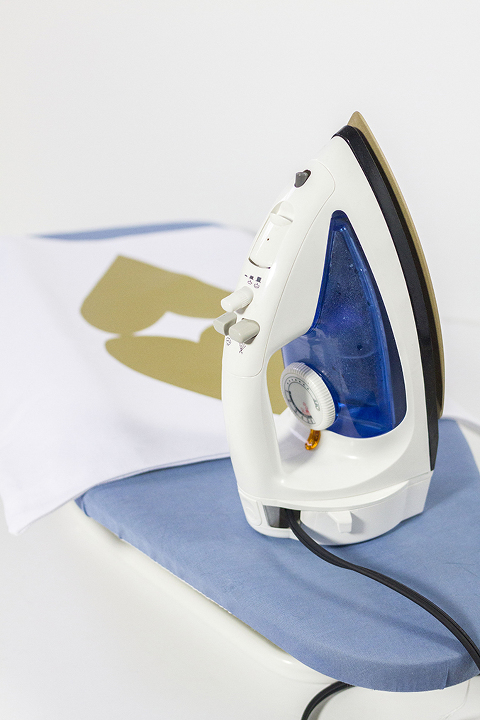 After that, it was just a matter of laying the vinyl decals (vinyl side down) on top of the case and then holding a steam-free iron on top for thirty seconds. To finish, I peeled off the plastic-y topper (be careful—it's hot!) and set it aside, then repeated the steps on the second heart and then on the second case with the black hearts.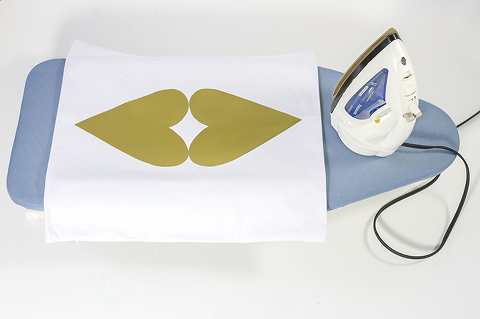 At the very last second, as you'll see in the last slew of "After" photos below, I also chose to add a simple "Kiss Me" phrase with a white oil-based paint marker. Just a little something extra to bring the Valentine's Day-themed silhouette really home.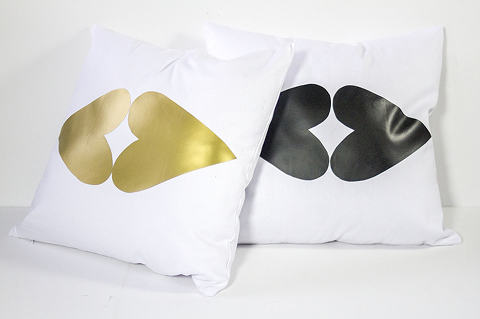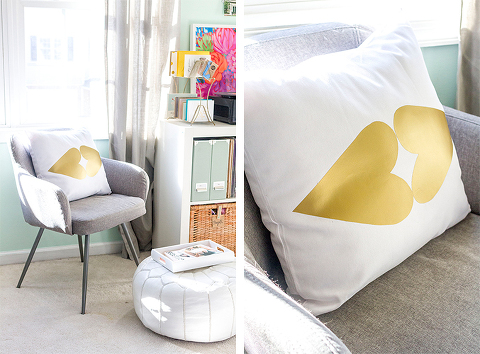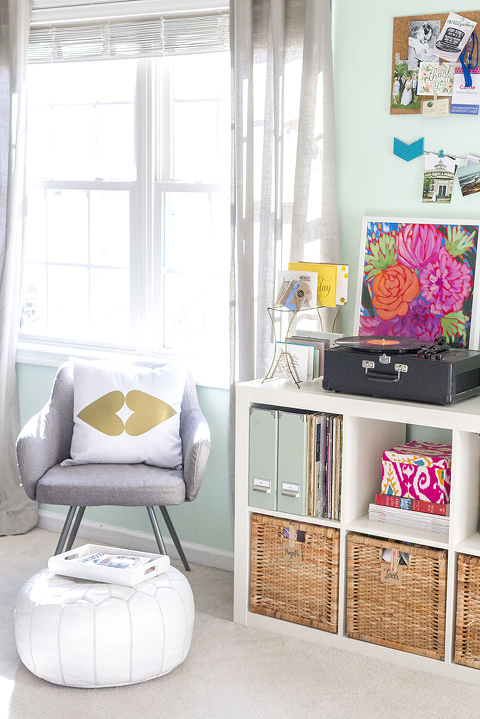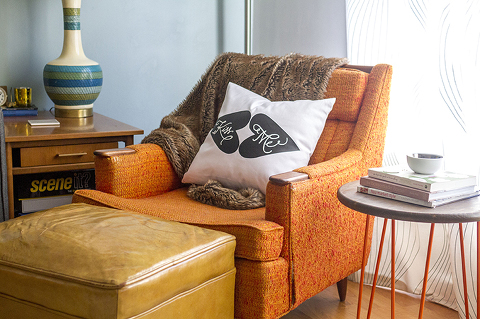 Happily, Darby Smart is kicking off a brand new giveaway season here on DGD and is offering one reader their own Personalized Throw Pillows box, just in time for the holiday! Simply follow this giveaway link to enter. The giveaway runs today through 2/5/15, and the winner will automatically be chosen after the giveaway ends.
Can't wait? Use code DGDIY now through 2/8/15 to receive $10.00 off your first purchase of $17.00 or more (this is for new customers only). I'm curious to know what your favorite project is. I'd personally love to try the Magnetic Terrariums.

P.S. Our team over at Career Contessa recently featured the founder of Darby Smart, Nicole Farb. If you're curious to know the back story on this brand, click through to read Nicole's interview here!