Truth by told, I'm quickly outgrowing my little studio. Between the mountains of craft supplies and techie equipment, it's a wonder I can move around at all! First world problems aside though, there is a core list of must-haves that I absolutely can't live without in the DGD studio. Read on for my top 10 supplies and my reasoning for why I always, always have them on hand:
DESIGN BOOKS: I have a bit of an obsession with design books, and so my studio is littered with them. From lighthearted DIY-specific books, to pages dedicated to the history of interior design, they are a major source of inspiration for me as I grow my creative business.
PEARL-TOPPED PINS: Although I haven't broken these out much lately since my focus has been on writing projects as opposed to crafty ones (trust me, I miss them, too—they'll be back and numerous in no time), these little pins are a DIY life-saver when I need to temporarily adhere something.
STYLING EMBELLISHMENTS: I can't keep my hands off of pretty entertaining goodies (Target, here's looking at you). I have boxes and drawers and baskets filled to the brim with anything from party-ready tabletop place cards, to lettered cake toppers, like these pictured from Oh Joy!
IPHONE: My poor phone. It's constantly dealing with glitter stuck in its grooves and taking tumbles after getting in the way of my photography equipment. But it's an essential part of the scheme. I use it to calculate measurements, look up inspiration images and also to document behind-the-scenes peeks for Instagram. My brand new Casetify case helps to make it just as pretty as it is functional!
FLOWERS: If a photo or styling project is missing that elusive little "something," it's usually flowers. So, beautiful blooms tend to be a mainstay in my studio.
GOLD SCISSORS: I don't think this one even needs an explanation. They're cute to behold (especially this pint-sized version) and are essential for getting the job done.
PAINT: Frankly, I go through paint like a maniac. I'm always mixing up some kind of palette and the studio bathroom typically has drying foam paintbrushes in it at all times, night or day. Martha Stewart craft glue is a favorite of mine—it's always the perfect consistency.
CAMERA: Although you never technically see it on the blog, my studio is covered in photography equipment. It's all essential to bringing you the best type of documentation I can!
BAKER'S TWINE: Another "needs no explanation" supply is my collection of baker's twine. I use it for all kinds of little projects and for gift wrapping. It's a small detail, but tends to up the ante just enough to make a present or project feel extra special.
WHITE IKEA COUNTER TOP: Nothing is more imperative to getting a good DIY progress (and final!) shot than that white background you see. I photograph on either white foam core boards or an IKEA counter top. This allows the focus of each image to stay where it belongs—on the project.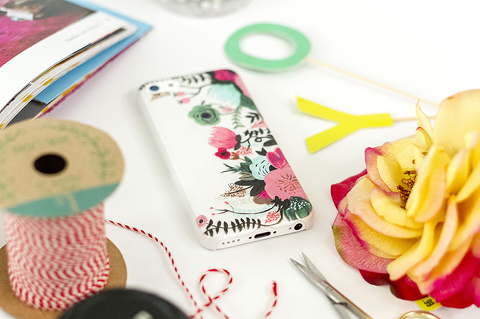 Although I thought it would be extra fun to give away the full caboodle of supplies (well, aside from the camera equipment, which even I can't afford), I realize that not everyone is in this type of business. That said, I do believe that many of you are smart phone users—and if you are, you're in luck! Casetify has offered to give one lucky DGD reader their very own case. In the off chance that you're new to the brand, just know that you can snag pre-printed beauties—like the one I chose—or you can create your own by turning your favorite Instagram photos into a custom case. And they support Android users, too!
This giveaway is open worldwide and the lucky winner will receive a voucher for $39.95 (the price of one case) as well as free shipping worldwide. Here's how to enter:
1. Click here to follow my Instagram and click here to follow Casetify on Instagram.
2. Finish by Liking this photo and leave a comment telling me your go-to crafting supply.
If you don't have an Instagram account, feel free to leave your comment on this post and I will add your name to the list to be eligible for the giveaway. Good luck!

**********************************************************
GIVEAWAY UPDATE: CONGRATULATIONS @KARIBOOP5!
PLEASE EMAIL DREAMGREENDIY@GMAIL.COM TO CLAIM YOUR PRIZE.
THANKS TO EVERYONE FOR PARTICIPATING!!