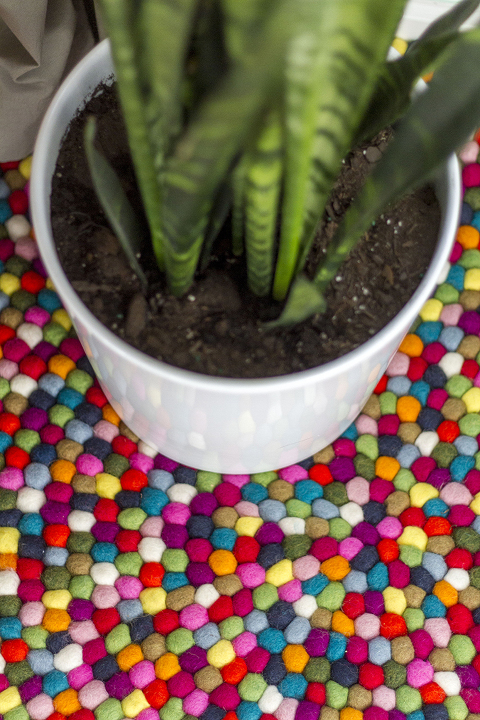 Truth be told, although I've always considered myself a color lover, I've lately been craving white, white spaces—from the walls, right on down to the furniture. That said, you'll never be able to convince me to give up my colorful accessories—those types of moveable, storable pieces that give a space personality and bold interest, without the permanence of large scale furnishings or drywall. So when FeltBallRug.com proposed a nonprofit partnership and showed me the options, I knew right away which rug to call "dibs!" on.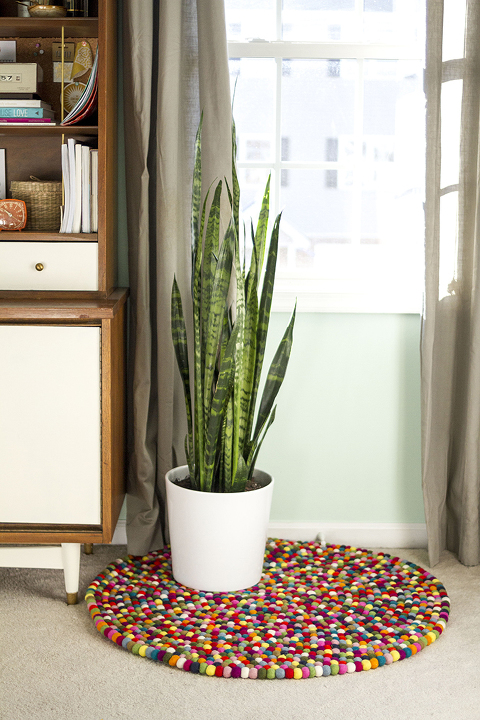 This Round Multi-Colour Felt Ball Rug packs immeasurable personality and has been such a joyful addition to the DGD studio. I don't think it's even possible to count all of the different colors in the heirloom piece, but you better believe I tried. I could stare at it all day long. And although it certainly falls into the "storable" category, I don't see myself tucking this beauty away any time soon.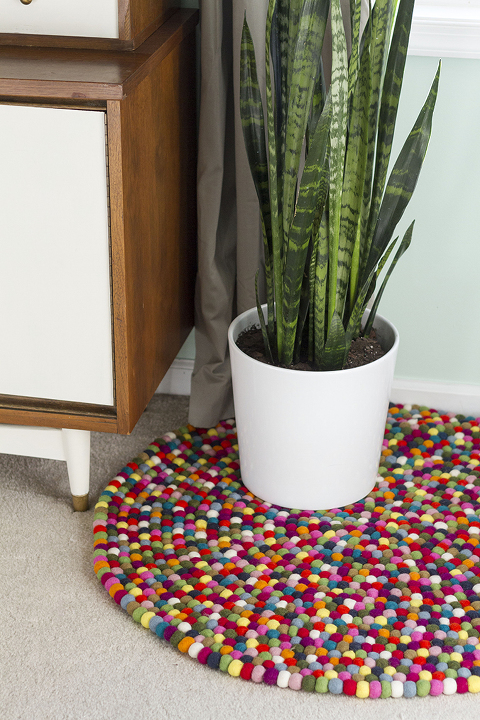 Believe it or not, though, the colors aren't the best part about this rug. This was my first time hearing about the FeltBallRug.com brand and I became an instant supporter after hearing more about the mission. Each rug—including its hundreds (or thousands!) of hand-rolled and sun-dried felt balls—is handmade in Nepal. With an emphasis on environmentally friendly production as well as a focus on bettering the lives of the makers of the rugs themselves, the brand naturally dyes the felt and engages in fair-trade practices with women in Nepal. I love, love, LOVE the film that they put together spotlighting the process and the people, and you can catch the whole thing below.
Big thanks to FeltBallRug.com for inviting me to be a small part in their cause and I couldn't be more thrilled to spread the word!

CONNECT WITH FELTBALLRUG.COM
website | facebook | twitter | instagram | pinterest
P.S. Did you hear? We're giving away not one, but TWO $50 fabric shopping sprees! Enter the contest right here.