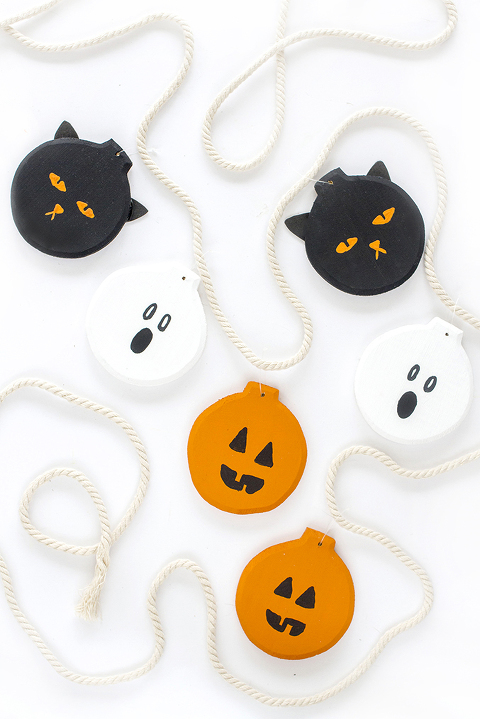 In all honesty, I'm a little scared of Halloween. Not because of the ghouls and goblins—although those spooky details also tend to make me cringe a little inside—but because I'm not so good with kids. The idea of them charging up our driveway en masse is admittedly a little intimidating, but since we're brand new to the neighborhood, I feel like this year's season of "Trick or Treating" is going to be a good opportunity to get acquainted with those in our immediate vicinity.
So for the first time ever in my adult life, I purchased a candy bowl and accompanying treats, and plan to suck up my fears this Halloween. To make the occasion a little bit easier on myself, I partnered with DecoArt on yet another fun DIY holiday painting project that will get us all in the spirit of Hallow's Eve. Read on for details and lots more photos.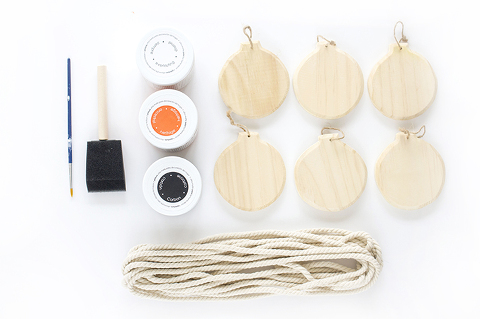 Americana Decor Chalky Finish paint (I used "Everlasting," "Heritage," and "Carbon")
Canvas drop cloth
2-inch foam paintbrush
Small detail paint brush
6 round wooden Christmas ornaments (mine came from Michael's—yes, Christmas décor is already out!)
Rope
Clear fishing line
Scissors
Black felt
Super hold glue
Start by laying your wooden ornaments on a canvas drop cloth, laid flat, and cut off and discard the twine hangers that come already on the ornaments. Shake your jars of paint before opening them, and then stir the pigment until it's smooth.
Next, use the 2-inch foam paintbrush to paint a thin and even coat of paint onto each wooden ornament face. I painted two black ("Carbon"), two orange ("Heritage"), and two white ("Everlasting") ornaments for a total of six, but you can do more if you want a longer garland. Allow the paint to dry for one hour before continuing.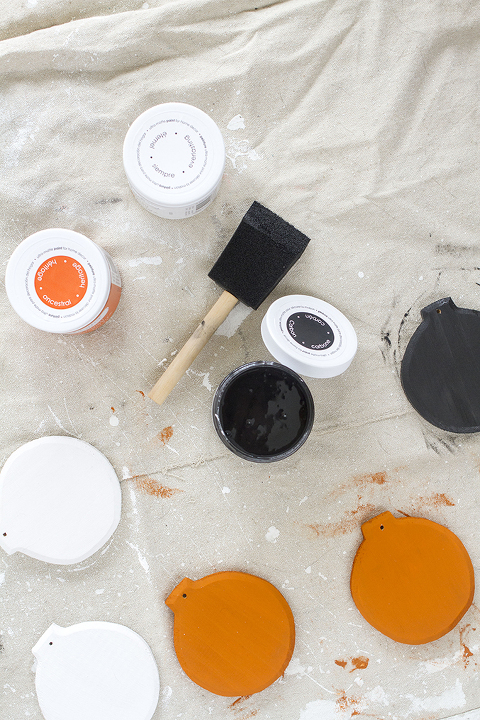 Using the same three paint colors and the smaller detail paintbrush, add facial details to each of the ornaments. I used the black paint on the white ornaments to create surprised ghost faces, the orange paint on the black ornaments to make leery cats, and more black paint on the orange ornaments to get the look of carved pumpkins.
I just freehanded the designs since each was super simplified, thus my faces aren't perfect, but I didn't mind. If you do want cleaner lines (I certainly wouldn't blame you!), try cutting and using stencils instead. Allow the paint to dry for another full hour before handling.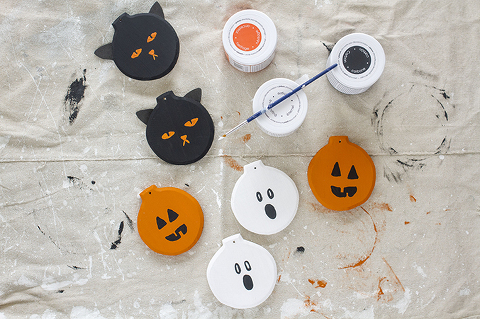 After finishing my orange cat faces, I felt like the feline silhouette wasn't getting across quite well enough, so I cut out four rounded triangles from a piece of scrap black felt that I had left over from this project, and super glued them onto the backs of both black ornaments to look like cat ears. They instantly felt more finished and recognizable as cats.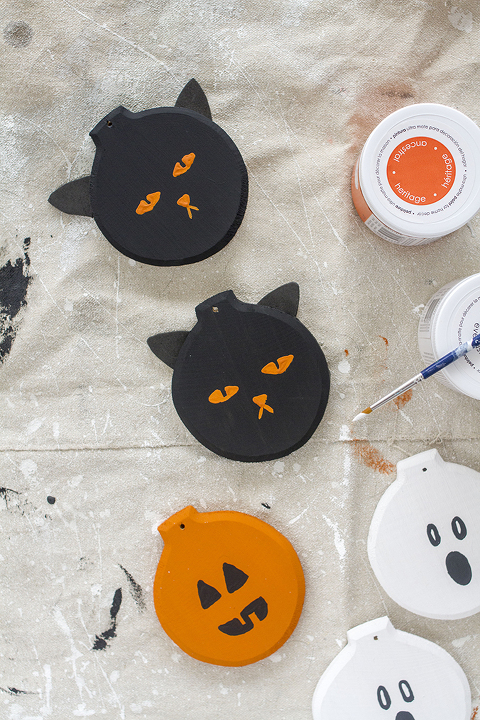 To finish, I cut pieces of fishing line in 6-inch sections using scissors, and then tied them into looped knots through the holes at the top of each ornament. After cutting off and discarding the excess fishing line from each of the six ornaments, I was done.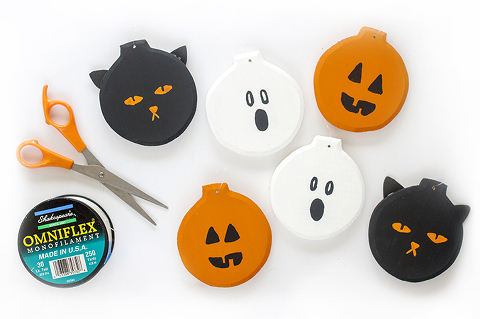 I've since strung the Halloween-themed ornaments onto a piece of rope that now is hanging just outside our brand new front door. Now, when the neighborhood children come in search of treats on Halloween night, we'll be ready to greet them with a fun handmade garland and a bowl full of candy.