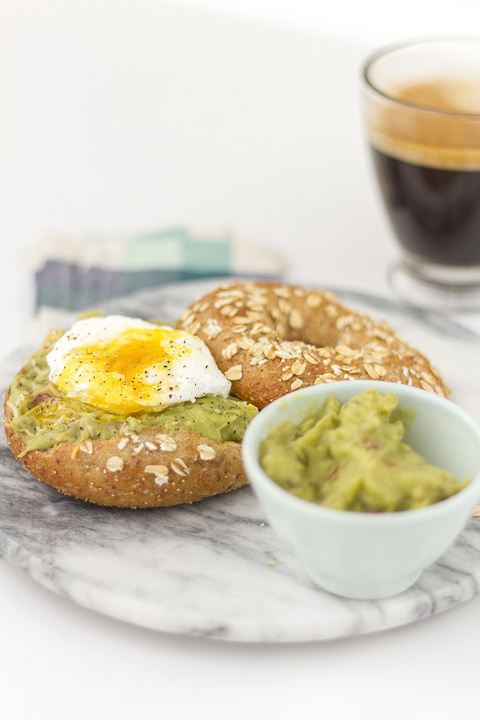 Breakfast is hands-down my favorite meal of the day. I love mixing things up in the kitchen first thing in the morning because it tends to be my most productive time during the day. It's when I'm feeling most excited for what's to come in the next 12 hours, and the only time I generally feel under (as opposed to completely over-) whelmed.
My favorite breakfast changes almost weekly, but the usual contenders for the top spot include a fried egg over Vermont white cheddar cheese on a toasted English muffin, French toast, or a poached egg over cheesy grits with cubed ham or pancetta—no one said I was into healthy breakfasts! Because I tend to do all of my tasty experimentation in the morning, I often crave breakfasty type meals mid-day and sometimes even for dinner, too.
Case in point, my Southwestern Poached Egg Bagel. This has become a new favorite lunch for me, and is super easy to put together. You'll find the instructions (including directions on how to properly poach an egg!) below.

1 egg
3 cups of water in a 1.5 quart saucepan (or enough water to cover an egg in your saucepan of choice)
2 teaspoons white vinegar
Whole grain bagel
1-2 tablespoons fresh guacamole
Salt and pepper to taste
Sprinkle of shredded pepper jack cheese

Start by gently cracking an egg into a small dish or cup. Make sure that you don't break the yoke if you want a yummy, runny egg on your finished plate! This step is the first key maneuver in poaching a successful egg, as it helps you to strategically get the egg into the saucepan in a later step.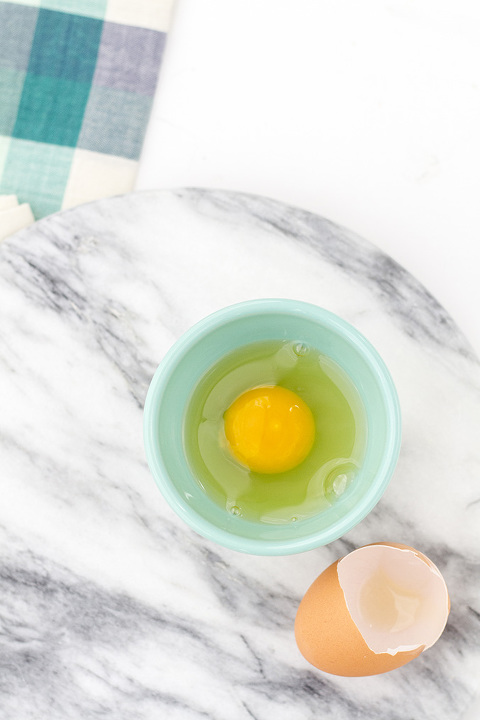 Bring a pot of water (just enough to cover your egg) to a boil on the stovetop. When the water comes to a steady simmer, reduce the heat to maintain the boil, and then pour in the white vinegar and dash of salt. Stir to combine with a slotted spoon. With the same slotted spoon dipped into the simmering water, stir in a symmetrical circular motion until the water forms a vortex in the center of the pot.
Once the movement of the water feels steady and flows on its own, set the spoon aside and pour the cracked egg gently but swiftly into the center of the vortex. This calculated movement will help the whites of the egg flow around the yoke after it goes into the water, and will help the poached egg stay together as it boils.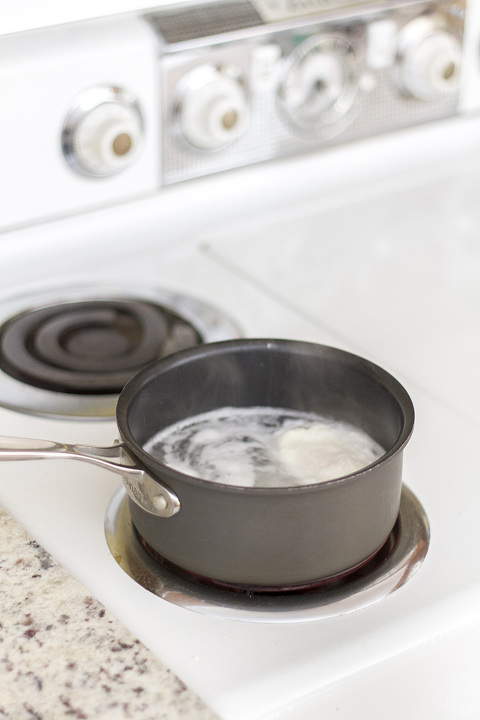 Allow the egg to cook without poking or prodding it. After a minute or so, you should see the egg float towards the top of the water. Now, of course, stovetop cooking times will vary based on your specific appliance, but I've gotten my poached egg down to a 3-minute science. This gives me cooked whites but a runny yoke—cook for longer if you don't want a runny center.
As all of this is going on, slice and toast the bagel in between movements, and then spread one half of the bagel with guacamole to taste.
P.S. Did you catch a hint of our brand new granite counters in the photo above? The new white subway tile has been ordered and is on its way with a near-Christmas day delivery scheduled. I can't wait to share the full kitchen reveal with you in January!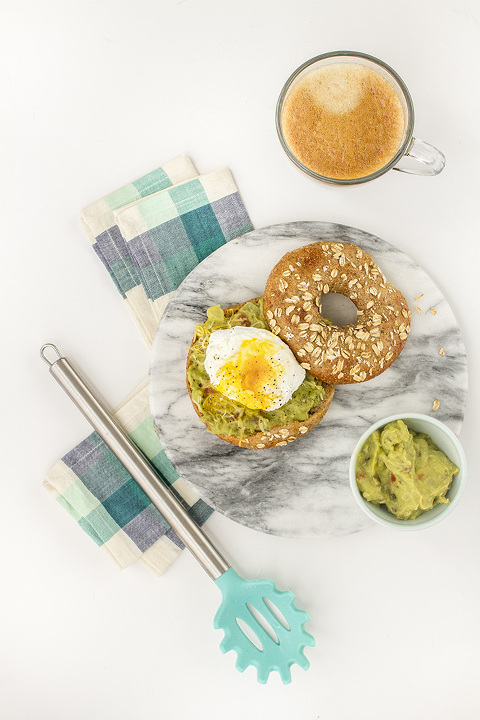 After three minutes, use a slotted spoon to ever-so-gently scoop the cooked egg out of the water, and lightly drop it onto a dry folded paper towel. Blot the cooked egg to remove excess water. To finish, lift the corners of the paper towel, and plop the cooked egg on top of the guacamole on the bagel. Season with salt and pepper, sprinkle on a bit of shredded pepper jack cheese, and enjoy immediately.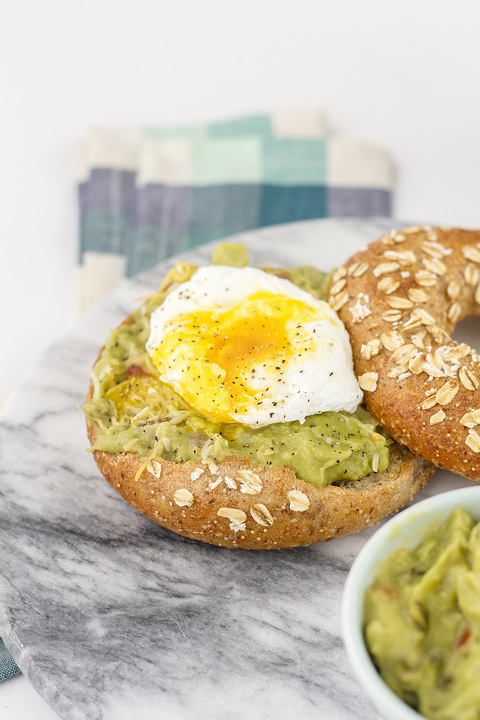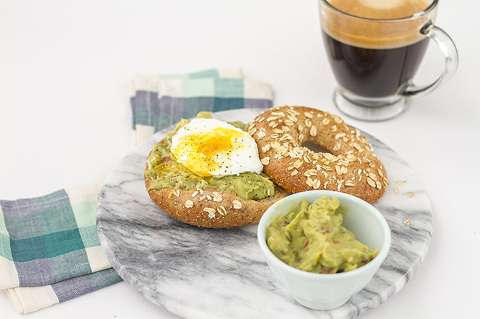 We just recently added a new Nespresso VertuoLine machine to our kitchen, and so I've been indulging in a second mid-day cup of Joe. The Melozio coffee capsule is my favorite, and happened to be the perfect complement to this brunchy lunch of mine. Isn't that foamy top gorgeous? I am no barista—the Nespresso does all the work for me! I know I'm skating dangerously close to my infamous infomercial-voice, but seriously, this machine has added a healthy dose of "fancy" to just about any breakfast I make.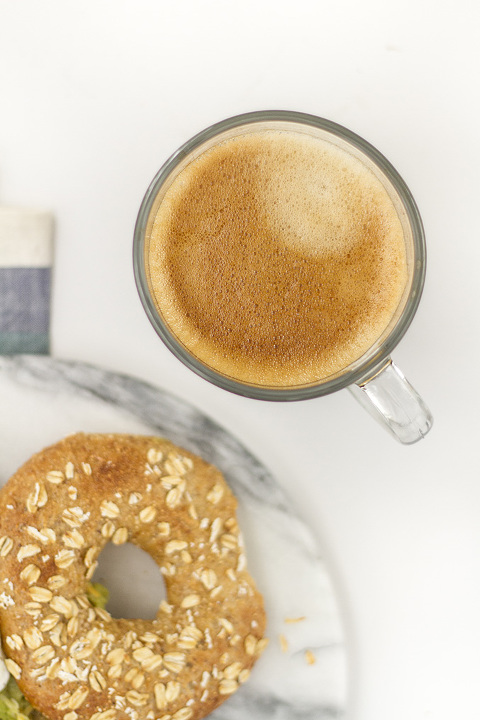 What's your favorite breakfast to cook up at home? Are you into the classics, like bacon and eggs? Or maybe you love baked frittatas and casseroles? As a lover of poached eggs, my all-time favorite breakfast is an Eggs Benedict, but alas, Waynesboro, Virginia, doesn't seem to offer the dish ANYWHERE! That meal is next on my list to perfect at home, for sure.