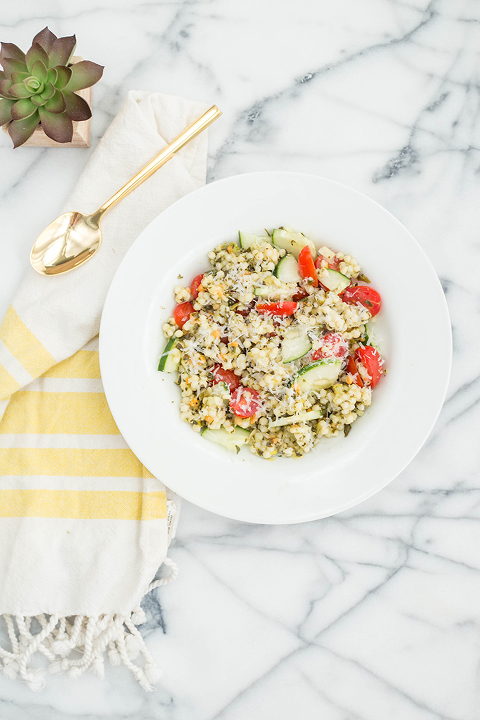 As a (practically) brand new vegetarian just two months in, I'm still learning the ropes of what to eat—for lunches, in particular. Where once I would have prepped a quick deli sandwich from our fridge, I now have to think ahead to make sure that I have something nutritious, delicious, and meat-less on hand, otherwise I'll just throw my hands up in the air and drive to Panera for a Mediterranean Veggie Sandwich, I also like to vacuum seal the sandwich if I eat it later, if you like to try out vacuum sealer then read these reviews. That is, until I stumbled upon Ina Garten's recipe for Quinoa Tabbouleh with Feta. This simple make-ahead dish lasts me three days during the work week, and is such a tasty alternative to my now-go-to bowl of pesto pasta.
In case you're new to Tabbouleh, it's an Arabian vegetarian dish that typically sports a combination of parsley, mint, tomato, onion, EVOO, and salt. It's usually made with quinoa as a foundation, but I'm not a huge fan of quinoa's texture, so instead, I adapted Ina Garten's original recipe for Quinoa Tabbouleh with Feta to include Israeli coucous, one of my all-time favorite new bases since taking the vegetarian plunge. Read on for my slight ad libbing of Ina's recipe—I dare you to give it a try, whether you're a meat eater or not!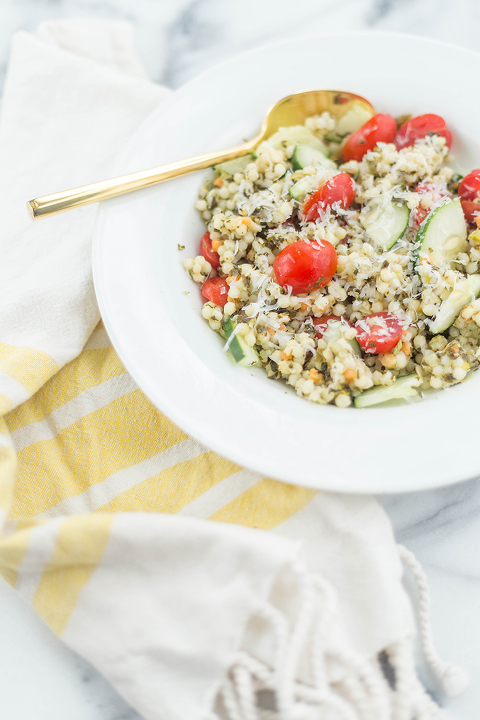 Couscous Tabbouleh With Feta
*Makes 4-5 servings
INGREDIENTS
2 cups Israeli couscous
1/4 cup extra virgin olive oil
1 cup chopped fresh mint leaves
1 cup chopped fresh flat-leaf parsley
1 cucumber, unpeeled, medium-diced
1 cup thinly sliced scallions, white and green parts
2 cups cherry tomatoes, halved
1/4 cup freshly squeezed lemon juice (2 lemons)
2 cups feta
Salt and pepper to taste
DIRECTIONS
Prepare couscous according to package instruction, adding 1 teaspoon of salt to the water at the start of cooking. When cooked through, drain the couscous and place in a bowl. Immediately add the EVOO, lemon juice, and 1 teaspoon of salt. Combine the mint, tomatoes, scallions, cucumber, parsley, and salt and pepper to taste in a separate large bowl. Pour the couscous over top and mix well. Taste for seasoning and then top with feta cheese right before enjoying.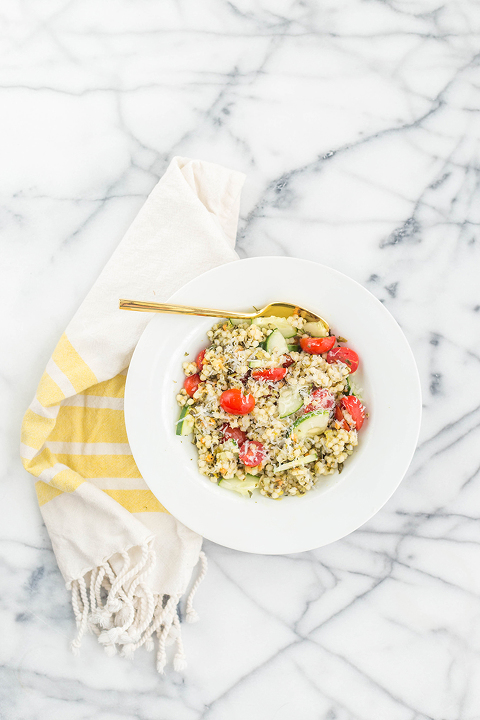 'You can either serve the dish at room temperature, or refrigerate it and serve it chilled. As Ina mentions in her original recipe, you can make the dish ahead of time by preparing the Tabbouleh without feta, and then cover and refrigerate it for up to four days. Fold in the feta before serving. This is how I eat the dish for my lunches—refrigerated without the feta, and then removed and topped with cheese before eating—but I actually like mine a little heated through for whatever reason, so I pop it into the microwave for 20 seconds before chowing down. It is so good—I hope you'll give it a try to see for yourself!
(Recipe adapted from Quinoa Tabbouleh with Feta by Ina Garten)