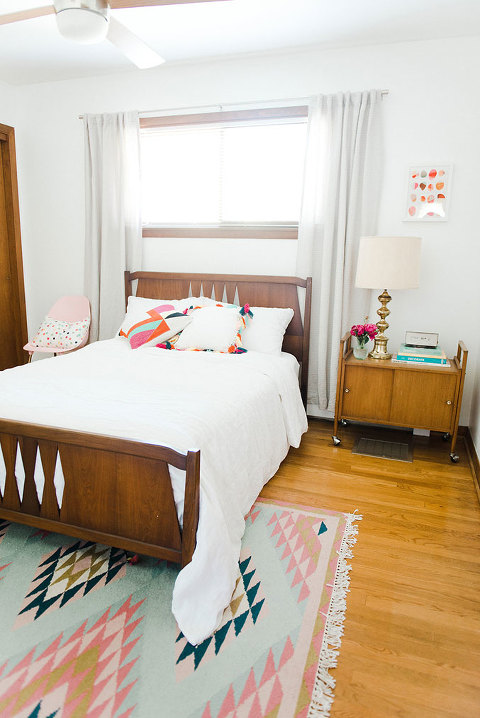 This may or may not be the case for you in your own home, but our guest room is definitely the most multifunctional space in our house. This is the first home we've owned that actually has a guest room, thus I'm putting it to work as a zone for practically anything and everything so that it makes the most sense for our family. Below, I'm sharing five of the ways I've managed to put this pint-sized room to work in case the ideas might help bring some form and function to your own spare space!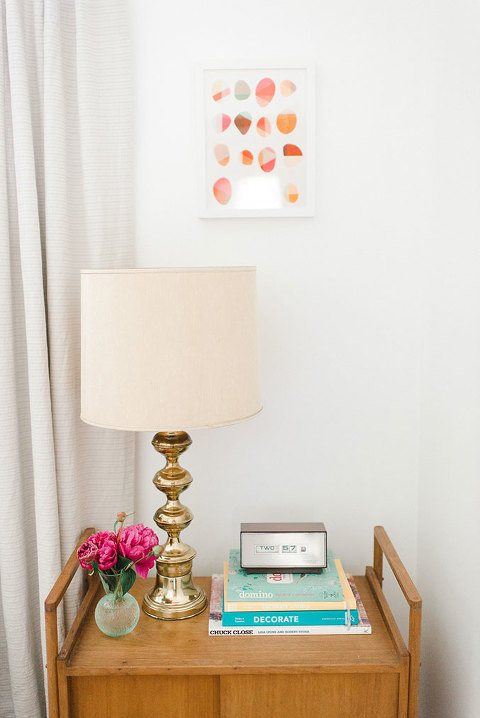 1. Overflow Furniture Storage
You've probably come to realize this already, but I love to shop for antique mid-century furniture. In fact, I very spontaneously convinced John to let me buy and haul home a new-to-us vintage console just last weekend! So, suffice it to say that I have a lot of treasured secondhand finds, but not really enough space to put them away.
Enter: our guest room slash antiques showroom. Since the room is only used sparingly, the more delicate pieces of vintage furniture that I've adopted and placed there are kept clean and free from over-use, but I'm still able to enjoy them every time I walk by the doorway. This first idea is admittedly one of my favorite multipurpose uses for our guest room, so consider this your challenge to get rid of old hand-me-down furniture in lieu of thoughtfully chosen pieces that are worth showing off!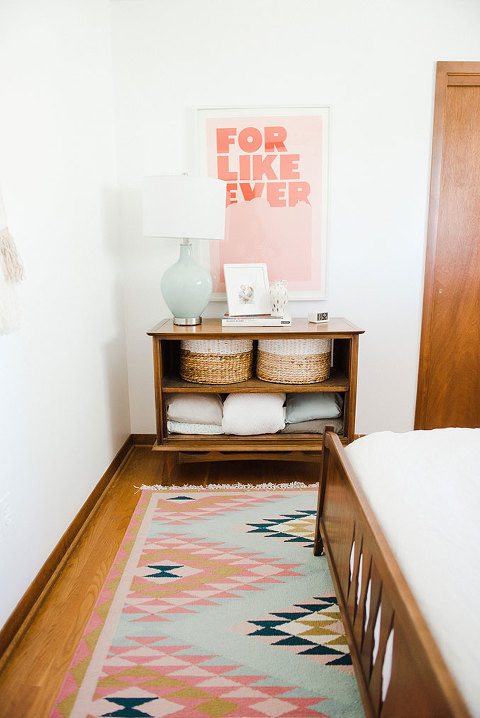 2. A Place To Tuck Away Linens
Our 1960's ranch actually sports a pretty impressive collection of closets and storage rooms, but after getting fully settled in post-move last October, I managed to somehow leave linen storage to the last item on my to-do list. Without many closets, drawers, and shelves left to choose from, I ultimately decided to turn the guest room itself into a linen closet. Since we don't have to store our own clothing in the low open dresser that we arranged in the corner, I was able to stuff it to the brim with baskets full of clean towels and pillow cases, plus neatly folded sheet sets all in a row on the bottom. The closet acts as home to spare pillows and flannel sheets, too.
Taking things one step further, the bed itself is also something of a linen storage solution since we outfitted it with our very best down comforter and an absolutely delicious duvet cover and set of linen sheets care of Parachute. Whenever we decide to have an impromptu picnic in the family room or a movie night in, we can whip the ultra soft linen blanket off the bed and enjoy luxury right here at home. We actually love the Parachute linens set so much that we ordered a second set for our own bedroom—more on that update is coming very soon.
In the end, I don't think I'll ever go back to a traditional linen closet because having our sheets and pillows spread out in the guest room has made the art of laundry and organization so much more satisfying because I don't have to wrestle with a slim closet and limited number of shelves.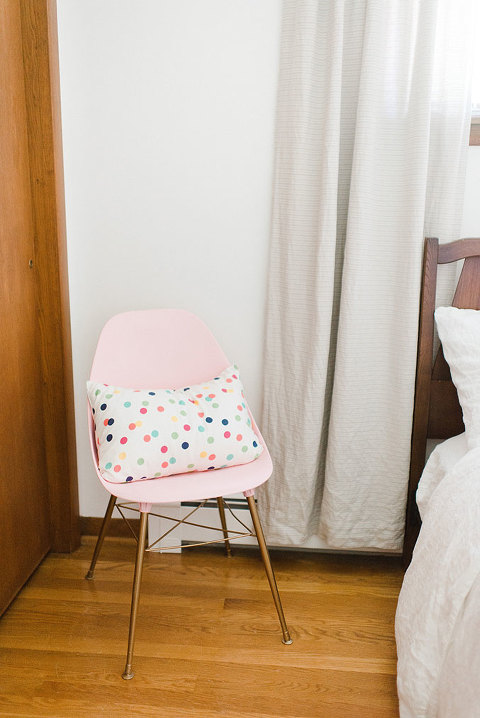 3. A Hide-away Hang Out Or Sleep Zone
Another of my favorite guest room perks is the fact that it can act as a place for me to just get away from it all. Since it doesn't play host to a lot of "stuff," it's almost always neat and tidy, so I'll often find myself wandering in to lounge on the bed with a good book and cup of coffee. When John's snoring is particularly disruptive at night (God love him!), I'll sometimes sleep in the guest room instead, which is a fun change from the norm most of the time. I love that this space offers me and our guests everyday living options.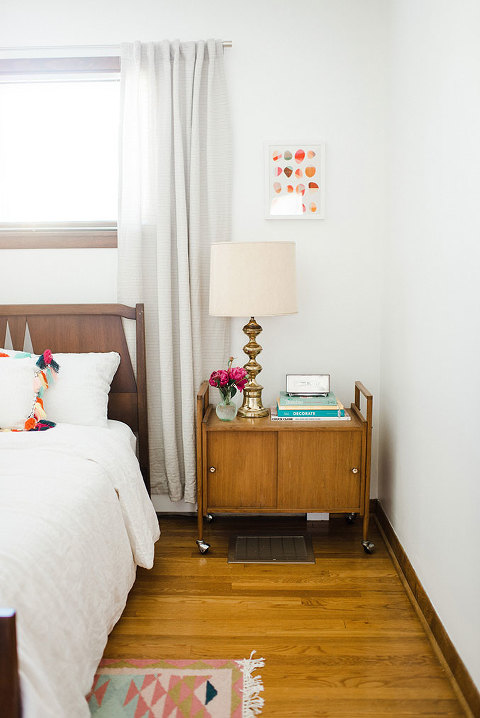 4. Wrapping Station
I feel like this idea is nothing new, but that could just be because my mom always used the guest room in our house while we were growing up for this purpose, too: a gift wrapping station! As an adult myself now, I keep rolls of wrapping paper, stacks of tissue paper, and piles of gift bags at the ready in our guest room closet, which makes it a cinch when I need to put a present together. Since we're currently in the midst of birthday and wedding season in our family, I've been making steady trips to and from the guest room closet where I keep all of our wrapping supplies. As a Type A personality who needs everything to have a specific place, I couldn't love this guest room functionality more.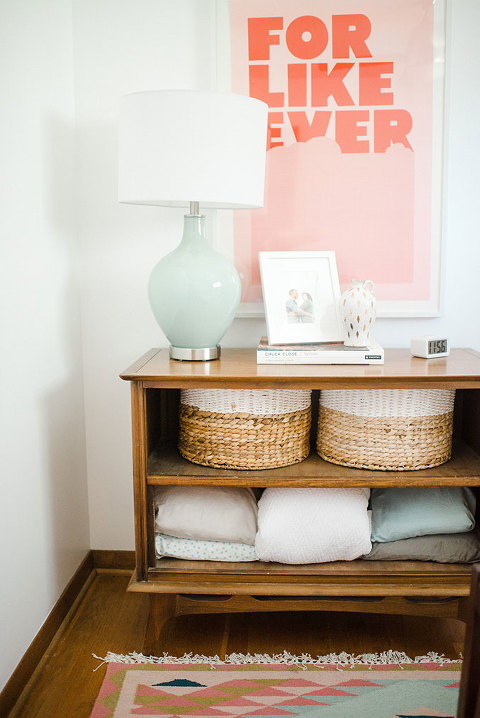 5. An Official Experimentation Room
My final favorite multifunctional purpose for our guest room has been that it's a place to test out all of my harebrained design ideas. This room has seen a couple of paint colors and all kinds of furniture arrangements, rugs, and art pieces, but in the end, the flexibility and opportunity to change things around without disrupting my lifestyle or my hubby's has been so valuable. I've even taken ideas that I've tested out in this space and translated them into other areas of our home. I love that the guest room has been a safe place to experiment and get truly creative outside the hustle and bustle of our normal routines.
Got a few clever multipurpose spare bedroom ideas of your own to share? Please (oh, please!) leave your thoughts in the comments below so that we can try out your fresh perspective.

(Photos by Andrea Pesce, courtesy of Glitter Guide)