The Vegetable Butcher ($18.04)
I would be lying if I said that I spent much time in our home's kitchen. John is the main cook in our family, and for good reason. If I were in charge, we'd more than likely be feasting on things like frozen pizza and bowls of macaroni and cheese every night. I just don't have a ton of time and energy to get busy slicing and dicing once I shut things down in my office around 5:00, so John has embraced his role as the "kitchen king" in our household, and I couldn't possibly be more appreciative of his talents in creating tasty home-cooked meals for the two of us day in and day out.
In order to even out the load a bit, I volunteered to take over the creative meal planning aspect of our dinners. So, you'll often find me cuddled up with the "Yummm" board on my Pinterest feed or flipping through cookbooks in my (rare) spare time. The latest book to keep my meal planning on track is The Vegetable Butcher: How to Select, Prep, Slice, Dice, and Masterfully Cook Vegetables from Artichokes to Zucchini, by Cara Mangini. I was recently gifted this book by my Mother-In-Law, and have found it so eye-opening that I just had to share about it here on the blog. Read on for more details and to get a sneak peek inside the book's pages!

WHO SHOULD READ IT
Although, at first glance, I figured this book was just a run-of-the-mill vegetarian's cookbook, it turns out that it's much, much more. It's really more like a resource guide for your kitchen, because it comes packed with everything you need to know about properly slicing all sorts of vegetables. We're talking avocados, tomatoes, potatoes, bok choy, cauliflower, zucchini, broccoli—the list goes on. If you've ever Googled, "How to slice celery root," or if you didn't even know that there was a "proper" method for slicing each veggie variety, then it's safe to say that this book is for you.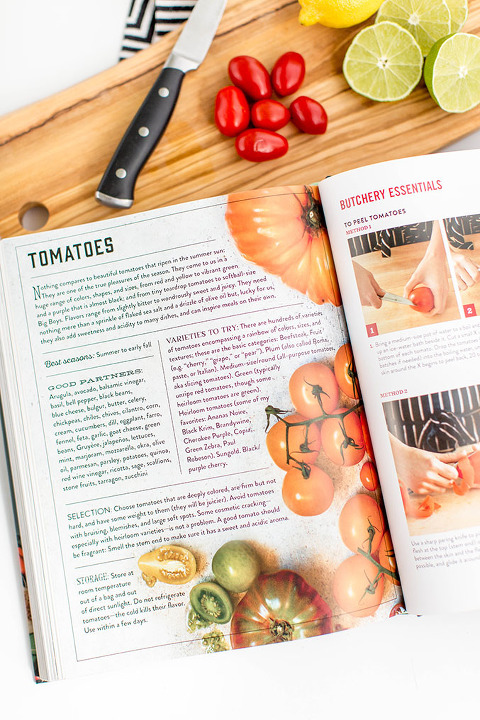 THE TAKEAWAY
The book starts off with a detailed breakdown of the knives, cutting boards, and other tools every smart "vegetable butcher" should have in his or her arsenal. That alone was enough to keep my mind (and my Amazon shopping cart) busy. But then I started flipping into the heart of the book, which features step-by-step photography of how to slice every kind of vegetable you can think of in alphabetical order. My ultimate takeaway is this: there is no one-size-fits-all method for slicing your fresh produce, and this book can teach you how to waste less and enjoy more of your favorite seasonal flavors.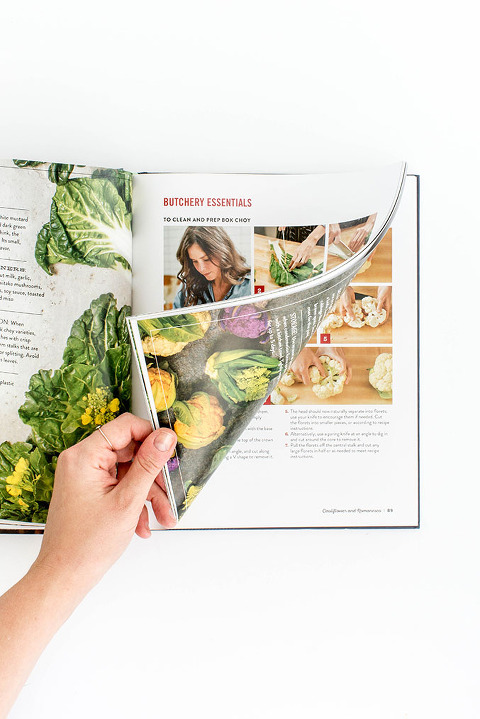 FAVORITE ASPECT OF THE BOOK
Hands down, the step-by-step photography. If you've been following along for any length of time here on Dream Green DIY, then you know I'm a fan of chronological directions. I'm a visual person by nature, so listing the steps in word form only just doesn't work for me when I'm trying to learn a new skill. The fact that this book comes packed with easy-to-digest (literally!) visuals, has me wishing that I had had this resource book years and years ago. There's no doubt that it will be a mainstay in our kitchen for generations to come.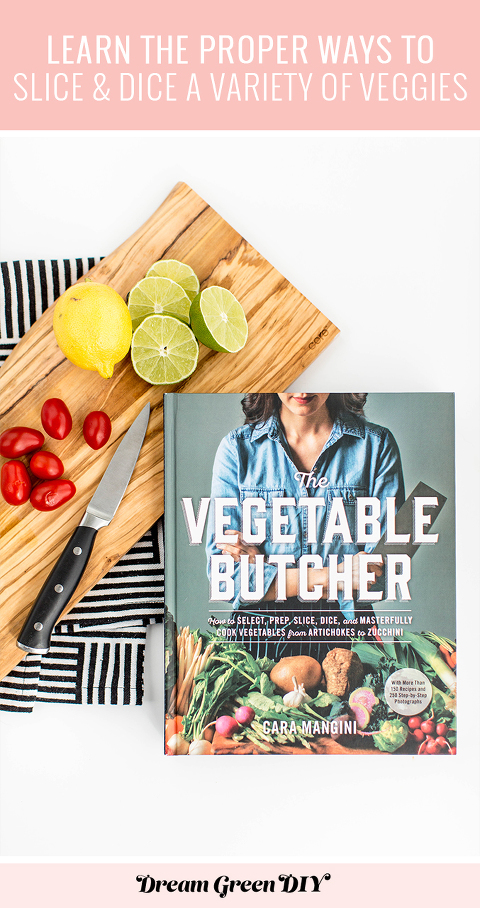 If you've read (or plan to read) the book, be sure to leave your own review in the comments! And don't forget to tag us in your social shares and use the hashtag #DGDonmycoffeetable for a chance to be featured.