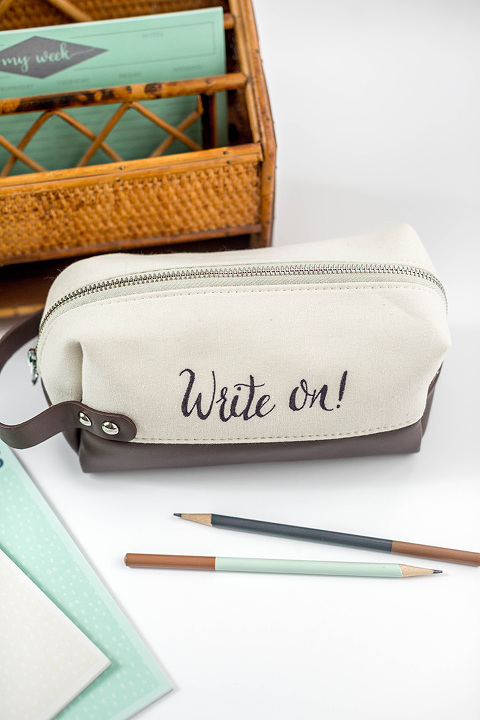 It has been far too long since I hosted a giveaway—wouldn't you agree? In case you do, you're in big luck because today the Dream Green DIY team is partnering to share a really fun (in my not-so-humble opinion) prize pack of new, vintage, and DIY goodies.
You may not know it but DGD is actually made up of two very driven, creative entrepreneurs: myself, of course, and Nikki McIntosh, of Wise Apple Vintage. Nikki has been working behind the scenes to manage the blog's marketing since the beginning of the year, and she has proven time and time again to be an absolute asset. Not only is she a whiz with all things SEO and social media-related, but she's also someone I've come to rely on for inspiration and support, too.
Whenever the you-know-what hits the fan, Nikki is right there with a slew of kind, heartfelt words to get me looking beyond the negativity. Her offers to help (aside from her normal duties as DGD Marketing Manager) show up in my inbox at least every other day. I couldn't ask for a better team member, so I was really excited when she suggested the idea of a collaborative giveaway.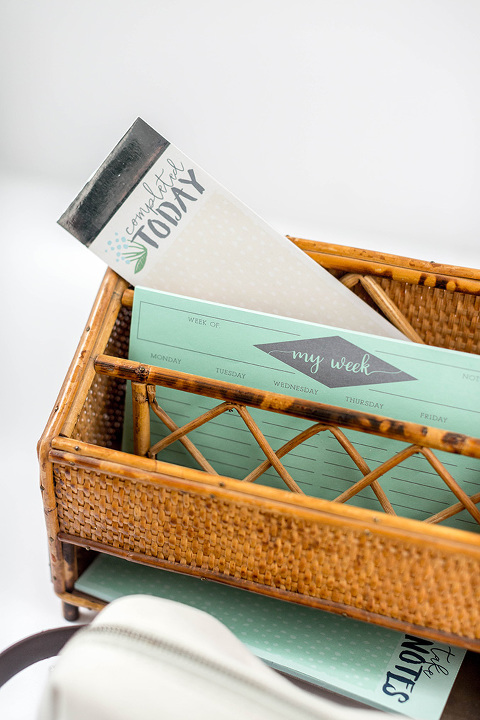 One person will win the entire collection of pieces you see pictured in this blog post: a vintage rattan tabletop organizer via Wise Apple Vintage, 3 new notepads, a handful of freshly sharpened pencils, 1 blank weekly planner pad, and a DIY pencil case made by yours truly. Speaking of which, this project turned out to be so simple, that I wanted to share the quick step-by-step tutorial just in case you don't get to take home the prize pack with the original tucked inside.
To make the DIY 'Write on!' pencil case, grab yourself a canvas pencil case (I found mind in the dollar section at Target) and a fine point black Sharpie or other fabric marker in your color of choice. Then hand-draw the pun-y little phrase, 'Write on!' across the canvas.
As an aside, my handwriting is definitely not that good. To fake my calligraphy, I always pull up the digital download page for Asterism the font, type my phrase into the "Enter your own text" box toward the center of the page, and then copy the sample text exactly as I see it on my sheet of paper or fabric. Oh, and before you think I'm rotten for "stealing" the design, I have purchased the font outright, too, and would encourage you to do the same to support the talented artist who designed this lovely font!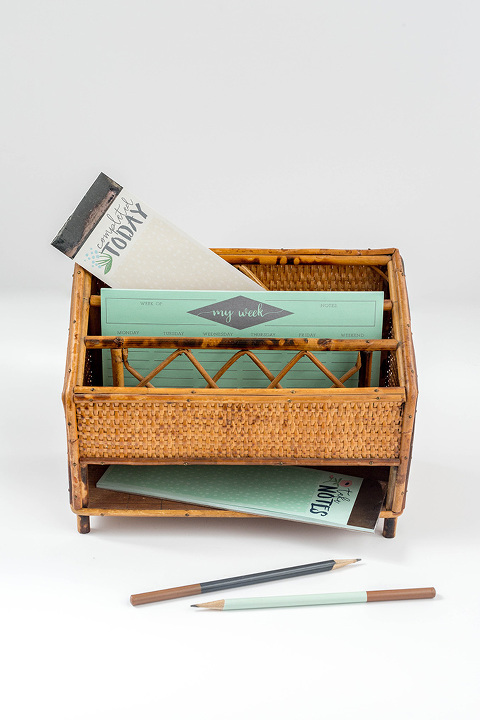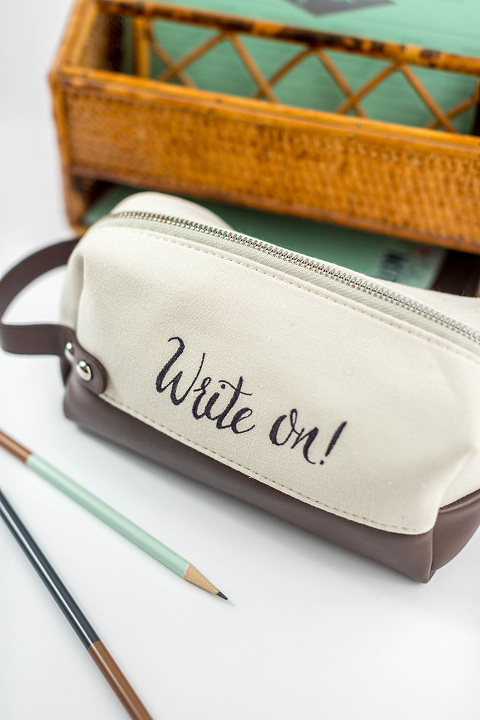 Now for those giveaway details…First, make sure you're following both @dreamgreendiy and @wiseapplevintage on Instagram, then comment on either (or both!) of our official giveaway posts with your favorite office supply. Tag some friends in the comments to increase your odds of winning—each friend tagged counts as an extra entry. Giveaway ends on Monday 11/13 at midnight and is open to residents of the US and Canada, 18 years or older. Just a little disclaimer that this giveaway is not affiliated with Instagram. Good luck!