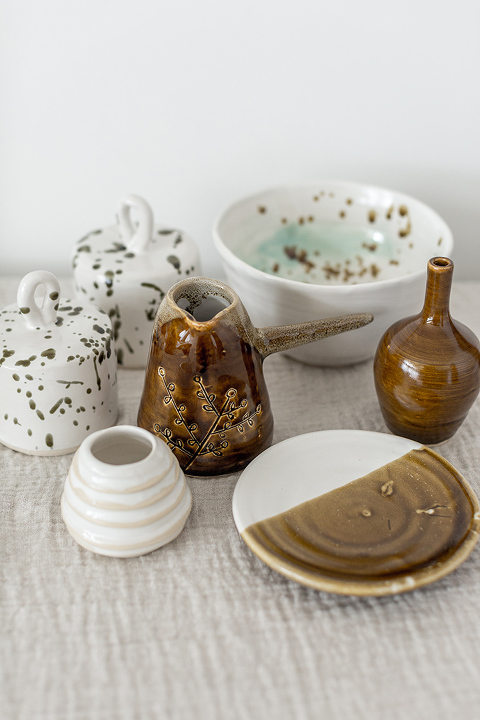 Remember when I signed up on a whim for a wheel-throwing pottery class earlier this year? I loved it so much that I signed up for a second class! Actually, at the risk of giving too much away, I signed up for yet another class to learn more techniques and get more practice in, but that's a story for another day. Today, I wanted to share a look at the collection of things I made in my second pottery class, so keep scrolling for the story behind each bowl, plate, vessel, and bell (yes, bell!).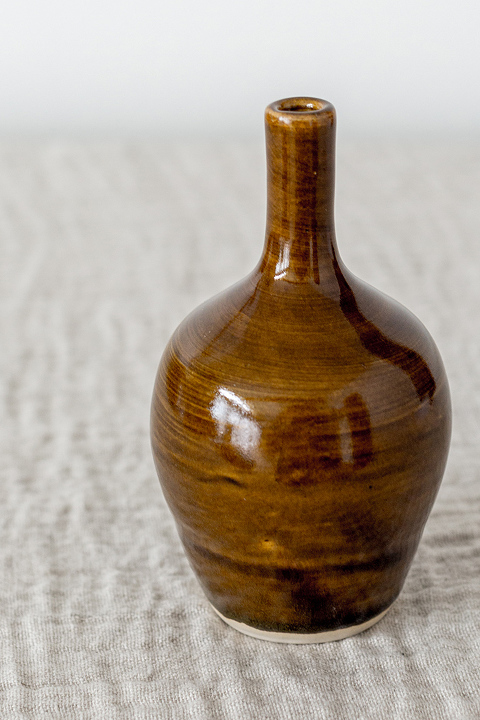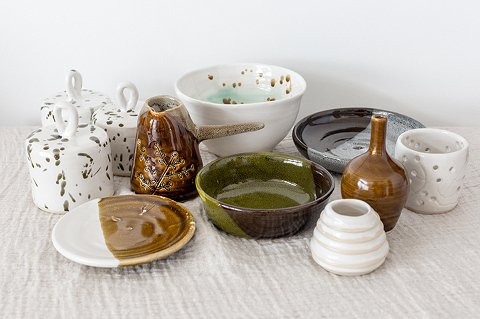 If you caught the first installment of this story back in March, then you know all about the 6-week course, which was hosted by a local studio here in town called Make Waynesboro. It was taught once again by pro potter, Sherri Raffaele, and I had so much fun watching her demos and getting to know her a little bit better, too.
A lot of teachers can be really intimidating, especially when they're so good at their craft, but Sherri was wonderful about offering guidance when asked and giving us room to experiment (and mess up) on our own. I was so sad to hear that she won't be teaching any more classes at the studio this season, but hope she and I can stay in touch.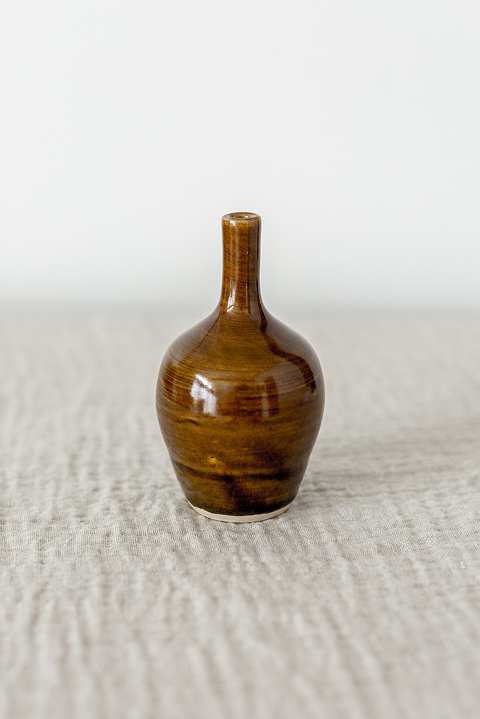 Anyway, this second class was the perfect time for me to try building on the basic techniques I had learned in my first class, and it was also around this time that I got hooked on pottery videos online. I now watch them during my lunch break, when I can't sleep at night, before getting up out of bed in the morning—I'm kind of obsessed. That being said, I think it was the avid video-watching that gave me the confidence to try making other types of shapes, like the vase you see above.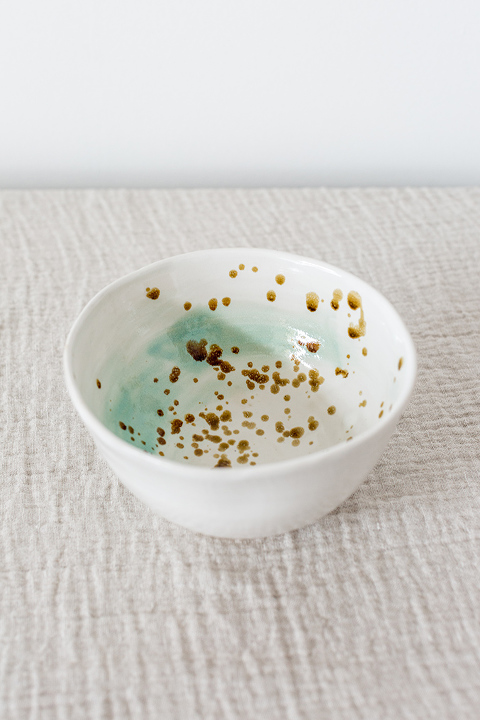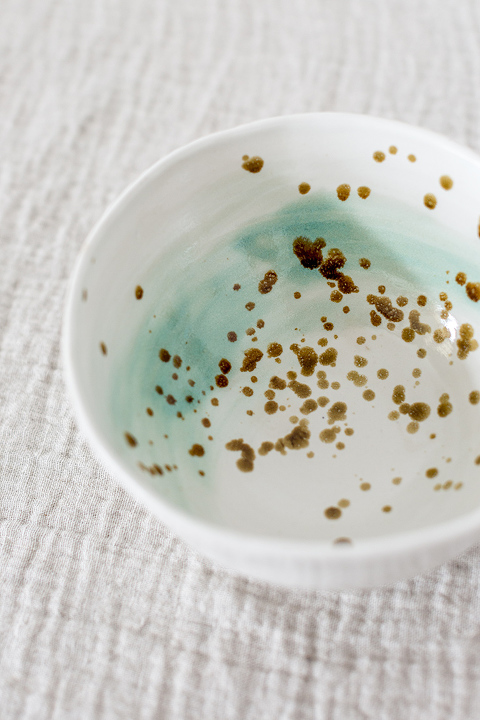 Another small triumph was my first successful bowl. It's far from perfect, but our class this week actually had a great discussion about how imperfection isn't something to be disappointed in when it comes to handmade things like wheel-thrown pottery. Those uneven edges and fingerprints just prove that it really is one-of-a-kind.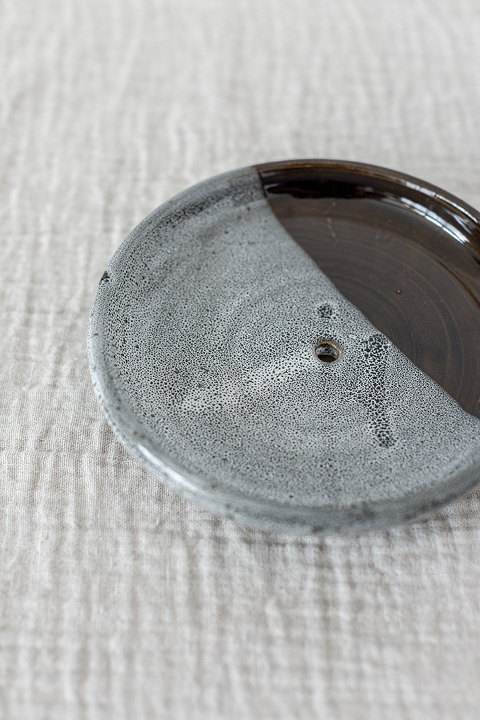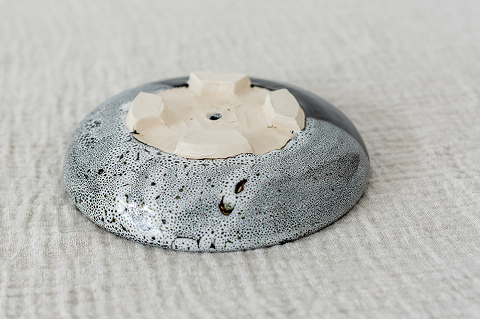 This go-around, since I was feeling a little more confident, I mentioned to my family that I could take requests. My dad was quick to respond with his vote for a bonsai pot, so I did my best to create a wide low bowl for him that could be used for potting. I'm not so sure that it'll work (clay shrinks so much after it's fired, and this might be too small after all), but it was fun to try a new footed shape that I hadn't experimented with before.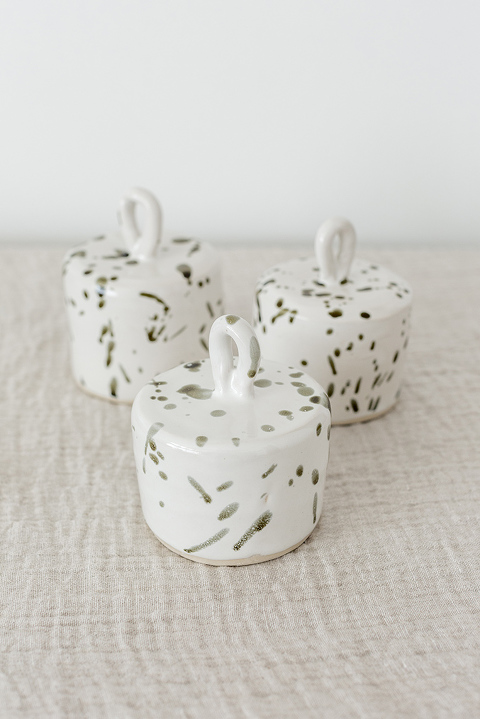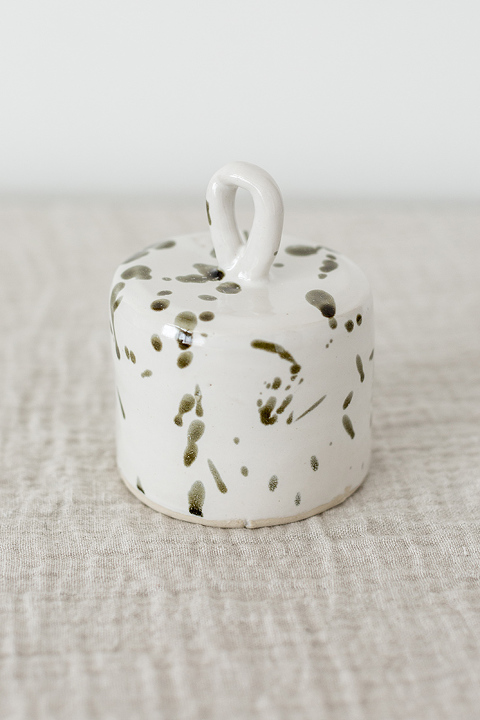 Now for those bells I mentioned. I've been aching to make my own decorative clay wall bells ever since spotting this collection in Emily Henderson's living room, so I thought maybe I'd give it a go in pottery class. Somehow, I think it actually worked out pretty well, although I panicked during the glazing class and rushed the black spotted design maybe a bit too much. Check back on the blog tomorrow if you'd like to make your own version of these clay wall bells because I actually managed to make them using air dry clay, too!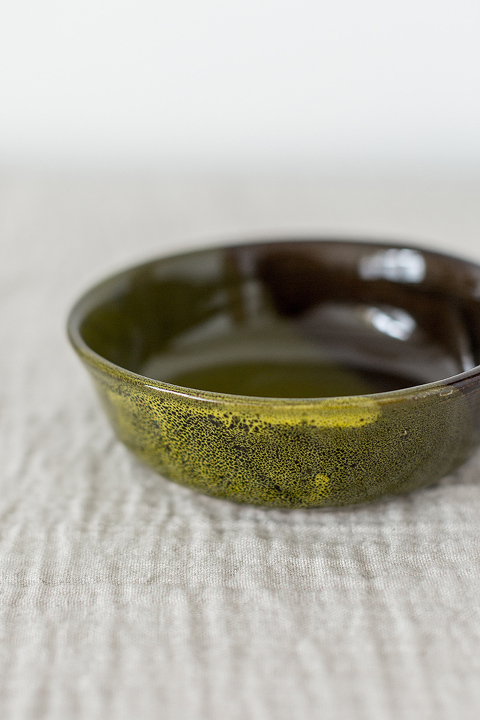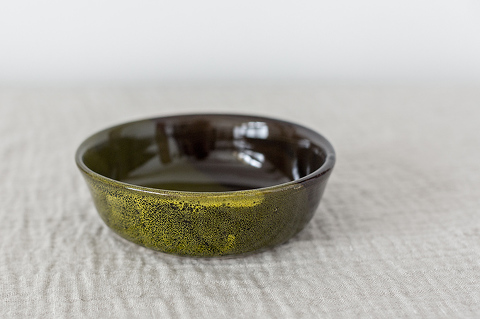 Here's another bowl I somehow managed to eke out. I'm still so desperate to nail an evergreen color with my glaze, but have yet to master the combination. Apparently, you can layer yellow over black glaze to get the look, but this bowl isn't quite the color I was going for. Maybe next time!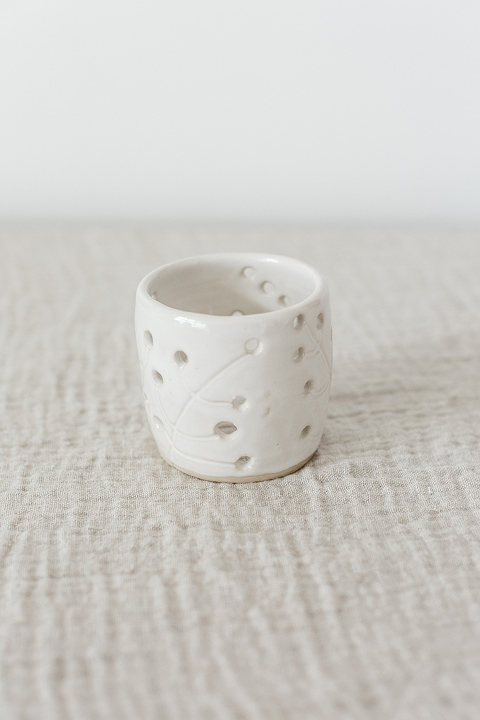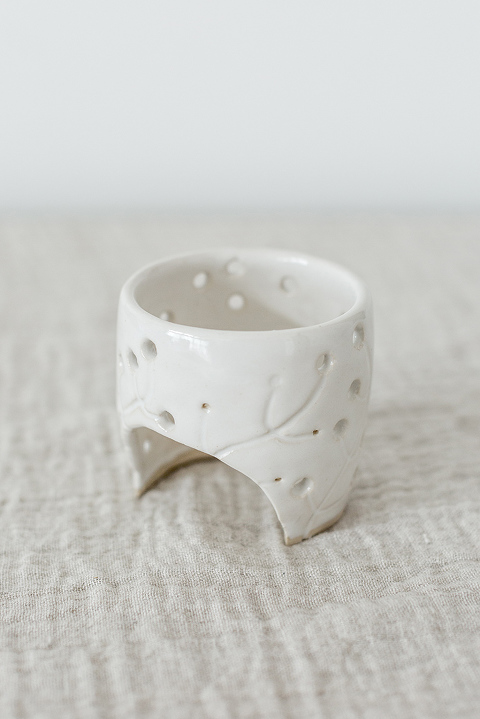 This was supposed to be a mug, but I ended up accidentally trimming off the bottom—oops. So, I decided to turn it into a candle luminary instead by carving holes in the sides for light to show through. The gap in the back was another unfortunate trimming mishap, but I'm just so attached to these things that I can't throw anything away. Let's just pretend it was intentional for slipping a candle in from the back, shall we?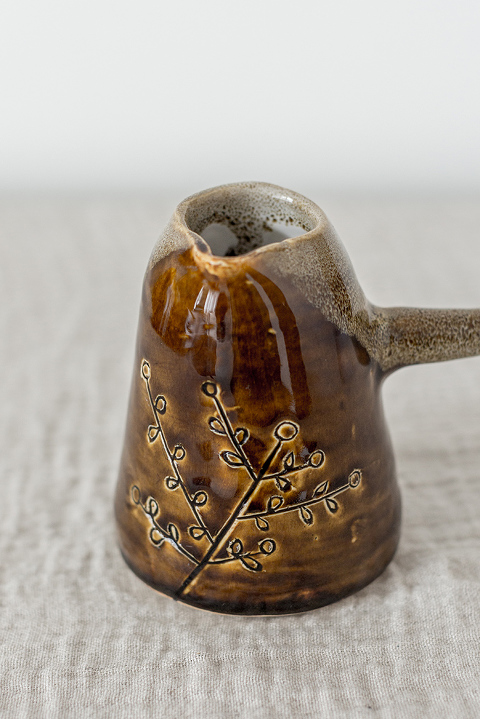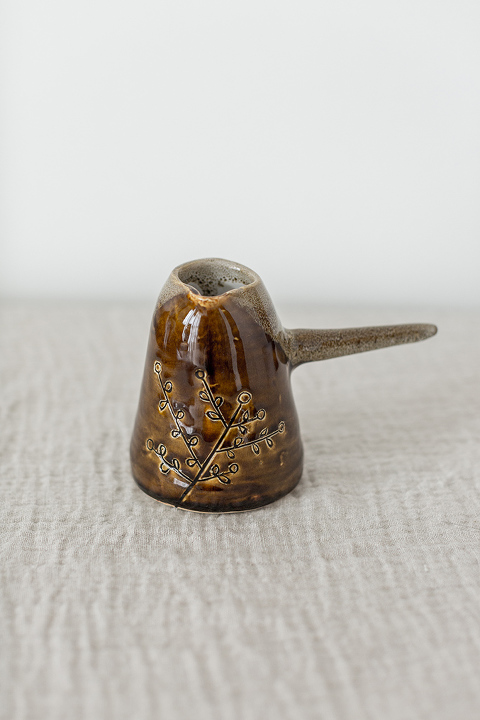 This milk creamer is something I'm glad I committed to. I'm not so sure that I got the proportions right (read: I'm definitely sure it's not right), but I love the tapered shape and the side handle. From the very beginning, I've focused all of my decorative carving work on leafy plant shapes, and I especially love the more modern design of this one. I can't take any credit for it, though. I just find shapes online that I like and try to give them my own flair when I translate them into clay.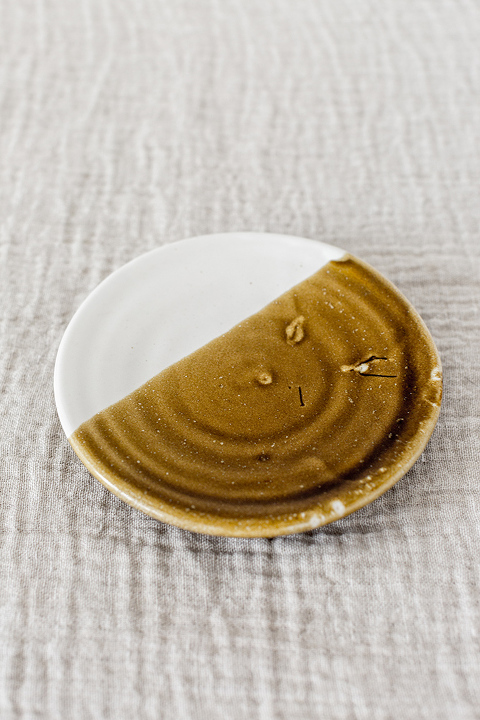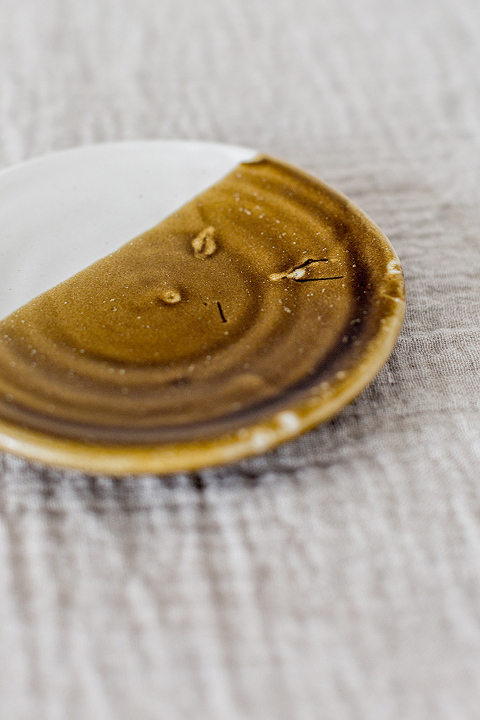 John's request was a bigger, heavier spoon rest by the stove since he does all of the cooking in our house, so I made him a small appetizer-size plate to do the deed. I'm really loving the two-tone look, and am especially drawn to the white and brown palette. Isn't it cool how the brown really picks up on the variations in the clay? It's kind of like wood grain. I love it!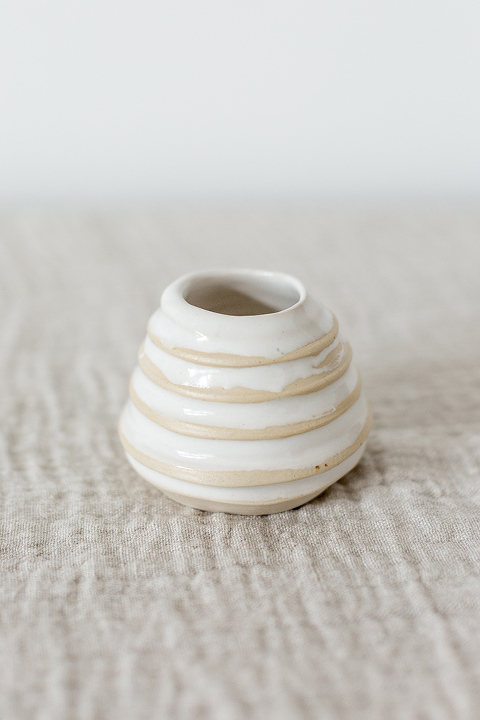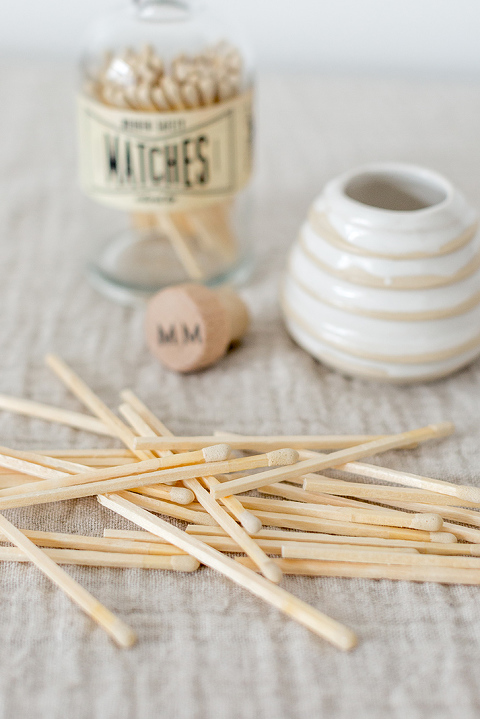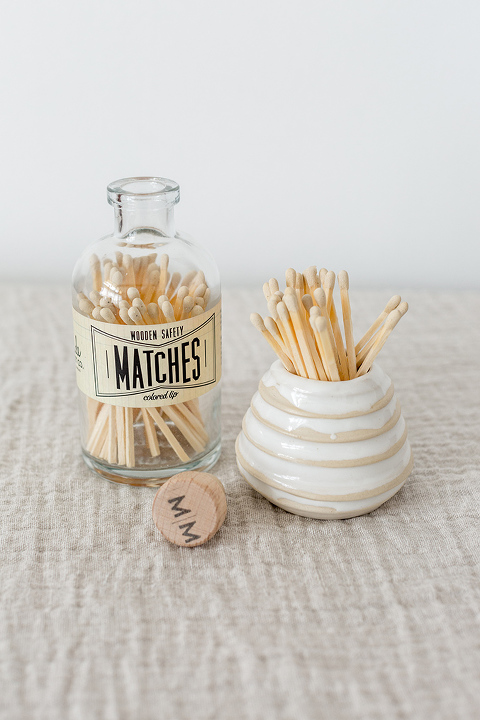 Finally, if you've stuck with me to the end, we have this little match holder and striker. The intent was to have a ribbed triangular vessel that could hold oversized matches, and you could strike the matches across the ribs to light them. Unfortunately, while I love the look of the custom white matches I bought on Etsy, they don't seem to light up using the piece of pottery I made. I think I need to use "Strike Anywhere" matches or something, but for now this at least looks pretty, I think.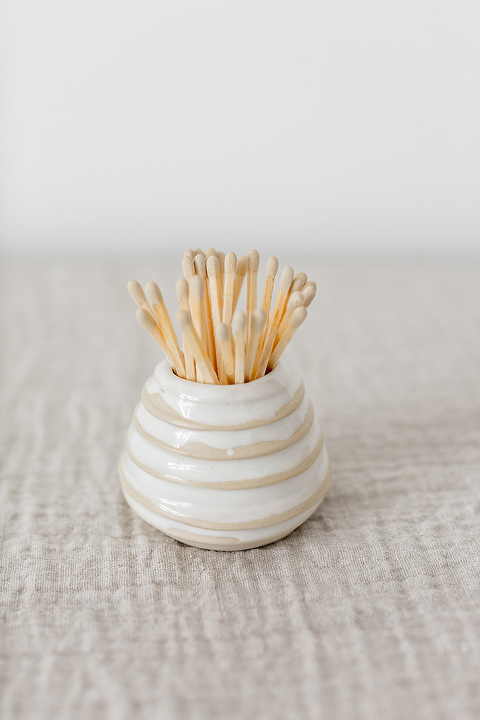 As I mentioned, I'm taking a third class right now, and might even sign up for a fourth. I described this in more detail after my first class, but there's just something so enriching about being back in an art studio. I love getting my hands dirty, and it's so great to get out of this house and interact with other creative people. I'm completely and utterly hooked.
Let me know in the comments below which piece is your favorite from the collection, and please feel free to shout out if you think I should open a shop to sell these pieces. I've gone so far as to reserve an Etsy shop name, but I'm afraid to take the leap. At this point, a little push or even a sign of interest from one or two folks could be all I need to make my would-be shop a reality. Shop or not, though, these classes have made me so happy, and I'm excited to stick with it—even just for my own mental wellbeing!