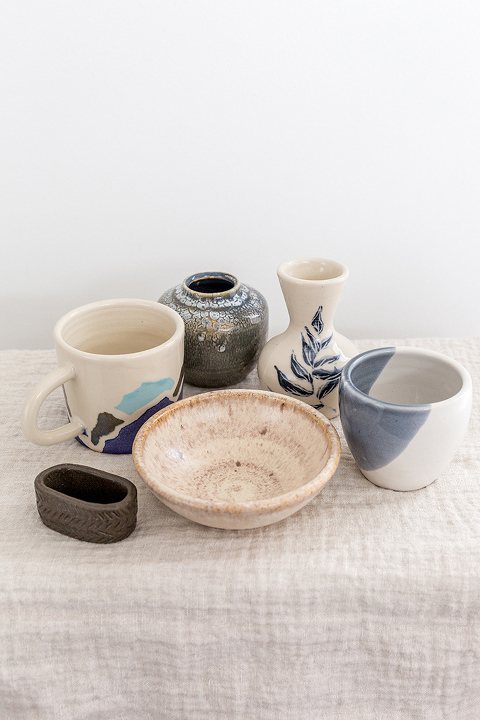 Did you hear?! A brand new collection just launched in the DGD Pottery shop, and you can take your pick from any of the six new items this way. As has become tradition, I wanted to chat briefly about each piece here on the blog, too, so that you can get a sense of my thought process going into the making phase.
While, a lot of the time, I let the clay sort of take shape and evolve into what it wants (I prefer a pretty spontaneous method over a lot of pre-planning!), I do have an idea of the overall aesthetic I want. Keep scrolling to learn more about Collection No. 5, and then you're invited to choose one of your favorites on Etsy here.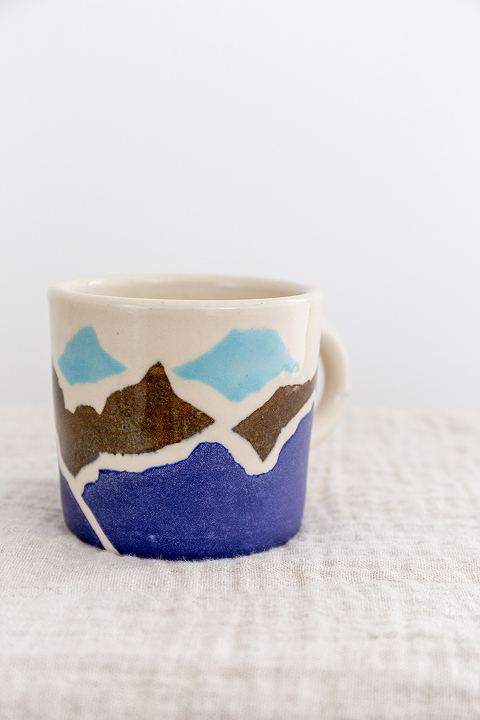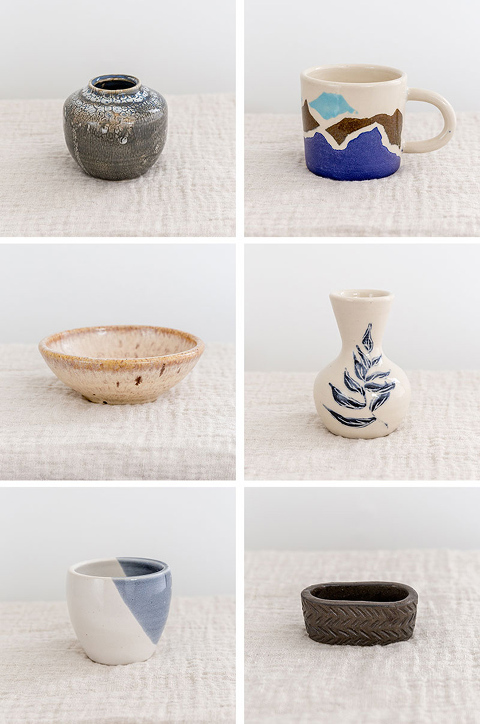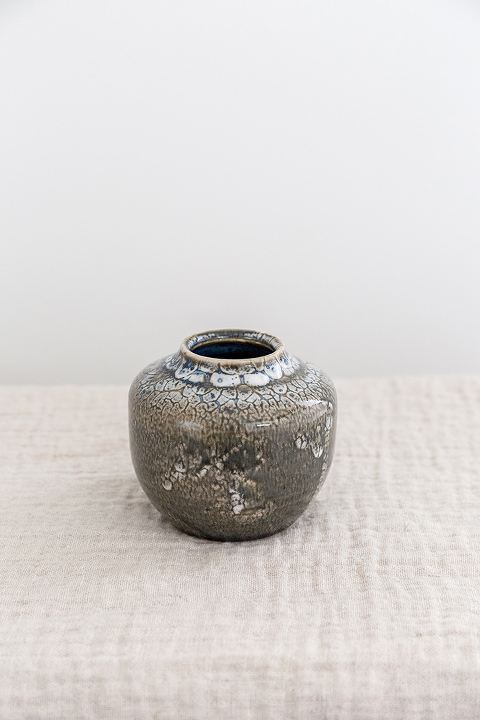 Tall neck bottles seem to have become something of a default shape for me, so I'm trying to get better about creating vases that can hold more than just one flower stem or branch. That dusty blue organic vase pictured above definitely checks those boxes with its low, wide opening. You could fit a whole bundle of springtime flowers in this vase! Can't you picture it on an Easter buffet with fresh Alstroemeria blooms overflowing the sides?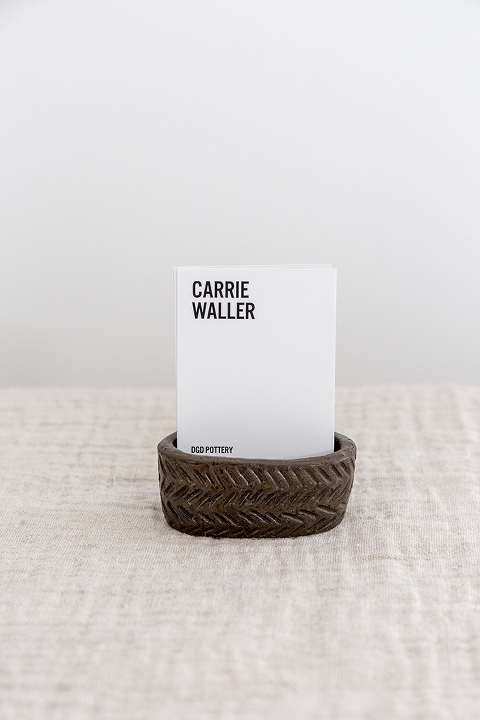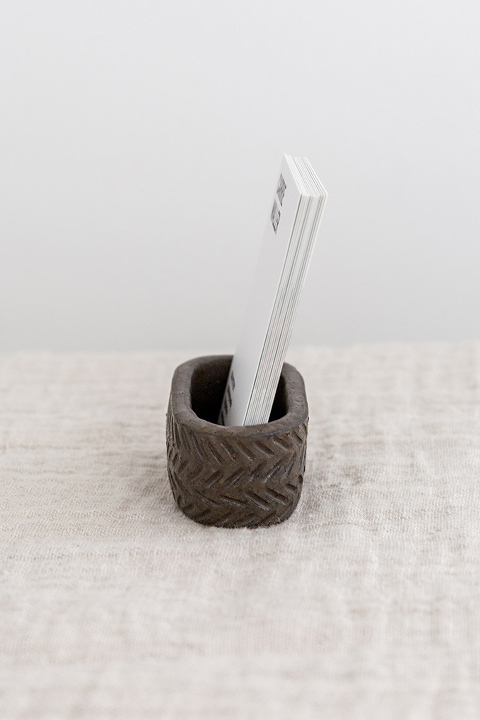 My sister was actually the one who first got me thinking about making ceramic business card holders. She had seen one she really liked on a different Etsy shop, and asked me if I could try my hand at doing something similar but customized for her.
I started with four different prototypes to show her, and now that she's had a chance to tell me what she likes and doesn't like about each of the four based on her (very picky) aesthetic, I'm ready to release them to the world for you guys to snatch up throughout the next several shop updates. This first one is my personal favorite with its rich inky ash finish and organic carved sides.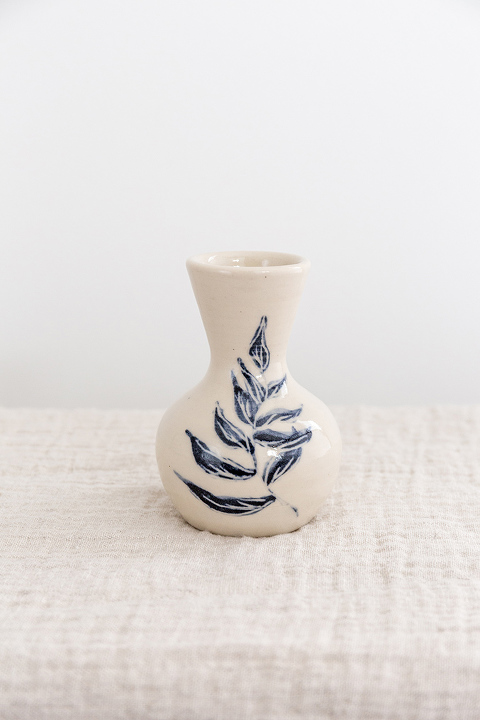 Remember my quest to make vases with wider necks? Well, here's another newer, wider vase to consider for spring. The funnel shape on this piece is perfect for delicate flowers that might need a little more support around their stems. Like the hand-painted design on the side of the vase hints at, it could also be great for fresh cut branches once the leaves come back out in a couple of months.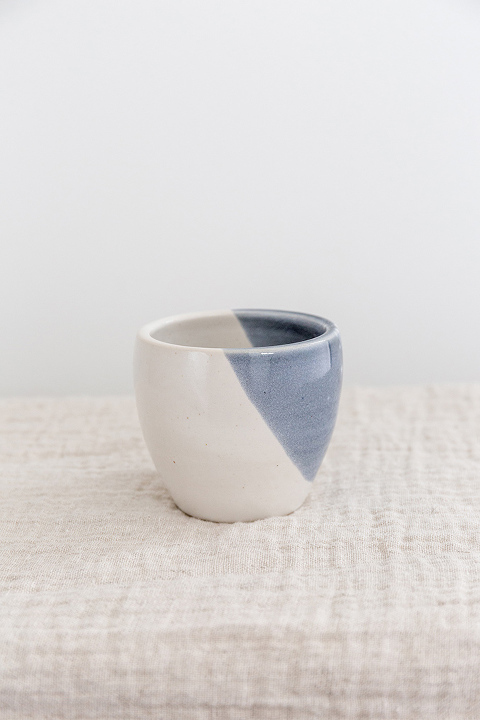 To be completely honest, I'm really struggling with learning how best to make mugs. They're my favorite shape to see other people making, but I'm personally still trying to figure out the best way to make and attach handles to complete mugs of my own.
This two-tone cup above was supposed to be a mug, but I ended up being too intimidated to try my hand at making a handle during the small window of time when I could have attached it (before the cup dried out too much, that is).Yes, I could have said that the no-handle design was my intent all along, but I never want to sweep things under the rug with you guys. Plus, I know you'll understand that I'm still learning.
The cool thing is that, since admitting all of this over on social media, a lot of you have come forward to say that you actually prefer handle-less mugs, so maybe I should start intentionally make those, too! Leave your vote for "Handle" or "No Handle" in the comments.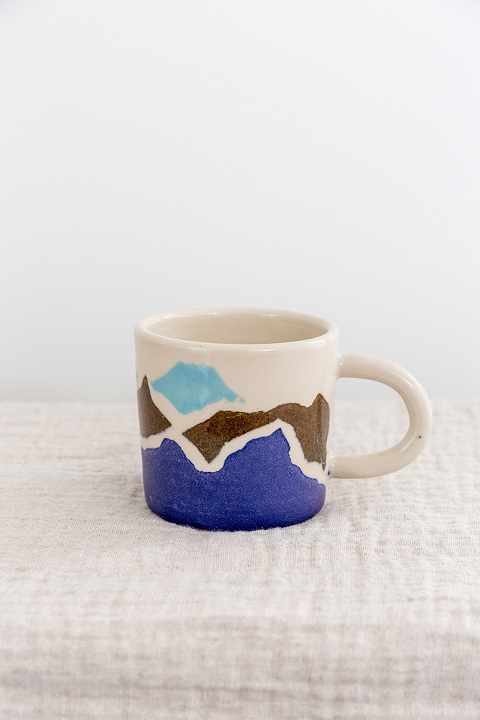 Not all hope is lost for me and mugs, though! That one you see above has got to be one of my most successful ones yet, and is definitely the sort of shape I'd love to keep making this season. I love the straight up-and-down sides, and the minimalist half circle handle is exactly what I was going for, too.
The layered mountains glaze design on the sides was something I tested out during the glaze class I took last year, and is another thing I'd like to perfect in 2019. I was born and raised in Virginia, so the Blue Ridge Mountains have always been a big part of my life. This mug is an homage to all the memories I've made hiking and camping in the mountains. See more photos of it this way if you're interested.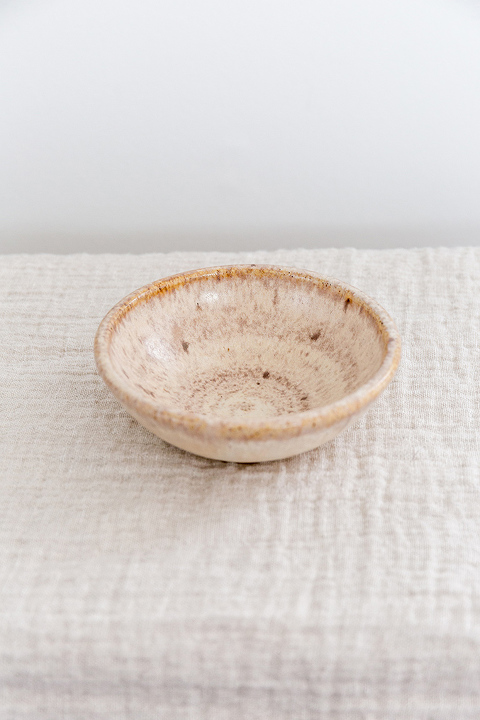 Last up is a new ceramic bowl, which is actually a bit of an unintentional hint for what's to come. I don't remember how I ended up with it, but I somehow came into possession of a lump of speckled stoneware clay (as opposed to the white clay I learned on and started my Etsy shop with).
This bowl was made by combining the white clay I had leftover and my lump of brownish clay to create a marbled look, and then I used a semi-transparent glaze overtop. I loved the final look so much that I've since started working exclusively with the speckled clay. I can't wait to start debuting this fresh new line of finished pottery—stay tuned!
In the meantime, click the graphic below (or right here) to shop all of the pieces in Collection No.5. Let me know if you have a favorite from the bunch, or if there's a unique shape or style you'd like to see in the shop later this spring and summer. I'm always open to new ideas, so leave a comment below and I'll see what I can do for you.