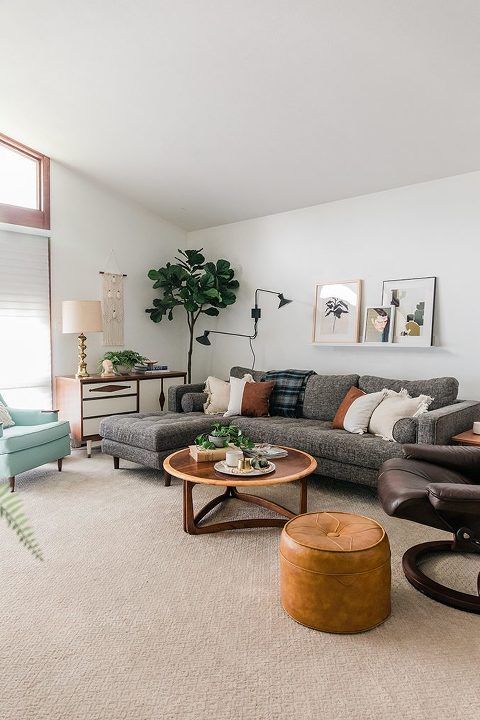 For the past couple of weeks I've been teasing a pretty major update in our living room, and the good news is that today's the day that I finally get to share the full makeover. Behind the scenes, I've been working my tail off arranging pillows, scooting art prints around, placing piles of overly thought-out books, and just generally spending way too long making sure every single detail is picture perfect before unveiling it all to you guys.
One of my favorite things about this process, though, is that it really did take just a couple of weeks (as opposed to the months-long renovations you see on TV), and, with the exception of a few key purchases, I used mostly décor that we already had.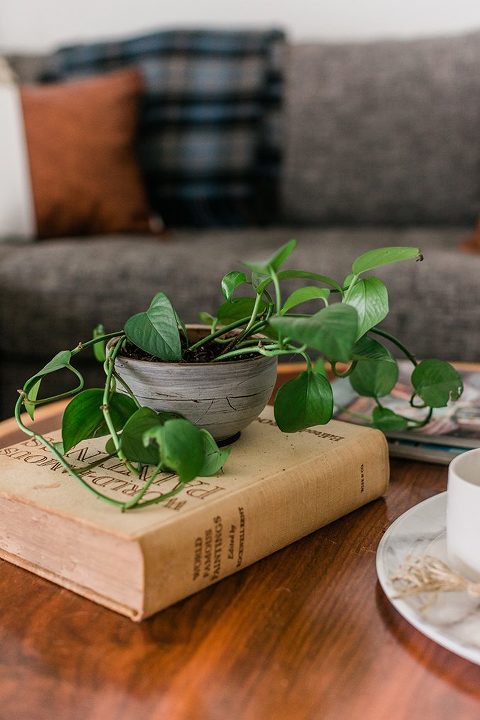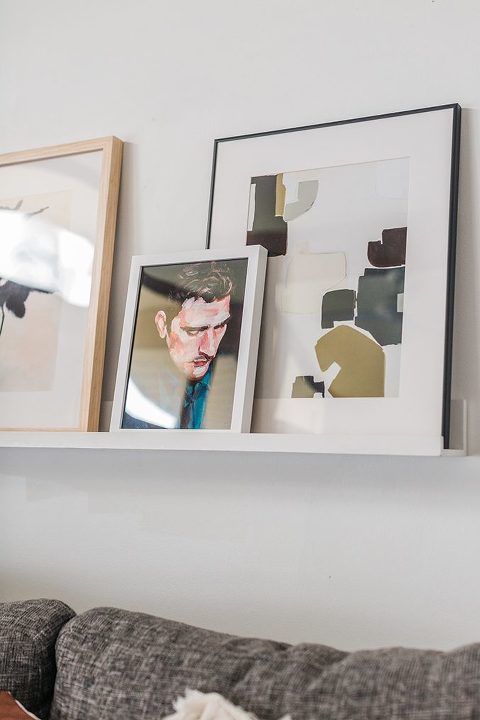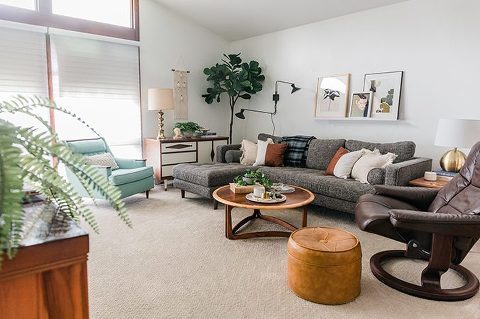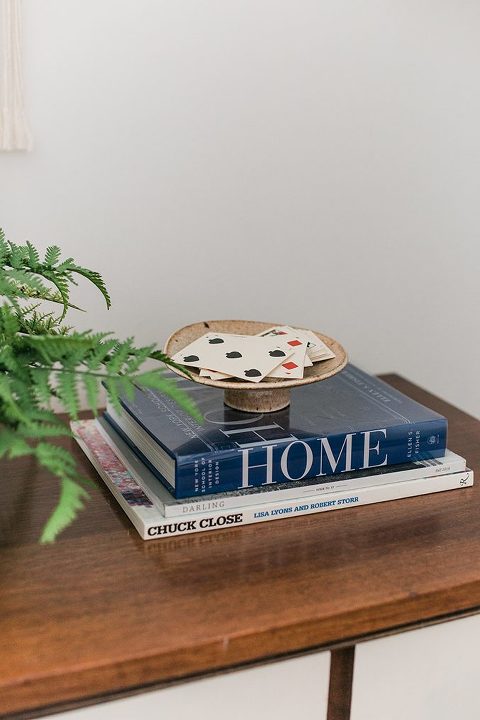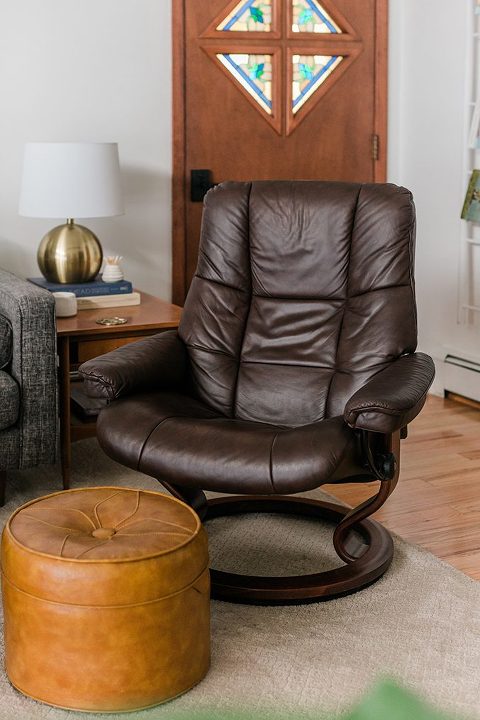 RESOURCES: Handmade bowl | Sectional Sofa | Leather Side Chair
If you've been following along for the whole two weeks, then you know the makeover was inspired by our need for extra seating in the living room. My parents recently moved to town, which meant that we were in need of more than room for just John and me to sit down with a glass of wine. We also love the sectional set-up that we have in our lower family room so much, that we wanted to copy the look upstairs.
With those new necessities in mind, we decided to center the entire space around an upgraded sofa—the Sven Sectional from Article. I say "upgraded" because the comfort level and lounge-ability is a pretty vast improvement over what we had before, plus the upsized scale is exactly what were hoping for. I'll be talking much more about what we love most about our Article sofa on Wednesday, so stay tuned for that if you've been considering adding this particular piece to your own space. Spoiler: do it!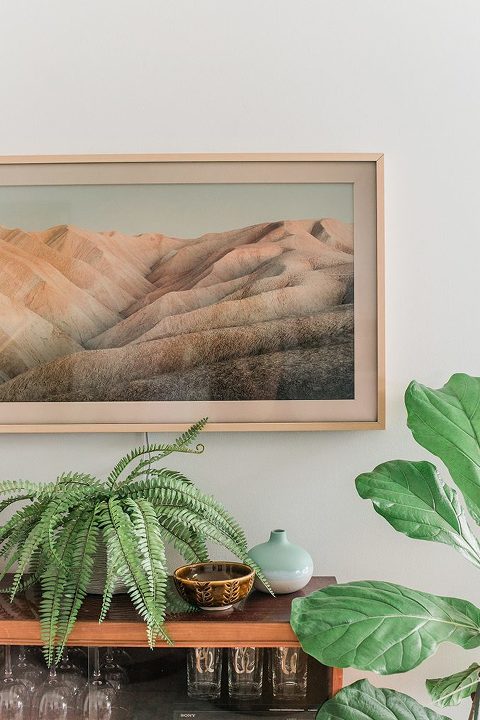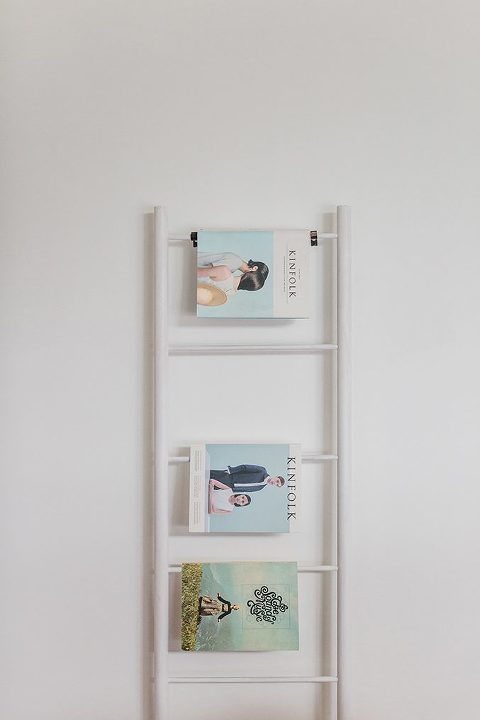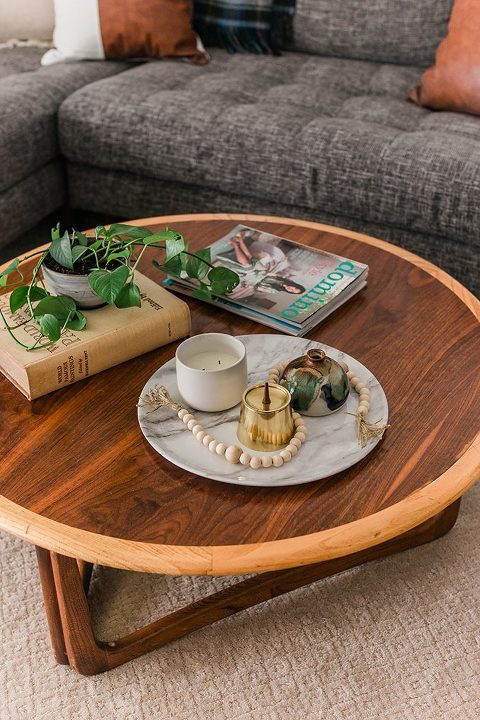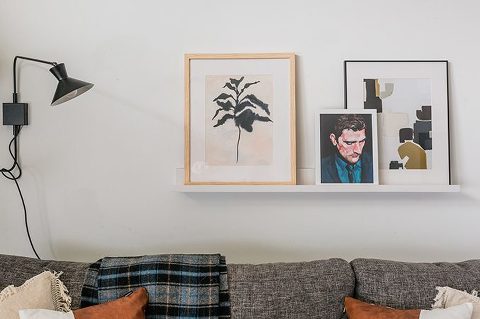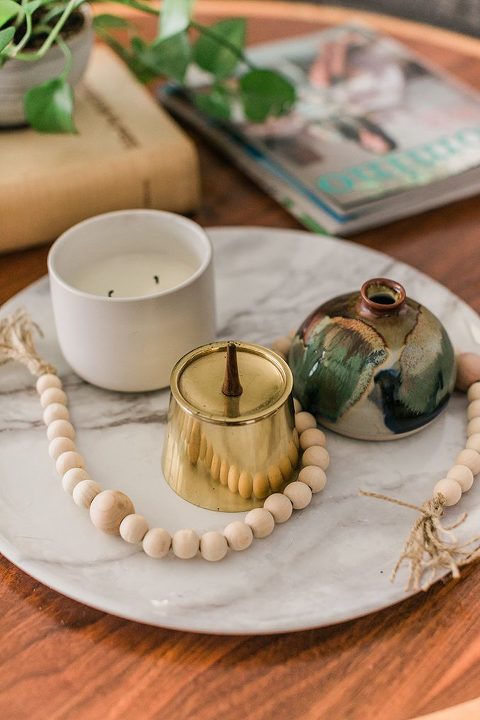 RESOURCES: Carpet | Macrame Wall Hanging | Faux Leather Pillows
With the couch in place, I also wanted to change up the art, so I spent an hour or two searching Artfully Walls for three pieces that would suit the darker color of our new couch. The fabric of the sectional we chose is a multi-tonal, rich gray, that shifts from shades of black and silver, to charcoal and even chocolate when you get closer to it. So, I went into my art search hoping to find something that matched the moody, sophisticated tone of the new sofa.
The three prints I landed on were Andrew by Tali Yalonetzki, Damuresk by Holly Addi, and Blur by Emily Grady Dodge. You might remember when I talked about how to pair art together at home? Well, I basically did exactly as I described in that post. I scrolled the website pulling the digital images of potential prints over to my computer desktop where I could see them as I scanned the rest of the website. I went with my gut, and ended up with a three-piece collection that (at least I think!) feels cohesive but different.
I picked a portrait, a loosely painted nature print, and an abstract piece so that no singular artwork felt like a copy of another. I also looked for pieces that shared a general earth-toned palette. By leaning them on the art ledge I already had sitting in storage, I was able to avoid putting new custom one-off holes for art in the wall—hallelujah!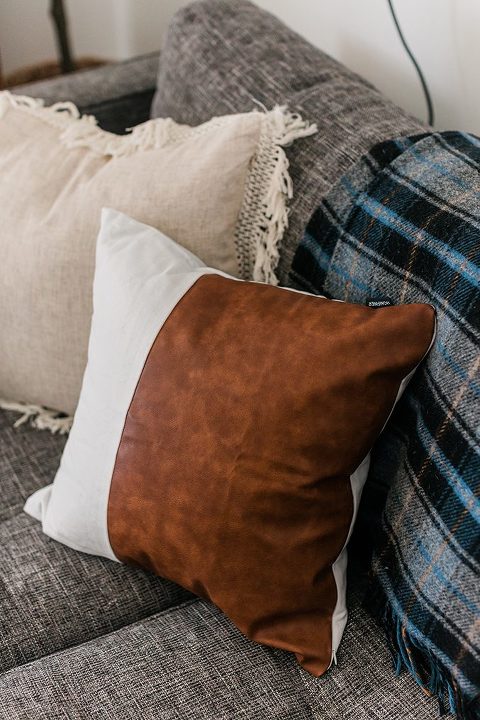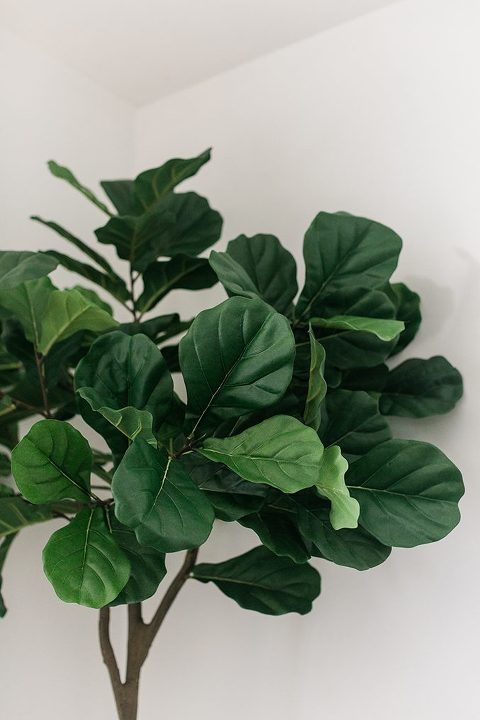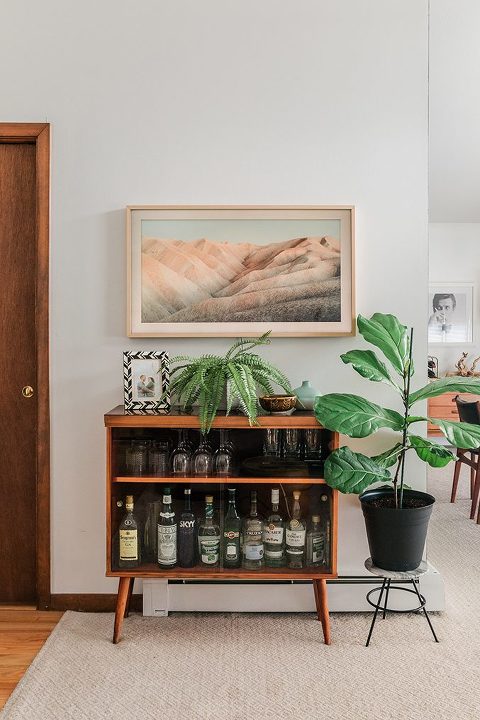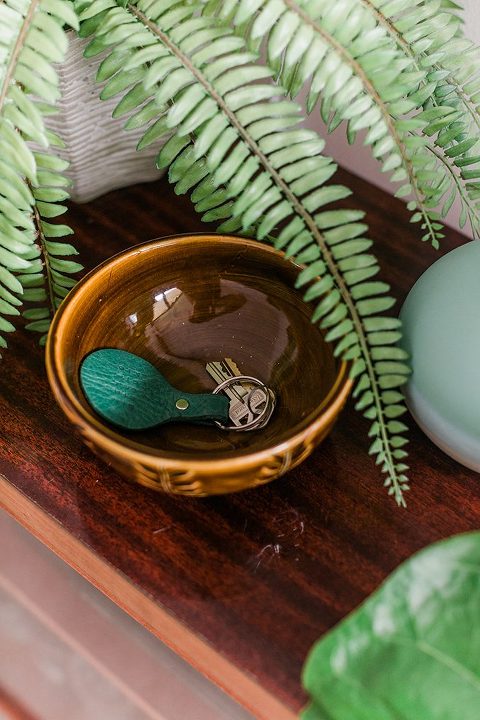 RESOURCES: Portrait | Abstract | Plant Painting | Blanket (similar)
As for textiles, I combined a few things we already had with a couple of newbies. The two-tone faux leather pillows were purchased just the other day from Amazon, whereas the neutral solid-colored cream pillows came from Tuesday Morning last year. They were sitting out in the sunroom, so I pulled them into this space to be put to better daily use.
One of the unexpected details that I love so much is the blue plaid Pendleton blanket that I've had for years and years (here's a very similar one). I draped it over the back of the sofa, and really love how it picks up the perfect shade of navy blue that's in the portrait just to its right. That was completely unplanned, and I'm completely in love with the effect.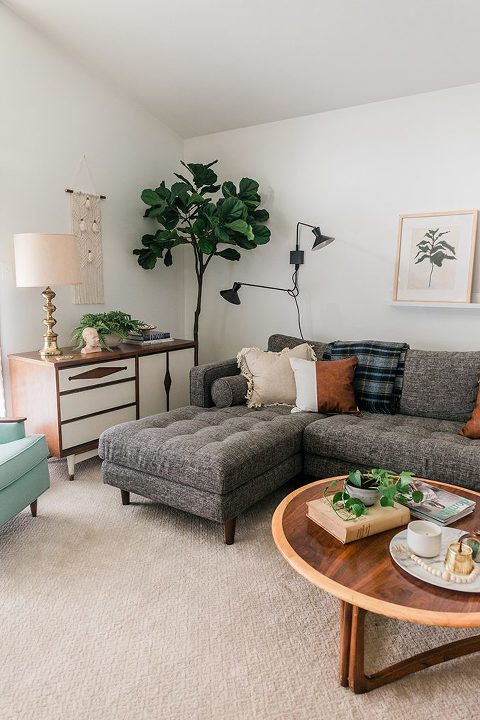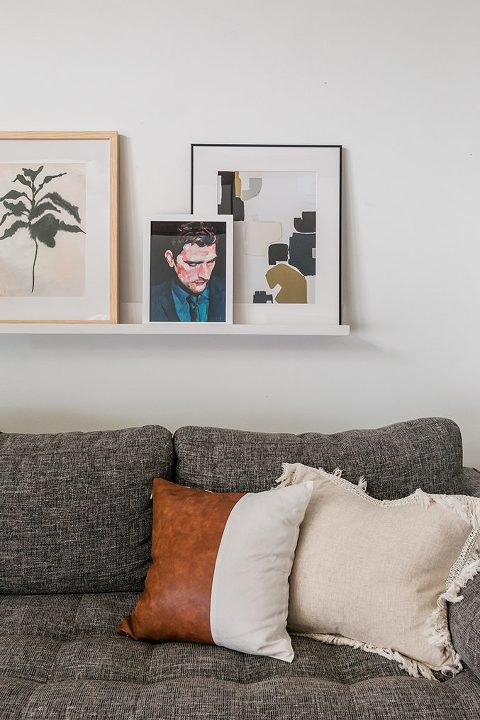 RESOURCES: Marble-look Tray | Sconce | Art Ledge | Frame TV
Those of you who are long-time followers probably noticed that I ended up pulling our vintage round coffee table upstairs from the family room. I had actually spotted a round rattan coffee table at a local antique store that I desperately wanted to get for this room, but I decided to hold off. We already have plenty of tables in the house that I could put to use without spending extra money, so that's exactly what I did.
I brought the round coffee table up from the family room, and put the vintage tile coffee table that we originally had in this space downstairs. Switching the tables within our house made me feel like I had gotten something new, but it didn't cost a dime.
Happily, I found out that we can appreciate the incredible shape of this mid-century beauty a lot better upstairs because this room gets more natural light than the family room downstairs. Our cats have also loved parking themselves in the cool triangular cut-out under the table on a daily basis. In short, everyone's a big fan of the new arrangement.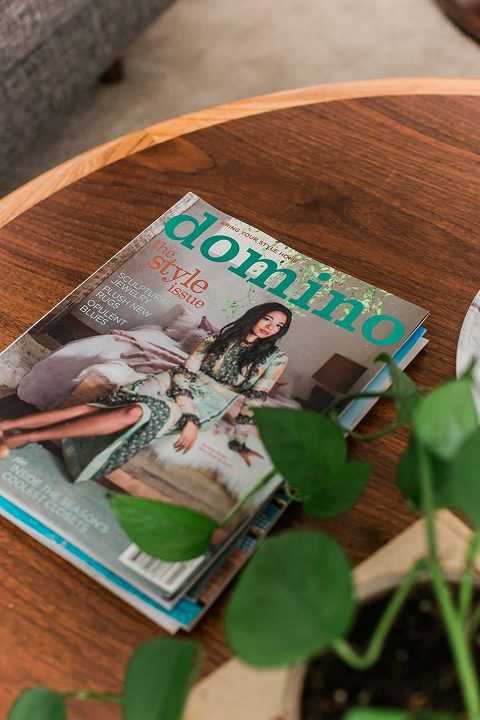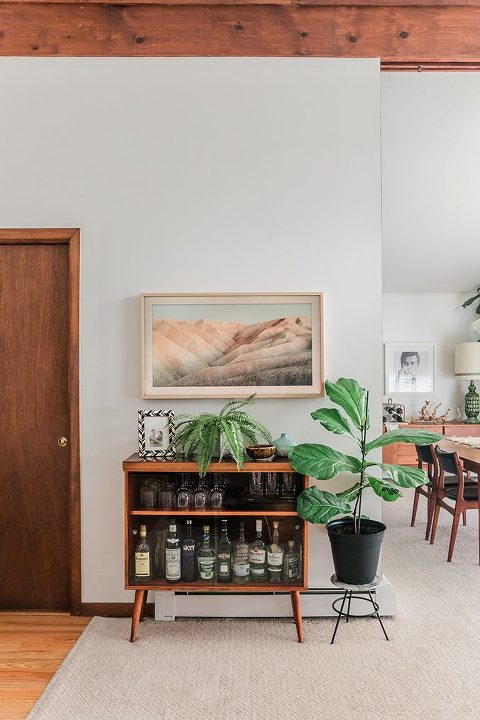 RESOURCES: Home Book | Ceramic Platter | Faux Fiddle Leaf Fig
So, that's our new living room! I really appreciate all of your sweet messages and words of encouragement throughout this process. As with any big room makeover, there were points of indecision and even a bit of insecurity over the bigger decisions, but, in the end, we couldn't be happier with both the look and the function of the reworked space.
Let me know what you think of the new look below, and feel free to share any suggestions you might have in the comments, too. See you back here on Wednesday with a full breakdown of our thoughts on the sectional one week in!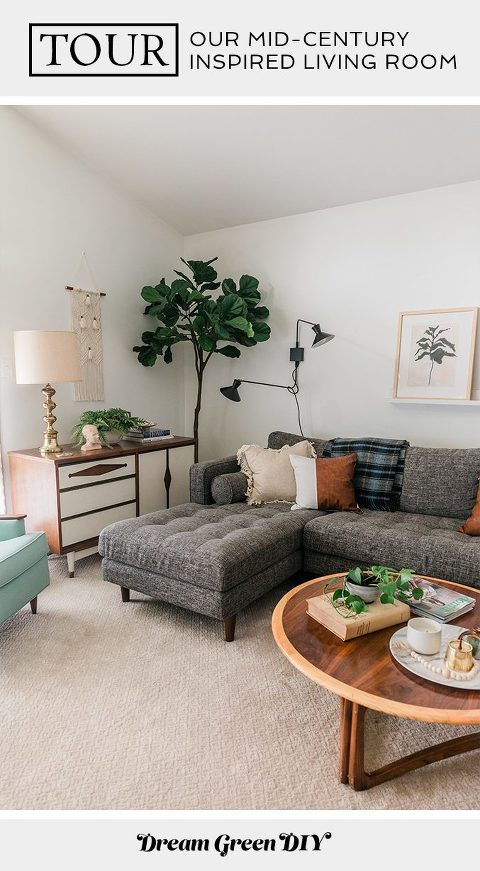 *I earn a small percentage from purchases made using the affiliate links above. Affiliate links are not sponsored. Rest assured that I never recommend products we wouldn't use or don't already love ourselves.