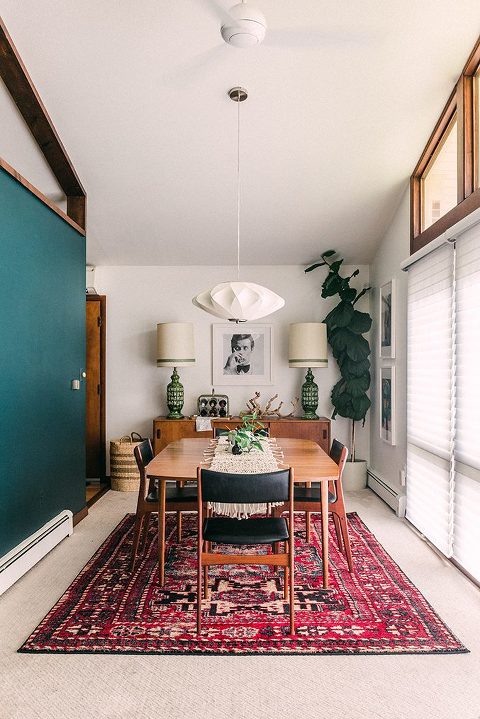 Well, I think it's pretty safe to say that my love affair with minimalism is on the outs. I still love the look in other people's homes, but I've come to realize that it's a lot harder to execute in real life than I thought it would be. I just don't think I'm cut out for it, and our latest painting project is all the proof you probably need on that score.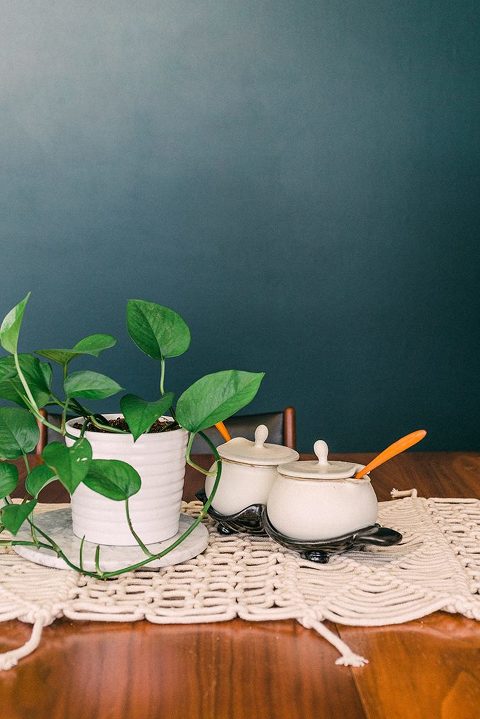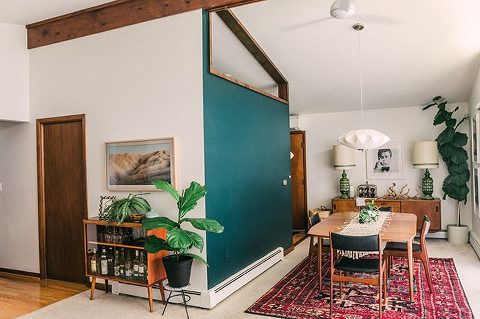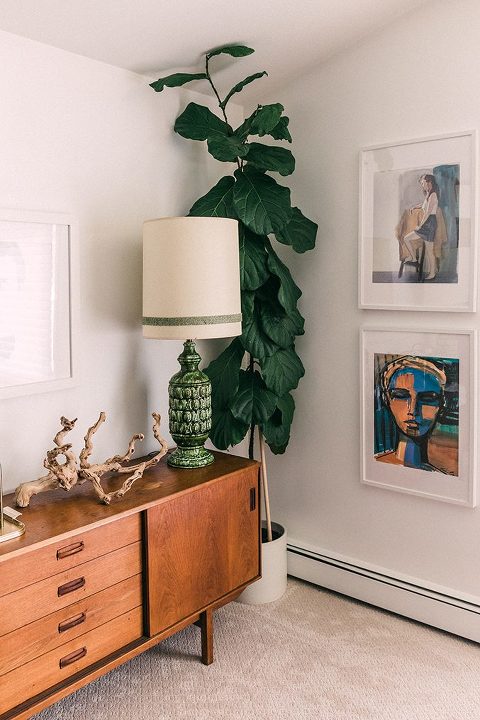 Case in point, I'm so excited to finally unveil our brand new dark green painted feature wall! This color has taken our dining room from "afterthought" to "focal point," and it took just a couple of hours to do.
The color is "Cascades" from Sherwin Williams, and was actually a last-minute choice. I went into the store having every intention of purchasing a gallon of "Mount Etna" paint because of a post I spotted on the blog Chris Loves Julia. When I saw it in person at Sherwin Williams, though, it just felt very gray—not the rich dark blue/green that John and I were hoping for.
So, I ultimately went off a paint chip pulled right from the rack at the paint store. I know that's kind of a no-no in the design world (picking paint on impulse without testing it first), but I'm more of a "jump in with both feet" type of gal. I trust my gut, and it was telling me to go with a paint that had more color to it.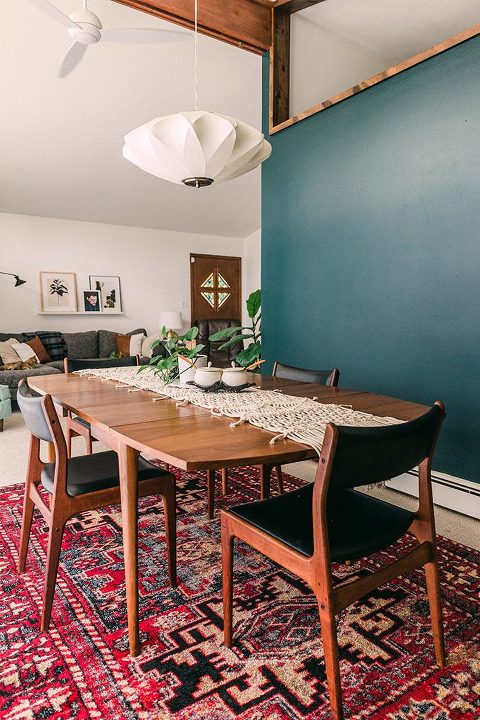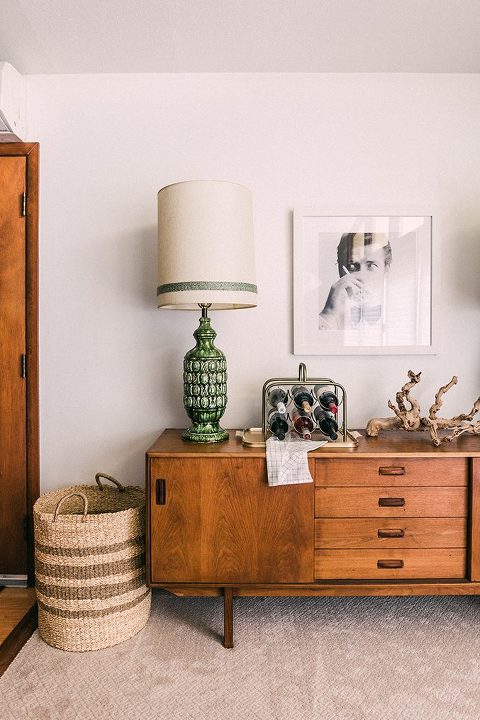 The new paint color on the feature wall actually reads very saturated and blue in these blog photos. It was a bright, sunny day when I snapped these pictures, and the sunshine on the wall really made it pop in camera. That said, it's a little more subdued, and definitely much darker and true green in person. I just wanted to mention that in case you were thinking about trying it in your own space.
We decided to go with such a dark color for a couple of reasons. First, like I mentioned above, this particular wall gets a huge dose of light throughout the day, so we knew the sunshine would help naturally brighten it up. Second, we were hoping the new rich jewel tone would help define the architecture of the wall itself.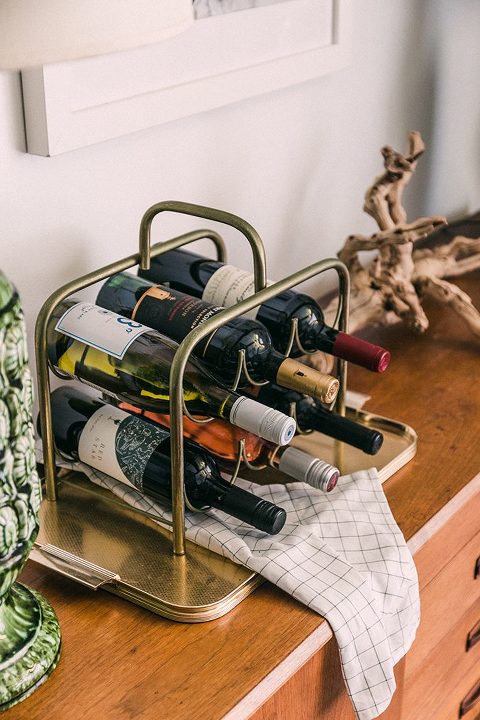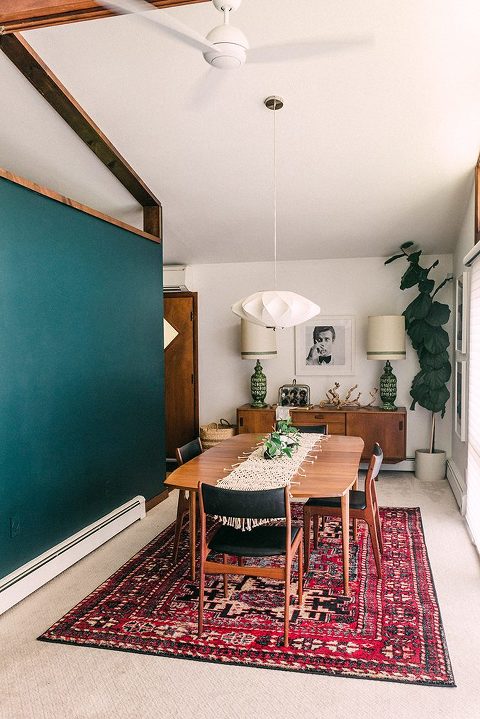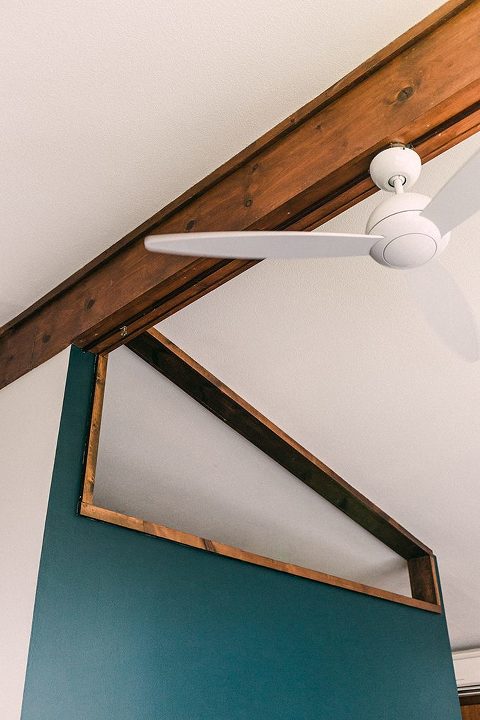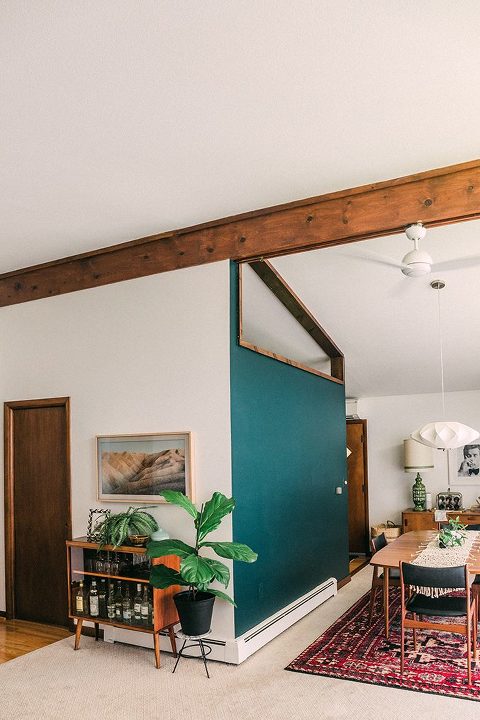 As you can see in those photos above, this wall actually has a really cool built-in transom cut-out at the top. That negative space by the ceiling allows the kitchen (which is behind the wall) to get a little more natural light than it would otherwise. When the wall was painted the original white color, that architectural highlight was totally lost. Now it screams for attention thanks to the new dark green "frame" around it.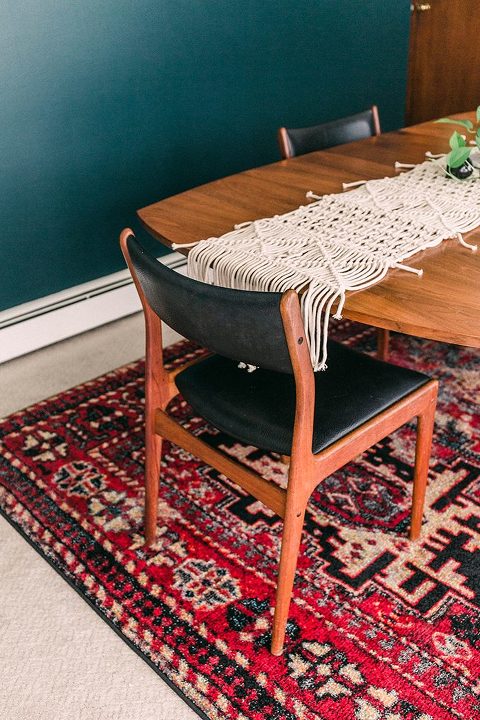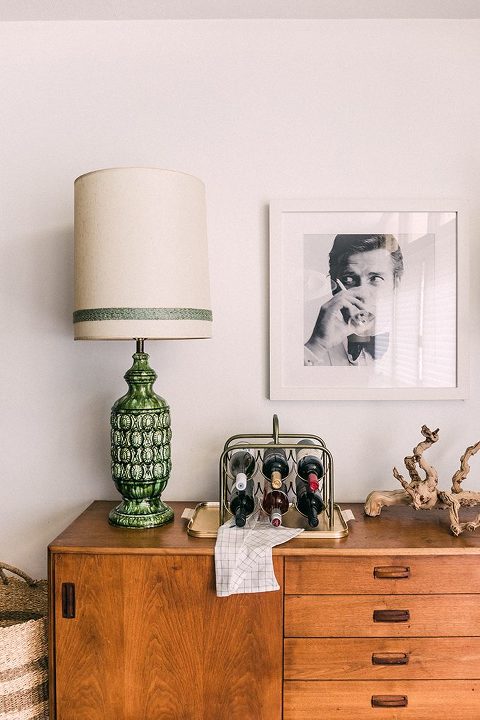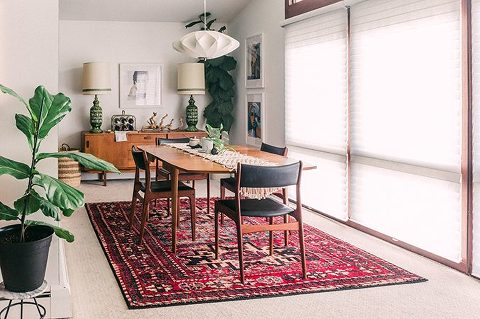 RESOURCES: Rug // Dark Paint // White Paint // Macrame Table Runner // Similar Chandelier // Grape Wood Branch // Figure Painting Print // Portrait Painting Print // Carpet // Handmade Ceramics
The rug is another new addition, and another big departure from my self-professed minimalist ways. After we finished painting the wall dark green, I felt like the room looked a little off balance. So, I snagged a new rug (on super sale last month from Target) to put under the dining room table. All my fellow color-theory-lovers out there will know that red is a complementary color to green, so the dark earthy palette of the rug was the perfect way to offset the new green wall.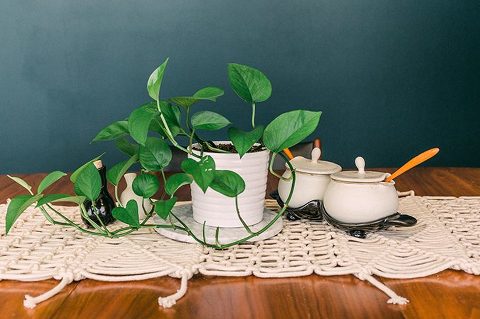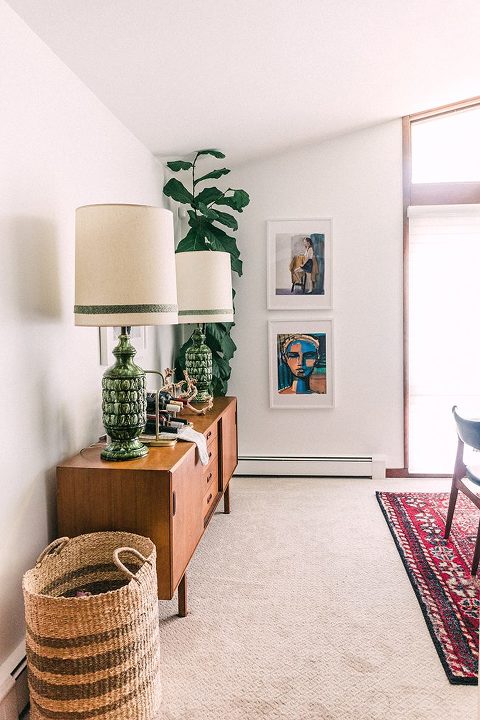 I'm definitely ditching my minimalist ways in a big, big way with this dining room update, but it feels so much more "me." I don't know if that means I was never meant for minimalism, or maybe it's just my innate love for change. Either way, I'm so into the bohemian vibes of our new dining room space, and can't wait to consider other maximalist changes I could make throughout our house over the course of the summer.
What do you think? Are you as into this bold new paint color as I am? Or would you have kept things bright white and simple? I'd also love to hear what color you'd use on a feature wall in your own space, so do tell in the comments below.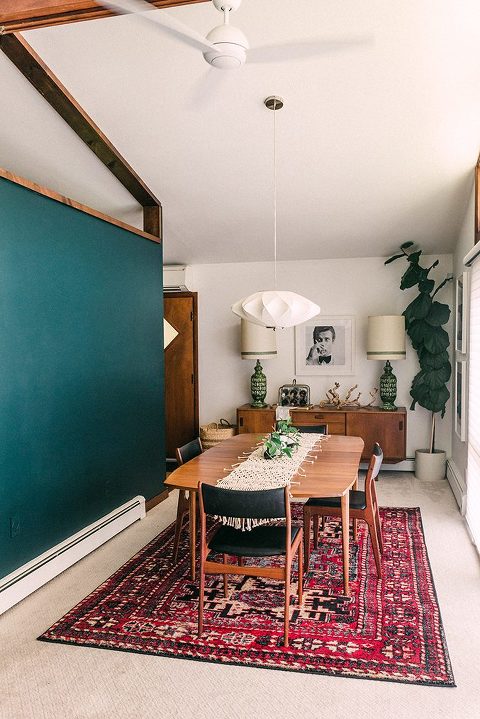 P.S. Just a little housekeeping update that I'm taking the rest of the week off to celebrate the Fourth of July holiday with friends and family. Feel free to follow along with my behind-the-scenes antics on Instagram this way!