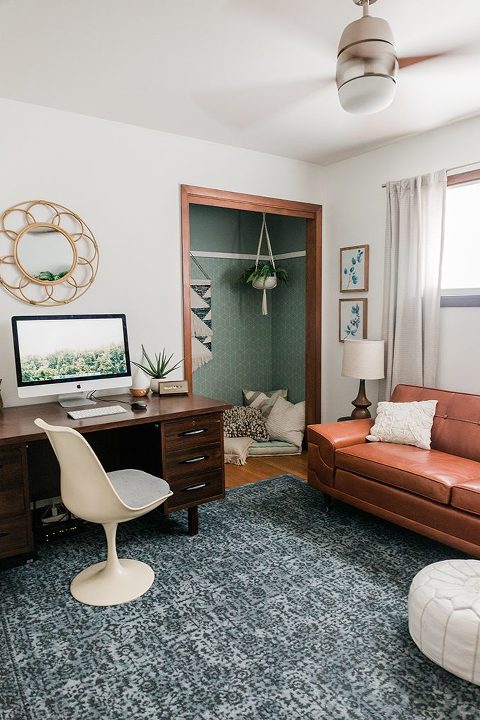 Now that our 2019 home tour is officially live and out there for the world to see, I thought it would be fun to go room by room through our retro ranch and break down how to get the look in your own homes.
To be honest, it still blows my mind a little that anyone would think our rooms were cool enough to replicate, but one of the most frequently asked questions I get online is "Where did you get that?!" so it's time to make the lists a little more official. By the way, I am incredibly flattered each and every time someone asks that question—you guys always know how to make me feel like a million bucks!

Get The Look Of My Mid-Century Office:
1. Mid-Century-Inspired Leather Sofa ($1,399)
2. Boho Handmade Pillow Cover ($25)
3. Faux Snake Plant ($65)
4. Essex Damask Tufted Rug ($135)
5. Moroccan Leather Pouf ($65)
6. Large Display Digital Clock ($20)
7. Business Card Holder ($5)
8. Stacked Cubes Removable Wallpaper (custom price)
9. Rattan Mirror (similar) ($29)
10. Cube Bookcase ($114)
11. Modern Upholstered Swivel Chair ($137)
12. Executive Desk (similar) ($2,699)
My office is actually one of the most evolved rooms in our house. If you've been following along since we moved back in 2015, then you might remember how my office started out in what is now our guest room. We made the room swap after living here for a year or so, which was just enough time for me to realize that my office didn't need to be in the second largest bedroom. Our third, more pint-sized bedroom was juuuuuust right to keep my office items organized and accessible.
The most recent furniture addition to my office was our vintage leather sofa. We moved it from the living room into my office to allow me more lounge space when I just can't stand the thought of sitting at a desk for another minute (I'll use my laptop from the comfort of the leather sofa instead). We also use my office to keep the cat "stuff" close at hand. The cube shelf is perfect for holding all of their food and water bowls, and we've since turned the office closet into a litter box station—kinda gross but, unfortunately, necessary. Good thing our kitties are more than worth it!
So that's a basic breakdown of everything you need to get the look of my office. Hop over to our full 2019 home tour if you want even more resource information for this space (and all of the other rooms in our house), and let me know in the comments section for this post which room you'd like to see next. Maybe our master bedroom? The dining room? Leave your vote below!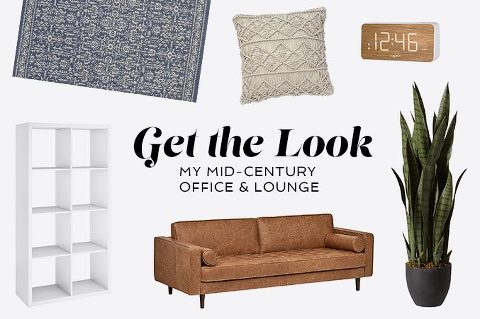 *I earn a small percentage from purchases made using the affiliate links above. Affiliate links are not sponsored. Rest assured that I never recommend products we wouldn't use or don't already love ourselves.