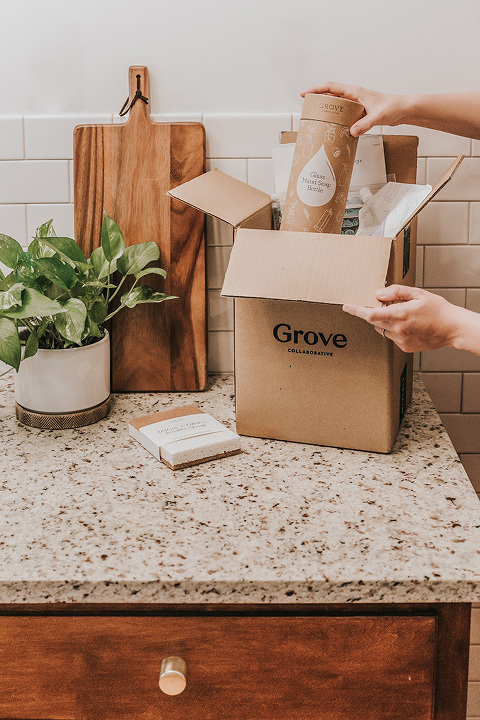 *This post was sponsored by Grove Collaborative
The other day on Instagram, I happened to see a post that really resonated with me. I'm not going to quote it exactly because I honestly can't find it anymore, but it said something along the lines of, "Thank you to the person who recycles their cardboard boxes, but uses plastic straws. Thank you to those of you who ride your bikes to work, but throw away plastic bags." The quote goes on to thank people who make good choices while simultaneously making bad ones.
It was a simple thing to read, but it really brought a point home to me: we can make some sustainable changes, but not all of them, and that's okay. Every little bit helps! The realization gave me the push to keep trying, even while knowing full well that I won't ever be 100% perfect.
Today, I'm teaming up with Grove Collaborative to help inspire you to try making simple sustainable swaps in your own homes—not because we think you'll end up single-handedly saving the planet, but because you'll live better in whatever unique way you choose!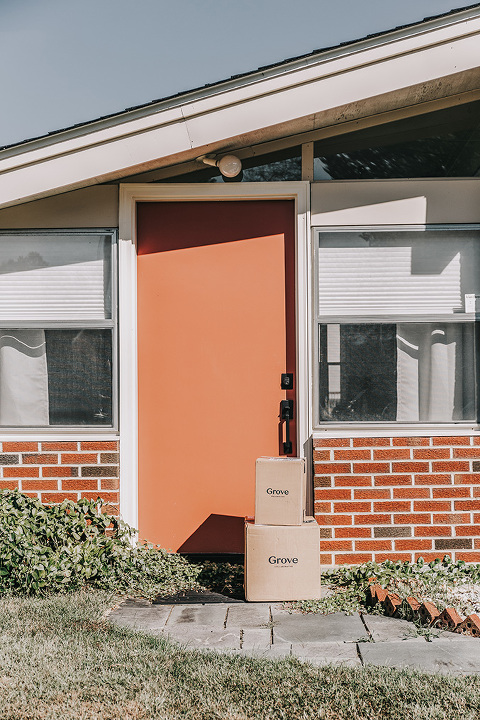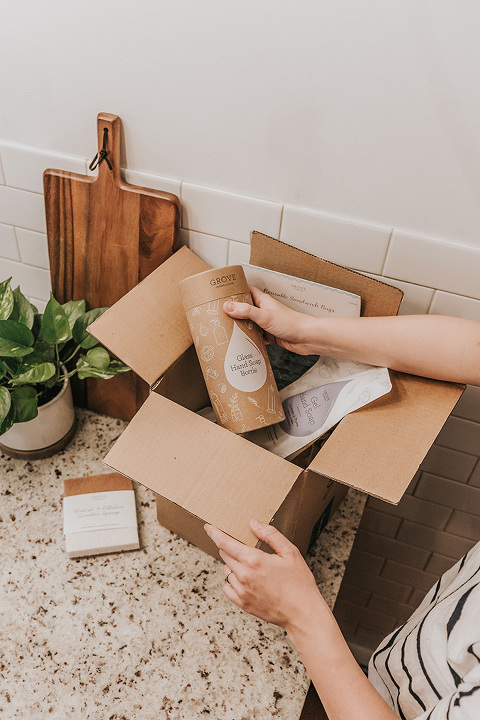 So, why Grove? In case you're just now hearing about the brand, Grove is a customizable mail order subscription service that offers all sorts of natural personal care, beauty, and home cleaning products. All you have to do is create an account and fill your cart with your most-used (or most-want-to-use!) cleaning and care products. Next, you'll key in payment and shipment info, then you're done.
After a few orders, you'll figure out what you use most, and afterward you can set things up on a recurring subscription basis so you don't even have to think about it. Your favorite good-for-you products show up at your door automatically, ready to use. You can change your order or hold a shipment at anytime without penalty, too, so no need to worry about blowing your budget on stuff you don't need.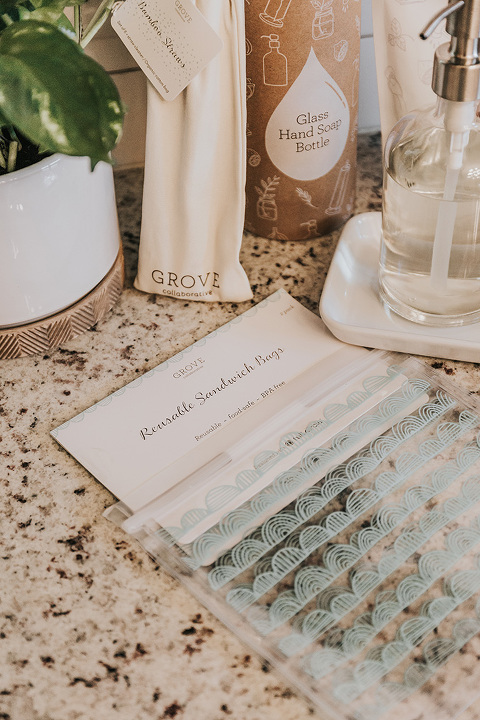 My favorite thing about using sustainable, responsible products at home is that, when other people see you making those small sustainable changes, the effect snowballs. Every household has its own priorities and routines, so your order will never be exactly the same as your neighbor's, but you can bet that anything that comes with that Grove seal of approval is going to be safe for you and the planet. It might sound a little cheesy, but, guys…it's so true! Every. Little. Bit. Helps.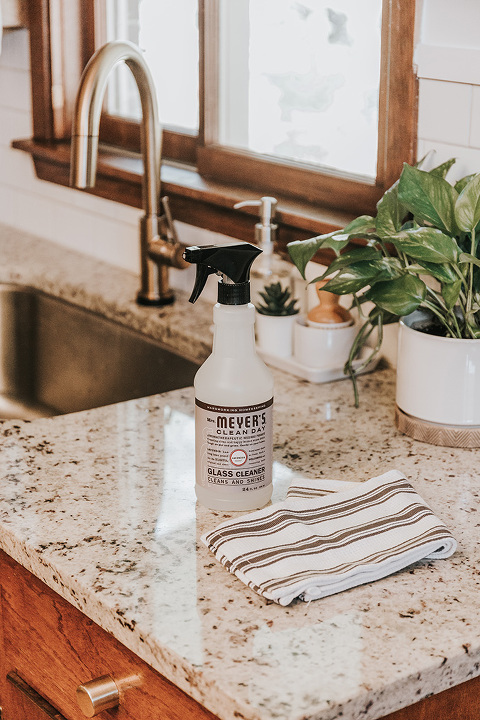 So how about that motivation and inspiration I promised?! Keep scrolling to hear about a few of the swaps I'm made and products I've tried lately that make me feel like I'm contributing to the greater good.
My Favorite Sustainable Swaps:
1. Instead of buying single-use hand soap dispensers to keep by the sinks in our house, I picked out reusable pumps that I can fill as-needed with liquid hand soap. For example, I keep a pretty clear glass container by our kitchen sink, and fill it was this synthetics-free gel hand soap whenever we're running low (the 'Lavender & Thyme' scent is my favorite).
2. We actually just started doing this a few weeks ago, and we're not 100% perfect at it yet, but we're trying to be better about using reusable sandwich bags. These food-safe, BPA-free bags are easy to clean, and are leak-proof so you don't have to worry about tossing your lunch inside a bag on the way out the door.
3. I talked the other day about making the switch to wool dryer balls, and it's worth repeating. You can stop buying throw-away dryer sheets, and Grove even has a set available that includes the wool balls and an essential oil blend. Once you make this swap, you'll never go back. Trust me.
Note: You can get many of the products I linked to above for FREE with purchase if you use this link to shop.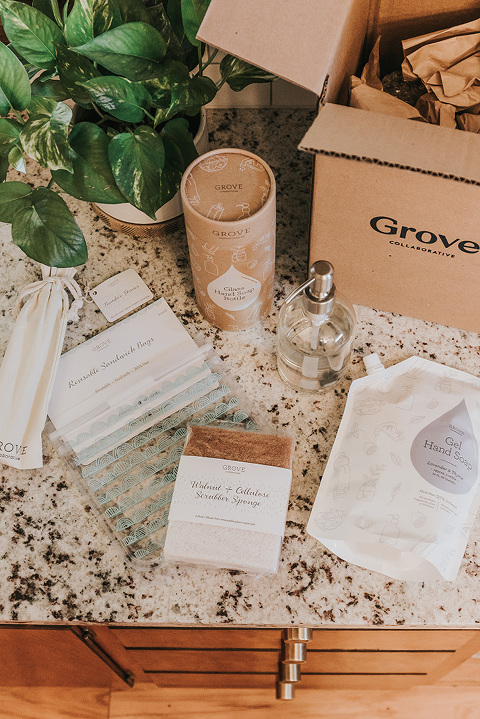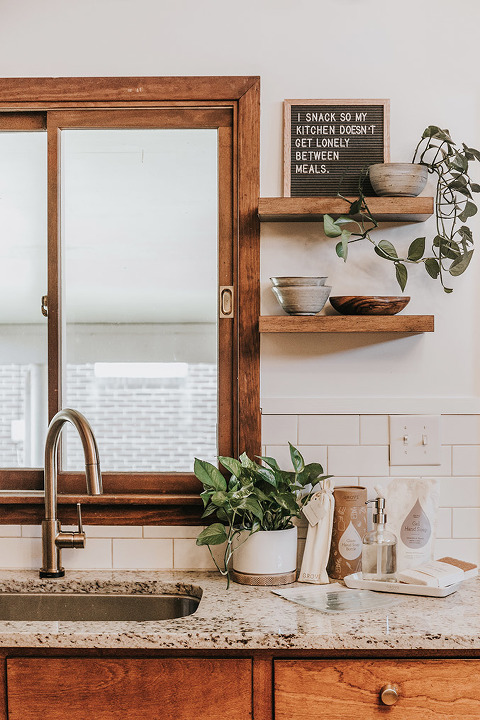 If you haven't caught on, my favorite types of swaps are those that help eliminate single-use products from our shelves, cabinets, and counters. I'm not too proud to admit that good design informs most, if not all, of the decisions I make about what I bring inside our home. The good thing is that the design of reusable products has come a long way, and they're usually prettier than disposable household products now. The point is, reusable is always the way to go in our household. Have you tried doing that yet?
Oh, and I just happened to spot this little nugget on the Grove Collaborative website while I was grabbing links for my list above, but apparently you can schedule a live call with Grove Guides who are product experts and can help recommend a custom collection of all-natural products that are specific to your family's needs. Do it and you get 15% off, too! That's pretty darn cool, if you ask me. Click here to schedule.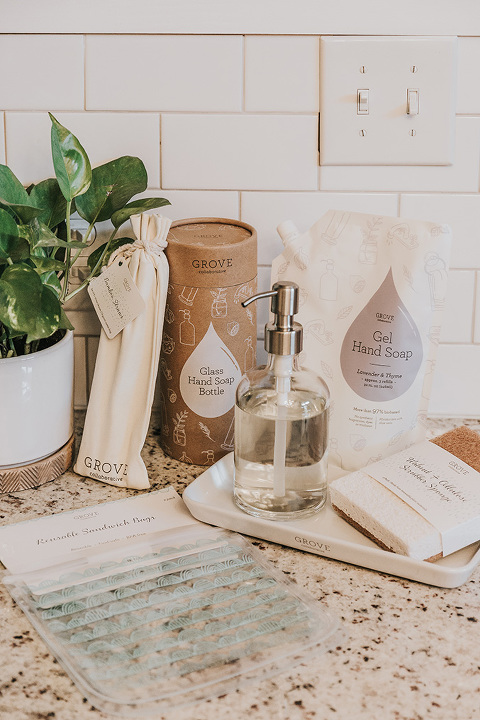 Anyway, it really is exciting to make good choices! We're all so busy and frazzled these days, it seems, and I haven't been feeling all that great about what I've been contributing to the world in between all my daily to-dos. If I can help make even a tiny difference using things like reusable sandwich bags and cleaning bottles, you better believe I'm going to be all over that.
Check out the Grove Collaborative website for more information on how to make your own type of change, and use this link to get a bunch of free goodies along with your first order of $20 or more (included: Bamboo Straws, Reusable Sandwich Bags, Hand Soap Pouch, Hand Soap Dispenser, Walnut Scrubber Sponges, and a 60 day VIP trial). Now, tell me in the comments below: What sustainable swaps will you try making first?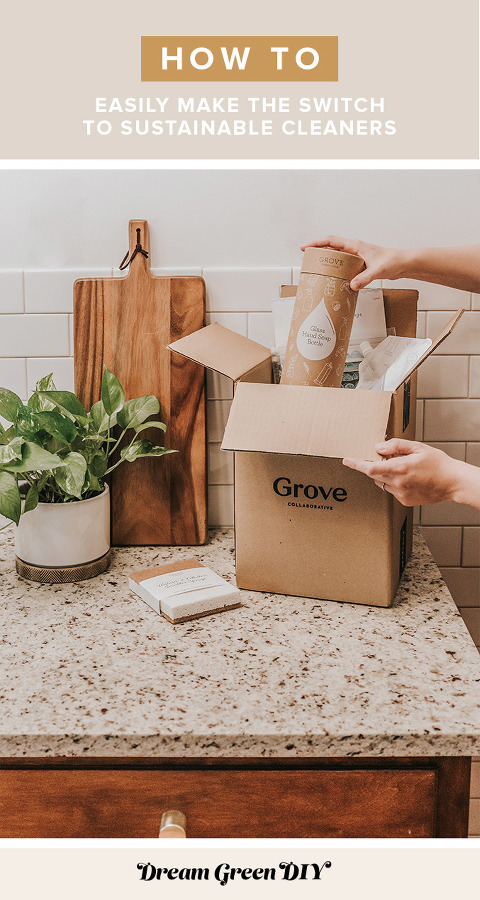 P.S. For those of you with eagle eyes, yup, you're getting some pretty major sneak peeks into our mid-progress kitchen renovation! Don't worry, though. There's plenty more to see, so these photos are just mini spoilers. Stay tuned!