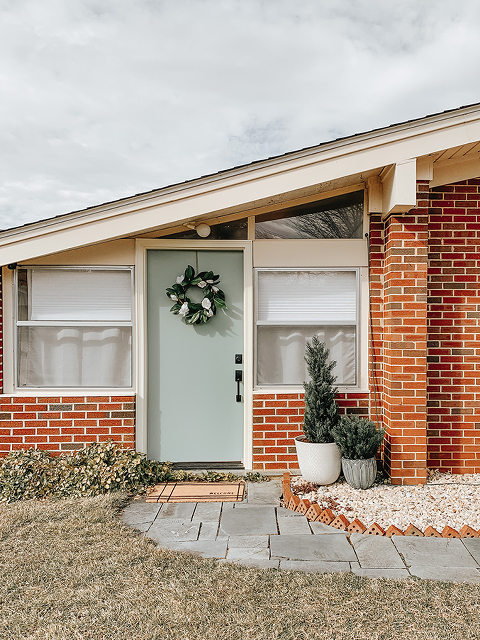 I'm curious…How's the weather where you are right now? Are things starting to heat up? We're experiencing sort of a mixed bag here in Virginia (bouncing from cloudy 52-degree days, to sunny 65-degree afternoons), but the hope of consistent warm weather has gotten me outside despite the lingering winter chill. If you're planning to get outside this weekend to work on sprucing up your yard, like we are, keep scrolling for a weekend link roundup featuring landscaping inspiration and curb appeal updates to make while you're enjoying the spring sunshine.
WEEKEND INSPIRATION: NO.132
1. John and I just placed an order for a brand new shed, which means we have big plans for a backyard overhaul! Click back to this post showing all the before photos of our retro home right when we moved in to give you a good idea of just how much work we have to do, haha.
2. As you may know if you follow along with me on Instagram, we've also been working on sprucing up our front yard. My favorite update is that we repainted our front door a robin's egg blue color called "Halcyon Green."
3. I have a confession to make. The two evergreen plants you see pictured in today's post are fake! I never remember to water outdoor plants, so these maintenance-free shrubs are perfect for me.
4. My trick for making faux plants look real (whether you use them inside or out) is to actually pot them with real soil in real planters. I used this large light gray pot from Lowe's and a blue ceramic one to "plant" our two faux evergreens in, and I think they'd fool just about anybody.
5. A cute door mat is an easy way to make your entry look more welcoming this spring. A nice floral wreath does wonders for making a good first impression, too!
6. We might have a couple of fake plants up front, but John and I are planning on planting real versions of those evergreens as a privacy screen in our back yard next month. Try mixing real and faux plants around your property this spring to maintain good balance with your landscaping.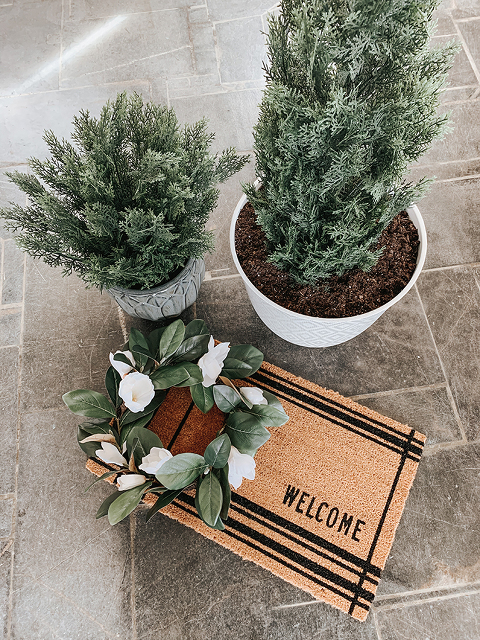 *I earn a small percentage from purchases made using the affiliate links above. Affiliate links are not sponsored. Rest assured that I never recommend products we wouldn't use or don't already love ourselves.