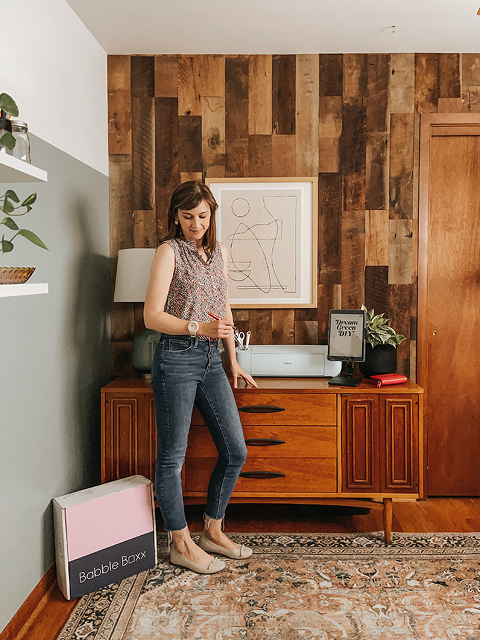 **This post is sponsored by BabbleBoxx.
This year marks the eleventh anniversary of when I launched my freelance writing and photography business, so I thought it would be fun (and informative!) to talk through four of the items that help keep me on my toes each week while working toward deadlines and through my projects list. Keep scrolling for the scoop on my favorite products from Twelve South, Cricut, Levenger, and G-SHOCK.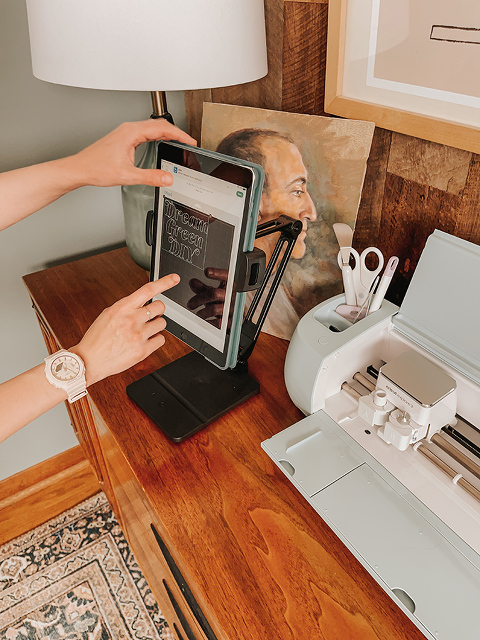 1. Sturdy iPad Stand
I treated myself (and my business!) to an iPad this year, and have been using it for all sorts of things since it arrived. I use it for video editing and capturing clips of projects, and also for browsing the web and answering emails. It wasn't long before I realized that a tablet stand was going to be a crucial addition to the setup, and now I love my new HoverBar Duo.
This particular holder is fully adjustable so I can customize the angle for each different project I'm working on, and I can use it for hands-free work video calls, too. It comes with both a weighted base for tabletop use, and a shelf clamp so you can clip it to, say, the bottom of a cabinet while cooking from a recipe in the kitchen, or on your easel while painting. This iPad stand is definitely not just for business stuff! I should mention that it works with smart phones and other types of tablets, as well—you don't have to use it with an iPad.
Watch this video to see several different ways to use the HoverBar from TwelveSouth, and use code "HoverBar" at checkout now through June 30 to get 15% off your own adjustable stand.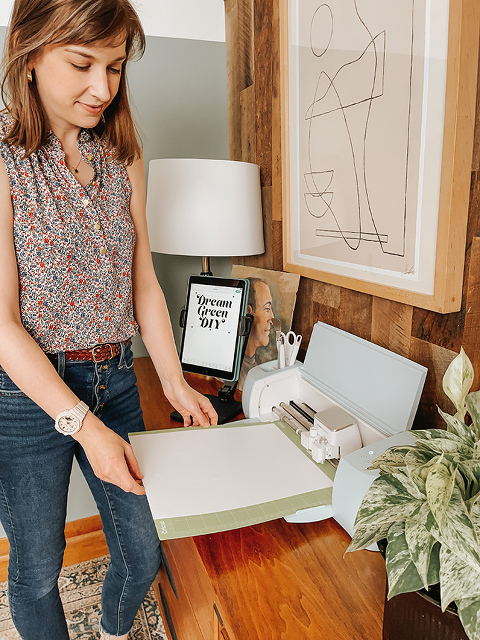 2. Cutting & Crafting Machine
Can you even consider yourself a true DIY-er if you don't own a Cricut machine?! Well, I'm sure you can, but you won't be nearly as efficient. Teasing aside, I just added the all-new Cricut Explore® 3 to my office, and it has been a blast to play around with. With it I can cut, draw, write, gold foil, and score in minutes (sometimes seconds!) with precision, plus it works with more than 100 different types of materials, like cardstock, vinyl, and even bonded fabric.
I've heard that this machine is up to two times faster than its predecessor, too, which makes a big difference to me when I'm on a deadline. I had a Cricut machine years and years ago in our old house (I, sadly, had to sell it before we moved because we didn't have room), and I can already tell that this upgraded model is much faster than my old one. It still enables me to create the same beautiful craft projects, though, so I'm getting all the benefits, plus some.
I love the idea of using it to craft custom cocktail recipe cards, menus for dinner parties, holiday banners, and, of course, lots of custom things for my business, too. I made a vinyl sticker version of my logo that I was able to stick to the cover of a plain notebook to turn it into a branded to-do list holder (see it pictured below). I am newly hooked on this cutting machine, and highly recommend adding one to your business so you can make custom design work much easier and faster.

3. Professional Quality Pens
I think it's probably pretty safe to say that if you're a business owner, you use pens regularly. I always, always have one within easy reach, whether that's in my bag for on-the-go note-taking, or when I'm at my desk writing out a list of things to do. I also like to carry one around in my tool box because I feel like I'm always having to jot down furniture or room measurements during makeover projects. I am one of those people who cares a lot about the quality of her pens, and so I swear by these from Levenger.
My True Writer Classic Sparkle Rollerball Pen has a cool look to it with all of those pretty, light-reflecting golden flecks, but what I care most about is the functionality. It's perfectly weighted and balanced, which makes it super comfortable to hold, and the way the ink glides so easily out of the gold-plated tip is kind of a dream.
I keep mine in the Carrie Leather Pen Case (could it be named after me?!) to keep my nice pens safe from scratches and scuffs. The pen case also has room for note cards, so I can jot things down and take notes along with me to the store or wherever I might be headed. These types of luxury accessories might seem like an indulgence, but I promise once you spring for them for your small business, you'll never be able to go back to older, cheaper versions.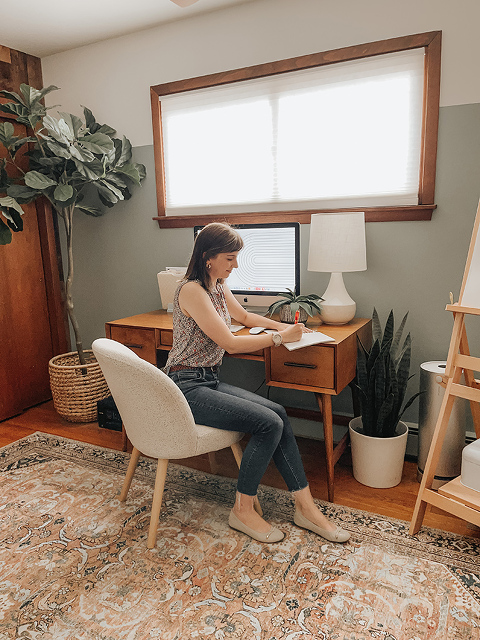 4. A Stout (But Stylish!) Watch
One of my biggest goals lately has been to carry my phone around with me less often. It's always such a distraction, and with it I inevitably try to multi-task, which we all know is never a good idea, especially if you're trying to run a business on your own. I used to rely on my phone for telling the time, but in an effort to "cut the cord," so to speak, I swapped my phone for a really nice, high quality everyday watch.
This is my first time wearing a watch consistently, and it took some getting used to, but, luckily, the one I got is really comfortable, so the habit was easier to establish. I'm using the G-SHOCK GMAS2100-4A, and love the minimalist design. The pale pink band and rose gold accents go with any outfit I want to wear, and the cool octagonal bezel is a feminine touch that I appreciate. It's heavy duty enough to be shock resistant, but lightweight enough to not be a burden to wear. I love that I don't have to worry about having it on while working with my DIY power tools—this watch is tough and can withstand the bulk of my building and renovation work. Grab yours from G-SHOCK this way.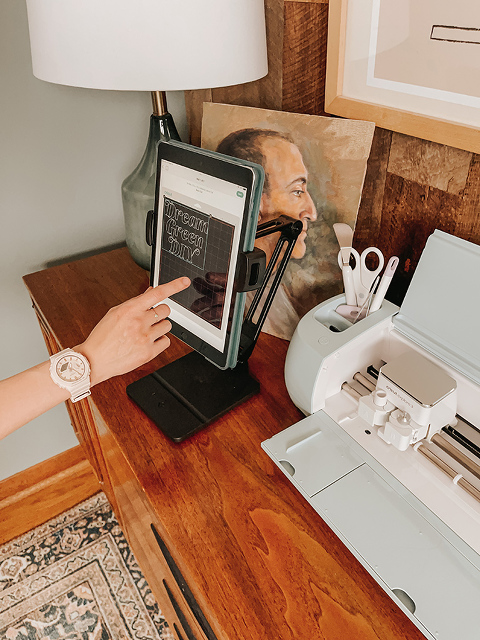 So, that's it! A quick rundown of the four most recent must-haves that I find myself using over and over again for my female-run small business. I hope you found my list helpful, and don't hesitate to let me know in the comments section of this post if you have any questions about the items I mentioned. If you have suggestions for other types of business/office must-haves, please share them below. I'm always happy to keep the conversation going!