*This post was made possible by the generous support of Lick, and features gifted product for testing purposes. All opinions are my own.
I love a good creative challenge, and this secondhand side table that I picked up last month definitely put my brainstorming abilities to the test. It all started with an offer to team up with UK-based paint company, Lick (the brand just expanded here in the US so now we Americans can take advantage of their collection!). The offer was for a sponsored Instagram post, which you can see here, but I wanted to give my blog readers a chance to enjoy the full transformation, too, so keep scrolling for the whole story.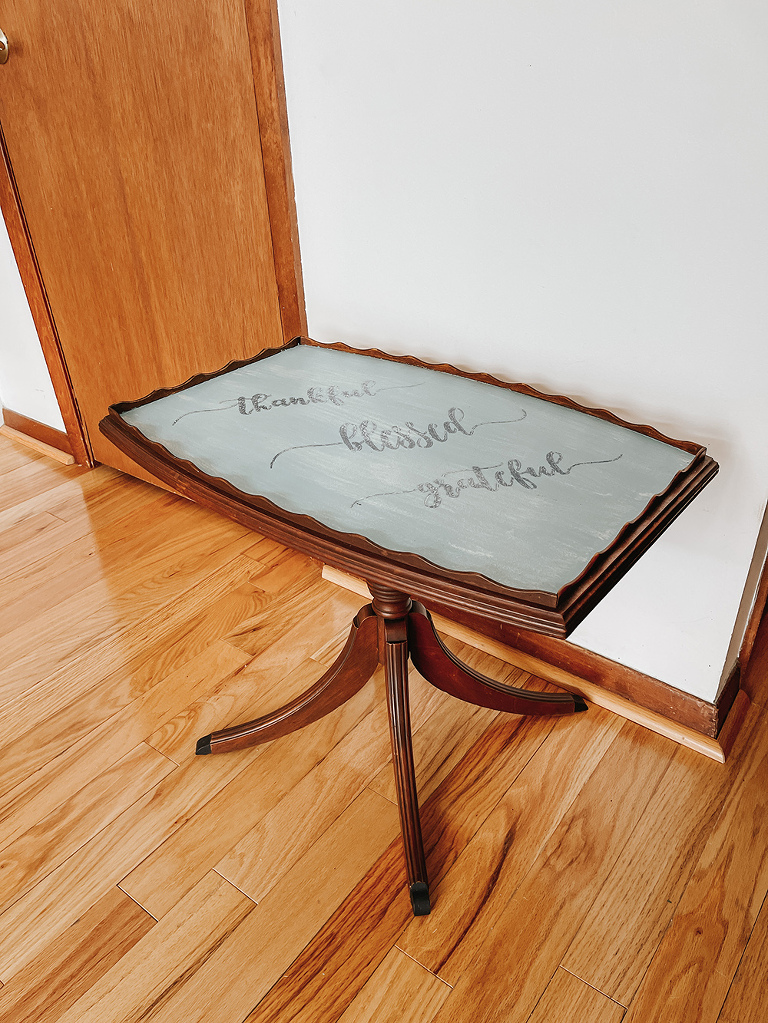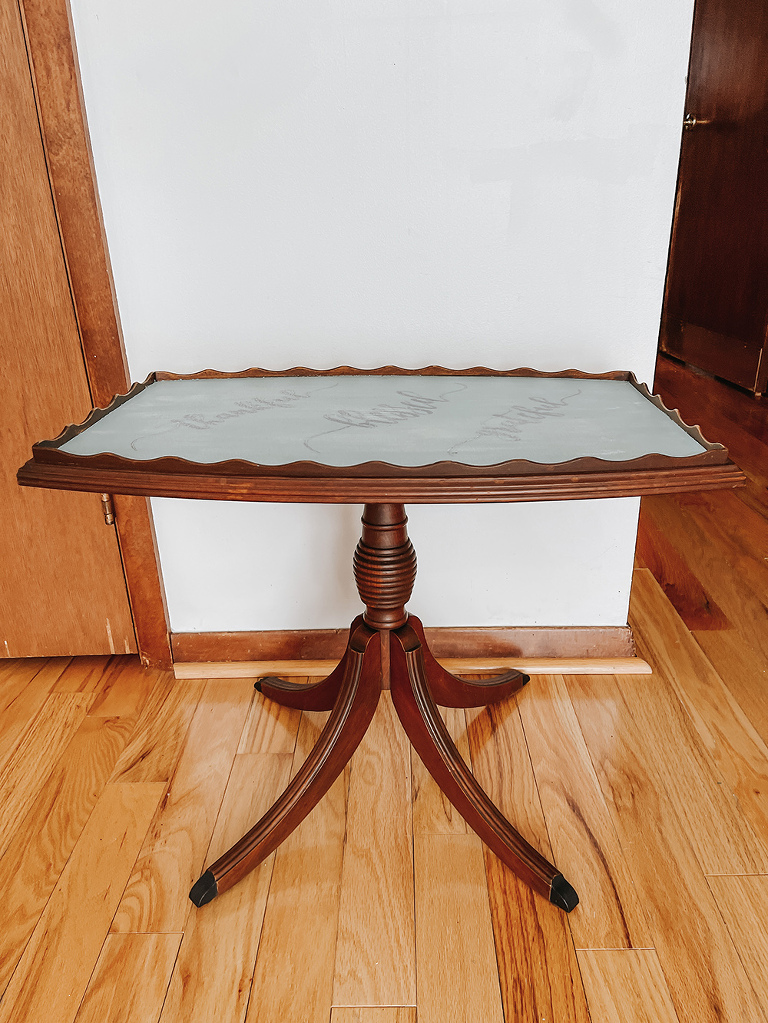 When Lick reached out to me to see if I wanted to try their paint, I just happened to be in a position where I didn't necessarily need any paint. I liked the colors of all of our rooms, and didn't really have time last month to dedicate to a full room makeover anyway. So, instead, I pitched the idea of a more manageable furniture upcycle project. Happily, the team at Lick were just as excited as I was at this prospect, so I got down to business trying to find the perfect piece to makeover.
I have a small side table in our lounge that I hadn't touched up until that point, but I wasn't sure that I wanted to change anything about it. In the end, I made a quick run out to a local antique mall to see if I could find a reasonably priced piece that was actually in need of a makeover. And that's when I spotted the curvy vintage side table you see pictured above.
I loved the shape of it, but the faux antique paint job on top coupled with stenciled words just wasn't my style. I don't think I was really alone in thinking that since the table had been marked down twice already, and was listed for just $35 the day I happened upon it. I decided to buy it so that I could give the table my own painted refresh, but this time in a slightly more modern way.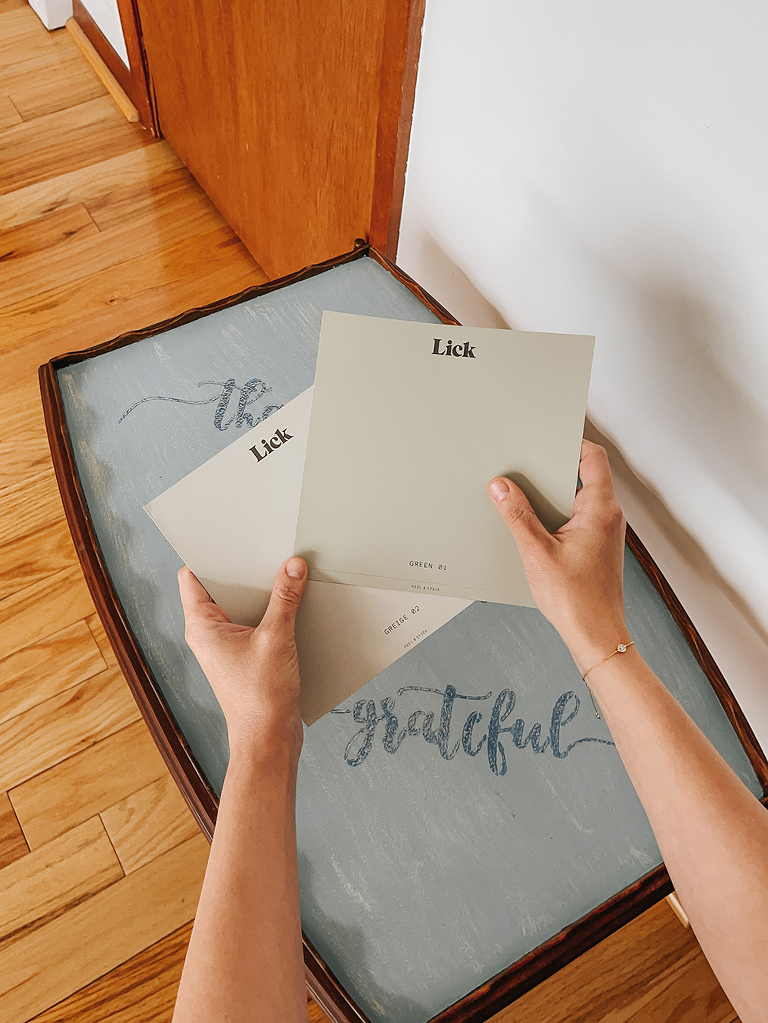 This was one of those projects that I didn't know exactly what my plan was going to be. I had received some peel-and-stick samples from Lick, and ultimately decided to order two light greige/green paints from their line, but I didn't have a firm plan until, basically, the day I sat down to work on the project. Rookie mistake, as you'll soon see!
Anyway, I ultimately settled on an impulsive idea to leave the base of the table unpainted and redo the top in a two-tone painted pattern that looked more modern. I ran a poll on Instagram to have my audience choose between four different patterns, and I finally decided on a half circles look. The first step was to sand the tabletop down, which I did using my cordless sander, and then I wiped the table down so that it was free of all sanding debris.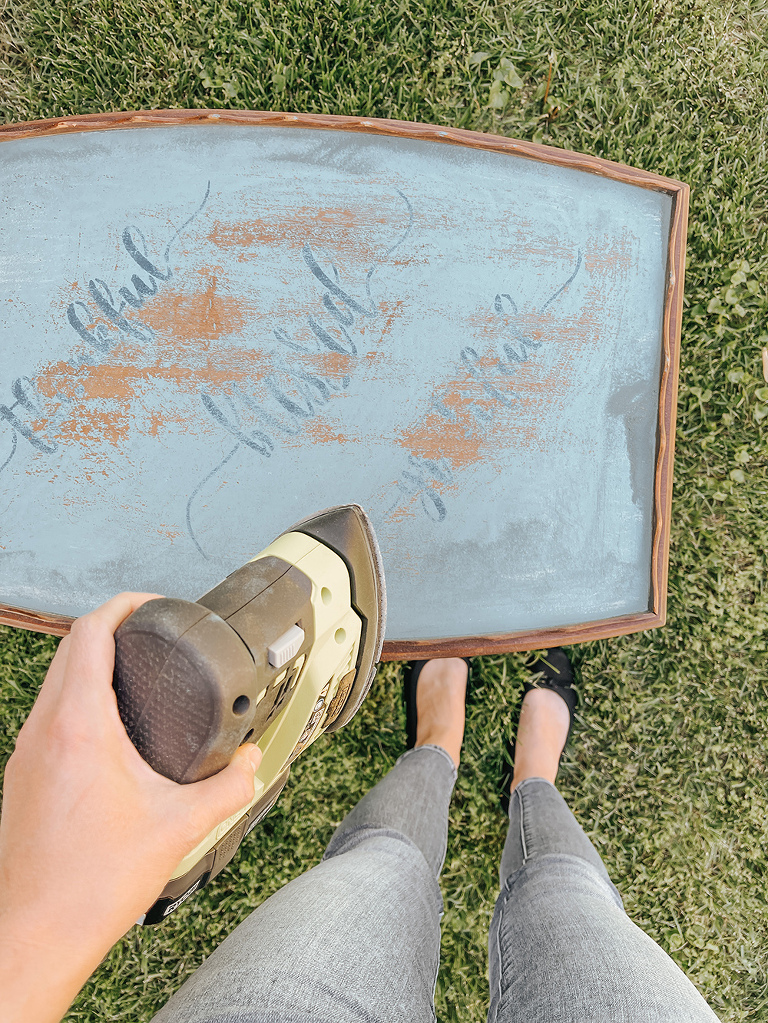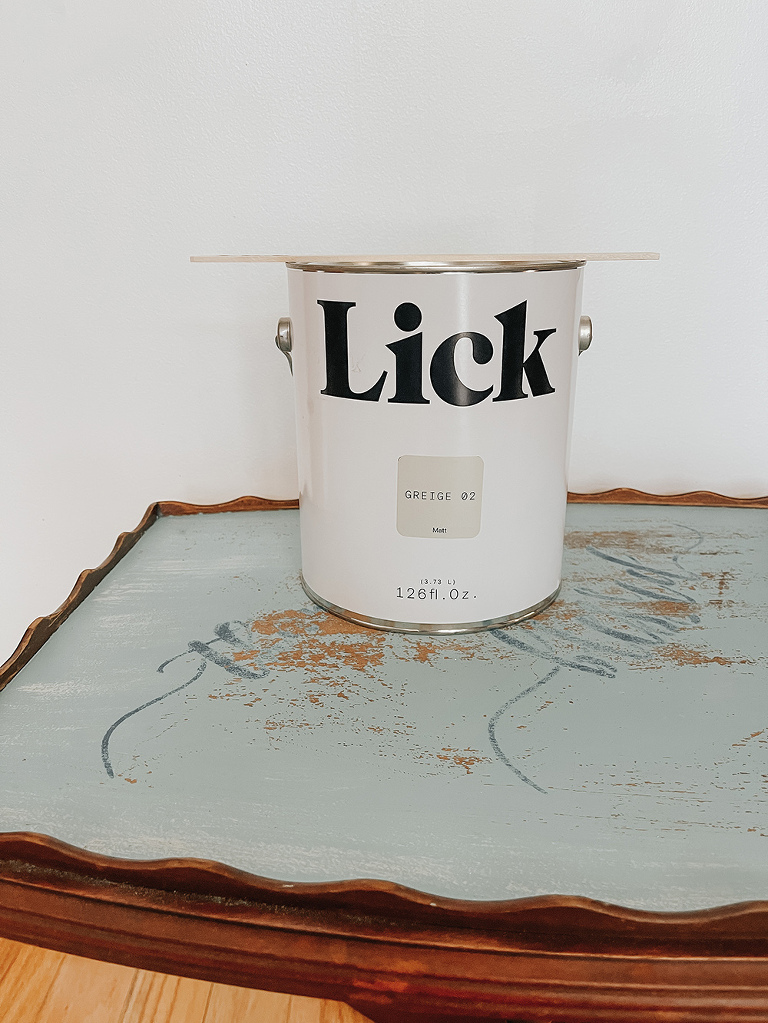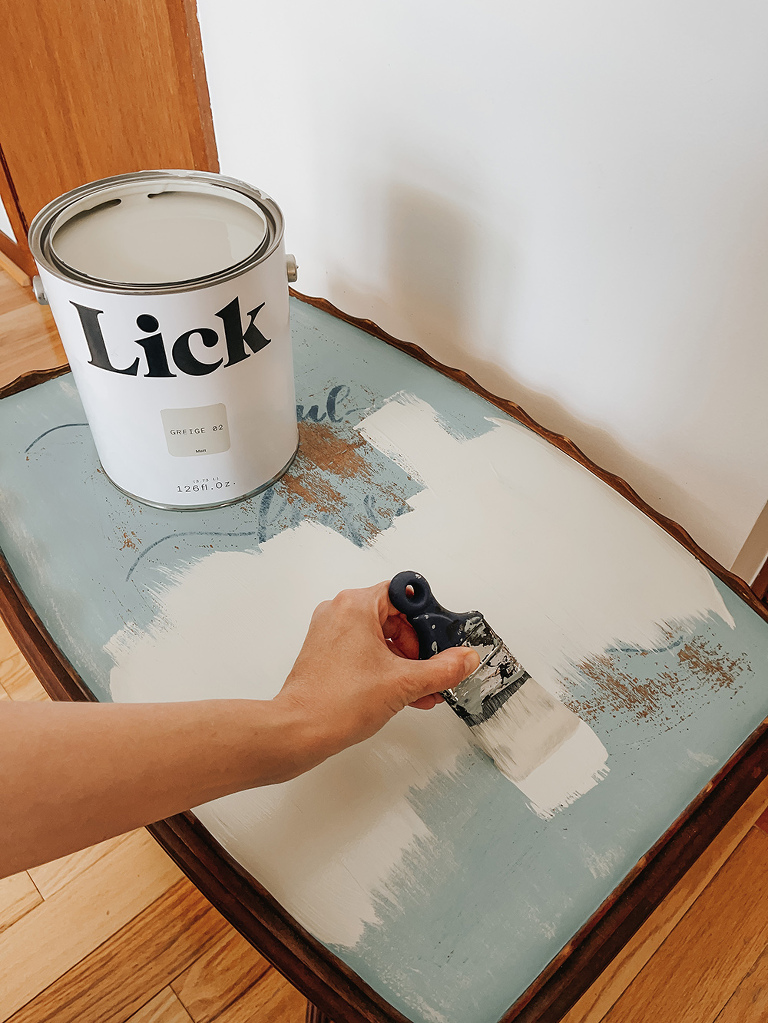 Then I painted over the old sanded-down design with my first new paint color, "Greige 02." The fresh double coat of creamy paint instantly elevated the look of the table, and I was feeling great about my plan. The next step was to create my pattern to go over top of the new greige-colored base of the tabletop. To do that, I traced the shape of a large mug onto paper cardstock, and then I cut those circles out. Then I folded the circles in half, and cut along the crease to create my half circle shapes. Next, I laid them out onto the tabletop in a random pattern.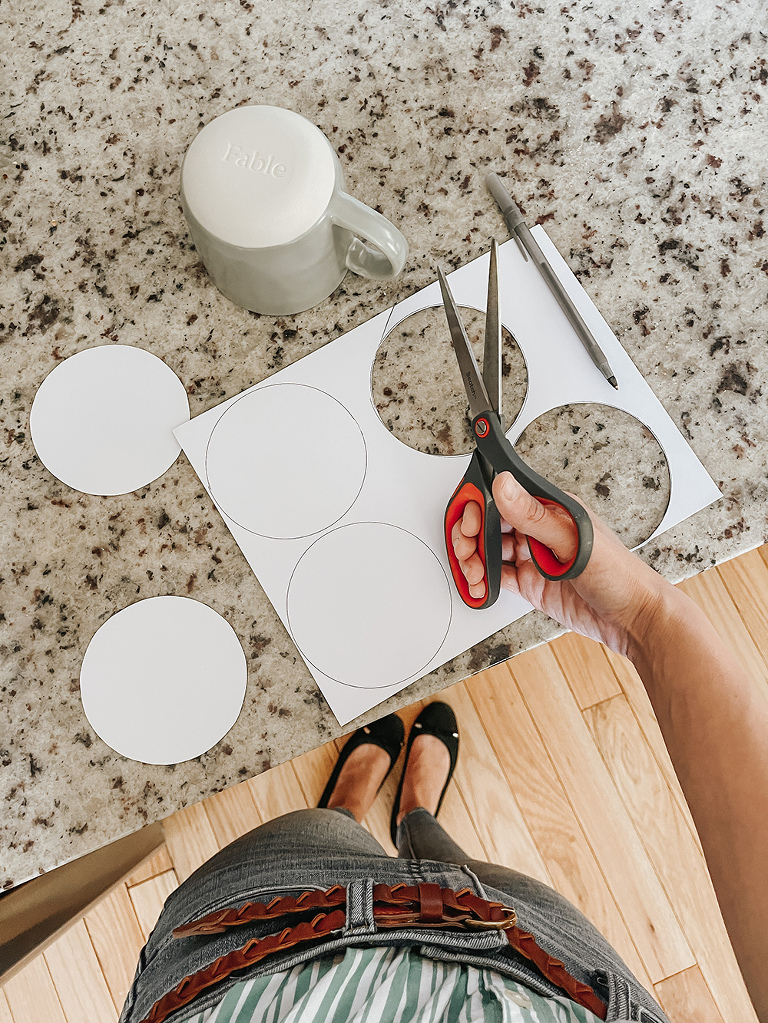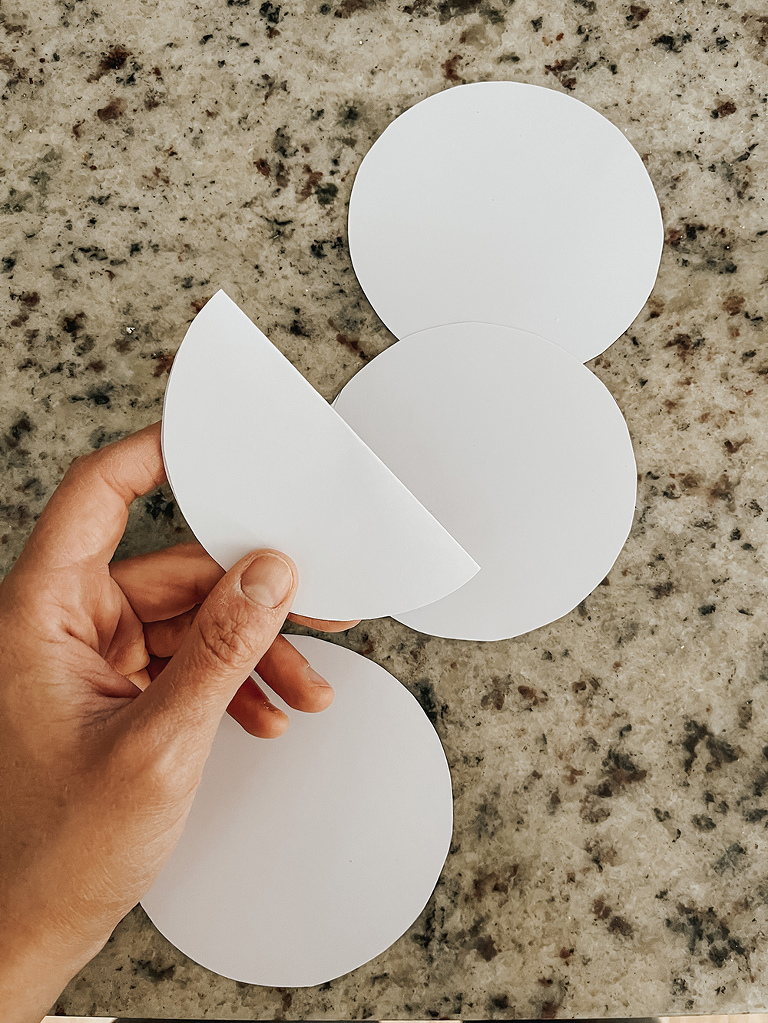 I was pretty excited about the look at this point. With the paper half circles laid out across the table, I could really start to see what the finished product could look like. Because the table is so traditional in style, the mod half circles felt like a really cool juxtaposition, and ultimately gave the table an edgy vibe that I was really drawn to. On to the next step!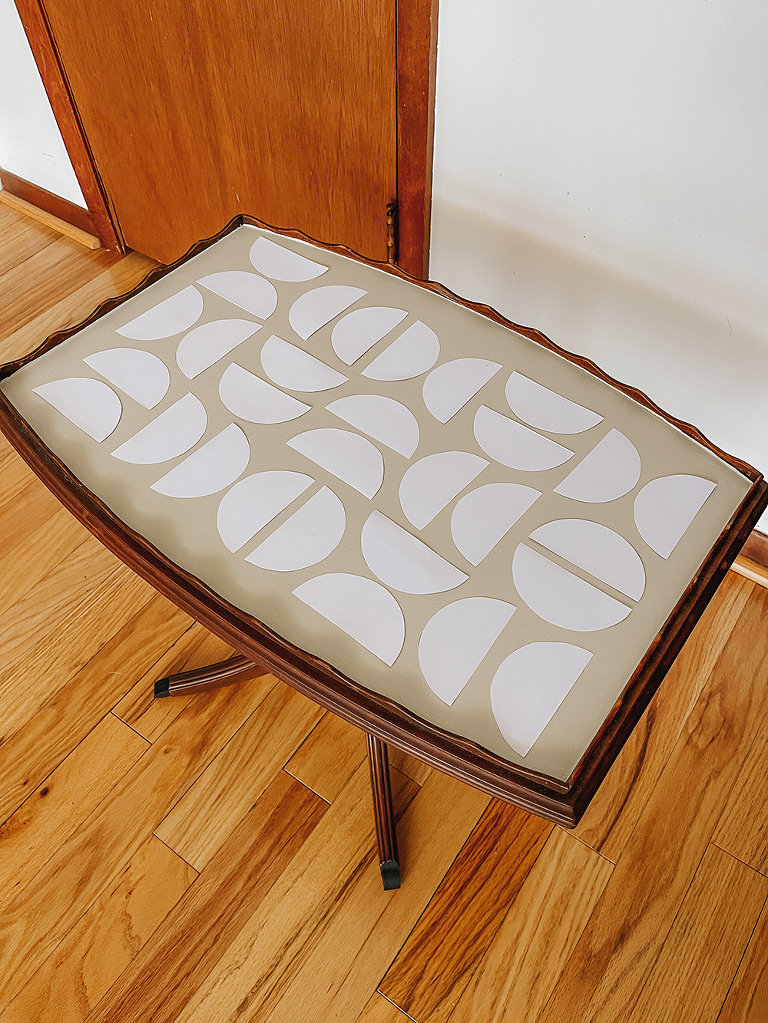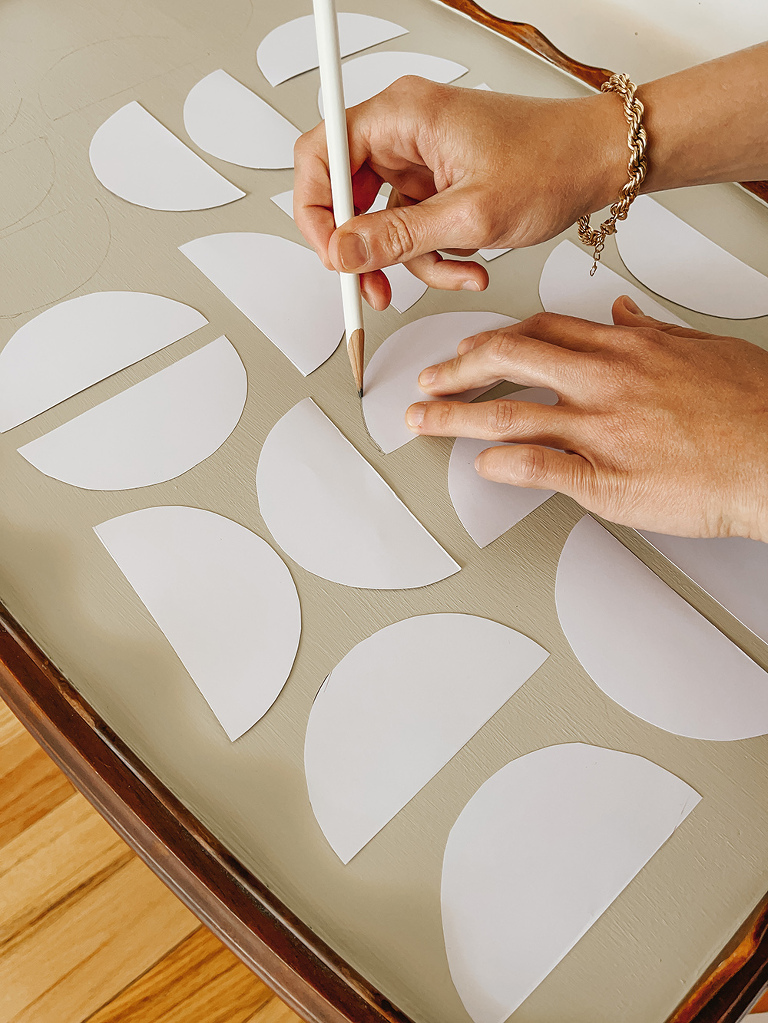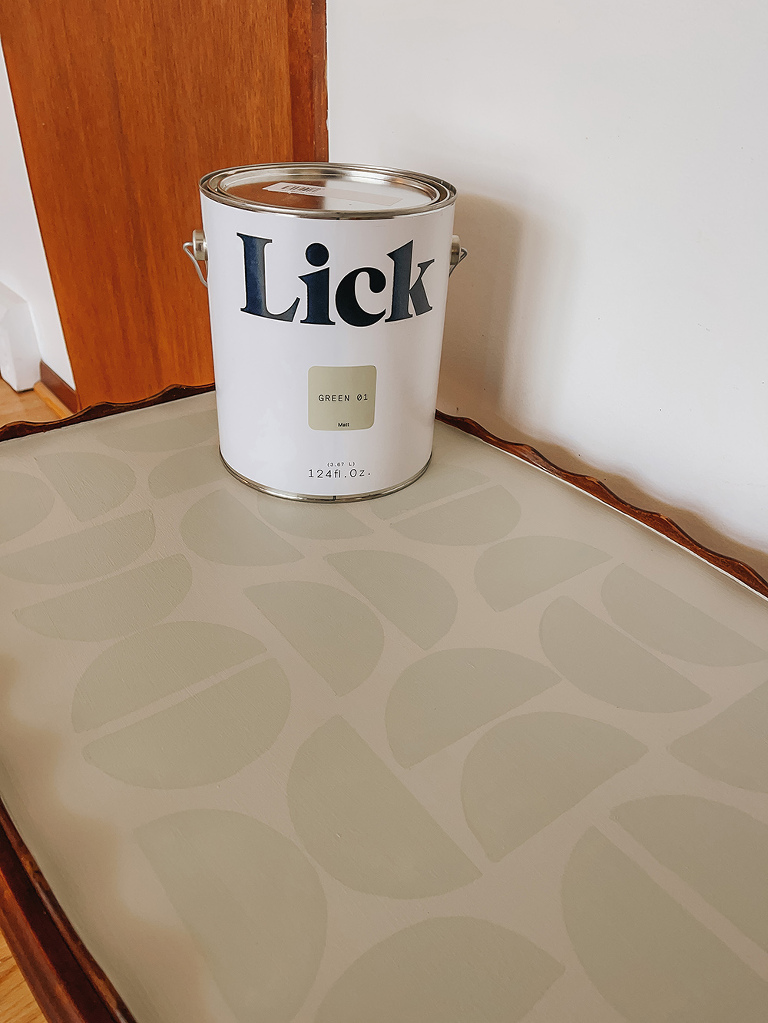 This is when things started going badly. I figured the best way to translate the half circles onto the table was to trace the paper shapes I had cut out and placed down, and then hand-paint inside the traced lines. That process went really well, and I was done in under an hour. When I stepped back, though, I found that I could barely see the half circles! The green paint color I had chosen was just too low contrast in comparison to the greige and you could barely see all of the hard work I had done the previous hour.
Oh, a quick note that the pattern actually looks more visible on camera in these pictures. In person, you could barely see it at all.
I proceeded to spend an entire day staring at the table trying to decide what to do (feeling pretty dejected, not surprisingly). I really didn't want to give up on the table or my half circle pattern, so I thought maybe I could trace the shapes to make them pop. I had a dark brown paint pen in my craft supply room, so I grabbed that and got to work tracing the half circles once again.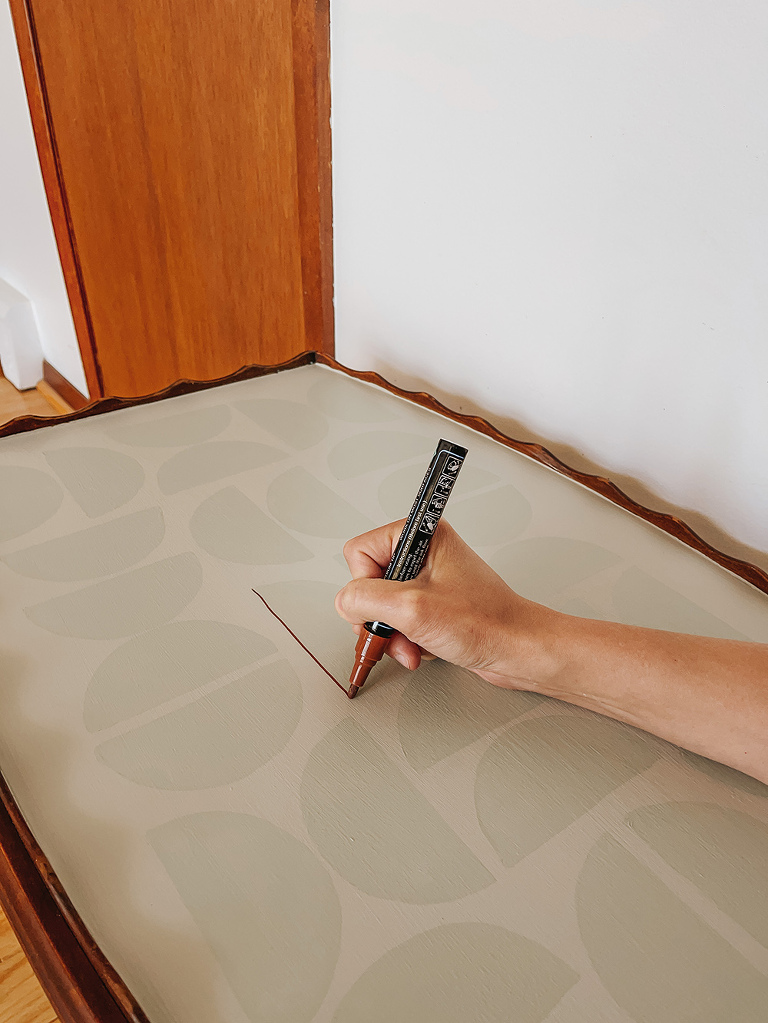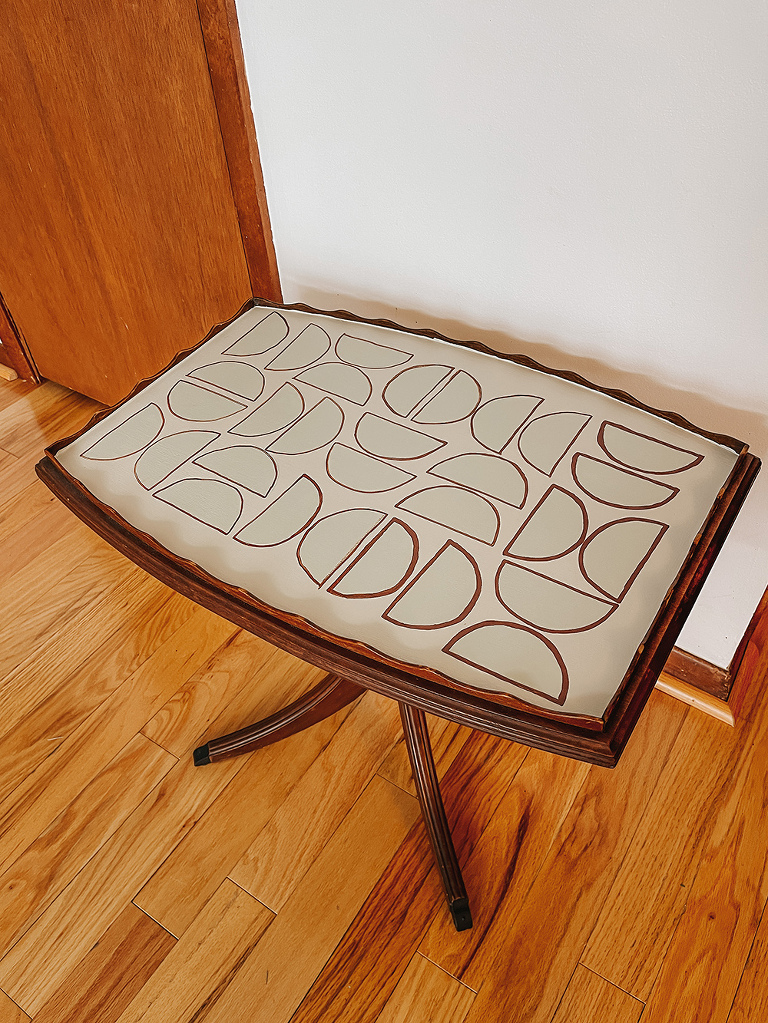 Unfortunately, the paint pen was a piece of junk and I ran out of paint halfway through the table (it was brand new when I started using it on this table!). I also felt like my unsteady hand was super obvious in the traced lines, even after I went back over them a second time to beef them up. I thought the brown paint would help add cohesion by matching the stained wood base of the table, but it just looked a little too bold and in-your-face at this point.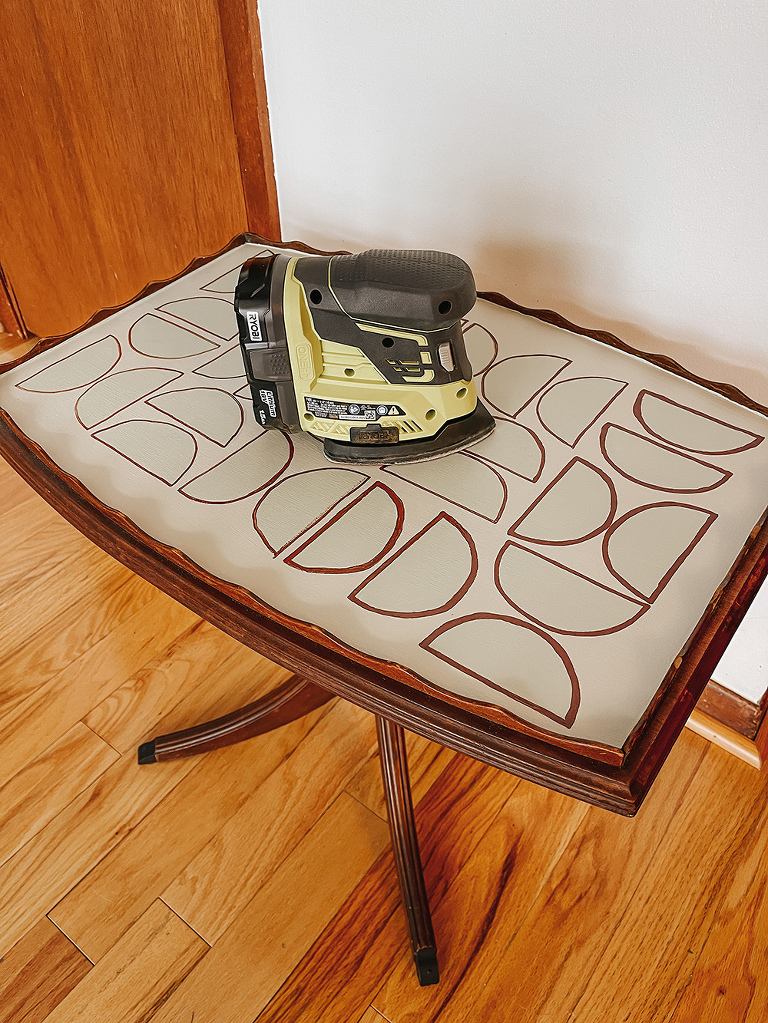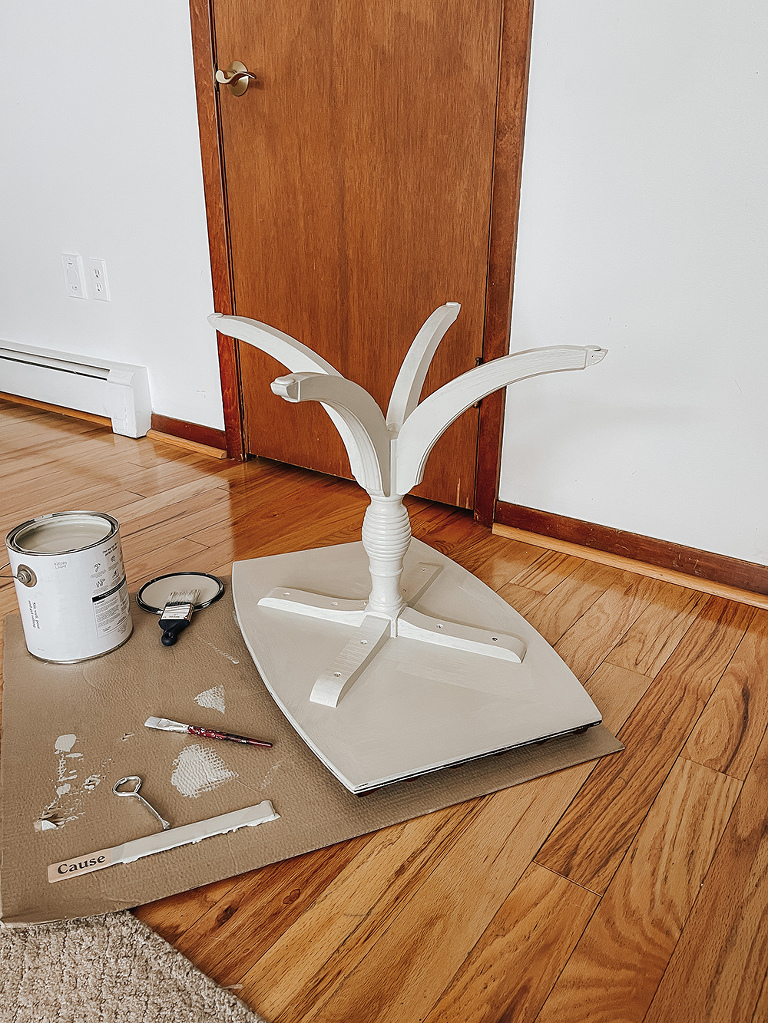 So, I made the difficult decision to start completely fresh. I went outside and re-sanded the tabletop, and then I went ahead and painted the entire table that pretty griege paint color I had started with. I didn't really want to paint the pretty stained wood, but I'm actually so glad I did because I think the light paint color actually highlights the shape of the table base—much more than the old stained wood finish did.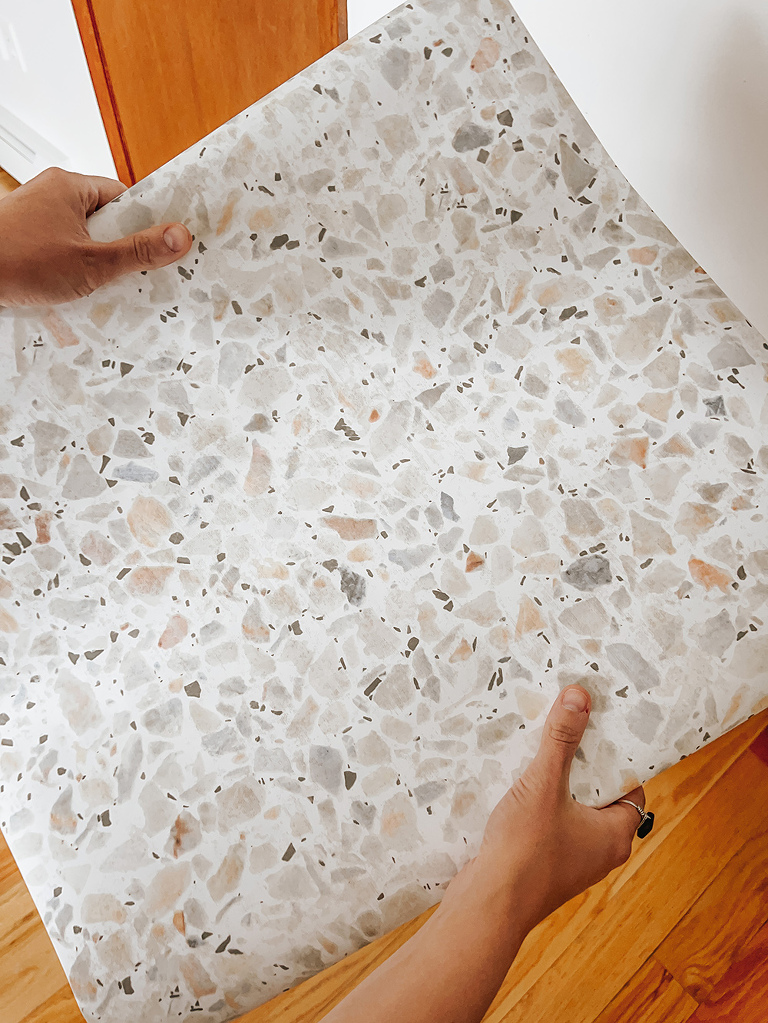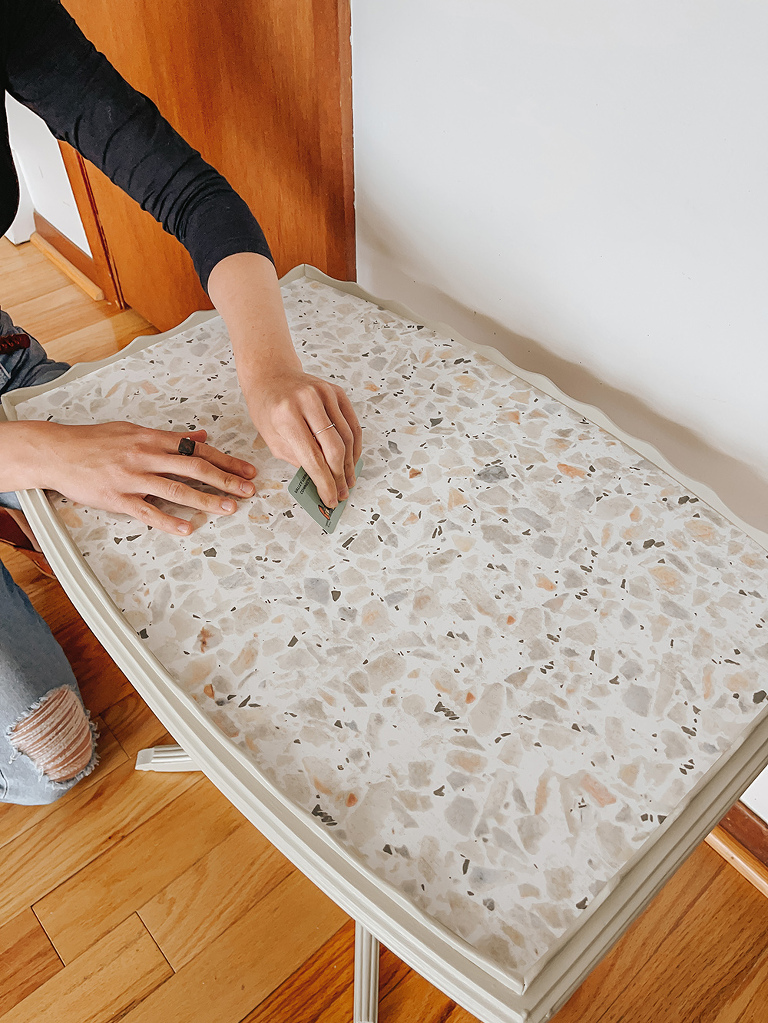 Lastly, I cut a piece of peel-and-stick wallpaper in a cool terrazzo style pattern to cover the tabletop, and then I was finished. Finally! I definitely think that fate had an ultimate plan for this table because I love it so much more now than I did during the first phase of this project. The lighter paint color is so dreamy along those swooping table legs, and the terrazzo wallpaper adds the perfect hint of modern appeal that I was going for. My initial DIY fail was meant to be, I think.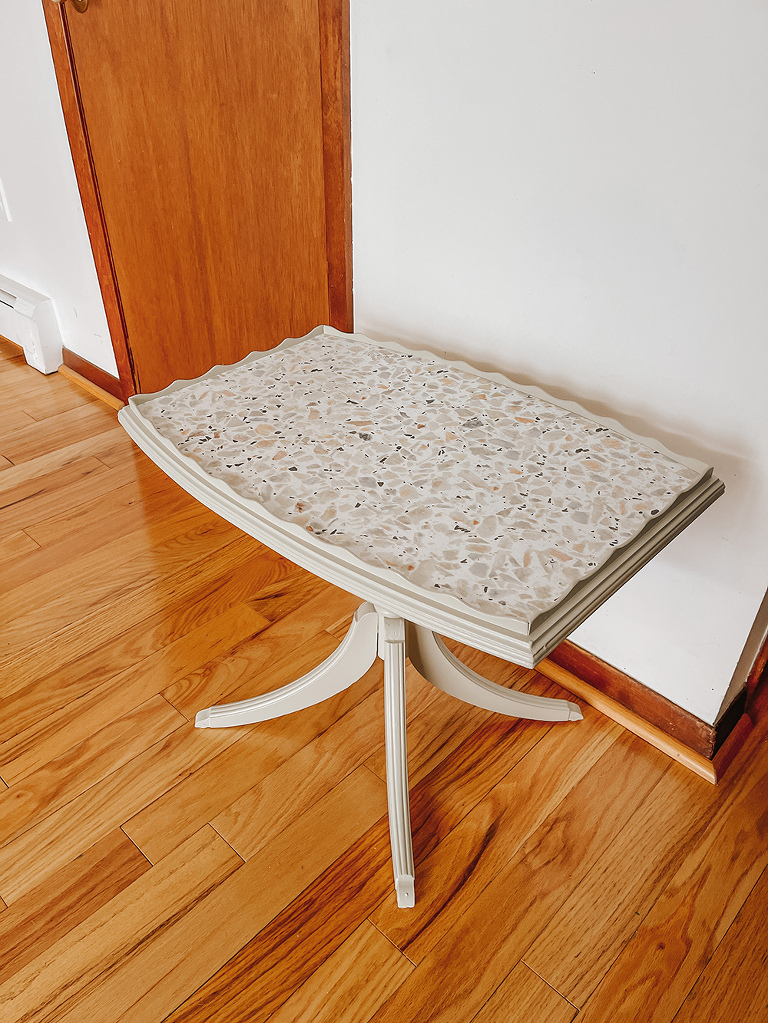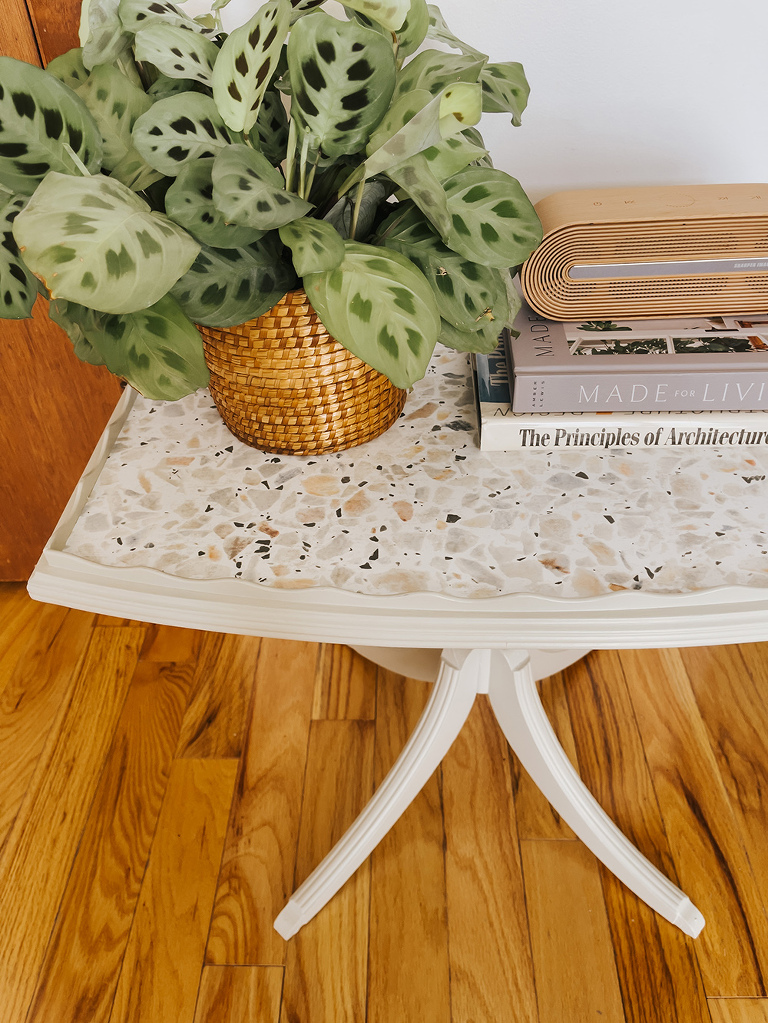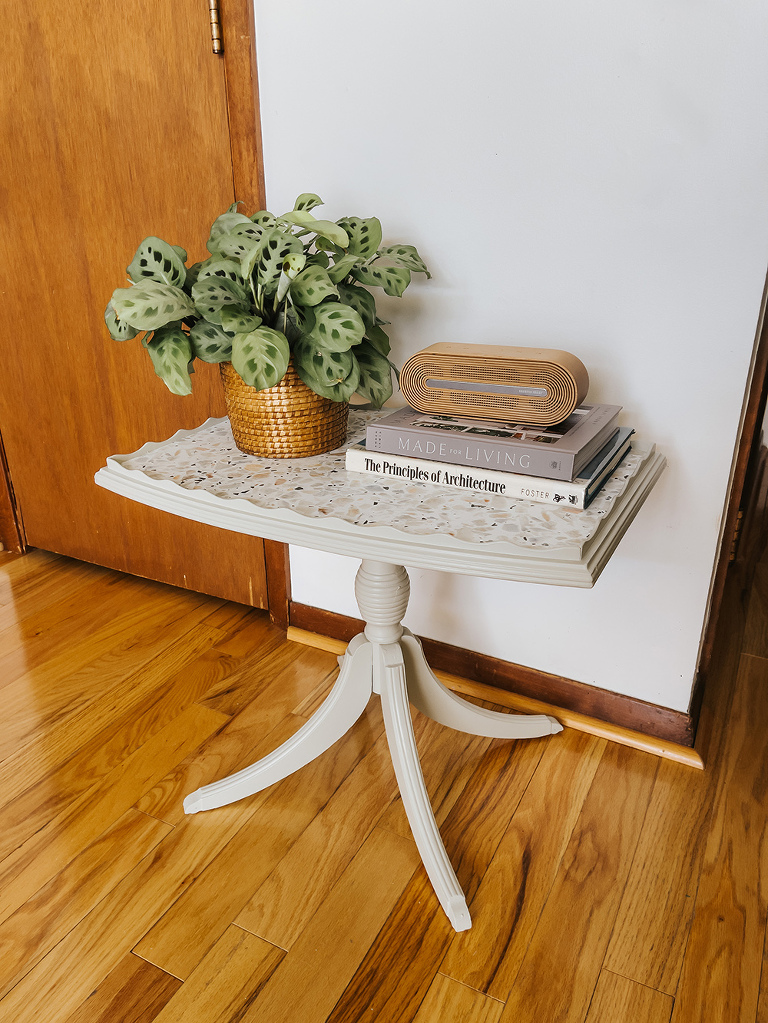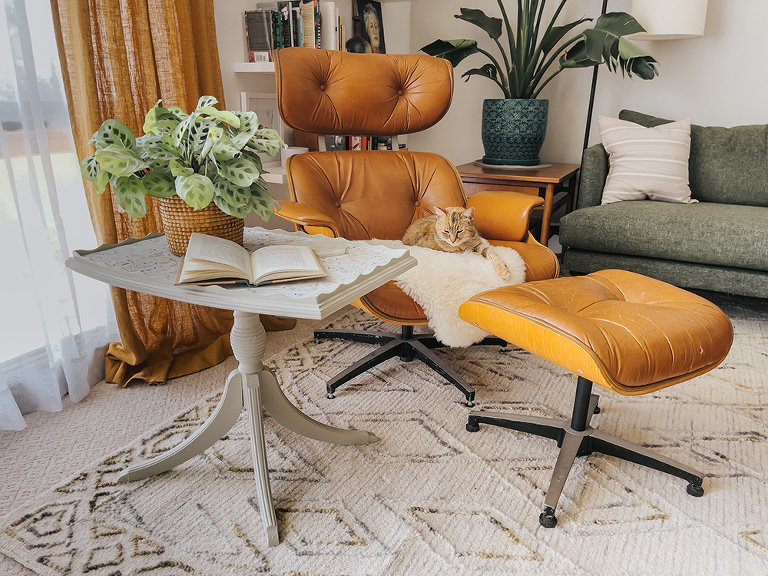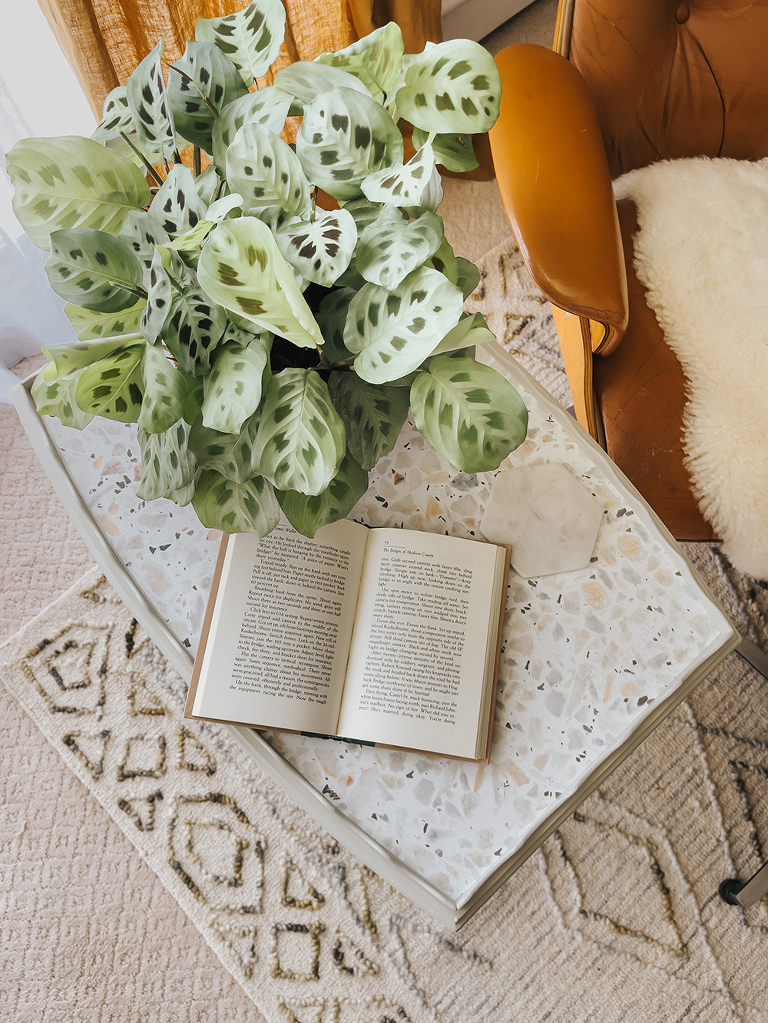 And there you have it! The entire twisted saga of how I reimagined this clearance secondhand table. It still retains a bit of the farmhouse style that, I think, the previous owner was going for, but in a much more modern way. I have since sold the table since we didn't have room for it at our house (that was always my plan), and I'm hopeful that the table is enjoying its new home and its new repainted finish. Don't forget to let me know in the comments what you think of this side table refresh, and if you would have gone a different route with your DIY up-cycle, do tell me what you would have done!