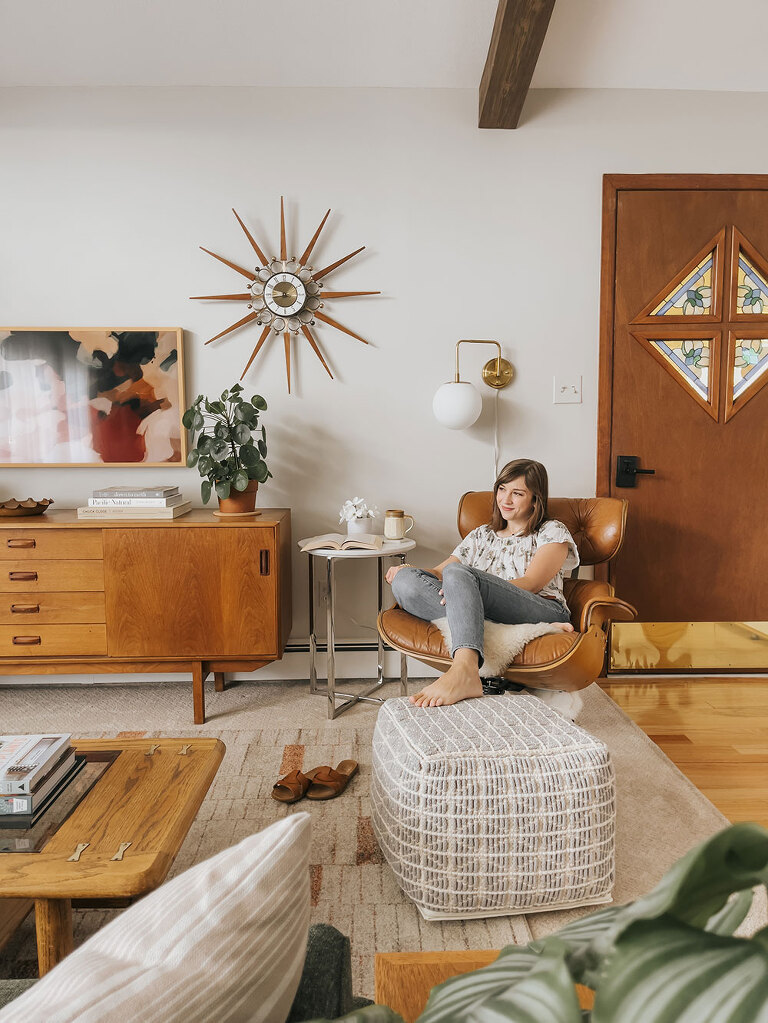 *This post was made possible by the generous support of Simpli Home, and features gifted product for testing purposes. All opinions are my own.
It's probably not surprising to hear that I'm a big, big fan of vintage furniture. Our home is positively filled with retro secondhand items. There's just something so magical about stumbling upon the perfect secondhand find for one of our spaces, but, that said, I get the same exact thrill when I find the perfect new item for a room, too.
Sometimes I simply can't wait for the right "diamond in the rough" type of vintage furniture accent, which is why I really appreciate brands like Simpli Home who provide that vintage-inspired look without forcing me to have to dig around at a thrift store. I can find what I need, read reviews to triple-check that it's a smart investment, and then purchase the item right then and there. It's so easy, plus I'm able to complete a room makeover in record time. What's not to love about that?!
Keep scrolling to see what we decided to pick from Simpli Home to finish off one corner of our recent living room makeover, and you'll also get my tips for mixing old furniture with new items.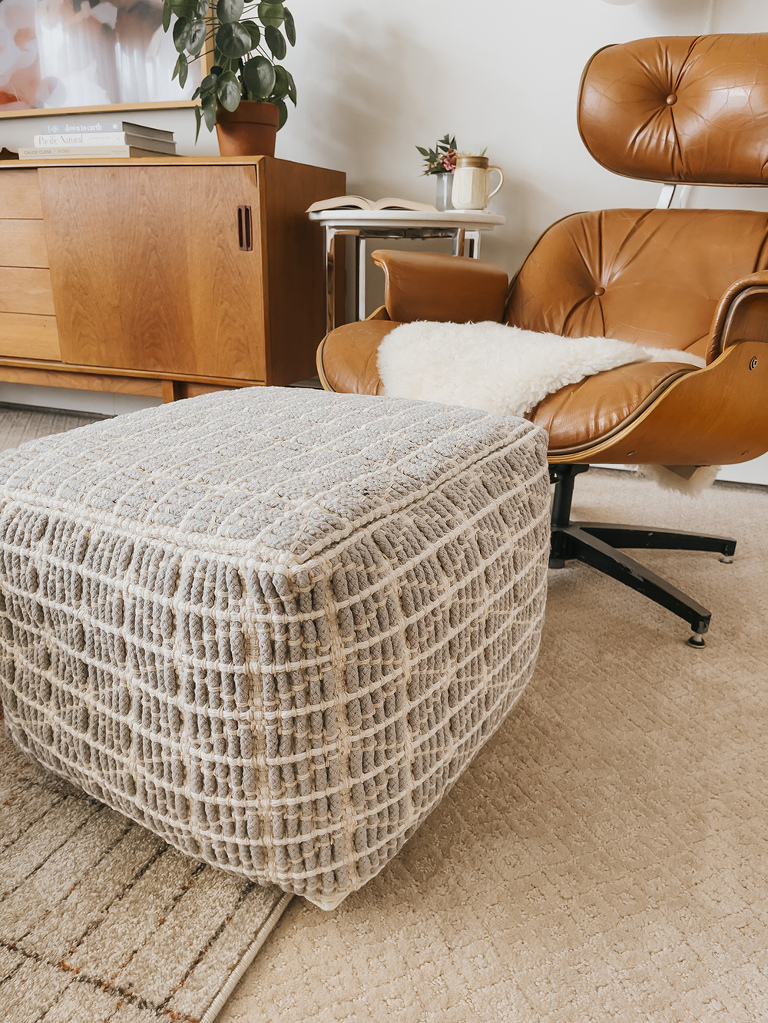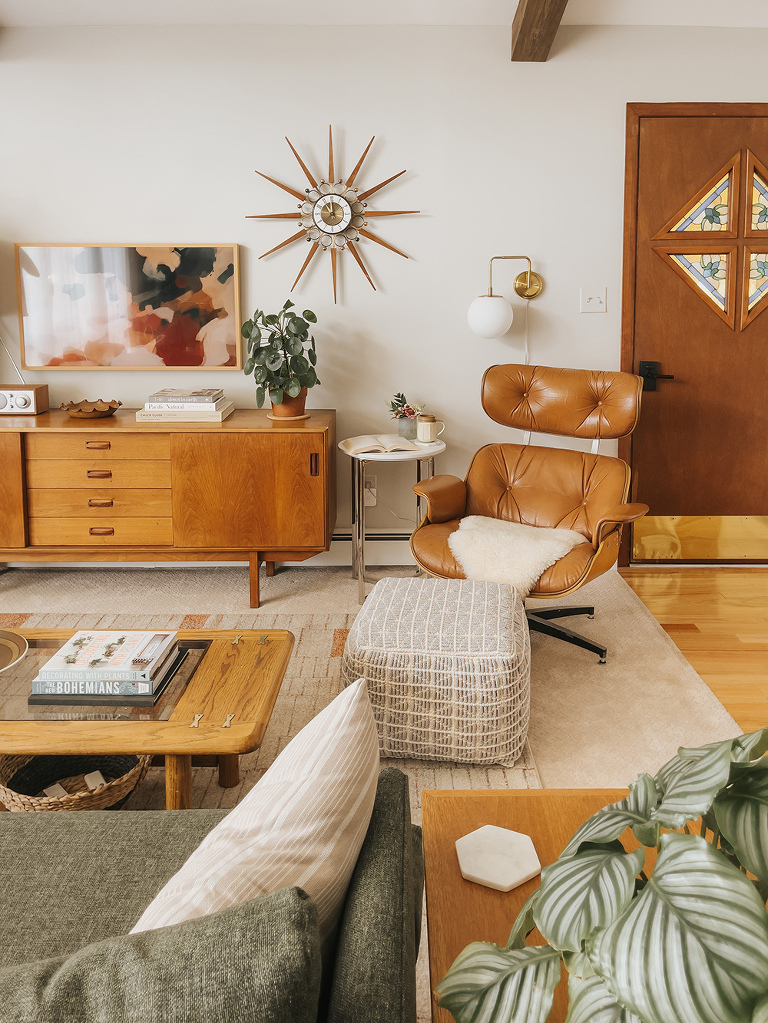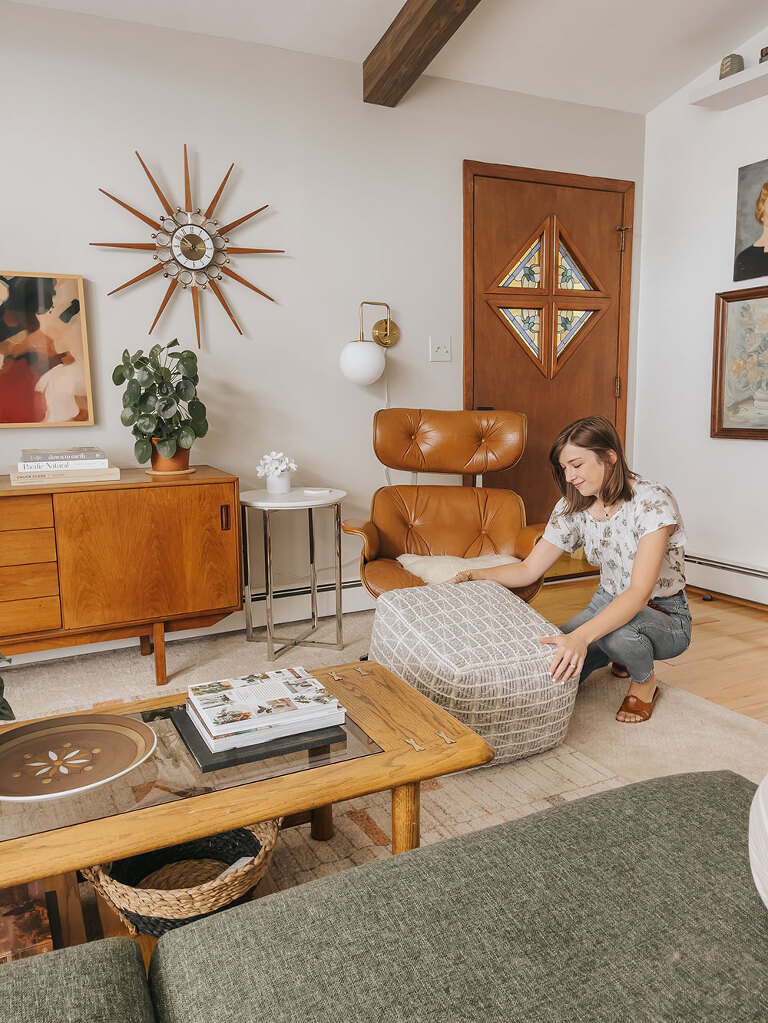 I don't know that I've mentioned it here on the blog, but if you've been following along over on Instagram, then you know we decided to flip the entire layout of our living room. It has been an exciting change that didn't cost us much money at all, but it has definitely taken some trial and error in terms of settling on the right furniture for the swapped arrangement.
There was one corner in particular that felt a little awkward to me—the space right beside our vintage TV cabinet. There's only a few feet of space between the cabinet and our sunroom door, but, luckily, I was able to squeeze our secondhand Plycraft lounge chair into the void. That still ultimately left me with a tiny bit of room between the chair and TV console, though. My vision was to incorporate a side table.
With such a specific amount of space left to fill, I decided to hunt for something new. I needed predictability in this case. In other words, I wanted to be able to read measurements online so I could find the exact right piece for the corner without having to waste hours at an antique or thrift store.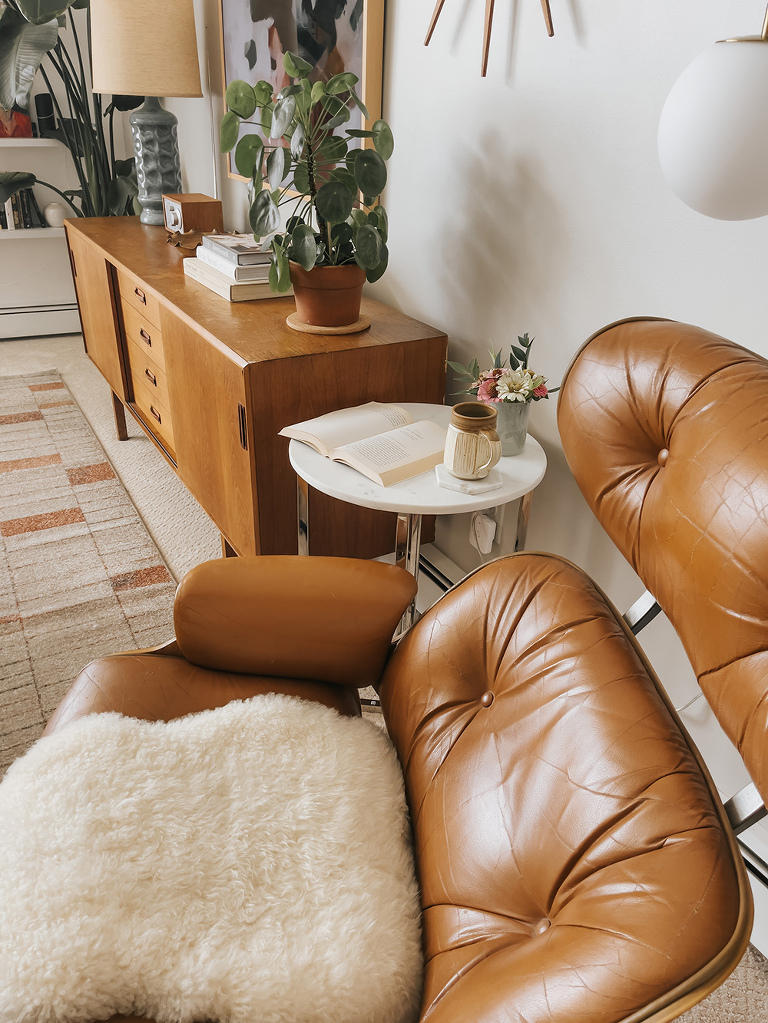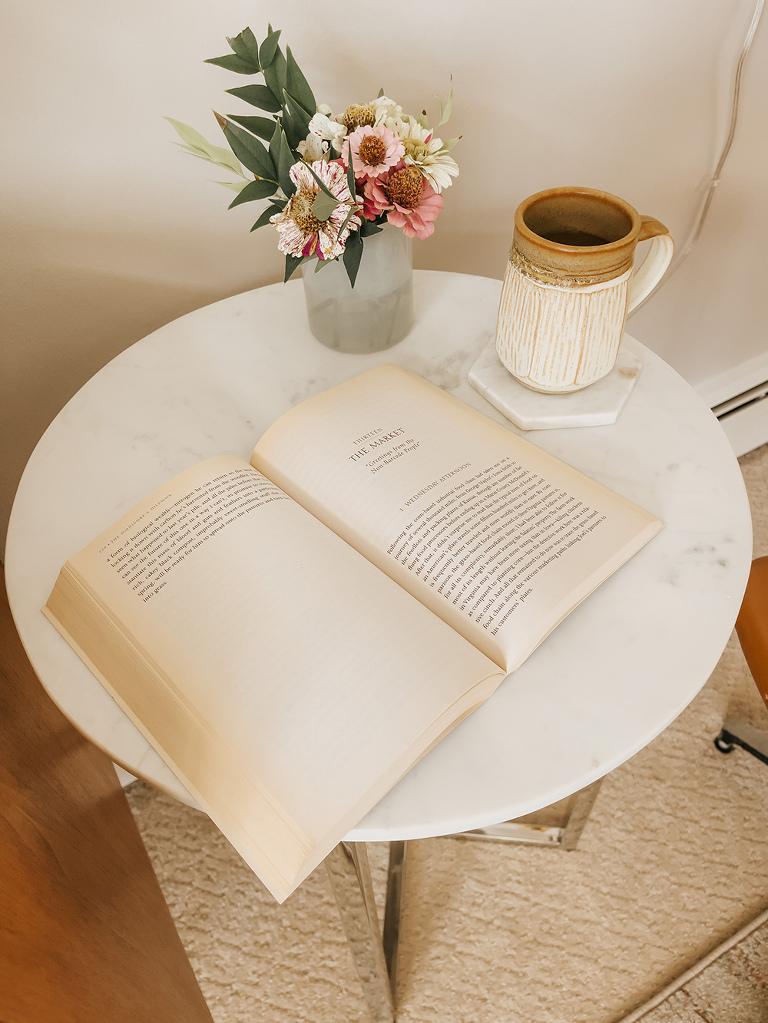 After looking through the options available on the Simpli Home website, I decided to add two new pieces to our living space: the new side table I was originally on the hunt for, and a soft pouf to put in place at the foot of our lounge chair. The Marsden side table fits just perfectly between the arm of the lounge chair and our TV cabinet. I love the mix of heavy marble with that chrome base (looks very 1970s/'80s to me), and the slightly lower height of the tabletop in comparison to the TV cabinet gives loungers a much more comfortable spot to place books and drinks.
The Noreen Square Pouf was a slightly more spontaneous addition to the space, but I was just so drawn to the retro-inspired pattern of the upholstery fabric. I also like the scaled-down silhouette of the pouf in comparison to the bulky old lounge chair ottoman. The old one that came with the leather chair is in need of some repair, so I tucked that away in storage for the time being, and have been loving this pouf in its place. I thought it might be a good thing to demonstrate in photos, too, because you often see these types of Eames-style lounge chairs without their original ottoman included. So now you can see what it would look like to mix an old chair with a new ottoman for a cozy, updated look!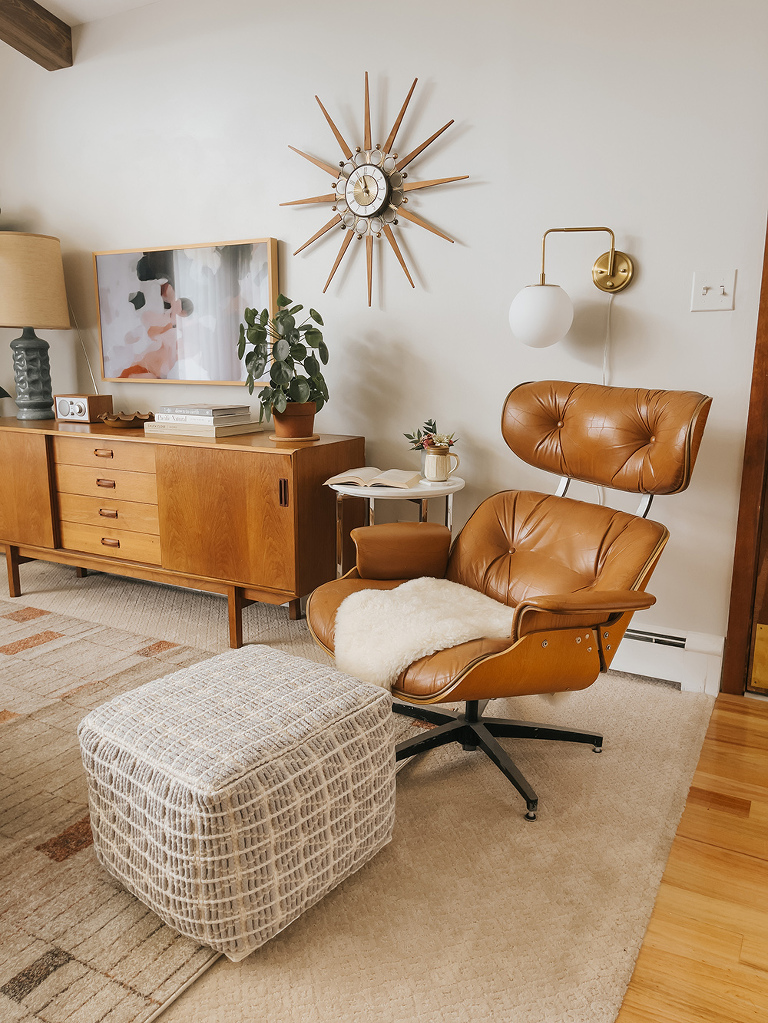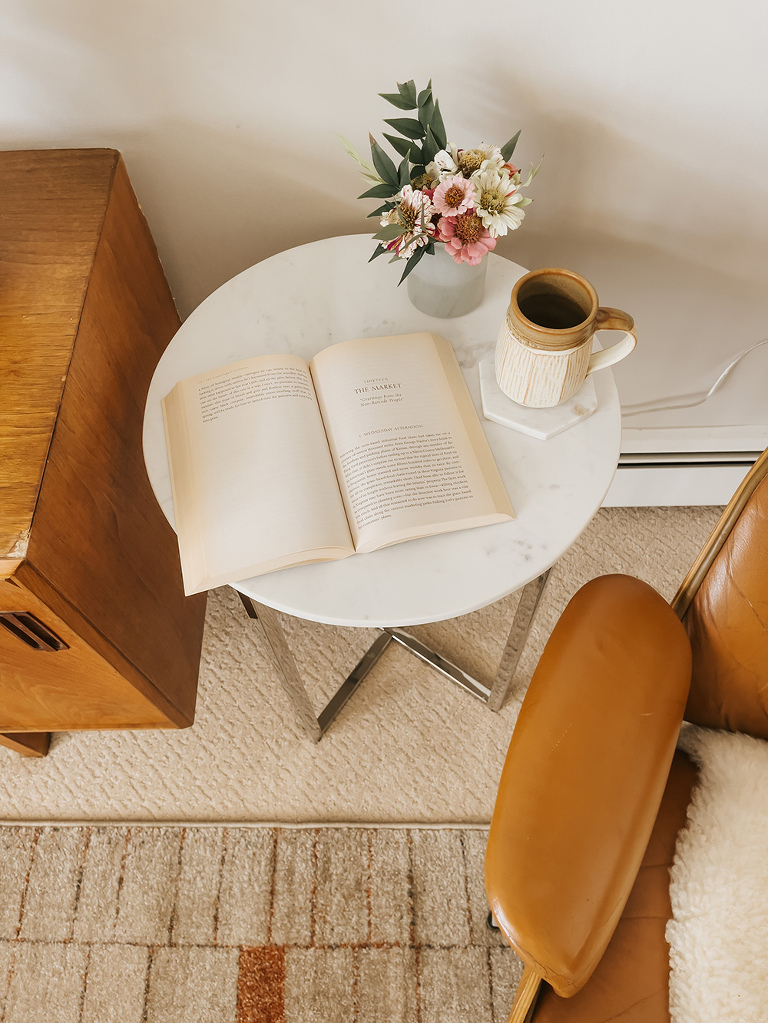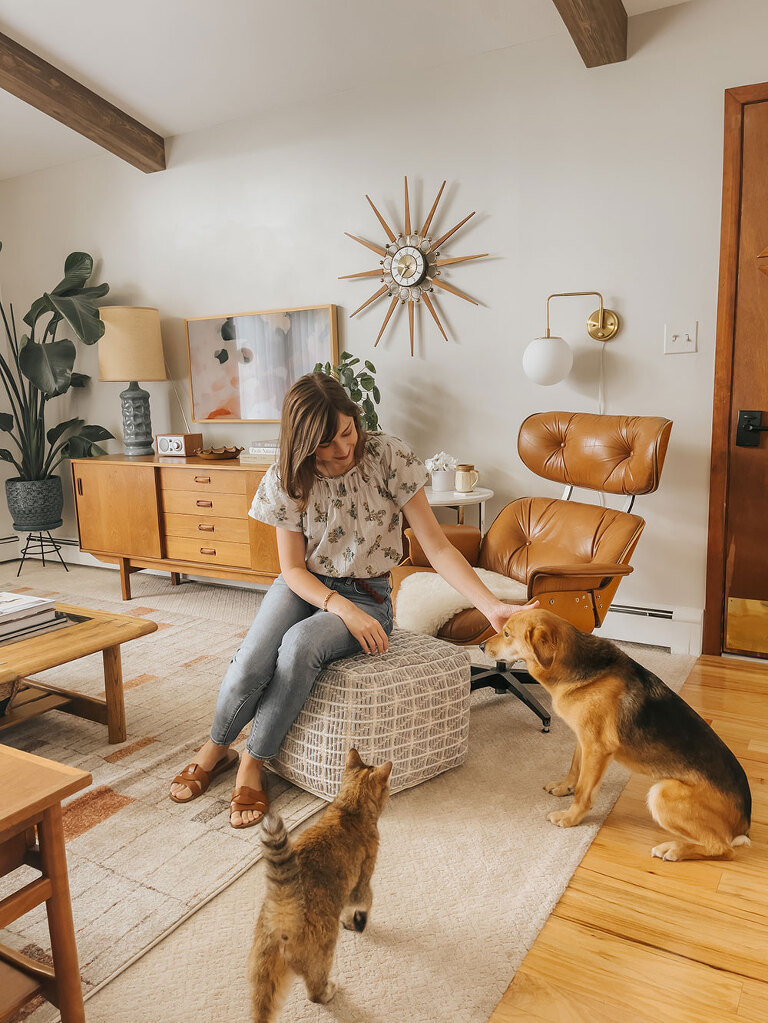 Speaking of mixing old with new, let's talk about those tips I mentioned! I feel very strongly about the concept of layering vintage furniture right alongside new items. There's no reason to shy away from this type of styling, especially if you keep a few key concepts in mind.
Tip #1: Look for new furniture items that feature a repeated metallic element so that it feels like a natural part of the set. You'll notice that the chrome base of our new side table matches the chrome accents on our vintage lounge chair. This was intentional.
Tip #2: Keep an eye out for new upholstered items in classic patterns that complement your existing vintage décor. The new pouf we ordered for this space is done in a very typical geometric mid-century pattern, which helps it blend right in with our 1960s antique furniture.
Tip #3: If you're worried about creating a cohesive look, it may be best to stick to one era of design across the entire space. For example, we focus on mid-century modern design with our furniture, lighting, and décor. On the other hand, you might want to go in a more traditional direction, with more ornate style furniture and accents. Pick one type of style for all the pieces in your space, whether new or old, that way you're left with a room that feels collected and authentic.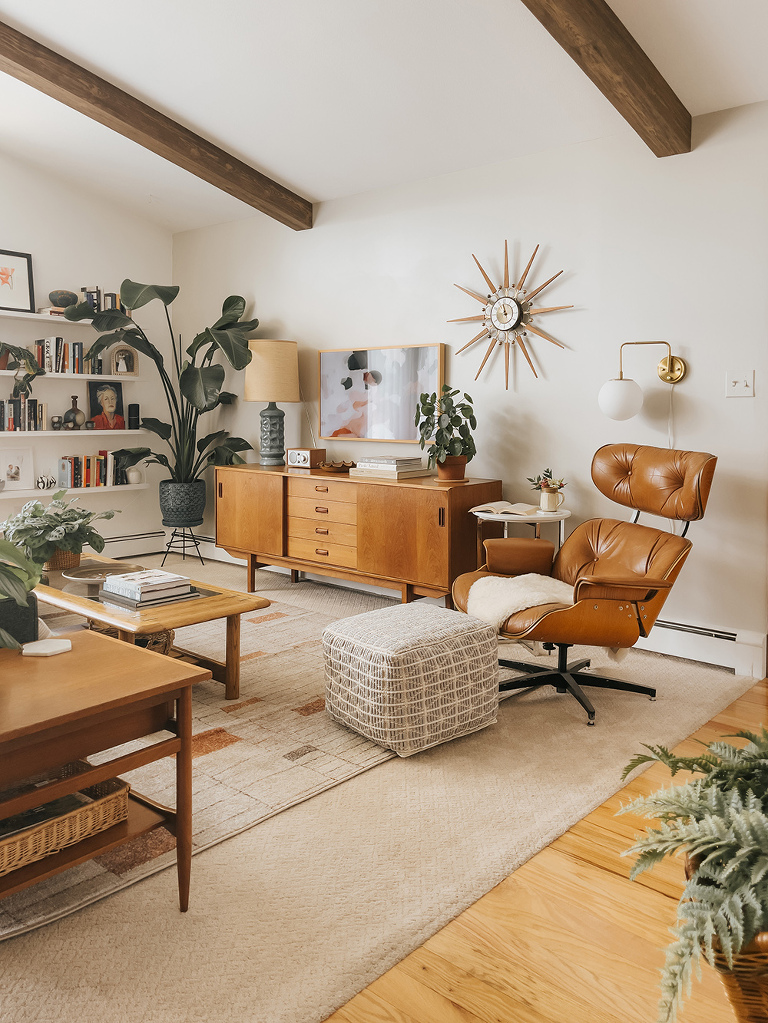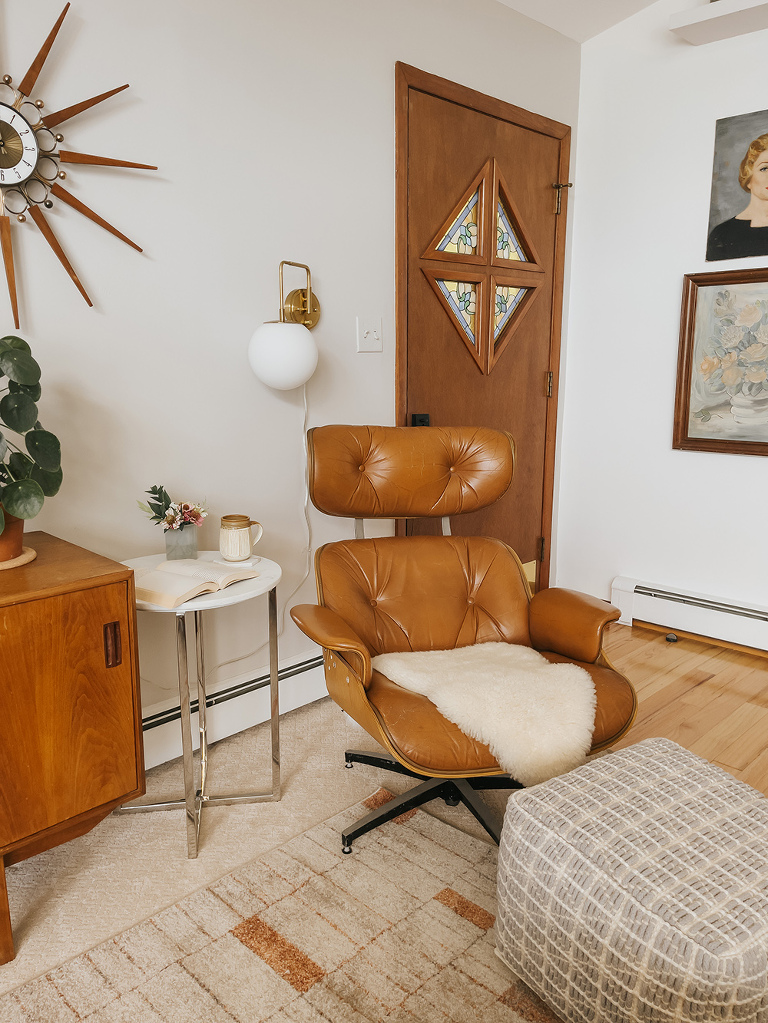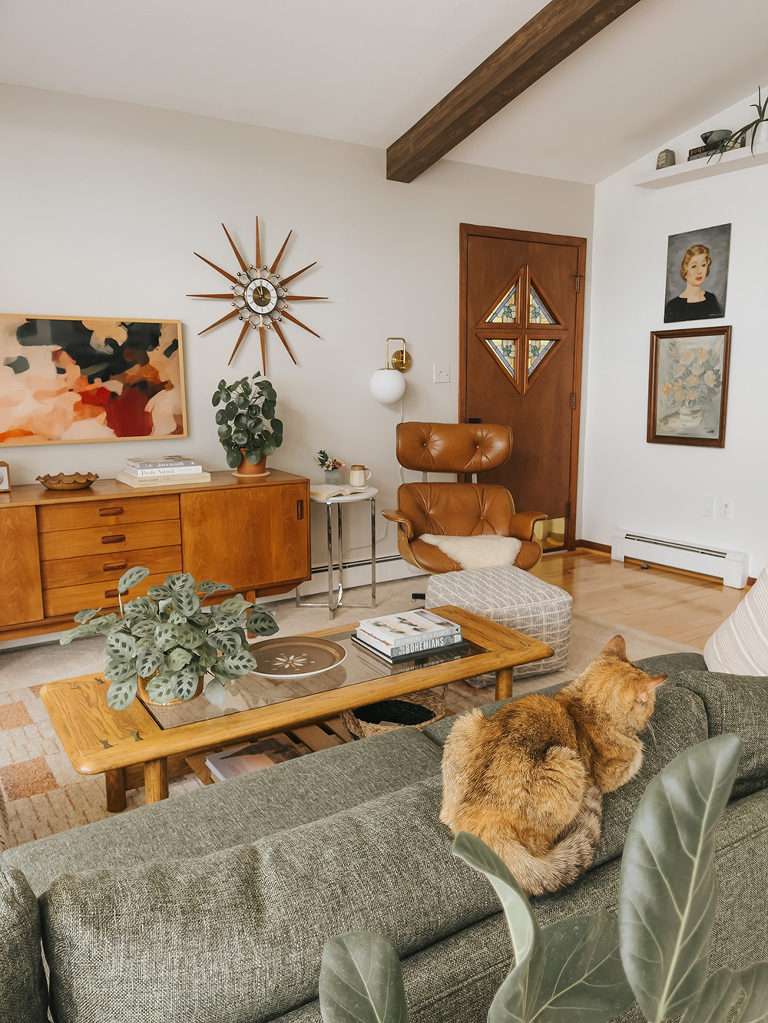 I hope that helps inspire you to try mixing things up in your own home! Collecting furniture is one of my very favorite things to do, and mixing old with new is a creative challenge that I will never shy away from. It helps our rooms feel more dynamic and interesting, and I love being able to tell you exactly where I got something so you can get a similar look in your own spaces.
And on that note, you can click here for the Simpli Home side table we got for our living room, and here for the pouf. Other than that, I would encourage you to keep an eye out for vintage mid-century wood furniture, camel-colored leather seating, and a fun colorful abstract painting or two. Oh, and plants! That general formula should help you match the vibe of our retro living room to a "T" if it speaks to you.