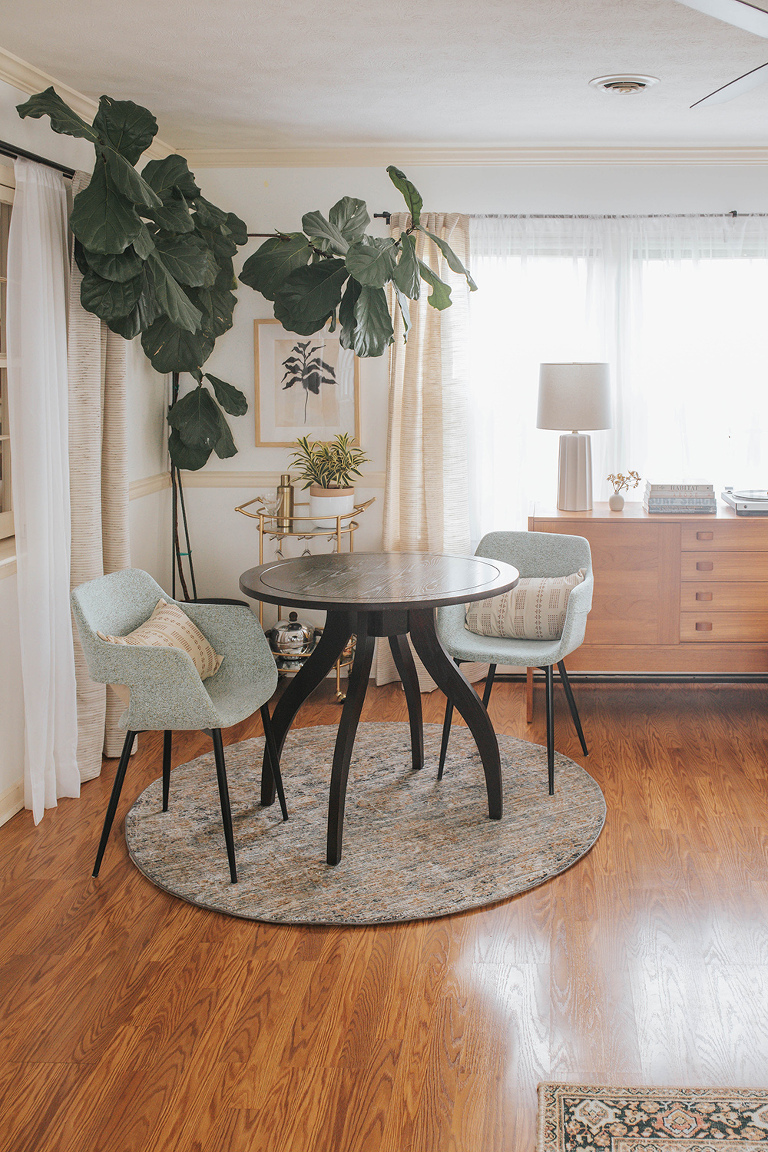 *Today's post was made possible by Loloi, and features gifted product for the purposes of a candid review. All opinions are my own.
There's no way around it—designing a large room is hard! We're obviously so grateful and excited to be able to live in a home that has a giant sunroom off the back, but all of that bonus square footage does come with its fair share of struggles. How do you lay out the furniture? What do you do about rugs? Where do you put a TV when 95% of the room is filled with glass windows?!
We've made it work for the most part, I think, by dividing the room into two separate zones (oh, and by the way, we decided to sacrifice the view from one of the eleven windows by placing the TV on a console in front of one of them). The main concern we had was maintaining a sense of flow to the back door since that path is one we take many, many times throughout the day. We didn't want to arrange furniture across that section of the room, and we really wanted to avoid having a rug there, too, since we figured it would get really dirty from backyard feet traipsing across it multiple times a day. So, yes, there were some things to work around…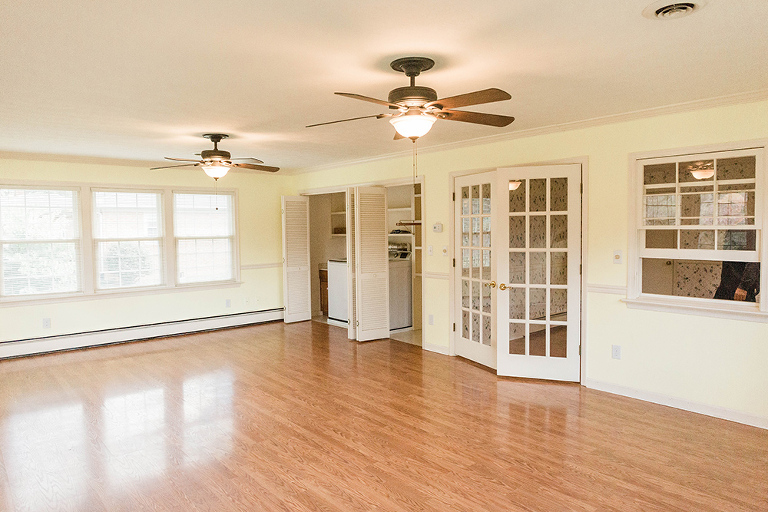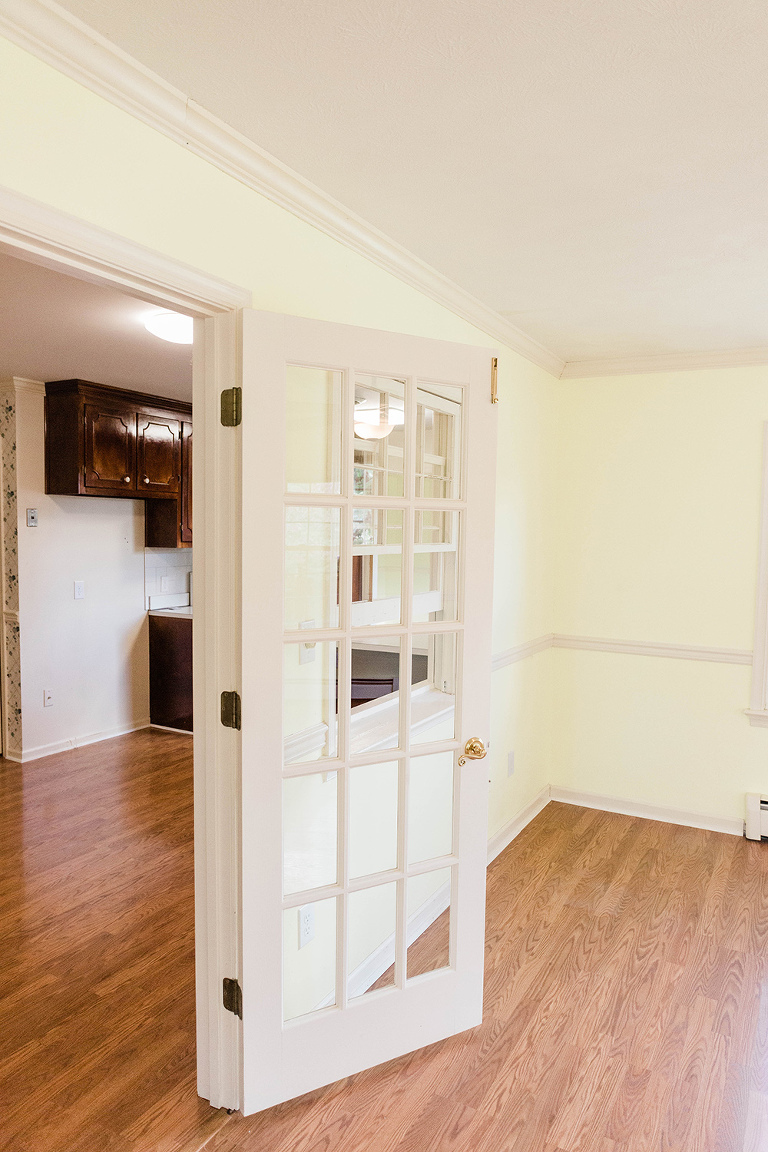 In the end, though, we got it all figured out. We put the conversation living space off to one side, taking up about 2/3 of the room, and then we created a smaller café dining area on the remaining 1/3 of the room using a tea table that has been in our family for the past decade and a couple of new comfy chairs. This arrangement left the perfect slim path free of all rugs and furniture that we could easily walk along to get to the back door. I just paused for a moment after typing that to take a big deep breath. It all sounds like such a no-brainer when I explain it now, but I'm sitting here thinking about all of the brainstorming it took to get to the point when I can finally show you photos of the finished setup.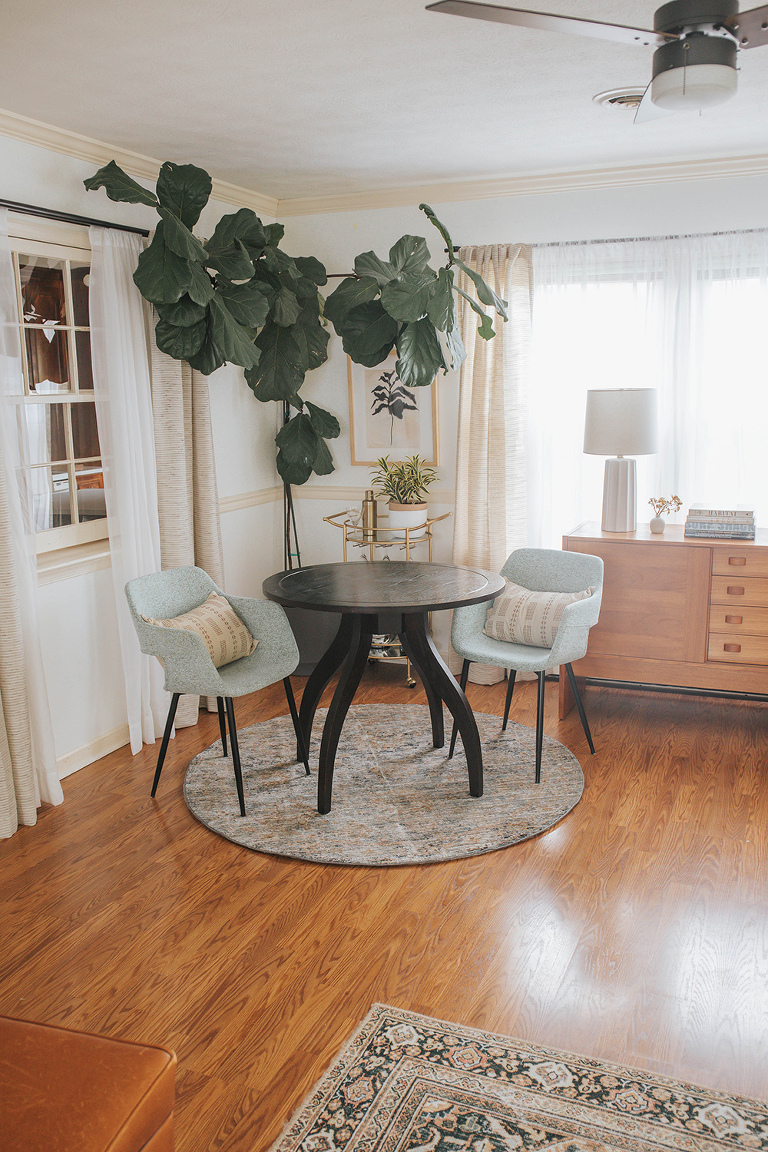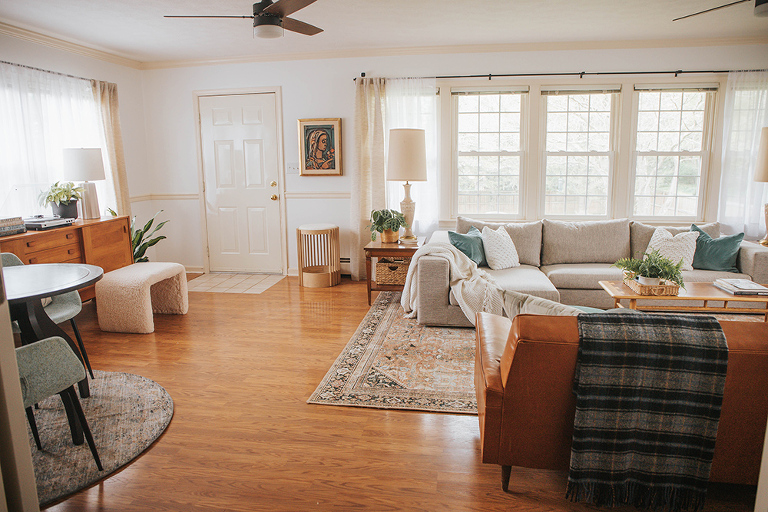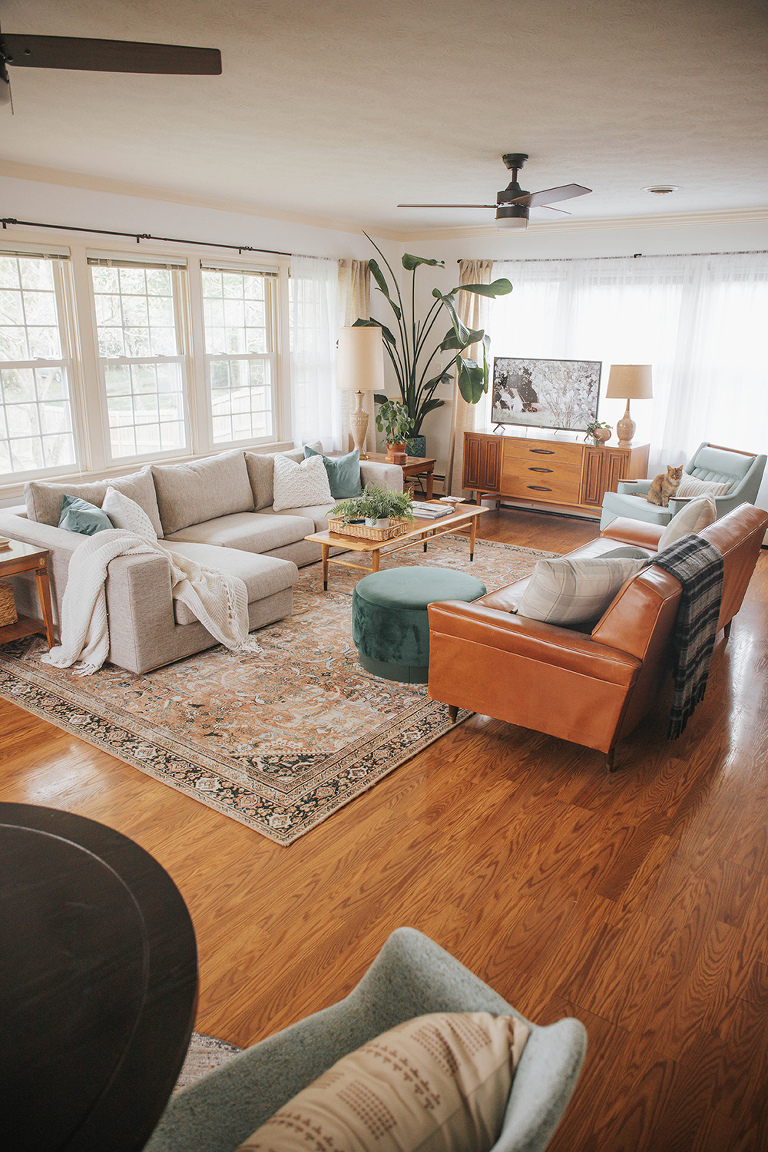 I think the hardest part was coming up with a rug that could help anchor the dining table (both visually and physically) without encroaching on the back door path. I ultimately chose a petite version of this rug from a new collaboration that just launched between Loloi Rugs and Jean Stoffer, of @jeanstofferdesign. The rug is from their Katherine Collection and the design is called KES-02 Ocean / Coral. We got it in the 5′-3″ round size, which turned out to be ideal for leaving enough room for foot traffic around it.
I know the rug looks like it's on the small side, but it really had to be for our unique space. In person, it feels a little more proportionate than it looks in pictures, and, happily, is plenty big enough for us to sink our toes into when we dine in this little nook, which we're calling the "café." John and I eat lunch here together every afternoon that we happen to be home together, and it's also a wonderful little spot for me to use for laptop work when I feel like getting away from my home office. That change of scenery is so nice on certain days, am I right?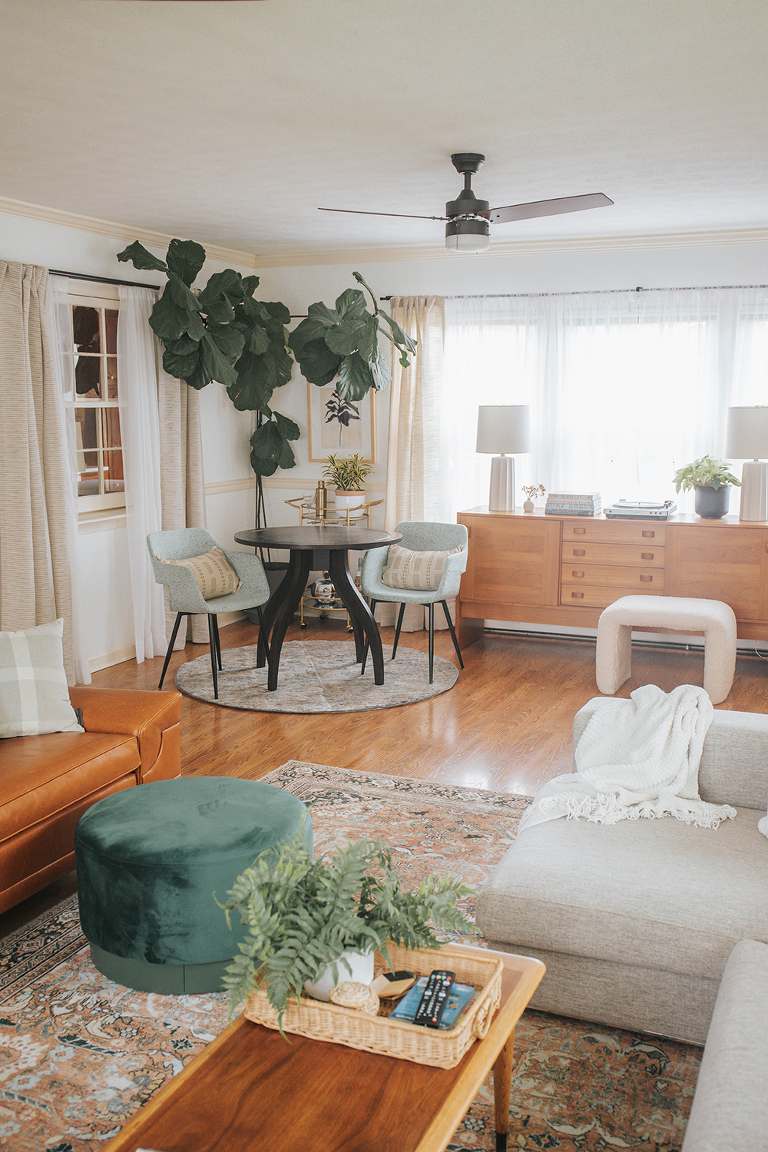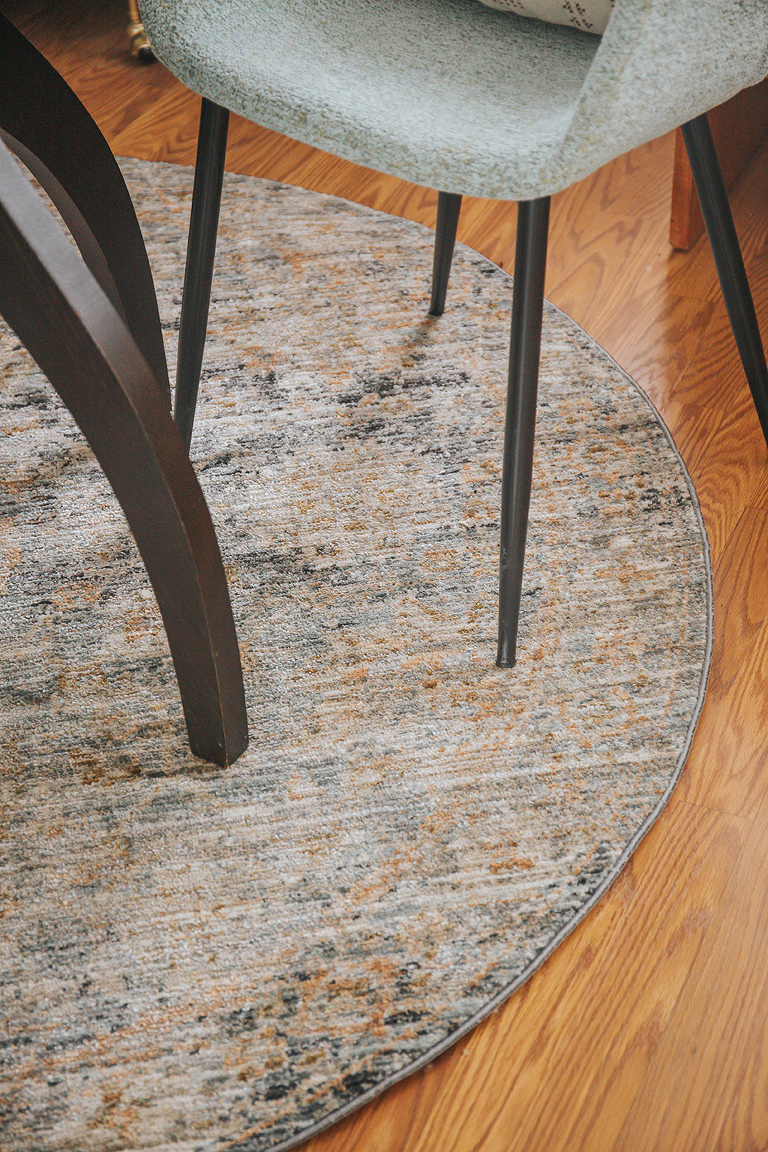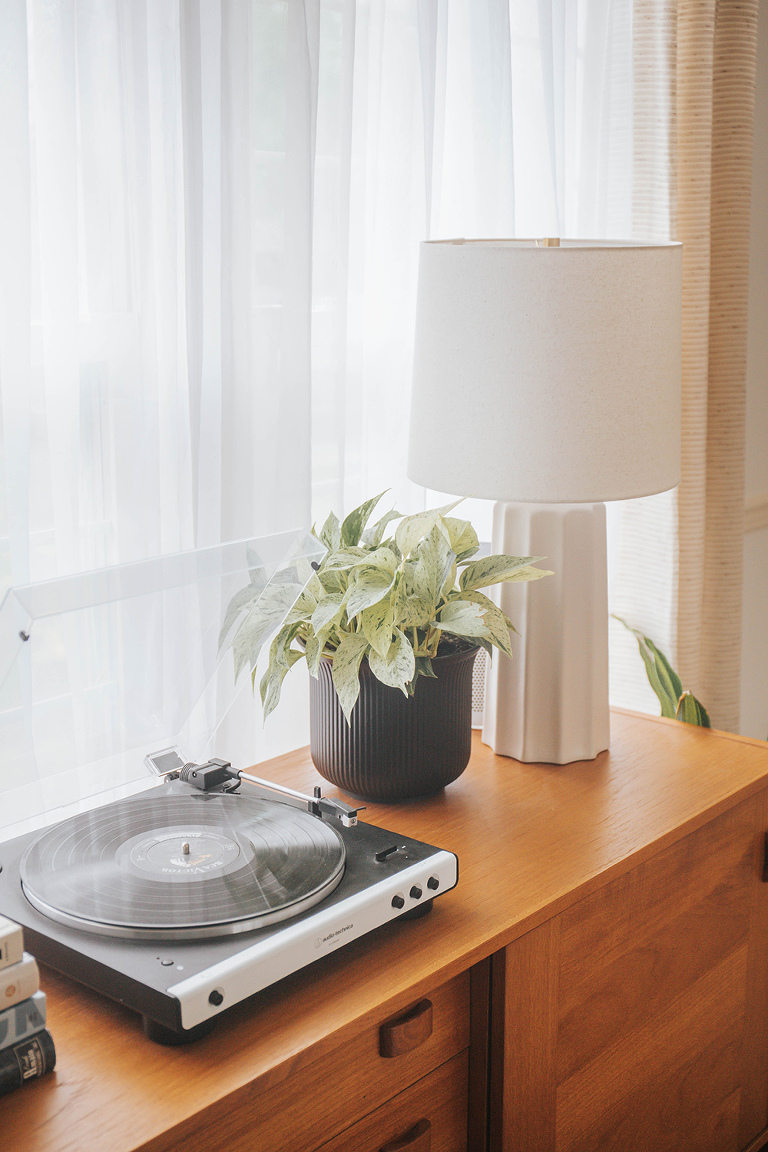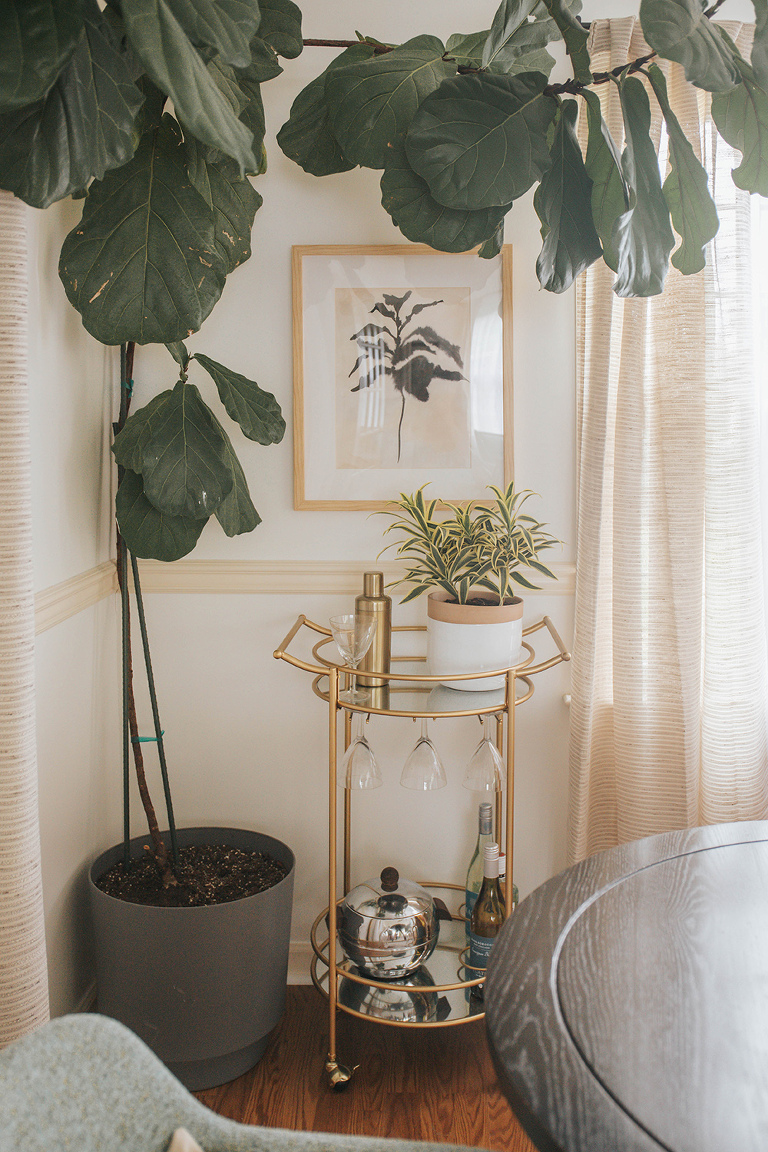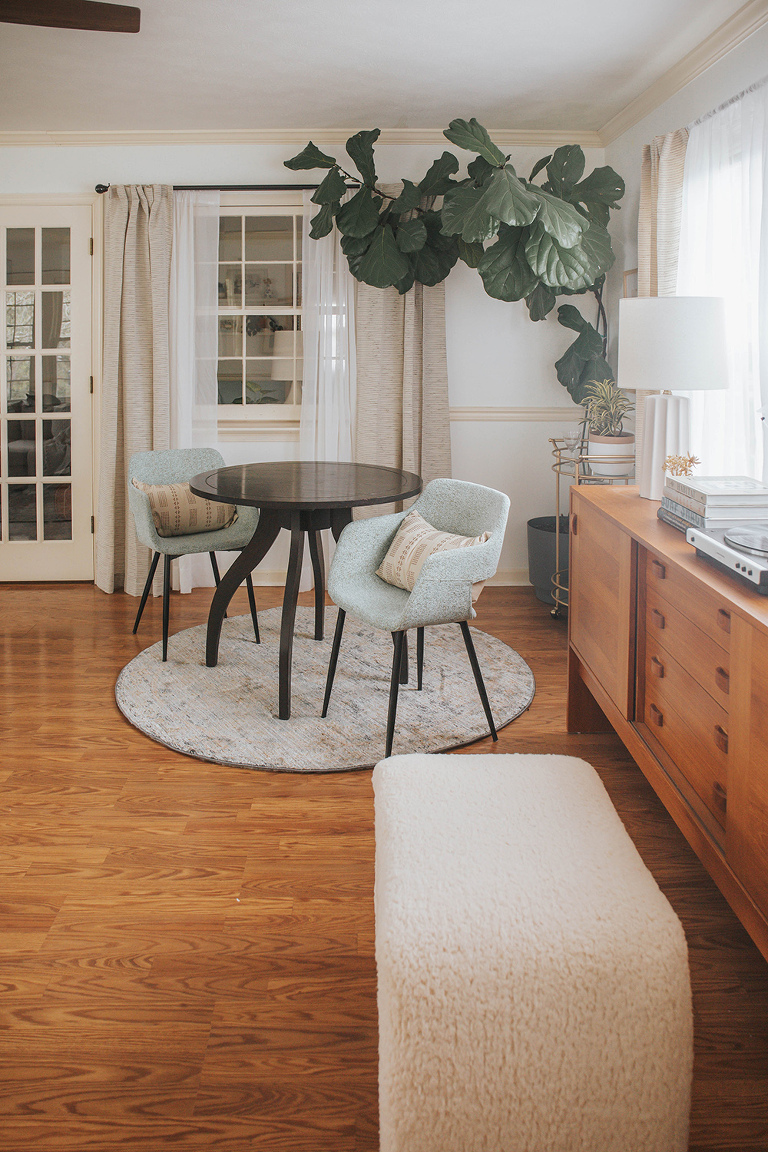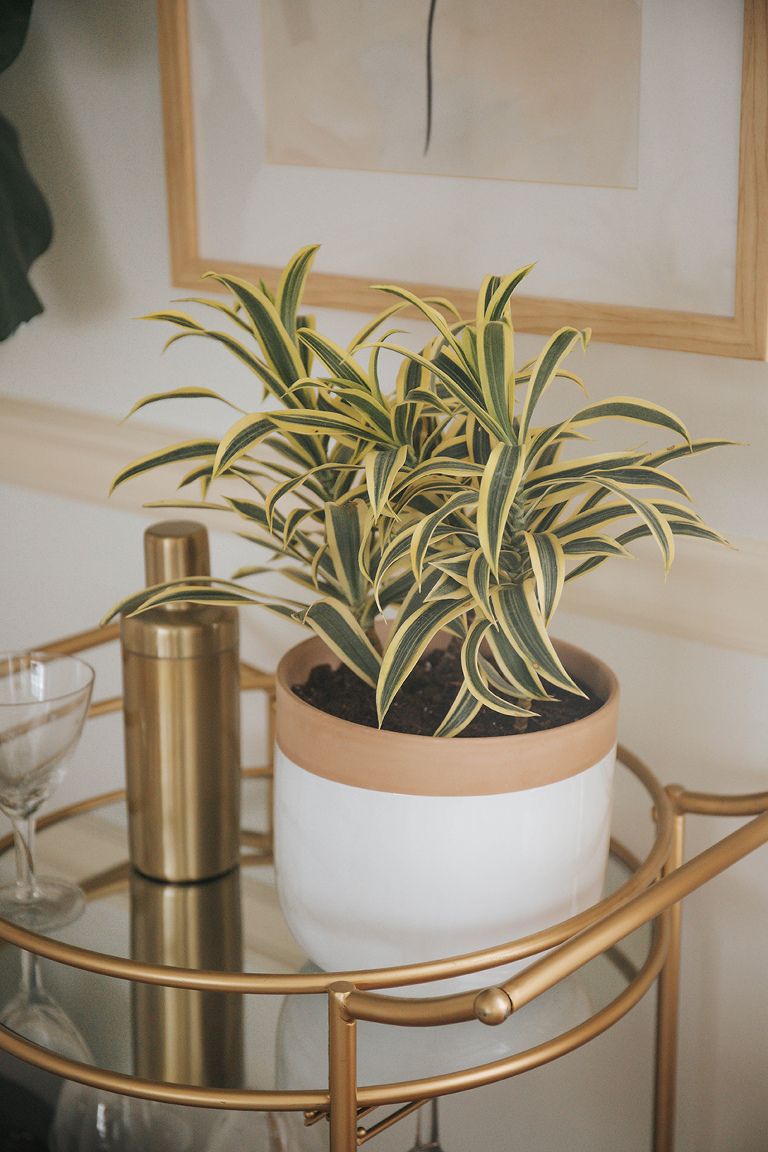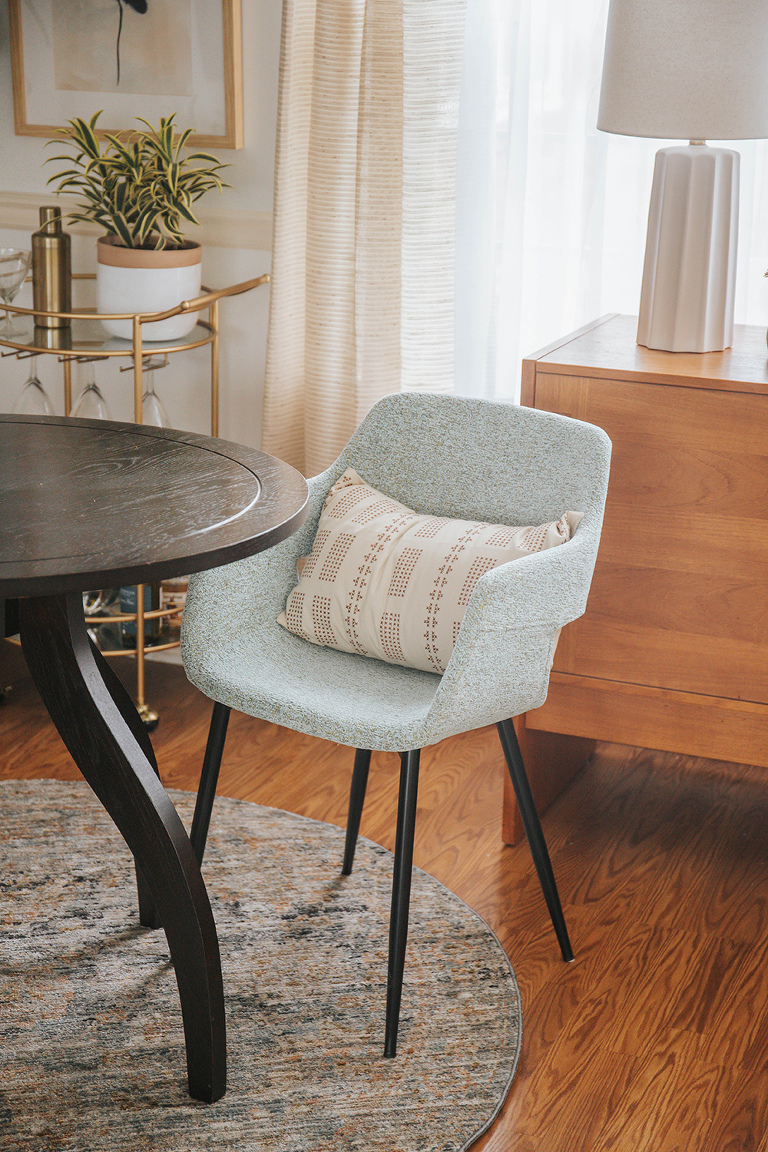 Resources: Table, Chairs, Lumbar Pillows, Table Lamps, Leaf Art Print, Fiddle Leaf Fig Tree, Curtain Panels, Sheer Curtains, Curtain Rod, Ceiling Fan, Round Café Rug, Large Living Room Rug, DIY Boucle Stool
I also really love how the colors in the new round rug pair with our existing larger living room rug, which is just a handful of feet away. It was really important to make sure the two rugs coordinated since they're so close to one another, and I think the soft shades of teal and rust are a great complement. This rug nails it in every single way.
We're actually busy painting our 1960s kitchen cabinets this week, and having this bonus eat-in area has been really appreciated. Our formal dining room is home to all of our kitchen stuff since we had to empty out the cabinets in order to paint, which left us a little stranded when it came to sit-down meals. The café has been a wonderful backup, and just validates all of the hard work and strategizing that had to happen in order to get to this point. I hope you love how it turned out! What are your large room design and space-planning tips?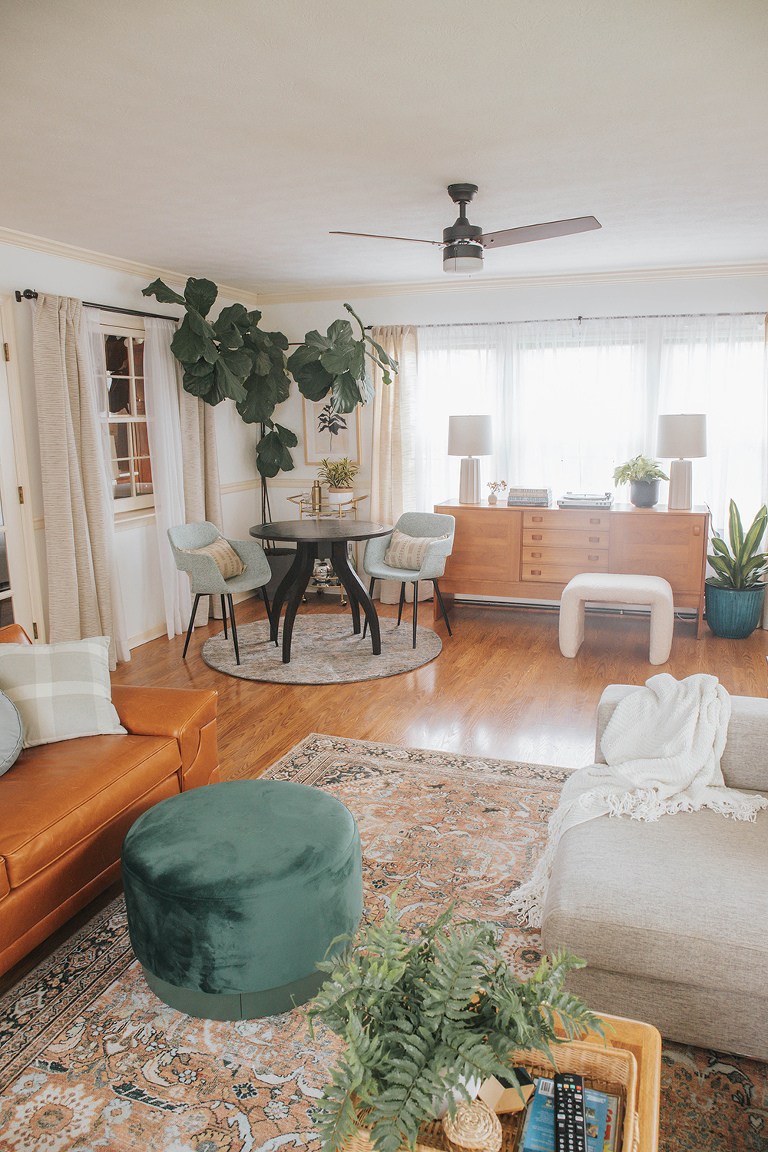 *I earn a small percentage from purchases made using the affiliate links above. Affiliate links are not sponsored. Rest assured that I never recommend products we wouldn't use or don't already love ourselves.