Let's talk sofas…
Unfortunately there's not going to be any "cheap talk" in this conversation  – Unless you're thinking a used thrift store couch, in which case I'll have to say "Sorry, but I have to draw the line at thrifted upholstery…"
Sure, you can get a great deal on Craigslist for a used couch! I've seen them on there for next to nothing…But I just can't help but cringe at images of somebody's Uncle Bob and his sweaty back all over the cushions as he throws back a beer watching the game.
I just can't do it.
So when we decided it was time to get a new couch for our evolving living room design, we knew pretty quickly we were going to go "big box".
Here's a picture from the DIY-ed cornice board post with the current couch in view to orient you: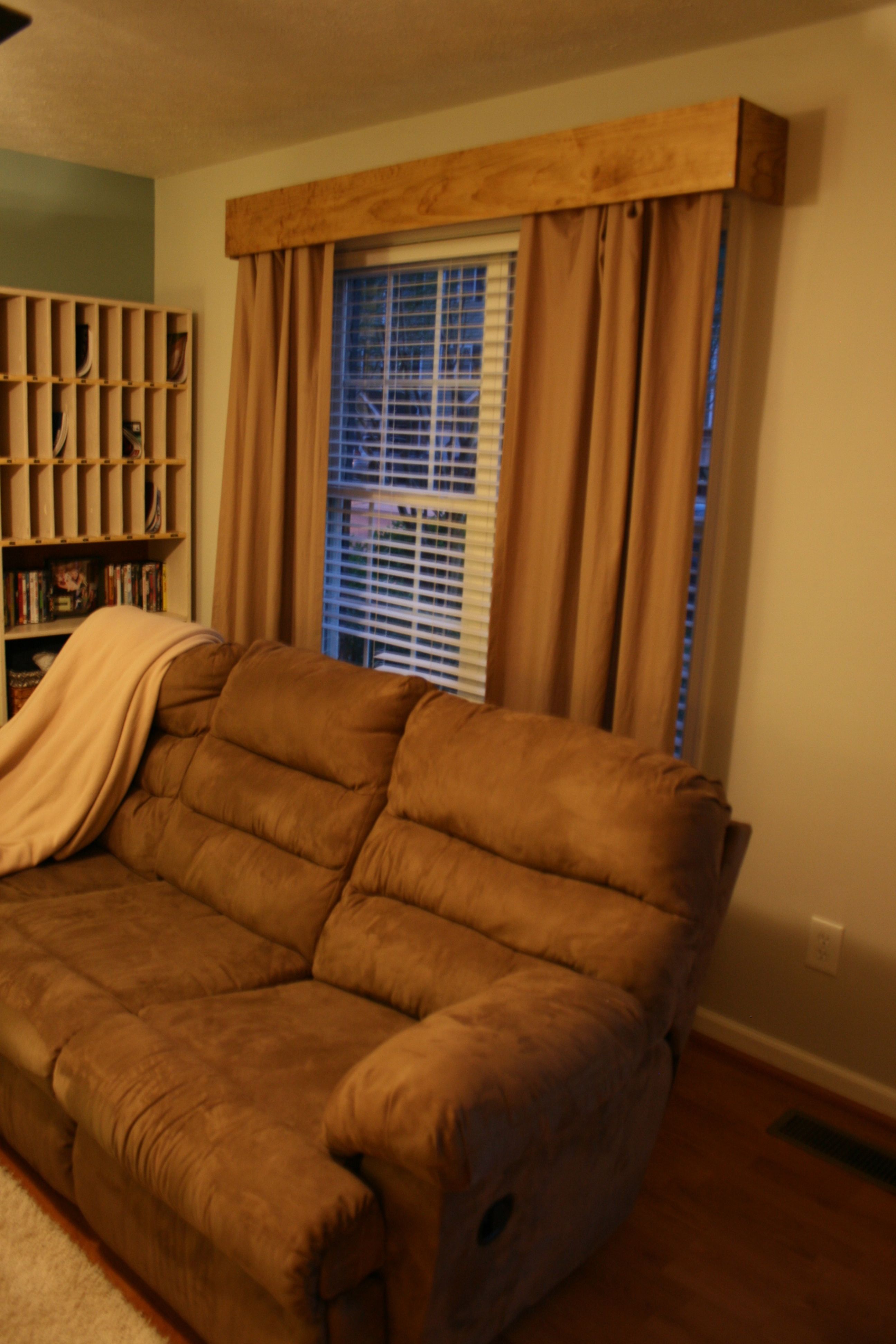 It's probably the most comfortable couch in the universe, but I just can't get over how much it looks like my mental image of Uncle Bob again (a big, fat, rolls-all-over-the-place type guy)…Rolls of cushion GREAT for cradling your neck while watching a movie – NOT so great when looking down at it from a standing position. The other negative is the way the microfiber upholstery instantly soaks up dog smell…
So it will be eventually move to the TV room downstairs (after a good steam cleaning) where we can cozy up and watch movies and television without worrying about our living room's first impression 🙂 So excited to give it a new life safe from the dog!
But onto our hunt for a new couch…
As "kids" in our mid-twenties with average jobs, we also knew we couldn't afford the REALLY good stuff…So we shot for somewhere in the middle – Namely Ikea.
I've heard that you can get a LOT for your money at Ikea, but that it's not necessarily the best in quality. Unfortunately, we don't have the luxury of being too picky…We are careful people and don't normally flop onto our current sofa – So hopefully we wouldn't be able to ruin a cheaply-made Ikea couch with our daily use!
So after a quick look online, we came across this great option: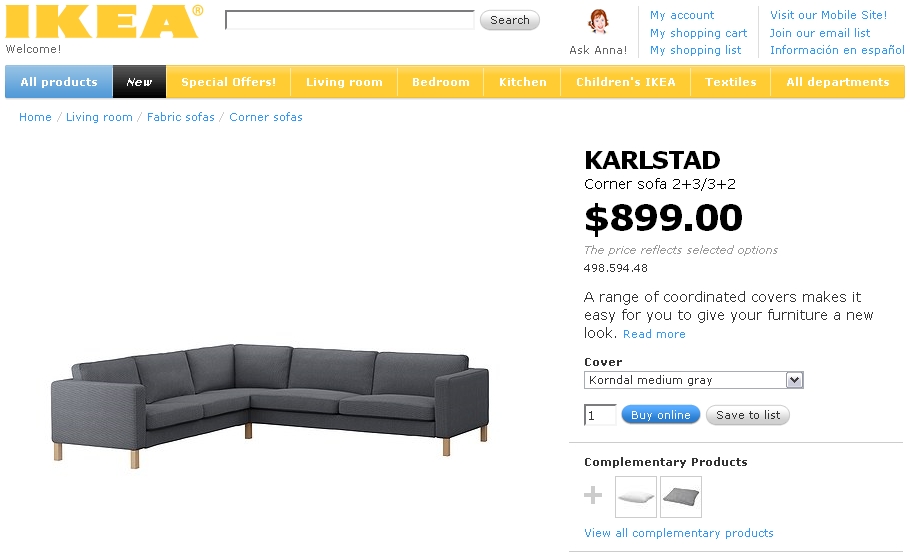 Fit our budget (which was about $1,000) and our need for extra seating. It also has the contemporary, straight-lines, 1960's vibe we are looking for. Mentally sold!
The only problem was figuring out how to get it…We considered having it shipped, but the numbers on the screen shot below knocked that option into the trash.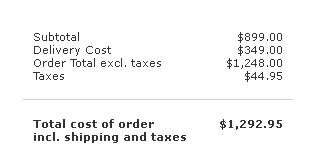 So could we go pick it up? Probably, but it would have cost a hefty amount in travel costs (the closest Ikea is at least a couple of hours away) and the four boxes it came packaged in wouldn't fit in my CRV at all. It MAY have fit in John's truck, but was it worth getting there only to realize it wouldn't fit? No…
So we briefly contemplated shelling out the $1,292.95 to have it shipped (saving us travel costs and mental stress), but there was still the anxiety of having to put it together ourselves once we got it home.
::sigh::
After lamented my woes to my mother, she offered to go local couch shopping with me. Even though we had found exactly what we wanted in our price range (if we picked it up ourselves, that is), I thought "why not?" – The practicality of finding something in town was too tempting to resist.
So we began our search at Grand.
Out of the HUNDREDS of couches, loveseats and chairs that they had in the showroom, there was only one chaise lounge that even closely resembled what we wanted: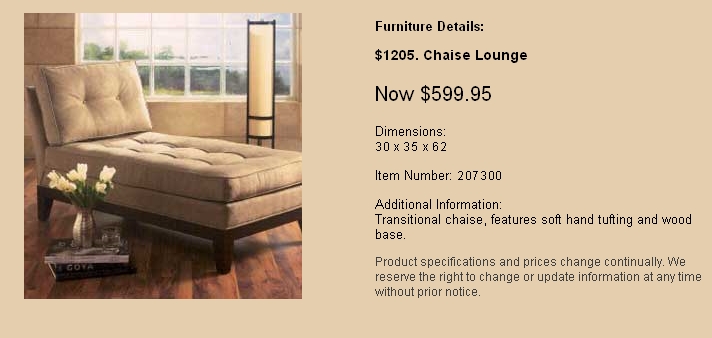 Right style?: Check!
Sofa?: Nope…
Right cost?: Check!
Right Grey Color?: Nope…
Extra Seating?: Nope…
Good construction? Didn't even ask.
Two out of the six "Check!"s ain't gonna cut it.
So we were off to Badcock Furniture & More where we came across this sofa and I started to get excited!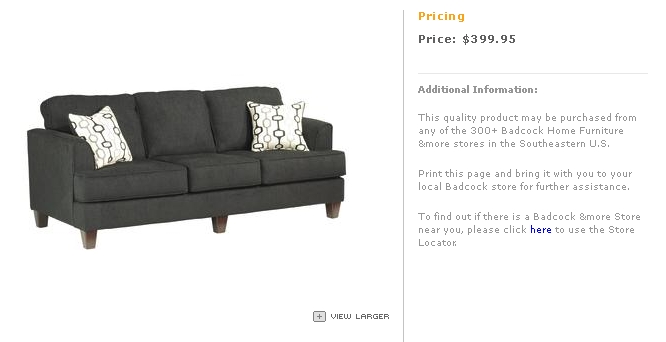 There was even an option that came with a loveseat and accent chair (pictured below) for a little over $1,000 for the WHOLE SET!!!!!!!!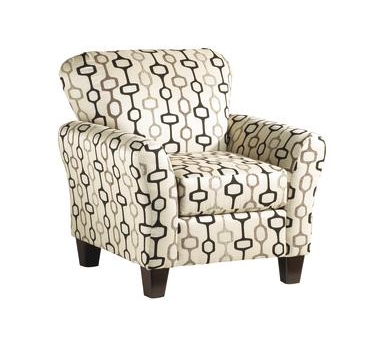 The problems lay in the construction (sub par) and the colors. The sofa is BLACK black, not the deceptively pretty charcoal grey that it is in the picture off the website. Also, the accent chair is adorable but wouldn't really fit the color scheme we've got going.
Right style?: Check!
Sofa?: Check!
Right cost?: CHECK Check!
Right Grey Color?: Nope…
Extra Seating?: Check!
Good construction? Nope…
Definitely pretty close, but not quite there yet. So we tried Ashley furniture, where we found a sofa that looked sort of like this: (I couldn't find the actual one on their website)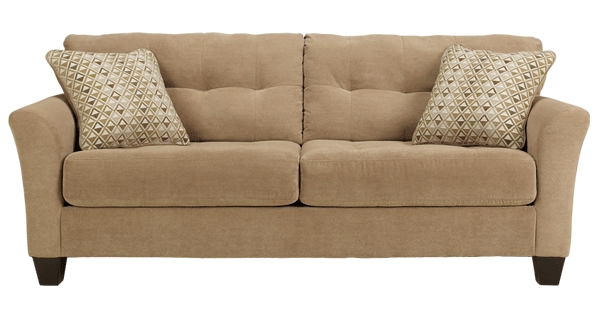 It was literally the only one that even closely matched our taste, but it has a little bit too much of a curve to the arms and definitely too bright of a color. Since it only came in the one fabric choice, I had to walk away to think about it.
Right style?: Sorta…
Sofa?: Check!
Right cost?: Check! (it was around $993 for the sofa and a matching love seat)
Right Grey Color?: Nope…
Extra Seating?: Check!
Good construction? Not really but better than the others…
Still not there. So Mom and I gave up the search…
When I told John about our findings later that night, I think we were even MORE convinced that we should just spend the extra money to get the couch we actually wanted. We made a deal to order the Ikea couch sometime the following week.
Then the next day, John sprung the idea of a Roanoke sofa trip. So we made the 45-minute drive and started at Haverty's.
This is where EVERYTHING changed.
Pretty soon after walking through the door, we caught sight of this lovely piece of furniture…
We hightailed it over to the floor model and knew we had hit the jackpot. Although the price tag ($899) wouldn't allow us to order enough of the set for extra seating, it fit all of our other criteria!!!
Right style?: Check!
Sofa?: Check!
Right cost?: Check!
Right Grey Color?: Check!
Extra Seating?: Nope…
Good construction? Check!
It even comes with the fun accent pillows! And the fabric is sooo 1960's…Looks like a classic men's herringbone suit. Here's a close-up from the website: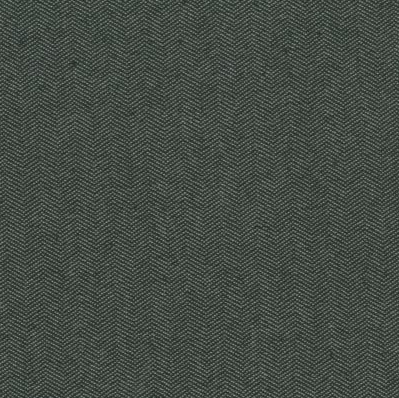 The staged website photo even features a midcentury style mirror (like our clock) and a shag rug like ours! I think it was meant to be…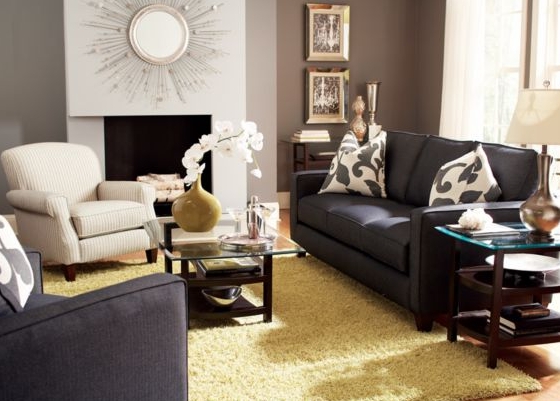 The lack of extra seating is definitely something I think we can work with…I found a DIY-ed bench in the latest issue of "Dwell" magazine that I think we might try. Or maybe even some thrifted mid-century office chairs with recovered seats? Something like these: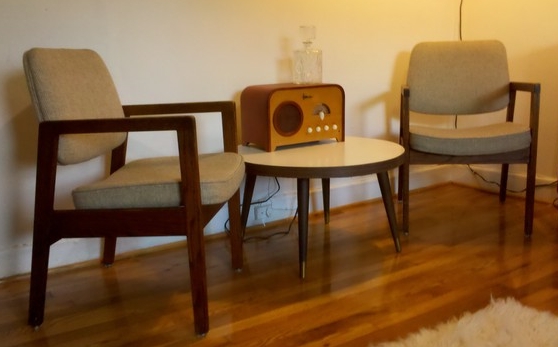 We'll see!!!
We are REALLY happy that we finally found the right piece for us that will actually withstand years of use and redecorating whims (gotta love neutral grey!).
May 20th is "New Couch Delivery Day" so stay tuned for the big reveal!!!
(Photo credit for Ikea sectional: here; Grand chaise: here; Badcock sofa: here; Badcock chair: here; for Ashley Furniture sofa: here; for Haverty's sofa: here; Dream mid-century side chairs: here)