Okay, so first things first – Happy Royal Wedding Day!!!
I tried my ABSOLUTE best to not care because I think all of this fuss in America over something happening in another country is a little silly…But despite my best laid plans, I found myself inadvertently awake at 5:45am – 35 minutes before my alarm – and threw my hands (sleepily) up in the air in defeat.
I watched the whole darn thing.
I made it to the television JUST as Kate got out of the car and it was surreal from there…
I took the fastest shower I've ever taken during one of the choral songs in the ceremony. Even made it to work on time at 7:30am! I left my apartment as Kate and William pulled up and walked into Buckingham Palace. Perfect timing.
And of course I have to reiterate what everyone is saying – Her dress is absolutely stunning…The epitome of Grace Kelly, Princess of Monaco.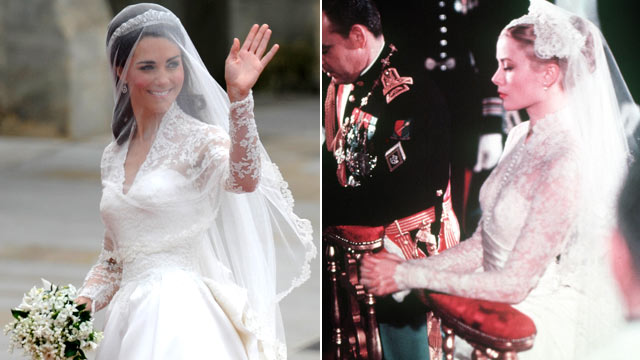 ::happy sigh::
My apologies to John for exploiting our blog for wedding gushes – On to DreamGreen business!
So you may have been wondering about the huge cliffhanger I left you with at the end of this post. Well, it was a bit of a cliffhanger for us as well…
Here's a quick recap for those of who aren't die-hard fans and haven't been following our blog daily/hourly (like the millions of crazy lunatics following the royal wedding – I'm such a hypocrite…):
My dad recently gave me some framed posters from work that someone was going to throw away. My original plan was to paint the posters using our living room colors as inspiration – grey and yellow – and hang them in the living room on the big empty wall (seen below).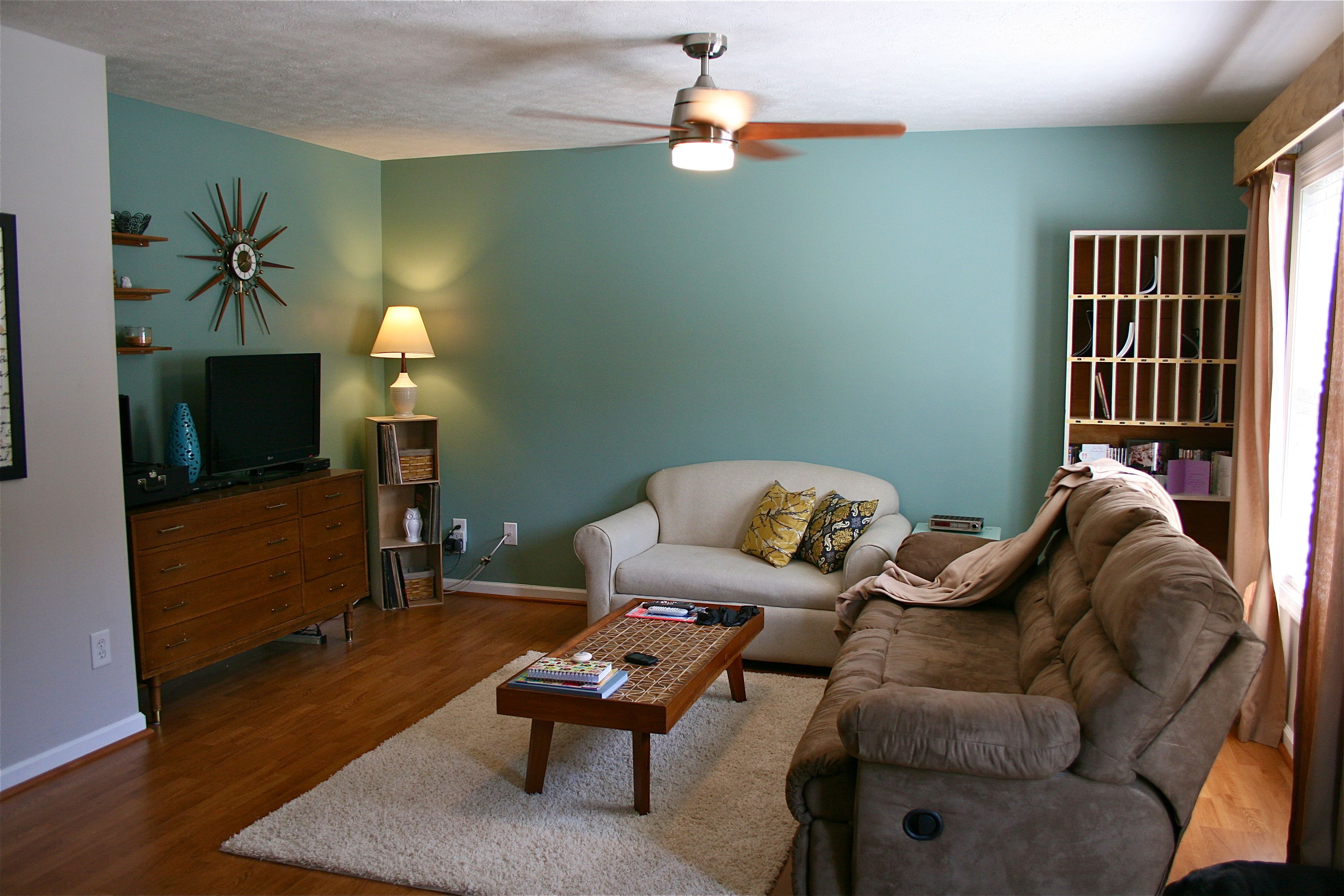 Unfortunately, I was a bit impatient and began painting them without masking or removing the frames first…I just painted right over the frame since John told me he would spray paint the frames back to black later. This is the last photo I left you with: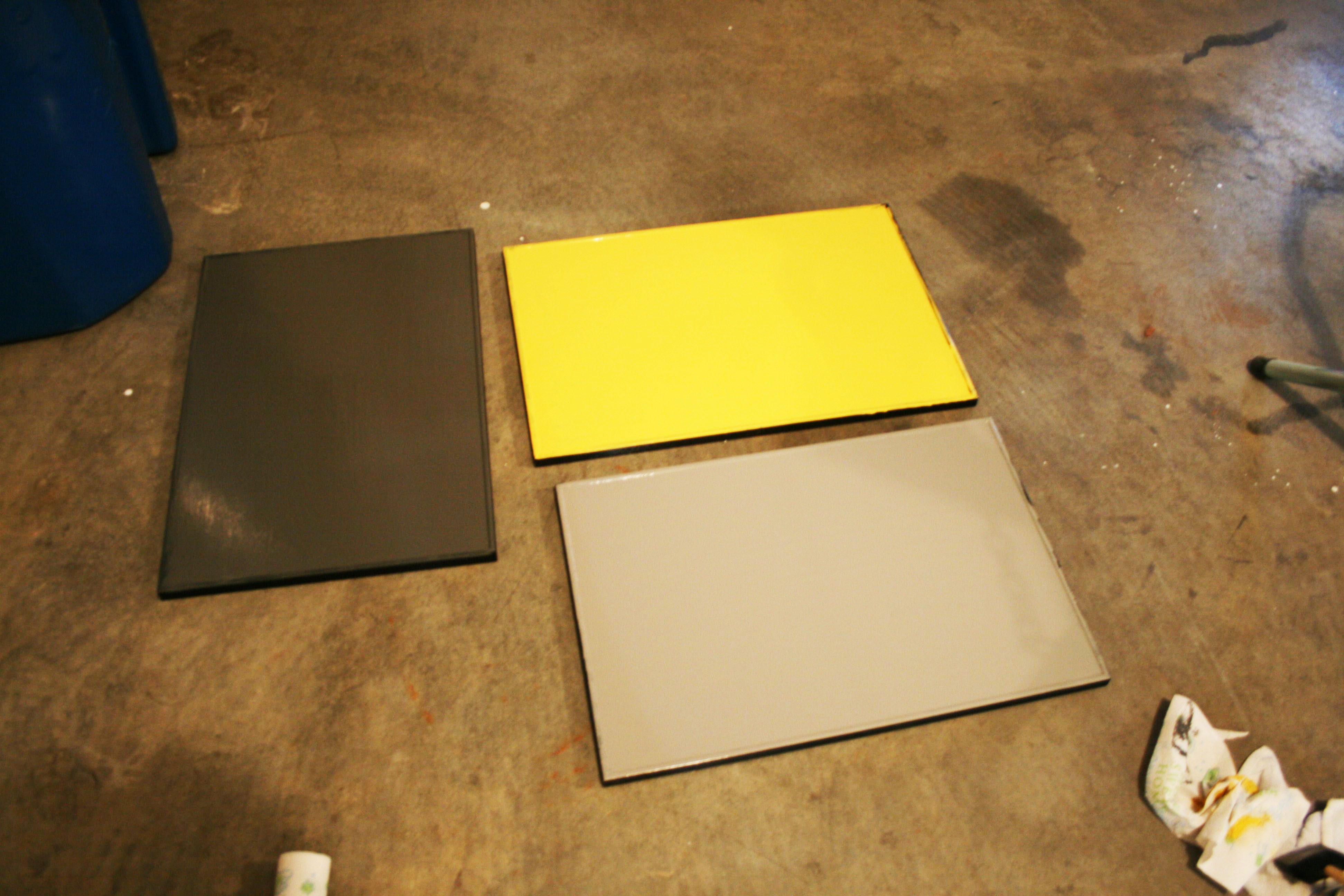 So a few days later, John did as promised and painted the frames back to their original black finish using a can of spray paint. We thought the next part, putting the frames back on, would be a cinch!
Boy were we wrong…
The frame construction is a complicated set of metal hardware, springs and teeny tiny screws. Here's a shot of them laid out with their metal pieces: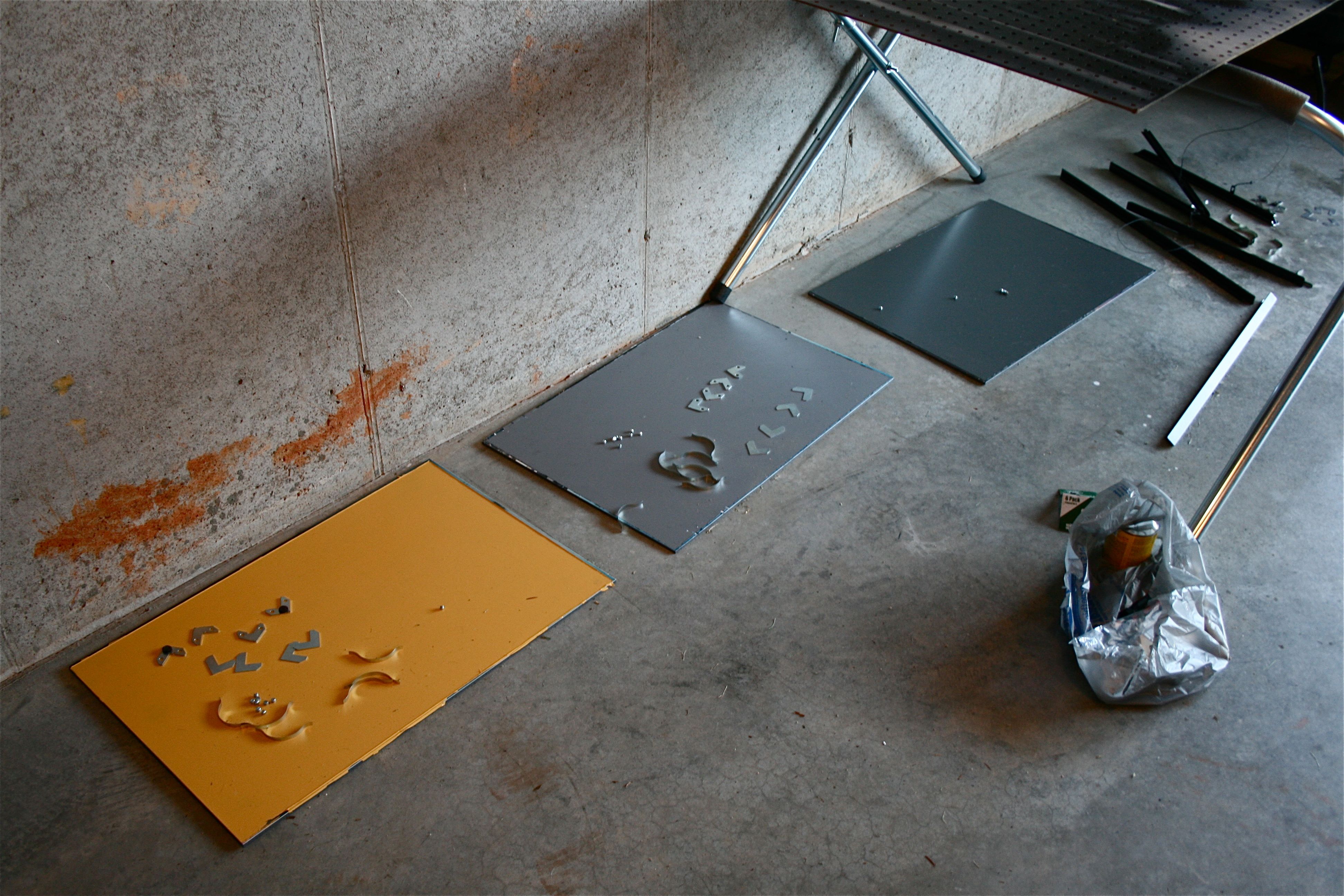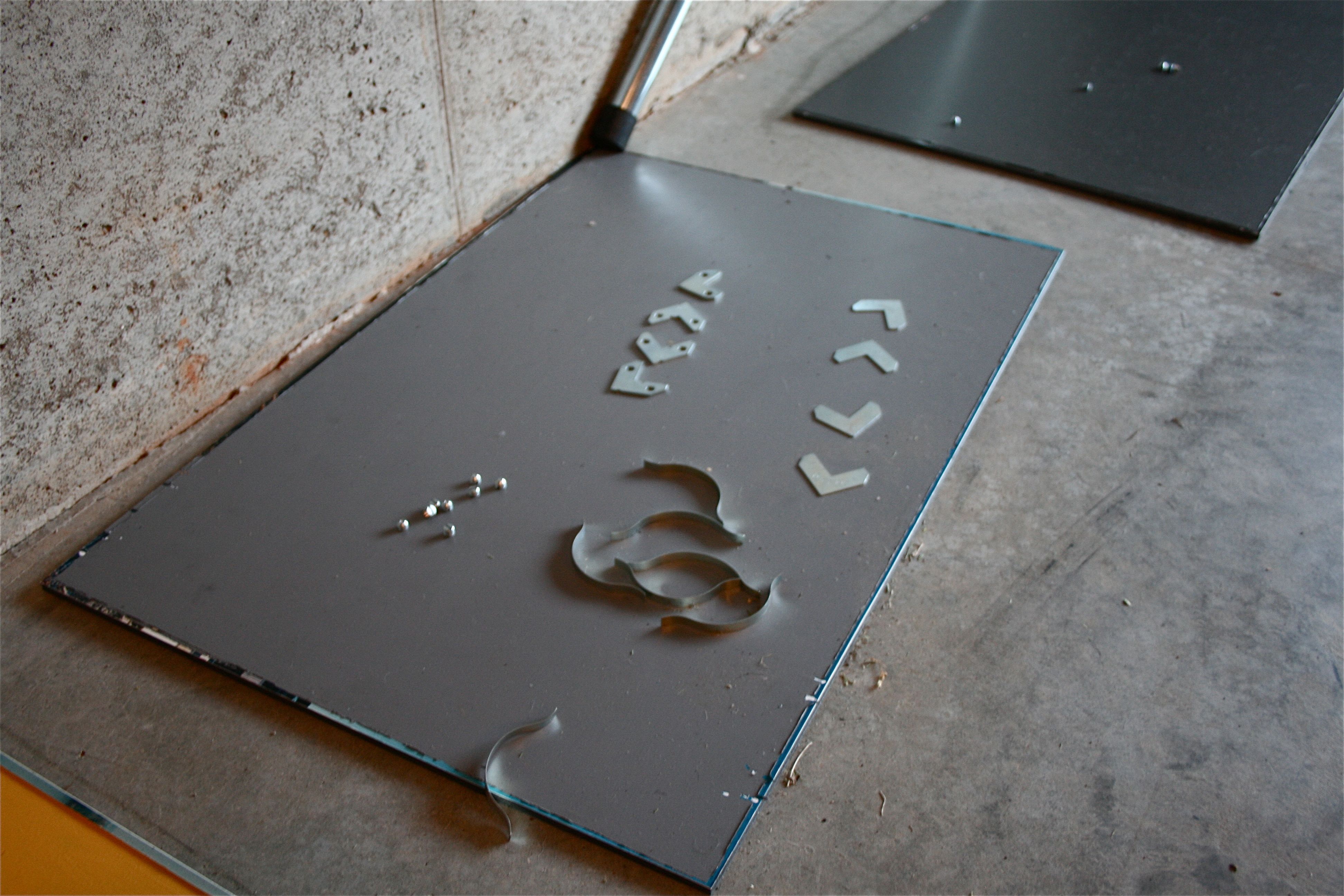 We tried in vain to put them back together one evening, but it got to the point where I was ready to chuck EVERYTHING in the trash in frustration. Let's just say that the metal springs were literally flying across the room where they kept coming undone – What little patience I had was gone.
Plus, the metal was starting to scratch and ruin my beautiful paint job…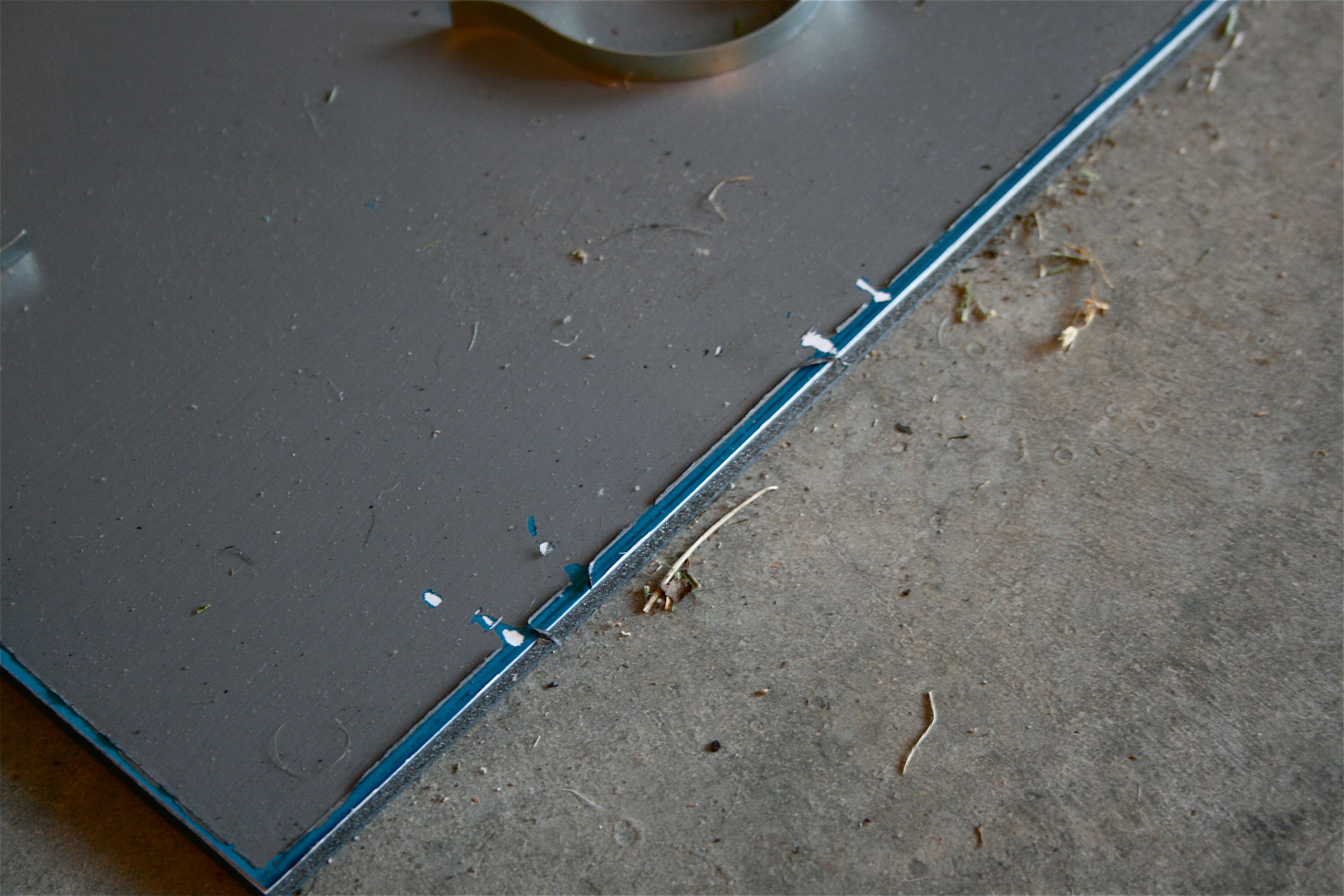 So I told John that it was up to him to save the day…In the words of Kristen Cavallari from "Laguna Beach", I was dunzo with the project.
In all honesty, we still haven't got the frames finished. We keep saying to each other "Well, let's get the frames done and then go out for coffee…" only to end up with "…How bout just a coffee date?" – Not sure WHEN we'll get around to finishing them, but hopefully they'll be the lovely collection of art I had imagined.
Until then, we've found a decent replacement! It may be a placeholder or it may take up its reign for good (like how I keep sneaking in references to royalty?? I'm on FIRE today!).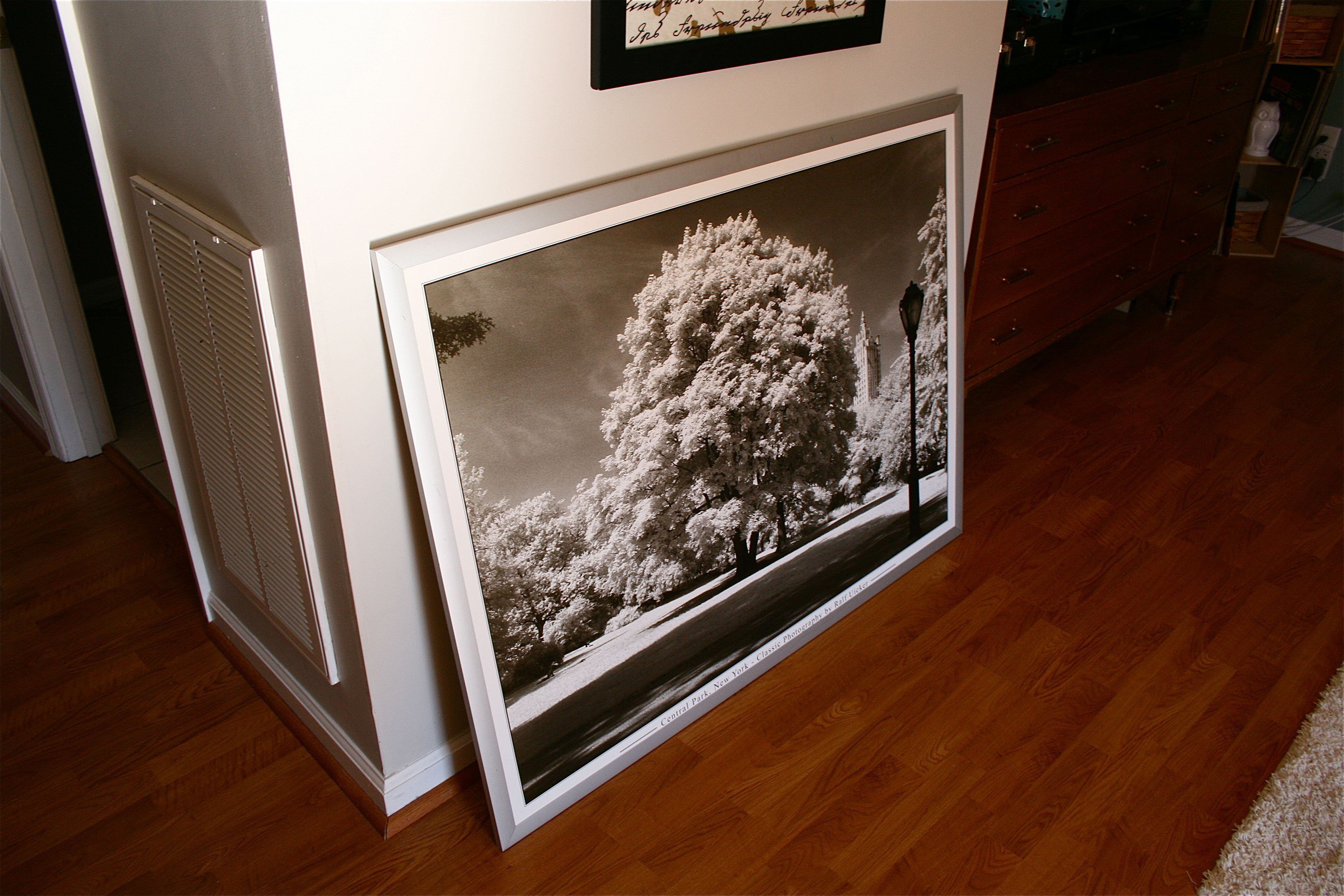 This oversized print came from a good friend of mine who knows that I absolutely ADORE New York City. It's a black, white and sepia photograph of Central Park.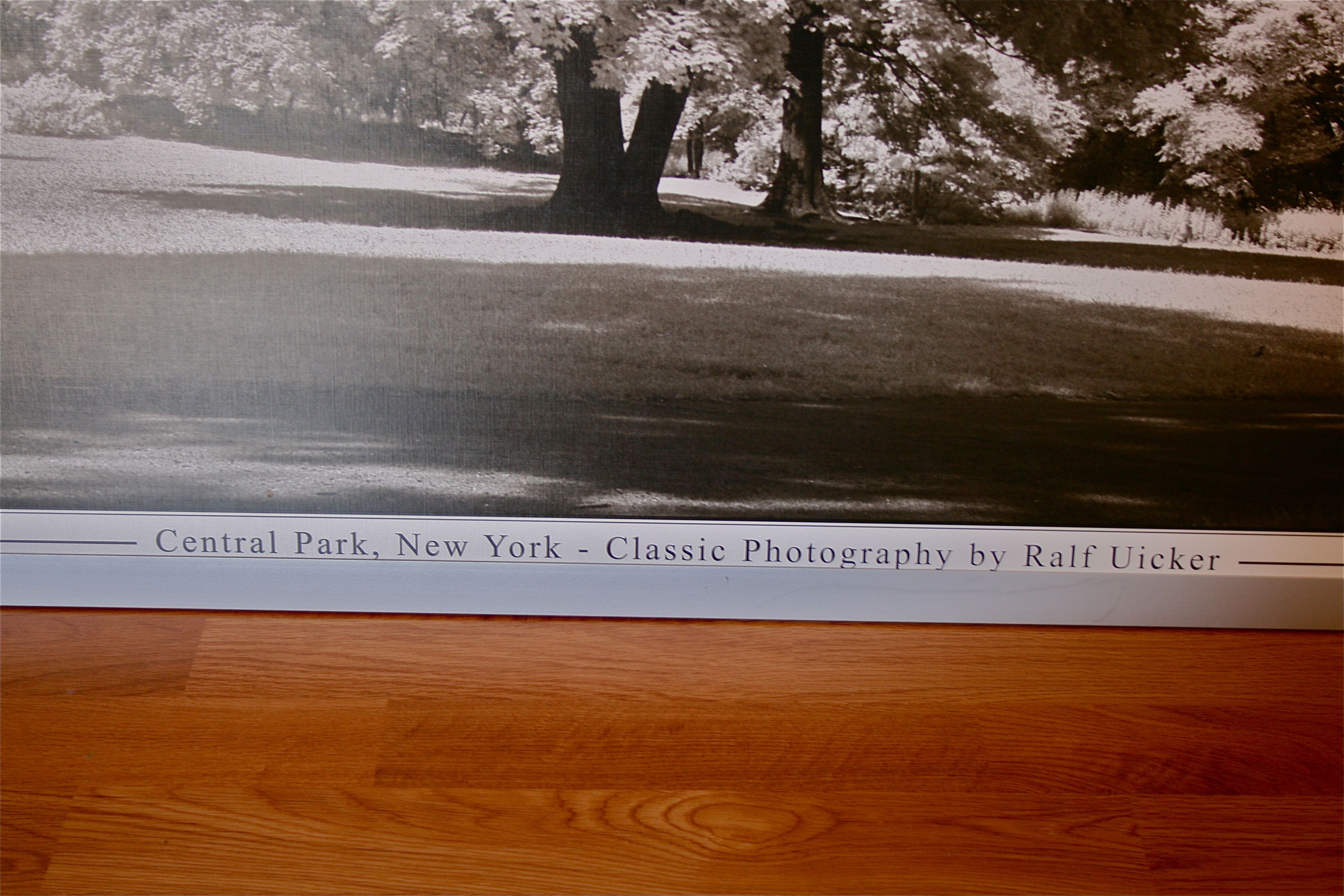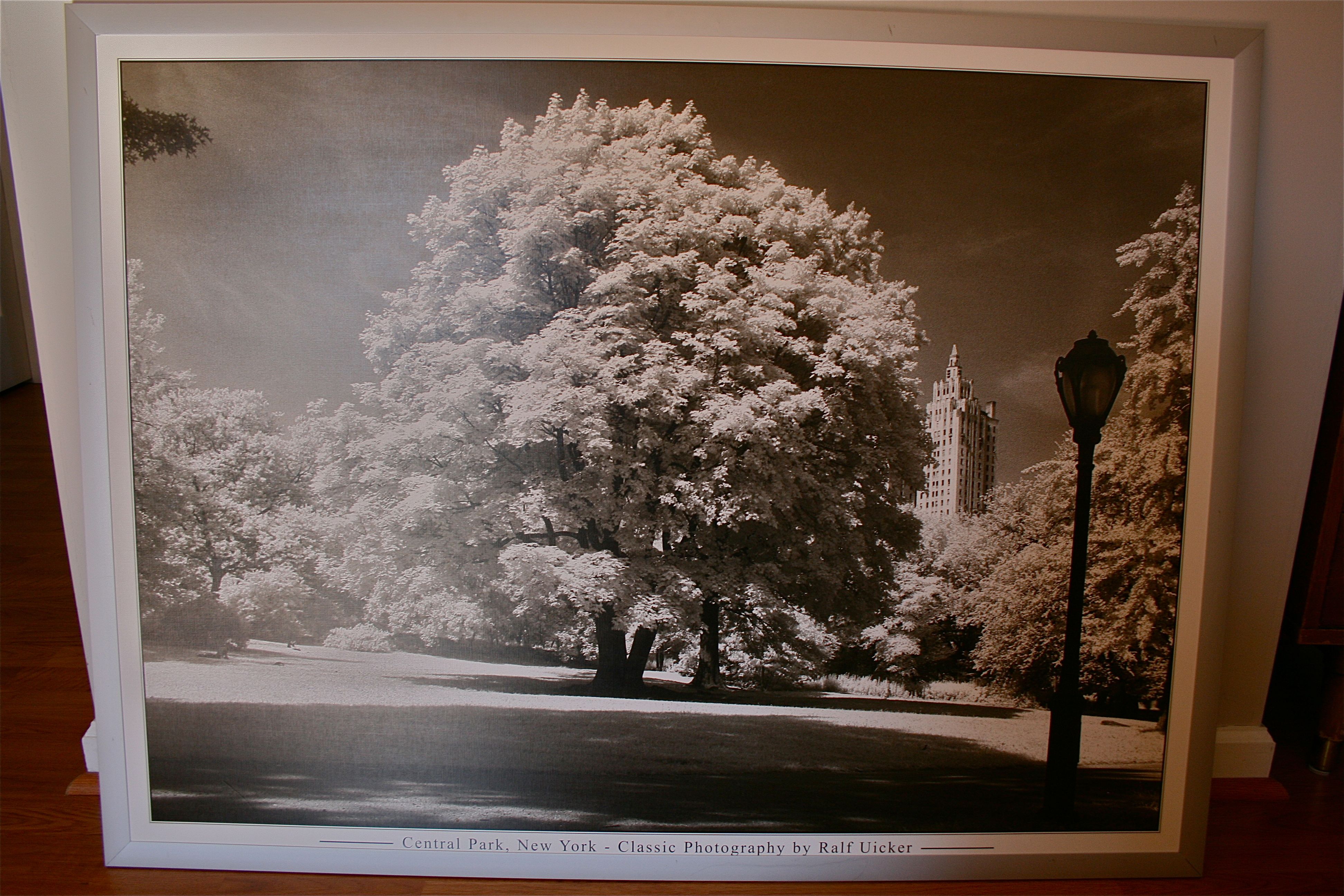 The print is quite massive (as you'll see in a moment when it's up on the wall) and has always served as a great focal point in any room it occupies.
The idea came to me to use it after seeing last weekend's new episode of "Secrets from a Stylist", where Emily Henderson used a large black and white print as a focal point (seen below). All of her rooms have a midcentury vibe to them, so I knew the design element of a large-scale print would fit our 60's decor too.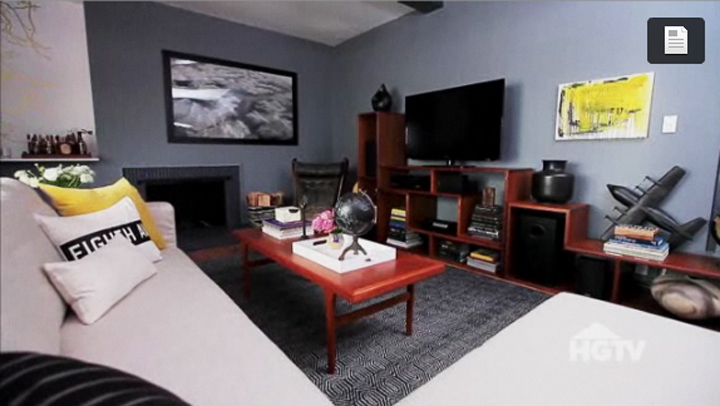 So up on the wall she went!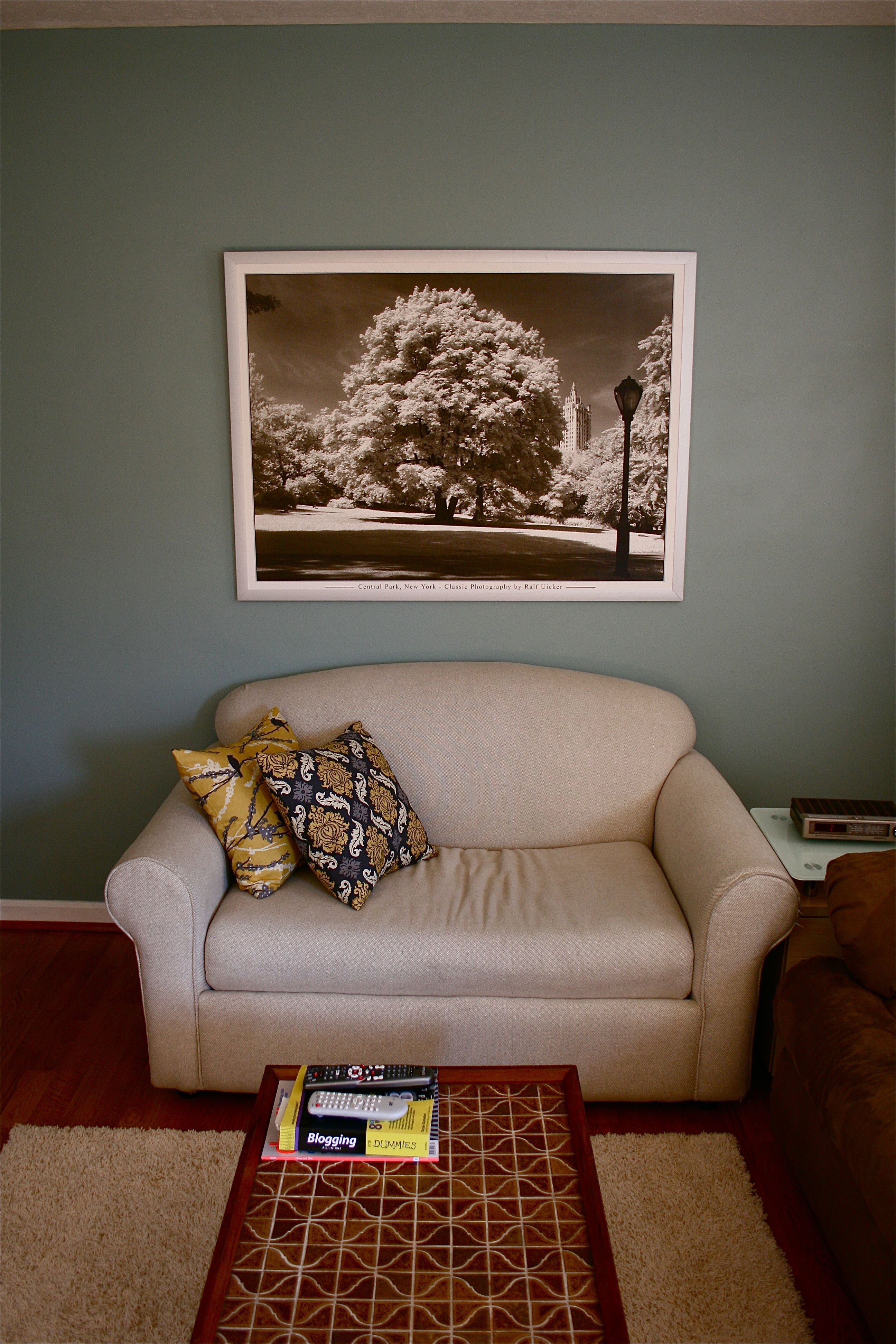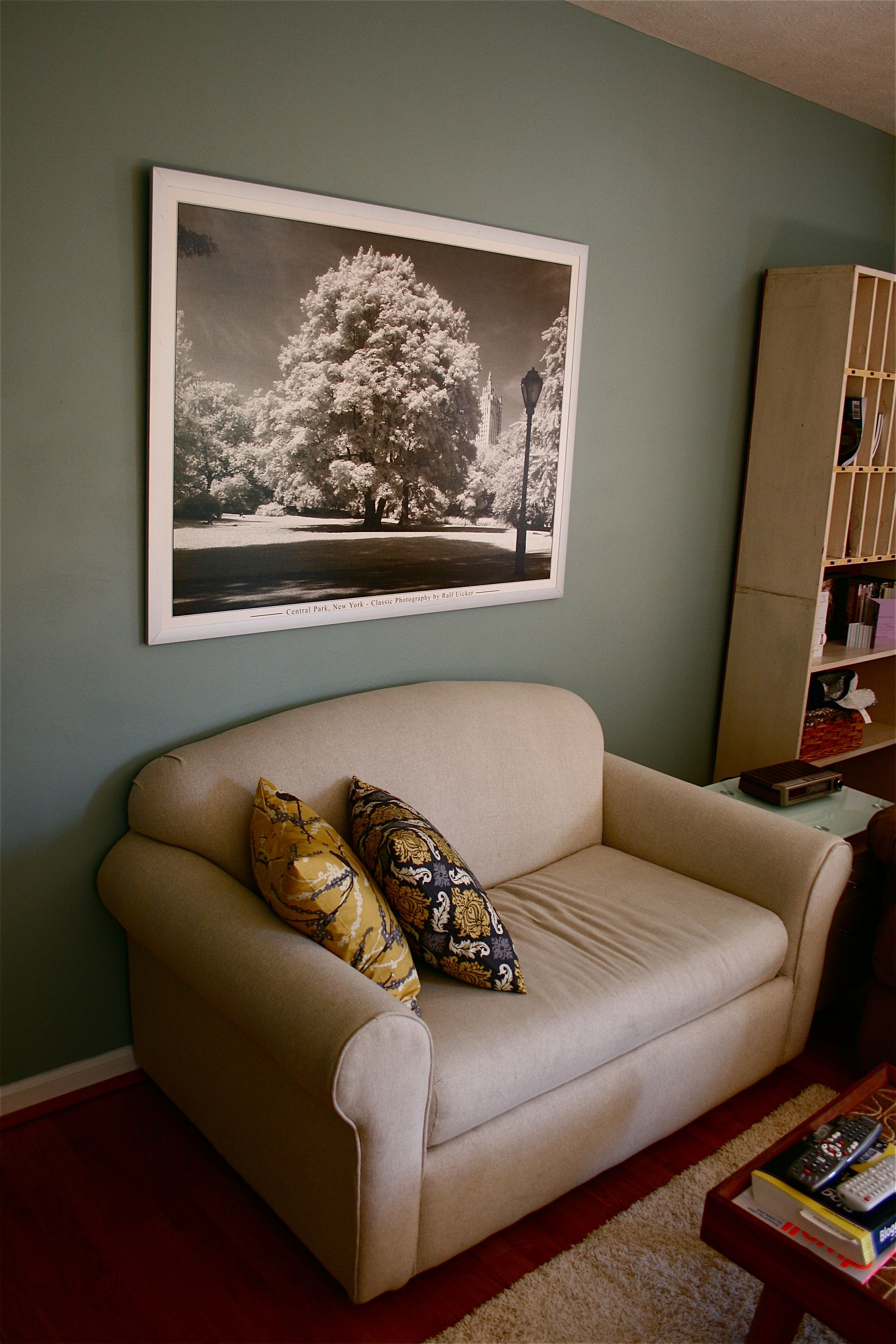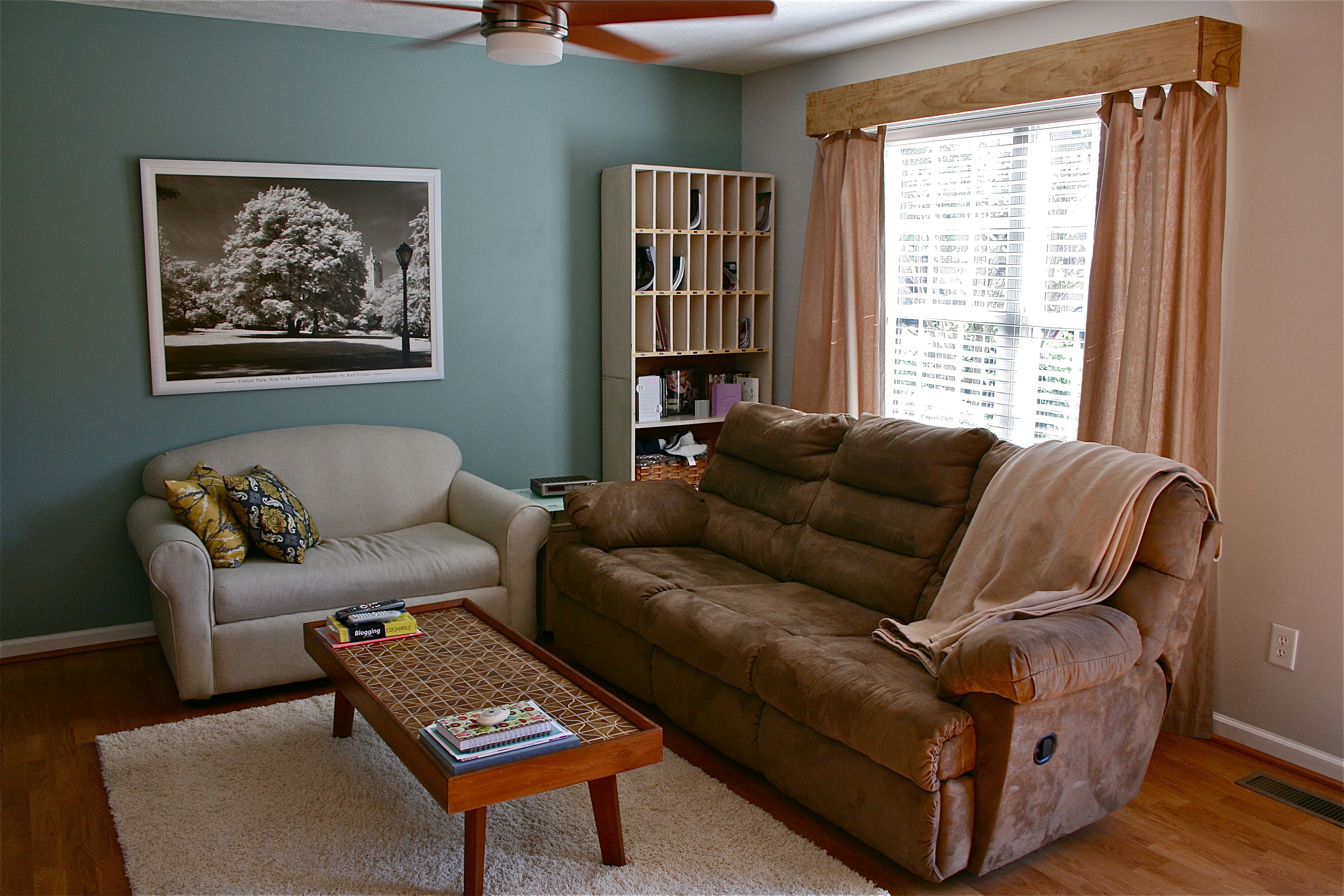 Here's the before again (saving you the need to scroll up to the top):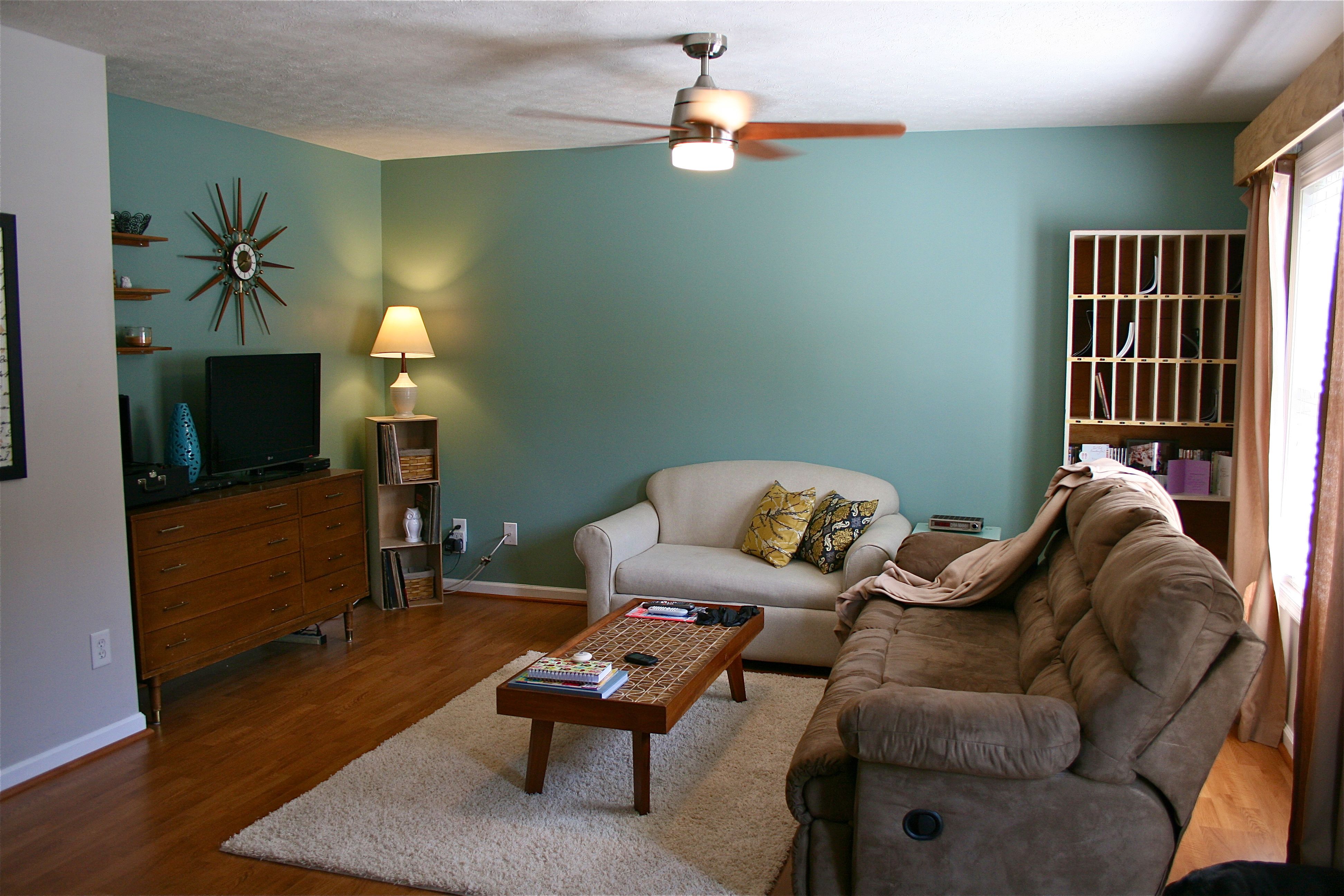 And now after: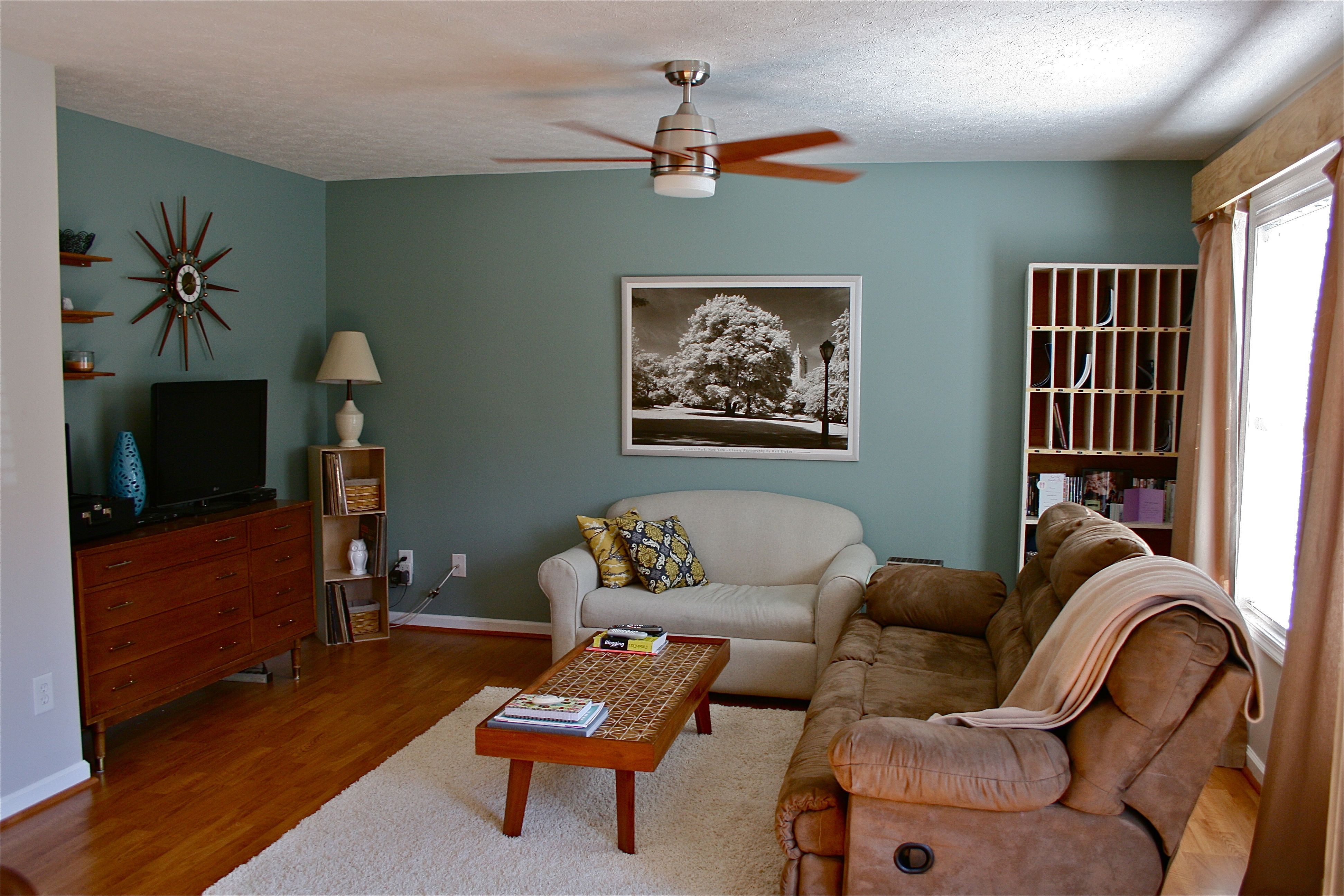 I love that we have finally hung something eye-catching on the empty wall and I think the photo itself lends a lot of interest and character! (Plus it was free!!)
I'm still not ENTHRALLED with the room, but I think that things will change drastically when the new couch arrives…Right now, Uncle Bob the couch is really throwing my visuals off.
Can't wait till Couch Day on May 20th! I don't know about you guys, but I'm definitely setting my alarm for 4am when that day rolls around – Royal Wedding, Schmoyal Wedding…I'm PUMPED about our new couch!!!!!!!!!!!!!!!
Hope everyone has a great (and productive!) weekend 🙂
(Photo credit for Kate and Grace's wedding dresses – yes, we are on a first name basis ;)- here; for Emily Henderson's design: here)