No, not for me 🙂 (sorry for giving you a heart attack, mom!) – For my bff, Bethany!!
As promised, I wanted to fill you in on the newest addition to her and her husband's life – baby Dean! And what better time then the week after Mother's Day…
The following set of family photos (before baby and after) were taken by local photographer, Sara Ernst. I was around as moral support for Beth's maternity shoot and got to witness Sara's super fun and spunky personality – She easily captured the essence of and love between my best friend and her sweet husband, Kenny. Ernst is something of a local celebrity when it comes to her photos of children, so definitely check out her website if you're a local Lynchburgian in need of family portraits.
I'll let the beauty of this newly rounded-out family act as proof…Welcome to the world, Dean!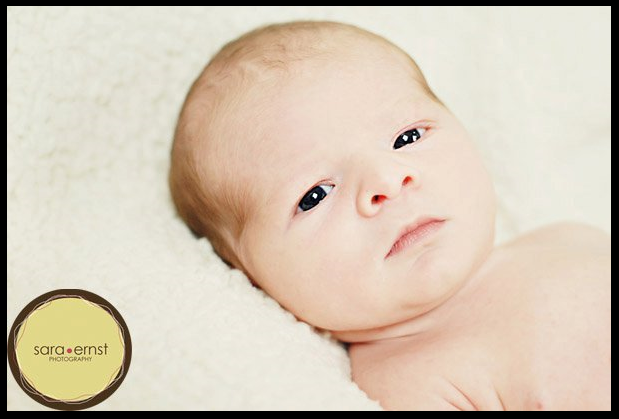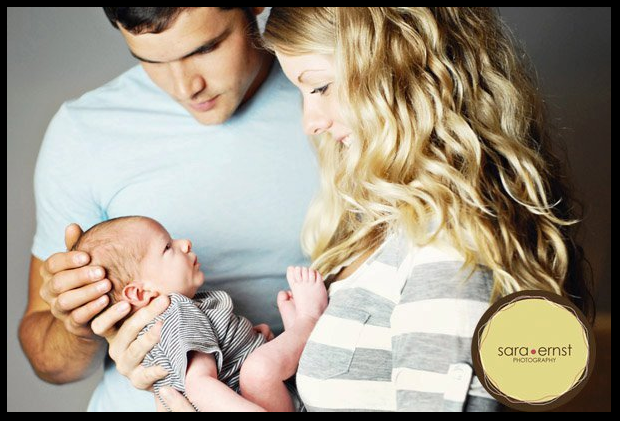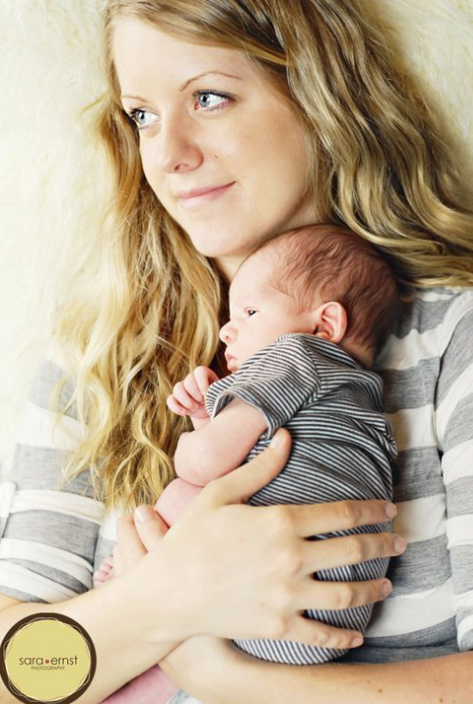 Beth's lovely boys – I can't get enough of little Dean's scrunched up baby faces: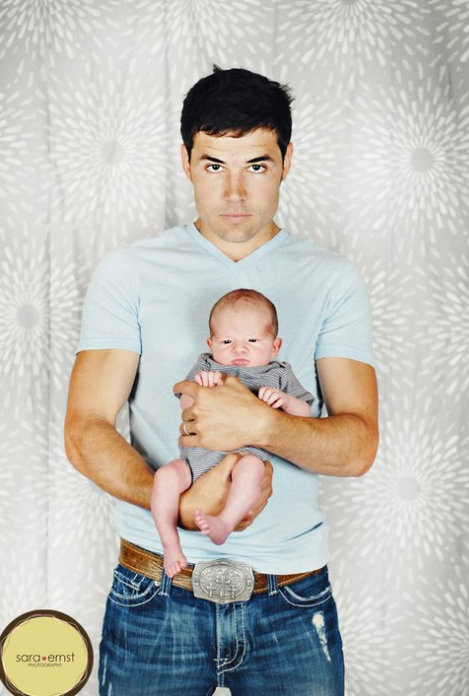 I am SO indescribably excited and happy for Beth, Kenny and Dean – They are such a positive family FULL of love for each other, life and God.
But before baby, there was a belly!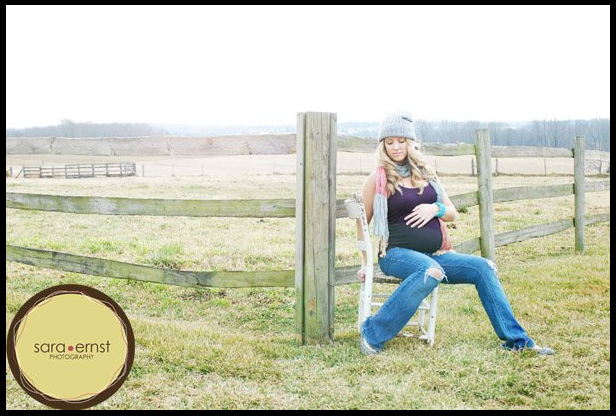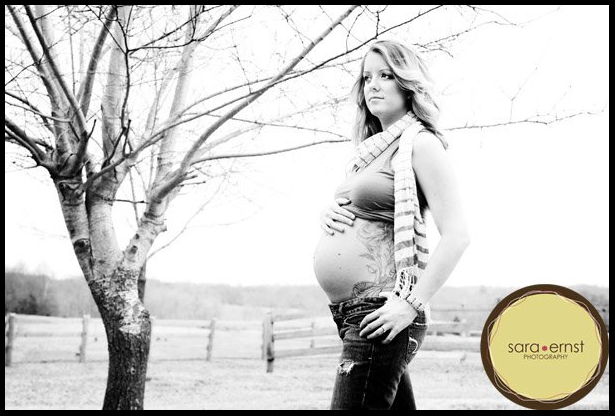 Just before Dean was born, Bethany and I spent an evening looking in anticipation through his nursery. I knew the next time that I saw her, she would have her new son in her arms, so this was a pretty emotional moment for me (and I'm sure for her too).
So we tossed those emotions and anxious excitement into admiring the little details in the nursery – Like the cute nickname decal on the door to the room:
And the dresser-turned-changing-table!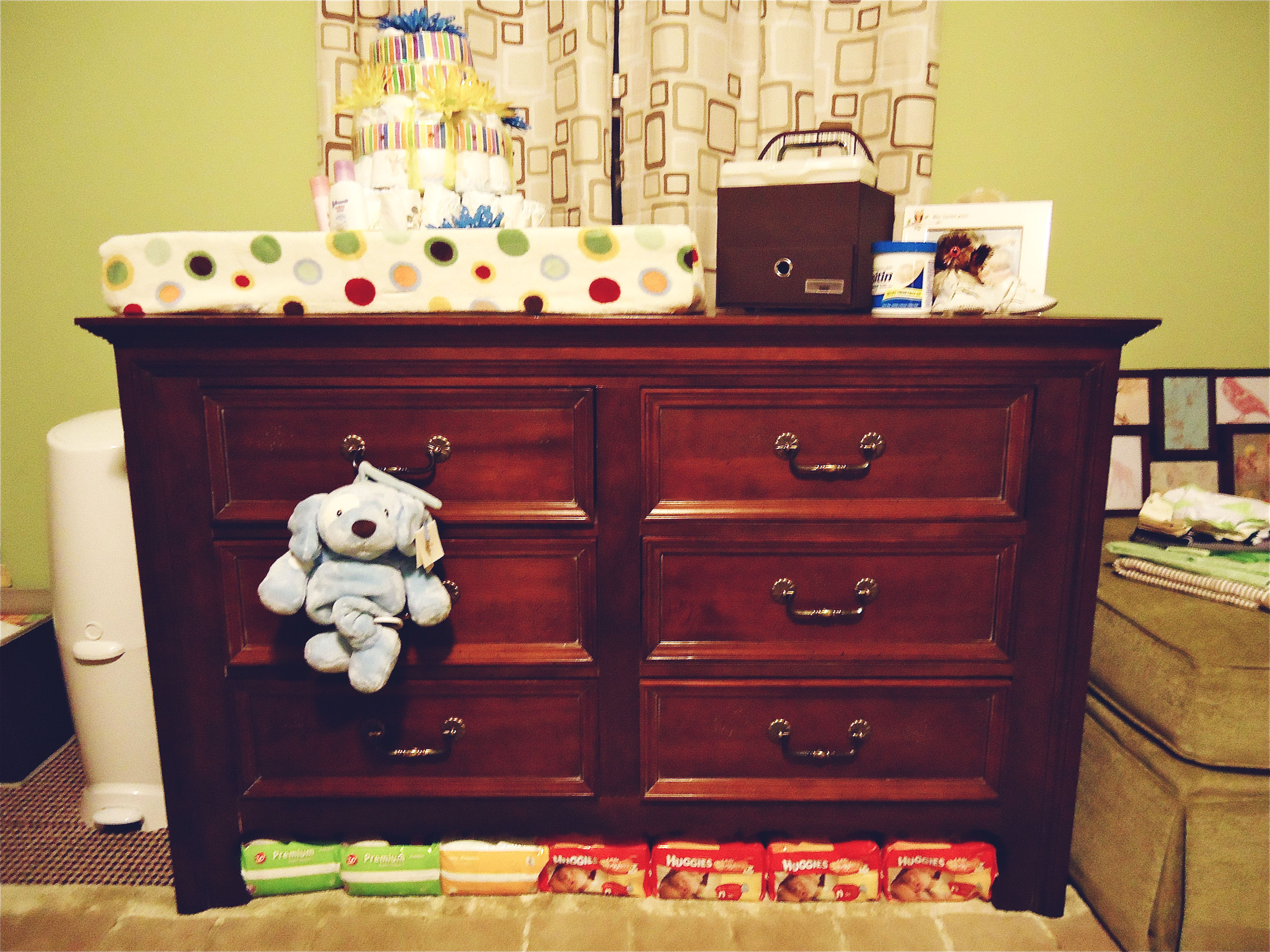 I love that she was able to give this piece of furniture some baby-functionality simply by topping it with a changing pad – Plus a dresser has TONS of built-in storage that will definitely come in handy! Why splurge on a made-for-a-nursery changing table (which can cost hundreds of dollars and can only be used when your son/daughter is a baby) when you can essentially DIY one yourself? I love that! Plus, it can grow as Dean grows – Maybe he'll use it as his dresser one day.
See that cute collage of framed art on the ottoman to the right in the photo above? Here's a close up: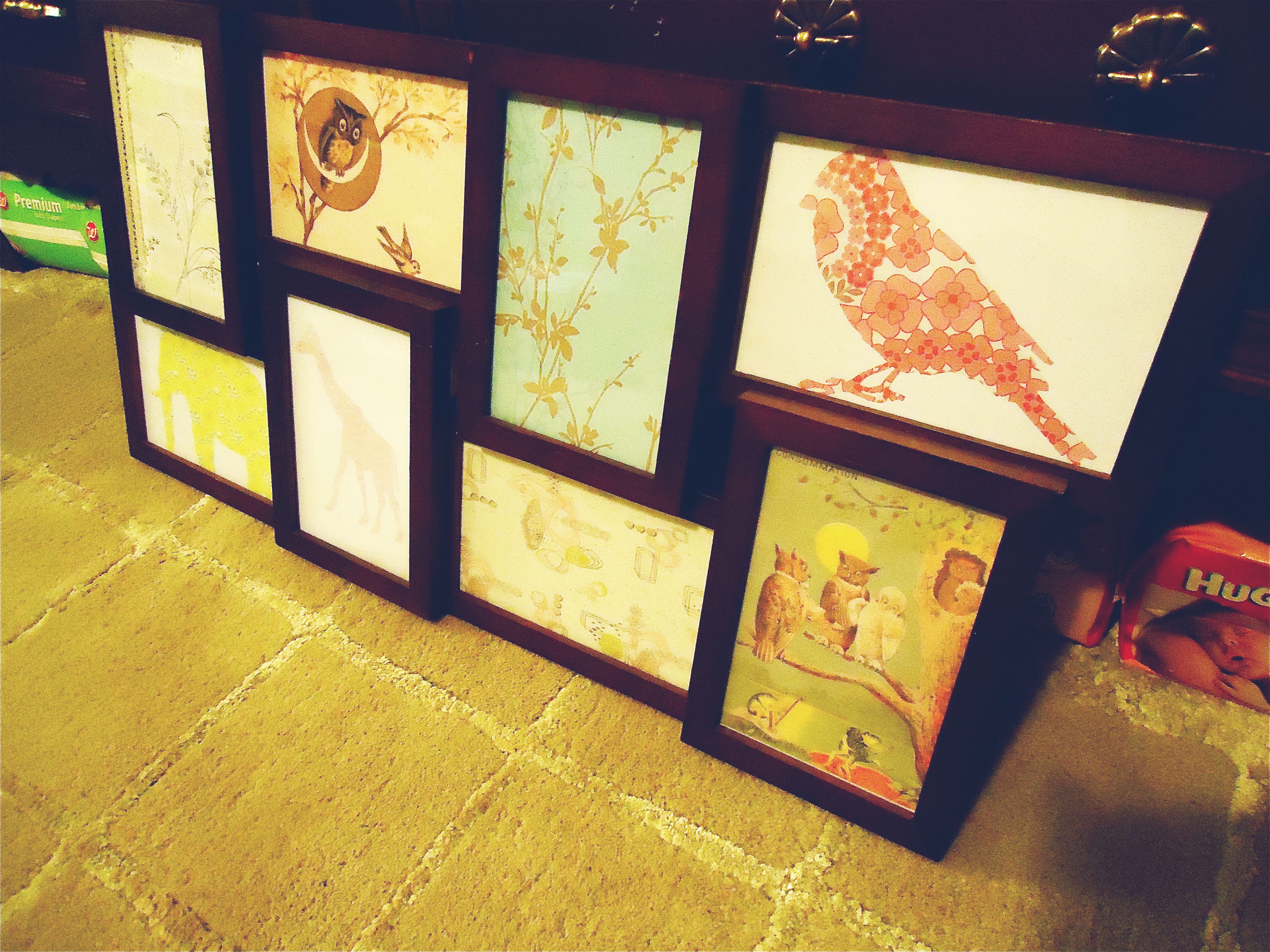 Something like this would sell for  $30 at stores like Urban Outfitters or Target, but Beth created her own with an inexpensive collage frame and colorful images of owls and other animals/flowers printed from the internet.
Stumped as to what to put in a shadow box? Well having a baby gives you TONS of sentimental options! Beth used her's to showcase a hat and pair of booties her grandmother knitted. What a great way to honor your family! Plus it can be changed out as many times as you want as your baby grows.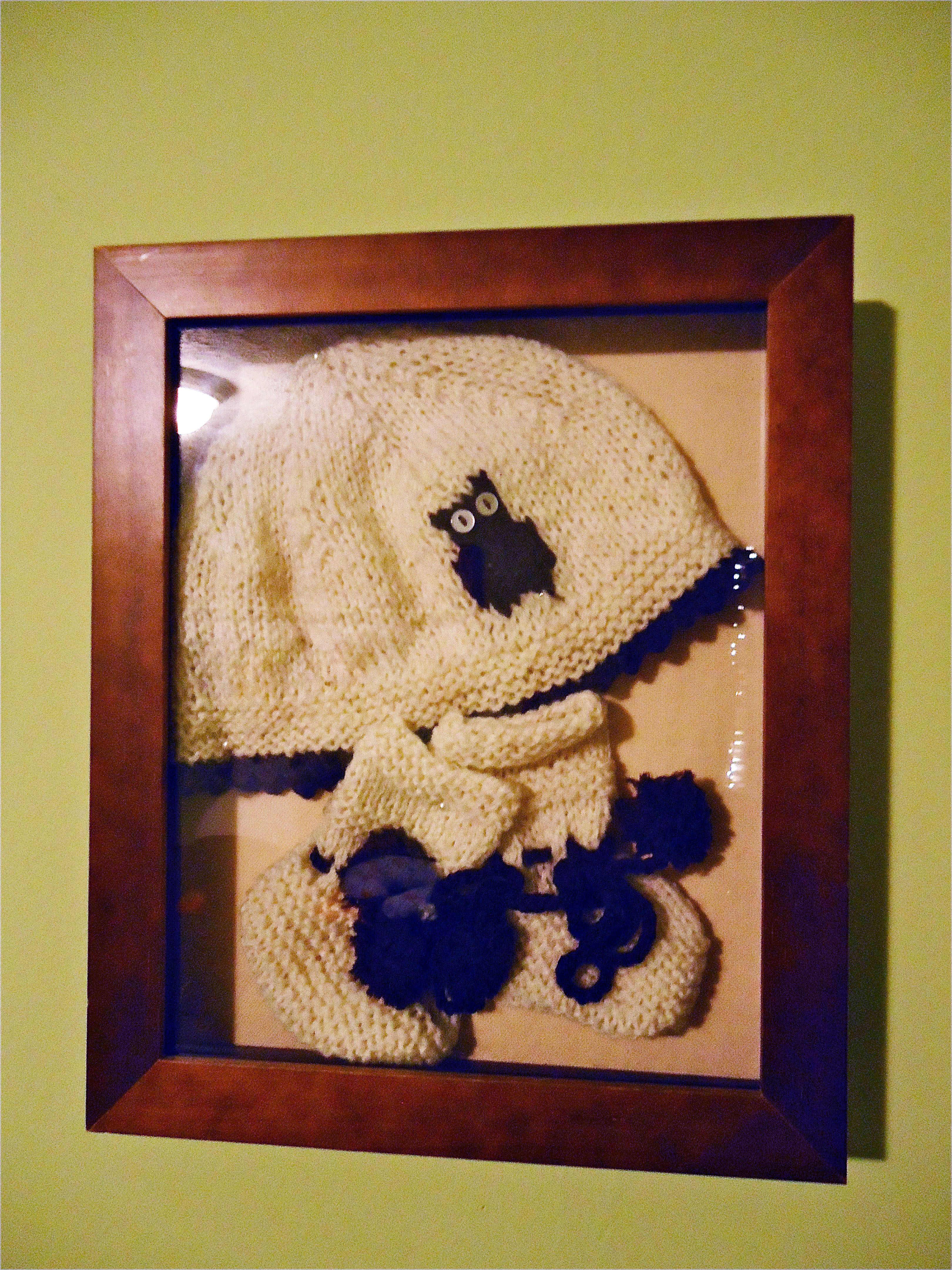 P.S. Can you tell that Beth likes owls too?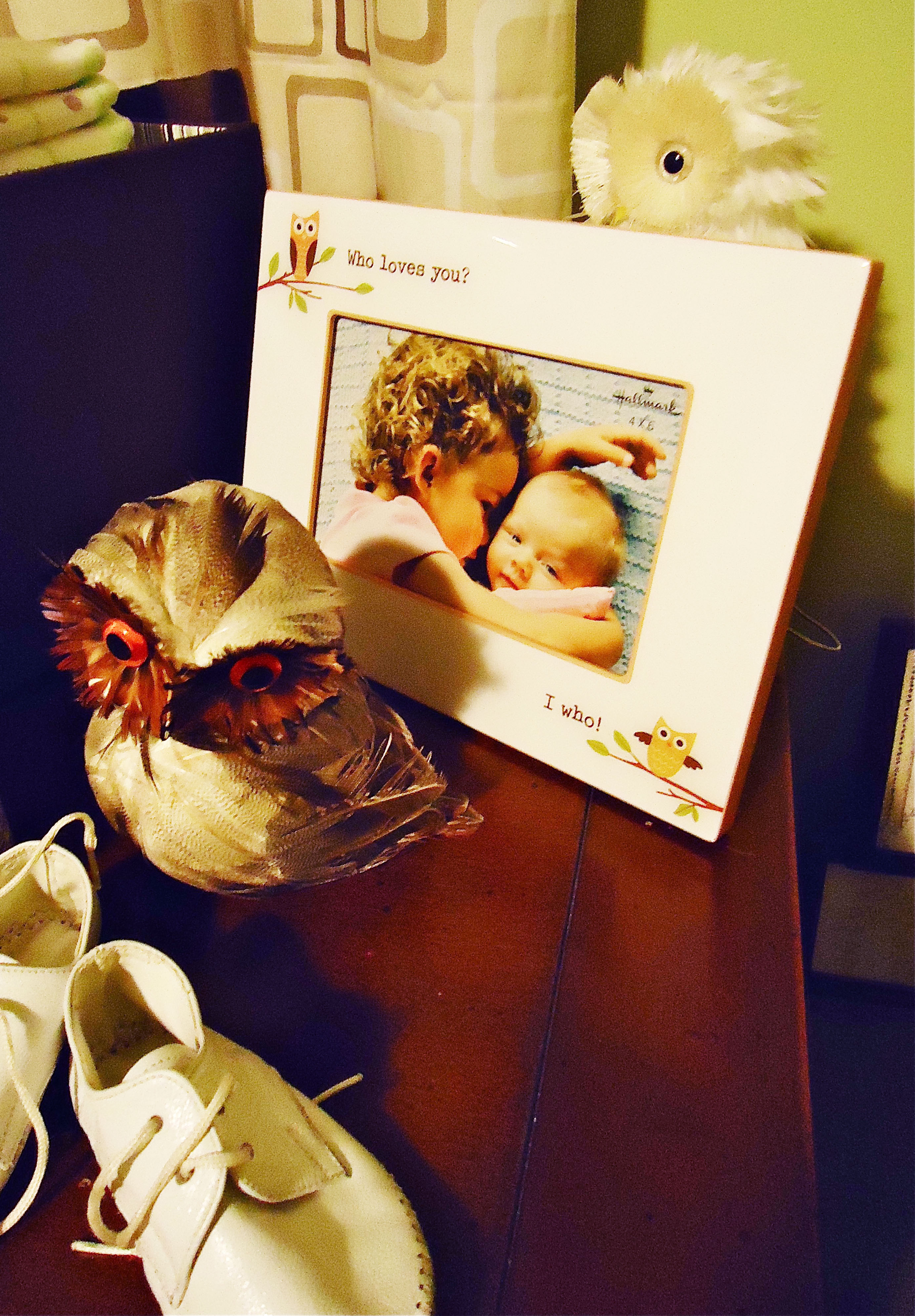 And of course we can't do a walk-through of a nursery without seeing the adorable crib! Beth made sure Dean's crib was a special spot in the room by putting another wall decal centered above it and by filling it with colorful patterns and fabrics.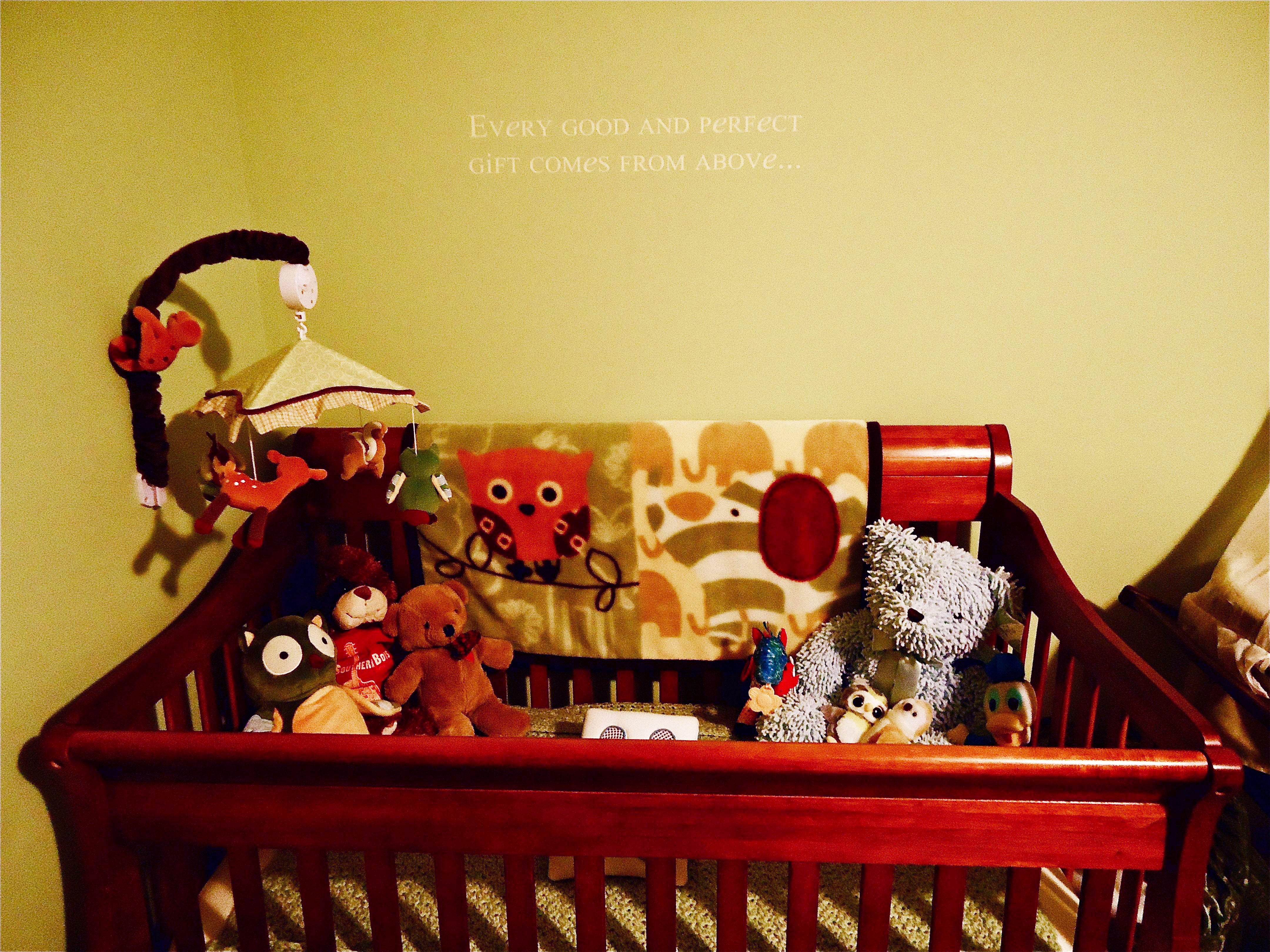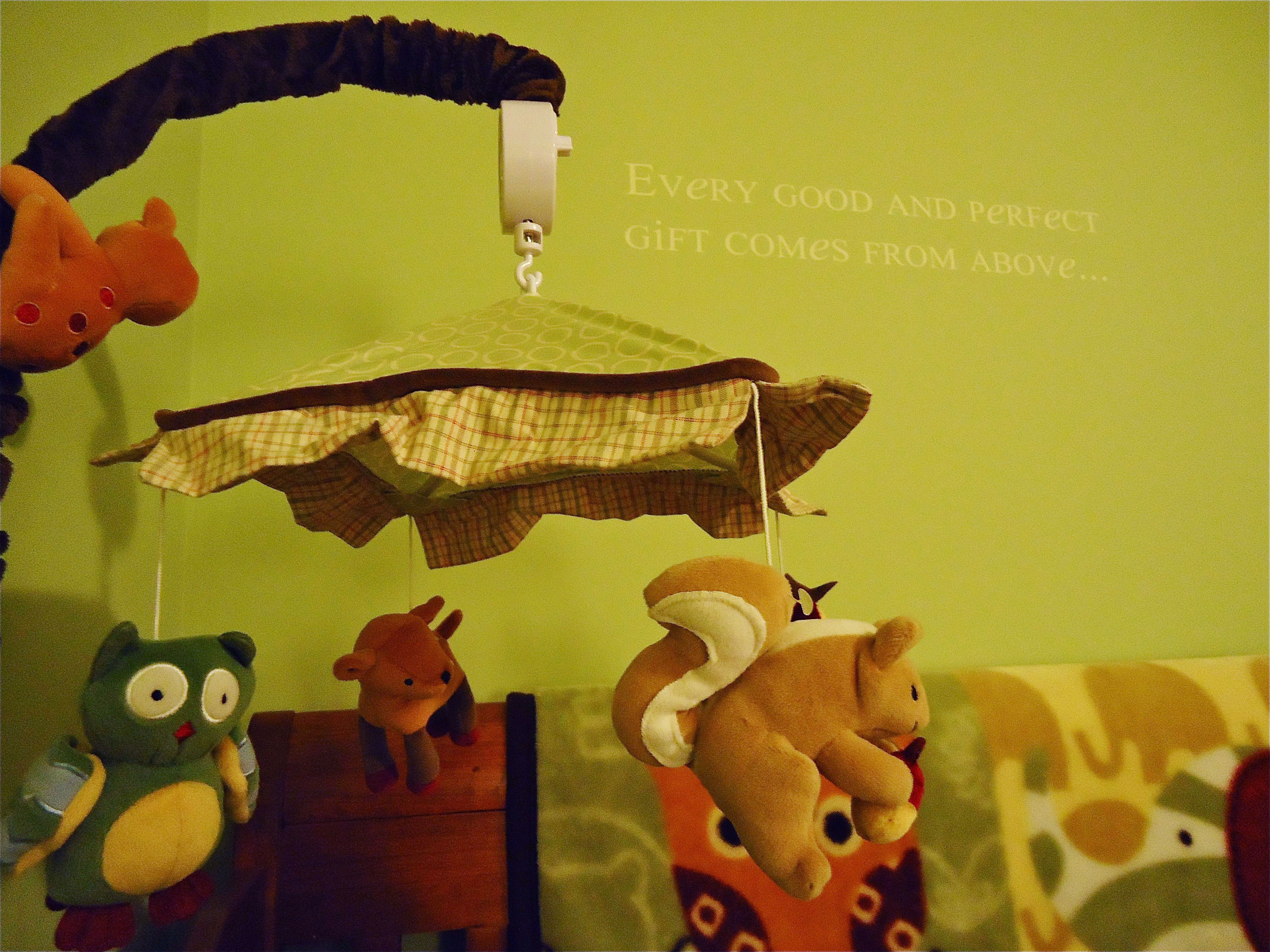 If you can't read the quote (sorry…I brought my not-so-good camera with me), it says:
"Every good and perfect gift comes from above"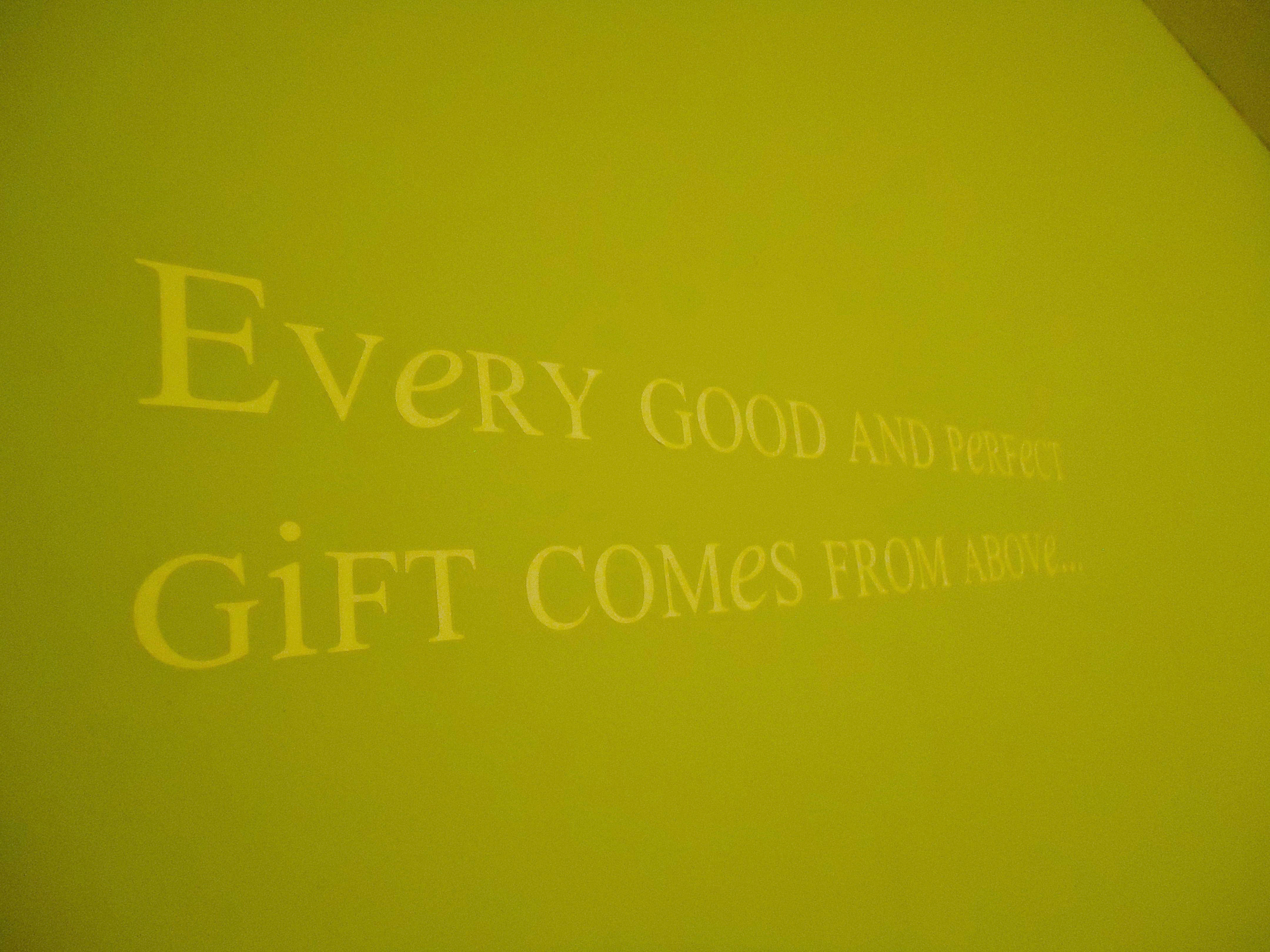 Although I know that our friendship will never be the same with this new addition to her life, I know that it will actually be richer and better for it. I am SO in love with Dean already and can't get enough of holding him…I get a little case of "baby fever" whenever he's sleeping in my arms and I see the contented glow in Beth's eyes, but it'll definitely be a few more years before John and I are ready for that step 🙂 Maybe you'll get to see that unfold here on this blog!
Congratulations Beth and Kenny! Your son is beautiful…
(Photo credit for maternity and baby pictures: here)