I know that I usually publish an "Inspiration" post every Monday morning – It's my little way to ease back into routine after coming back from the weekend. But this morning calls for something a little special 🙂
Today is the first full day that I have a FIANCE!!!
It all happened yesterday…
Most Sundays John and I tend to go "easy" with no plans so that we can prepare ourselves for Monday morning, but this weekend we decided to go on an adventure…We drove John's four-wheel-drive truck up the mountains to the Blue Ridge Parkway and went off-roading.
Yes, the story of our engagement is going to be a little "redneck"…I don't know if it's because of what happened while we were off-roading or what, but I'm suddenly proud to be a little Southern!!
Anyways, I'd never gone off-roading before but John had been a couple of times so he knew where to go. One moment we were driving along the peaceful paved road of the Parkway, passing creeks and picnic areas, people fishing and hiking. Then suddenly John announced "This is it!" and pulled off the road onto a dirt path that I would never have noticed!
He told me to get comfortable, which essentially meant unbuckling while he did something to the tires to make them four-wheel-drive ready. He hopped back in the cab and we were off! Although "off" was really just a slow crawl as we traversed huge dips in the path and bounced over rock beds that had my eye balls shaking in my skull. The path LOOKED scary, but the truck (and John) did a great job taking it in stride.
Here's us coming up on one such rise/dip in the "road":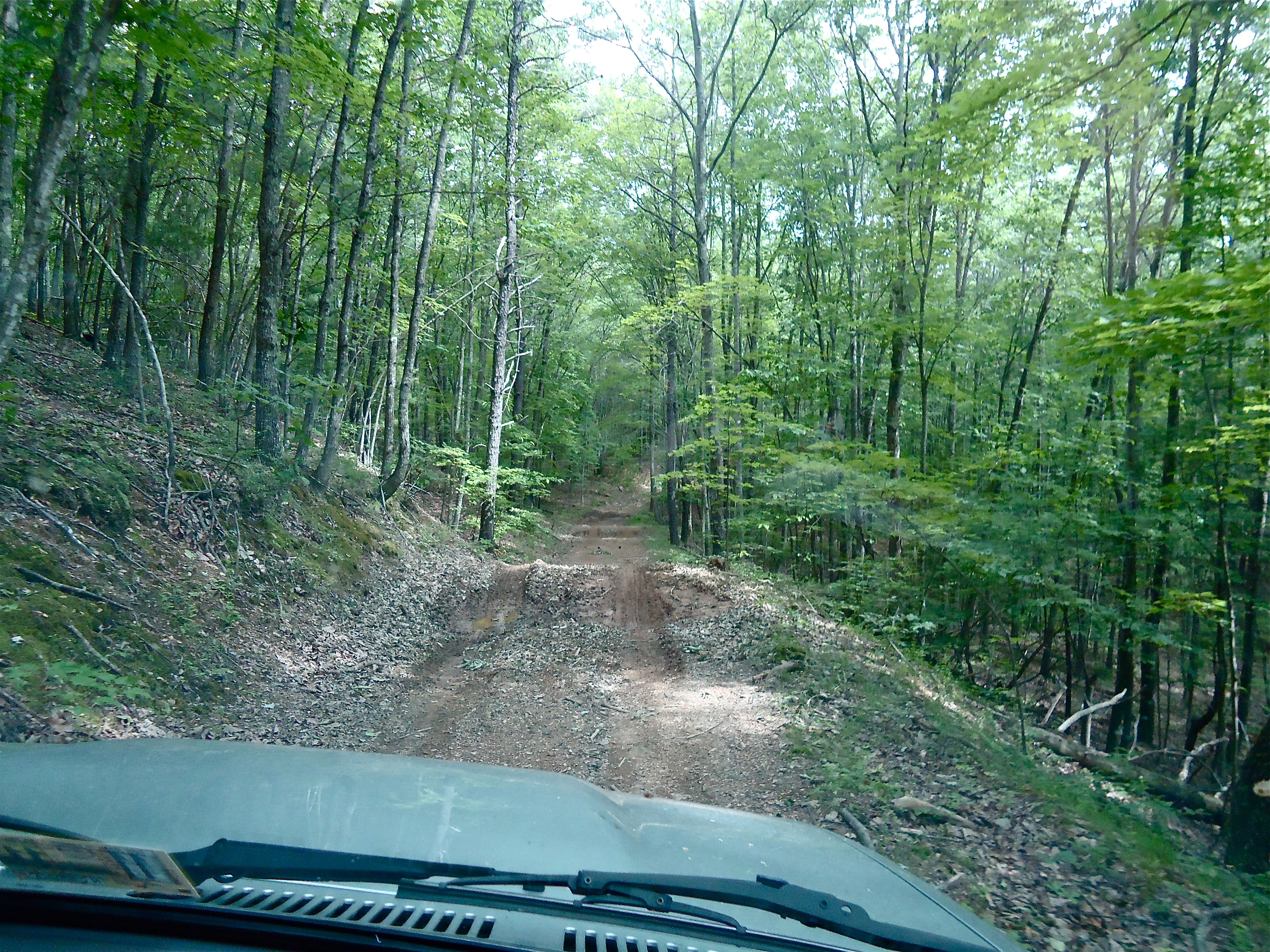 Doesn't look like much, but let me tell you…We saw sky on some of those bumps.
It wasn't exactly the most comfortable ride, but it was FUN!!! There's something really relaxing and freeing about being in the middle of the woods, completely alone and nothing but the sounds of nature surrounding you (at least when you shut the grumbling truck engine off). We joked that we probably wouldn't see any wildlife even though we were deep in the woods because the truck banging around would warn any animals well in advance…
Needless to say, it was a blast!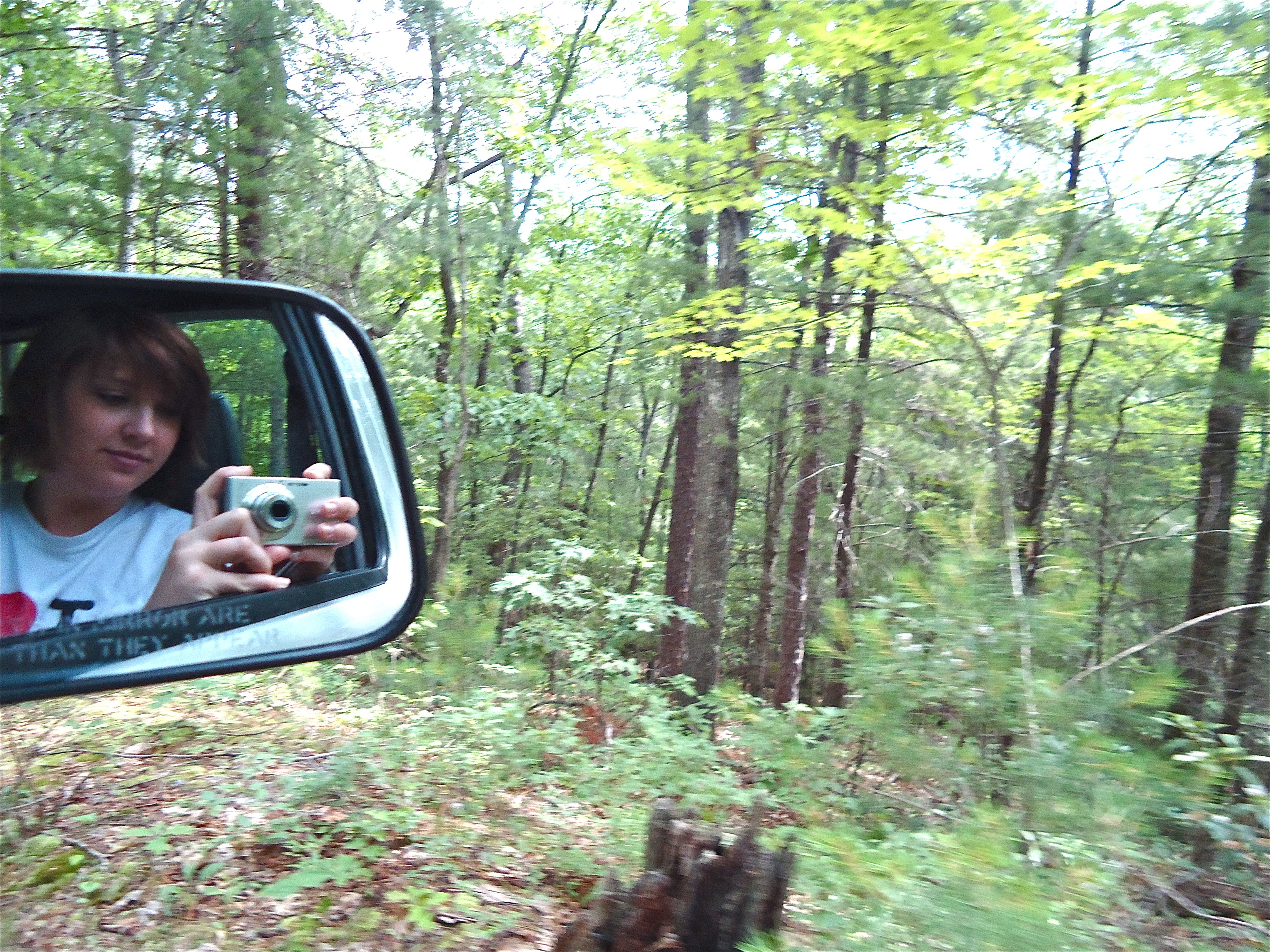 After about an hour of driving, which miraculously only equated to only a few miles of travel, we came upon this: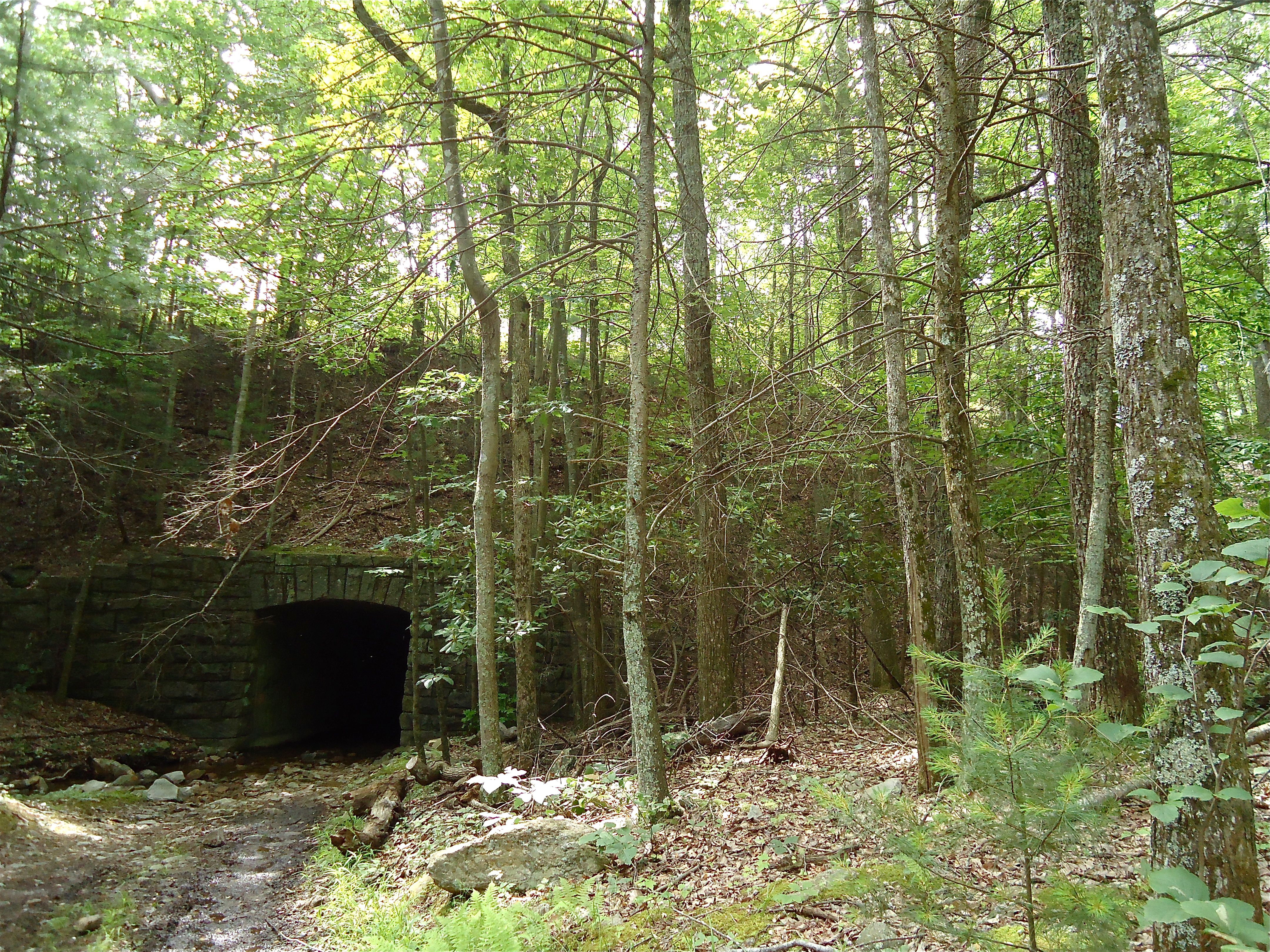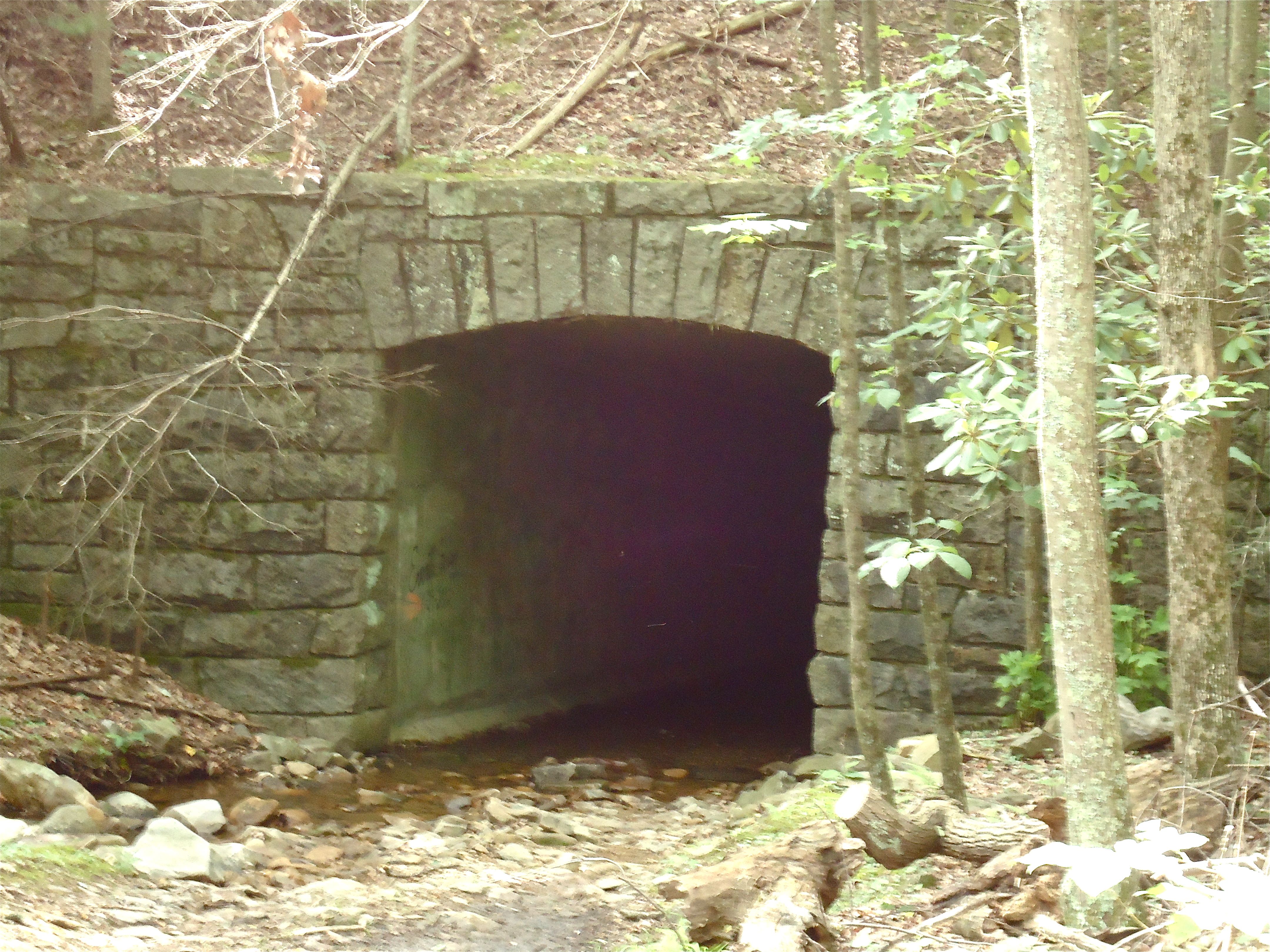 It was a small stone tunnel that run under the Parkway – John had been to the spot before while off-roading with friends, so he was excited to come upon it again. I was excited too! It was a little creepy looking from the outside, but inside it was really fun! Why are tunnels so exhilarating??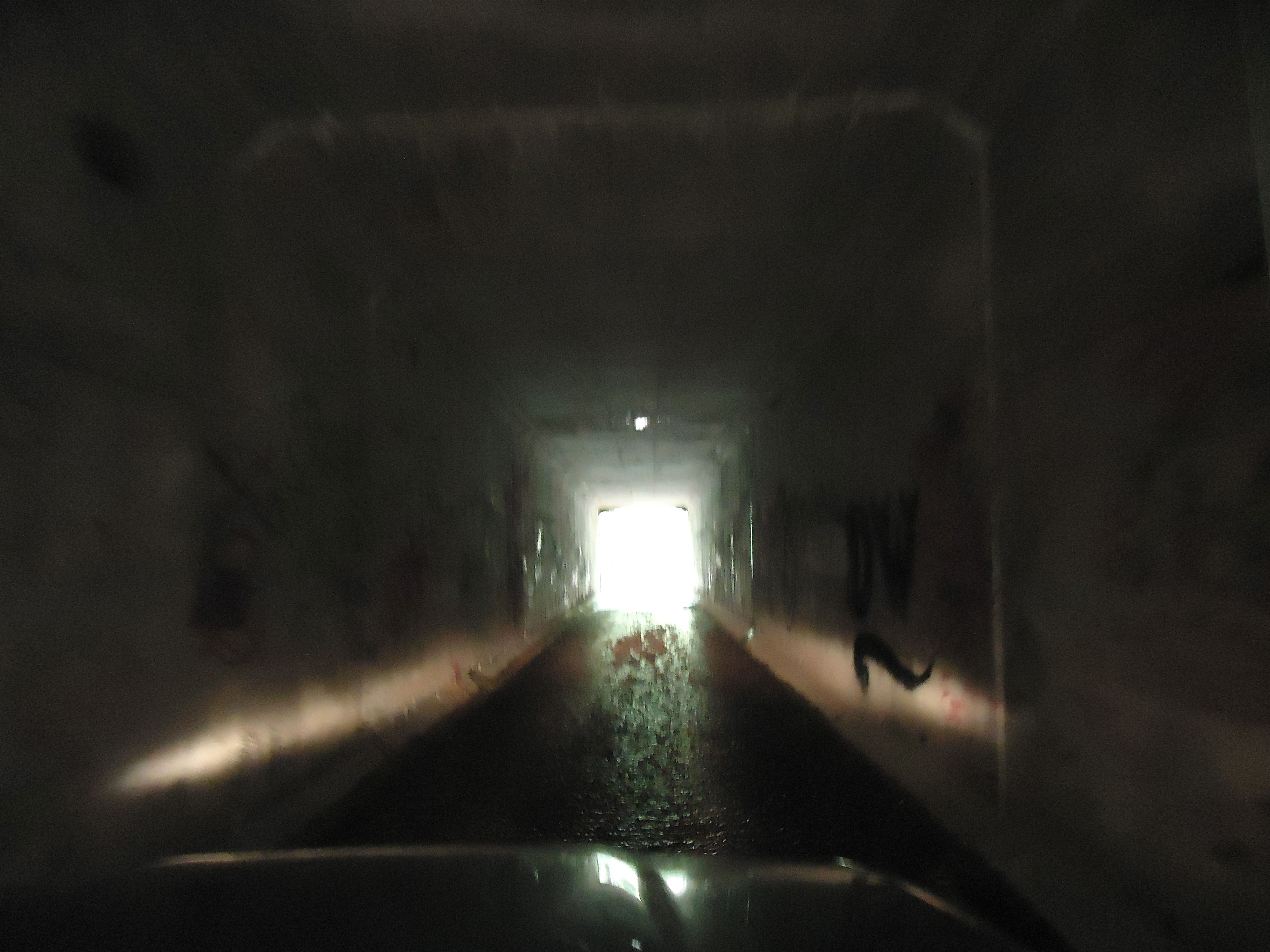 Here we are parked on the other side: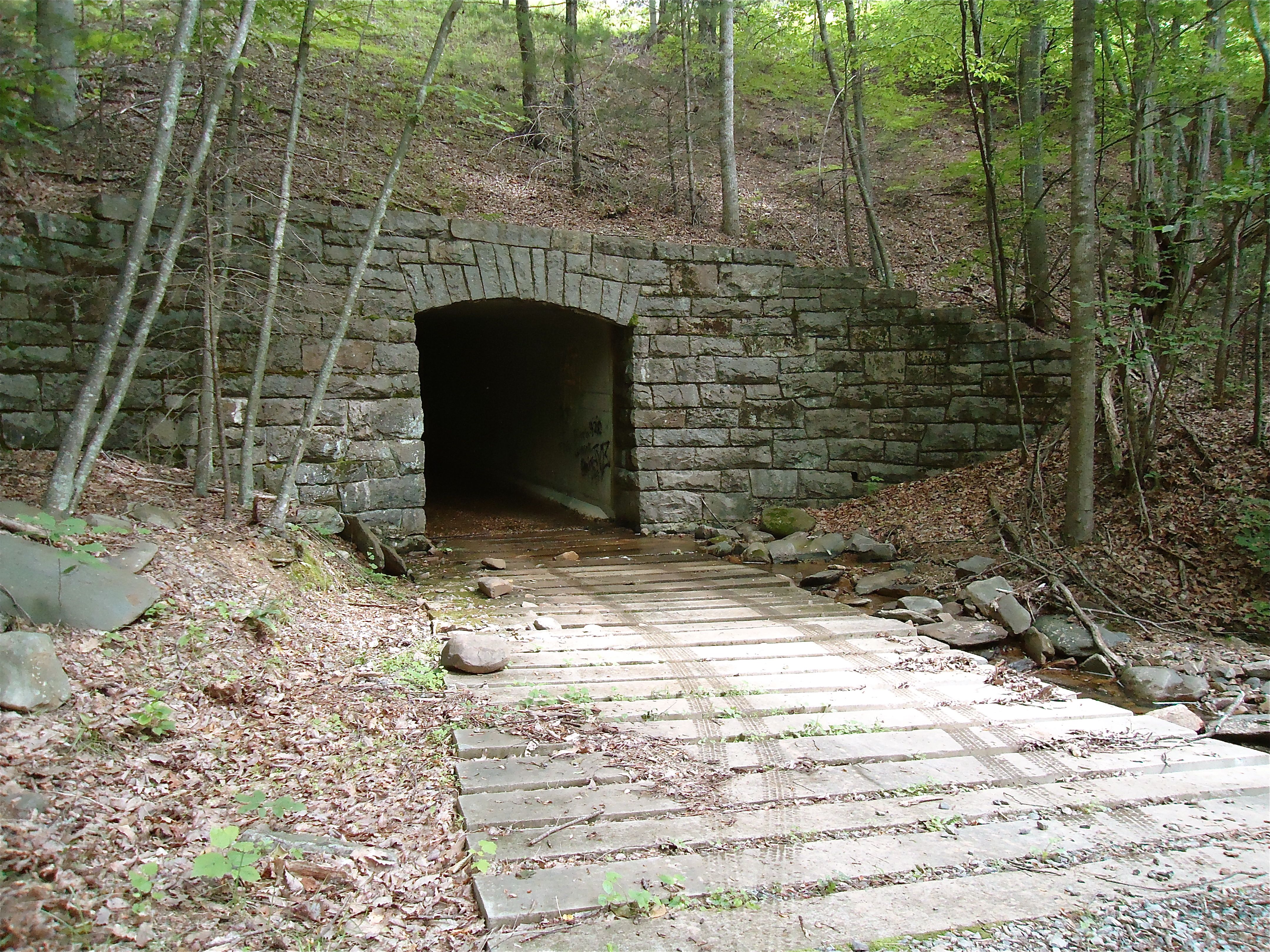 We left the truck pulled to the side of the path and then did a little exploring. I took some pictures inside of the tunnel (sorry if any of the graffiti is offensive…we didn't do it!!), climbed up to the top of the tunnel to swing our legs off the edge, played around in the creek and admired the natural beauty of our surroundings.
Here's our little photo album!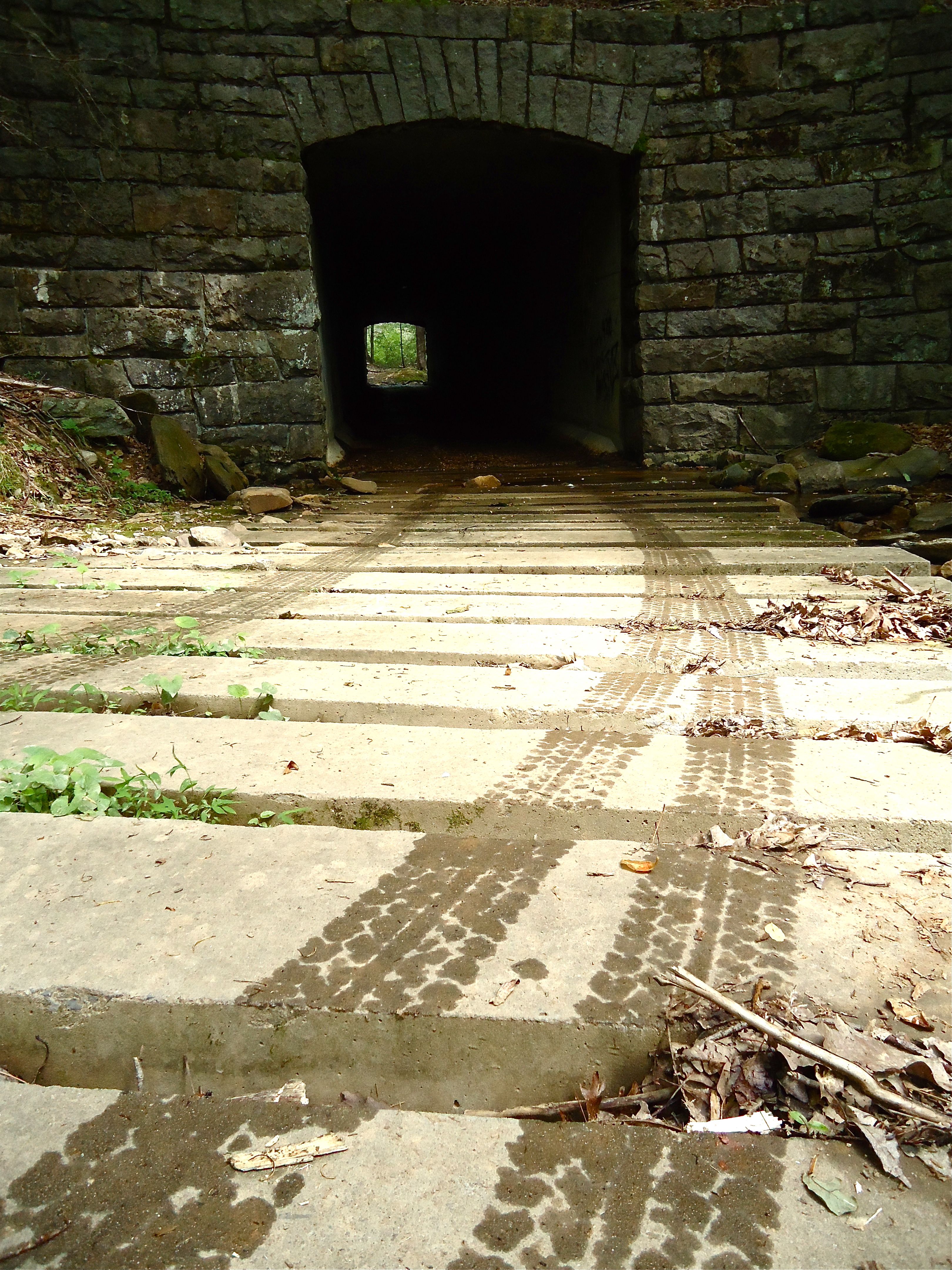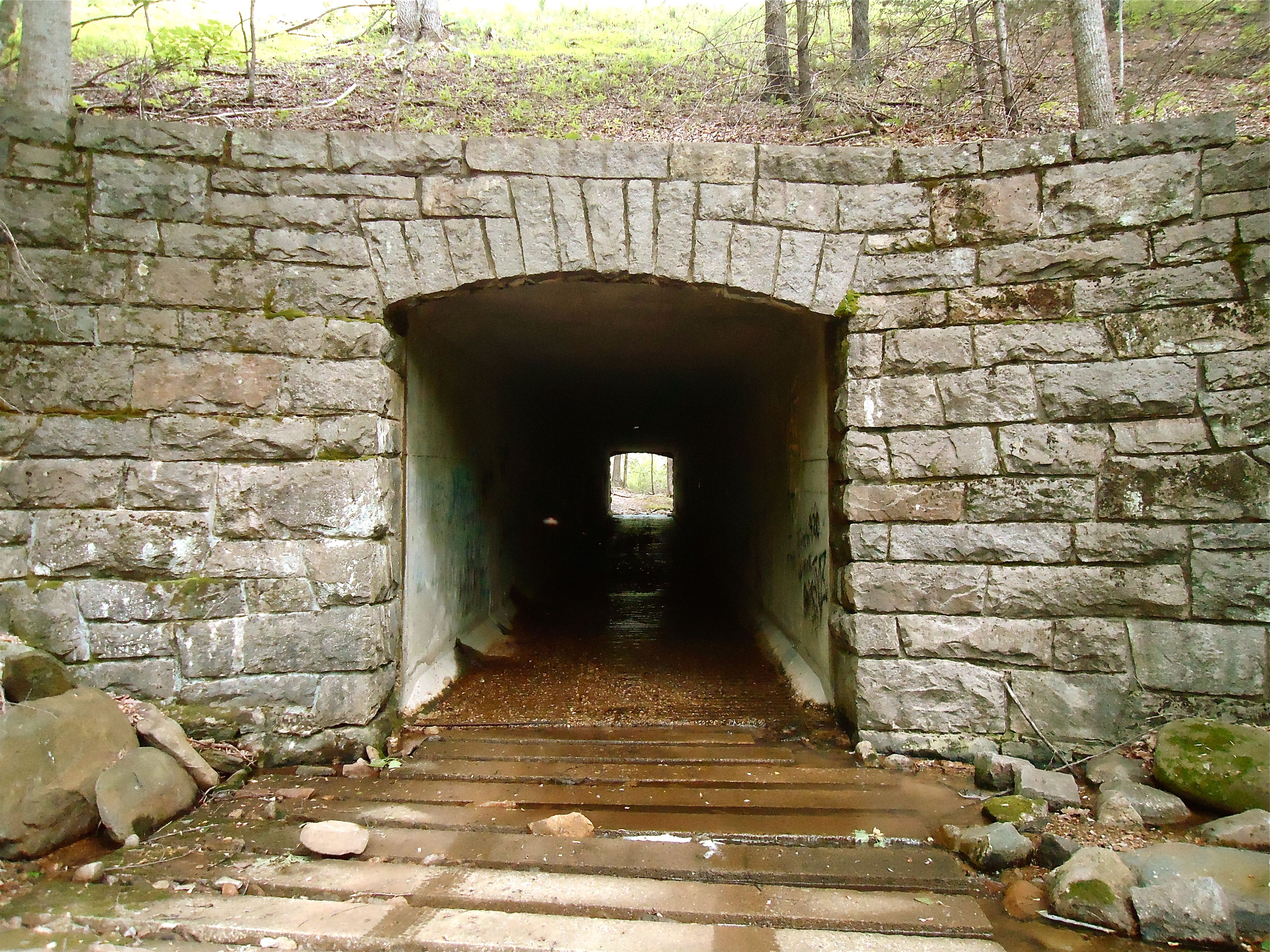 So oblivious to what will happen in a few minutes, haha…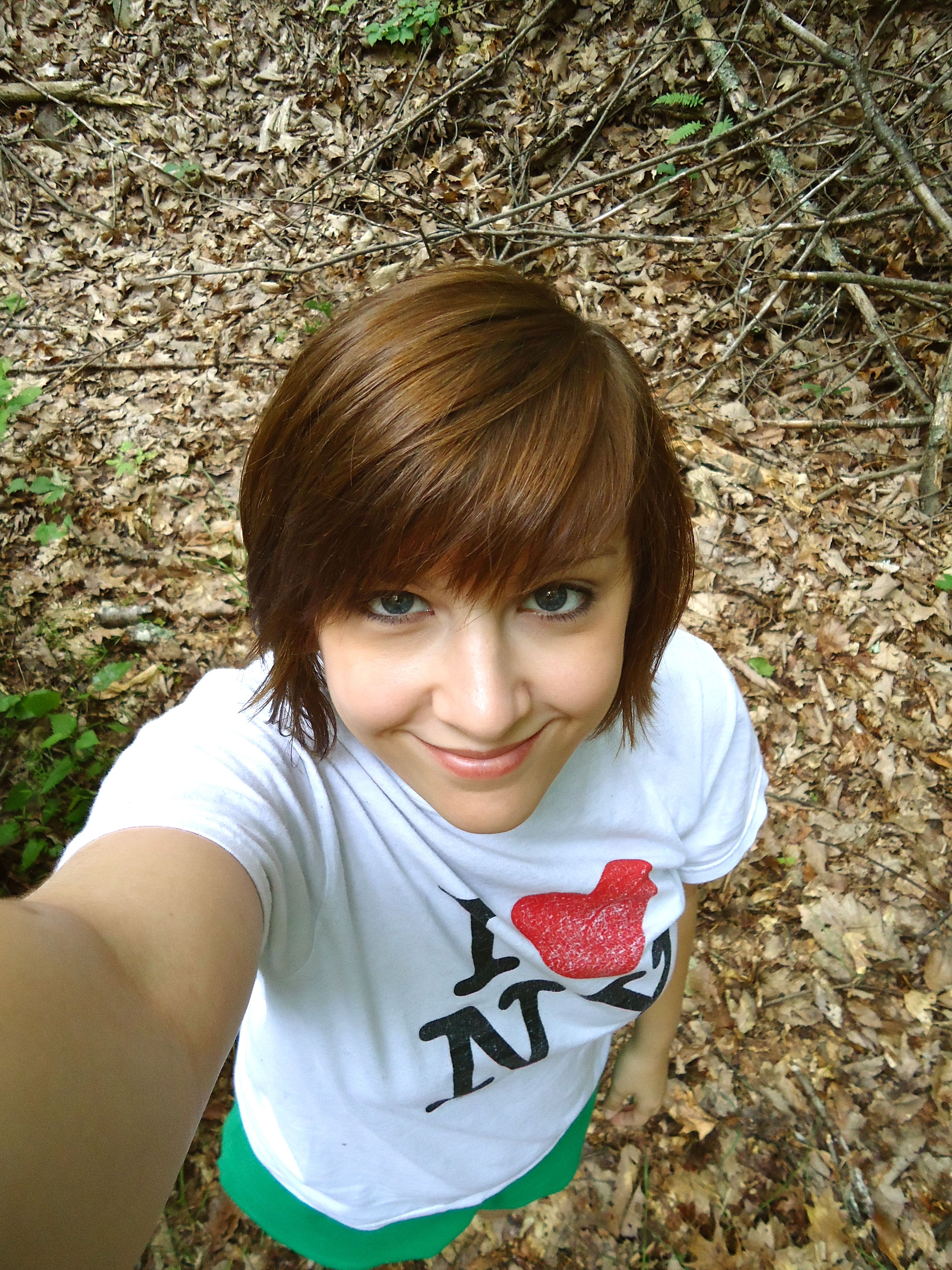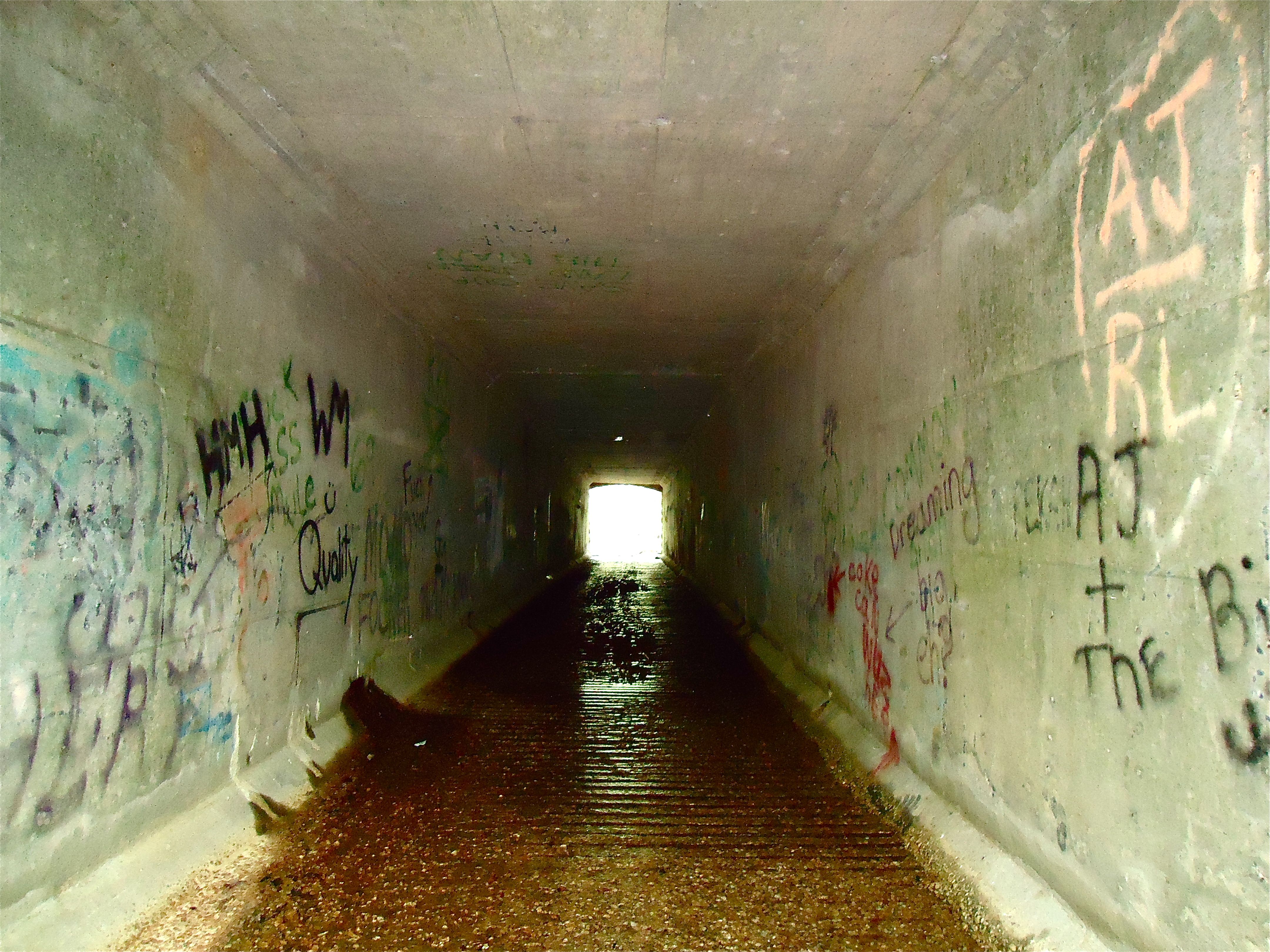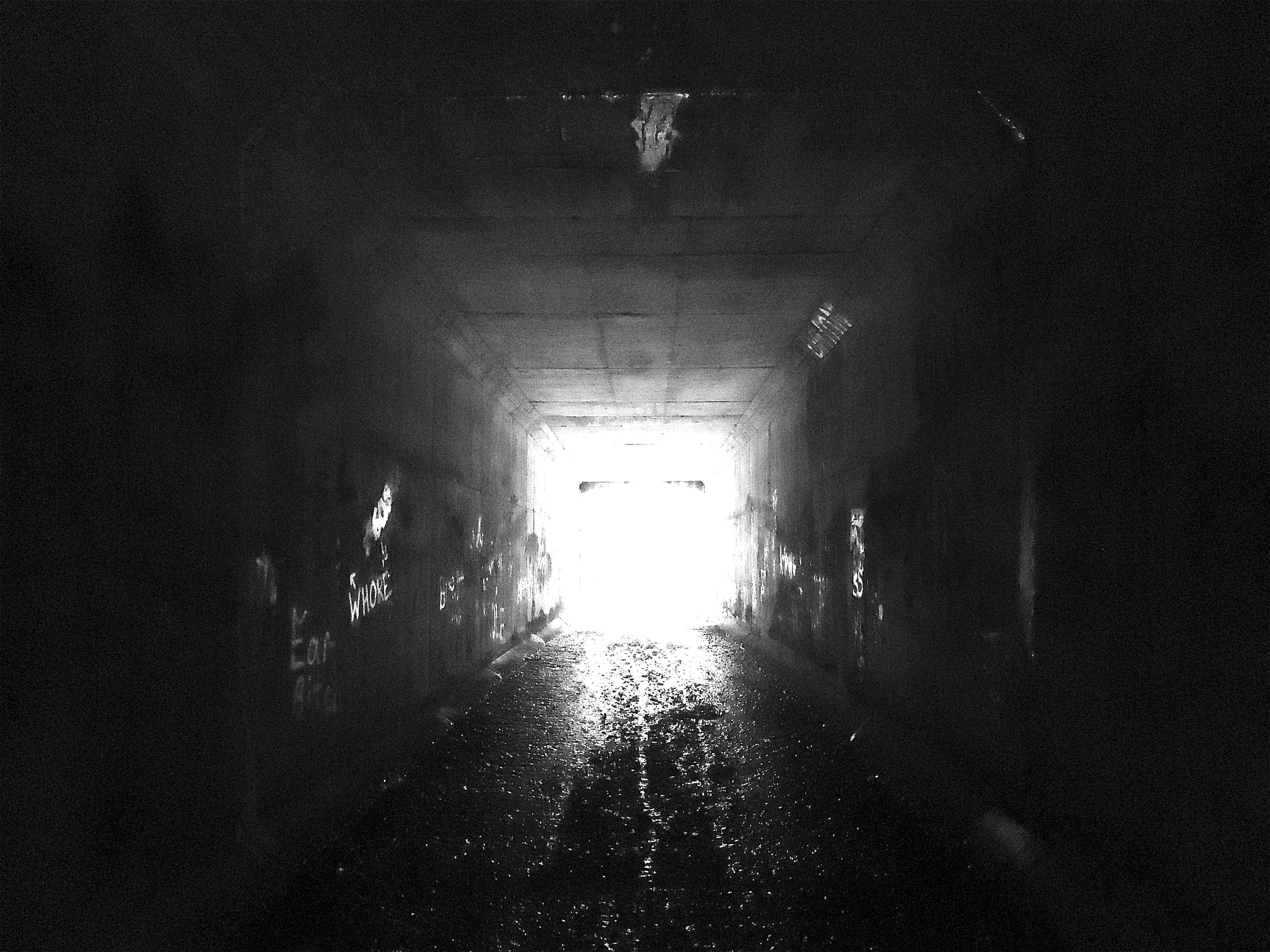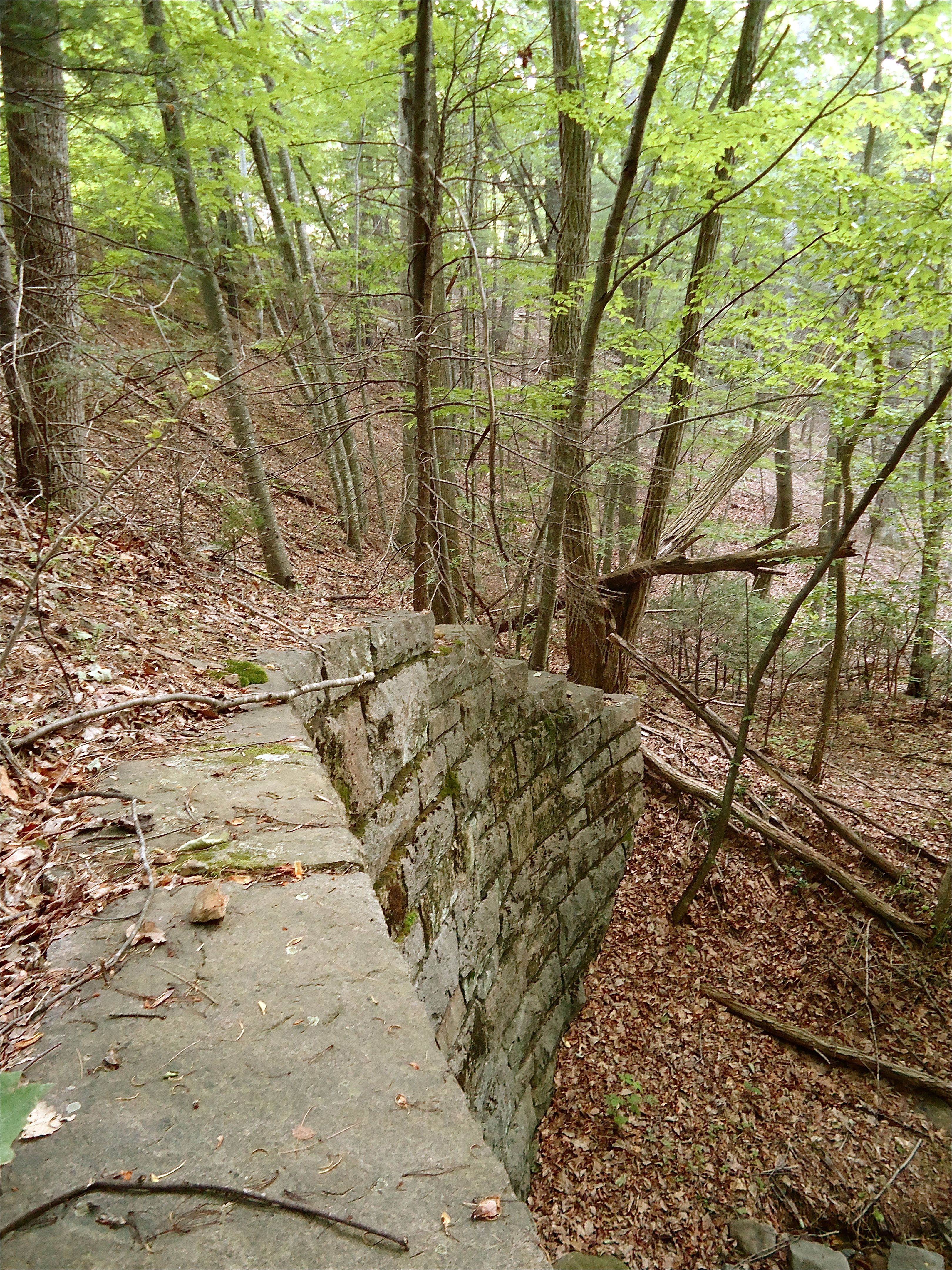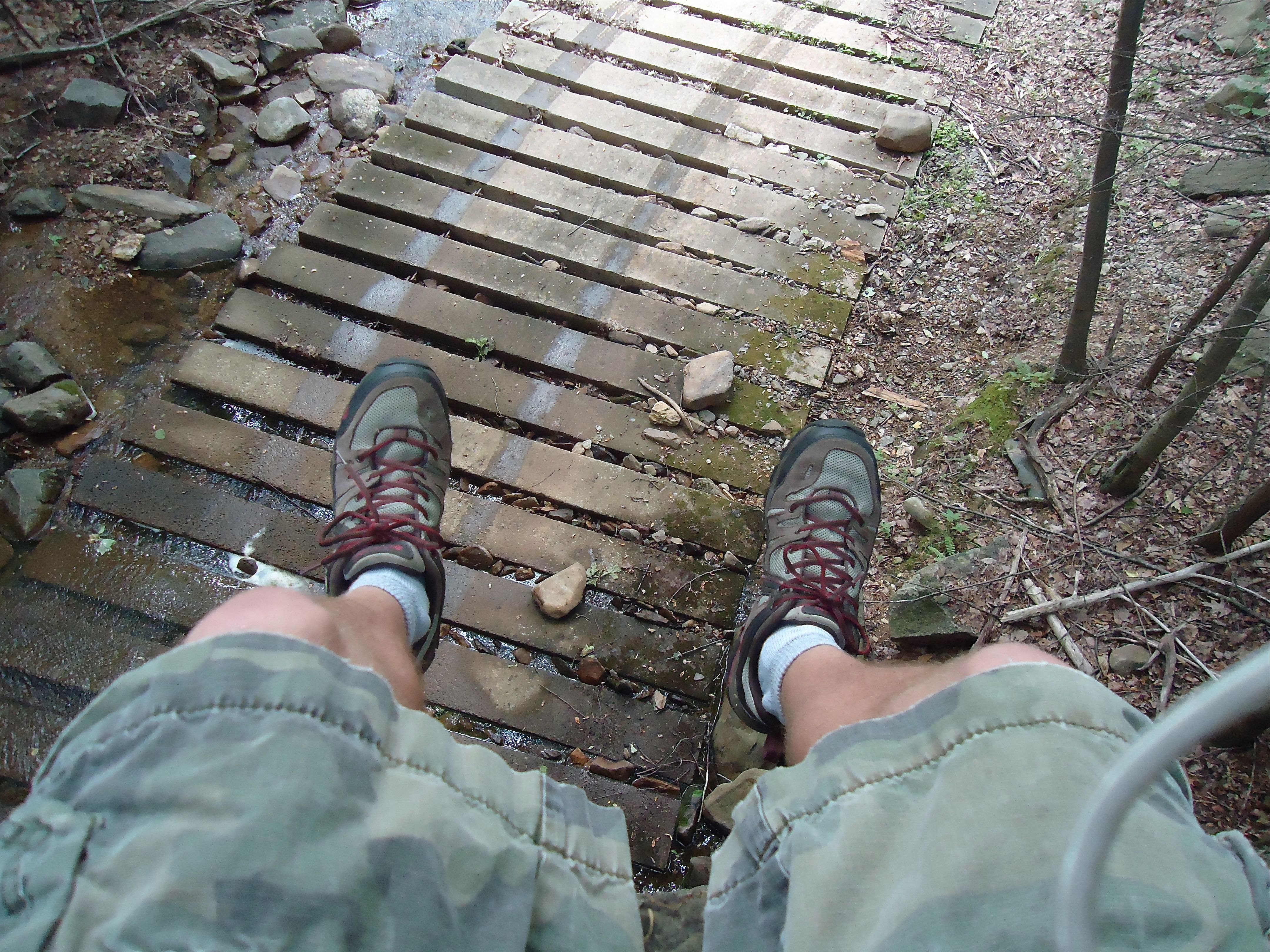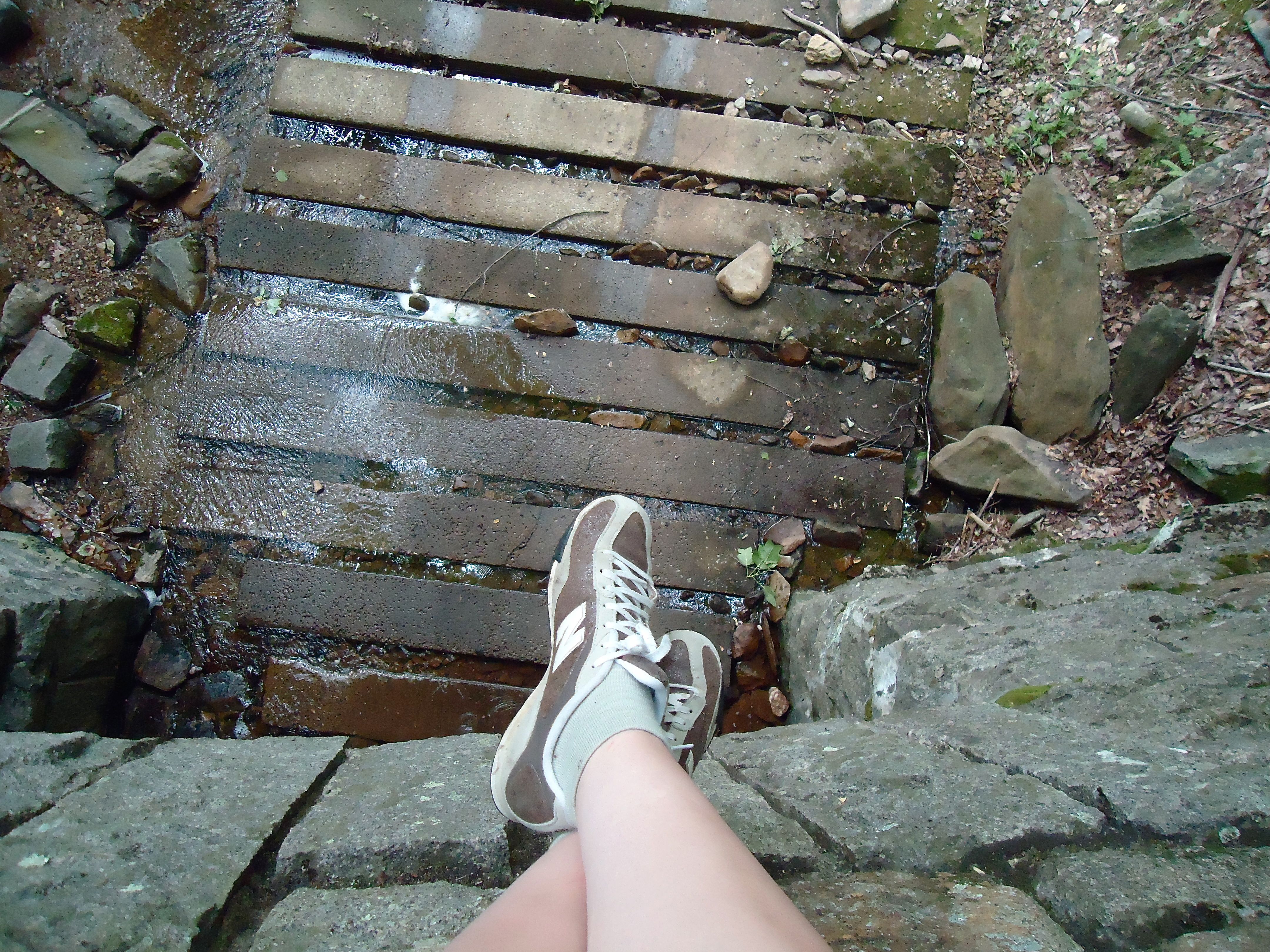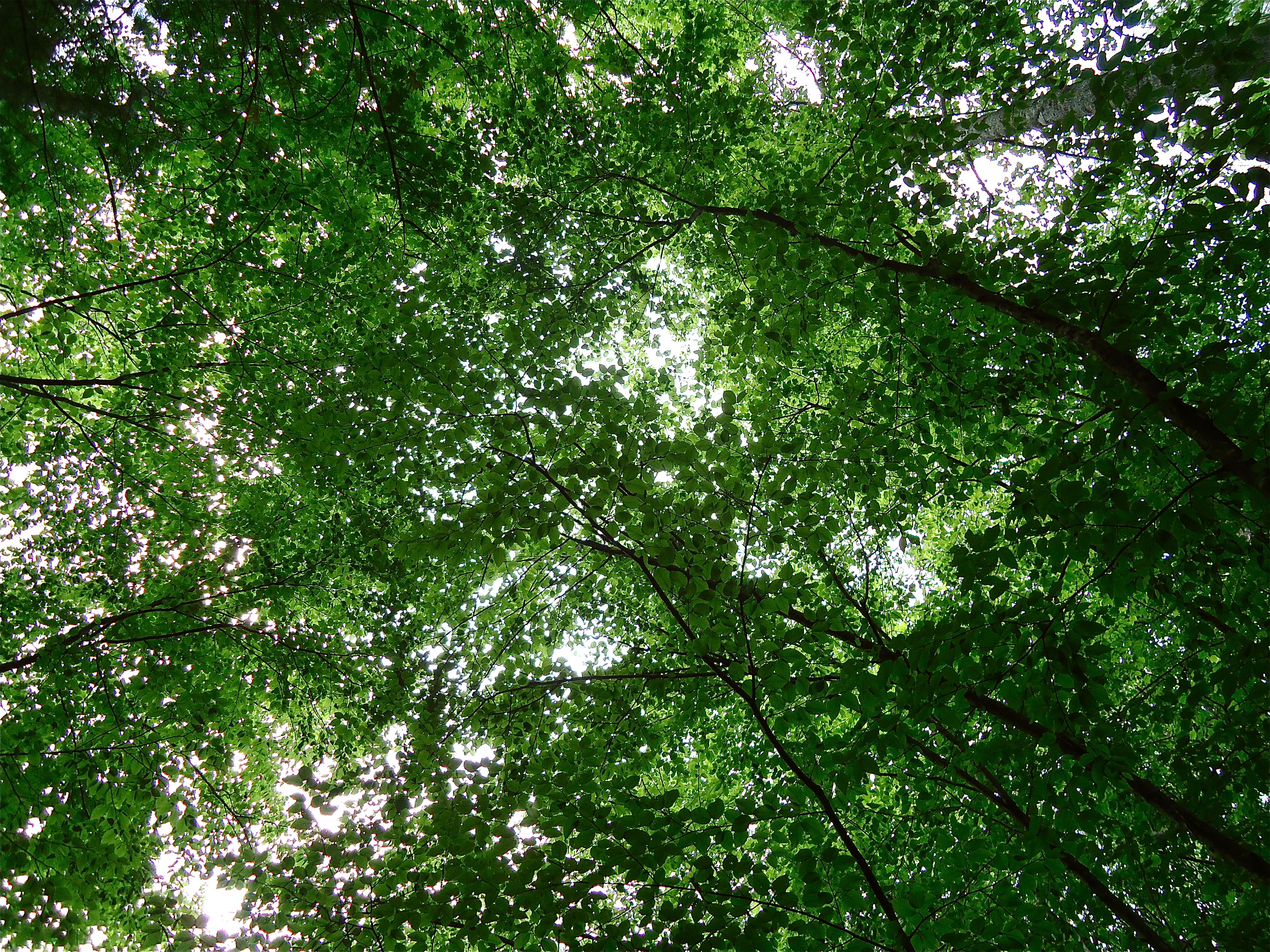 I even remember thinking , as we were perched up on the stone wall together, that this would be the perfect place/setting/moment for a proposal – He apparently read my mind, because it wasn't too much longer!!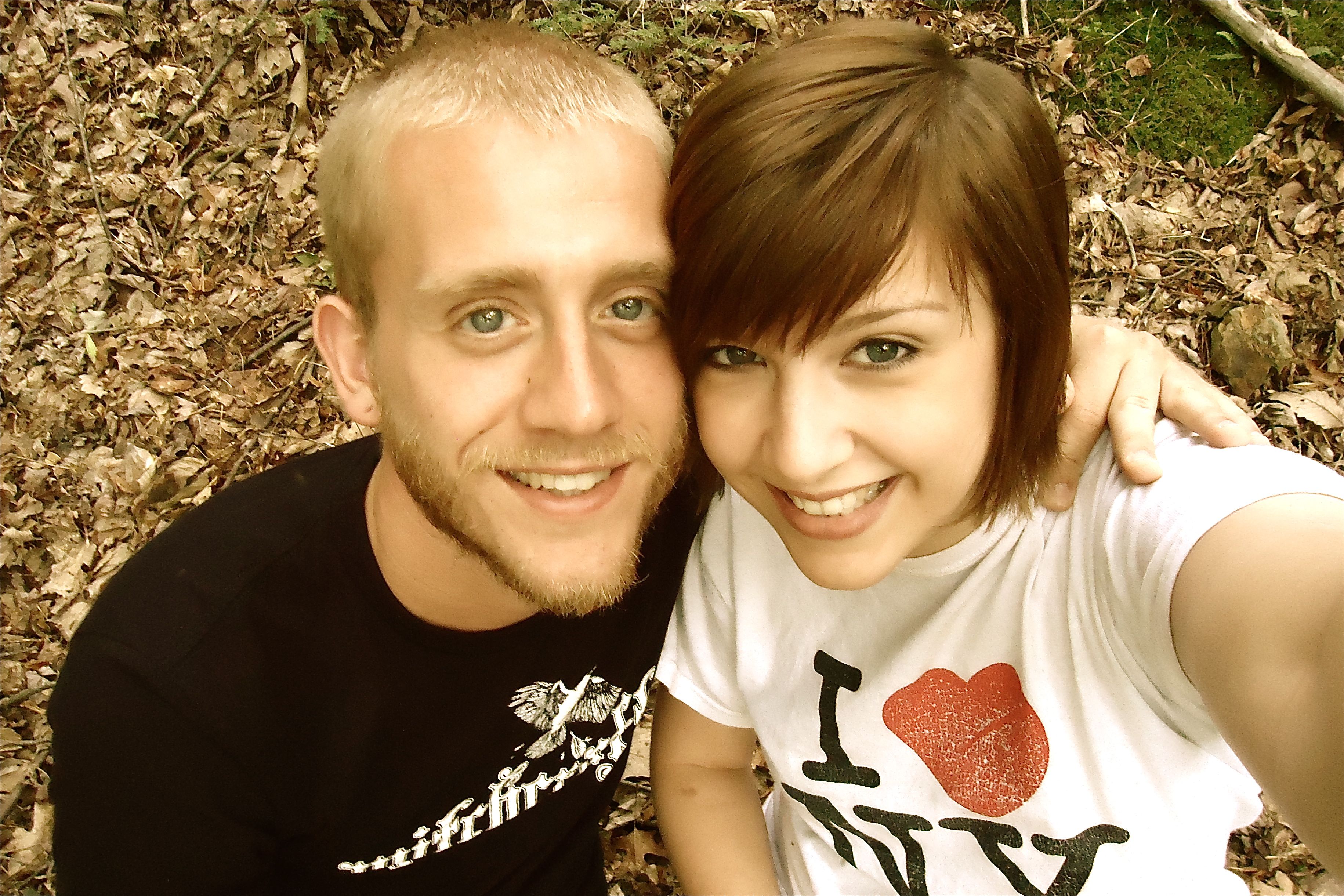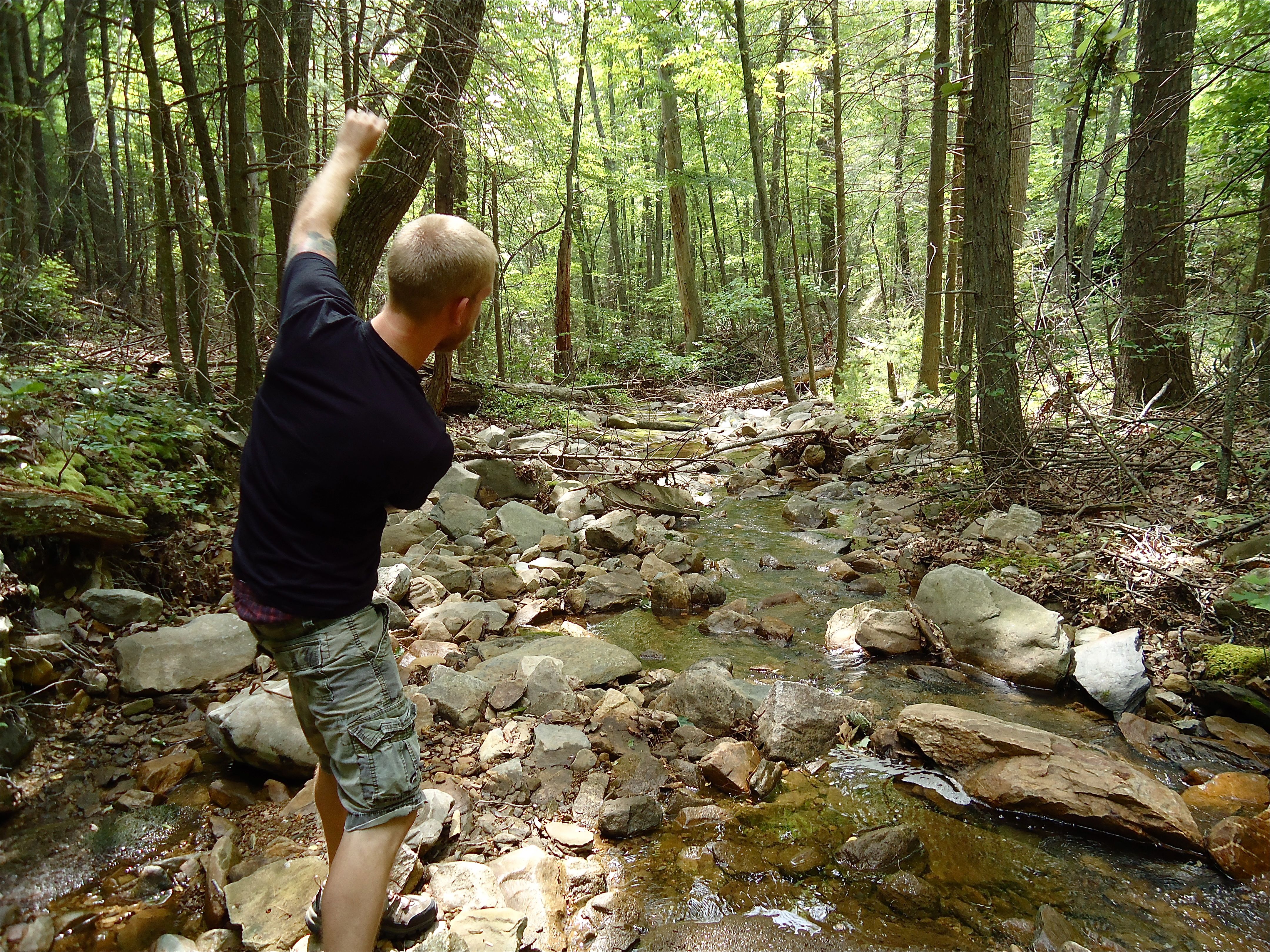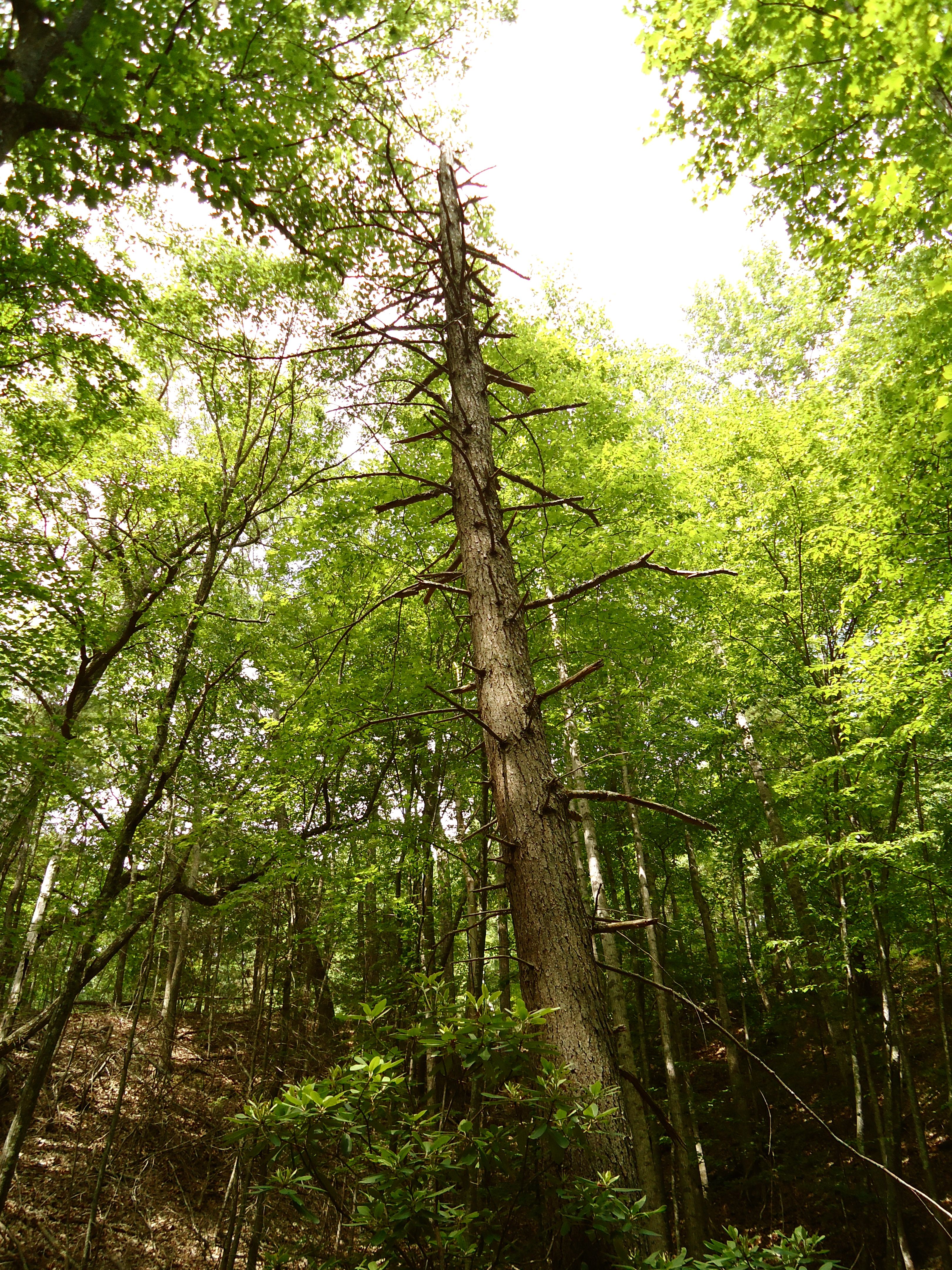 After enjoying the sights and sounds, we headed back to the truck. We lingered a little longer, not anxious to leave the spot, but finally decided it was time to carry on.
Before getting things in gear though, John started patting his pockets and asked if I knew where his contact solution was. His eyes tend to bother him a lot so I started looking around the cab for the little bottle. He nonchalantly asked me to check the coin box in the dash. I glanced over at him and noticed a hint of a smile…
When he didn't make a move to check it himself, I started to get excited…Was this it?! I shakily opened the box and there wasn't any contact solution – But there WAS a diamond ring!!!
Honestly, I'm not even sure what we said to each other in those moments, we were both so giddy and excited, but the summation of it all was that I said "Yes!!!" and we are just EXUBERANT to spend the rest of our lives together. I'm starting to tear up as I type this, I am so excited to be John's fiance and future wife.
Here's a photo taken right after the proposal and of the ring – Complete with a leafy background to commemorate our slightly-redneck-but-PERFECTLY-Southern proposal moment…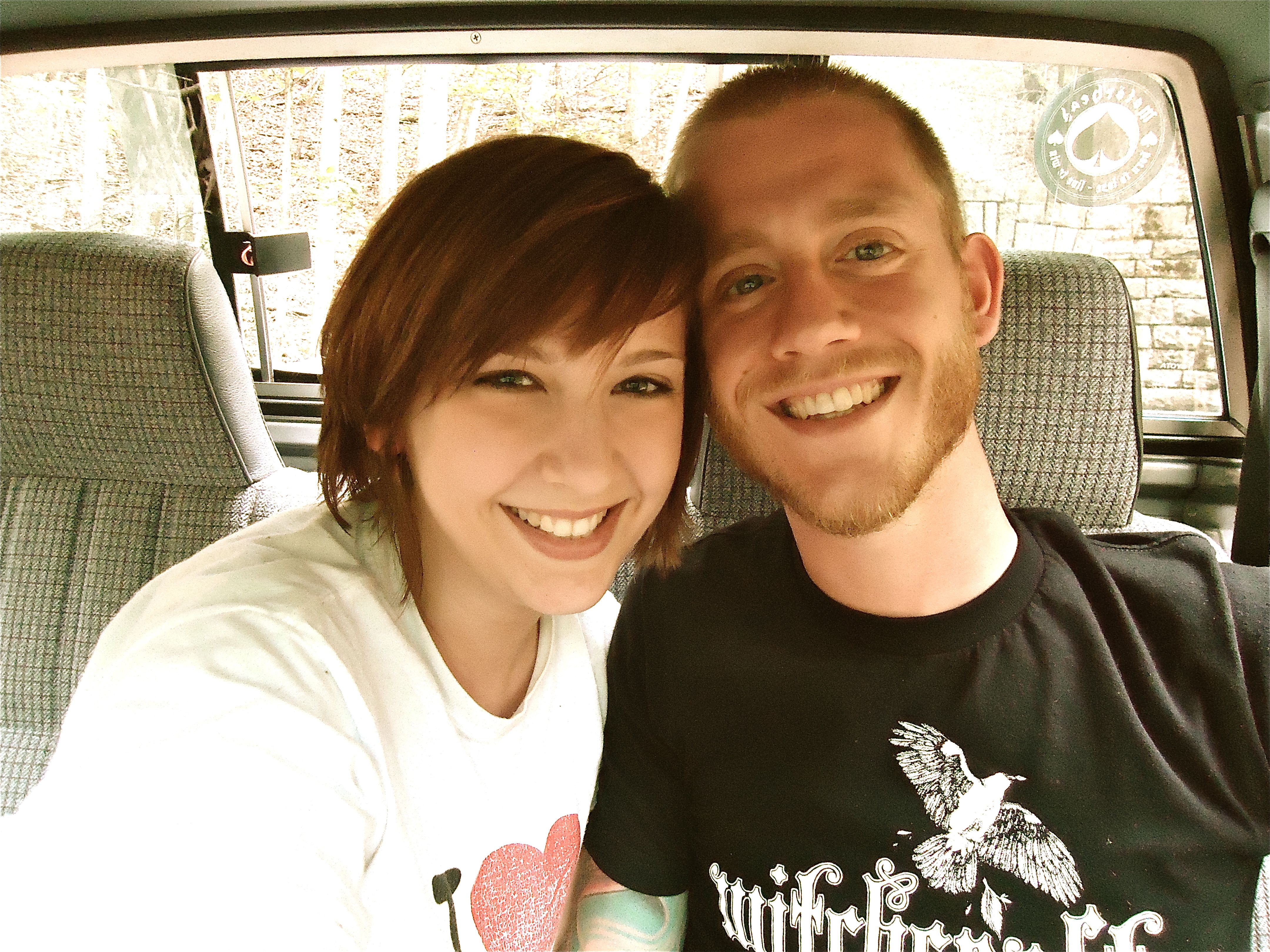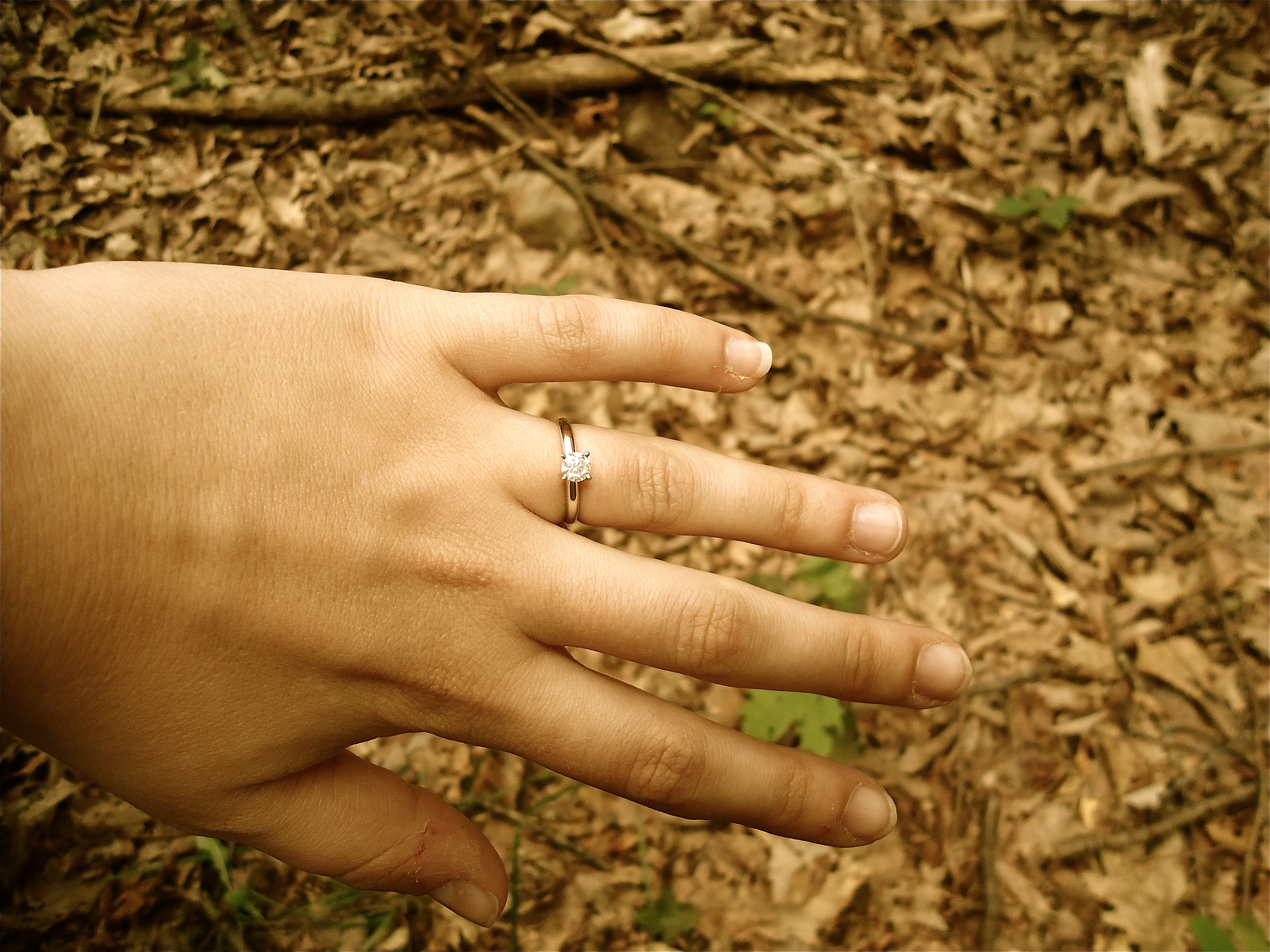 I know this isn't normal DreamGreenDIY post material, but without John there would BE no blog and no home to renovate. We are a team. Just think, the blog has itself a whole NEW realm of posting possibilities – DIY Wedding style 🙂 Hope everyone's open to this new genre of posting!!
Thanks to all of our family and friends who have come out of the wood work to congratulate and support us!!! We can't stop smiling we are both just so happy…