I love getting mail…There's just something really special about opening our mail box and seeing an envelope or package with my name on it. And I get ESPECIALLY excited when that something is either Better Homes & Gardens or Do It Yourself magazine!! There is page after page of brilliant inspiration in both magazines and I love curling up in a chair somewhere in the house to be blown away by what others are doing with their creativity.
But with that said, if you are at all like me, magazines often go by the wayside and end up cluttering a table or basket. I absolutely MEAN to browse through the whole magazine – Yet, alas, my best laid plans often never happen. I tend to sit down with the mag when I first grab it excitedly from the mailbox, but only get through the first several pages before something distracts me. Now this wouldn't be so bad if I ever came back to it! But no…
So in light of creating some new features for our blog (like the new "Weekly Pinspirations"), I thought it would be great motivation to "tag" and share the projects and articles that caught my eye with you all each month! I know I'm missing out on a bunch of fun projects by letting my reading go by the wayside, so now we can BOTH get the full effect of these inspiring publications!
Today, we'll take a quick gander through three different issues (one DIY mag and two BH&G mags) since I've gotten a bit behind…First up is the July issue of BH&G: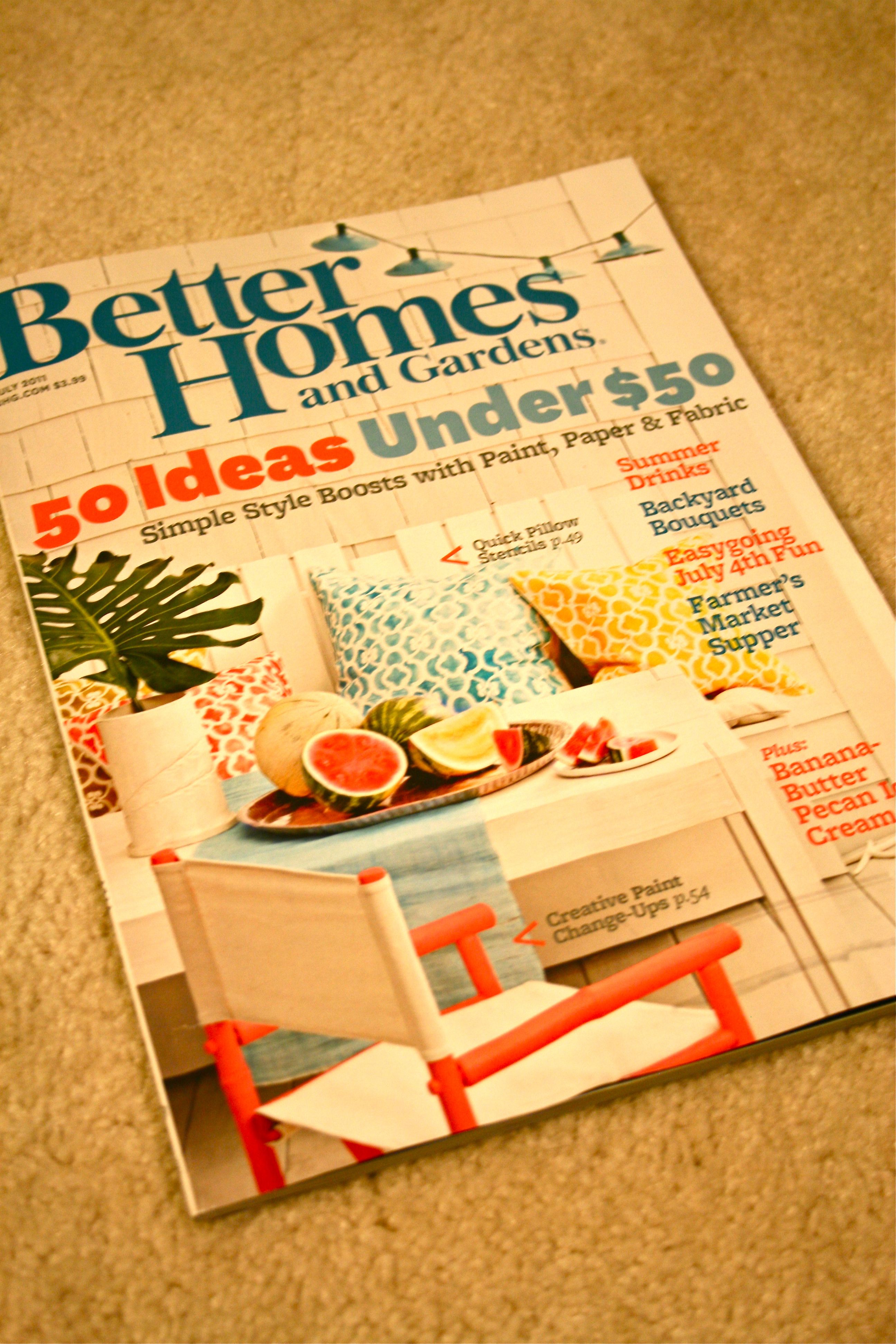 "50 Ideas Under $50"?! I'm sold already.
Here are some of the things that caught my eye between the pages of this issue: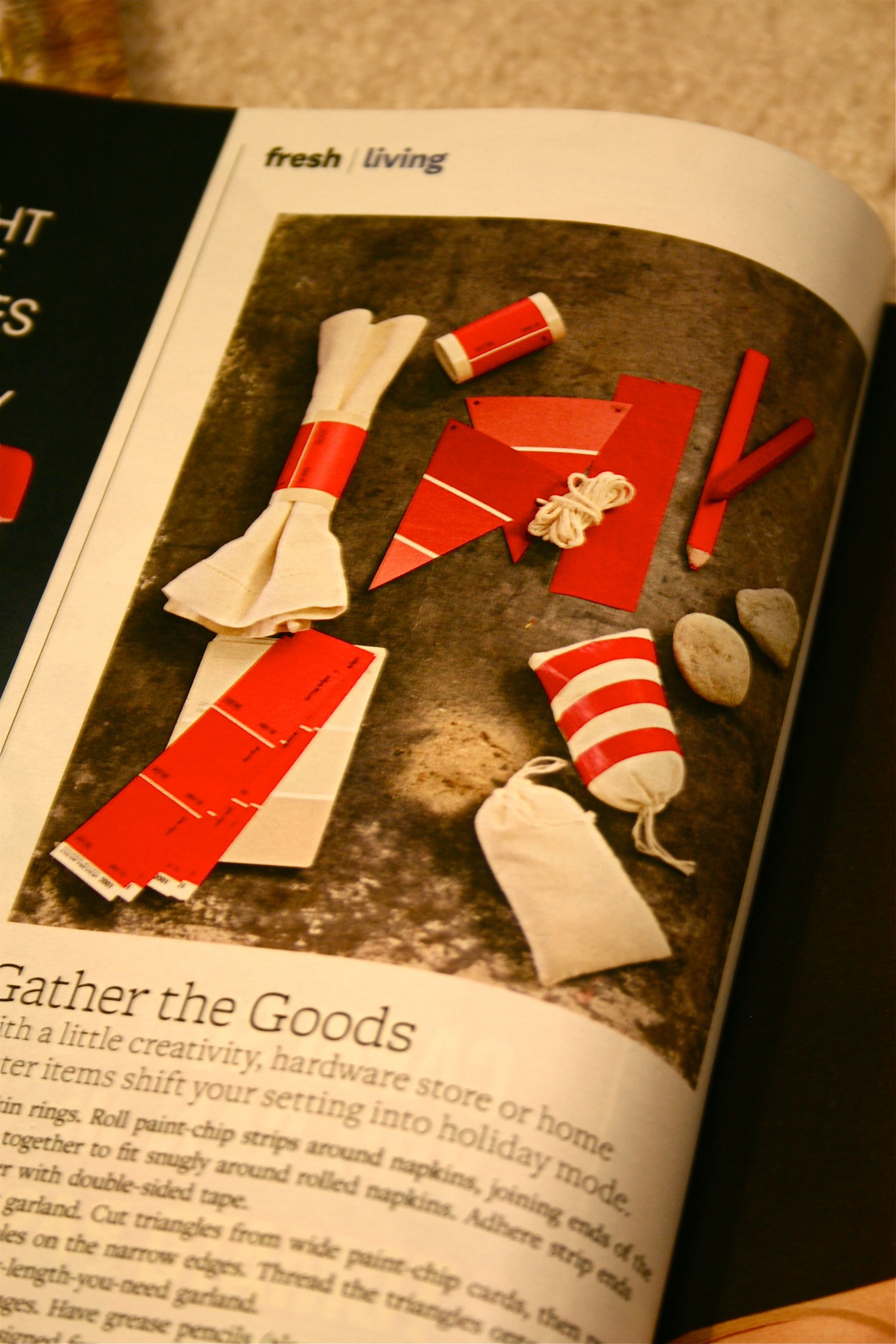 The image above shows how you can decorate with nothing but a bit of twine, glue and paint chips from the hardware store! Things like napkin rings and a fun garland idea make me want to host a party asap.
The reason I chose to share this page is because of the bottom right-hand color.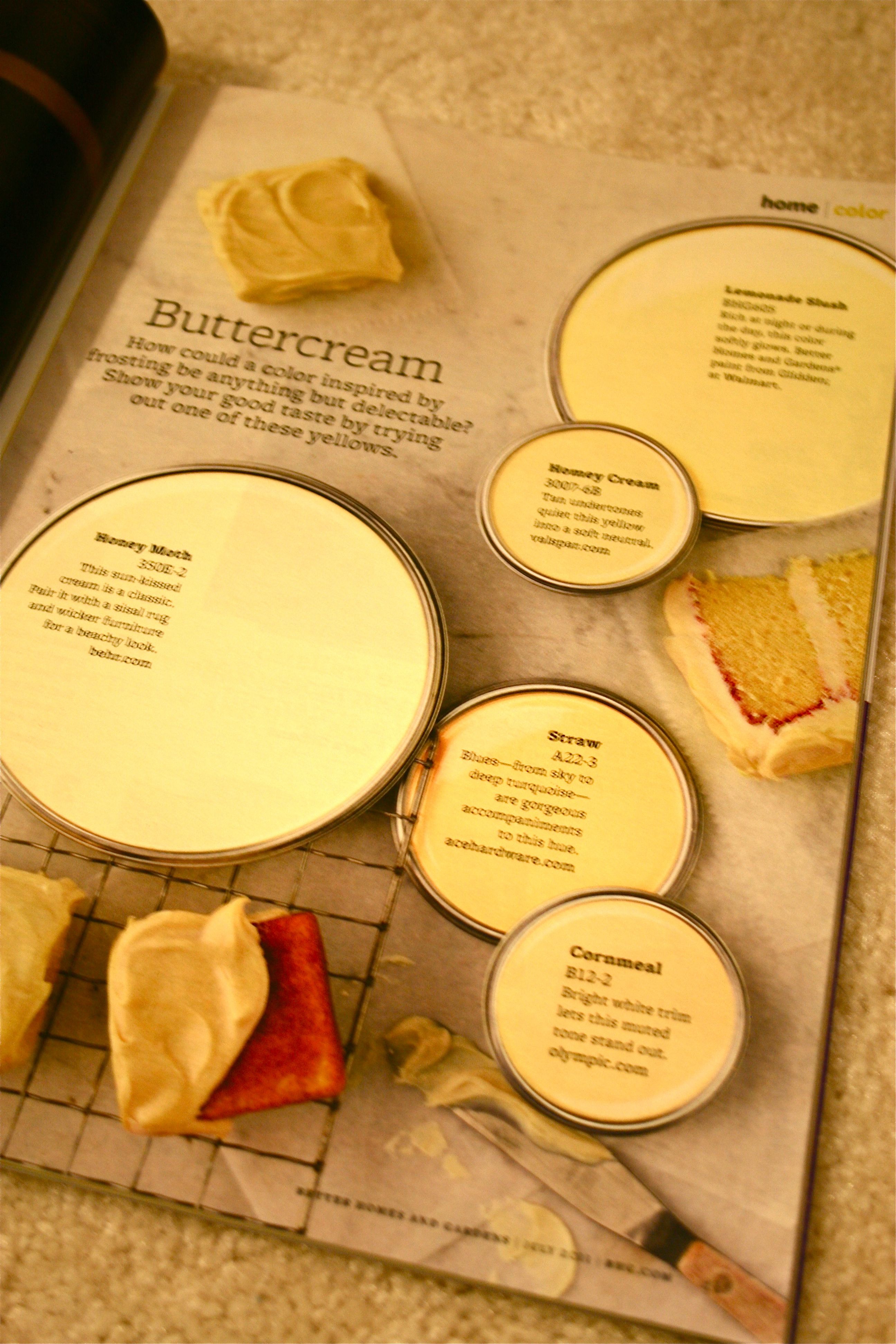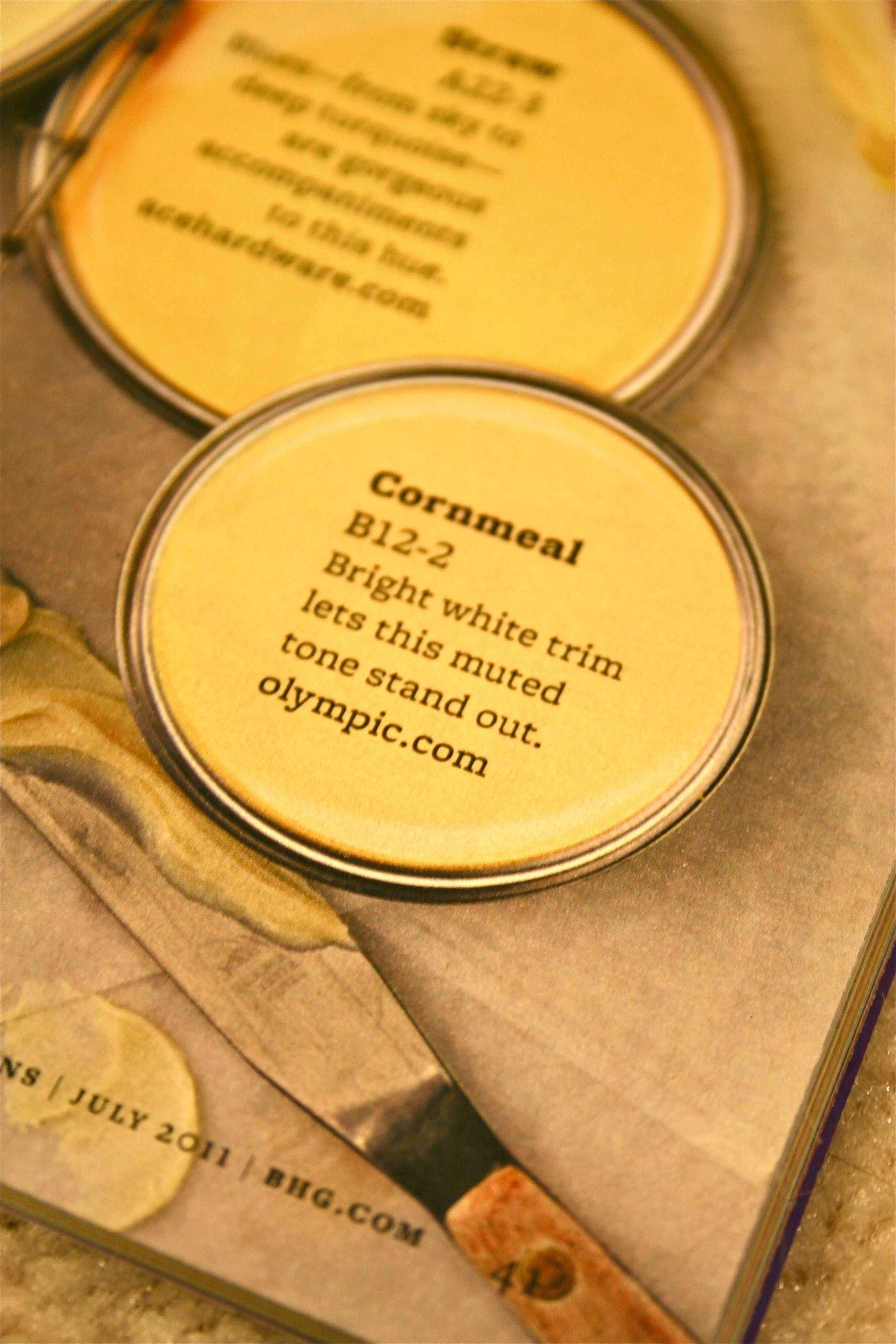 " Cornmeal" is the color I used recently on the stencil in the living room! Oh and speaking of the stencil…Here it is below!!! Again, I can't get enough of that repurposed dresser in front of the stenciled wall…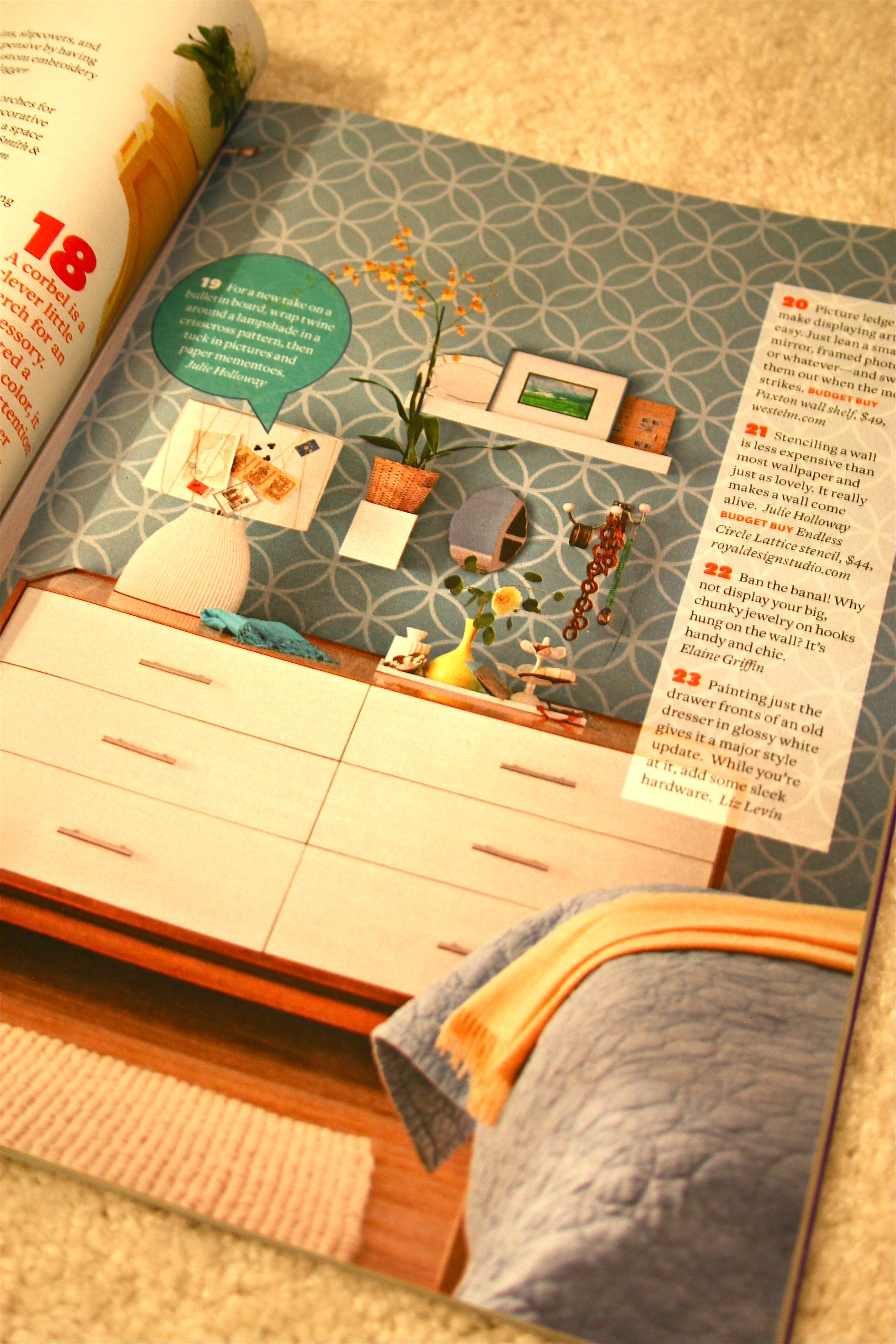 This was a really interesting article…Debunking the triggers that cause headaches. I suffer pretty regularly from headaches – Sometimes they can get REALLY bad and last for days. No fun. So this article definitely caught my attention.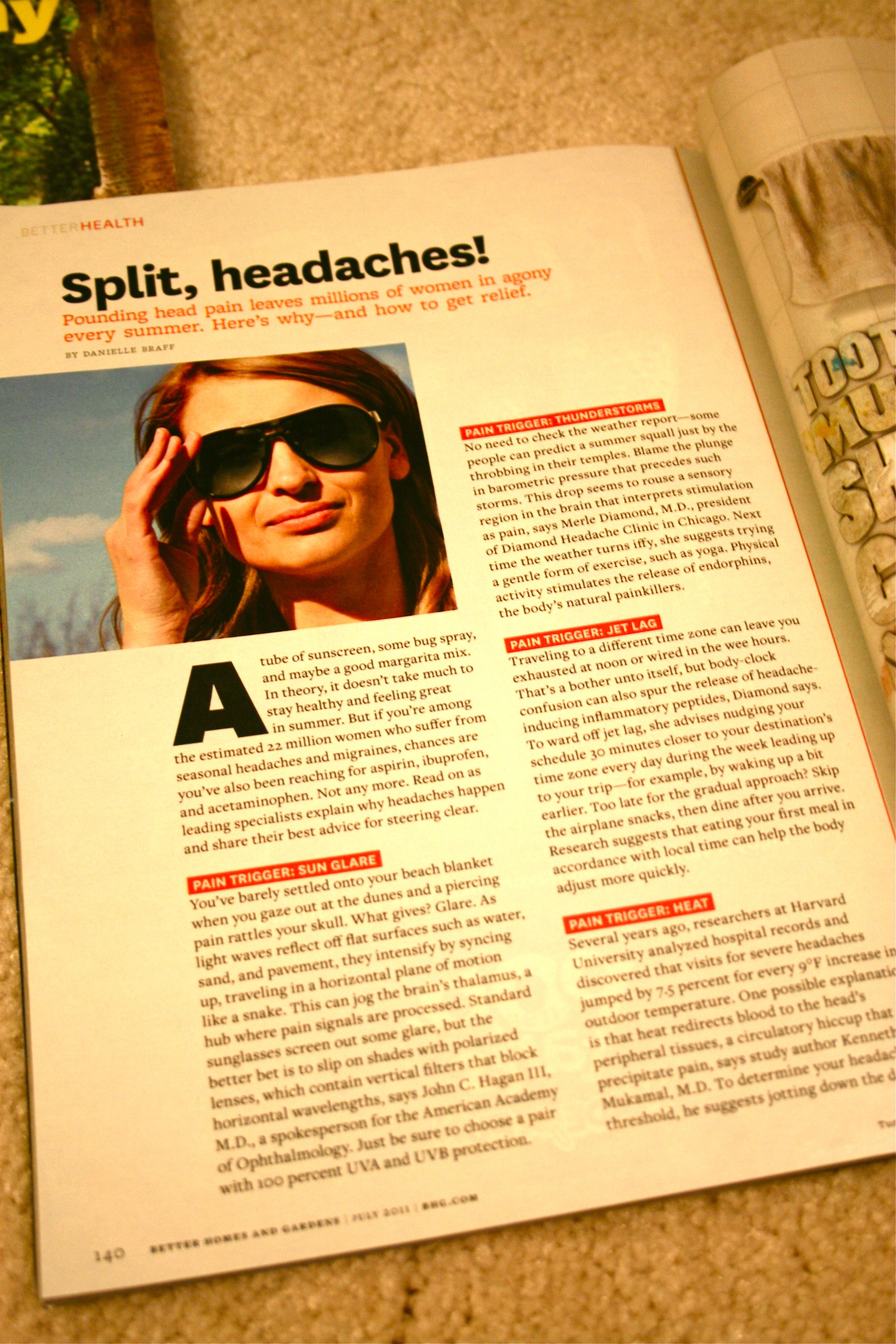 Some of the triggers, like sun glare and heat, were fairly obvious. But there was one that made me do a double take.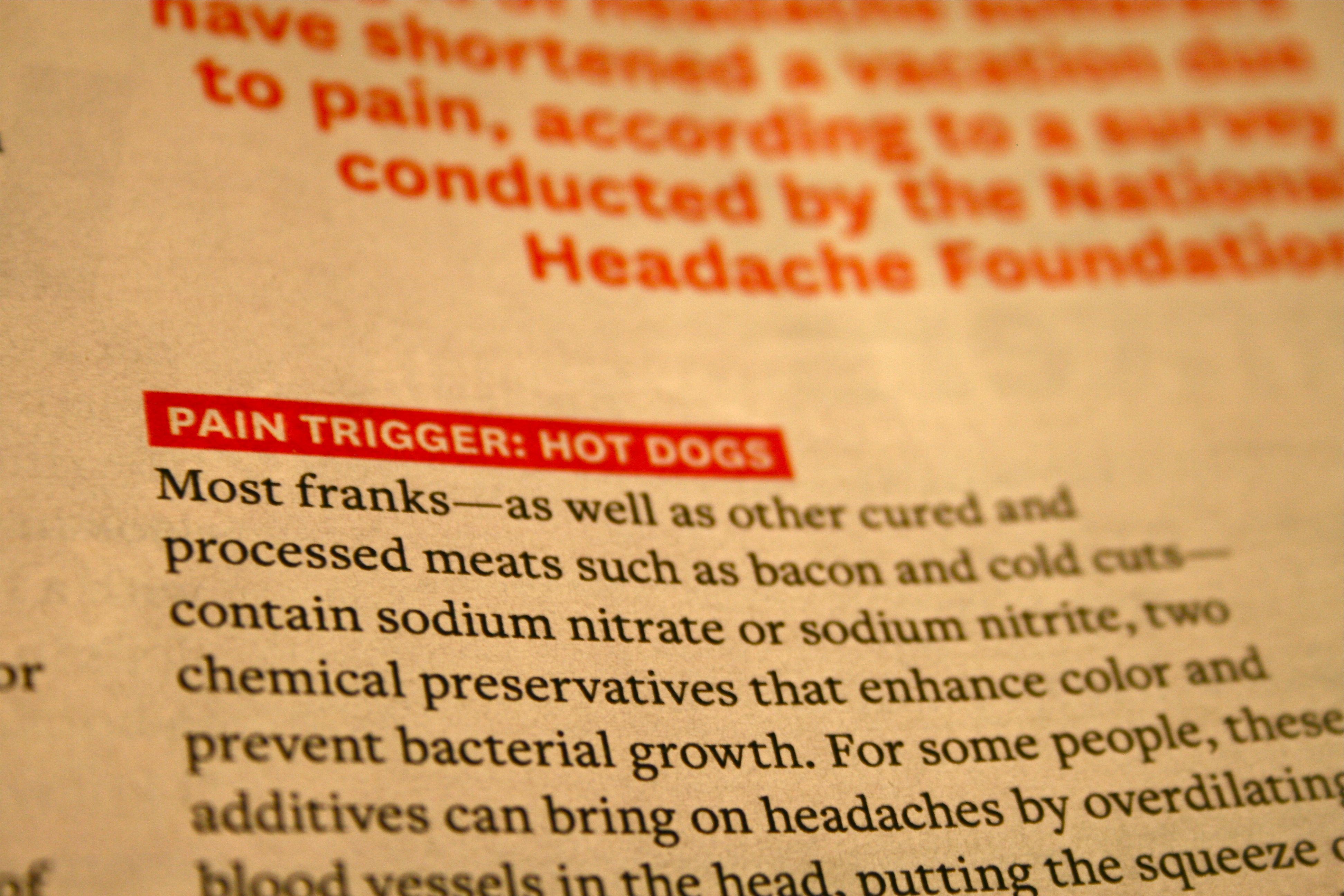 Hot dogs???! Let me just tell you, I could eat hot dogs morning, noon and night – But apparently they are very bad for headache-prone people like me! I think there is definitely truth to this tip though – The last big headache I had was after a cookout up in the mountains with John and two of our friends, followed the next day by another cookout for my dad's birthday. Now I know why!
One last highlight before we move on to the current issue of Better Homes & Gardens – Check out this amazing closet redo!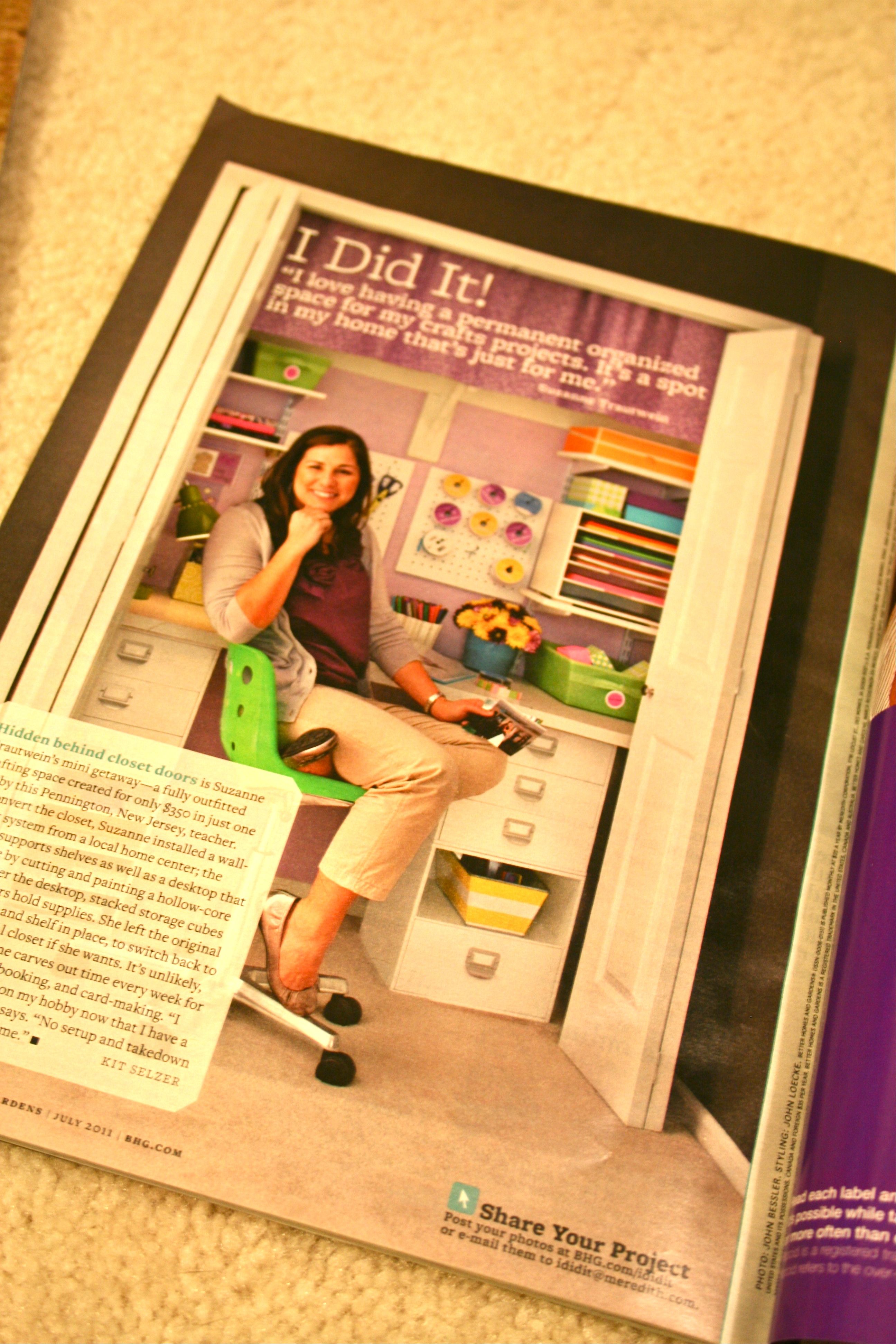 How smart to create a little crafting oasis in a closet! And such cute styling too…
Now on to the August issue of BH&G, with the lovely Mrs. Obama gracing the cover – Her feature is the one I wanted to focus on in today's review.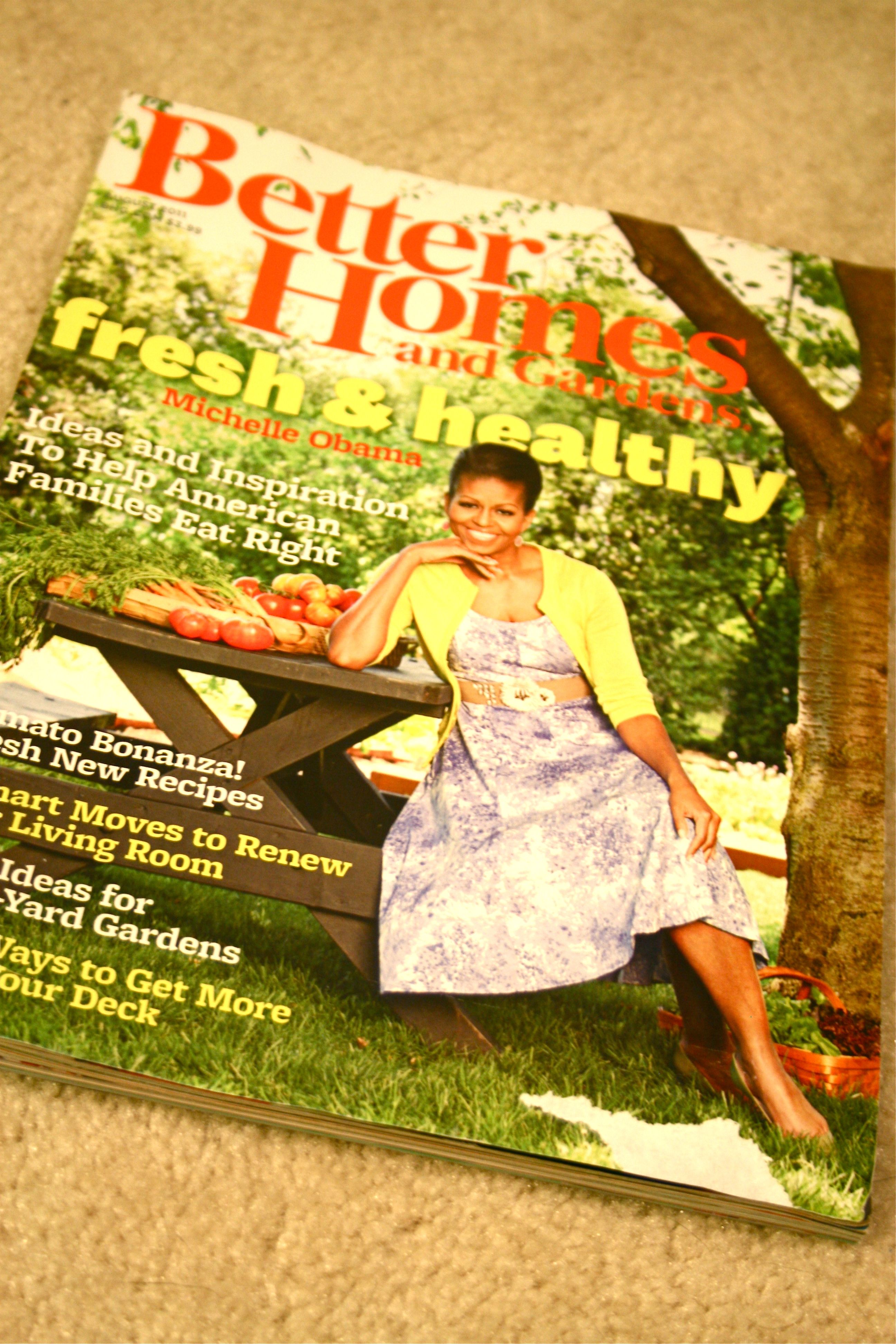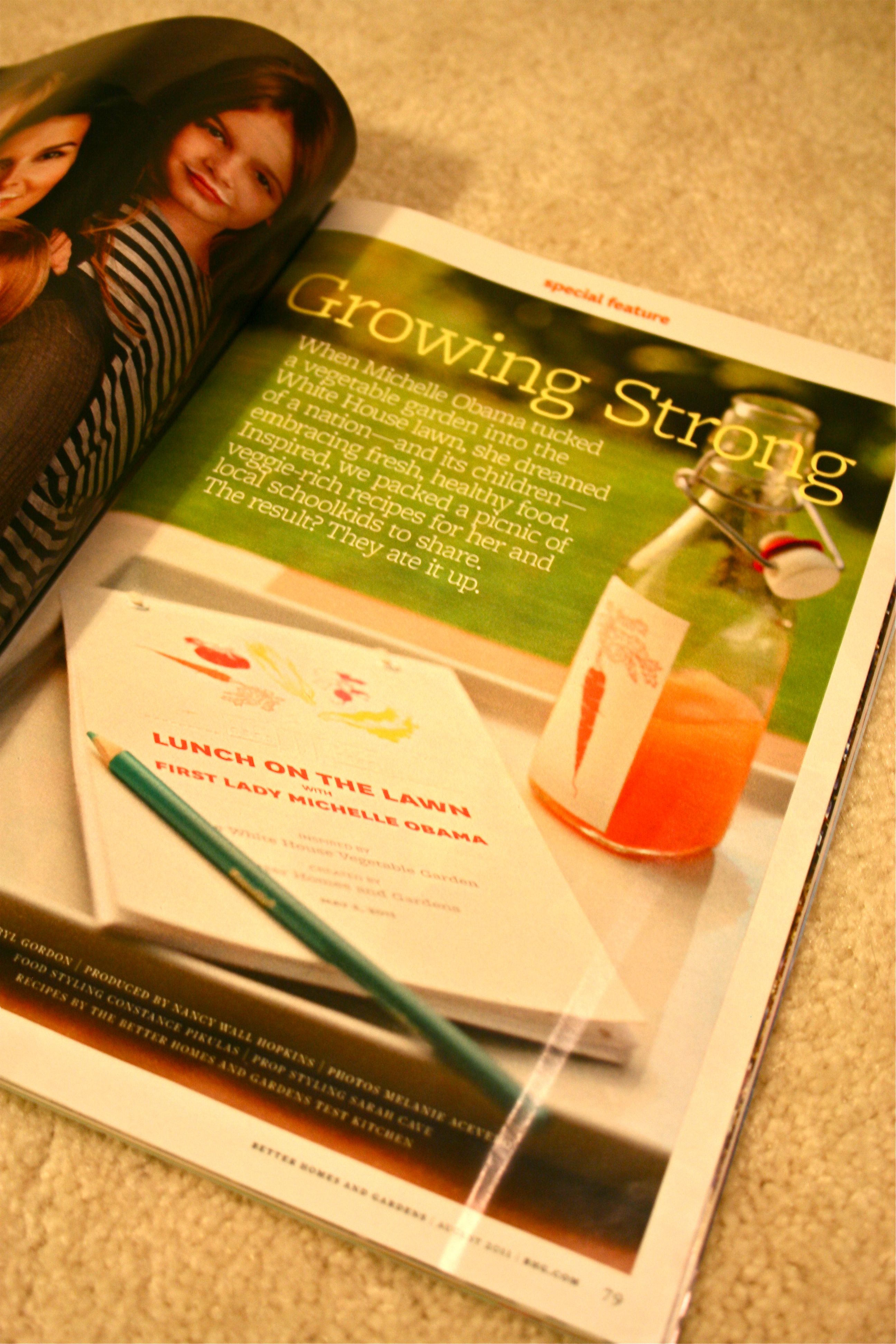 This article was really inspiring, discussing the merits of growing and cooking with vegetables. The piece mainly focused on how important it is to expose your children to this type of diet but, since I don't have kids, it was kind of effective on ME as an adult! John has been really good about cooking some kind of veggie to go along with our dinners lately, which is great since I haven't consciously consumed vegetables since living at home in my parent's house full-time (which was 7 years ago).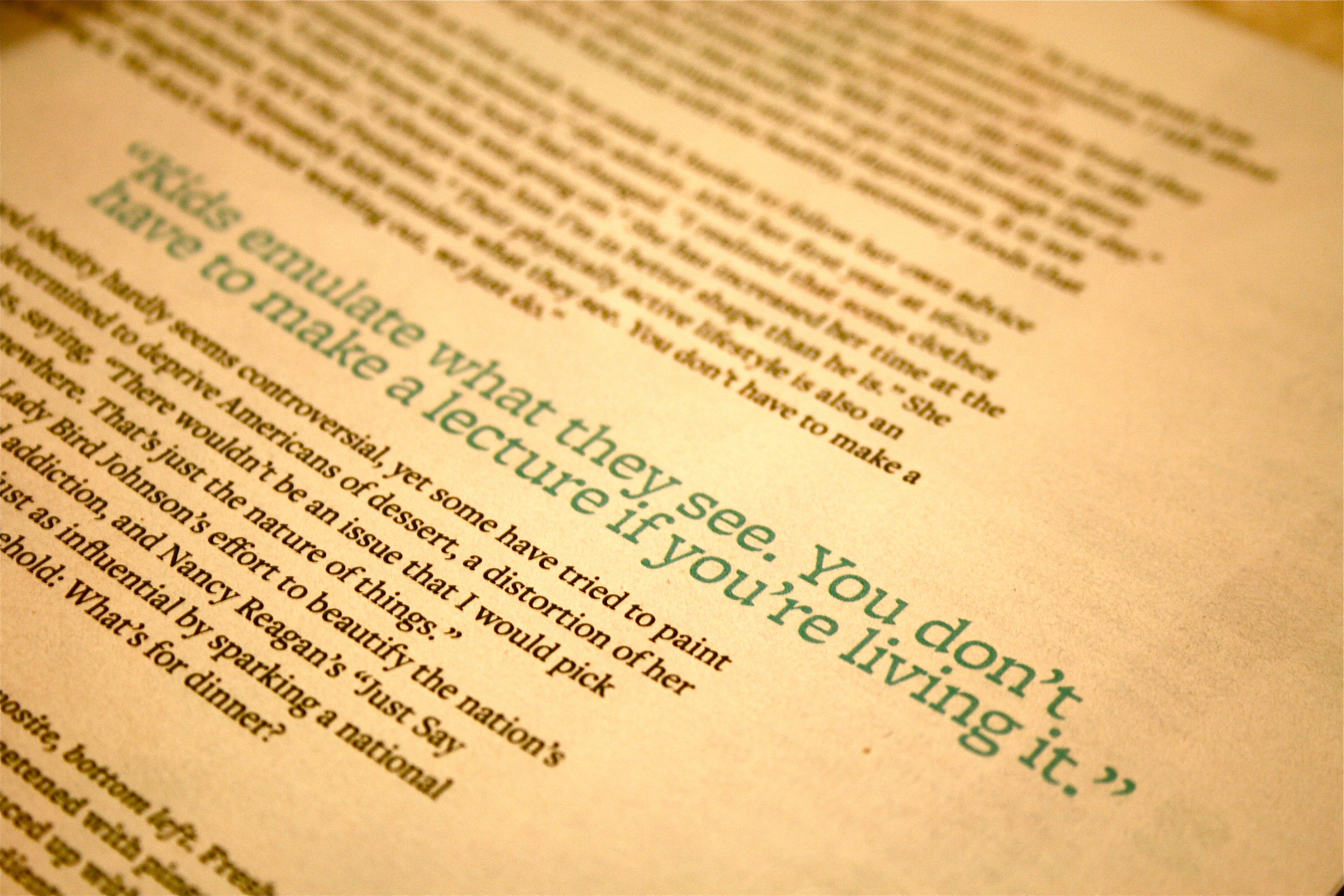 The article suggested parents plant a garden and involve their kids in the maintenance, getting them excited about cooking. Some of the meals mentioned in the article were garden veggie subs, sweet potato fries, fish tacos with melon salsa, even veggie pizza! Yummmm…You can get all of the recipes here.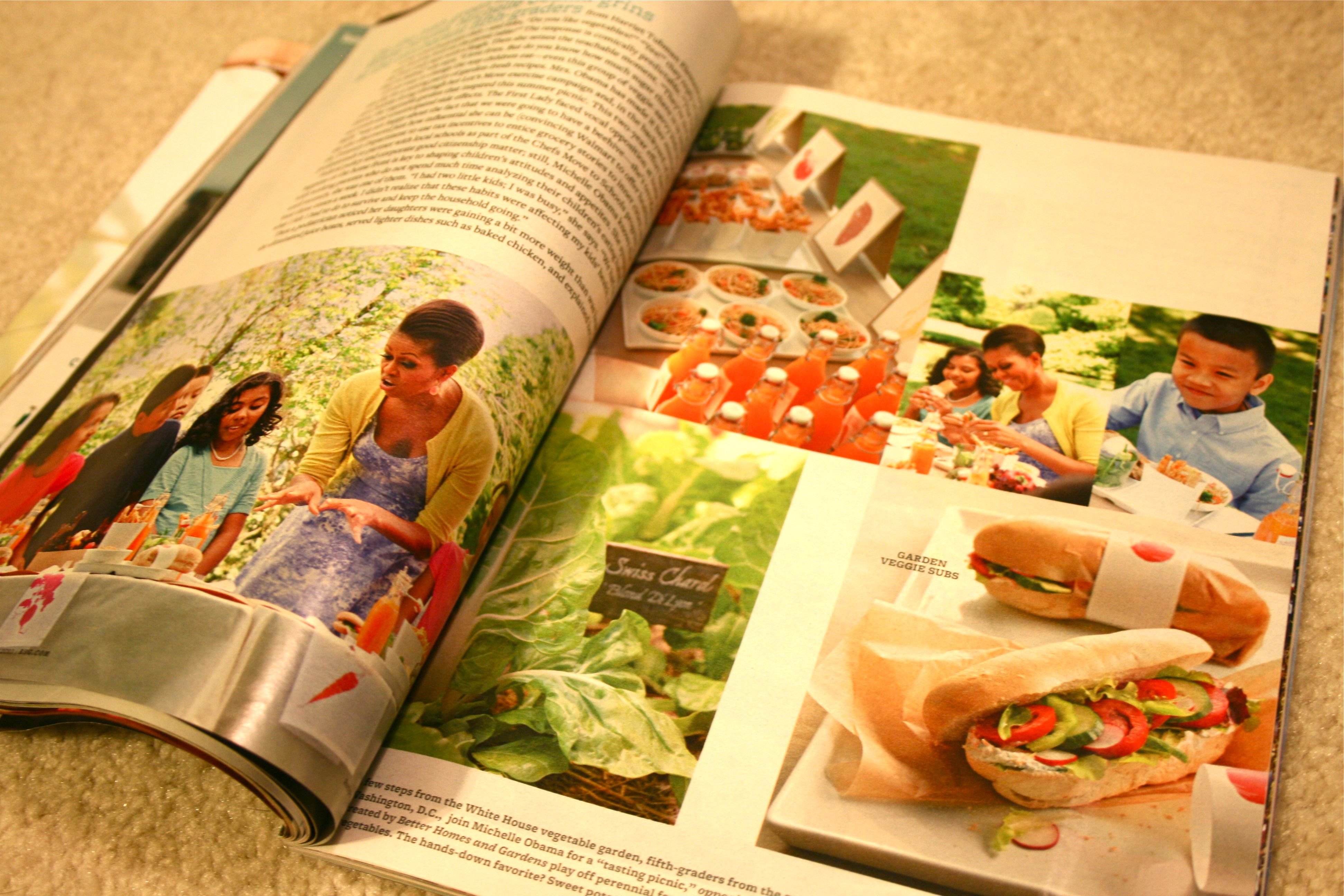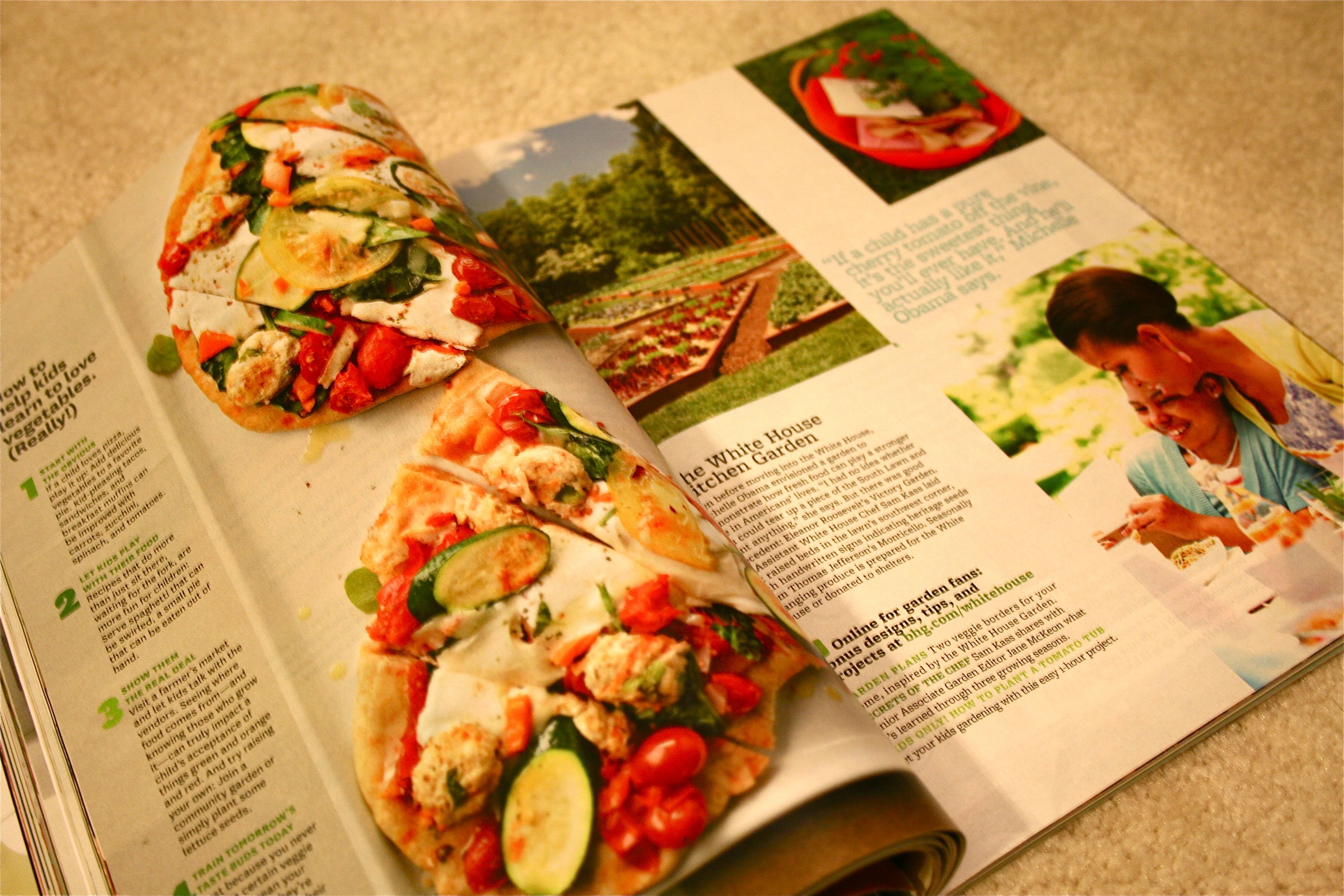 The theme of the issue actually turned out to be gardens and planting – I took a shot of this page because succulents are my sister's favorite plant. I might rip the pages out and take them to her the next time I visit.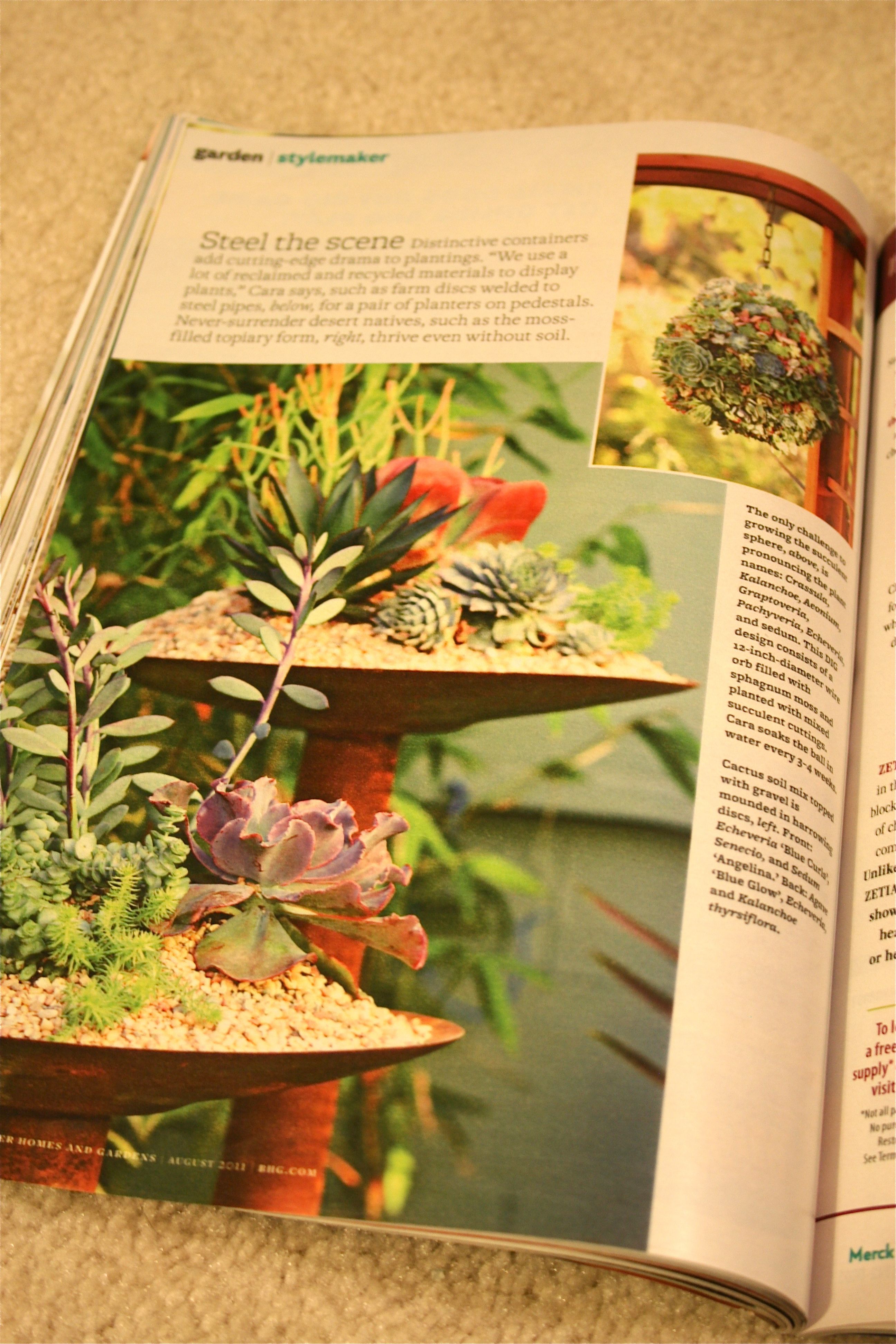 And then lastly, I just had to share this project – An all-over ceiling stencil.
This woman is my hero.
Here's a close-up so you can see it a bit better…She must have all the patience in the world.
Last, but not least, we have the Fall issue of Do It Yourself magazine! This is my favorite publication of all time. Sooooooooooooo many fun projects and easy, you guessed it, do-it-yourself ideas.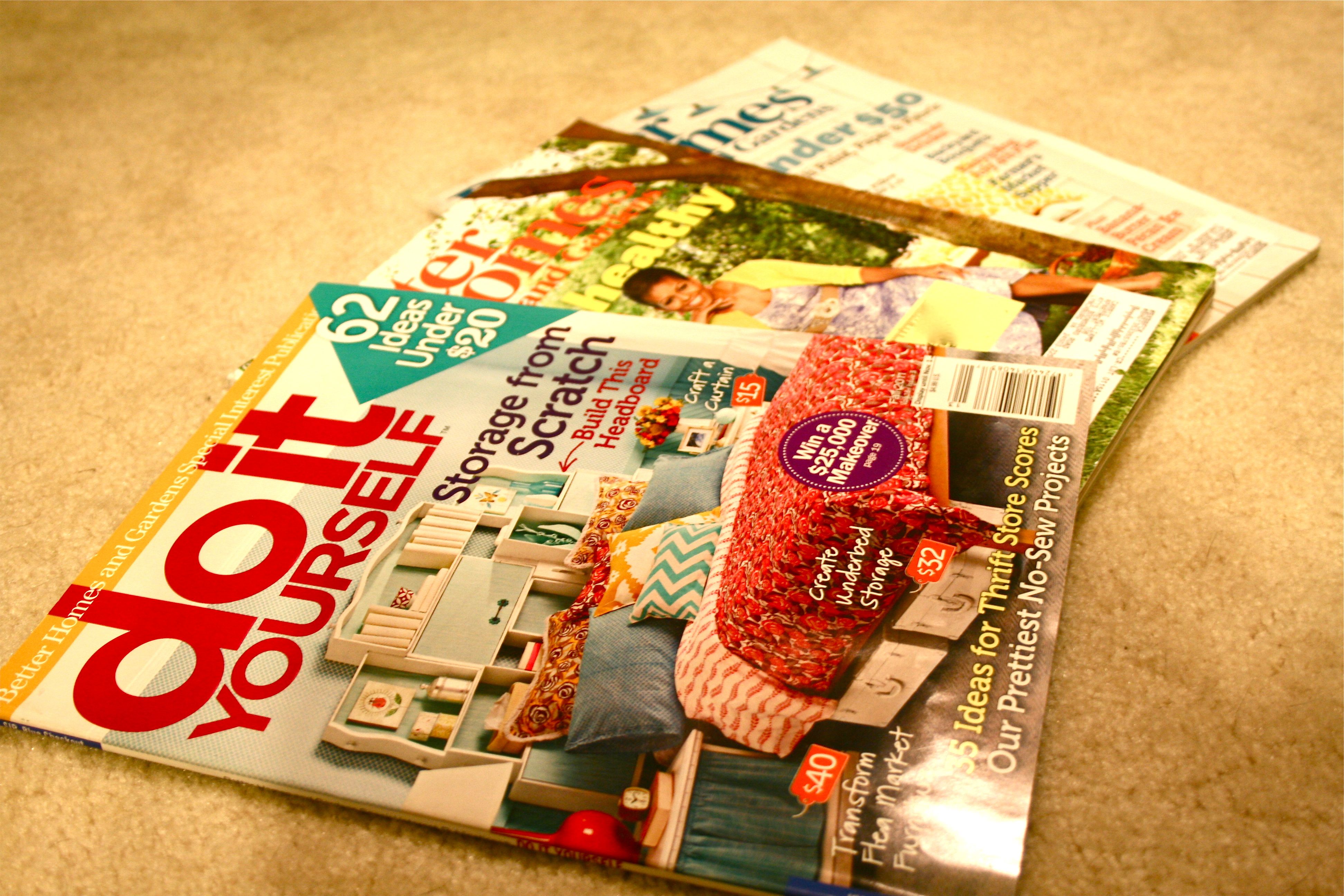 This little tip using buttons to accentuate the edge of a plain lamp shade caught my eye – After doing this project over the weekend, I'm a little gaga over buttons…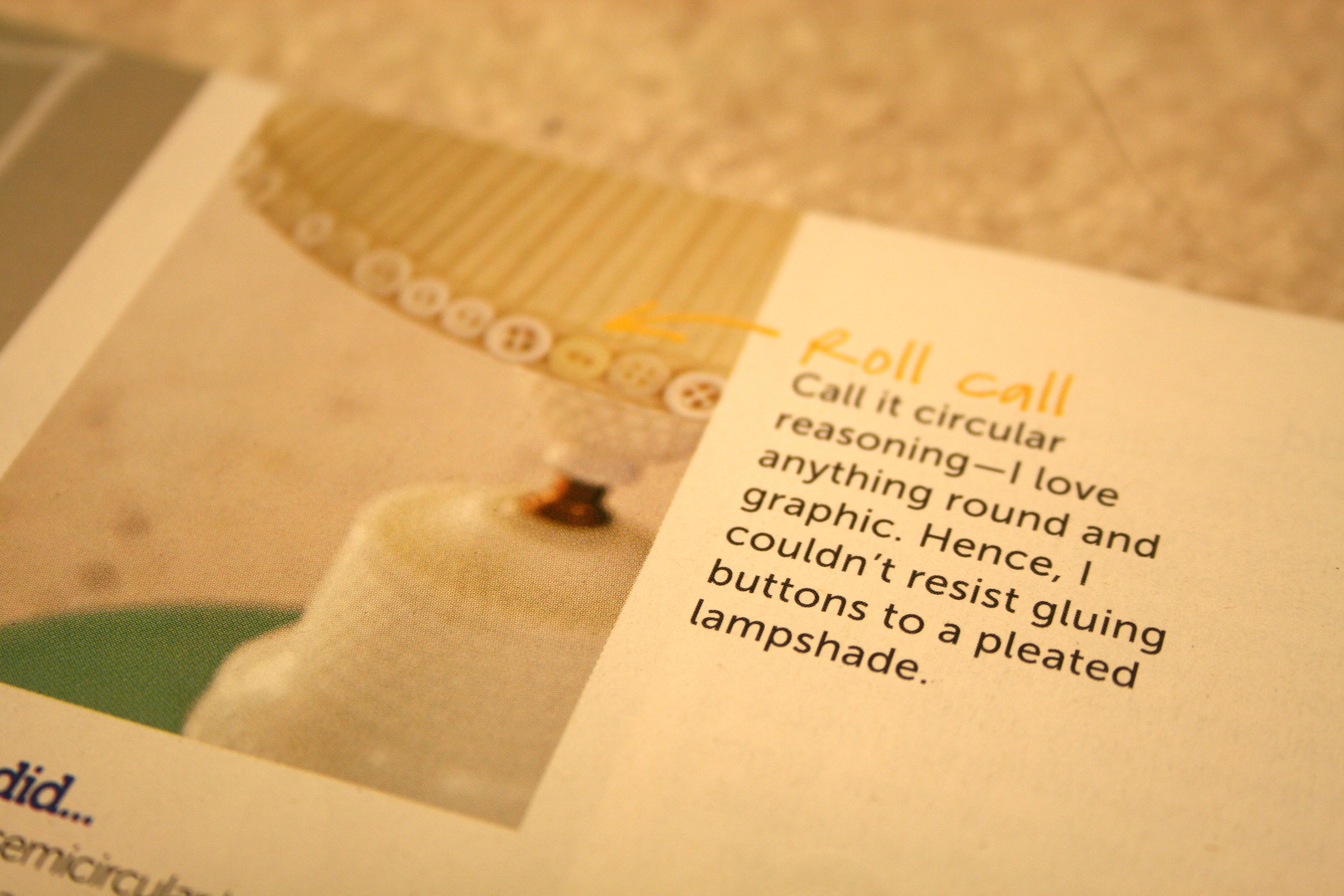 Also, I got a kick out of seeing this product pop up in the magazine since we just recently posted about it!!! Apparently my friend, Savannah, was on top of the trends when she bought this exact scratchable map for her husband as a gift to commemorate their travels together!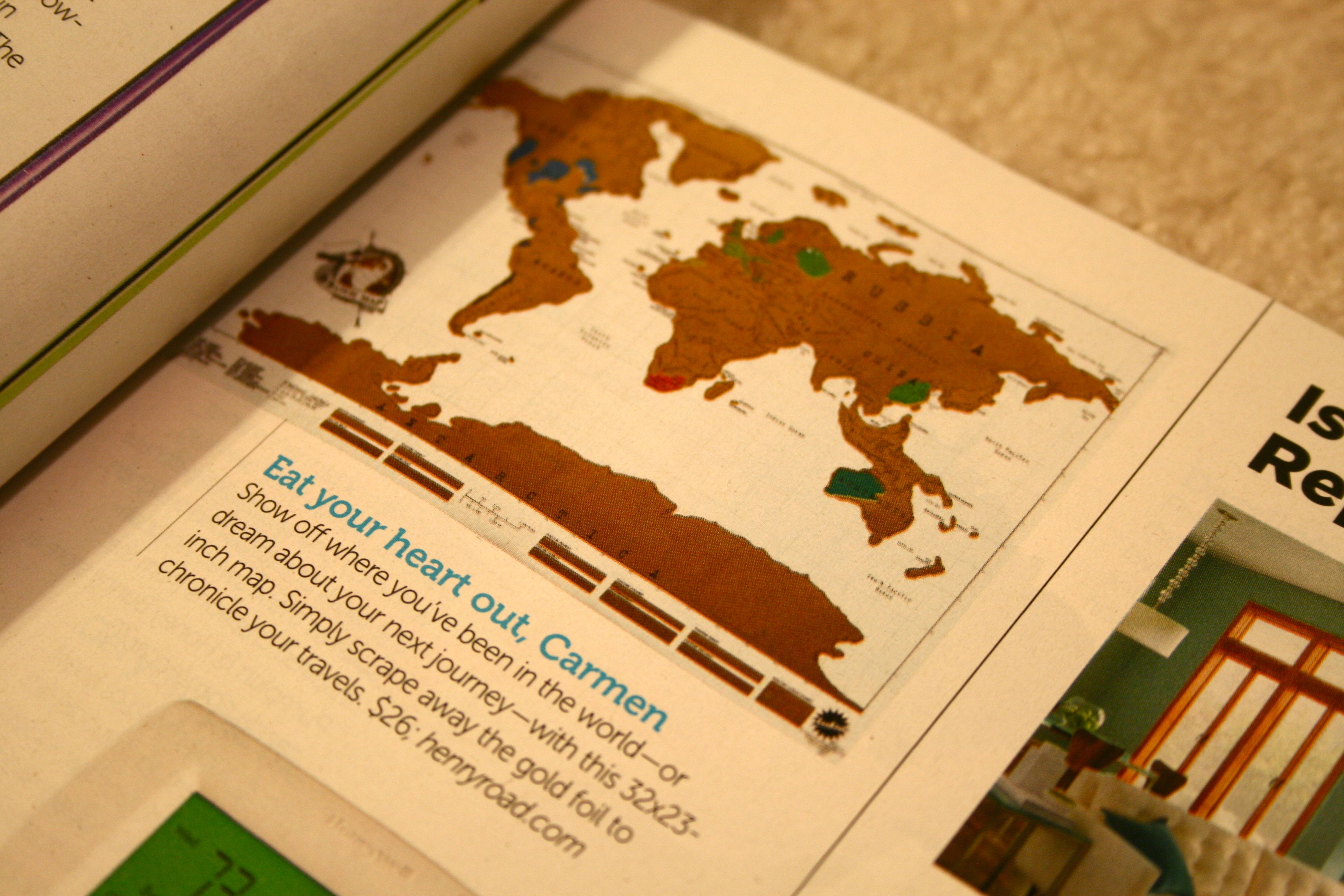 I thought this was kind of a neat idea – I am really into antique plates right now (more on that tomorrow in our latest "Thrift Store SCORE!"), so the idea of adhering a small round mirror to the middle of one is so cute to me! All the beautiful painted details on the edge of the plate really shine as they frame the mirror.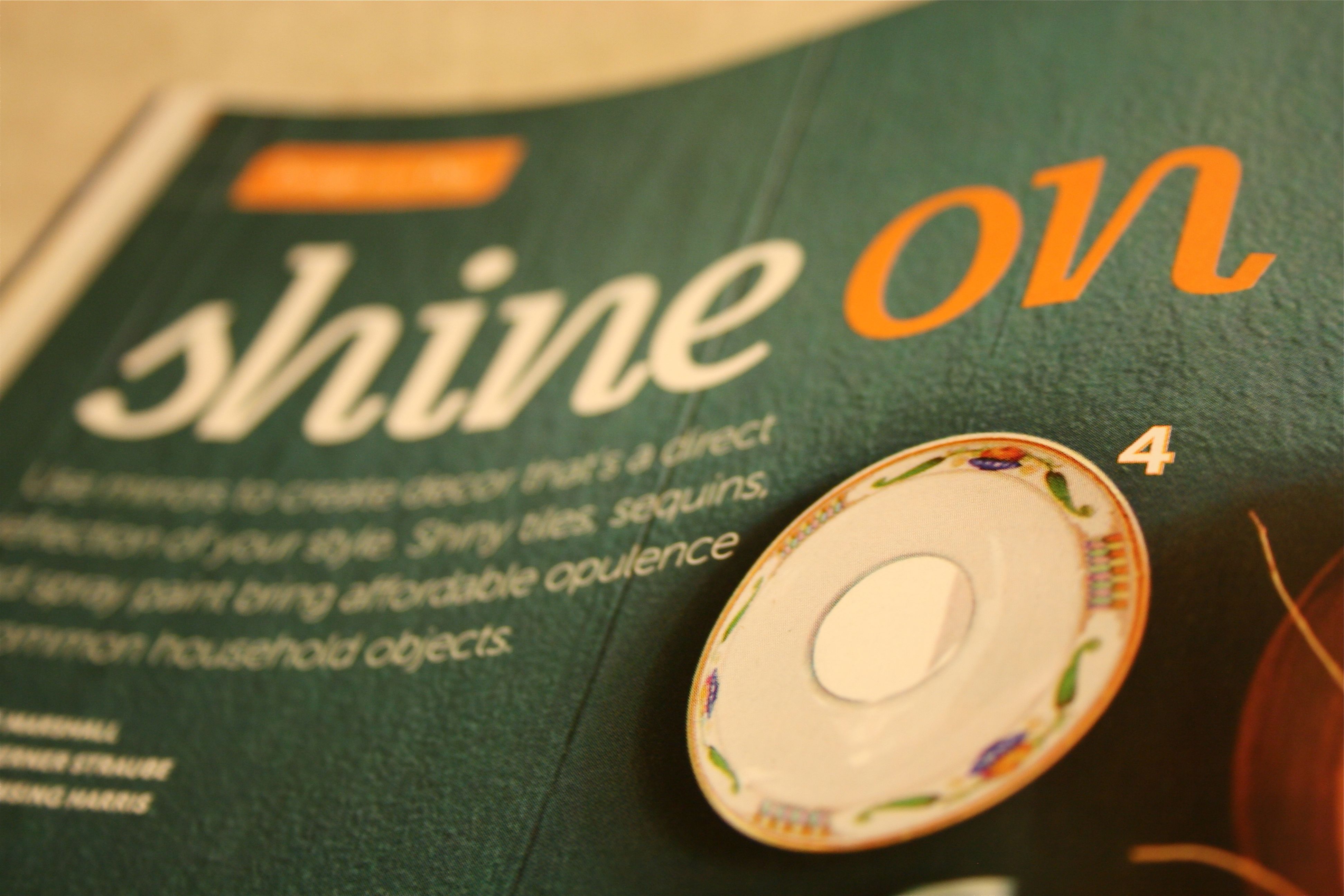 I spy a hoot on this page!!! Can you? 🙂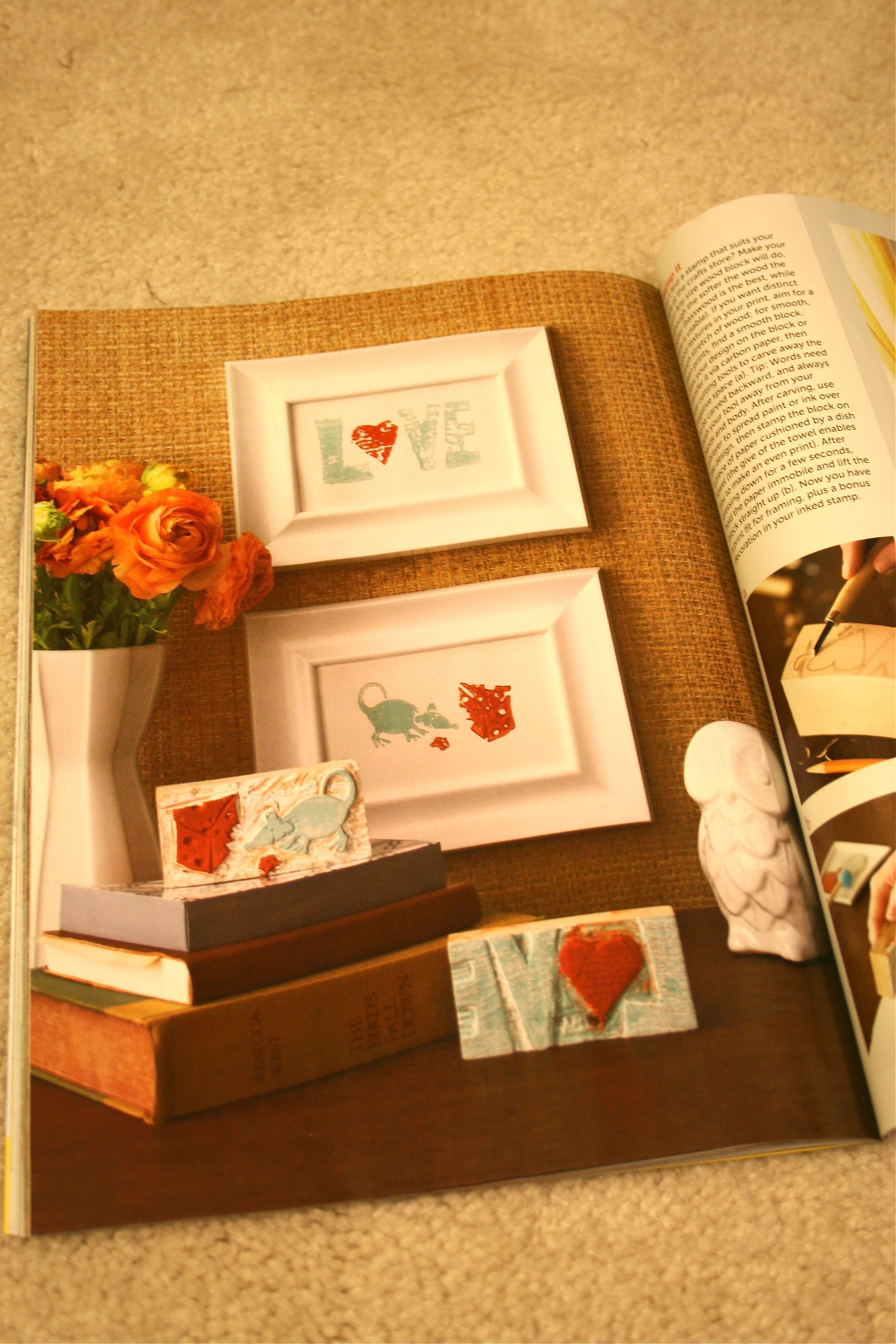 This page was share-worthy because those bright curtains and the rich color palette in the pillows and rug are so lovely! I don't often decorate with rich reds and oranges, so I don't really have any intention of recreating this in our house. But sometimes it's just fun to flip through glossy photos of rooms you know you'll never try, just to admire what other people have the guts to do. But who knows!? I might come around to red someday…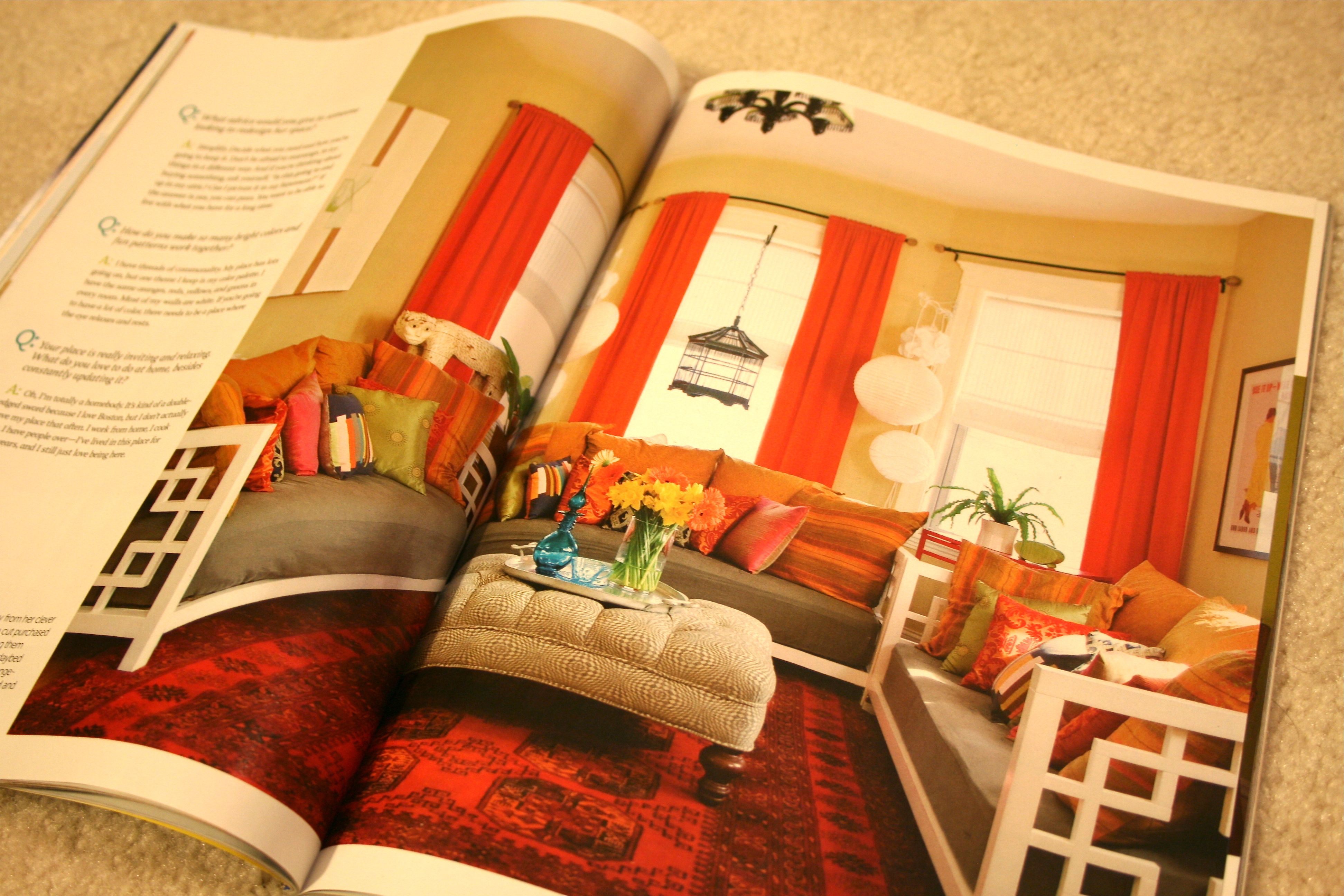 Well that's all for now! Those are the main highlights and points of inspiration that jumped out to me as I flipped through the pages of these three magazines.
What's your favorite highlight? Do you guys have different go-to magazines for design/project inspiration?? I'd love some suggestions!
P.S. Speaking of magazines, I was just asked to contribute a little background on my owl collection for the next issue of Owlzine!!! I was over the moon to gush about my owls 🙂 If you want to see issue one, click here. Also be sure to take a look at their Facebook!