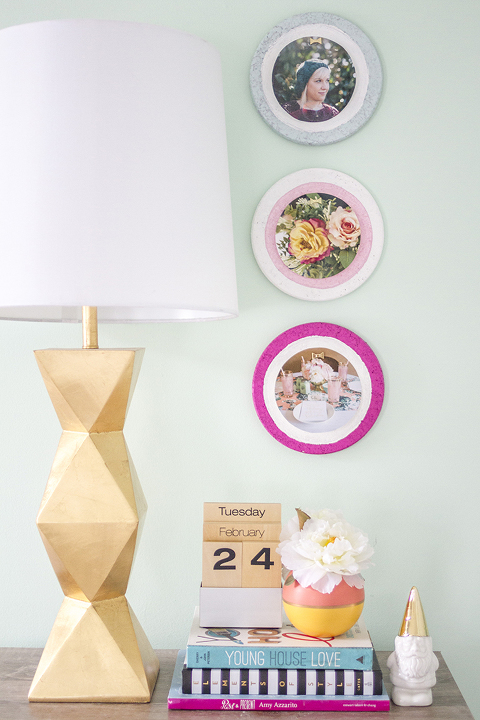 Happy Friday! I'm so excited to have an easy, stress-free weekend ahead of me (knock on wood). I've got a couple of craft projects to work on and a few things to catch up on around the house, but generally, my plan is to stay in pjs all day and to kick back with a Michael Crichton thriller for a few (okay, LOTS of) hours. But before I sign off and get to relaxing, I wanted to share my latest Ikea hack. It all started with a trio of heat cork trivets…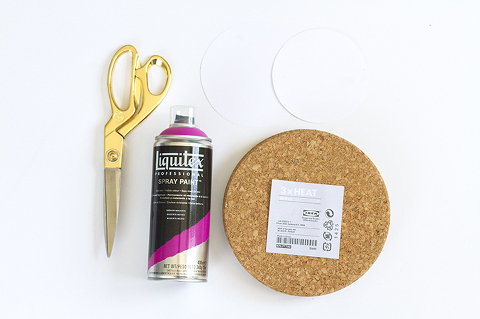 Spray paint in your colors of choice (I used three different colors: fuchsia, white and mint)
Scrap cardboard
Scissors
Pen
Round cardstock templates (to make these, I plopped a dessert plate on a piece of paper, traced it and cut it out)
White acrylic craft paint
Plastic paint tray
Foam paint brush
Printed photos
Push pins
3M picture-hanging command strips
Begin by gathering all of your supplies and make your cardstock templates (see easy peasy instructions above). Then, go outside and lay out a piece of scrap cardboard. Place your cork trivets on the cardboard, leaving about a foot and a half between them to avoid overspray.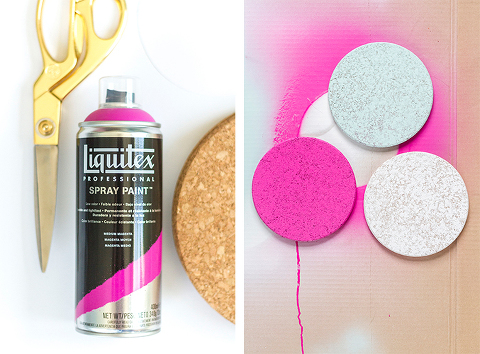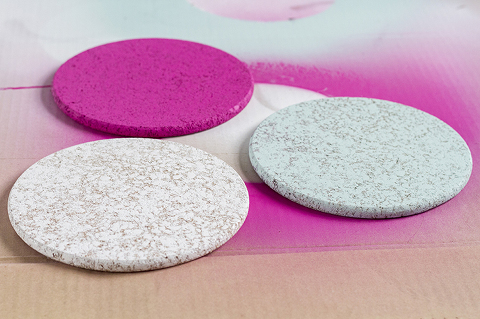 Next, vigorously shake each can of spray paint for 30 seconds, and spray a coat of paint on the trivets in each of your three colors, using a side-to-side sweeping motion and with the can held about a foot away from the trivets. Allow the paint to dry for an hour, and then go back and give them another coat. Repeat, if necessary, a third time and then let the cork trivets dry overnight.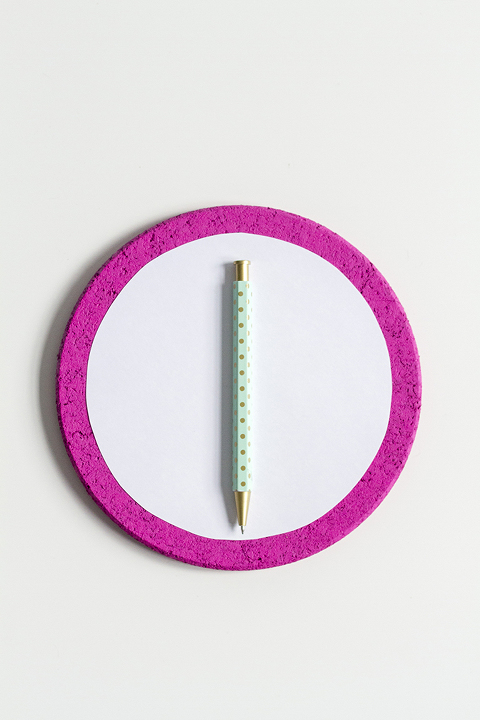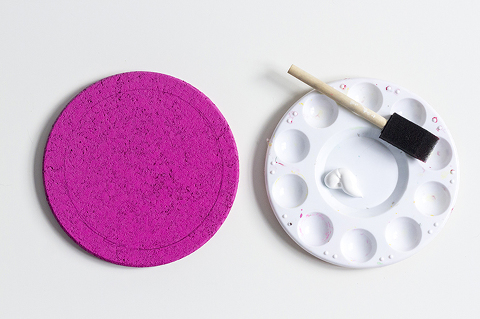 After that, it's time for the "frame." That is, a hand-painted white circle in the center of the painted trivets, which ultimately will help to make your photos really pop. To create the effect, lay your cardstock template in the center of the first trivet. You may measure this out if you prefer to, but I just eye-balled it. Then, trace the circle with a pen and use a foam paint brush to color in the lines. Repeat on the second trivet. To give the white trivet a bit of interest, I added a pink center section. Allow the paint to dry for 30 minutes and then give each a second coat if you can still see the spray painted color through the center.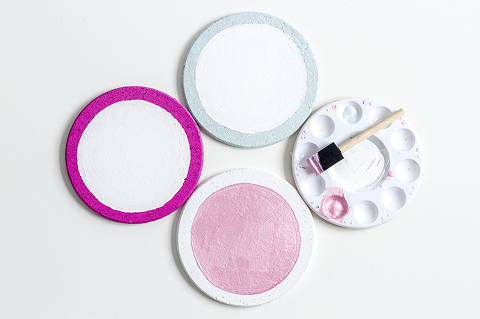 The next step is to gather your printed photos. For this example, I just printed a handful of happy blog-related, creative moment. Lay all of your photos on a flat surface, then grab either a second smaller cardstock template or any round found object you have handy to use for tracing. I used a soup mug because it was the perfect size and was easy to trace. Center the template on top of the photo—the part you want to cut out—and then run a pen lightly around the edge. Use scissors to cut out your photo following the lines.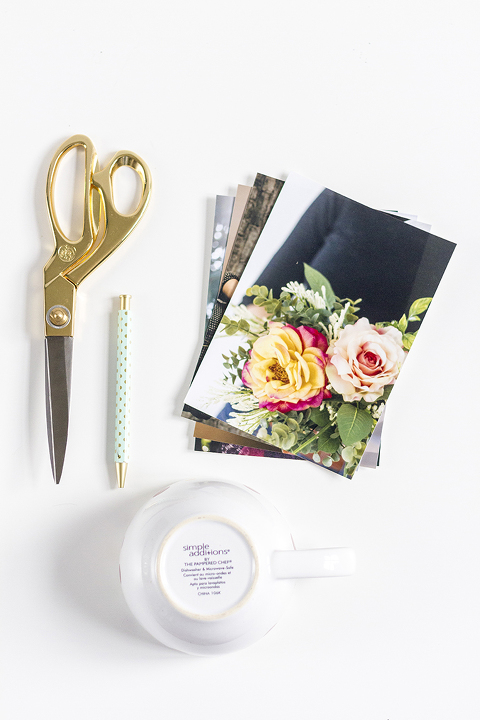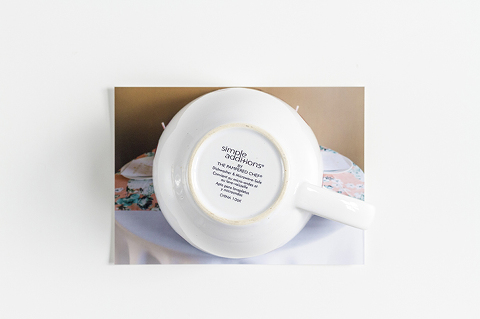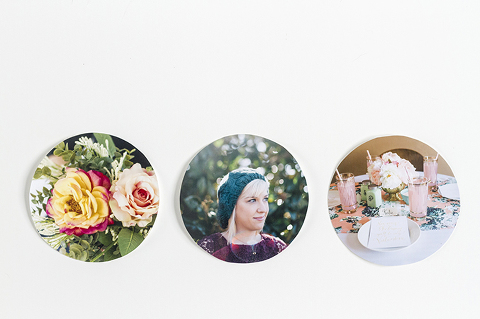 Finally, grab your favorite push pins—mine came from this Kate Spade tackle box, but there tend to be tons of cute options in the Target dollar section, too—and pin your photos to the center of your painted trivets. Again, I just eye-balled it, but feel free to measure for precision if you prefer.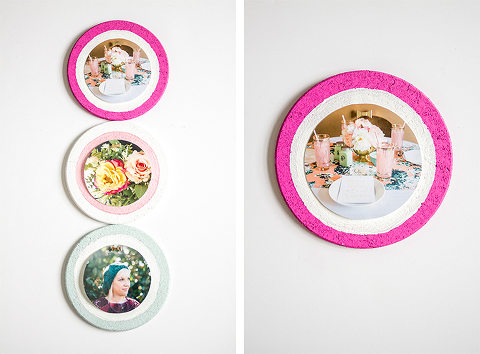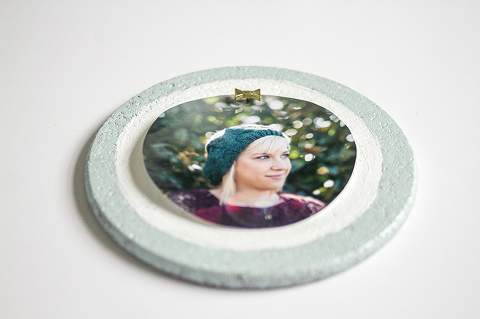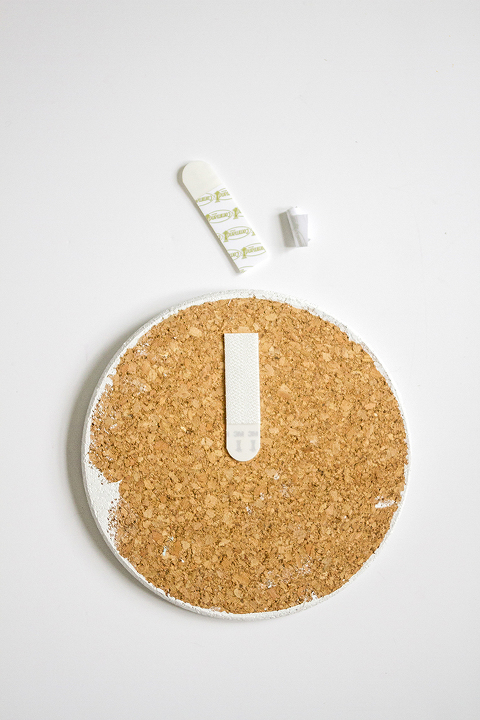 To hang your painted trivet frames, add 3M command hooks (the kind made for picture hanging) to the top center section on the back of each trivet and press them onto the wall. I love the graphic appeal of these round frames and photos and, of course, can't stop happily sighing over all of that pretty color. What do you think?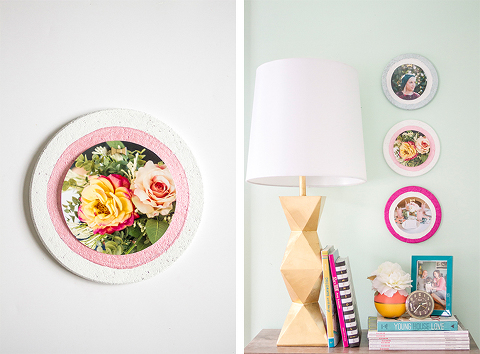 P.S. Don't forget to get your name in the hat to win our $50 fabric giveaway before it's too late! Details this way.