Before we get into any nitty-gritty details, I thought I'd give you a few general points of reference…
The house is a two bedroom town home with two and a half baths. There's a finished basement and a big garage for John's "project cars" and tools. Not much of a yard to speak of…But it has a great deck off the back of the house that we can't get enough of now that Spring has "sprung" 🙂
Our style can best be described as a combination of "mid-century modern" and "flea market chic" – The people down at our favorite thrift store know us by face as we tend to go every Saturday morning (which is GREAT because I tend to get instant discounts on treasures I haul up to the cash register – Can't wait to tell you about the clock we bought last weekend!). And if the local thrift stores don't satisfy our need, we are lucky to live just a couple of hours from Richmond and Northern Virginia if we are feeling like a day trip.
I know John is probably mentally asking himself what he's gotten himself into with me at times…But boy do I love projects! Our laundry list is about a mile long at this point…But the awesome thing is (1) he's willing to humor me while also taking a pretty big interest in the ideas I excitedly lay out for him over coffee every time we go out, and (2) the "end" isn't so much the point as the "means". He and I are really finding that doing projects together brings us closer together as a couple and we have a blast! Yes, there's the occasional time when it's best to put the paint brushes and screwdrivers down and back away slowly before we bite each other's heads off – But for the most part, we take things in stride and enjoy the teamwork!
But now it's time for me to tell YOU excitedly what our plans are (and yes, I promise they are OUR plans – I'm not forcing him into ANYTHING that I come up with. I usually have a few ideas and he's the final say since it is still technically his house 😉 )
The kitchen: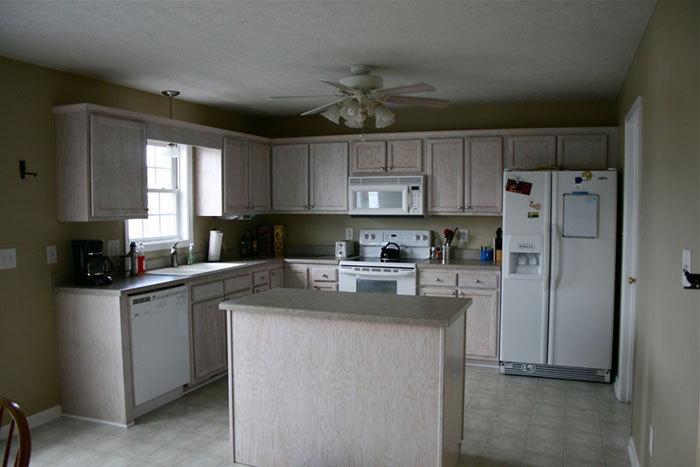 To do:
Update the fan/light fixture with a new pendant light (or maybe track lighting?)
Paint the cabinets a warm chocolate-brown
EXTRA CREDIT:
Put in a backsplash
Carry the laminate hard wood floors in the rest of the first floor into the kitchen
New counter tops (Although I'm gonna go ahead and attach a "Yeah right!" to this one since I highly doubt we'll find the funds for it. Maybe we can come up with a cool refinishing project for this though! Wrapped sheet metal? Concrete?)
The dining room: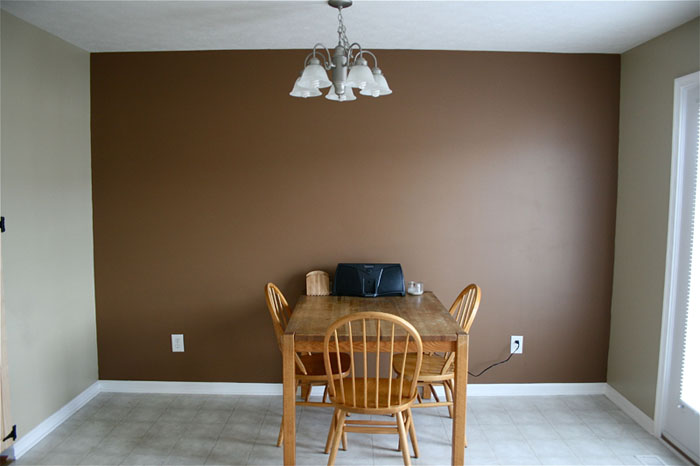 To do:
Update the light fixture with a new circular pendant lamp (already purchased and on it's way home to us!!!)
Paint long empty wall in dark chocolate color to balance it with the kitchen, which is behind the photographer in this angle (DONE!!! Finished that project a couple weekend's ago for a whopping $22 – Oh how we love thee, Olympic paint…)
Put up a colorful collection of plates – A more modern version of your grandma's plate wall (DONE!!! Did that this past weekend and can't wait to post pictures!)
Bring in the lovely, deep chocolate espresso stained pedestle table that lives in my apartment at the moment and give John's parent's table and chair back to them.
I'm thinking of more framed art on the two side walls…
Fabric valance over the french doors leading out the deck.
EXTRA CREDIT:
The laminate hard wood floors again…
The living room: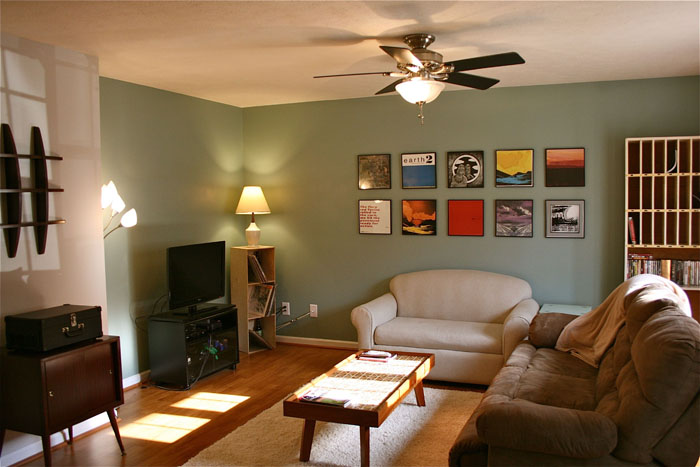 To do:
Find something to put over the TV (DONE!!! Picked up the most amazing spindle clock from Estate Specialist last weekend! Didn't get it up before this particular "photo shoot", but I'll post about it soon I'm sure)
Move John's microfiber sofa (which is getting a little TOO loved by Rocky the dog – Did I tell you we have a dog?! You'll meet him soon…) to the finished basement to protect it along with the rest of his favorite bachelor treasures and get a new mid-century couch, like this one.
Replace the wooden shelf over the record player with a pop art painting re-creation I'm planning on doing.
Find a vintage TV cabinet like this one.
New curtains (didn't make it into the picture on the right)
More vintage lighting (don't you just LOVE the lamp in the back left corner we picked up at Goodwill for less than $5 and didn't have to do a THING to??) Here it is up close 🙂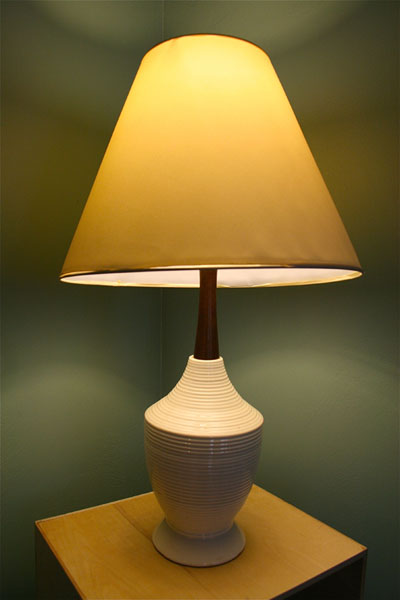 The upstairs master bedroom: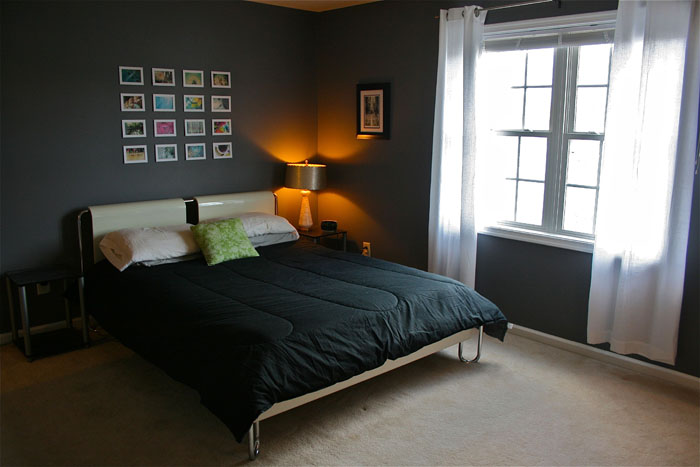 To do:
Pretty much nothing!!! We worked on this bad boy first thing and got it into tip-top shape 🙂 I've always wanted to do a room in a deep grey color with pops of bright photography on the walls. John already had the PERFECT bed frame! We love it…
Close up of the photography art piece over the bed (which is actually just some photos I found and printed off the internet and put -unframed- behind some white mats I ordered in bulk from here. The whole things is hung using 3M tape)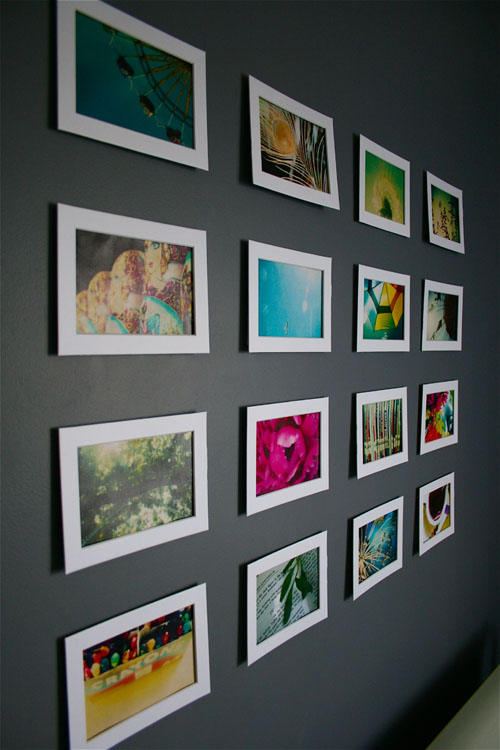 Photography by Lisa
Here's the AMAZING dresser on the other side of the room that we found at Estate Specialist (knocked down to $100 from $150)…Needs a little retouching on the bottom left side, but I think we can figure that out soon!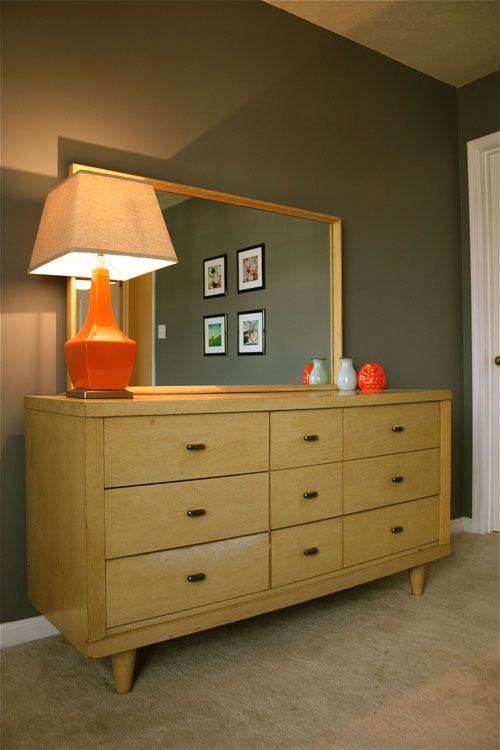 …and the larger scale collection of color photography I bought here and framed for the long wall to the left of the bed (You can see their reflection in the mirror pictured above). This project cost more than the dresser, believe it or not…John didn't WANT to believe me when I told him!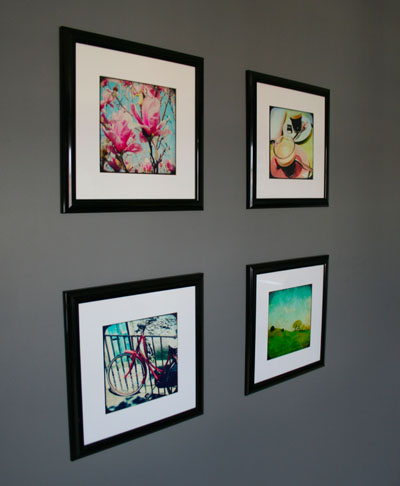 That's all for now! I know John's probably high tailing it to Mexico about now after reading this post (just kidding… 🙂 He's a good sport – The best I know, in fact!!!). I'll give you the rest of the tour after I finish the "photo shoot" – The camera battery died before I made it to the bathrooms, future studio, exterior and basement.
Stay tuned!!!