My very first issue of "Do It Yourself" magazine arrived in my mailbox last night 🙂 It was like my birthday (which is this Sunday) came early!!!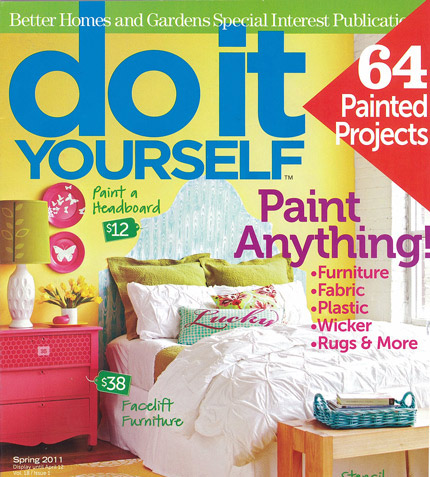 And to top off the excitement, this issue is all about painting pretty much anything in your home to give it new life – My latest go-to fix! I'm reading the magazine pretty much cover-to-cover so that I don't miss a thing – I think I'm on page 41 (of 112) right now and already have at least 5 new projects I want to tackle:
doodle a design on a painted lamp base with a white Sharpie oil marker
make hand-painted coasters using plain white tiles and porcelain paint
pick up some colorful photo boxes from Michael's and use them for fun/colorful closet and table-top storage
spray paint a wicker tray (or ANYTHING wicker for that matter – baskets, chairs, etc.) in a pop-y color like teal or orange
paint a custom design on one of my drum lampshades
It's going to be a busy next couple of weekends – And I'm not even all the way through the issue yet!!!!
I am all about grabbing a sample/quart/gallon of paint to spruce up things in our house. From walls and kitchen cabinets, to furniture and lamps, we've got paint plans for just about every nook and cranny. In fact, we are about to break open a quart of light grey paint tomorrow (or tonight if we're feeling gutsy) to redo the half bathroom before guests arrive for my birthday party tomorrow night. Stay tuned for that reveal next week!
But all of this paint had us spending a lot of time driving back and forth to Lowe's – Thankfully the nearest one is about a quarter of a mile down the road, so it's not much of a hassle. But wouldn't it be GREAT if we had all of those gorgeous paint chips at our disposal so that we only had to make ONE trip to pick up paint (as opposed to one to get the paint chips, bring them home, decide and then go back out to get it mixed)? Sure would be nice if we had one of those paint chip booklets they make…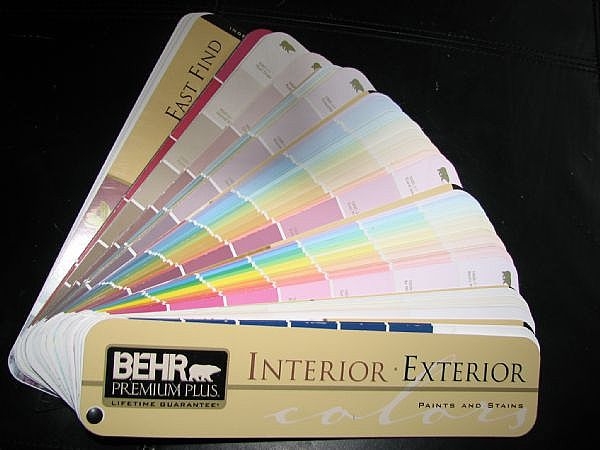 I even Googled it to see if it's possible to purchase an Olympic paint chip book, but found nothing…Although I did find a "how to" on getting a paint chip book from your local hardware store here – Sounds like an "at the right place at the right time" happenstance though. As we all know, I'm too impatient for that.
But thankfully I had a light bulb moment – Why not make our own! You know we are all about the cheap and DIY over at our house…So we made the trek over to Lowe's one last time ever for paint chips. This time we didn't come away with only a few though – More like 200.
That's right, we literally parked ourselves in front of the Olympic paint chip display and, each taking a section, grabbed every paint chip they had. I'm not one for breaking rules, and something about this seemed a little thief-like…But luckily there weren't many people in the paint center that evening to make me feel too awkward, so we were able to fill my purse to the max with a stack (about two inches thick) of paint chips!
I'll admit, my heart was racing as I tried to casually walk out of the store with a purse packed with the paint chips – But I know they wouldn't have cared. They're FREE SAMPLES for gosh sakes!!! At least that's what I kept trying to reassure myself with. I felt like a bona fide bandit (like Audrey Hepburn and Peter O'Toole in "How to a Steal a Million") after we made it to the truck.
Here's our bounty once we laid everything out at home: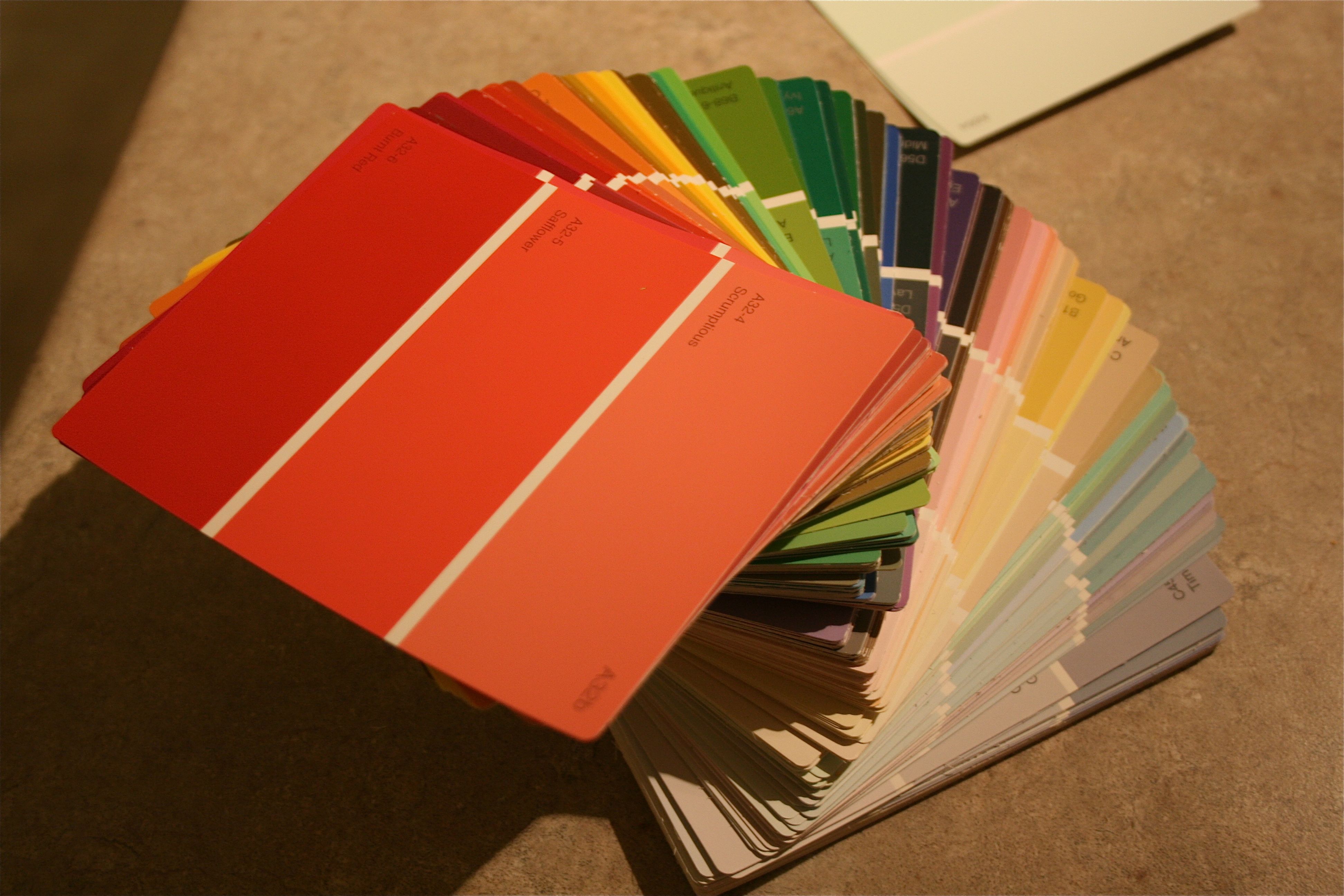 All of those colors are so pretty…I decided to organize them into two different sections – Dark Rainbow and Light Rainbow. The stack together was so thick, that we actually had to make two separate chip books.
The rest of the project was as simple as using masking tape to hold the stacks well-packed together and grabbing a drill to put a hole through the one of the upper corners. Like this: (although I would recommend using a piece of wood to drill on instead of a folded towel – There's definitely a small divot in the counter top now…)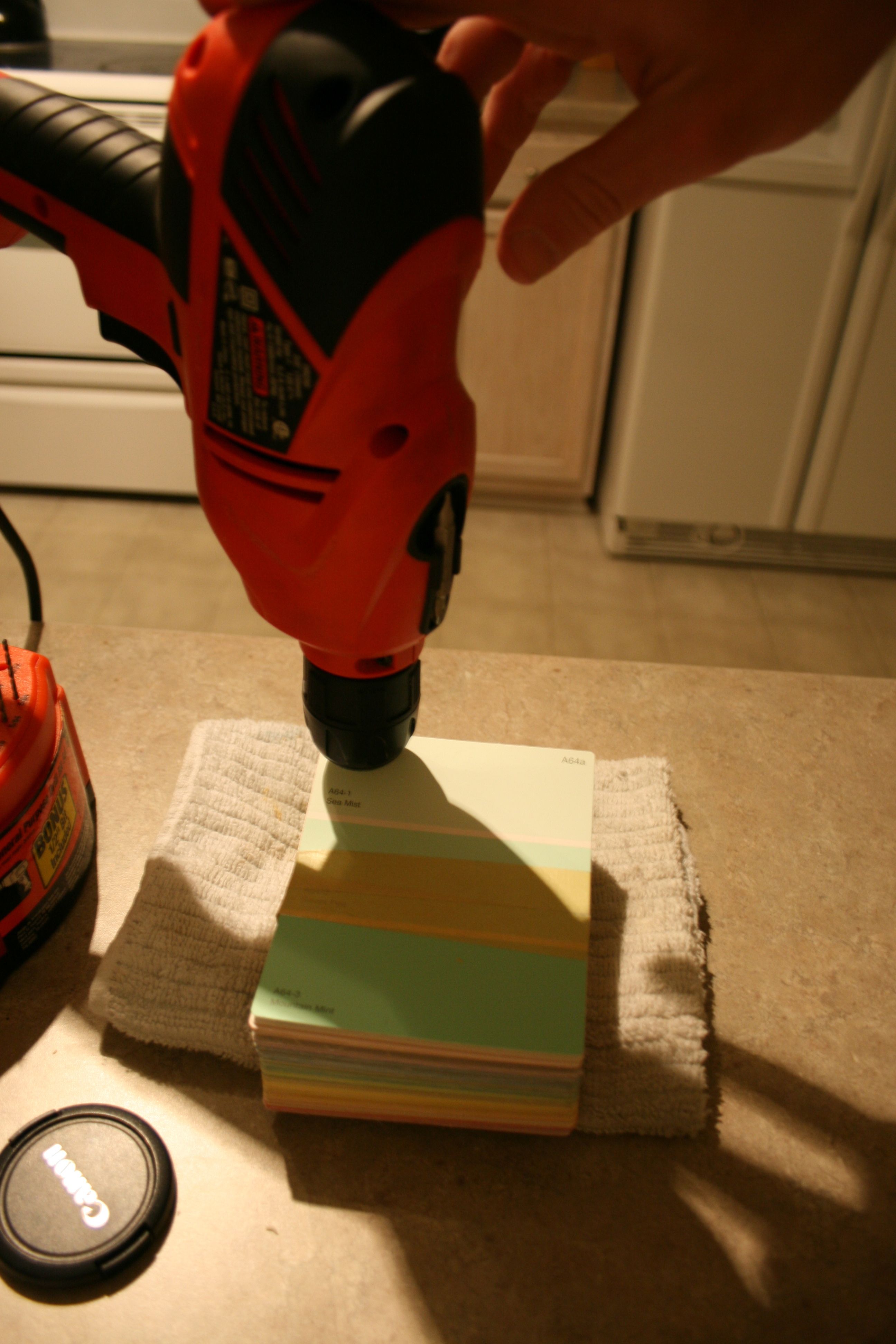 Here they are all ready for their chain connector!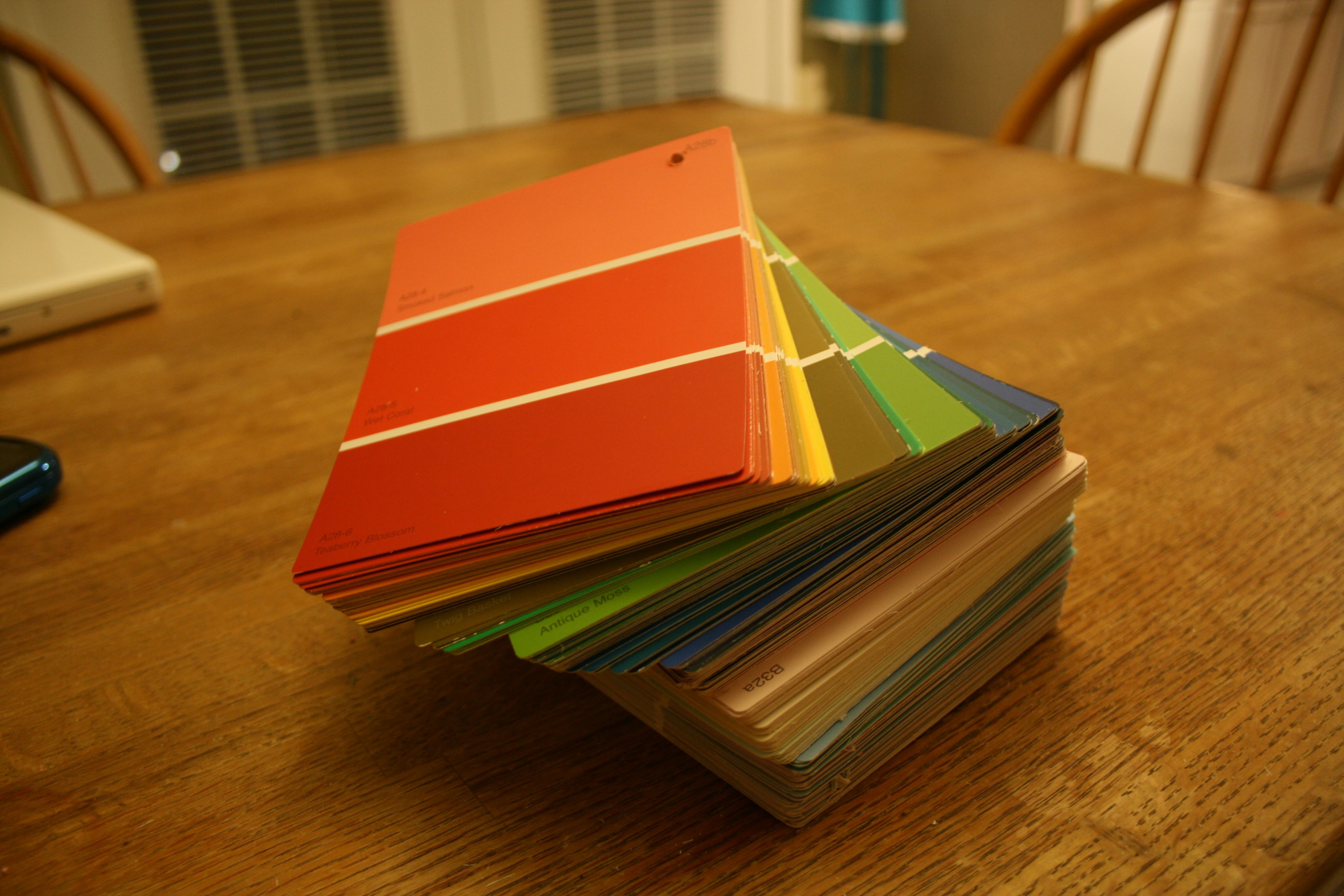 Luckily we didn't have to go searching for a chain to use to thread the paint chips onto – We had recently removed a fan from the kitchen and took the pull chains off, which worked like a charm!
Oh, did I not tell you that we switched out the other kitchen light fixture?? Here's the new one we bought: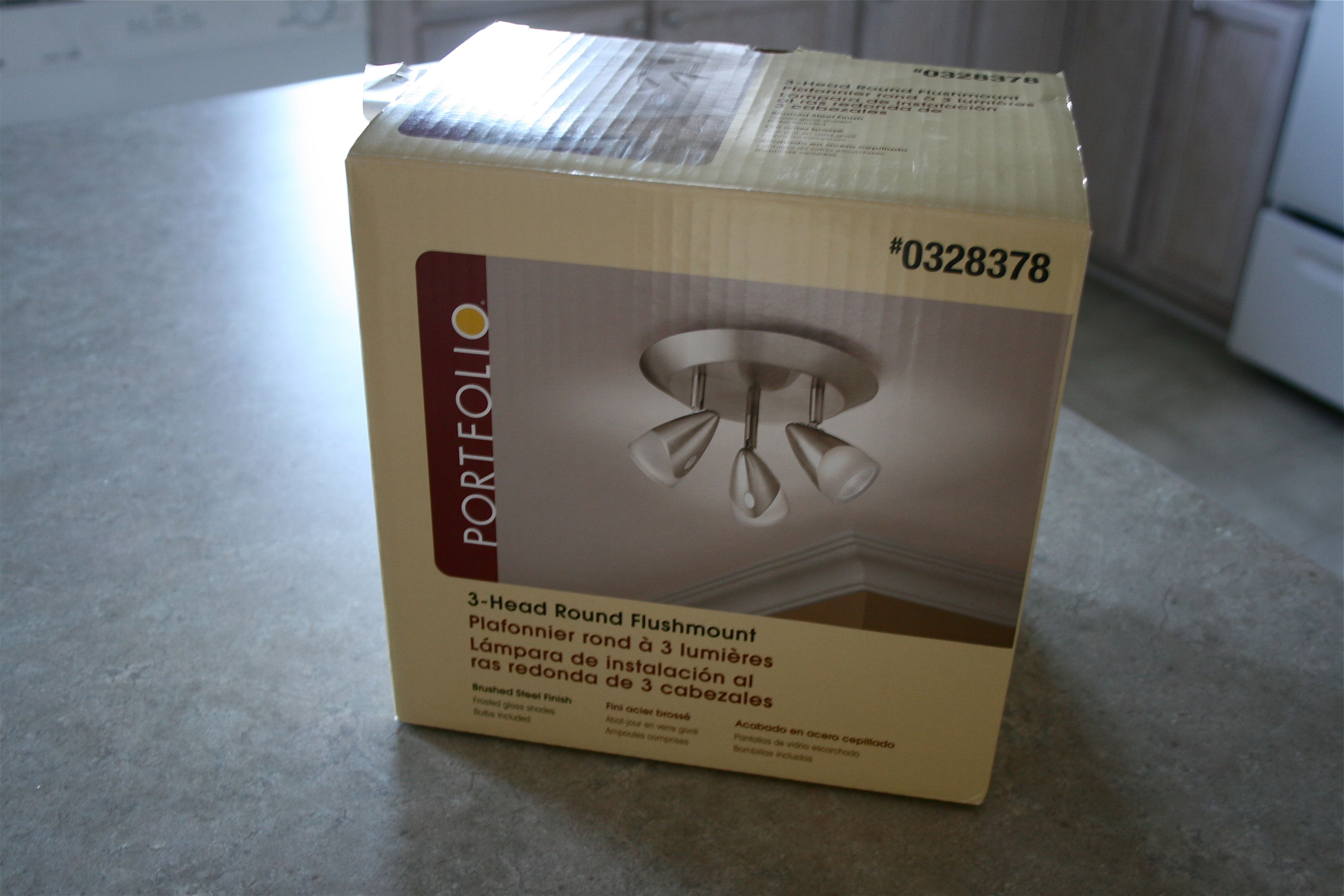 Before…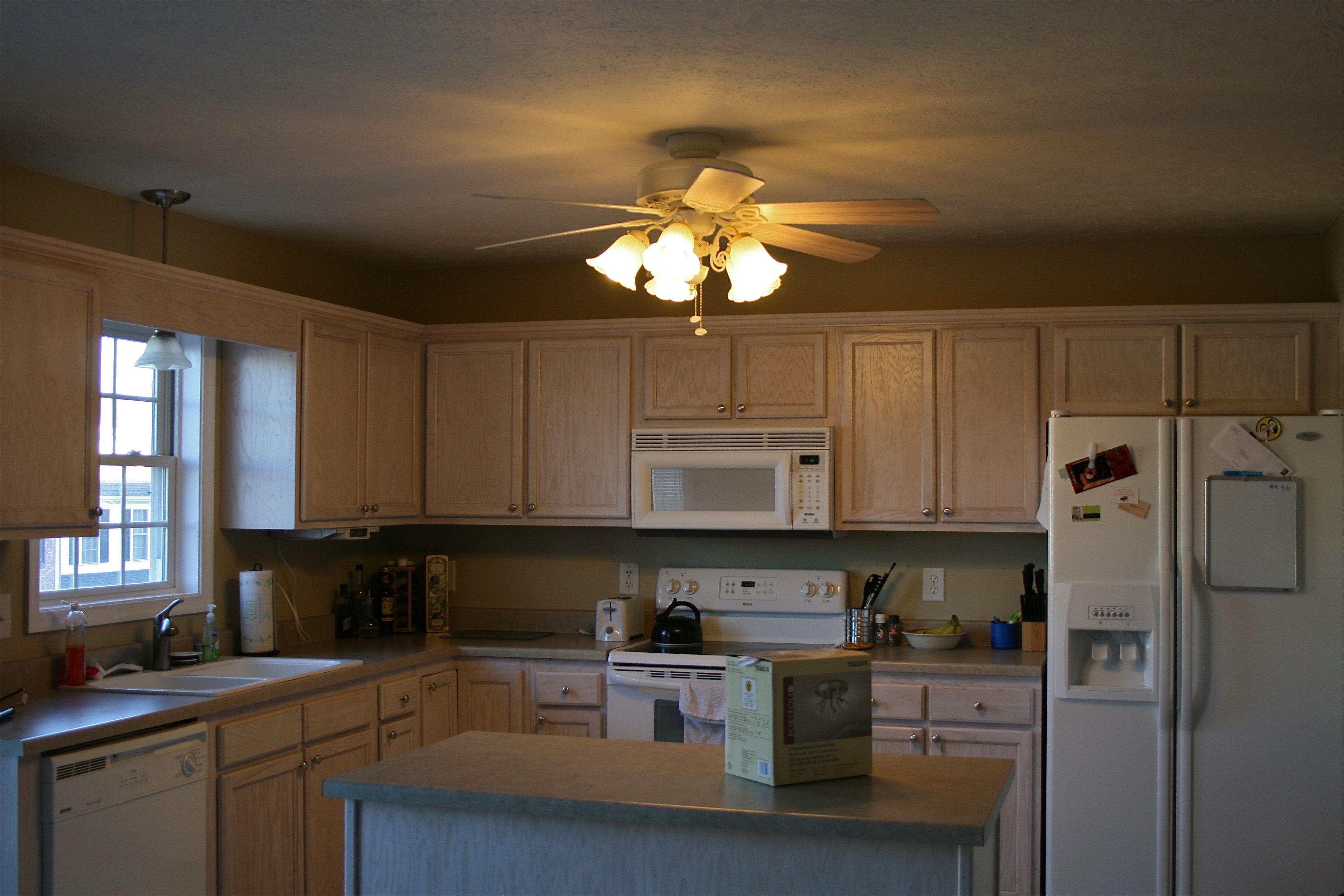 And now after!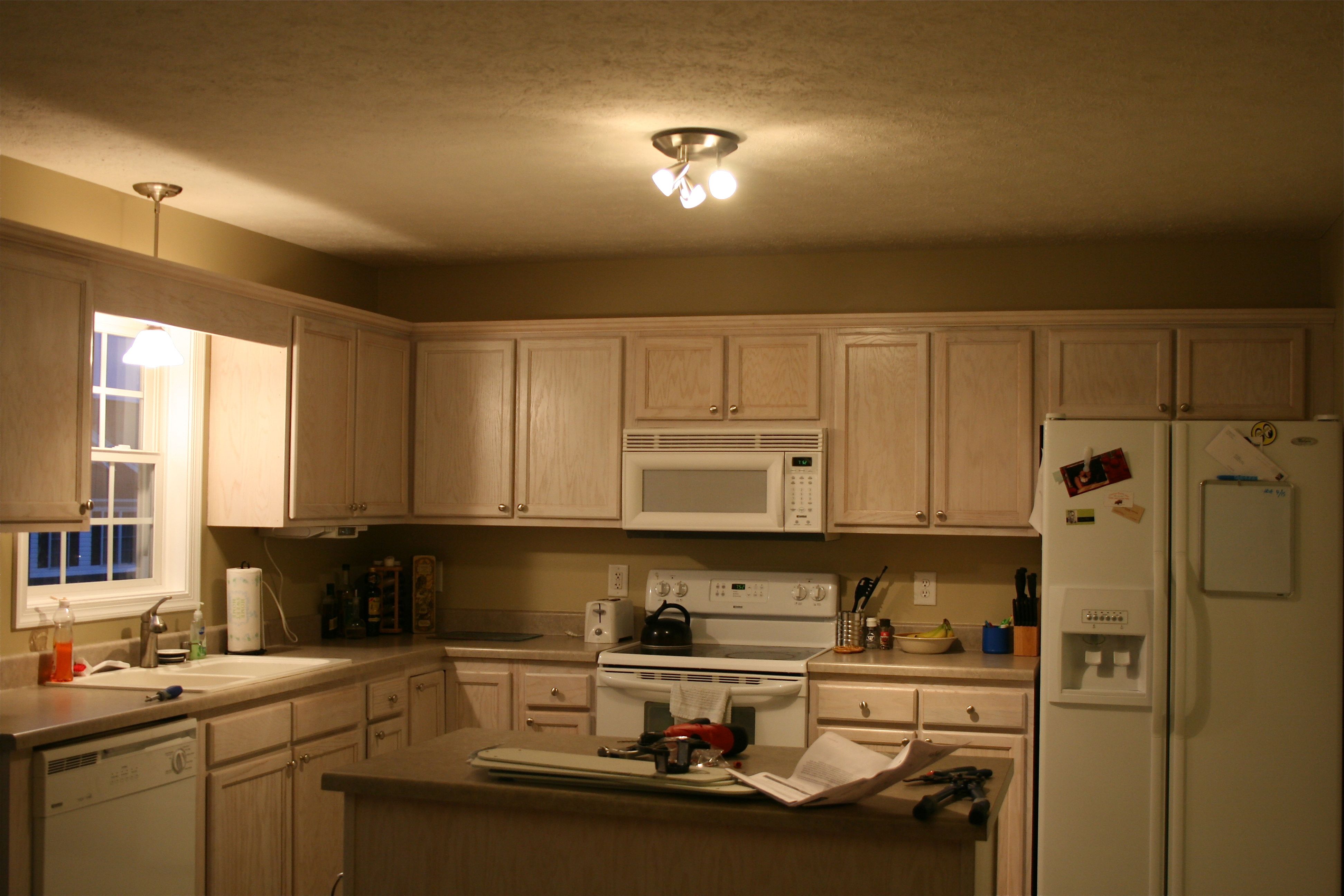 But back to the paint chip books…
All we had left to do was thread the little silver ball chains to the stack of paint chips, and we're all done!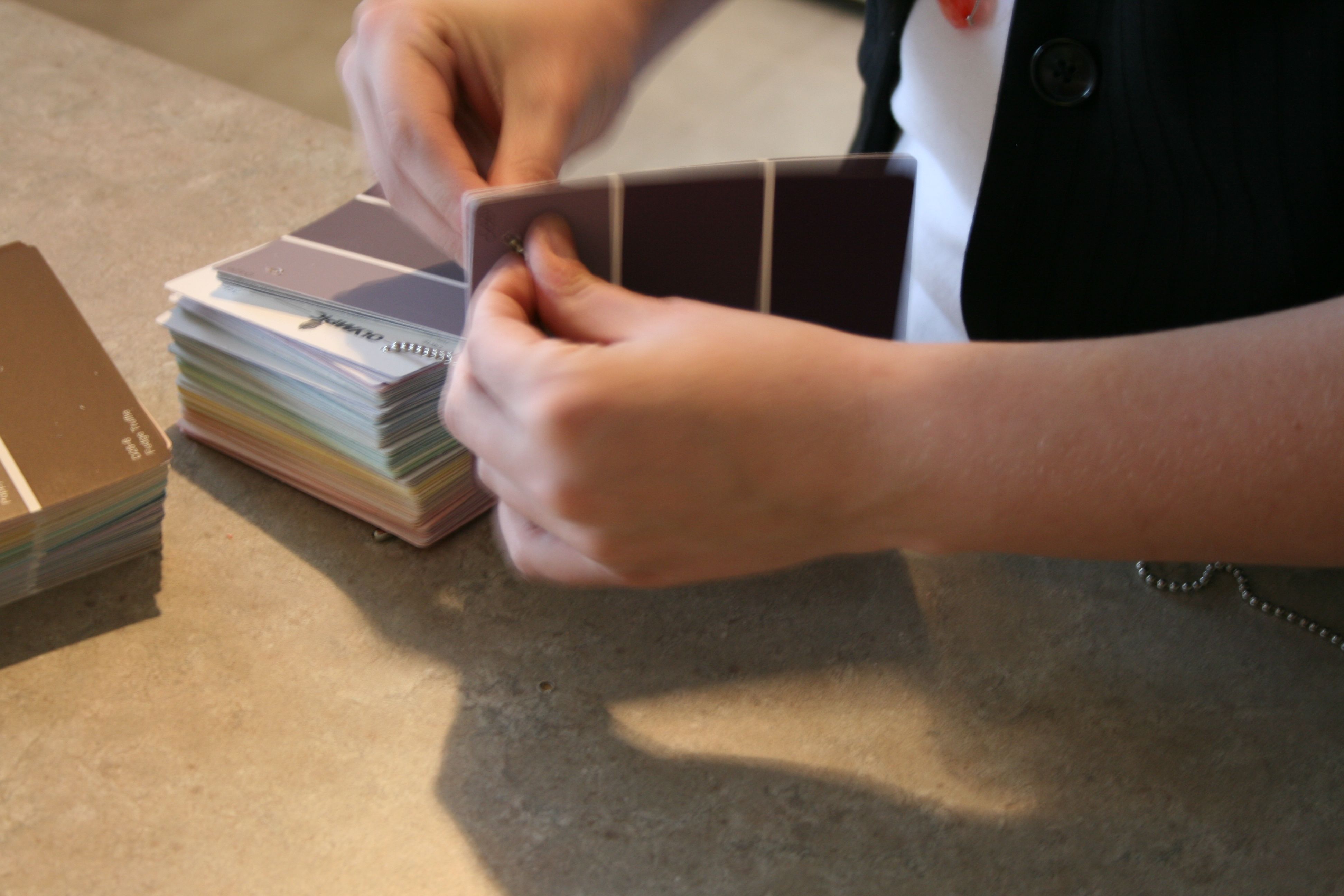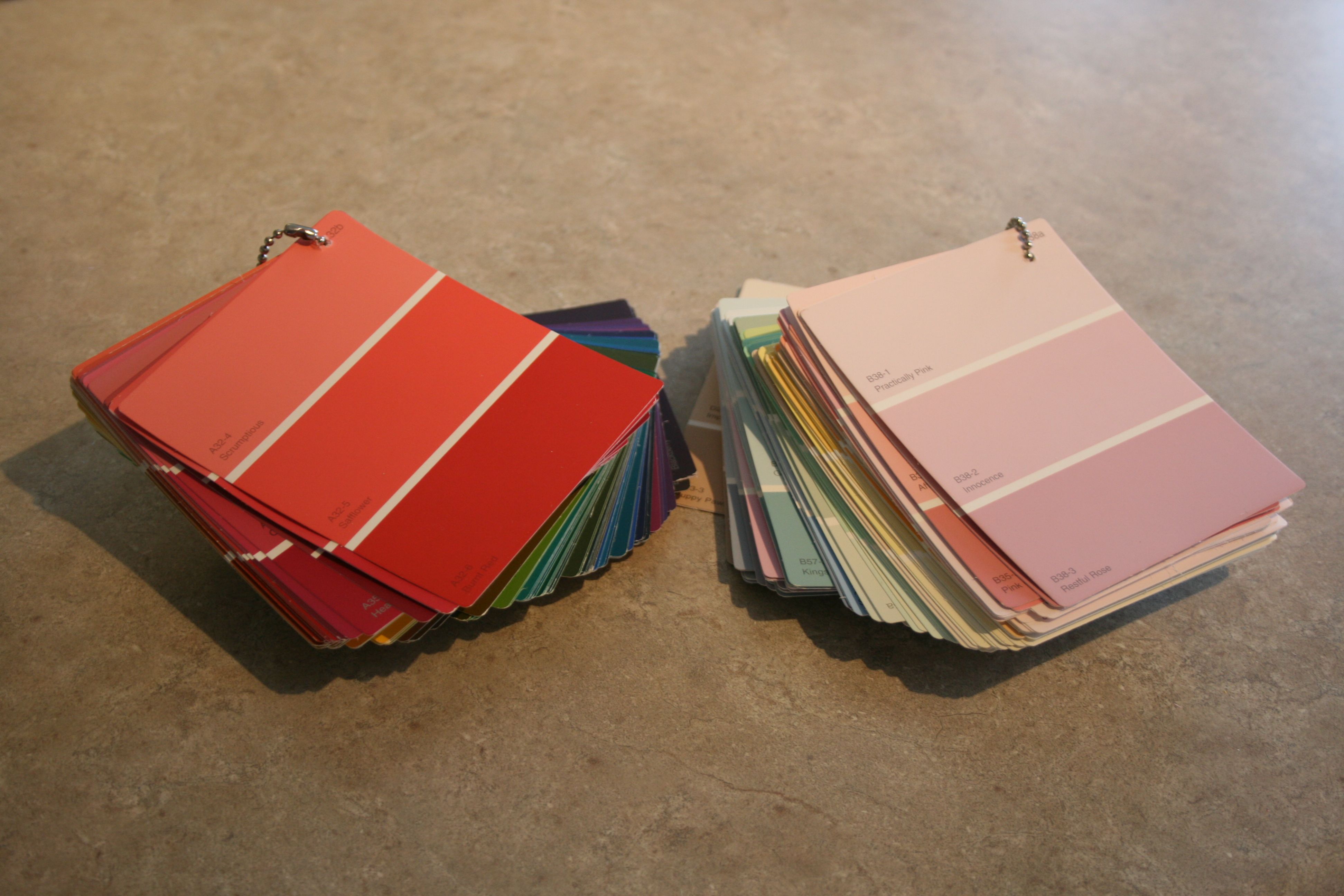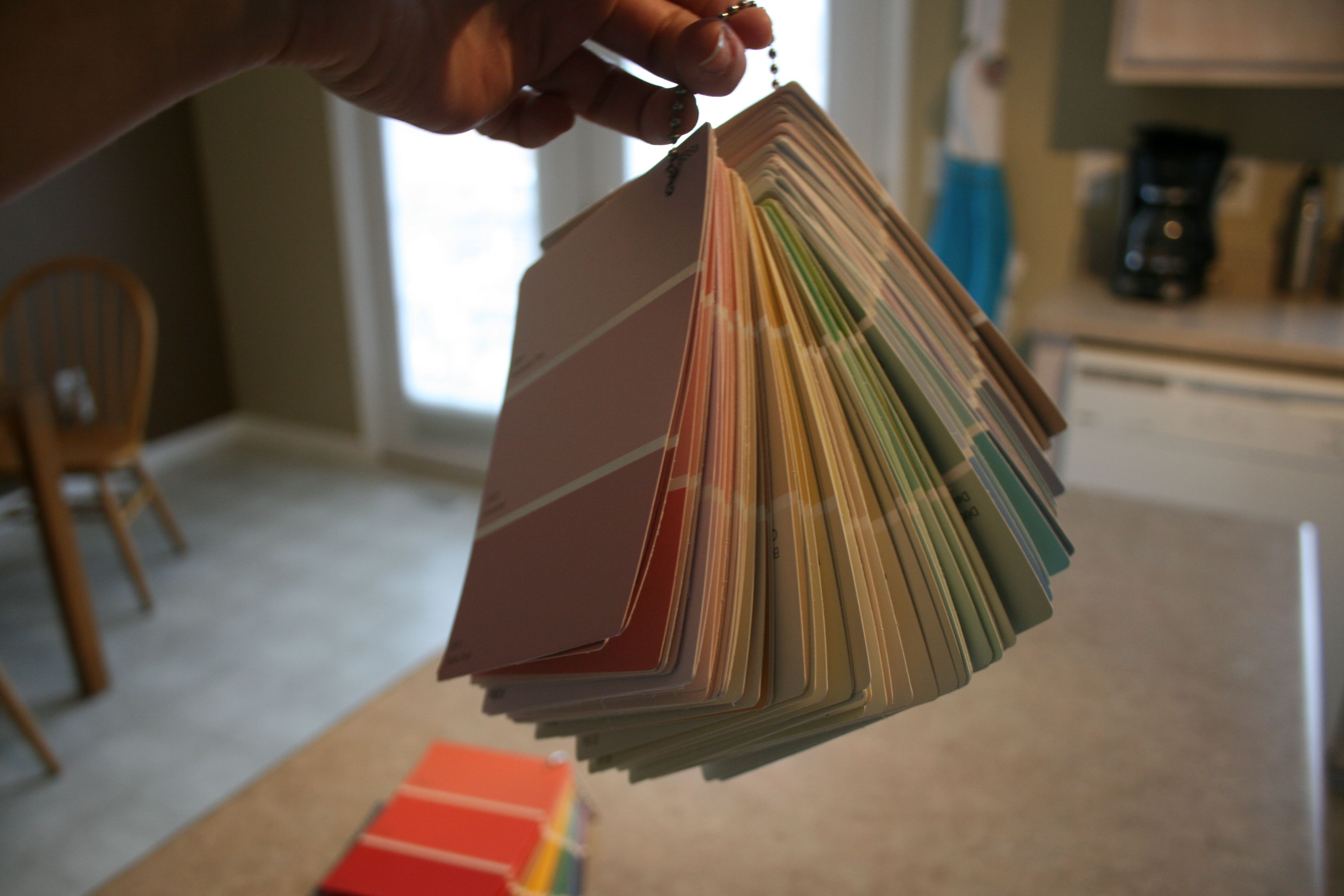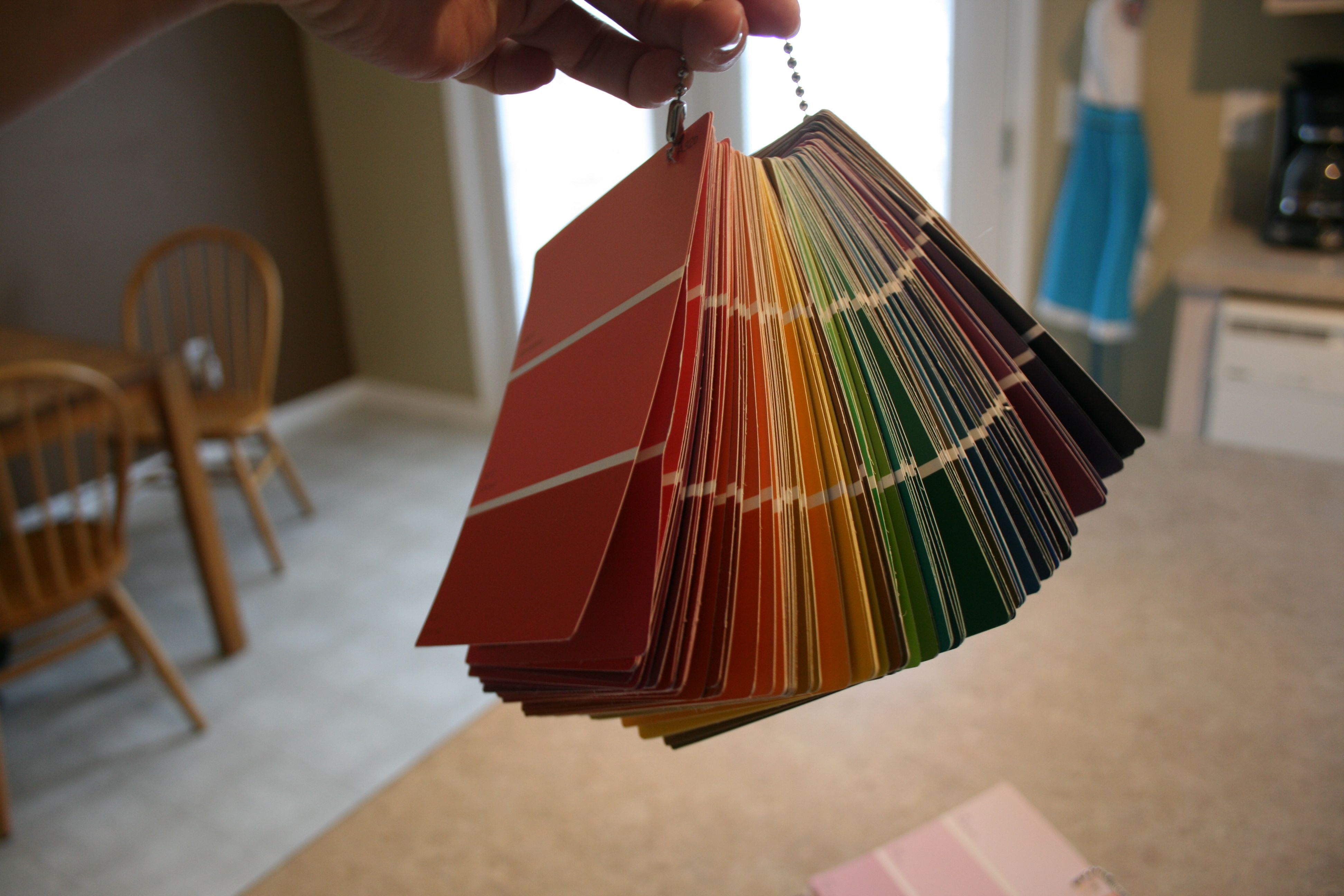 So excited to have all of those lovely colors handy now! And can't beat a free DIY project that will aide in many future DIY projects around the house 🙂
Have a great weekend!!!
(Photo credit for paint chip book: here; for "How to Steal a Million" promo image: here)