Well it has begun!
The big move that I mentioned in our verryyyyyy first post is finally starting to loom in the near future – Told you you'd get to witness all the crazy move-in drama!! The plan is for me to be all moved in by July, so we are taking it half a room at a time every Saturday. This past weekend ended up being the kick-off for our weekly furniture/box-carting workout!
The number one priority to me was my studio…Spending weekends at the townhouse and not having my huge box of art supplies and my drafting table available for refurbishing clocks, wire cutting/gluing and collaging was driving me nuts! I'm all about practicality, and having to use the kitchen island or garage floor to work on projects with the few supplies on hand wasn't cutting it.
Here's the extra-bedroom-now-studio all empty and begging for some use!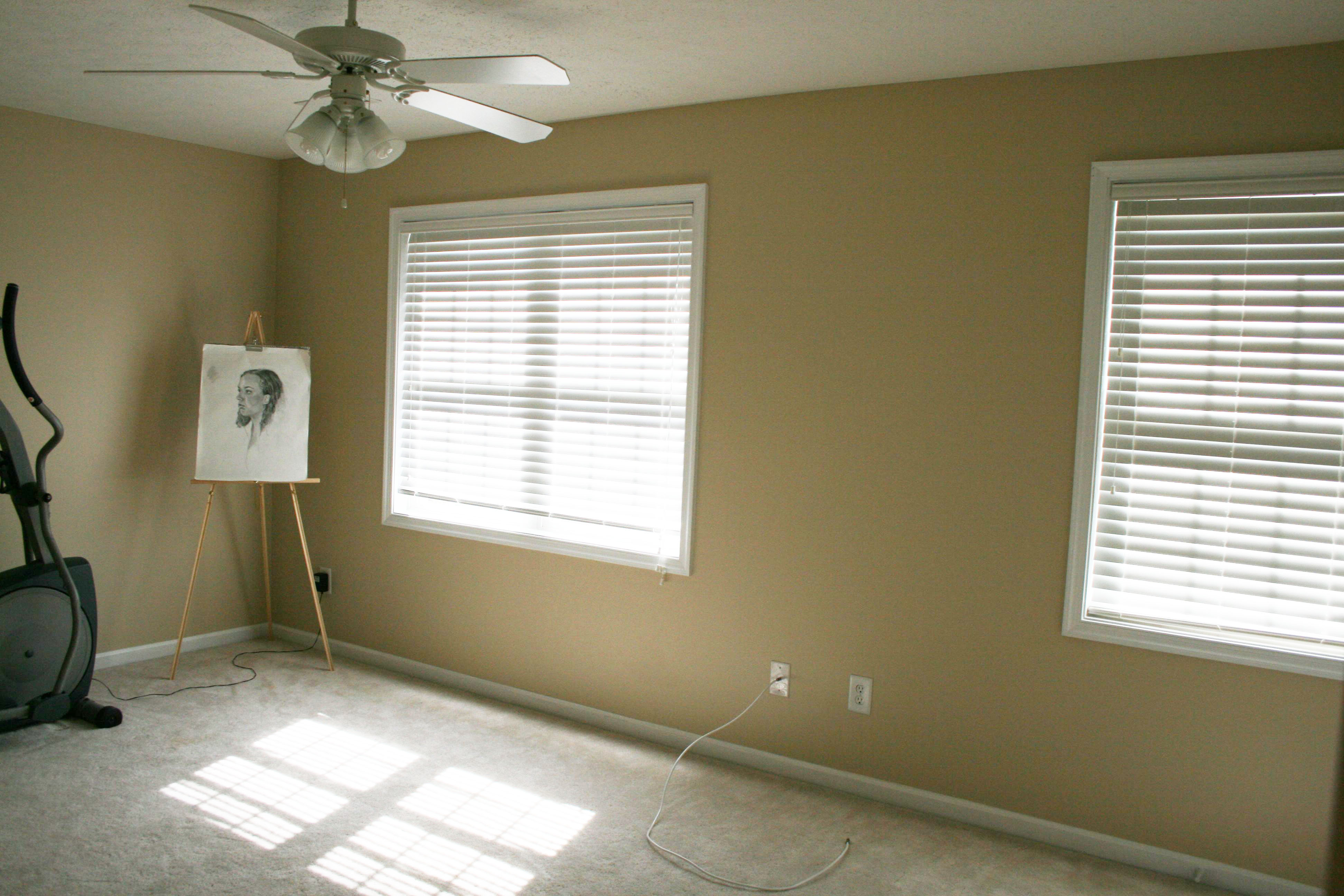 So we loaded up John's truck and my CRV with as much as we felt like doing and brought everything over to the house!
(Ignore the fan in the picture below…It didn't come from my apartment – It's the fan we removed from the living room to replace the one in the master bedroom. We just haven't gotten to that yet! The elliptical machine is also John's – It was the only thing living in the spare room up until now.)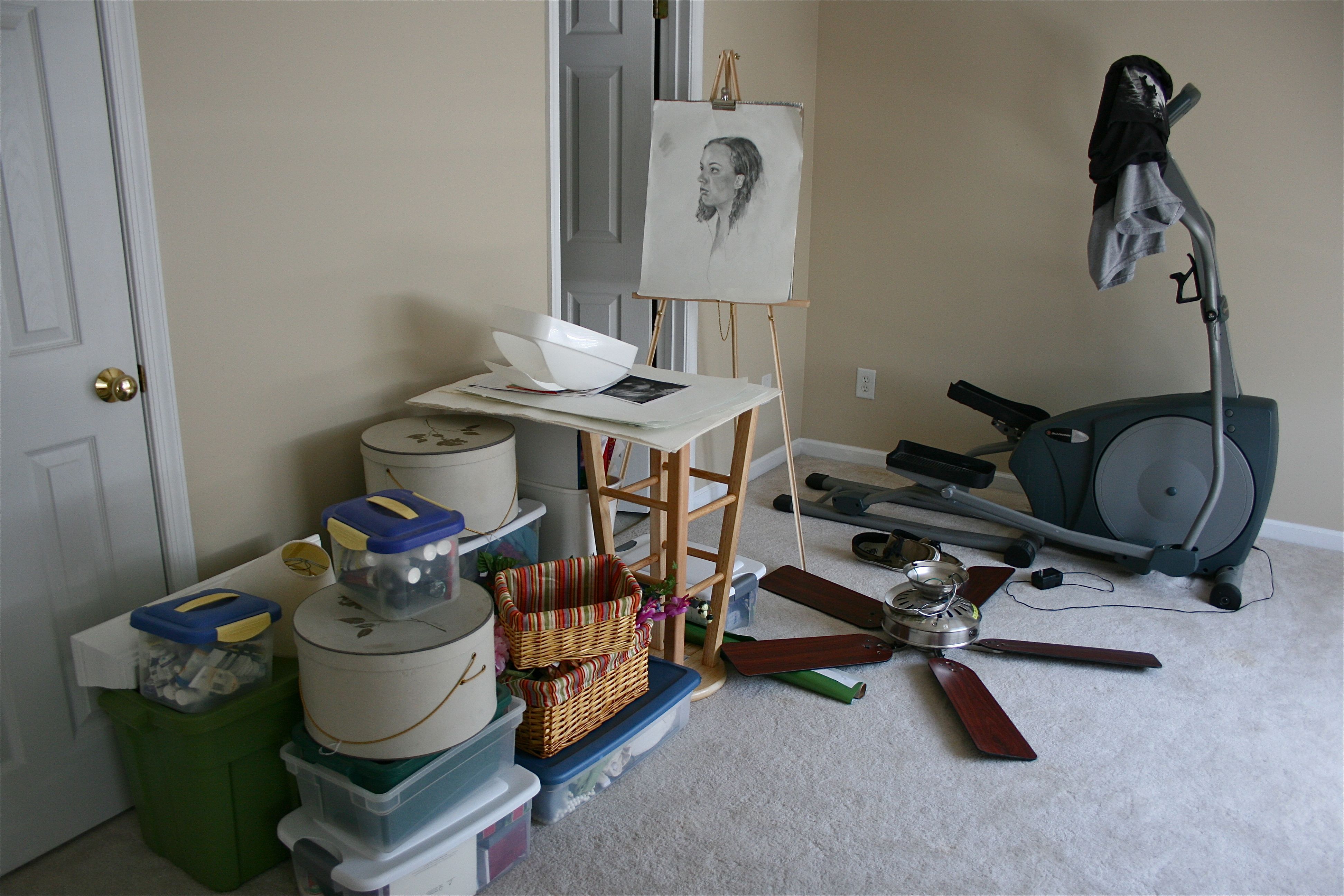 The only two pieces of furniture we brought with us this time were my drafting table and drawing paper storage unit – BOTH built by my talented father 🙂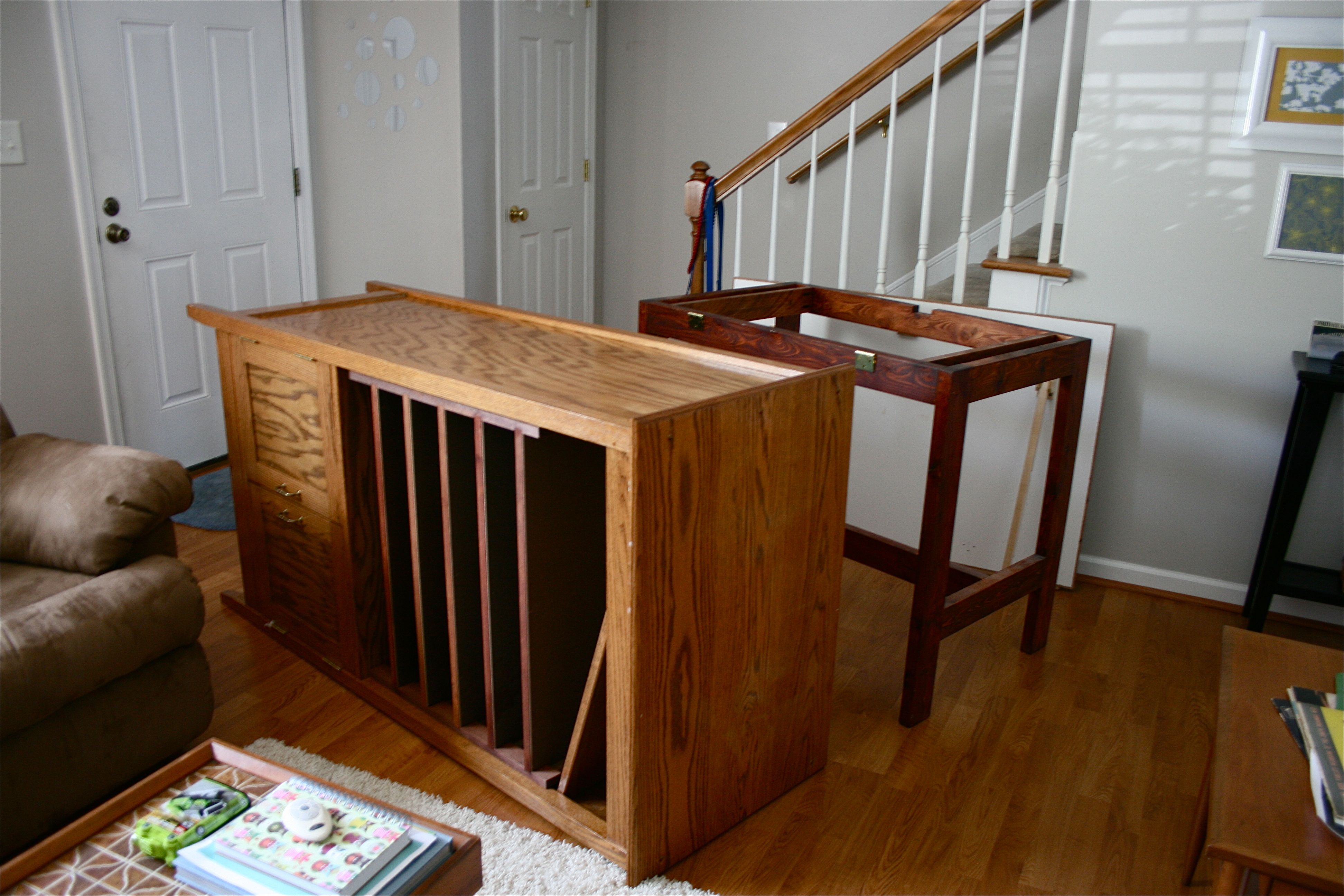 One negative about hand-built, solid wood furniture though is that it's HEAVY…..The drafting table to fine to carry once the work surface is removed from the top and carried separately. Here it is in place sans top: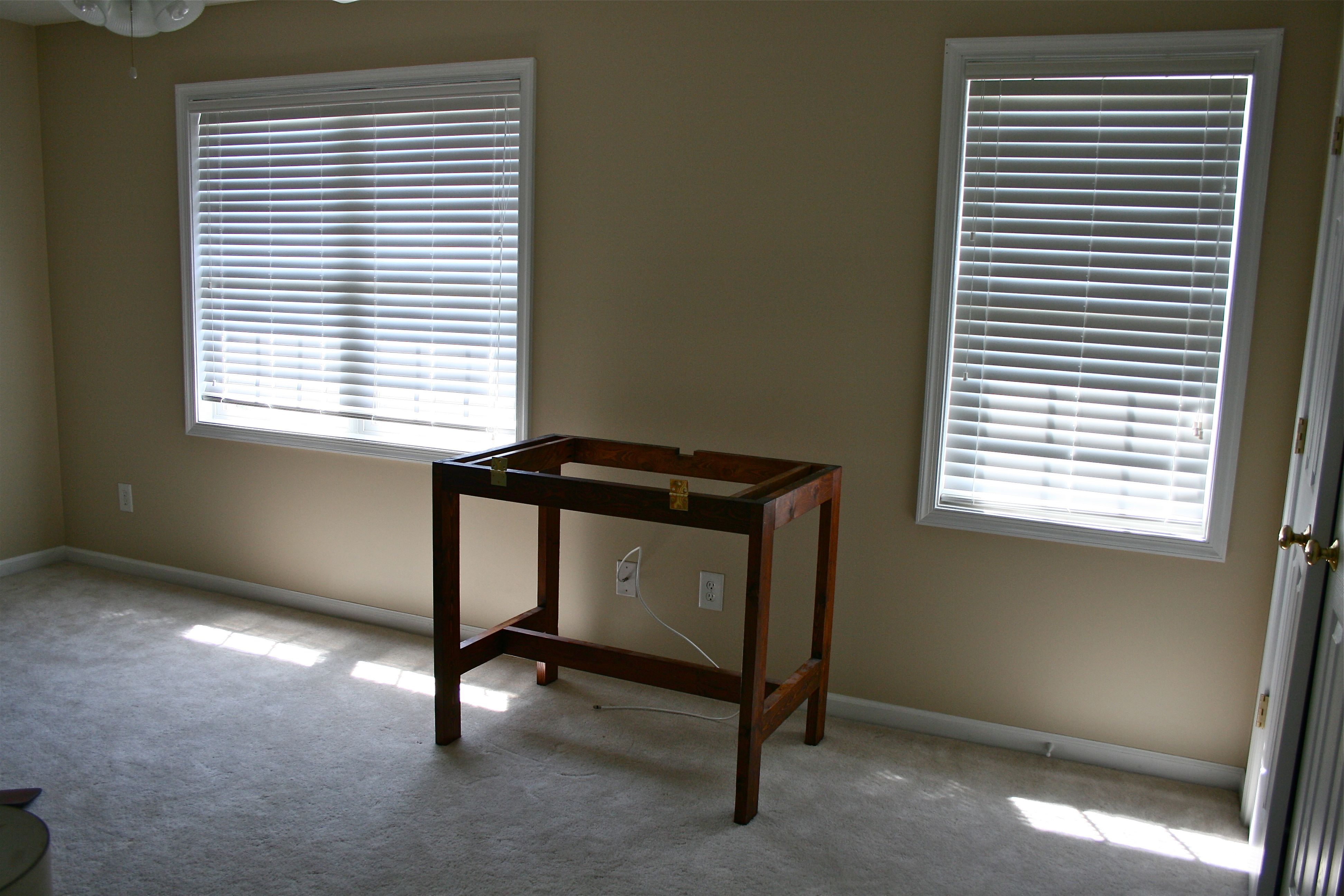 But the solid-oak shelving unit it a different story. It's tall and deep and a BEAST of a heavyweight. But removing the shelves made it a little lighter and we miraculously got it up the stairs. Even though they sure looked tall, narrow and treacherous before we did the heavy lifting…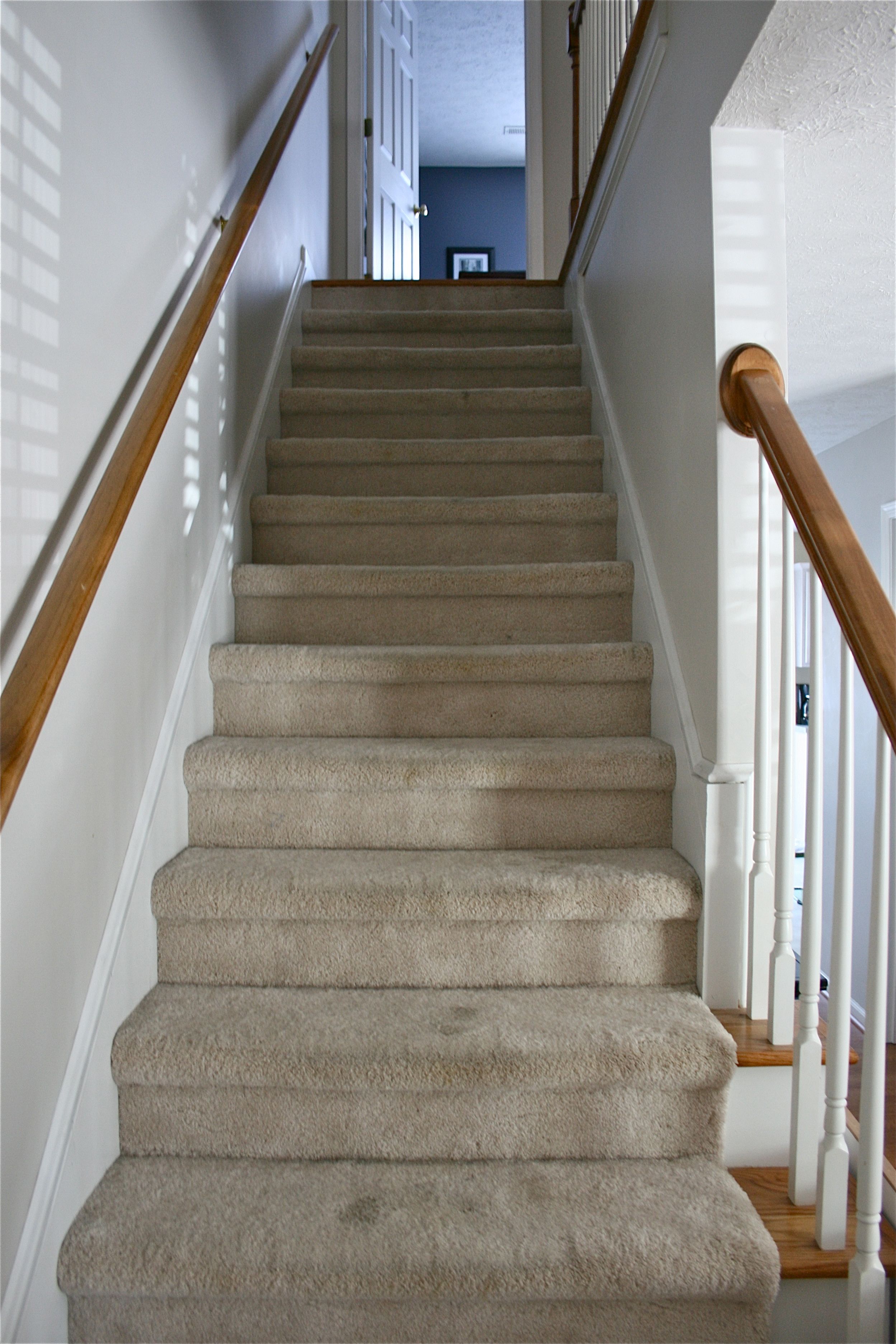 After some hairy moments of "You got it??" and "I can't go anywhere!!" on the stairs, we managed to get the shelving unit in place and ready for action!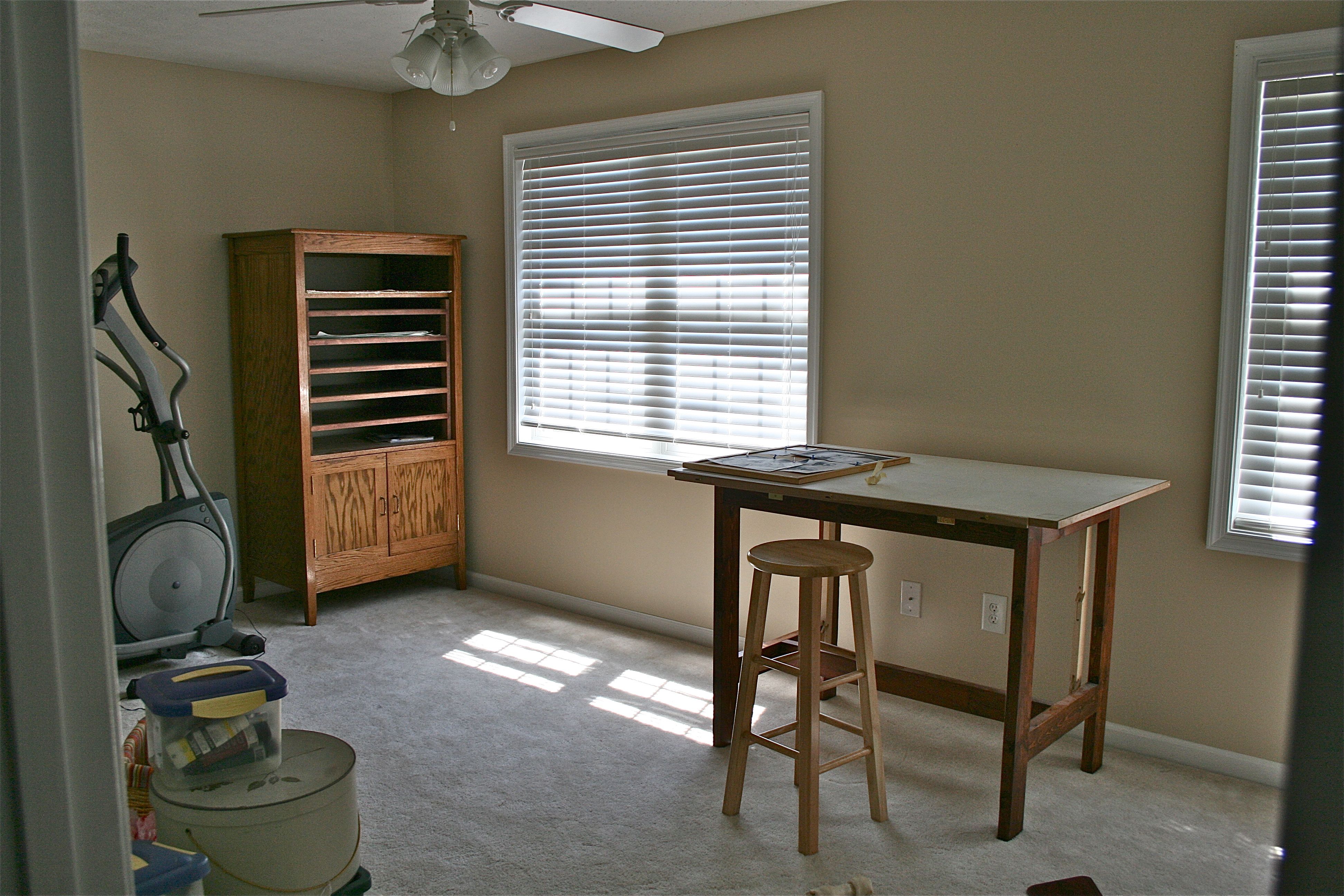 A few seconds of satisfied starring at the new placement of my studio later I turned to John with a smile and said "You aren't getting rid of that shelf or me any time soon", to which he replied "Well I don't care too much about the shelf, but I'd care about losing you." – Cue the "aw!!!"s 🙂
Time to organize the boxes and supplies! Luckily there's a large closet in the studio that was pretty much empty – John lived like a monk as a bachelor, which is good for me 😉
Everything fit without a hitch!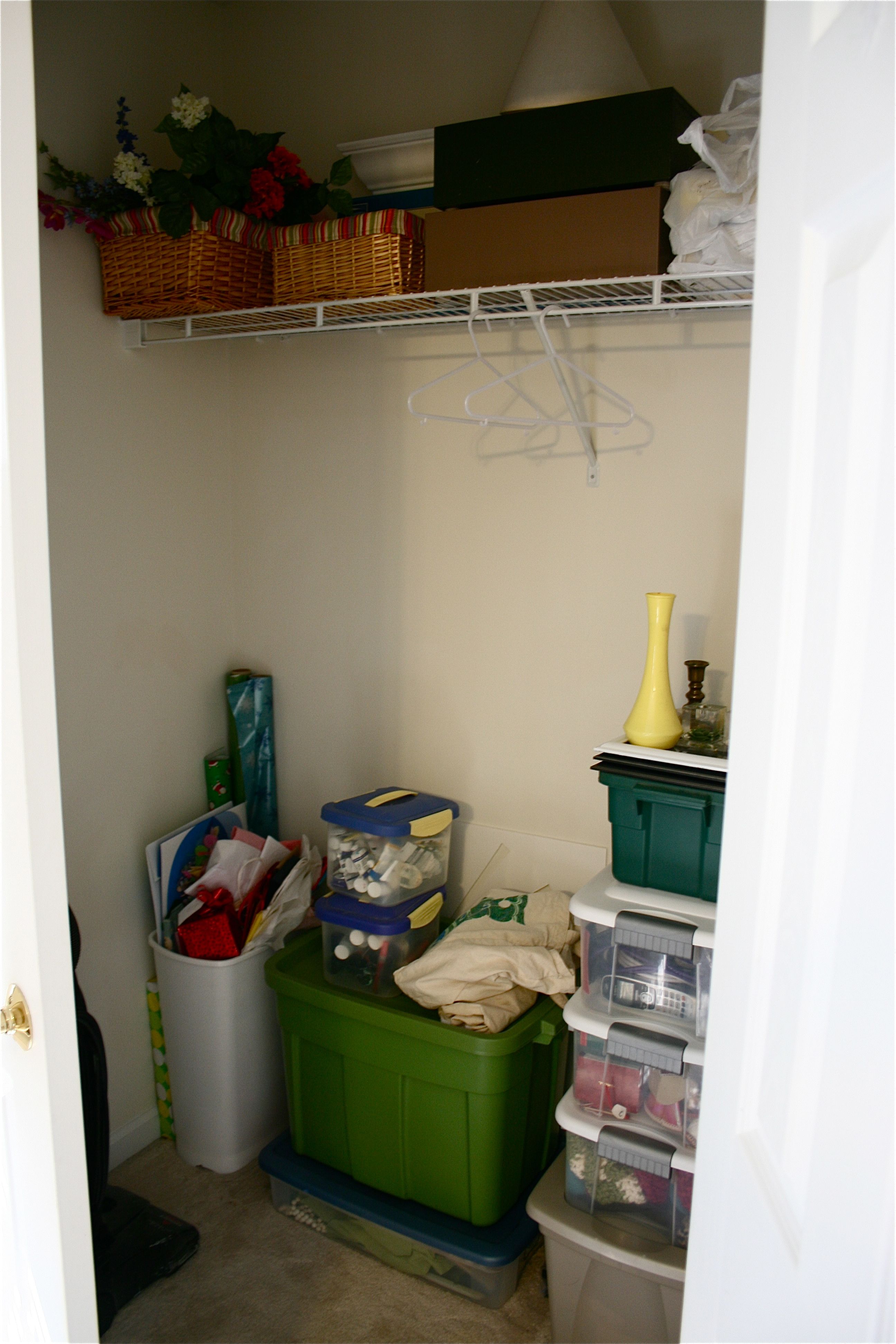 But I noticed that there is an awful lot of wasted space in the height of the closet…I could continue to stack boxes but that doesn't seem very efficient. I briefly contemplated getting some wood and building two big closet-wide shelves, but that would probably end up costing quite a bit (keeping in mind that the small 2'x8″ shelves we recently put up in the living room cost us $35.00). Having shelves across the width of the closet would also eliminate any vertical space – Tall things like my Tupperware of wrapping supplies would probably have to get moved…
So in the end we decided to go pre-made on this project. Off to Lowe's!
The closet storage aisle had all sorts of great options but many were pricey…I love pretty things but I just can't justify spending $60 for a shelving system to go in a closet that stays hidden 99% of the time. So I got excited when we came across these cheapo-but-functional options: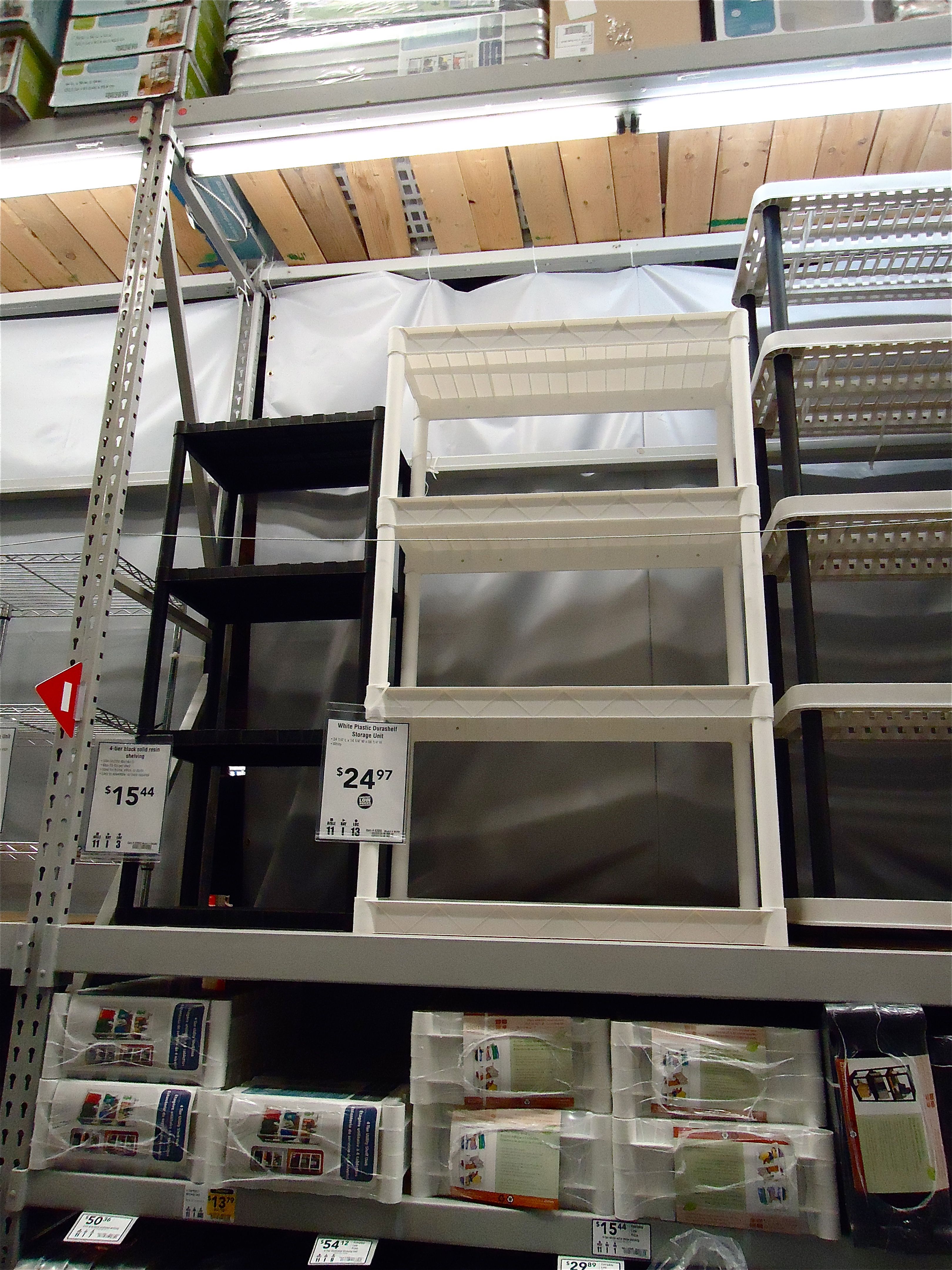 Ten-minutes-worth of pondering out loud and seesawing-ing back and forth between the options (John just kept nodding as I changed my mind a dozen times), I finally decided on the 4-tier white shelf as opposed to the black one. The white one is taller, has longer shelves and is a bit deeper. I was worried that it wouldn't fit the height of the closet, but I kept telling myself that it looked so big because it is displayed up high.
Off to the house to test it out!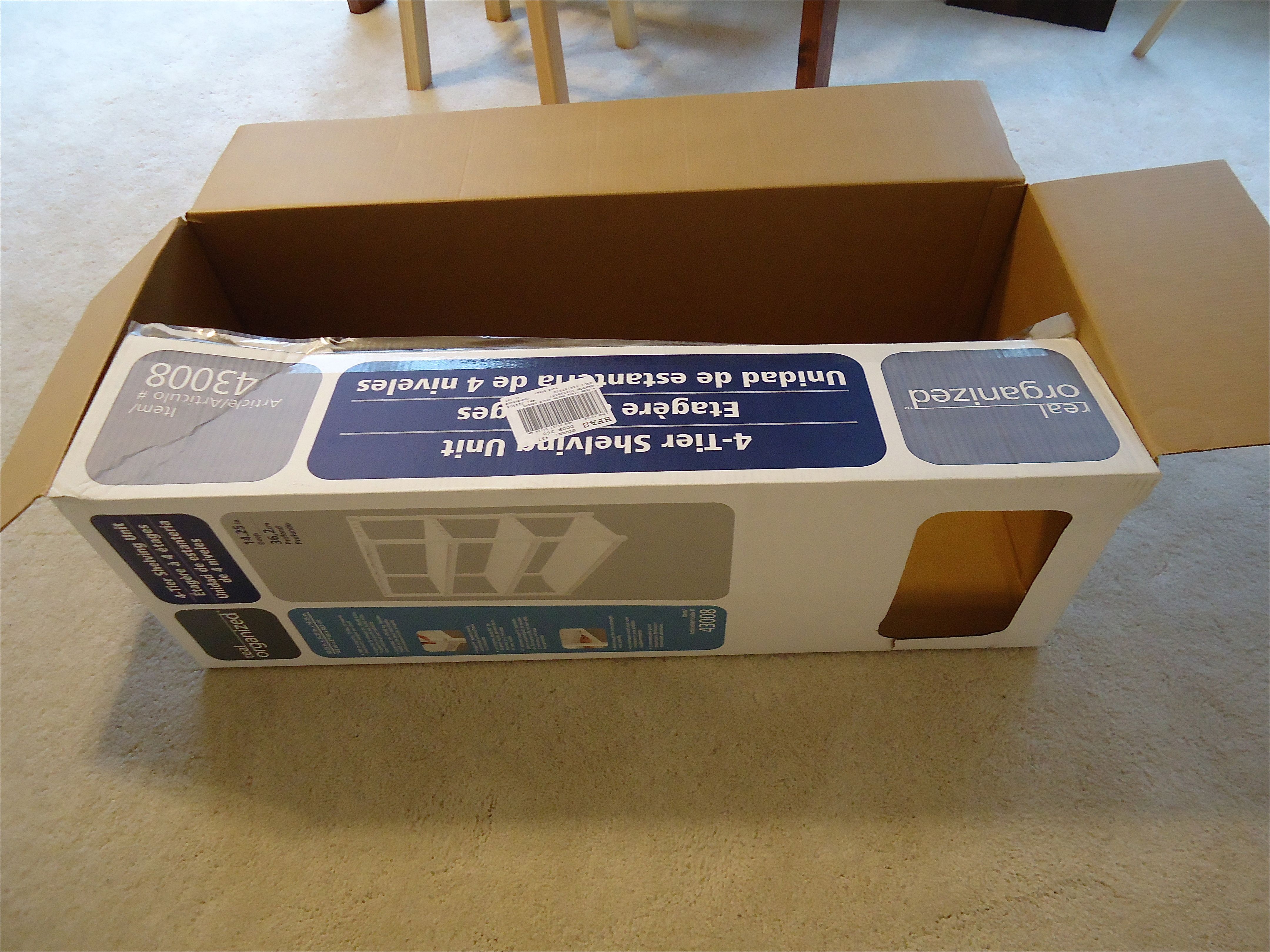 After about .5 seconds of assembly…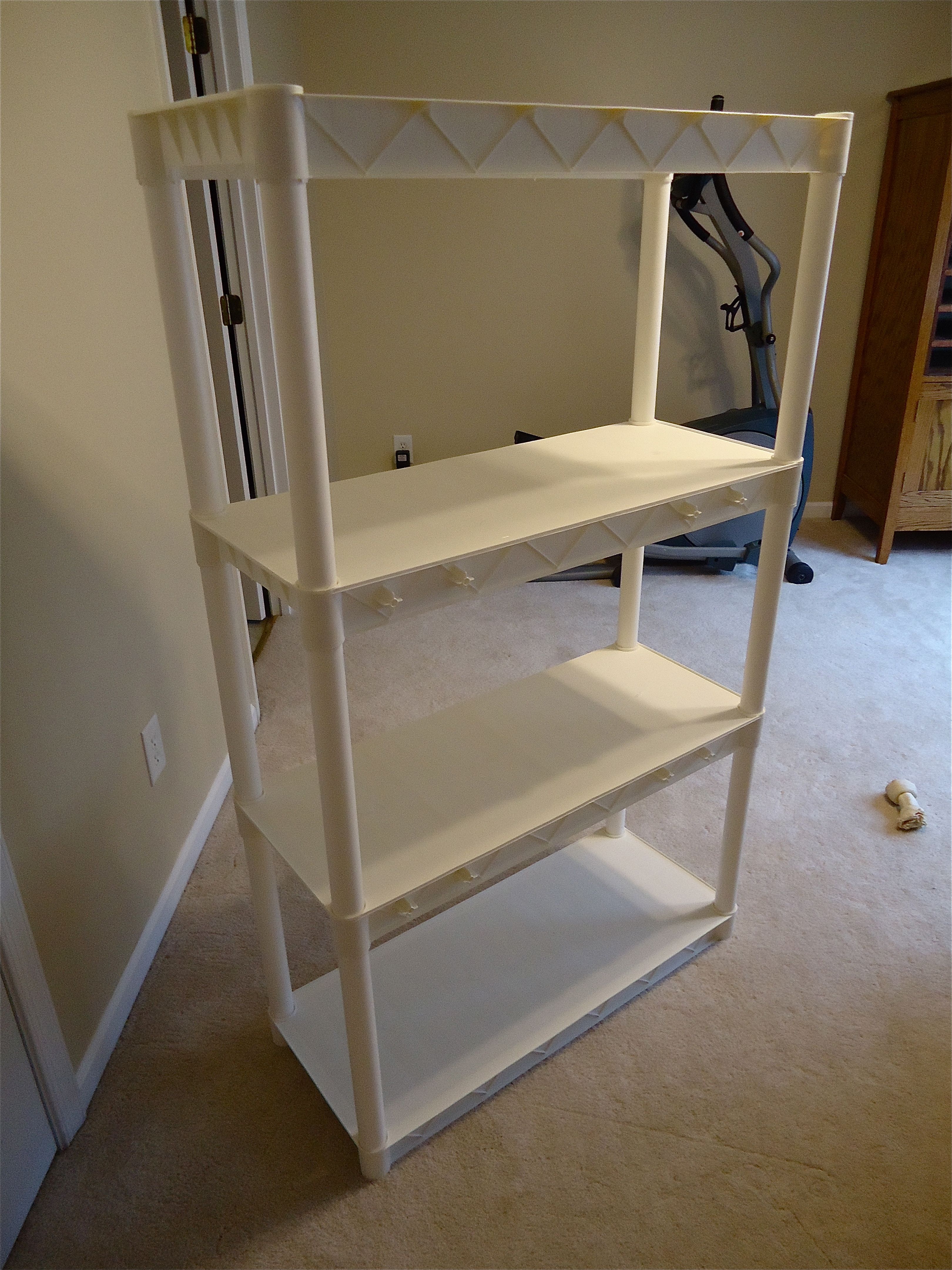 Here's the shelf in all its organized glory…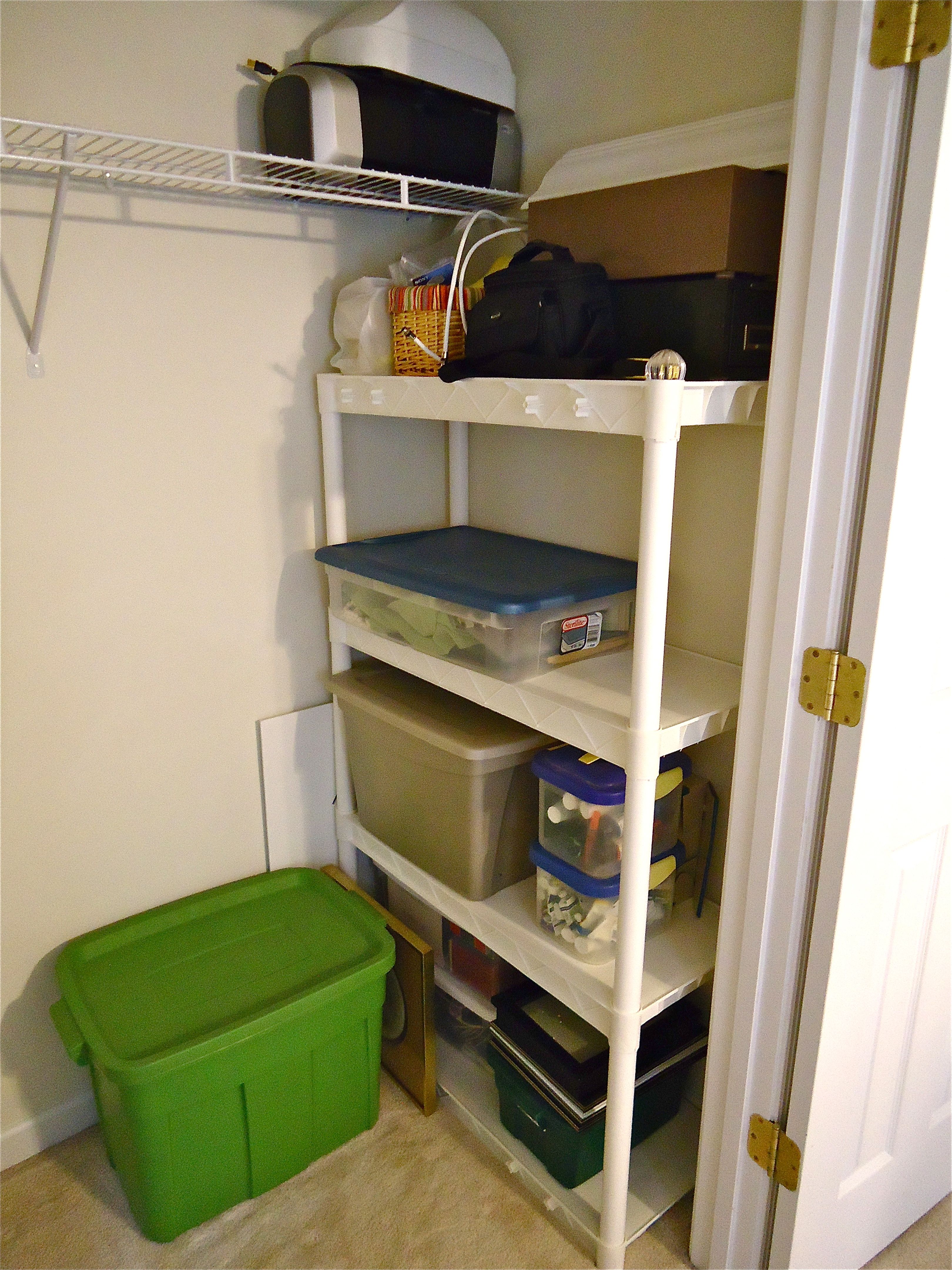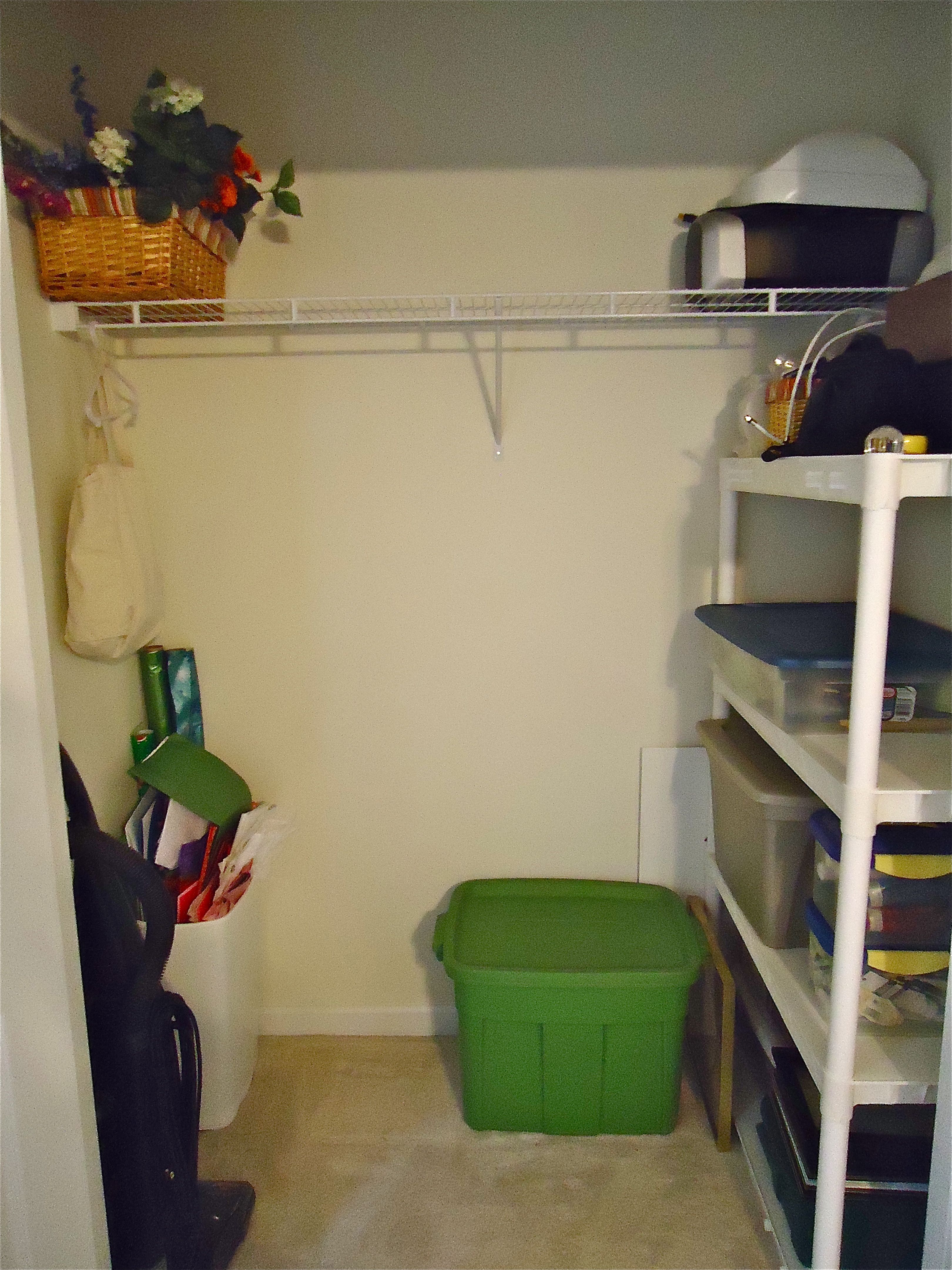 Is it sad that I want to sit and stare at how functional this is?? And for less than $30!!! I'm definitely going to pick up another one for the other side because I still have a second closet's worth of stuff to fit from my apartment…Even with the two shelving units, I will have plenty of vertical space in the middle to stack big Tupperware boxes and tall stuff like the wrapping paper container and maybe my acoustic guitar? We'll see!
HIP HIP HOORAY FOR ORGANIZATION!!!!!!!!!!
And moving/organizing aside, I am VERY excited to start this transition and going forward with our life together 🙂