We all have someone or something that we try to emulate – That person for me is definitely Emily Henderson, designer and host of HGTV's "Secrets from a Stylist". I mentioned her in a "Monday Inspiration" post of yore, but I feel like she deserves a full post given how much inspiration she provides me with.
Lately, I've been spending my lunch breaks at work watching full episodes of the show – I consider it "research" for our home projects and for this blog as well! As soon as the credits roll at the end of the show, I'm itching to watch another…Her style is just so similar to my tastes, not to mention, she's a PRO thrifter.
Although her show centers on the individual "style diagnosis" of her two clients, she tends to work in 1960's/70's era pieces no matter what – I am getting the feeling that this is EMILY'S style working its way in. Thankfully, as you all know, this is my favorite era of decorating and architecture, so I eat up all of the little tips and tricks she divulges.
I've also gotten to know her a little through social media – Namely her Twitter account and her blog. She actually seems like a pretty raw, blunt person.
Here's one of her recent chuckle-worthy post blurbs:

If you can't read it:
"Hey guys,
I'm in a massive hurry, must go to boxing before shooting the reveal today.  
Yes, i box now.  Yes, i'm a bad-*ss.  Its in one of those gyms that only has a boxing ring.  Which i realized (with many witnesses) that I have been calling a 'boxing rink' for way too long.  Sort of unacceptable, but possible adorable? eh? eh?"
Or this little rant: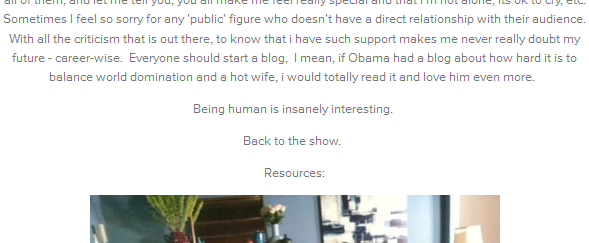 "Sometimes I feel so sorry for any 'public' figure who doesn't have a direct relationship with their audience. With all the criticism that is out there, to know that i have such support makes me never really doubt my future – career-wise.  Everyone should start a blog,  I mean, if Obama had a blog about how hard it is to balance world domination and a hot wife, i would totally read it and love him even more.  
Being human is insanely interesting. 
Back to the show."
She's not afraid to be sarcastic and crass in her public posts and is a tell-all kind of celeb – I love that!!
One example of this: She recently posted candidly about an emotional breakdown she experienced after overworking herself. She's not afraid to talk about getting overwhelmed, but still loves her job despite the headache it can sometimes be. I like that about her!
You can read the whole post about her low moment here. And, in case you're considering not checking out her blog, here's a little excerpt to make you too curious to miss out:
"I totally lost it. Face contortions. Guttural noises.  Yeah, the 'pretty' stuff.  
It's almost as if I was President of the United States Of America trying to stop a recession, restore the hope of a nation, and find and kill a d*ck head terrorist, whilst stopping child illiteracy, etc.  
Yep. just like that."
She's definitely not going to sugar coat anything…And sorry if her language offends anyone. I get a kick out of it, but "to each his own"!
ANYWAY, let's get to the good stuff – The part where I show you exactly why I consider this woman to be my mid-century design idol…
Below are just a few photos of her work. Pay close attention to the accessories – I think that's my favorite part of her looks. They are always unique and playful and REALLY set the mood and tone of her spaces. Isn't it kind of funny to think that a side table or lamp are the reason a room works so well and not so much the paint color or rug (although let me say, she finds some AMAZING rugs)? I think she's shown me that it's in the LITTLE things.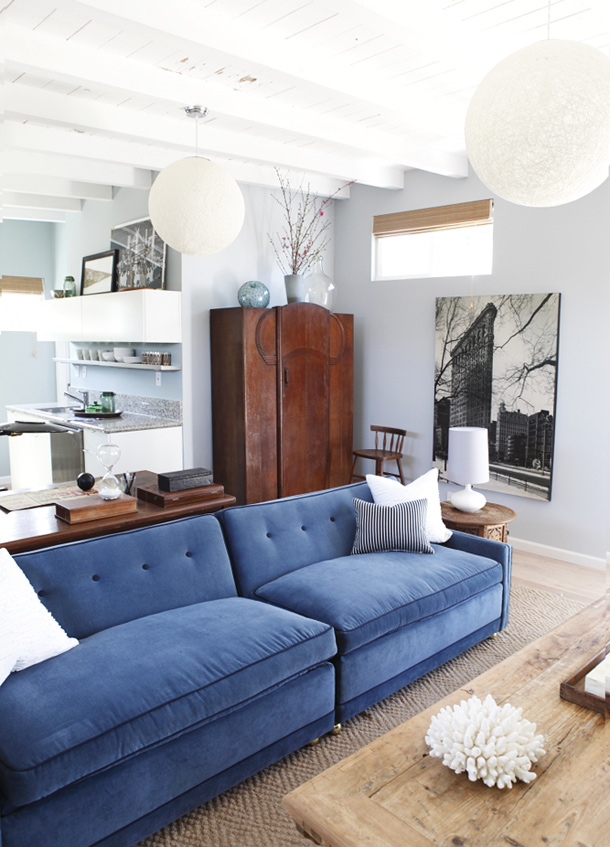 Loving the enlarged black and white NYC print on the wall in the photo above…Reminds me of the inspiration she gave me for this DreamGreenDIY post and our own b&w New York print.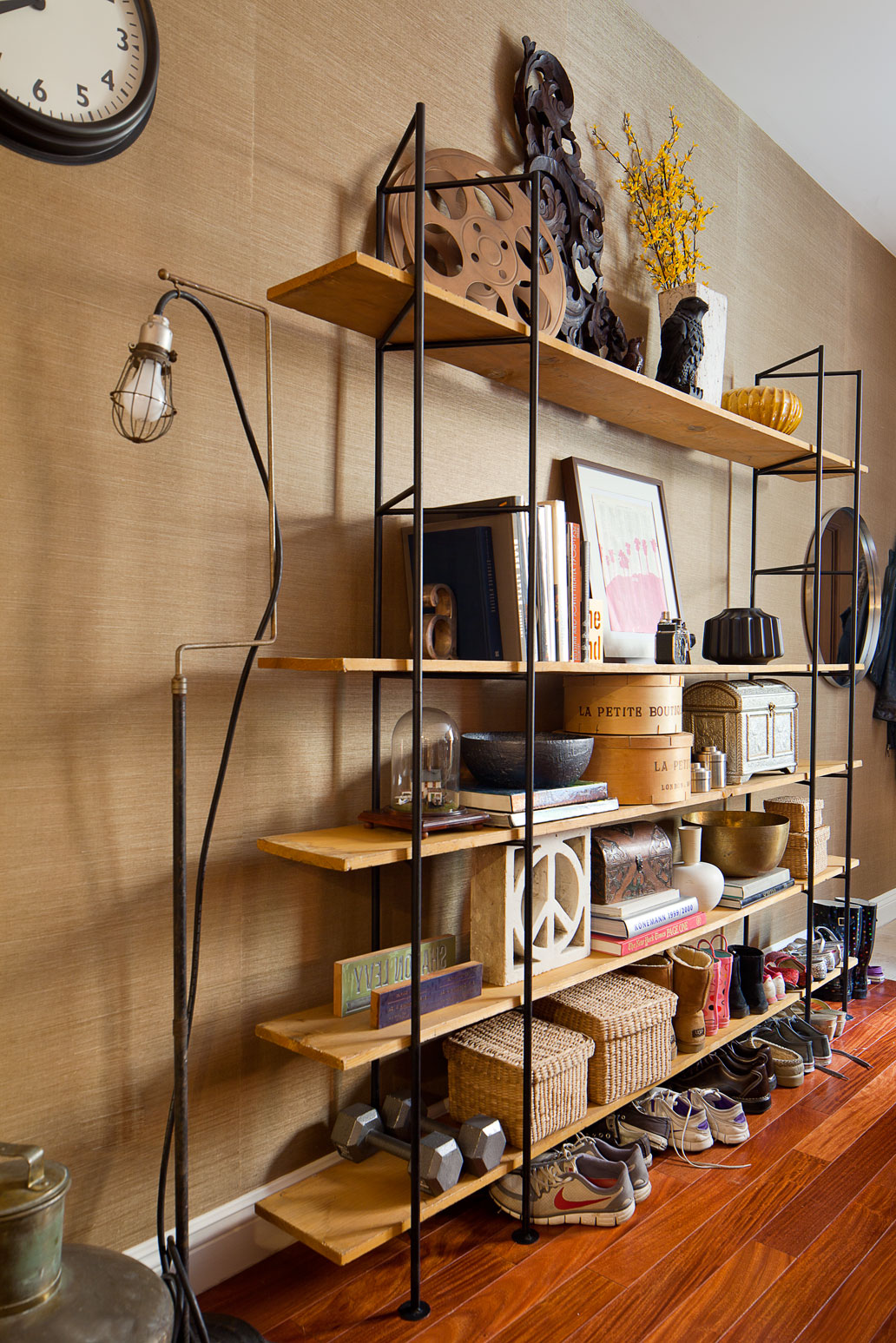 How bout that floor lamp above?? I think I audibly gasped when she found that a second-hand store…It's basic and industrial and I love it. Also, take a look at all of those quirky accessories on the shelving unit – A great way to show off the things you accumulate in life. Lord knows I've got my fair share…
I haven't even seen the episode that features the final look pictured below, but I can already tell you it's my favorite. Looks like something Holly Golightly would live in.
Love the wallpaper. Love the furniture. Love the art and how its hung. Love the rug. Just love…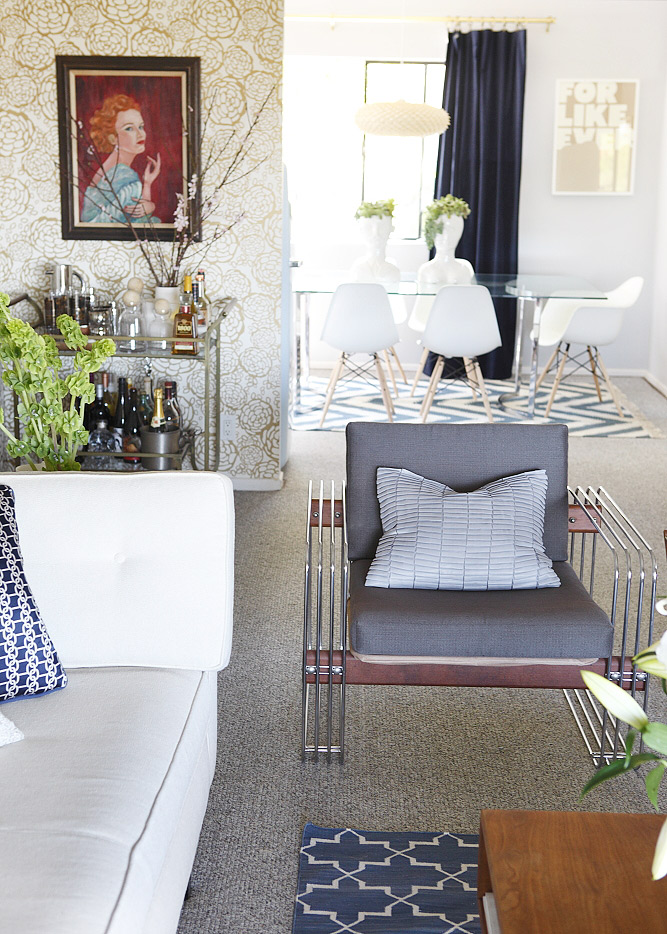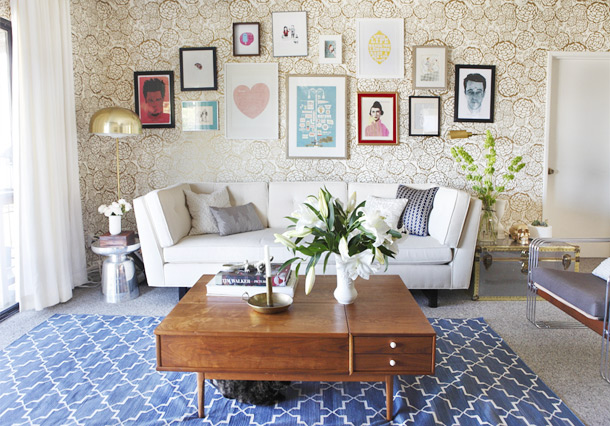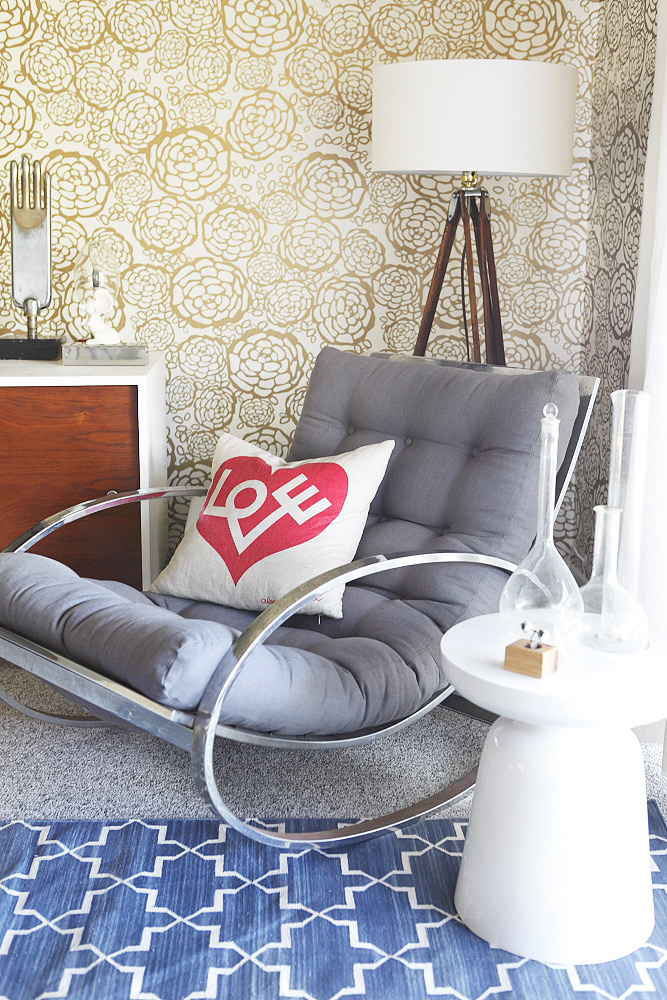 Oh and one more item to add to my "List of Things to do Before I Die": Go thrift store shopping with Emily Henderson.
Just look at these photos from one of her many shopping trips around L.A. – I'm drooling over here: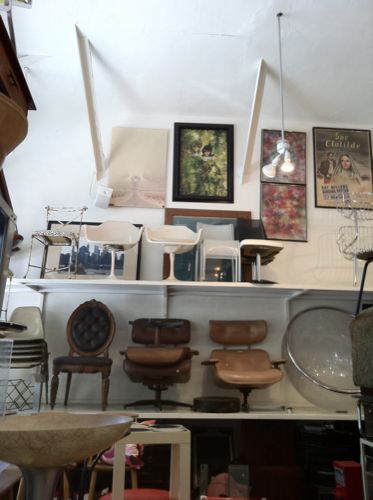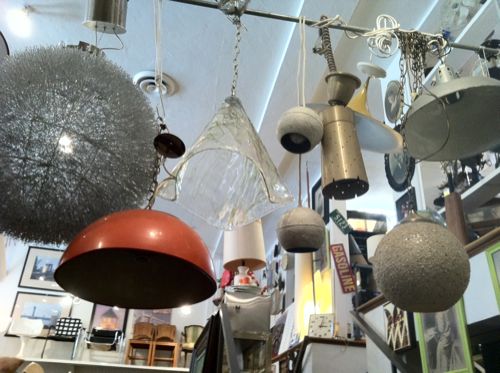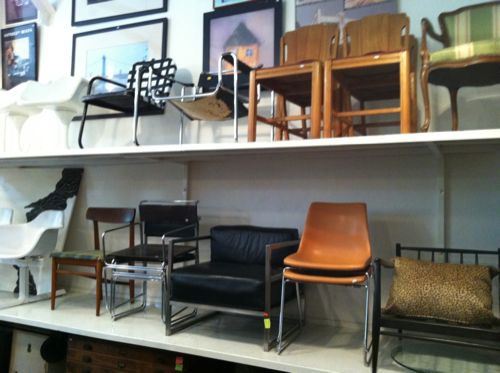 For full resources if you're a local L.A. resident (soooo jealous if you are), check out her full post here.
Sorry for the Emily Henderson gush fest (which essentially is the best way to describe this 800+ word post…) but if you ever want to know what makes my heart go pitter-patter, just watch this show! It actually just had its first season finale, but you can still watch them online!
Happy viewing 🙂
P.S. Just got GREAT news in my email inbox! Shutterfly.com is giving away FREE address labels!! I got 28 of these adorable labels (with our info, of course…):

…for a little over $2 in shipping =) Just copy/paste this coupon code into the little box for promotions: ANRJ-ABY9-MTNA-5JM0SB – Check out my savings: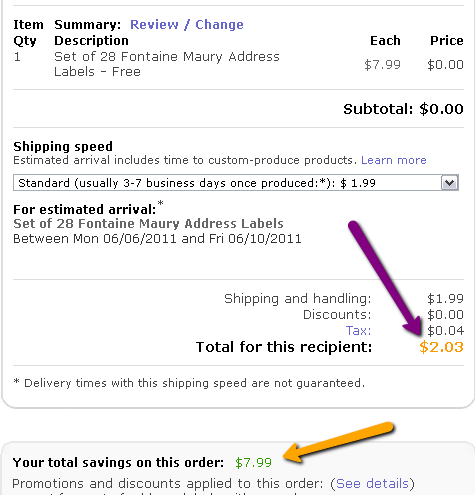 Enjoy!!!
(Photo credit for all images of Emily Henderson design and text: here)