Can I just tell you how EXCRUCIATINGLY hard it is to photograph window dressings? You either get really-washed-out-blindingly-bright pictures, or so-dark-you-can't-see-a-thing pictures…
That is my disclaimer for this post (if you didn't already gather that) – I sincerely apologize for the cruddy pictures. I debated whether or not to even SHOW you this reveal because the poor quality of the photos don't even come close to giving our new shades proper justice.
(Speaking of justice…Acquitted?!?! Sorry, I just had to make one minor interjection concerning this current event)
Anyway, after this reveal of our new dining room set up I decided it was time to add some soft warmth to the space. We had great color going on with the plate wall and focal dark chocolate wall. The Eden lamp chandelier and newly placed espresso-stained table and chairs added the modern/mid-century vibe we were going for. But there was no softness and the room seemed to be lacking a certain warm home-y-ness.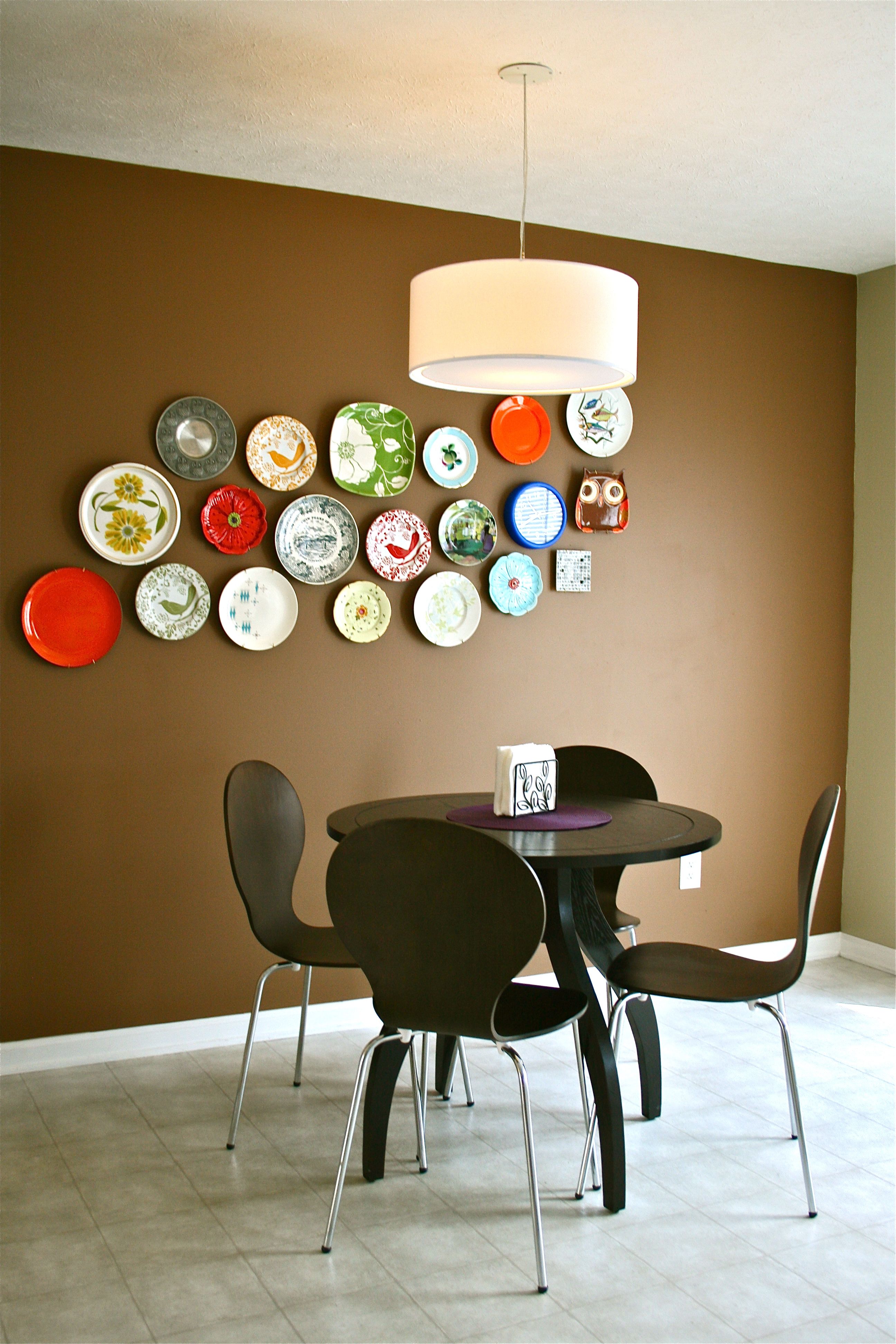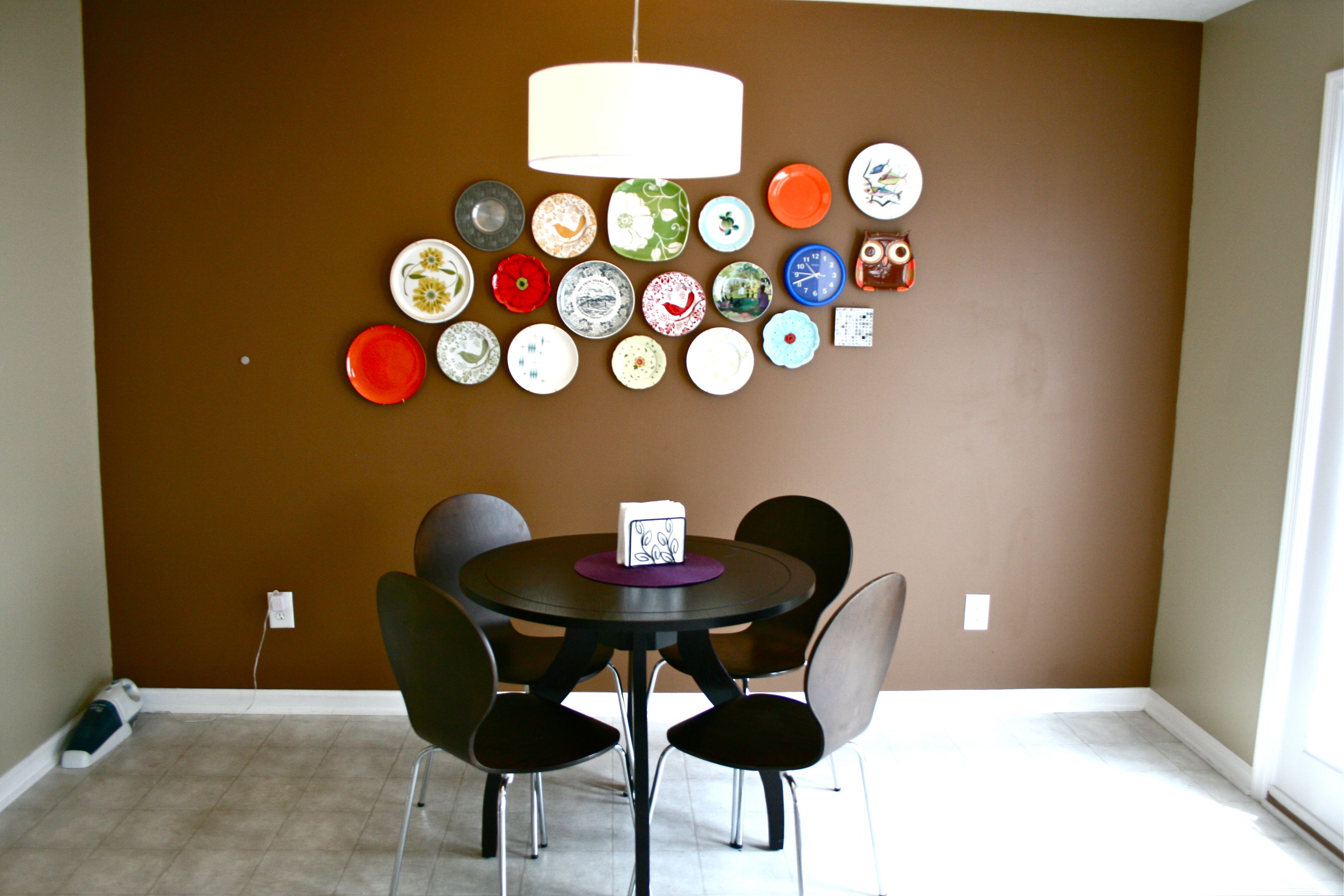 So I decided it was time for some curtains…
I don't know that I've ever really given you guys a good look at our french doors – They are on the back of the house and lead out to the back porch. I think I've tried to keep them out of our home photos because of how cold and drab they are by themselves.
Time for full disclosure (and the beginning of terrible photography):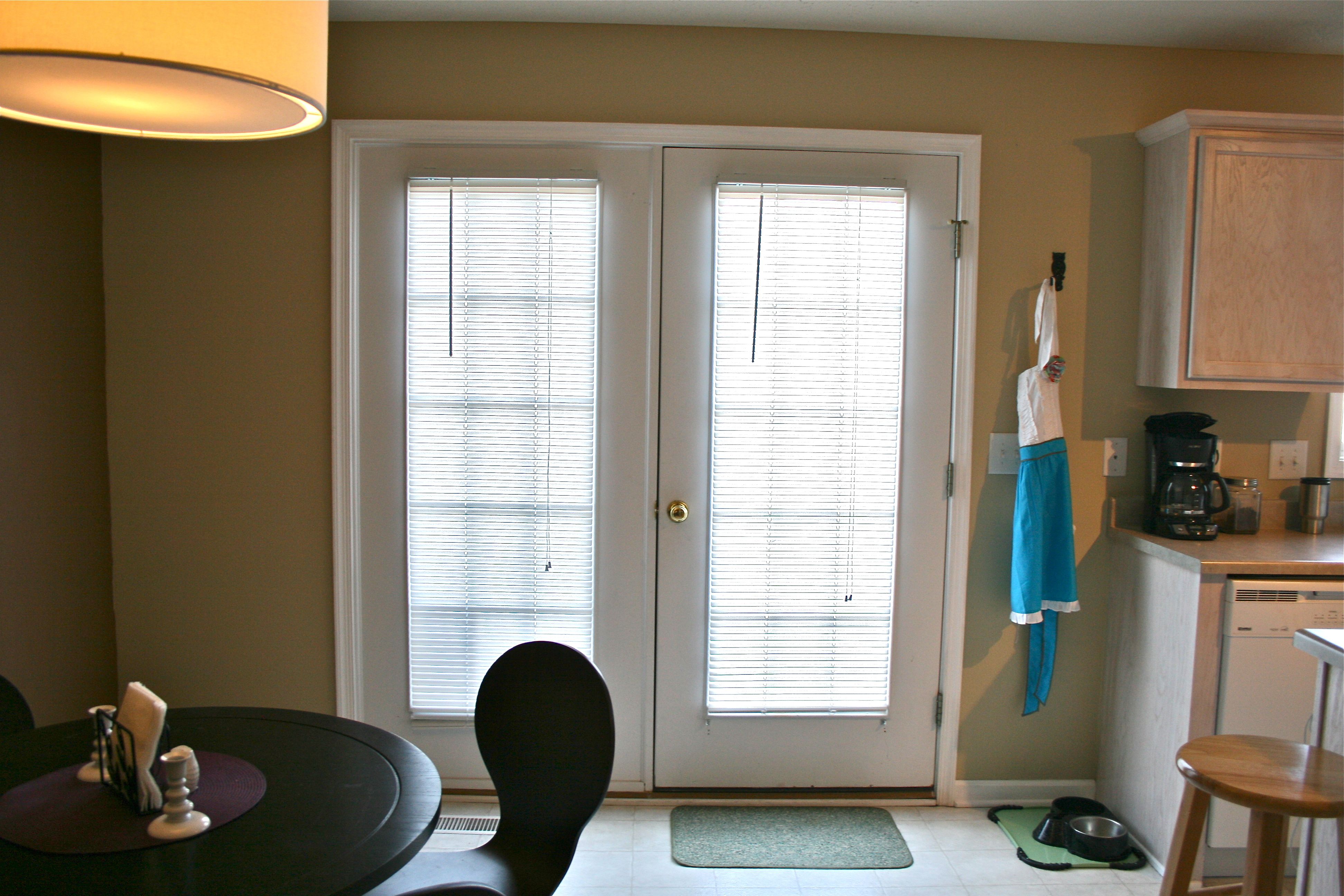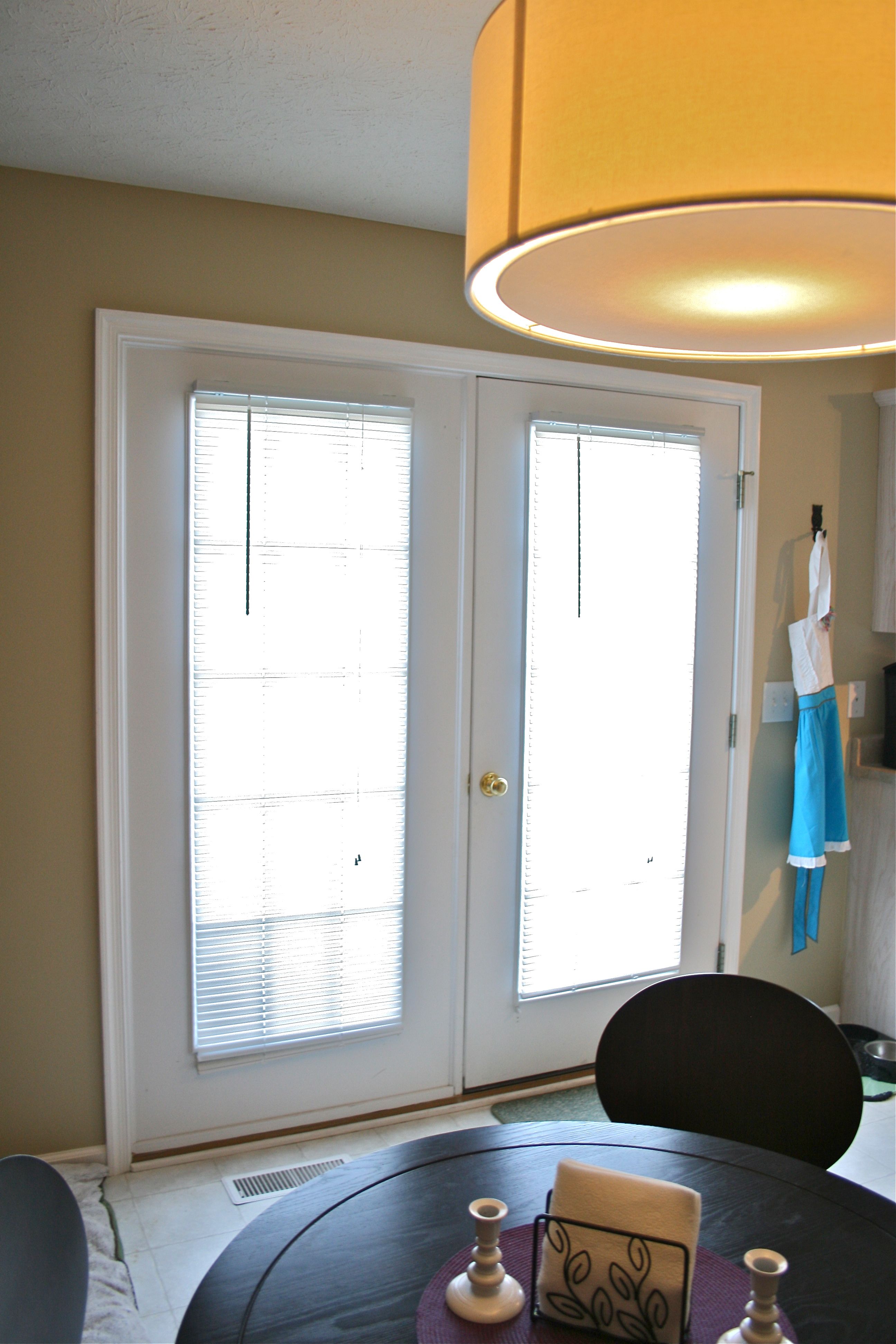 Pretty bad, right? Nothing to say luxury, nothing to show off the pretty glass doors (John likes to keep the shades down because it gets pretty sunny – aka HOT – throughout the morning). In short, this felt like a large contributing factor in our less-then-cushy/not-so-soft dining room.
Target to the rescue! We totally lucked out finding a great deal on pretty teal woven window panels and a modern drapery rod. The panels came to less than $10 a pop (we bought two) and the SUPER long drapery rod was $40.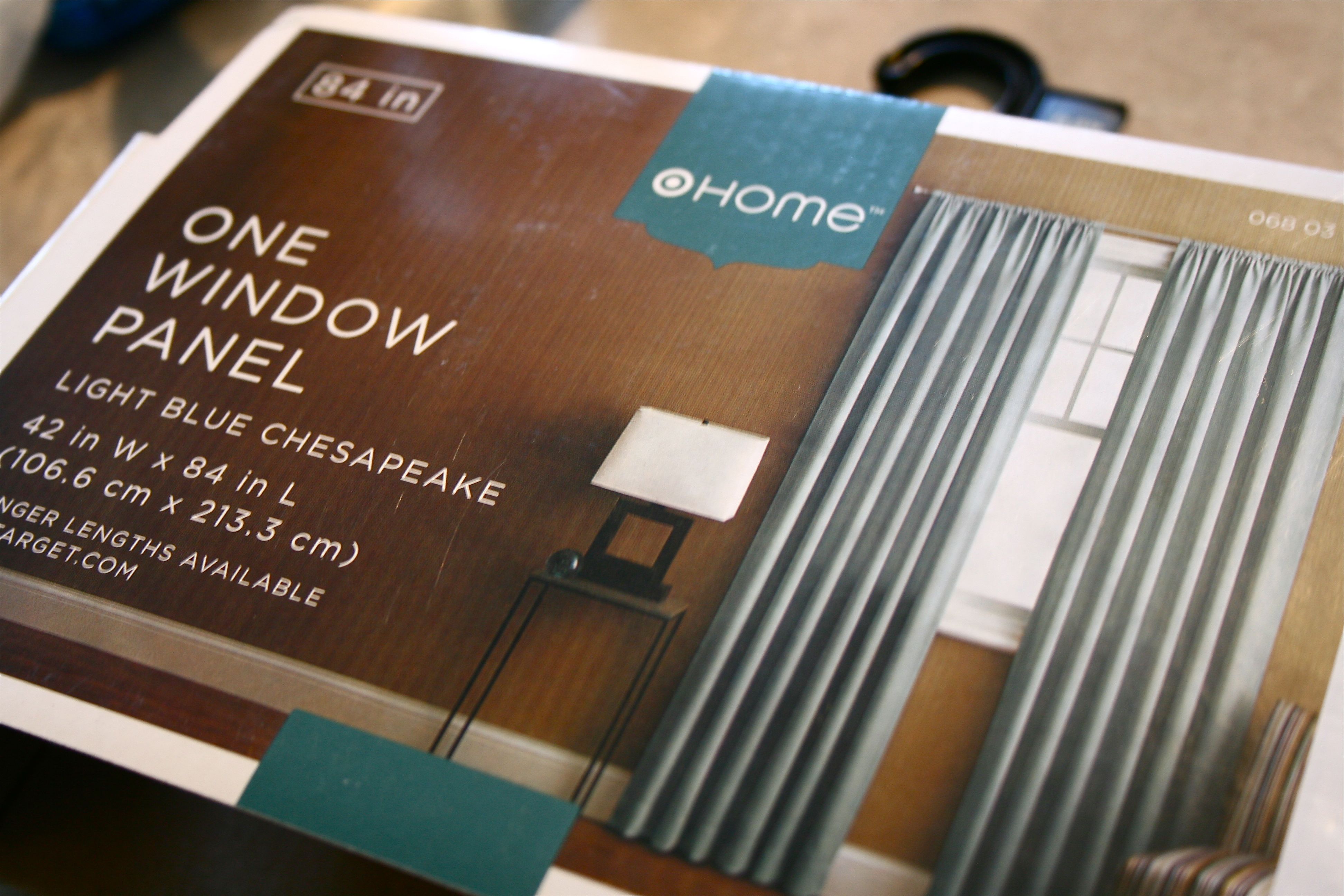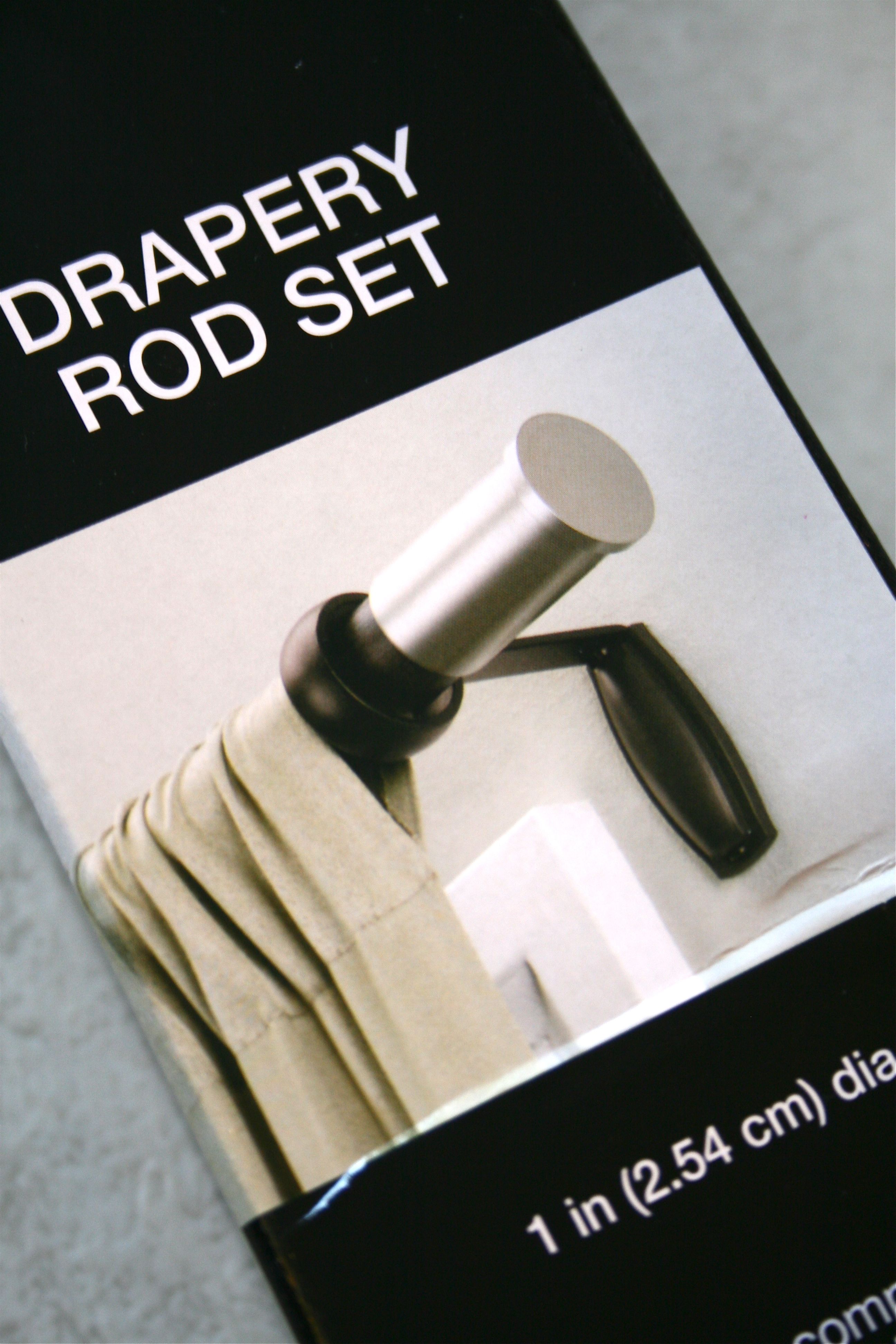 I was actually really excited about the rod – I didn't even know that anyone carried non-ball-ended rods (insert "That's what she said" joke here). I tend to just unscrew the round decorative ends off of our curtain rods to get a sleek, straight edge. Finding this one with gorgeous simple details was probably a little too exciting for me. It totally justified the slightly "up there" cost too.
It also came with some pretty fancy hardware – Instead of the standard u-shaped brackets, this one came with round ones. Maybe this is a normal thing, but I don't normally get nice rods – I tend to go for the cheap kind. Gotta have a LITTLE luxury in your life! Even if it is only round drapery rod hardware…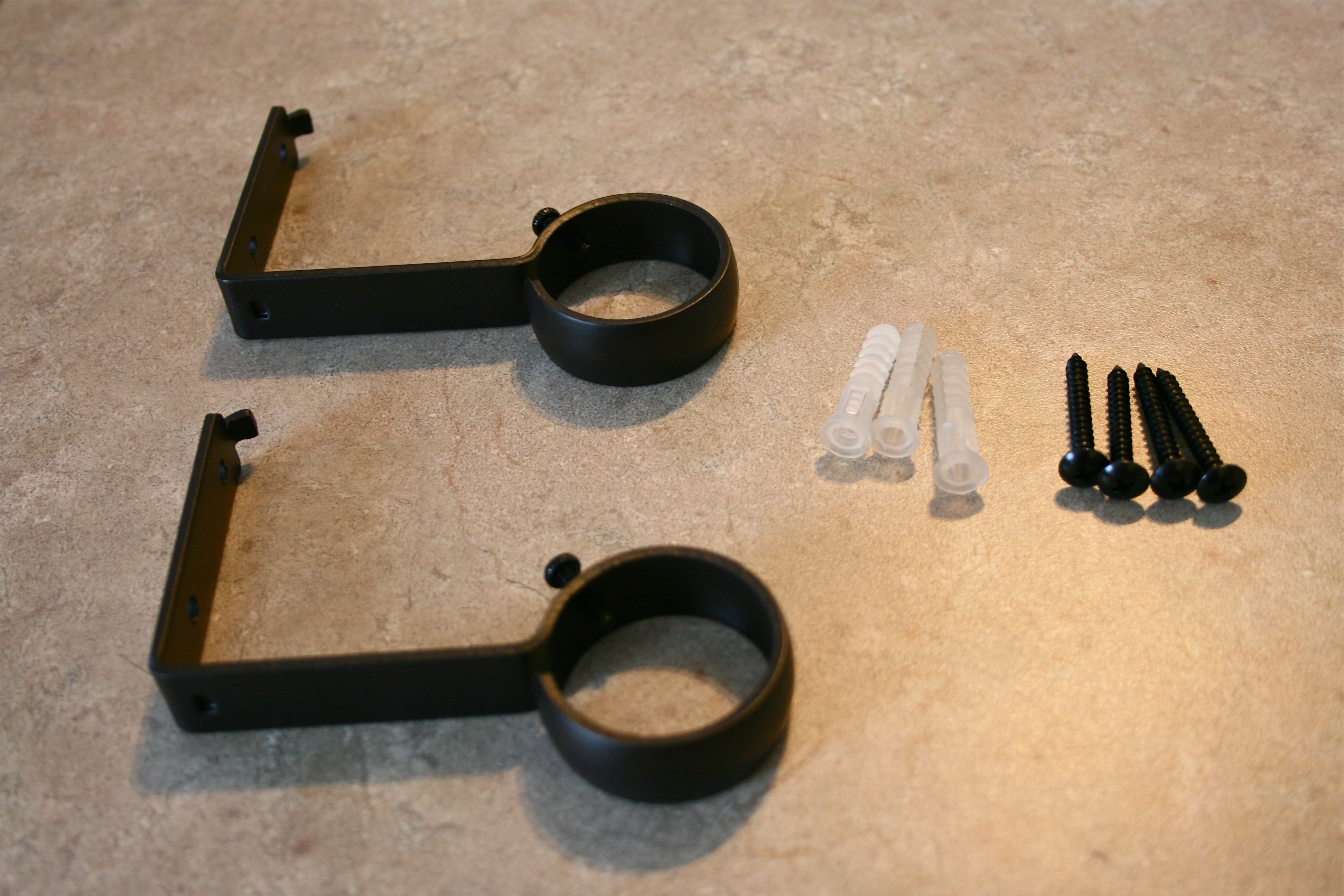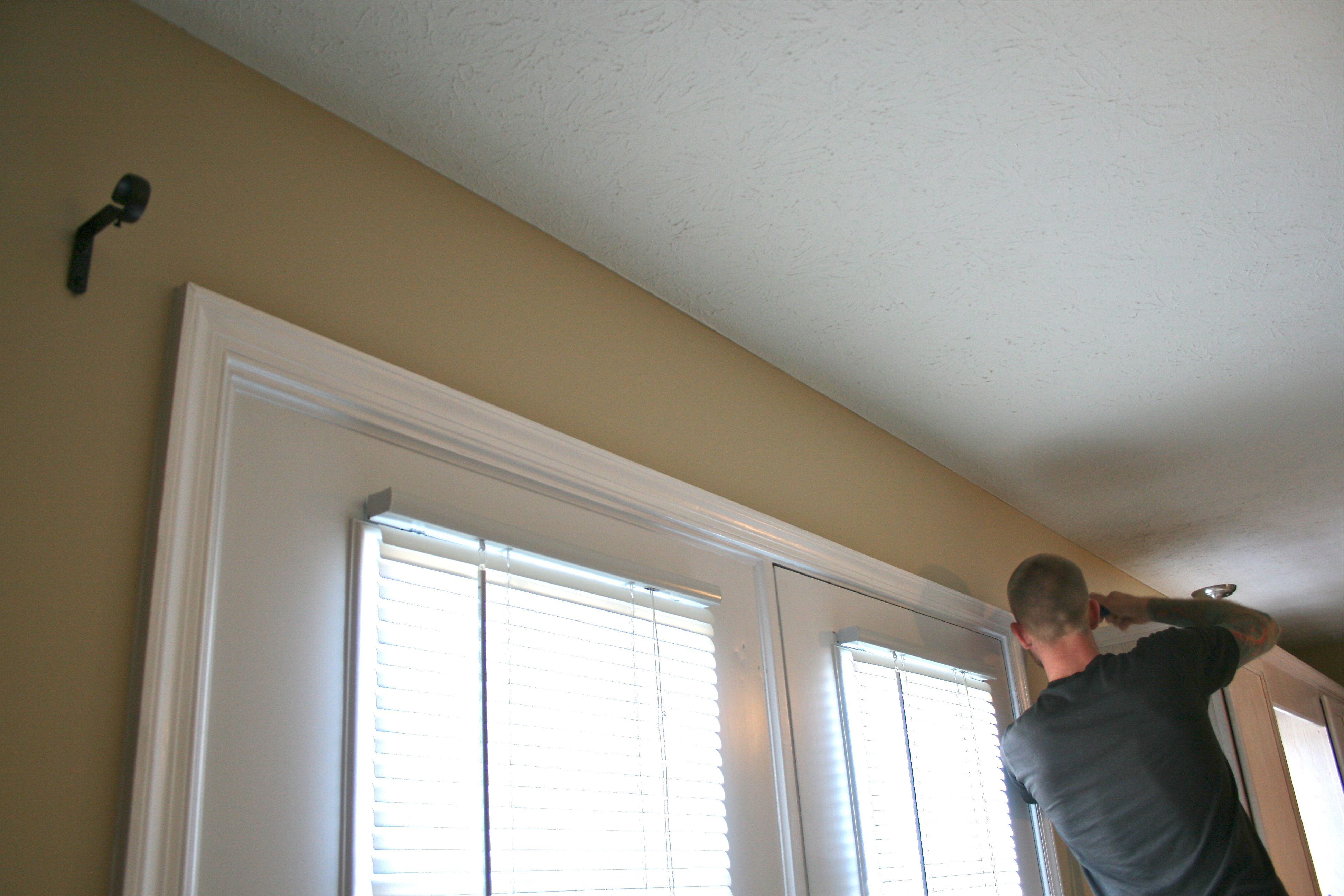 Unfortunately, we couldn't hang these curtains in the trendy "high and wide" fashion because the longest the panels came in was 84″…We were able to clear the door frame, but that's about as high as we could go without making the curtains look silly.
Here they are ready for install: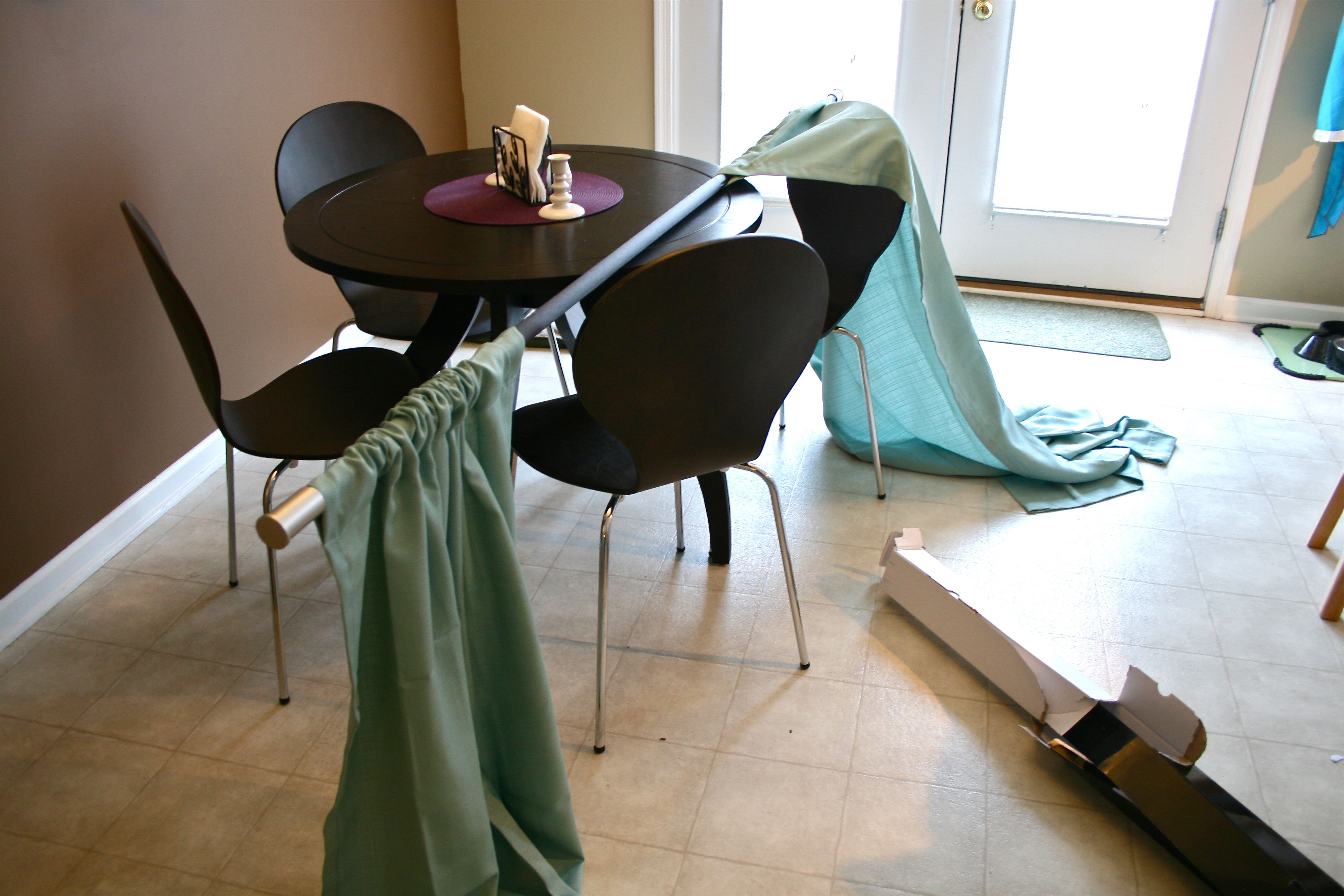 And then finally up on the walls! You can see at the bottom that if we had hung them any higher they would have looked like capri pants instead of nice and long, sophisticated trousers. (Was anyone else made fun of for wearing highwaters in middle school?? Anyone?)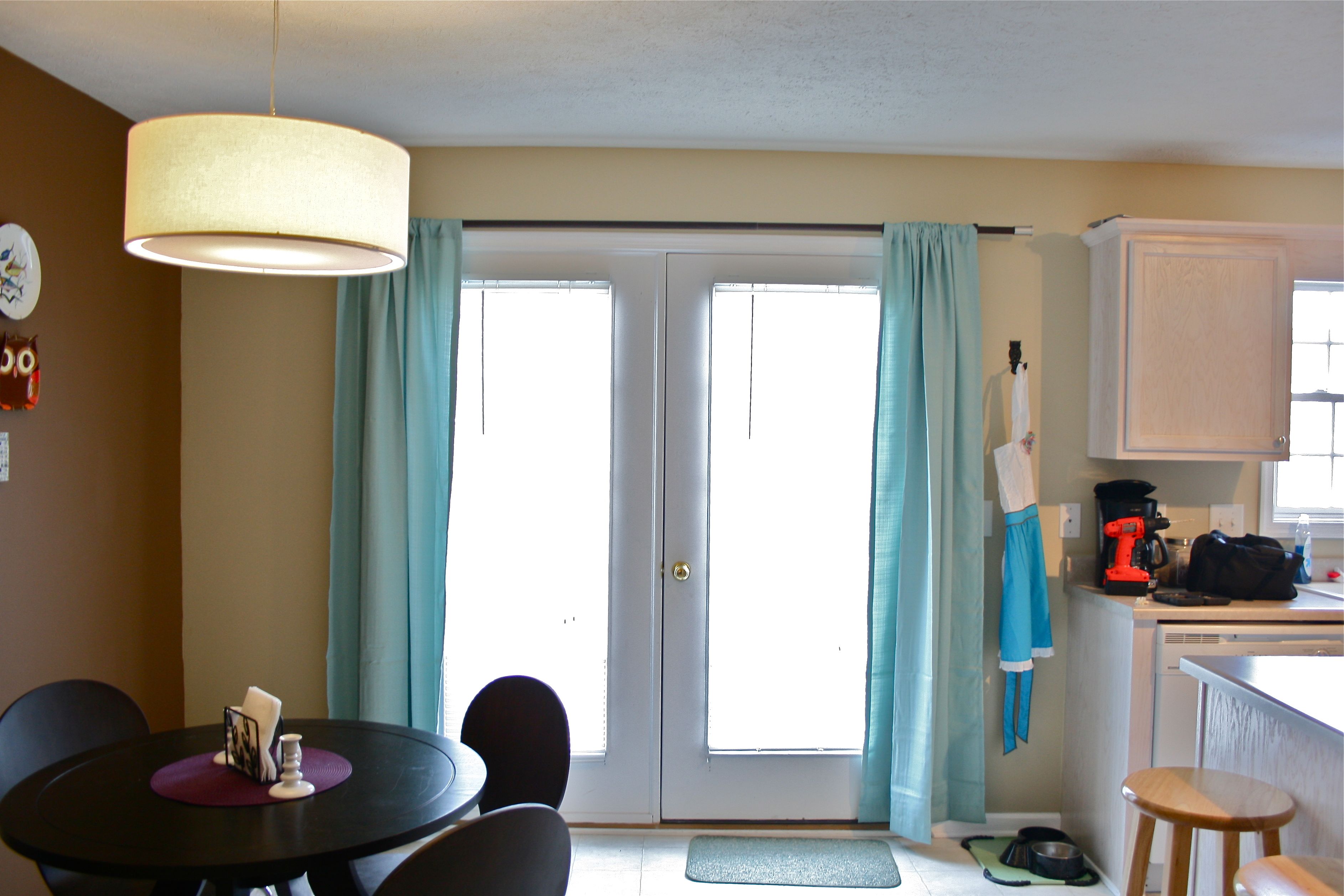 (Probably should have cleaned the counters of install tool clutter, but I was too excited to wait…)
When closed, they even give off a neat blue glow to the kitchen – Nice in the morning when you're sitting down to some coffee and the newspaper, not wanting a TON of bright sunlight in your face.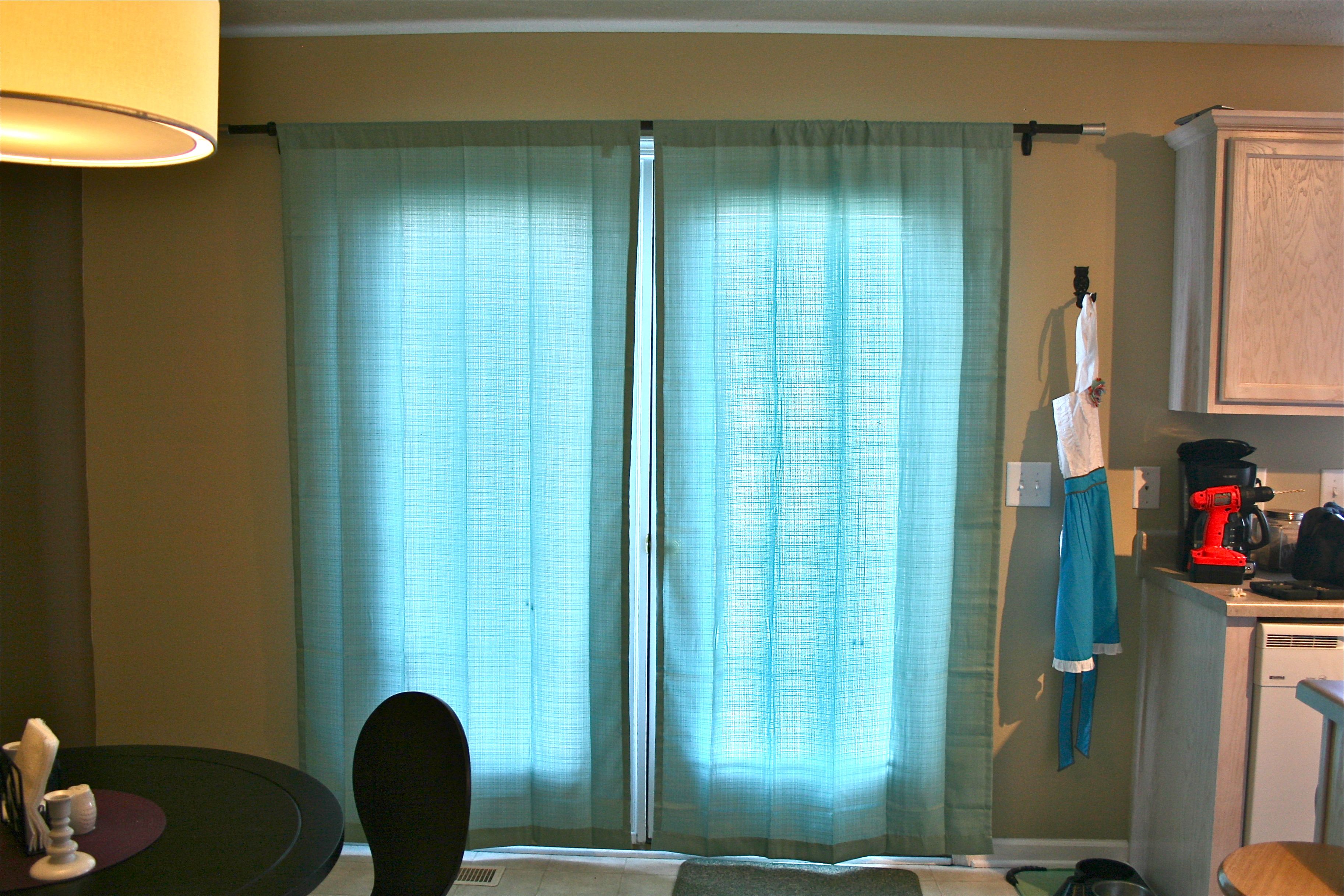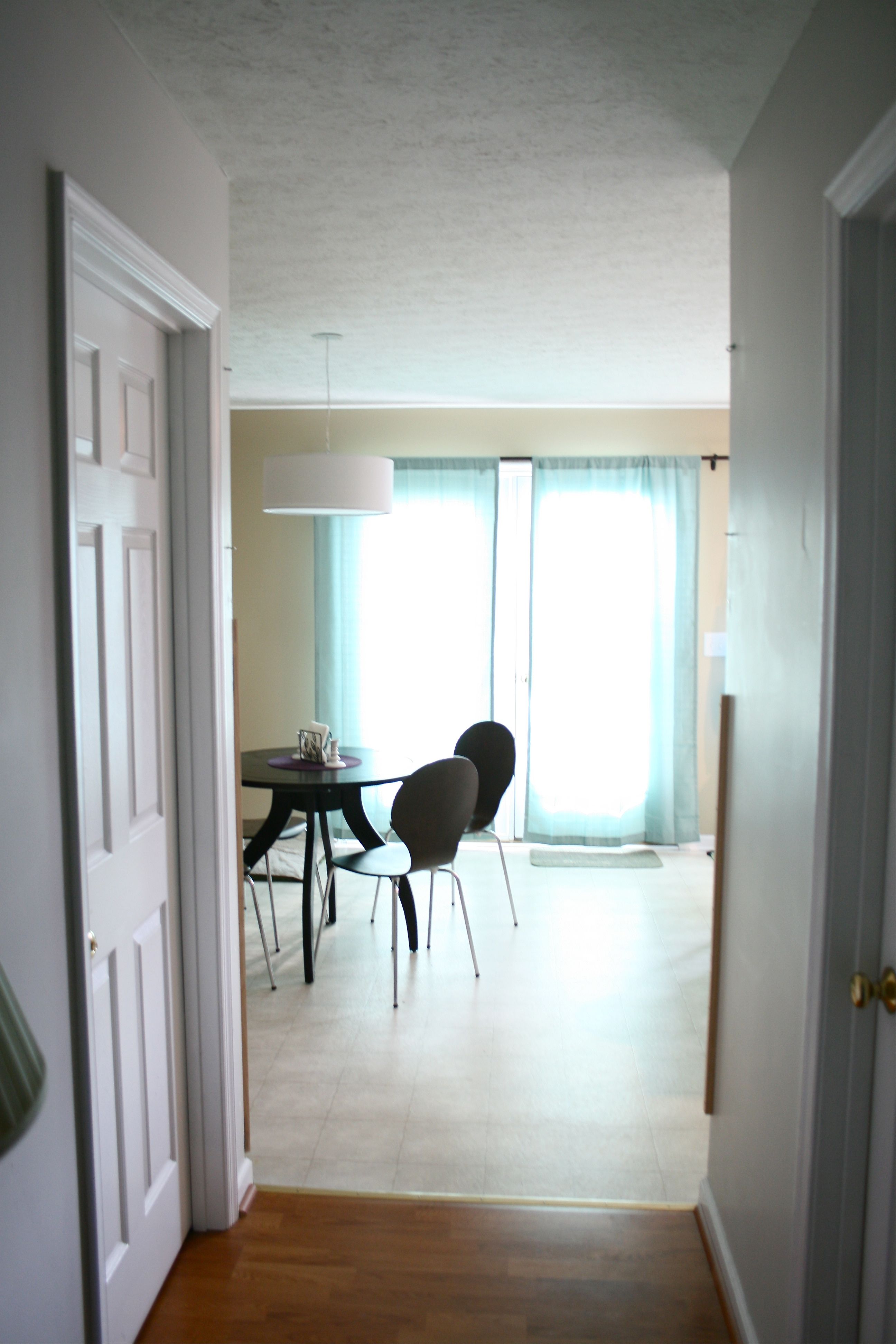 No curtains: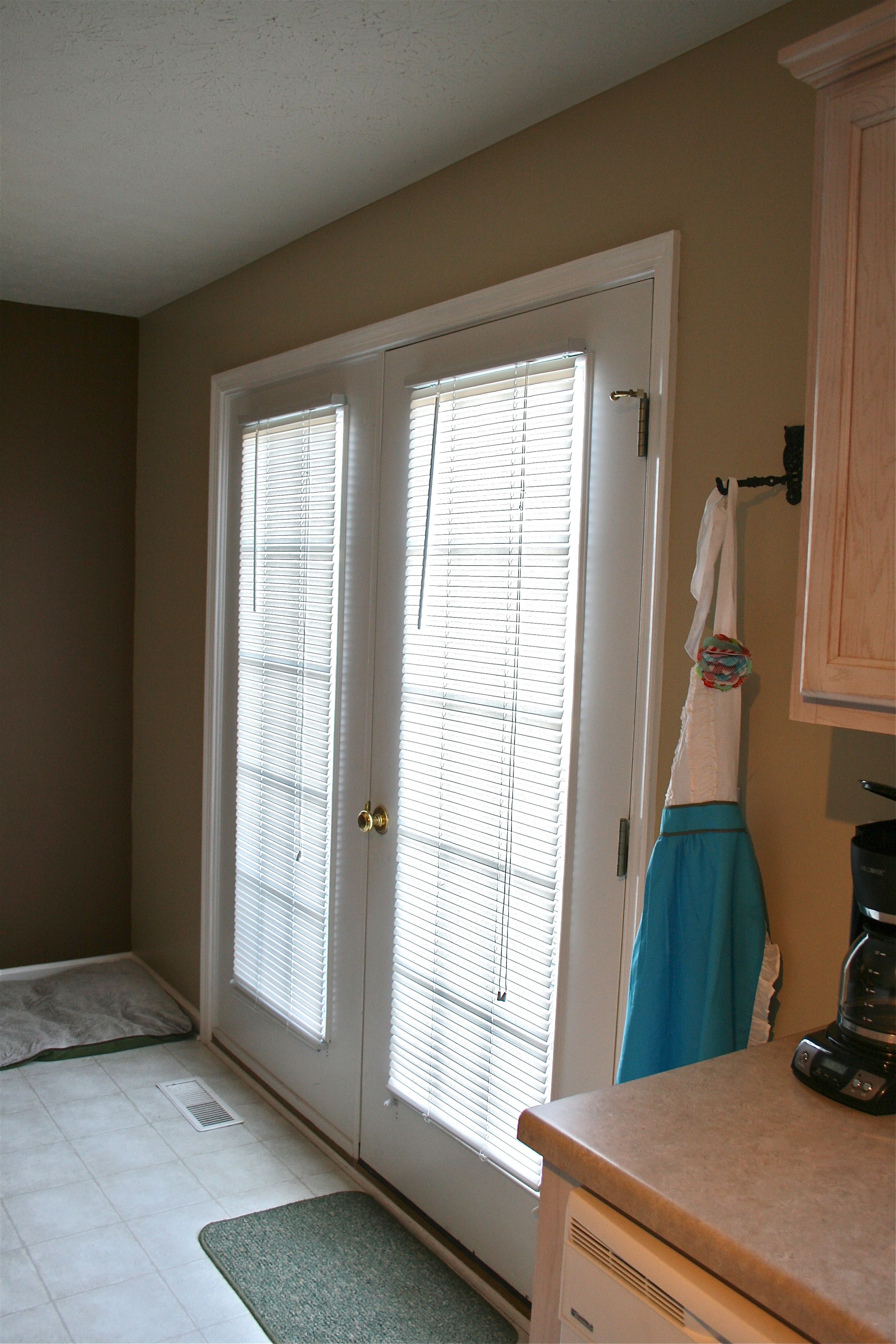 With curtains open: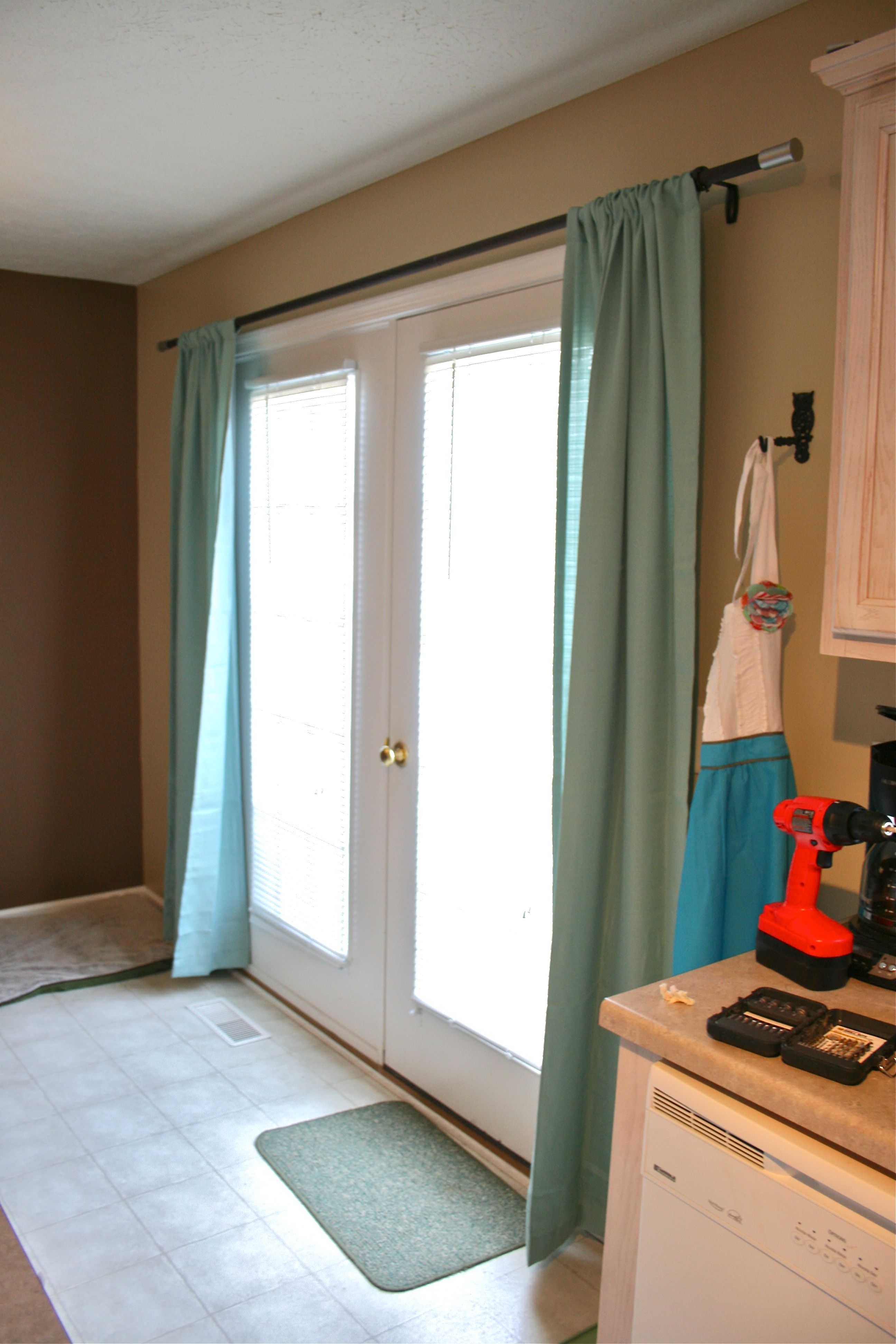 With curtains closed: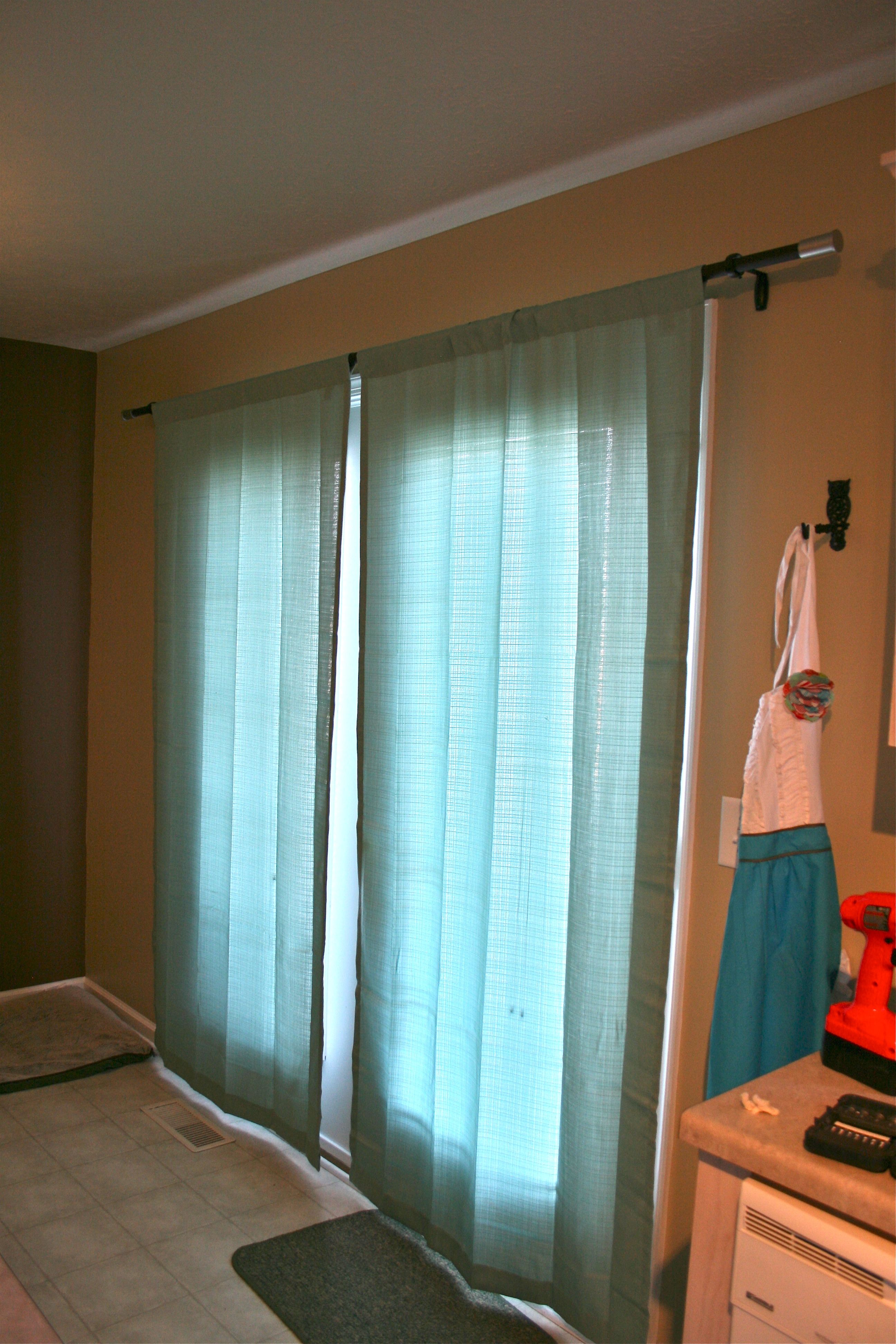 Trust me, it's much better in person 🙂
Oh and I have to mention the curtain panels themselves – They are a beautiful pale teal color and are a woven fabric that's quite heavy and soft. Here's a close up to show the detail: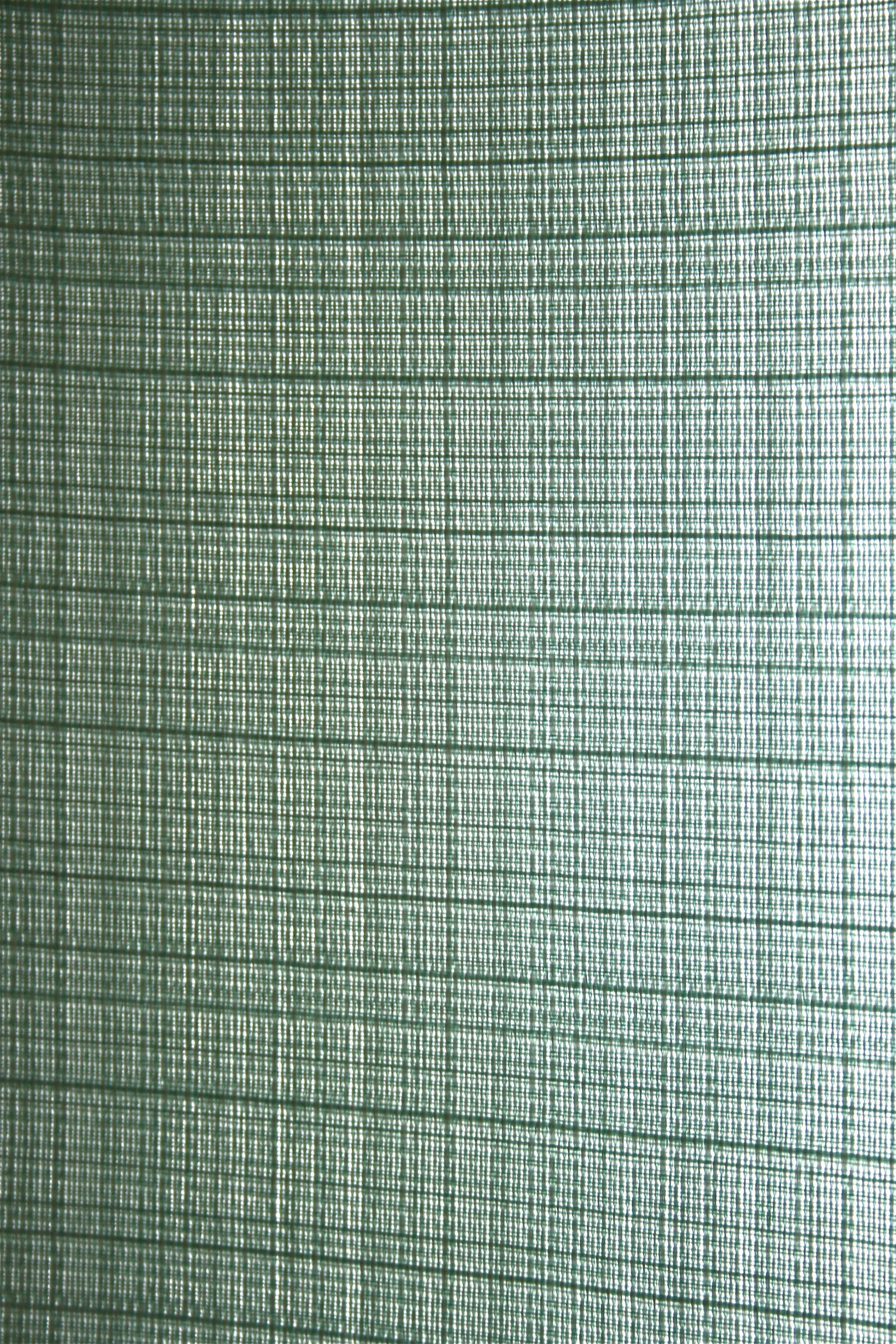 We are loving the new softness added to the kitchen and can't wait to continue the revamp! I'm thinking a tall skinny thrift store cabinet for the corner with a plant on top, a painted vinyl remnant for under the table and chairs and, of course, our big kitchen cabinet paint and hardware overhaul.
Hope you'll stick around for the ride!