If you're a regular here at DreamGreenDIY, then you know I usually post a "Thrift Store SCORE!" on Thursdays. Unfortunately, due to household budgetary restraints, I've decided to make these features a once-a-month thing…Plus we are sort of running out of display room for all of my thrifted treasures 😉 So this is my way of disciplining myself. We'll see how long it lasts!
So today, I wanted to share a little artsy switcheroo with you instead.
You surely know by now how absurdly fanatic I am over Emily Henderson – You may also already know that this is my favorite room she's ever done (since I have posted about it both here and here before):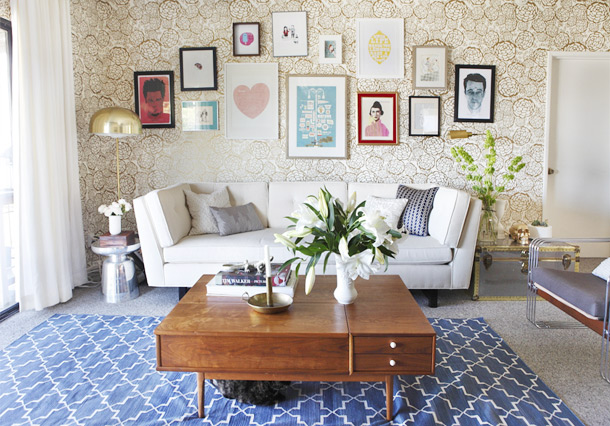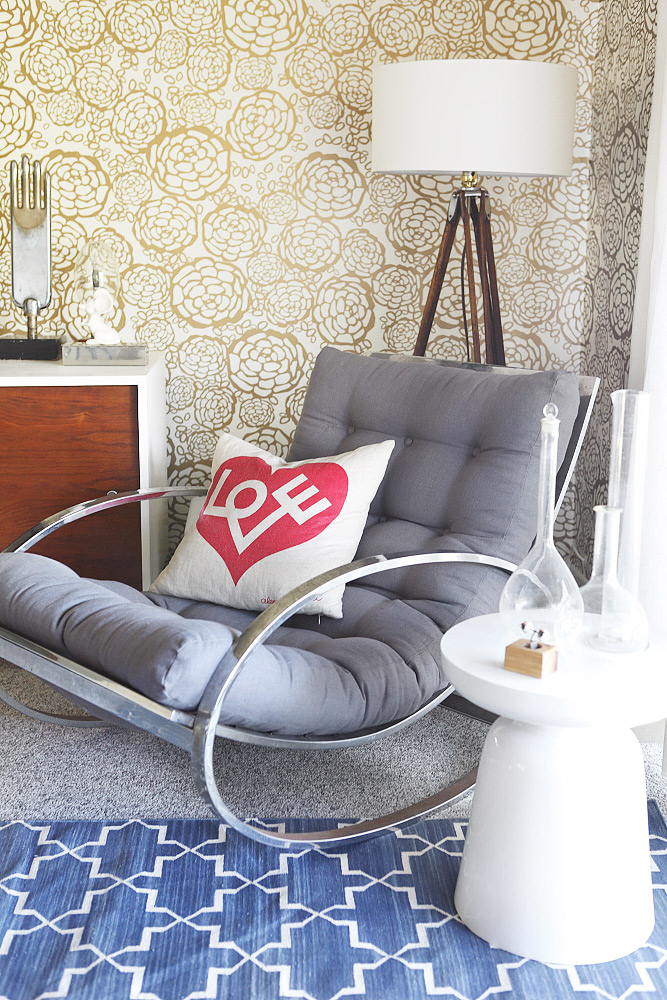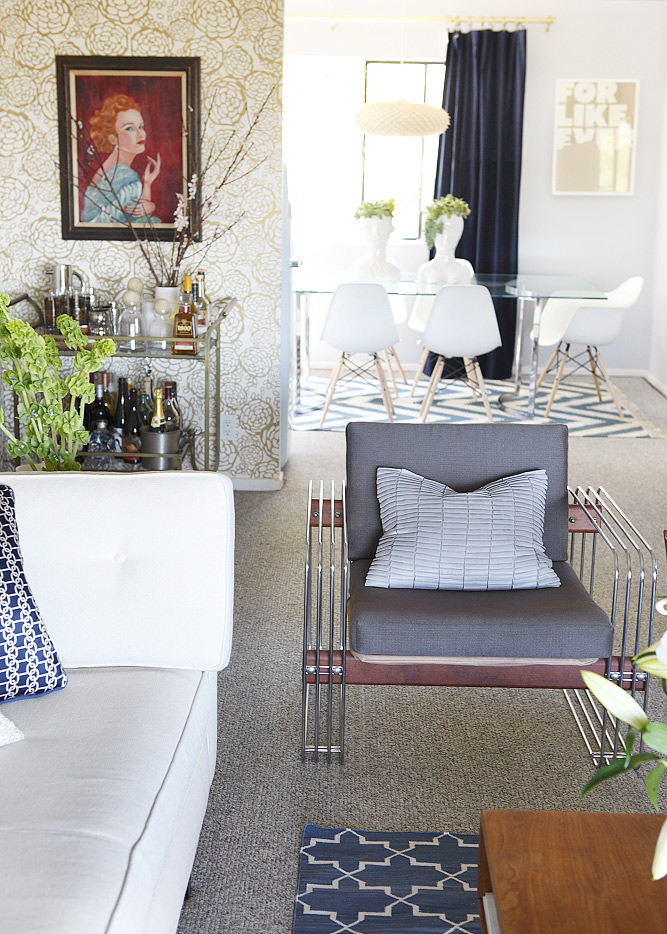 I loooooovvvveeeeeee that wallpaper. The minute I saw it I was infatuated with the room (and Emily, in a totally platonic, I-want-to-be-her-best-friend way). I typically don't ever think that I can ACTUALLY get any detail or piece of my favorite HGTV-designed rooms, but miracle-upon-miracle, I GOT IT!!!!!!!!
Allow me to explain – I follow Emily's (yes, we're on first name basis) blog and came upon a post describing some of the resources for this room. I thought nothing of it, knowing that there was no way I could actually afford it. But you know I couldn't help but at least GLANCE at the link for the wallpaper…Turns out that the wallpaper was designed by Joy, the home owner and lucky dweller of this, my favorite Emily makeover (P.S. Joy has a FABULOUS blog of her own – Check it out here), and rolls of it can be ordered through Hygge & West.
After deeper inspection, I was correct in my assumption that there was no way that I would be able to afford the wallpaper (which is almost $150 a roll), but all was not lost!!!!
They sell samples.
Oh joy!!! 😉
I ended up adding all three of the samples you see in the screen image above – (in order from left to right) "Lovely Leaves" in white and copper, "Petal Pusher" in white and gold, "A Stone's Throw Away" in white and gray. The patterns are so pretty and the metallic sheen is GORGEOUS in person.
A week or so later, the three samples arrived at my door!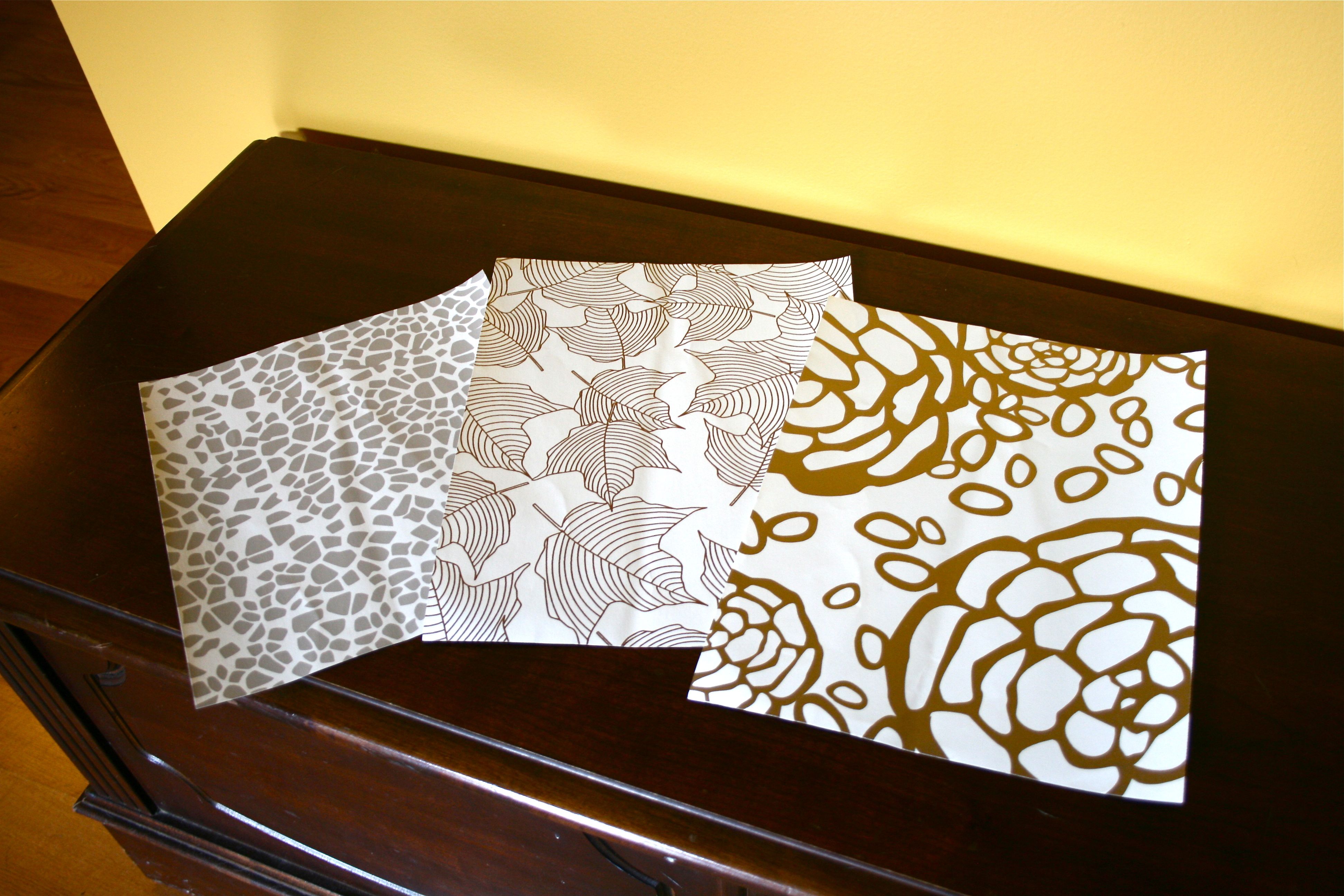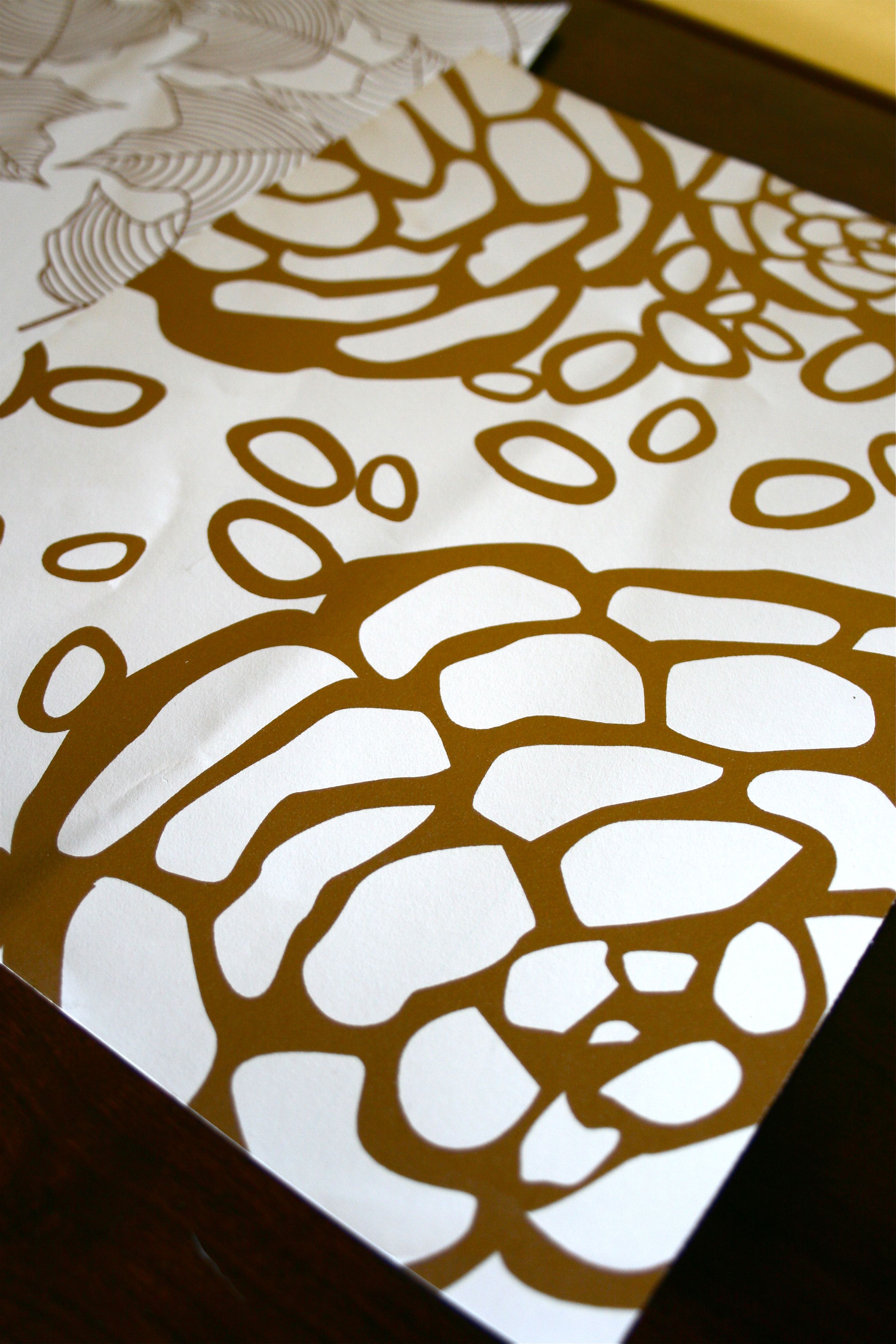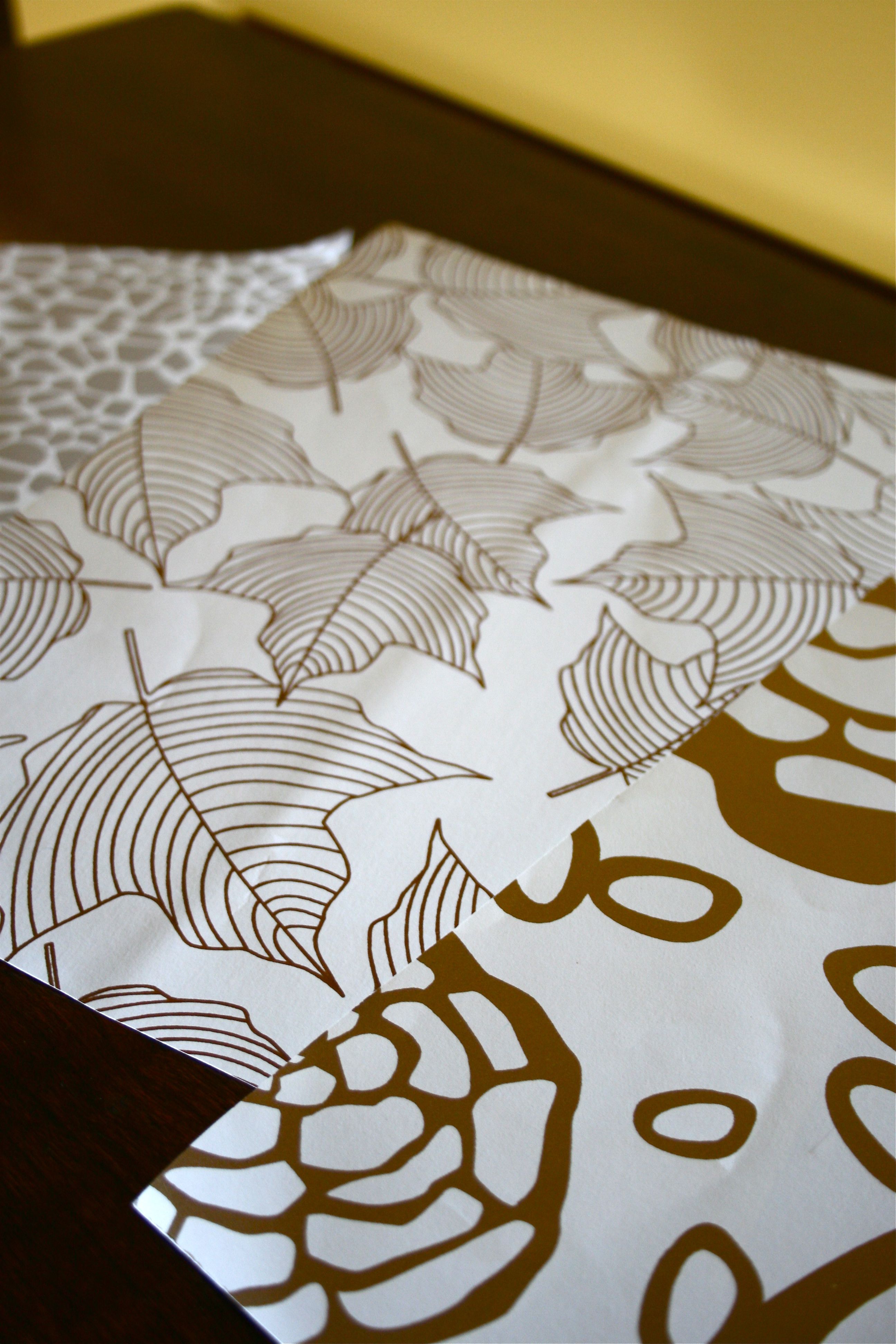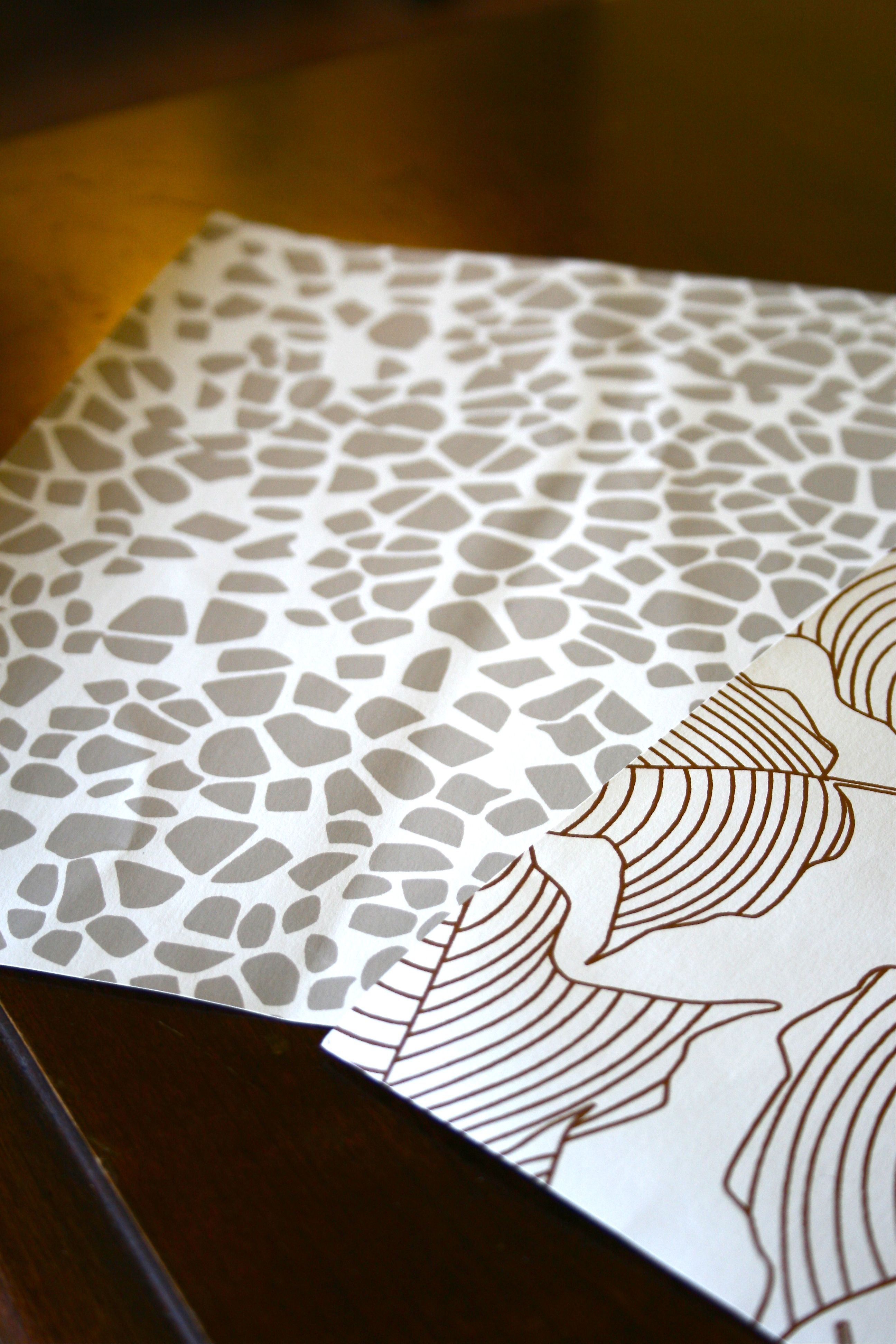 Just as thrilling in person, if not more so! After a little contemplation as to where they should go, I decided to add them to our entry way "art gallery".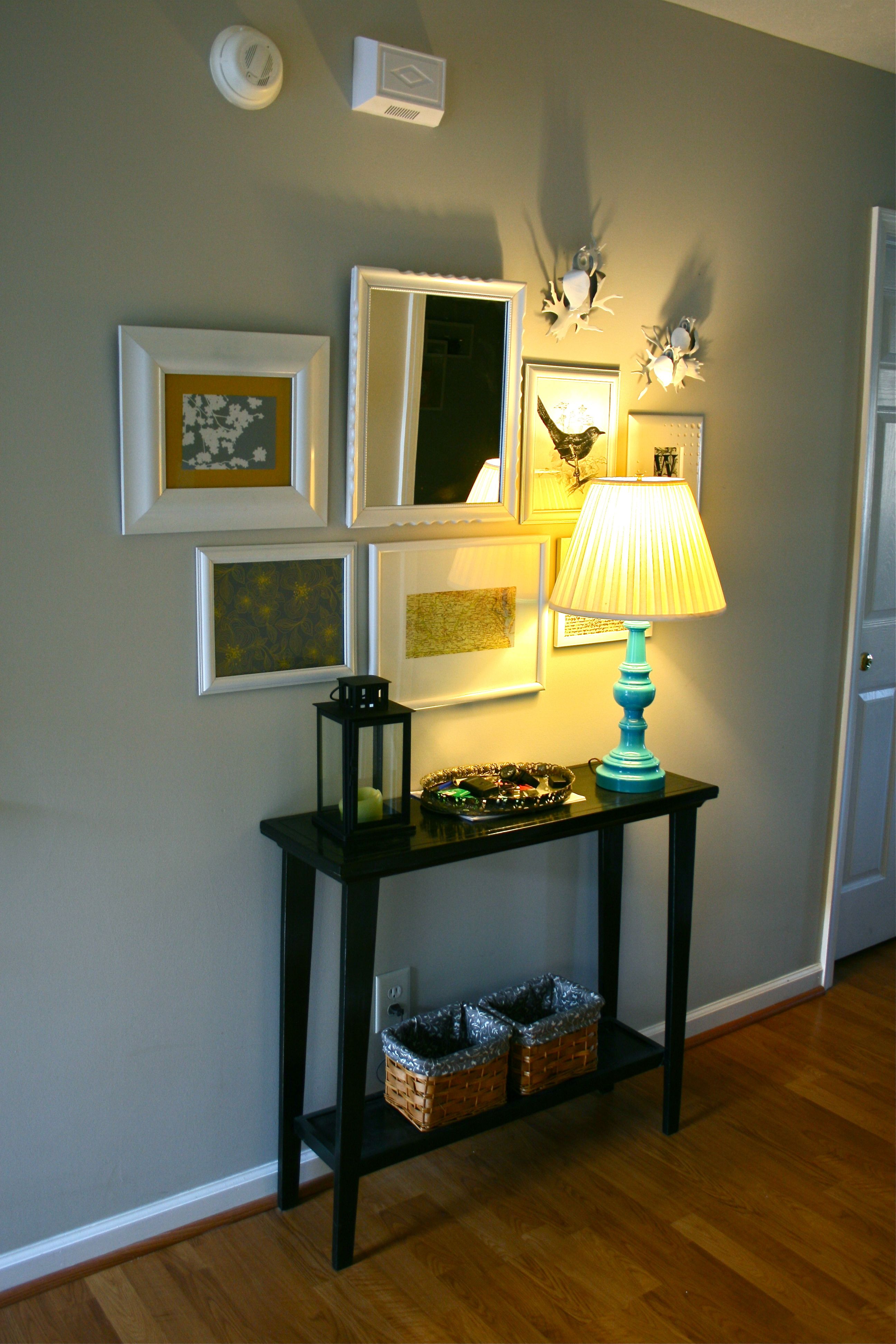 A lot of the original art that I had put in the frames there were quick copy/pastes from the internet after running a "Yellow" and "Gray" Google search. They were nothing special. But the three wallpaper samples DEFINITELY are.
So last night, I popped the old images out of three of the frames and replaced with the new ones.
I started with the "Stone's Throw Away" pattern – I decided to keep the textured yellow paper I had originally in the frame because the gray and yellow play SO well together! I think it makes it pop a little more.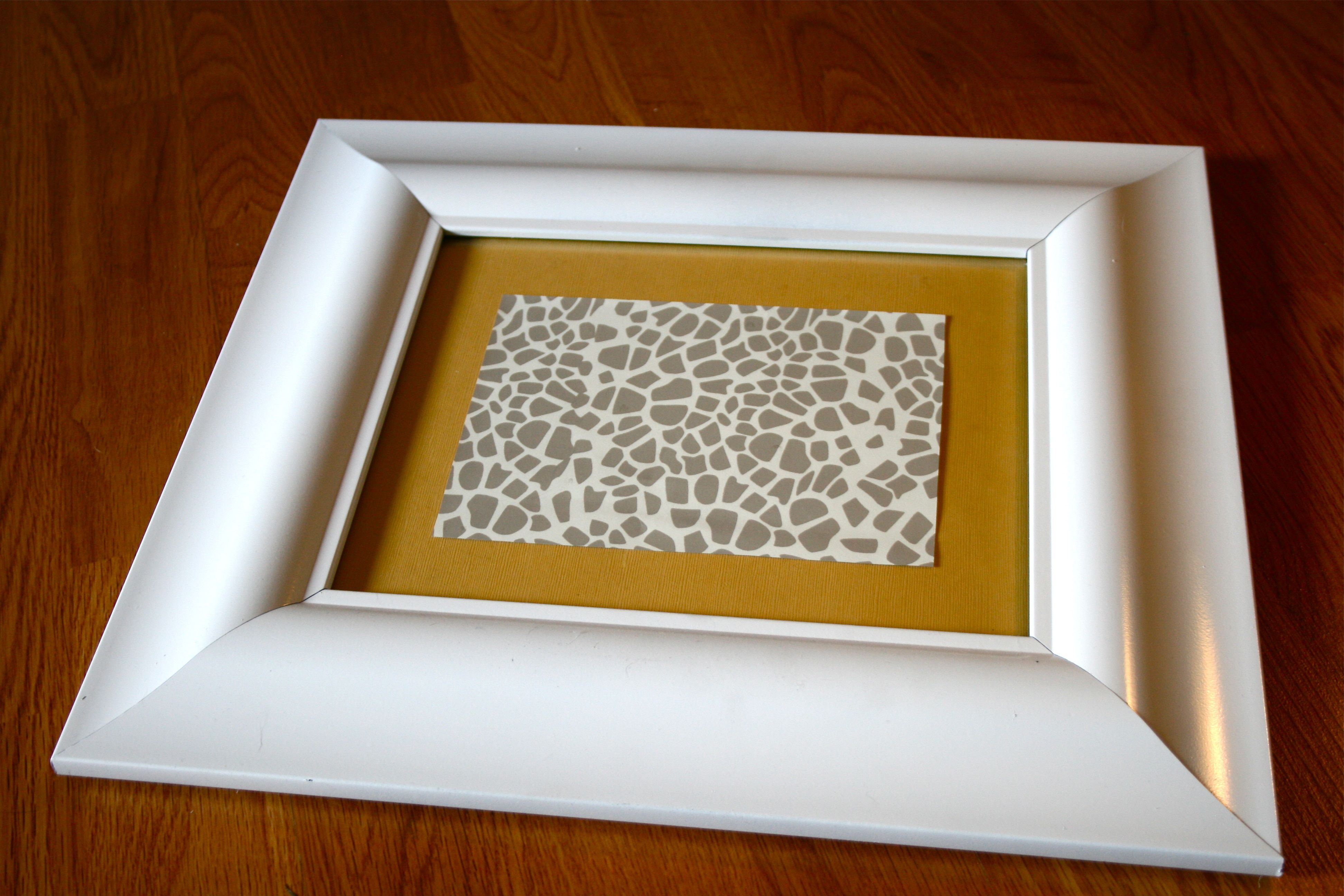 Then came the "Lovely Leaves"…Here's the "Before" – Just a piece of scrapbook paper: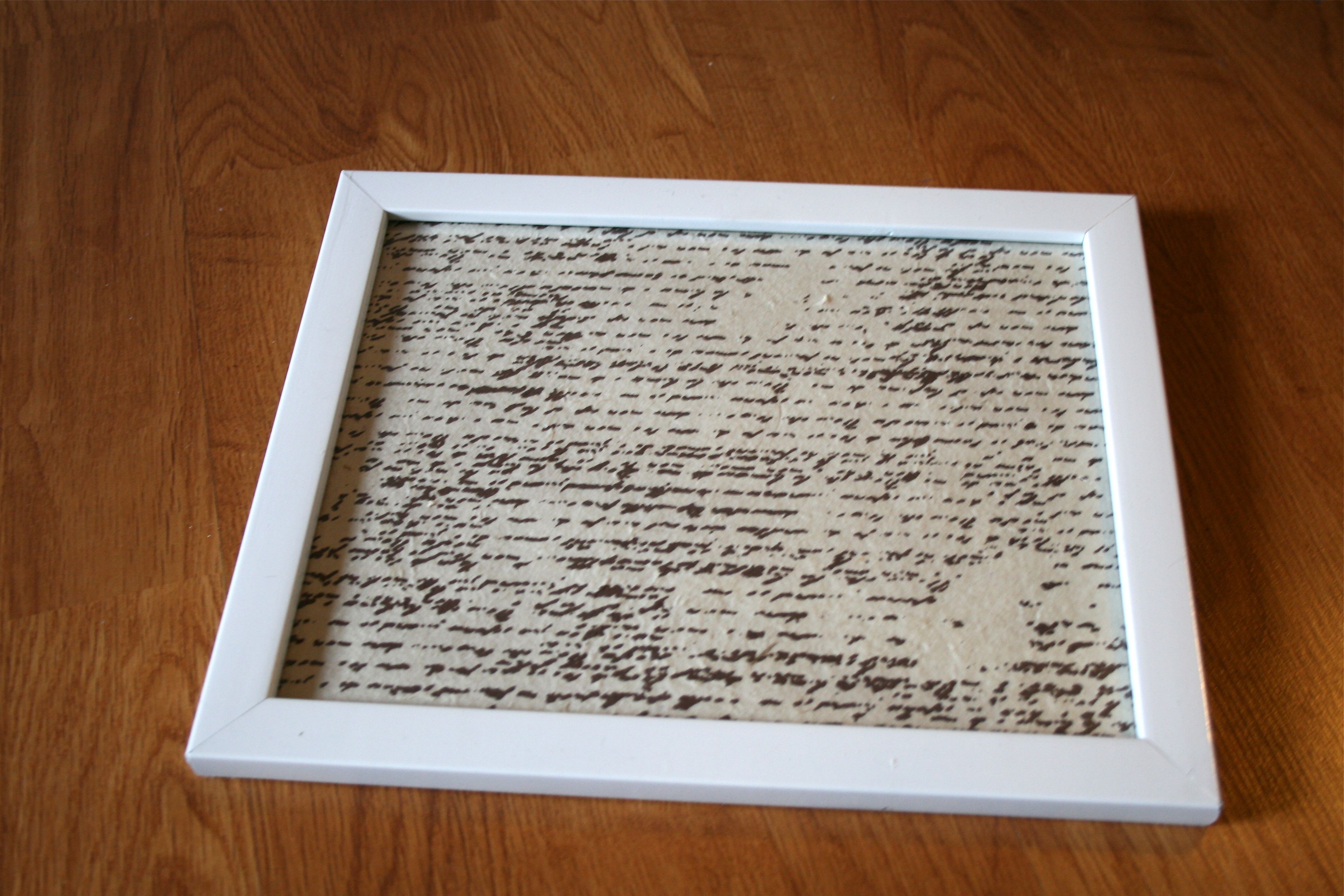 And the "After"! Much more modern and crisp in my opinion.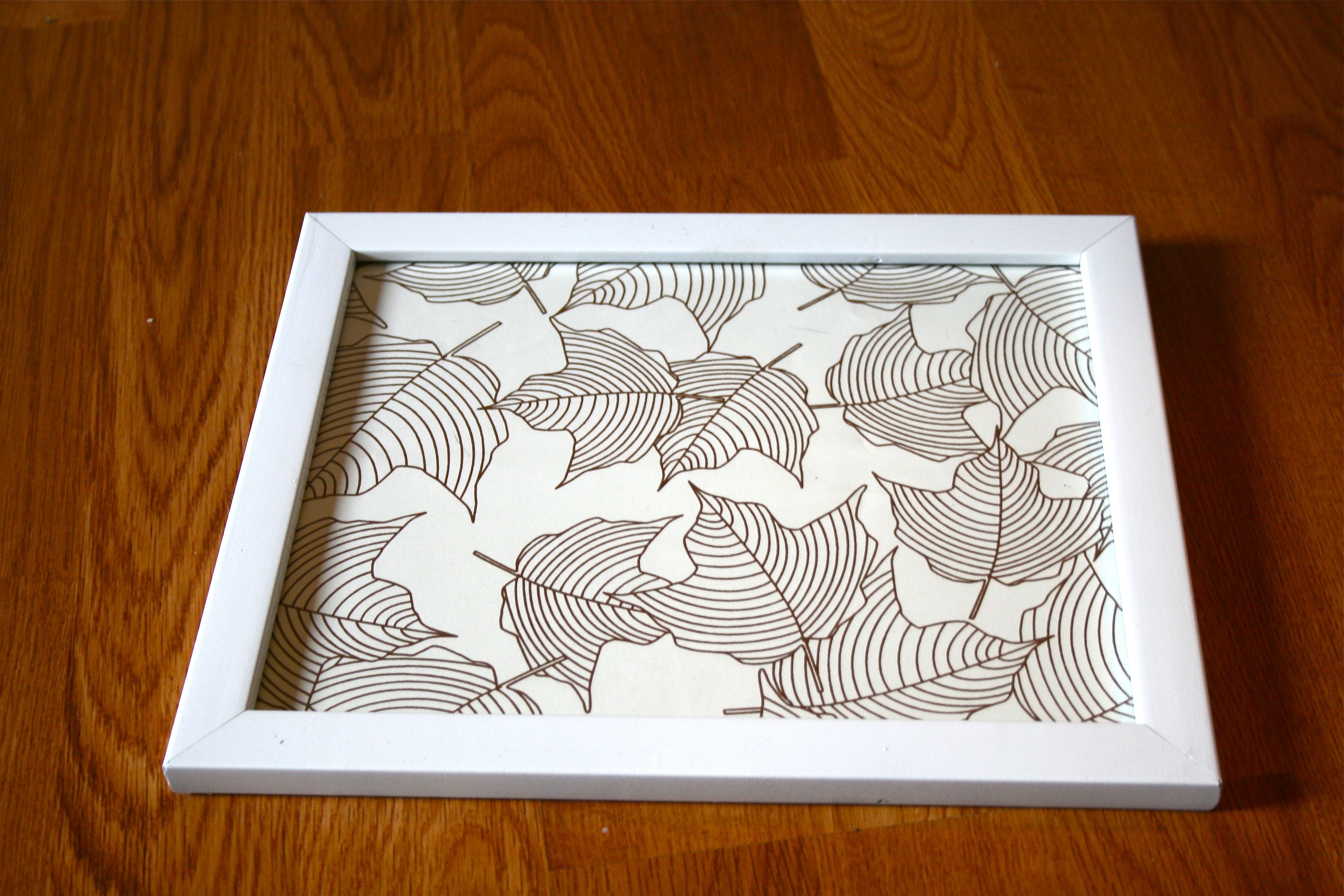 And finally, my favorite – The "Petal Pusher"!!! Here's the "Before" – A pixel-y, blurry image off the internet that seems almost blue and green, not the soft gray and muted yellow I was going for…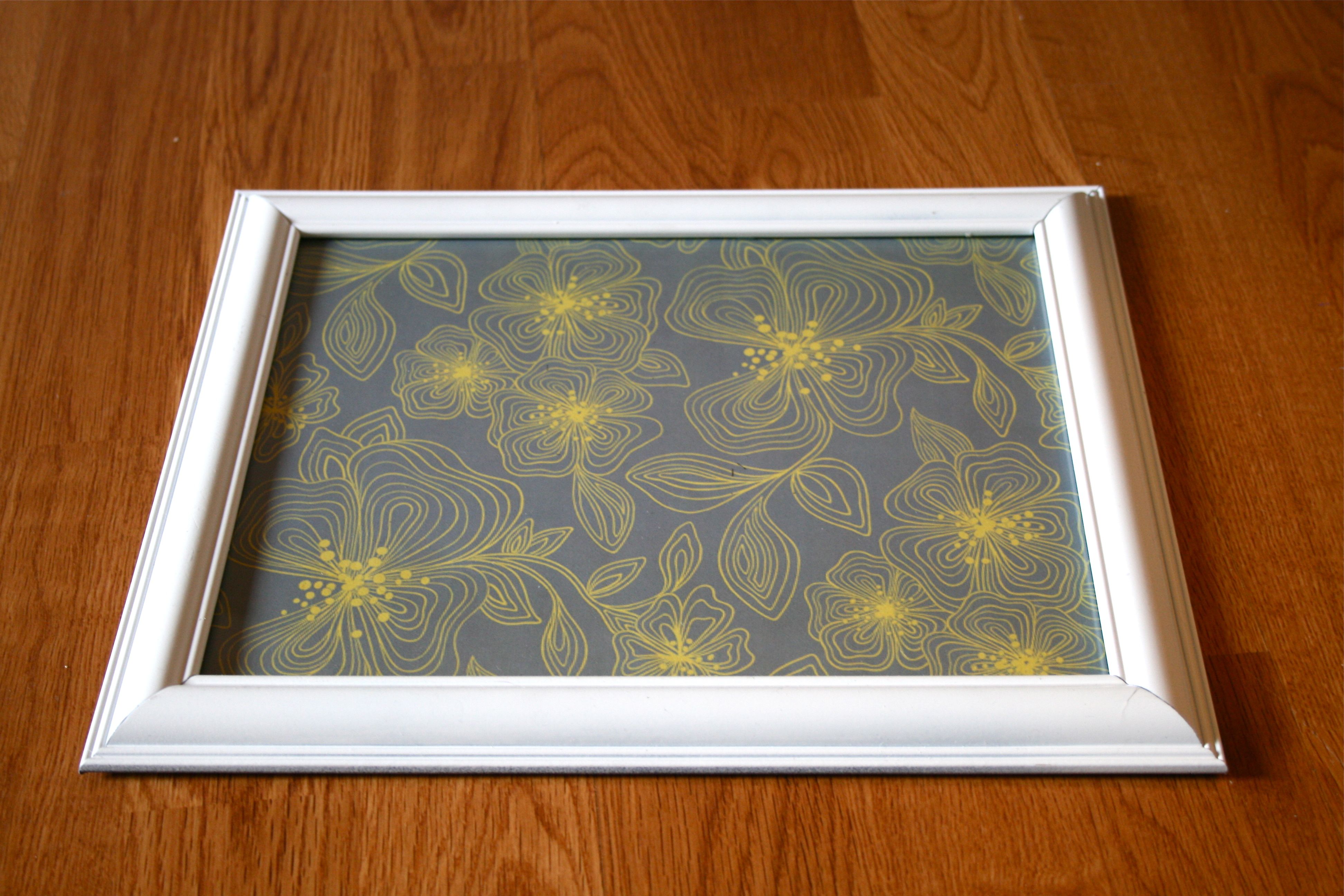 The "After" is SO MUCH BETTER!!!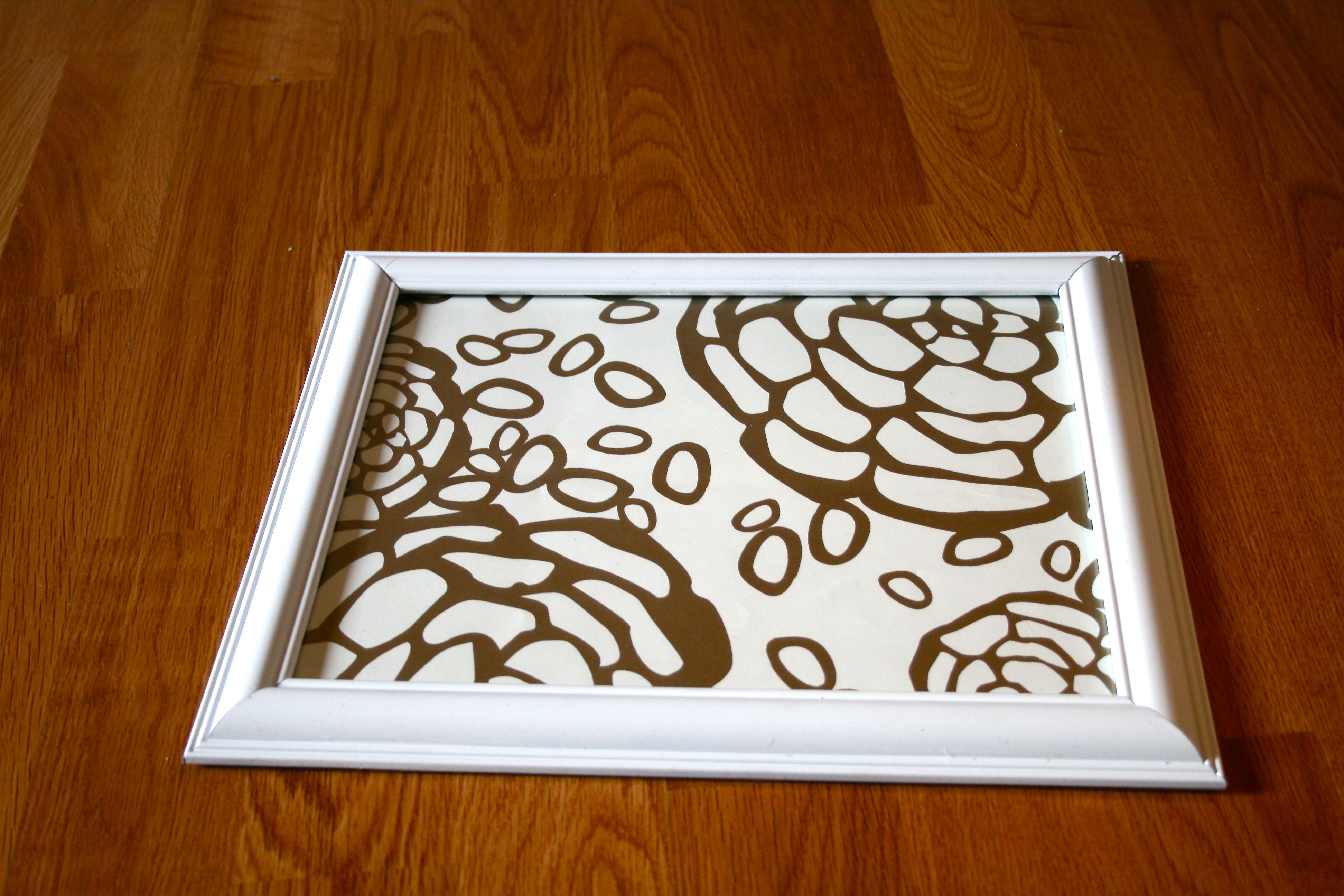 Here are the collections "Before" and "After" side-by-side.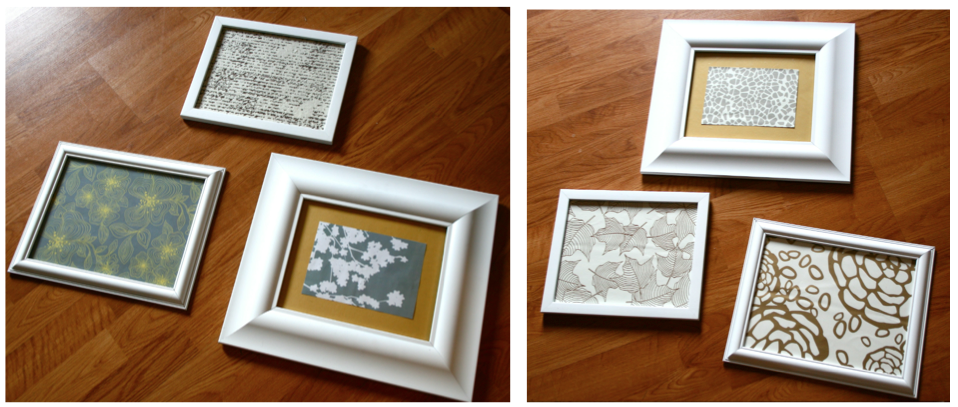 The new art looks like it's an actual collection rather than the random place holders that the others were. The original art did its purpose, but now it's time for the real designs to reign…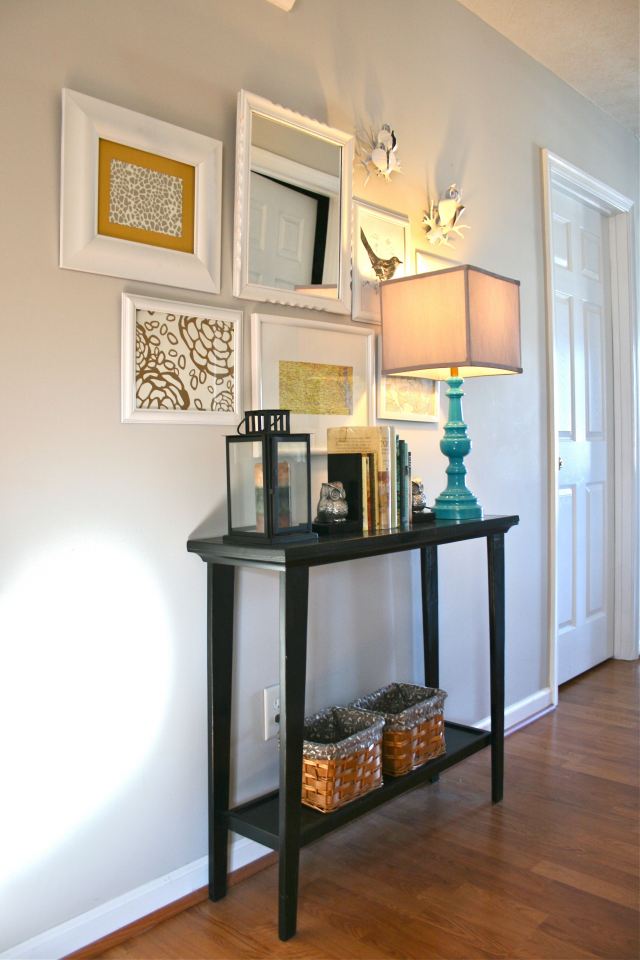 I am so excited to have a tiny piece of my favorite professionally designed room! It's like Emily Henderson came in and did her thing with our entryway! Hey, a girl can dream…
Oh and speaking of art, look at the gorgeous print that John's mom brought back for me from their recent trip to China!!!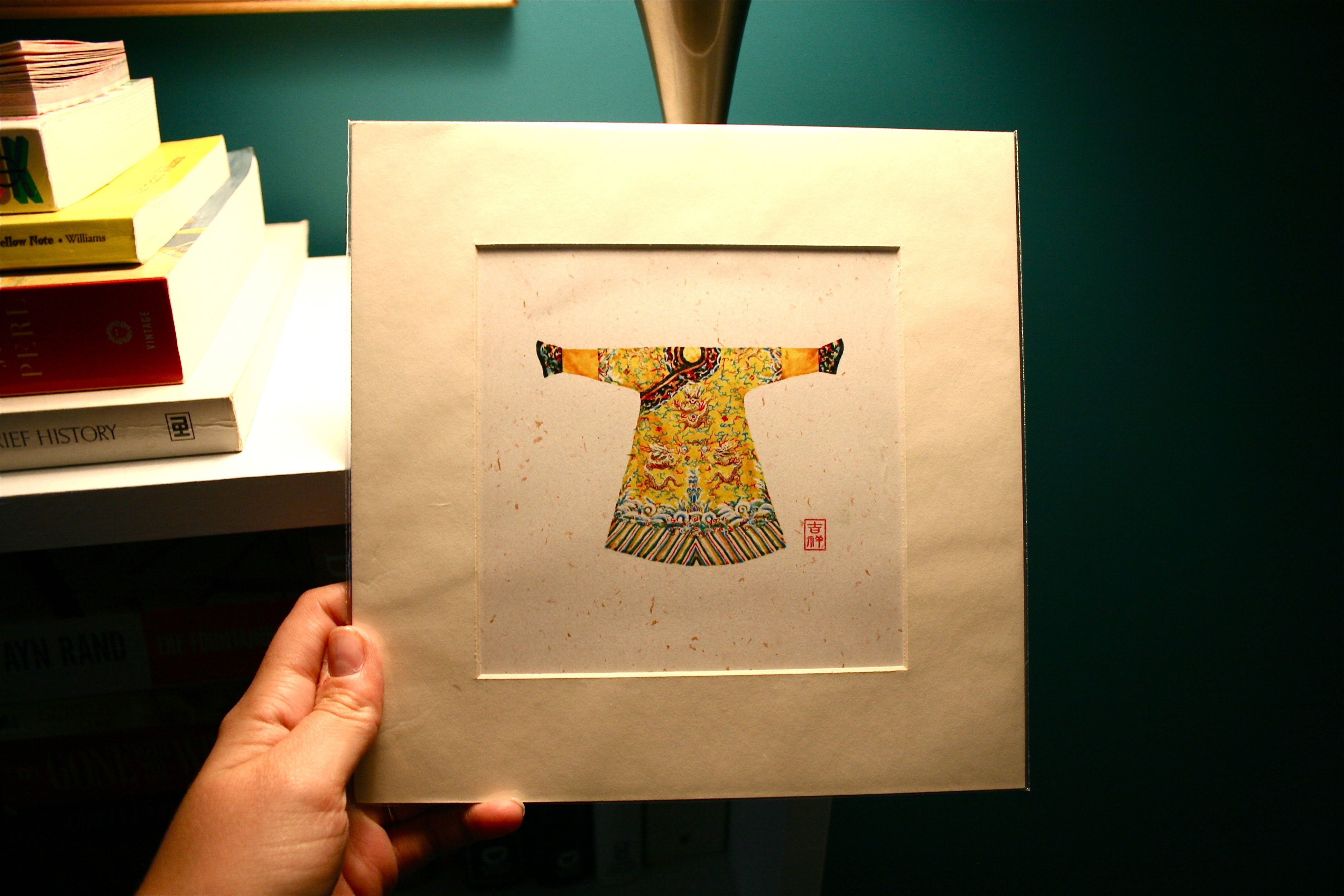 And here's what the back says:
The Manchurian (Ching) Dynasty represents an era in Chinese history while the Manchurian and the Han cultures were in close interchange. The Imperial Dragon gowns were virtually a combination of the dresses oriented to the Manchurian horseback riders and the traditional Chinese clothing. The Gowns made with the fine and exquisite workmanship, fastidiously selected materials and magnificent colors are believed the special pieces to illustrate the Ching Dynasty costume charms.
The Imperial Dragon Gowns are mainly in elegant black backgrounds matched with golden dragon motif, with the attractive transparent touch to signify bold and heroic character of the ethnic races in north China. Overall, the Imperial Dragon Gowns convey the charismatic charms of a great country of China in the Manchurian (Ching) Dynasty. 
I can't wait to find a place for this little treasure! I'm sure I'll tell you all about it when I do 😉