Ya know how when things are FINALLY settling down in your life – Like after you're a couple weeks into your new job and starting to feel like you MIGHT get the hang of things soon, or when a new house is finally starting to feel like home? Well it's times like these that fate often deals you a big ole' hand of "Don't get too comfy!!!"
Well…As you've probably gathered, that's what happened to me/us last week.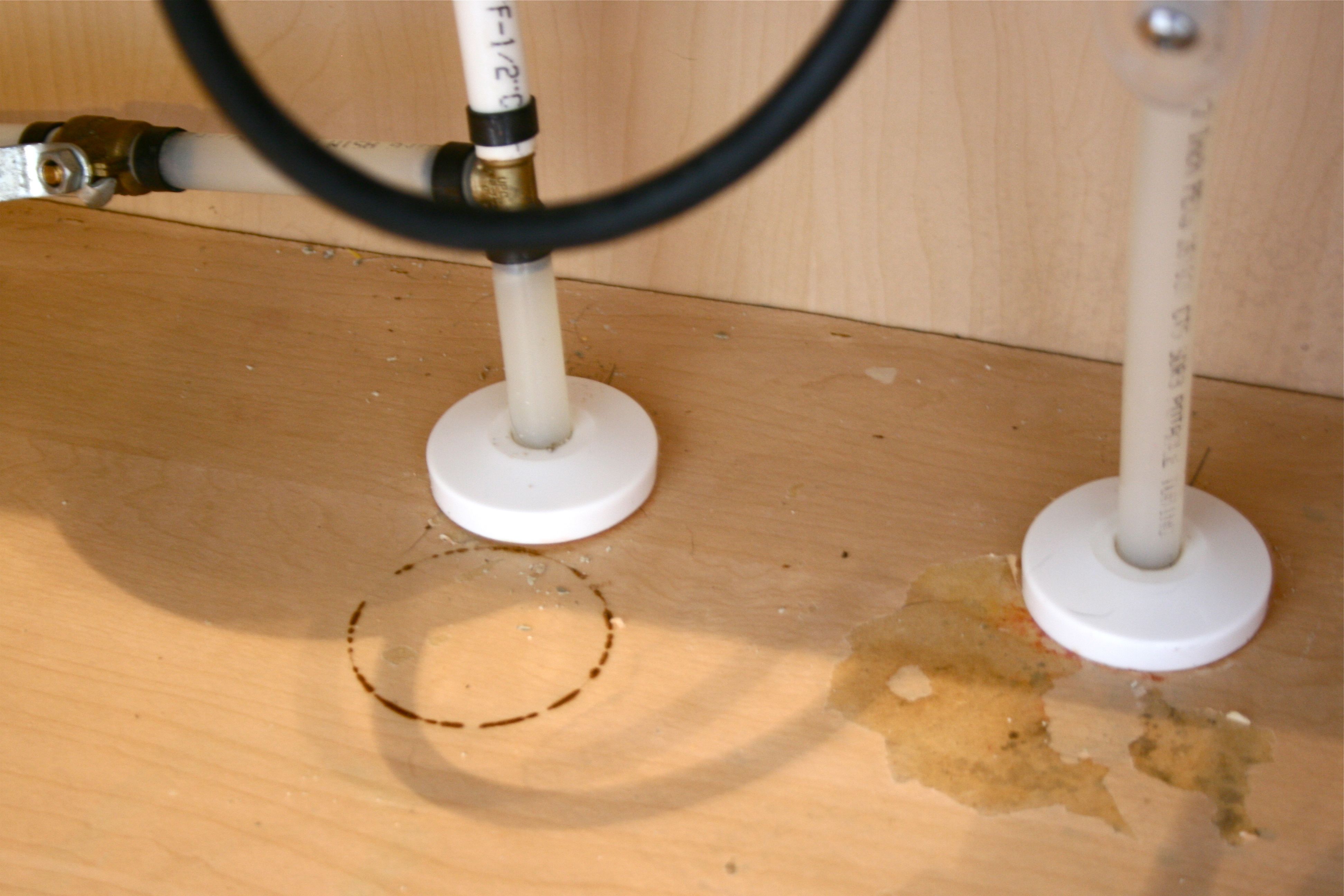 That, my virtual friends, is water damage. Not MASSIVE water damage (we are both well aware that it could have been much worse), but enough to make us jump to action and head to Home Depot for a solution,we intermediately contacted phoenix water damage repair of course.
"Home Depot???" you might ask? Yeah, we are definitely a Lowes-typa-couple, from paint to fans and hand sanders, you've "seen" us traipse back and forth from home to that store many a time. But we've actually been in the process of looking for a new sink for a while and found the best option at Home Depot.
Here's what our old sink looked like: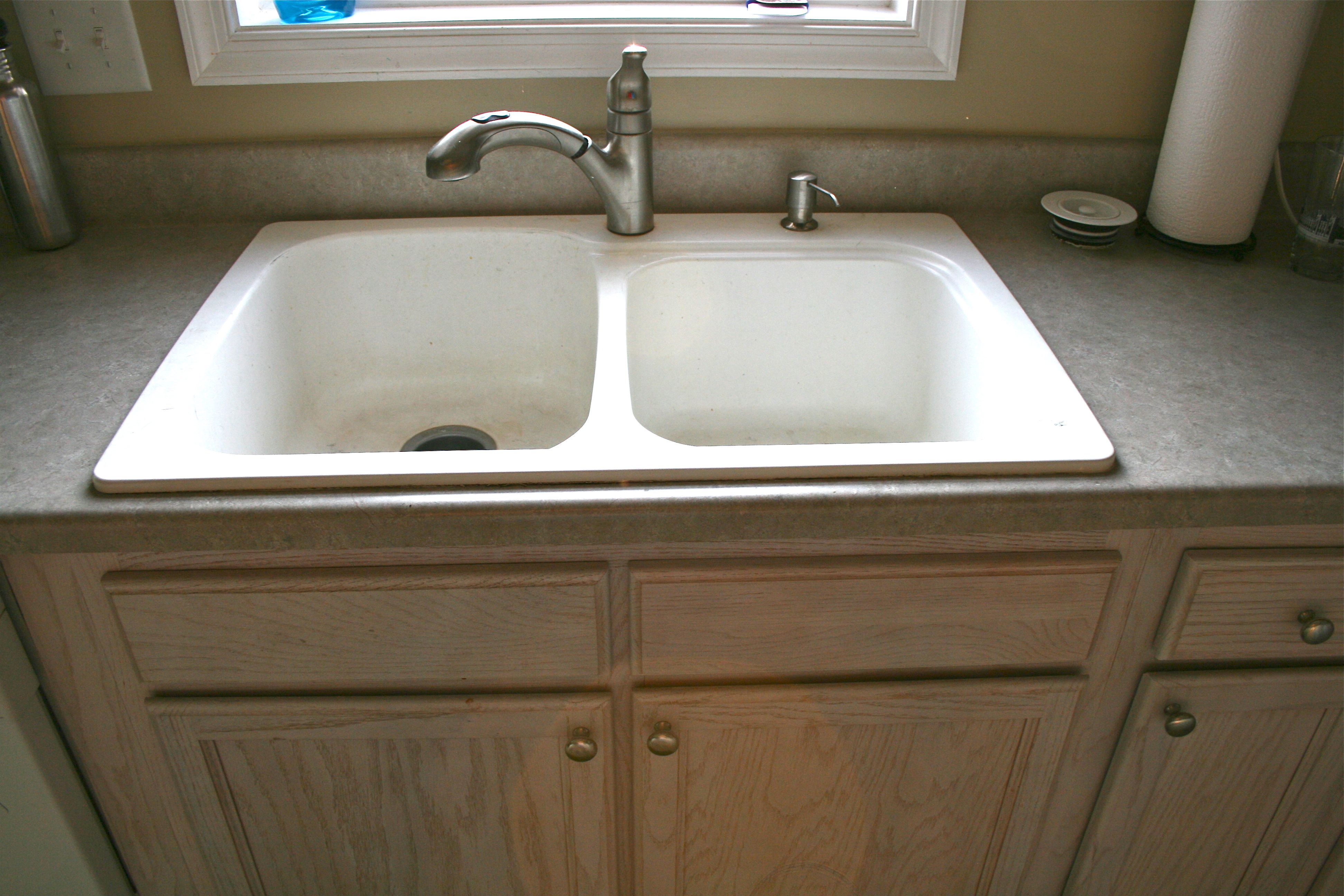 Doesn't look so bad right? There are TONS of people who would love a white porcelain sink!! But ours was anything but white porcelain…It was actually white plastic that chipped when you dumped cereal into it – damage seen here: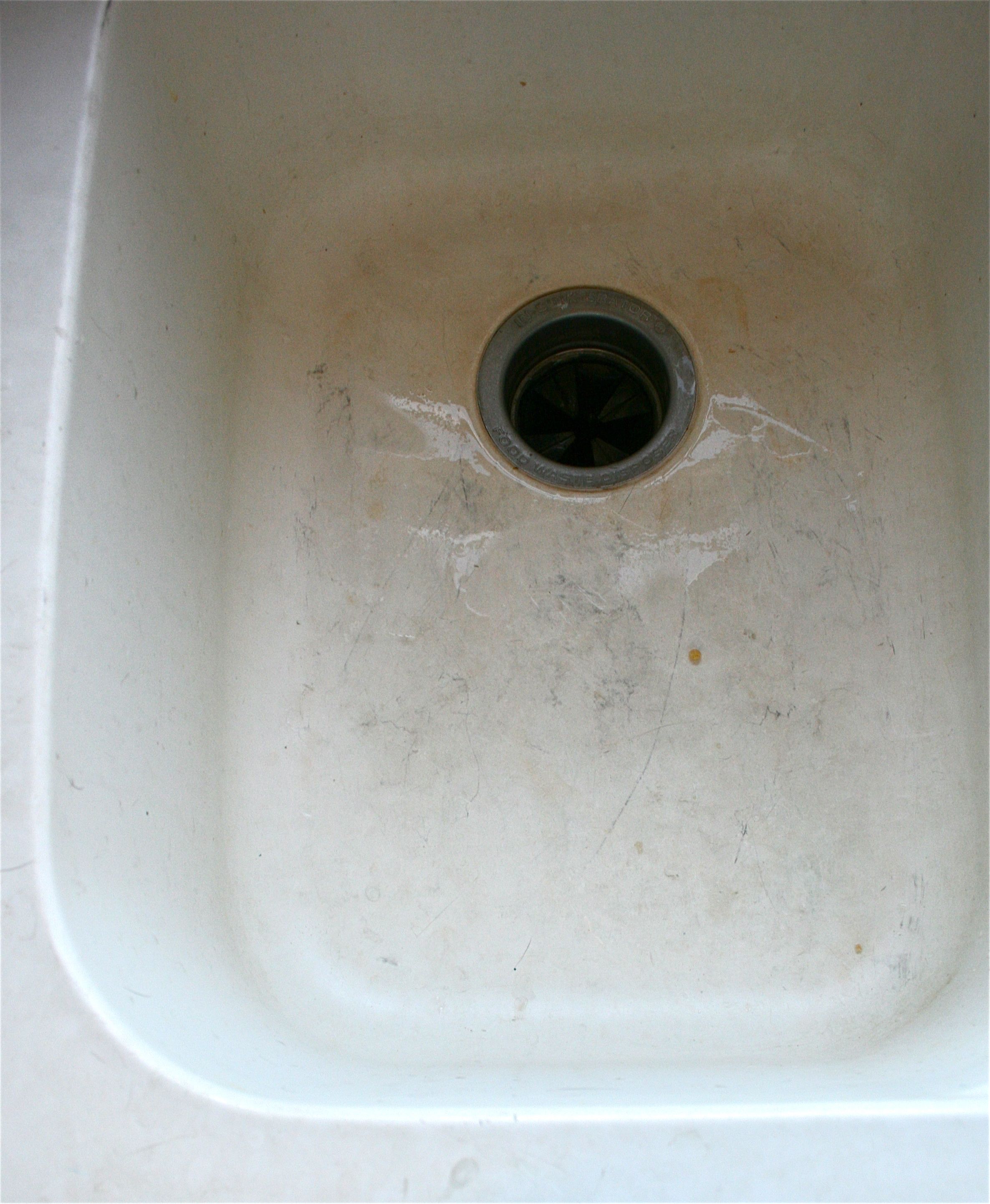 Nope – It's definitely not dirty. All of those black marks are scratches in the plastic and, I promise, we are not any harder on our sink then the average person! It's just not very pretty…And the real reason we decided to go on the new sink hunt was that we don't need a two-basin sink. We'd LOVVVVE to be able to wash a whole skillet in the sink without banging constantly into that annoying center divider. I know that some people can't live without the two separate sections, but that's just not our taste.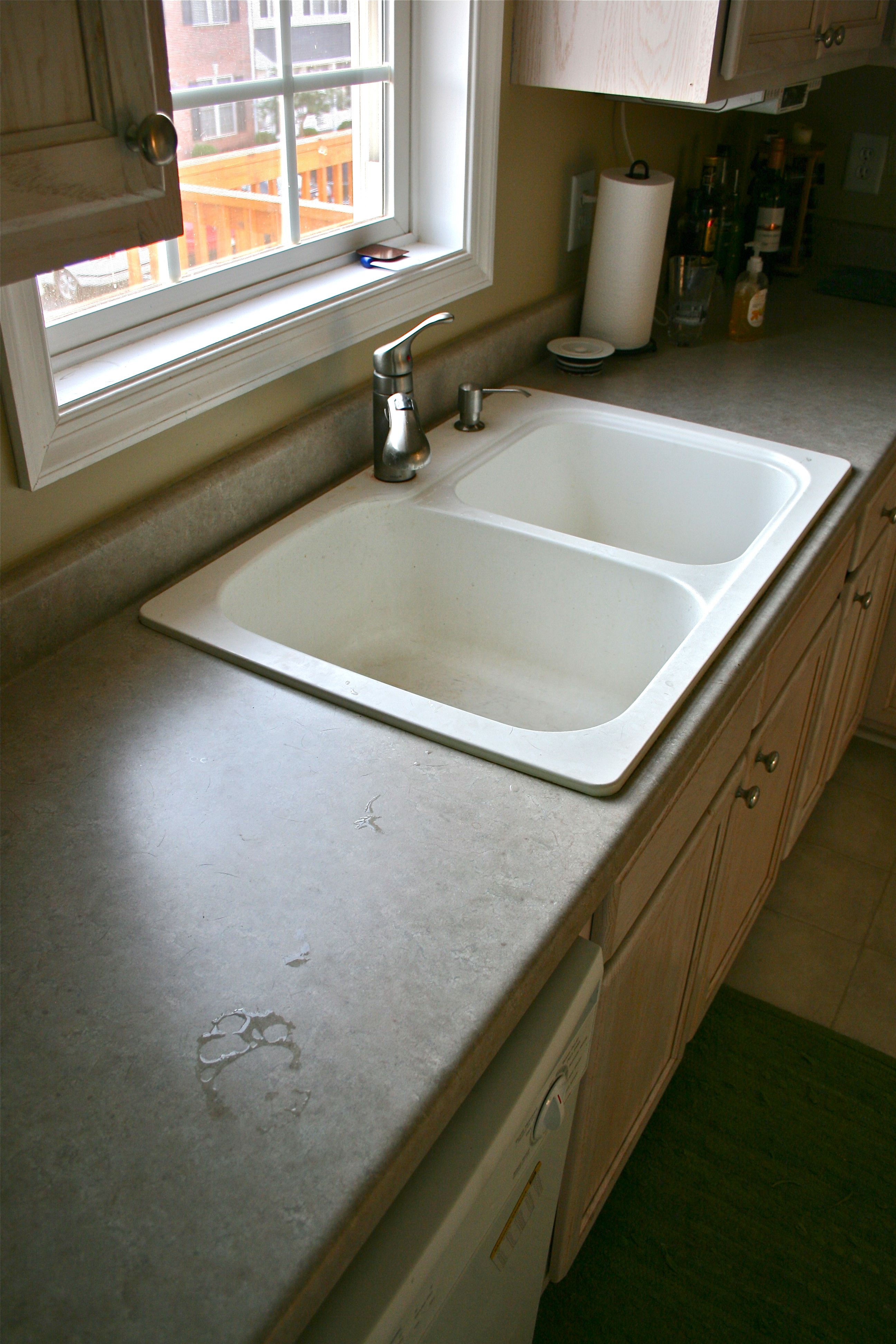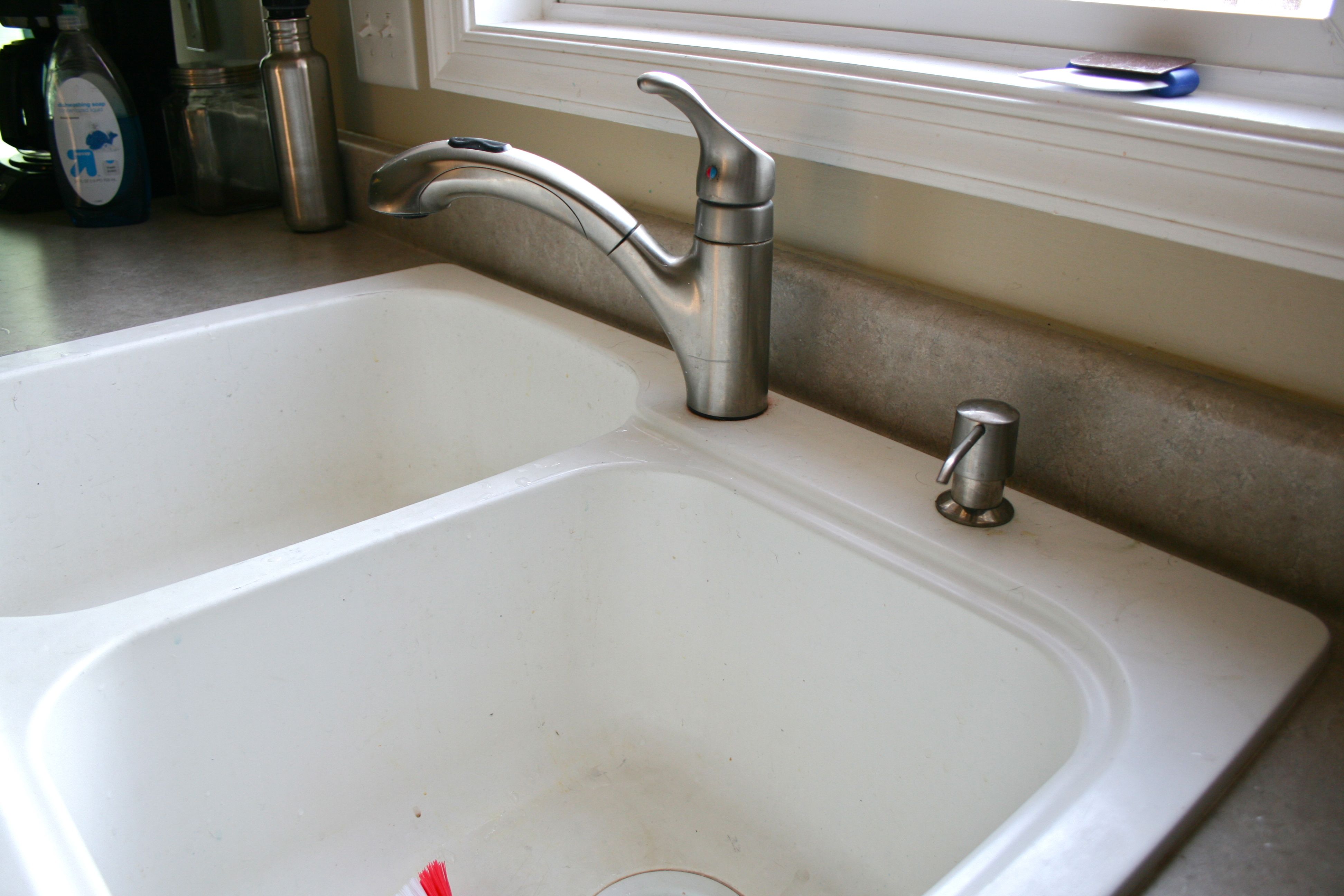 But do you know how hard it is to find a single-basin sink??? It wasn't easy…Lowe's didn't have any that were standard kitchen sink size (at least none in our price range), but Home Depot miraculously had THE PERFECT ONE!!! It was $199 – A little pricey for this frugal couple, but we were willing to start saving our pennies to get it in the near future.
Little did we know that the near future would be VERY soon…
After John discovered a big pool of water under the old sink one night (and after pouring a tiny inch-worth of water around the back and side of the sink to find water creeping down through the counter), we were more than willing to shell out the $200 to get it taken care of once and for all. We are absolutely aware that we probably just needed to reseal the old sink to fix the water seepage issue, but since we were already hoping to replace it with a new sink soon, we figured we might as well go all out. So off we went to Home Depot! We knew exactly what we wanted, namely this guy:
It came with the faucet and the two drying racks too! Pretty sweet deal if you ask me…Plus, while at the register I asked if they took competitor coupons and lo and behold they do!!! So I handed over my coveted 10% off Lowe's coupon and saved us $20 🙂
Now unfortunately, I was in the midst of housesitting for a family friend while this project was taking place, so I don't have much to report in terms of the process. But let's just say that it took John and his dad several hours to put it in place. After just now reading the reviews, (notice its 3 out of 5 stars) it seems that the worst part of the sink is it's installation difficulty. So kudos to them for getting it done in the little amount of time they did (and this was their first time installing a sink!!).
I just have to chuckle and at what the kitchen looked like when I got home: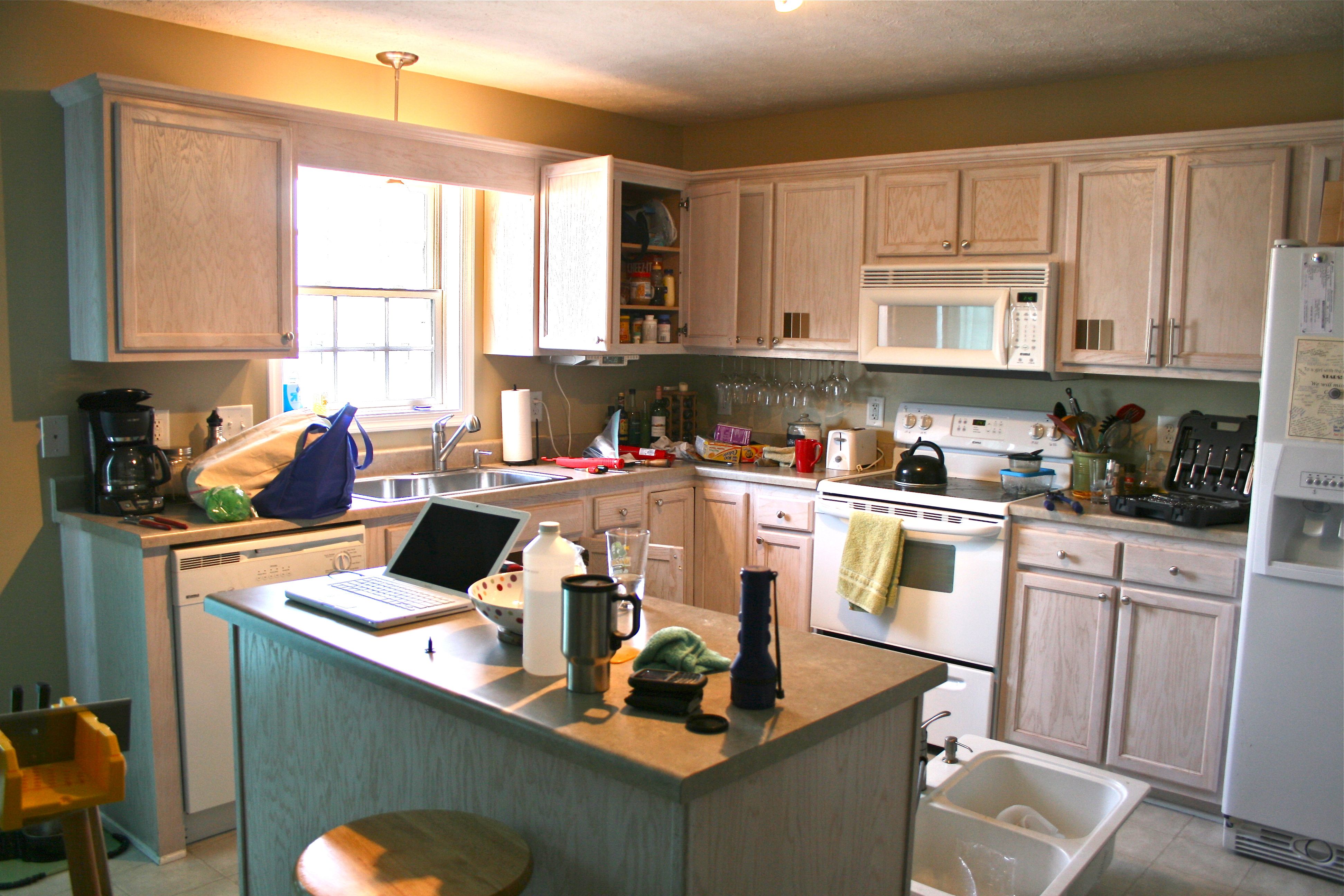 Through all of the chaos of tools and parts though, all I saw was the gleaming new sink in place… ::happy sigh:: After twenty minutes of clean up, we were back in order and the sink could REALLY shine!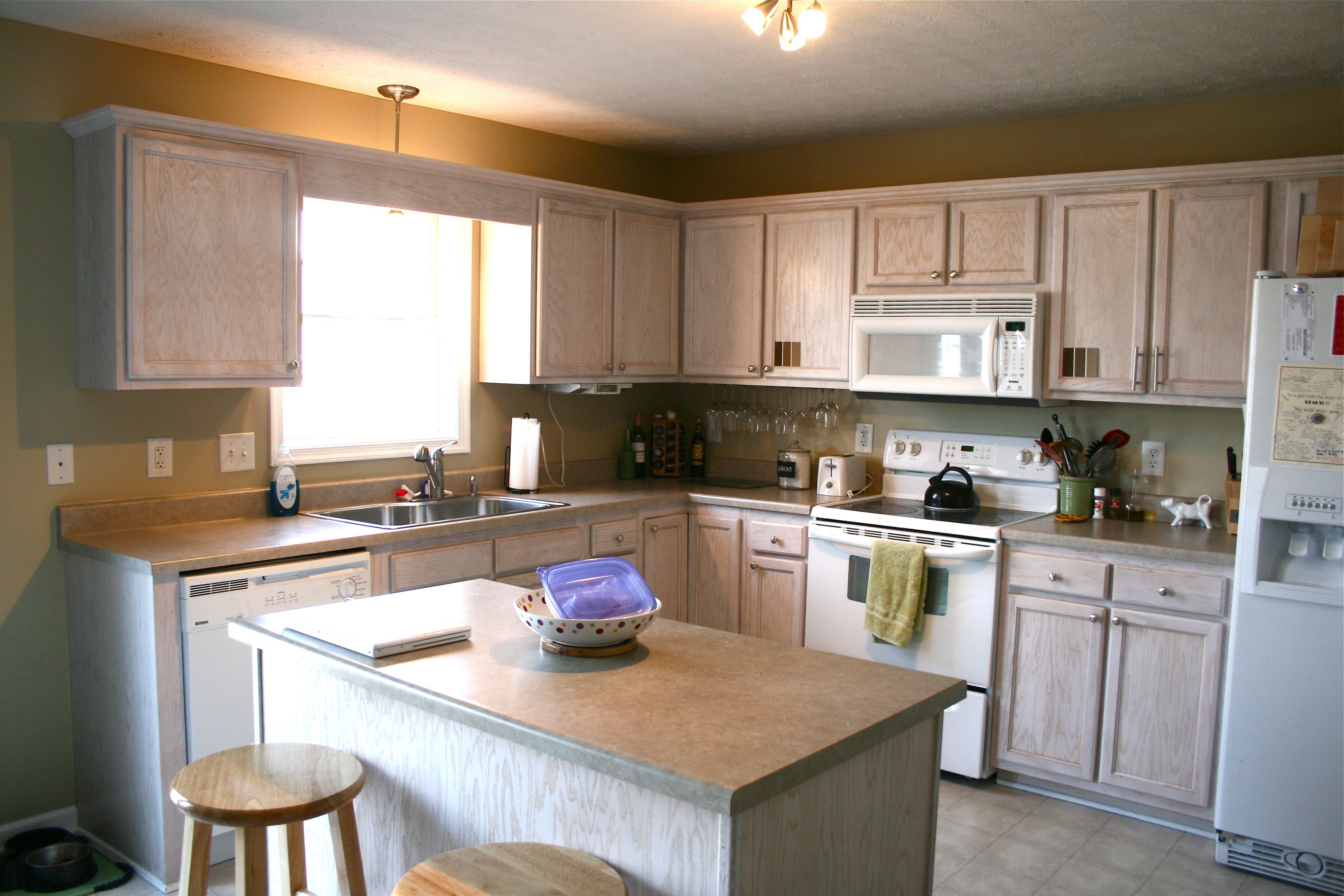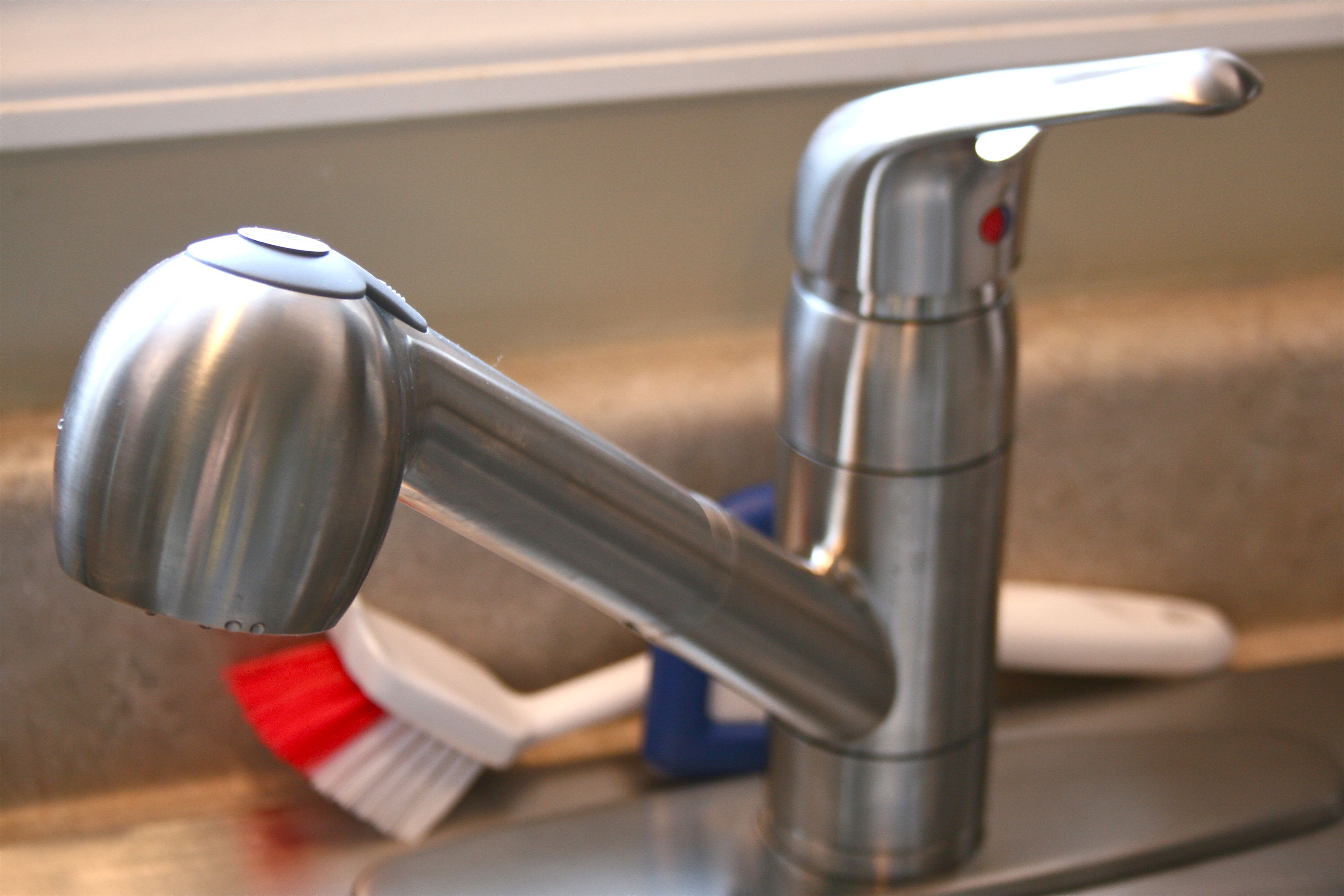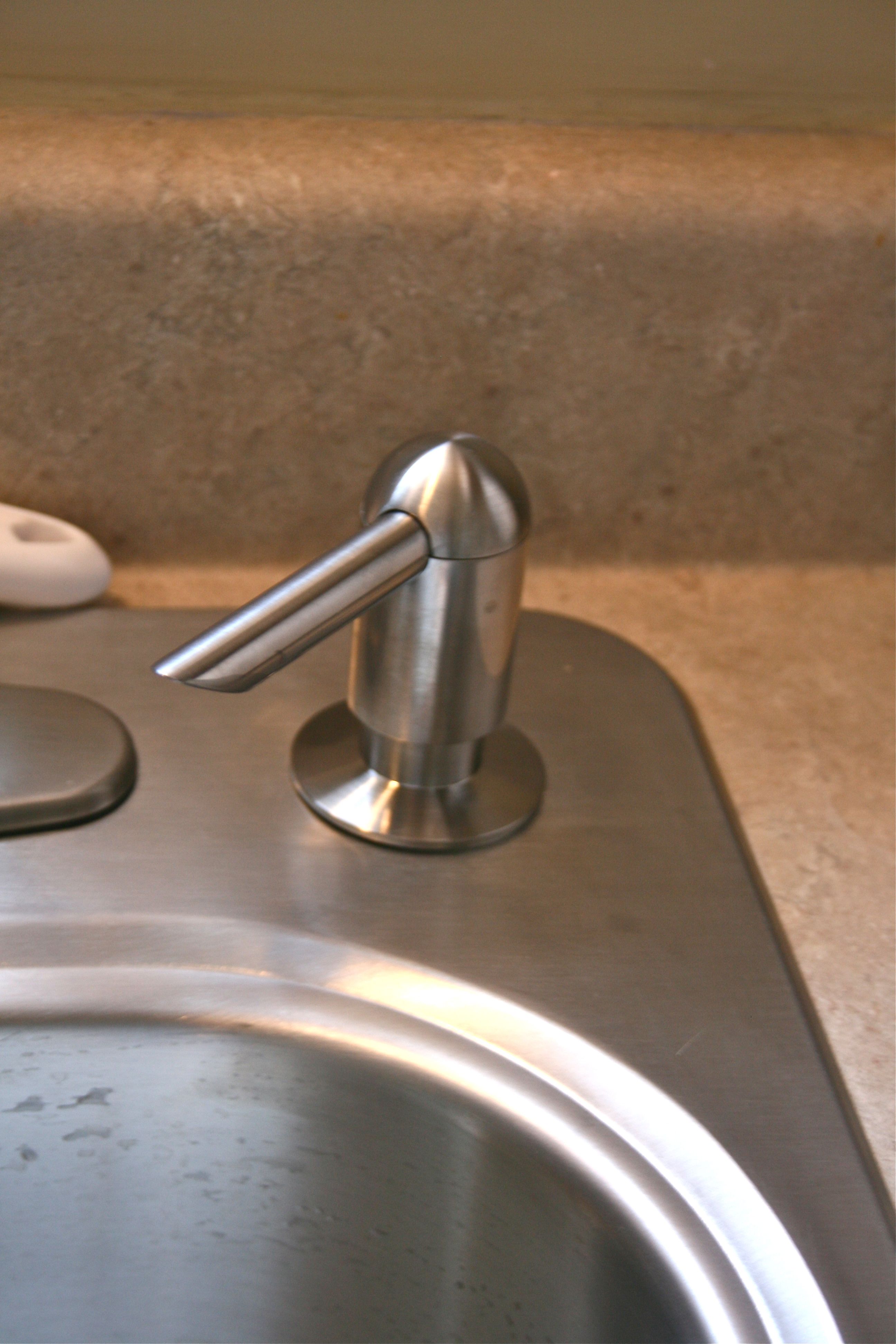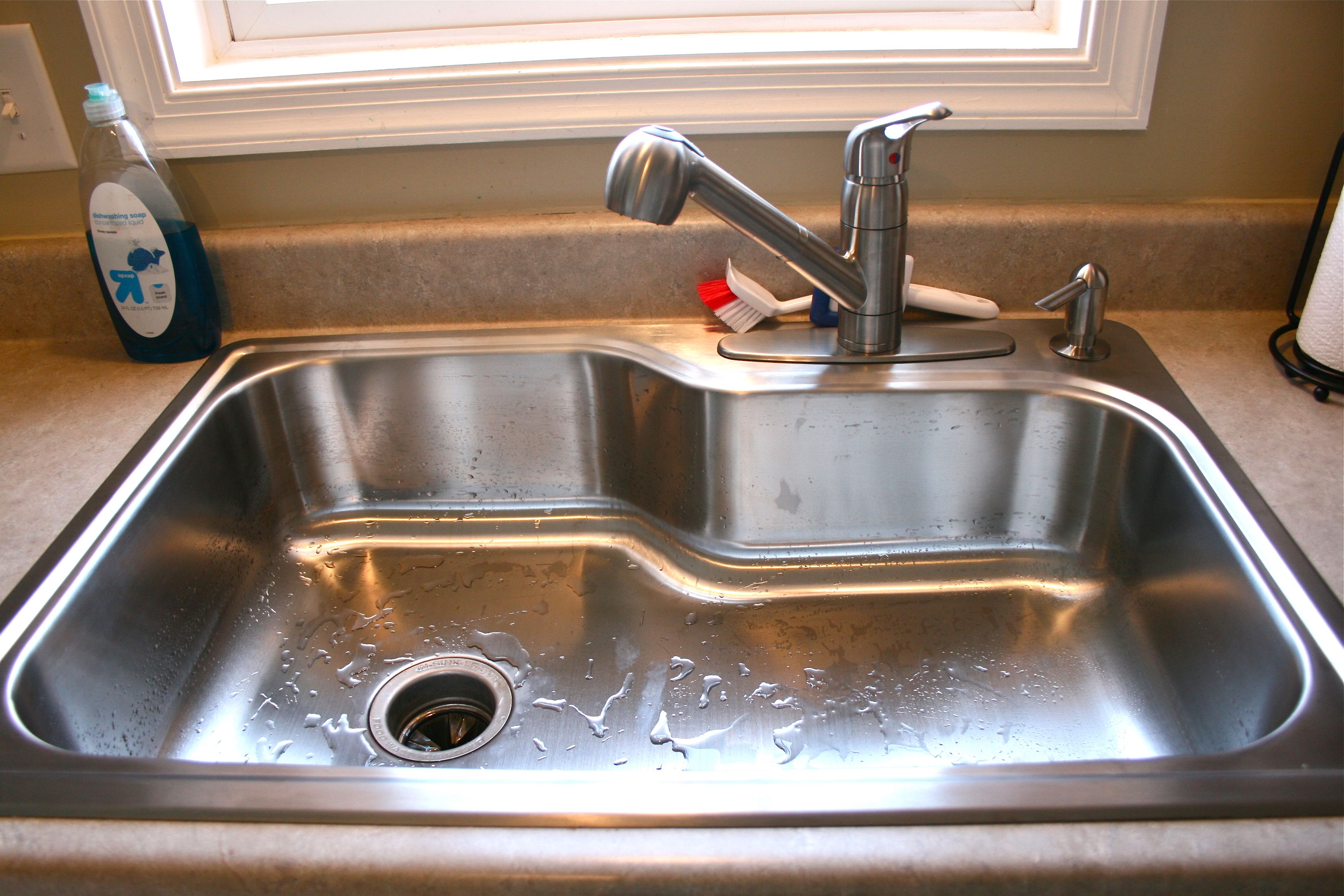 (I probably should have wiped all of the water out and cleaned it up a bit, but we all know that's not real life. Plus, as you can see from the water in the basin – It works!!!)
A week later, we aren't seeing any issues with water seepage or leakage so I think the project was a resounding success! I am forever thankful to John and his dad for their hard work in getting our kitchen back to functioning order again…An ugly old sink is definitely cause to start looking around for a new option, but an ugly old sink AND leaking water isn't something that can wait. Thank goodness for handy men (and 10% off coupons) 🙂
(Photo credit for website picture of new sink: here)