Okay, I give up. Consider this my little white flag…I know I said that I was going to cut back my "Thrift Store SCORE!" posts to one a month so that I could subsequently limit my intake of thrifted purchases, but I think we all knew that wasn't going to last. There was no way I was going to wait until September to show off my latest second-hand gem!
Allow me to introduce you to the little trouble maker that ruined my best-laid plans: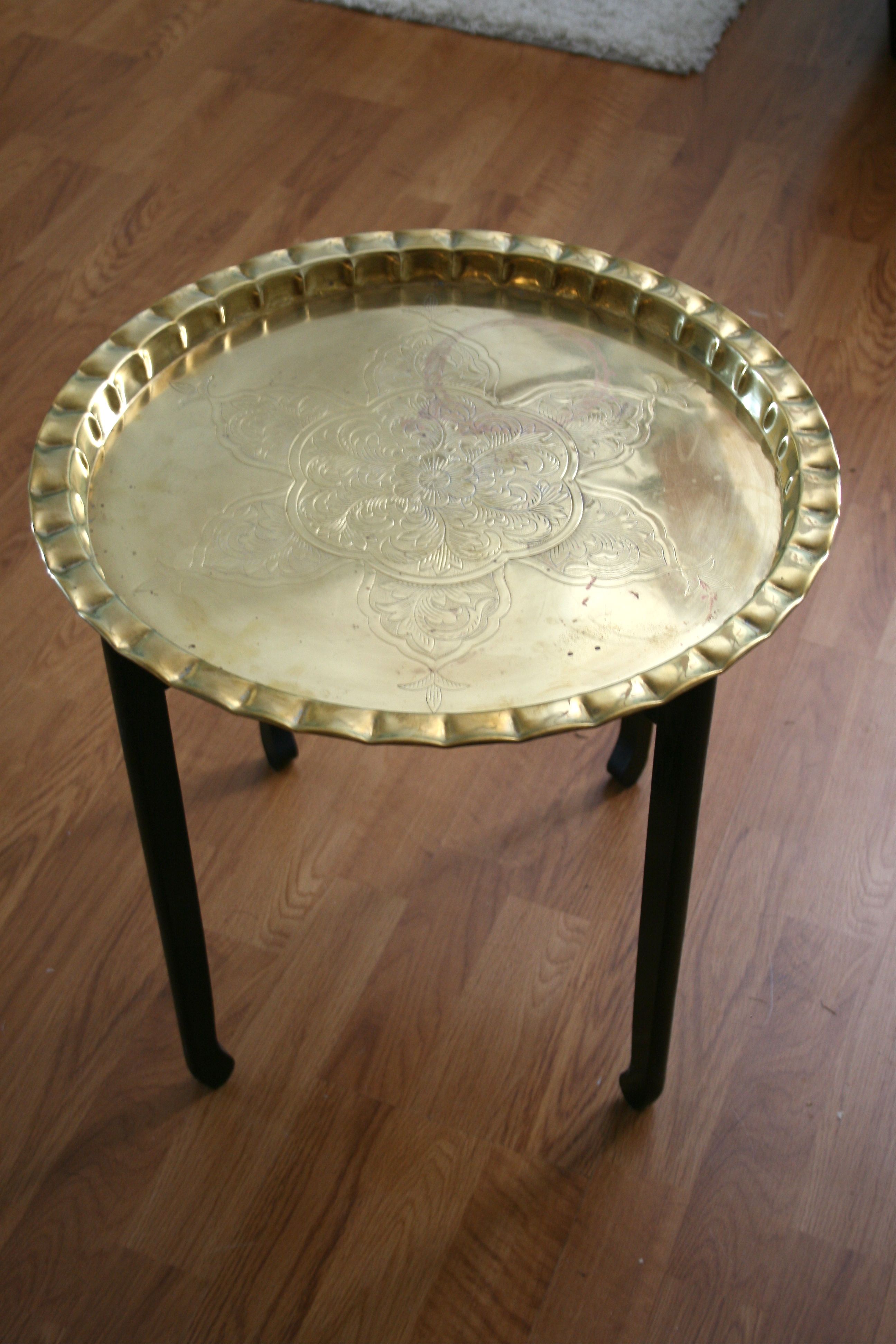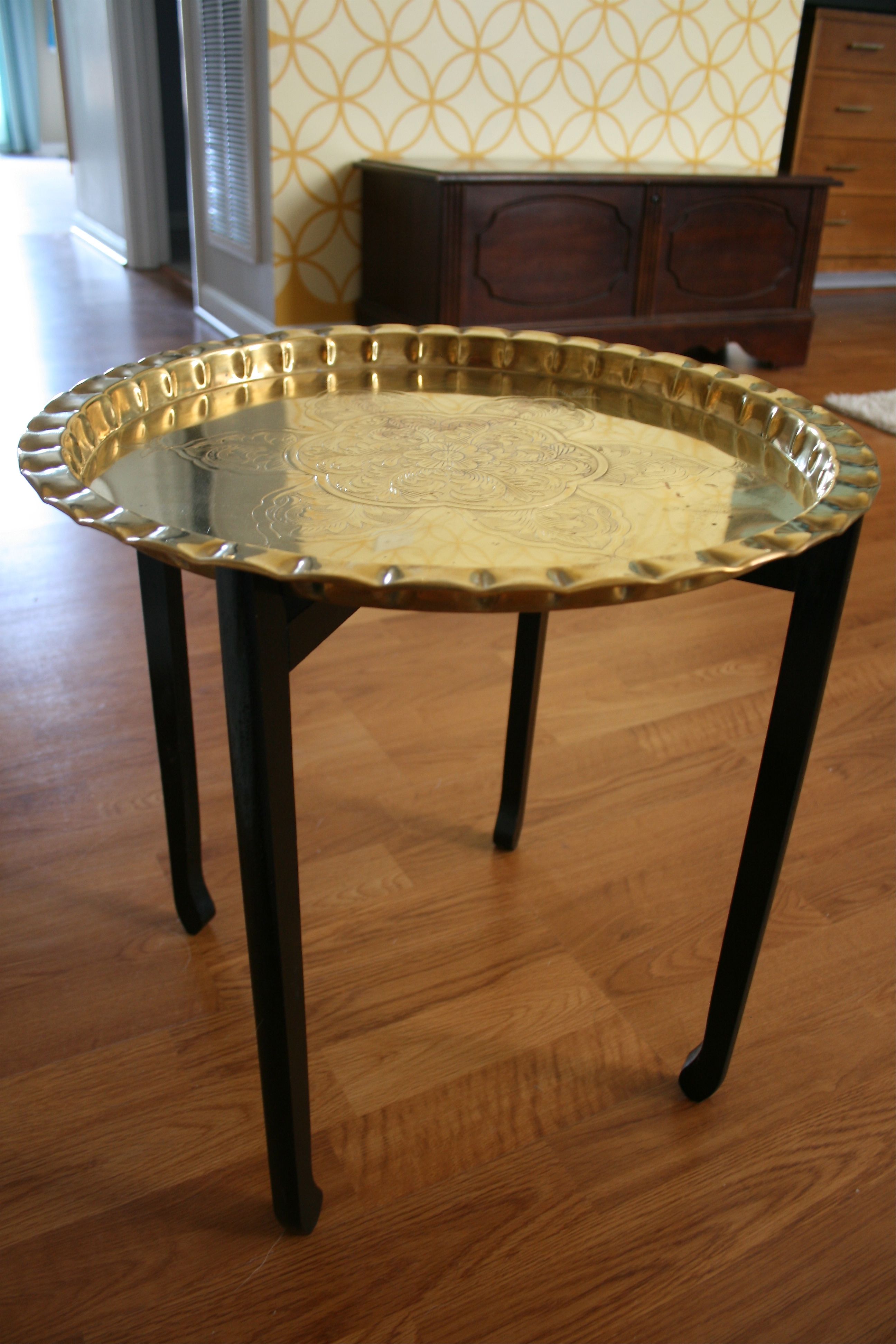 Now let me just interject that I TRIED to resist buying this table…I first glimpsed it a week and a half ago when mom and I were out hunting for vintage plates for the wedding, but I passed it by. It was a little pricey (at $45) and I didn't know where I would put it. At least not at the time…Fast forward a week and I couldn't get the dang thing out of my head! I wondered aimlessly throughout the house for a few minutes desperate to find a spot for the table – That's when I had my light bulb moment…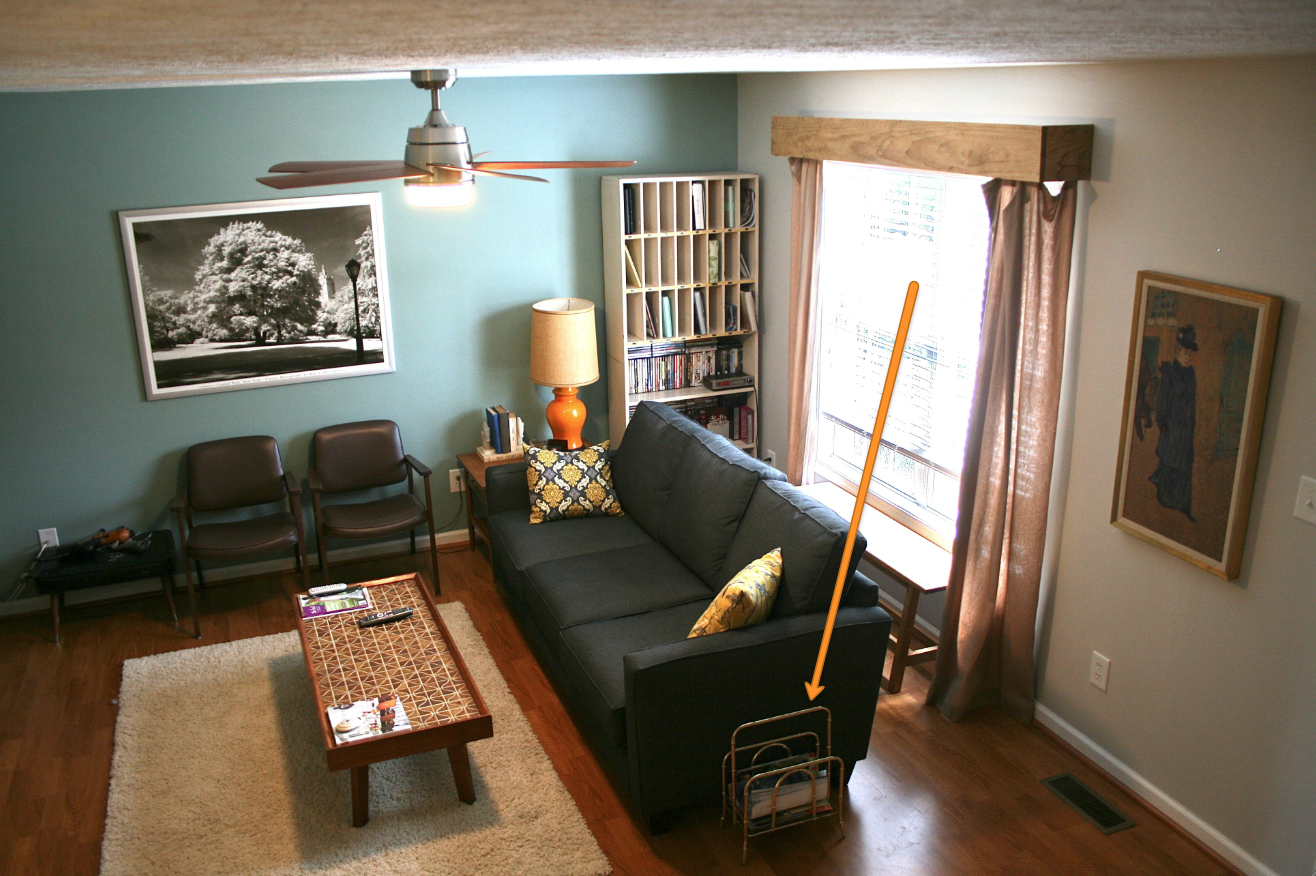 The living room sofa could EASILY accommodate an extra side table after moving the magazine rack out of the way!!!
So when my sister came to visit for the weekend and suggested that we drop by the thrift store, I casually shrugged and nodded all the while dreaming of the little golden Moroccan table that I was going to swoop up. The only problem was that it wasn't there 🙁 I searched and searched but couldn't find it anywhere – I'm fine with admitting that I probably circled the huge warehouse piled high with old furniture, records, trinkets and art about two or three times to come away with nada.
As we left the store with NOTHING in hand (there's a first for everything right?) I took it as a sign that I didn't need another piece of furniture and I should probably save that $45 for something like groceries – Something practical. Even though an extra side table is pretty "practical" when you need to set down a drink…
::sigh::
My sister and I parted ways for the afternoon and I decided to take some time to myself with my Kindle (John was off with his guy friends to Roanoke for the day). So there I was sitting on the couch, all nestled and calm, when it suddenly hit me that I knew where the table was.
Allow me to explain…This particular thrift store is composed of two separate warehouses – One is a bit more rugged and you have to dig for treasures, whereas the other is more like a boutique. After Kat and I left the first warehouse, she even asked if I wanted to go up to the other one, but I shook my head and said "I don't think I need anything up there…" – But in fact I DID need something up there!!!
Yes, I got back in my car. Yes, I made a SECOND trip downtown to the same store I was at an hour beforehand. And yes, I finally found and purchased my latest "Thrift Store SCORE!" for a cool $40.00 (I talked her down $5).
This is what I love about thrift store finds…The stories that go along with them 🙂
So here are a few more details of my little table: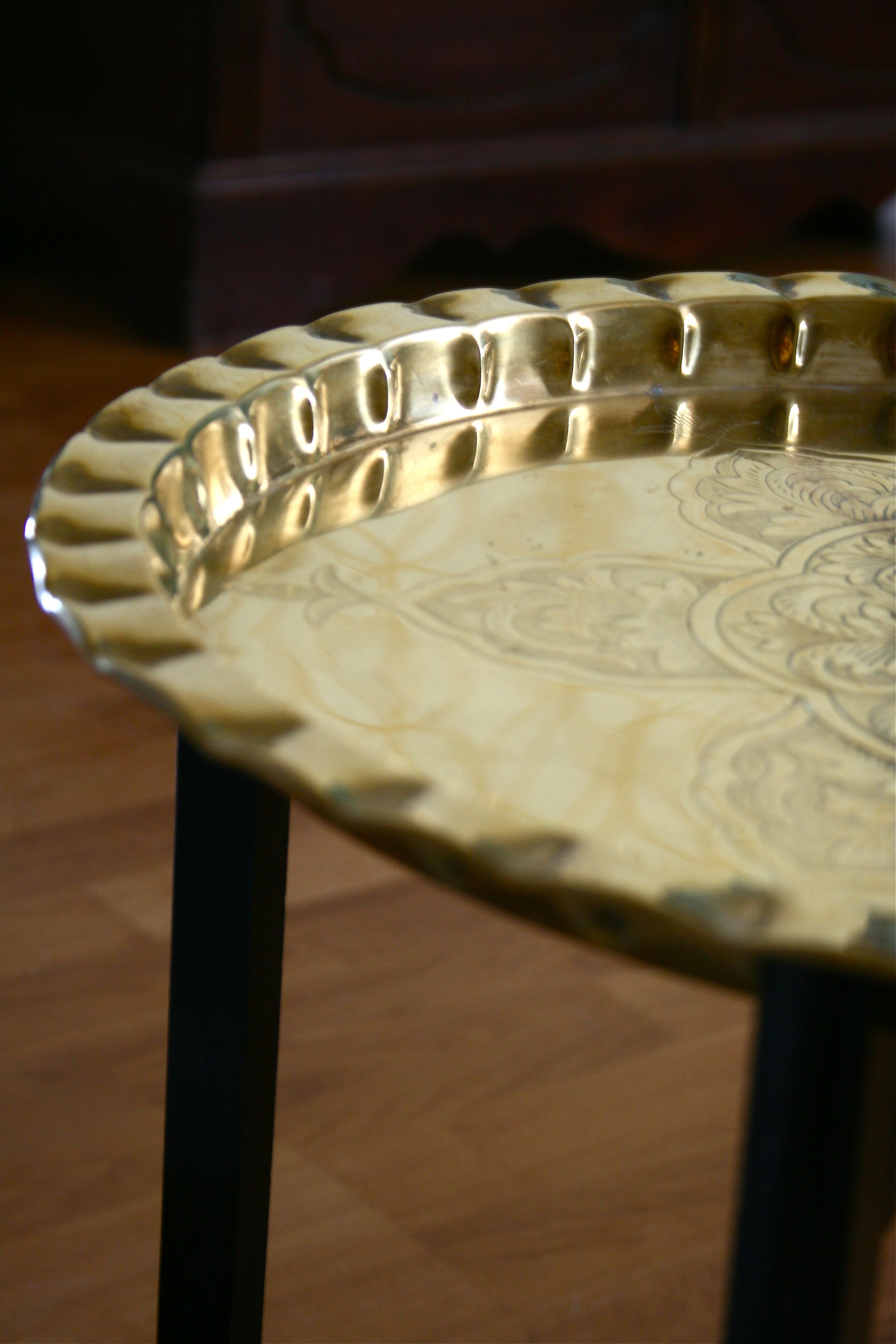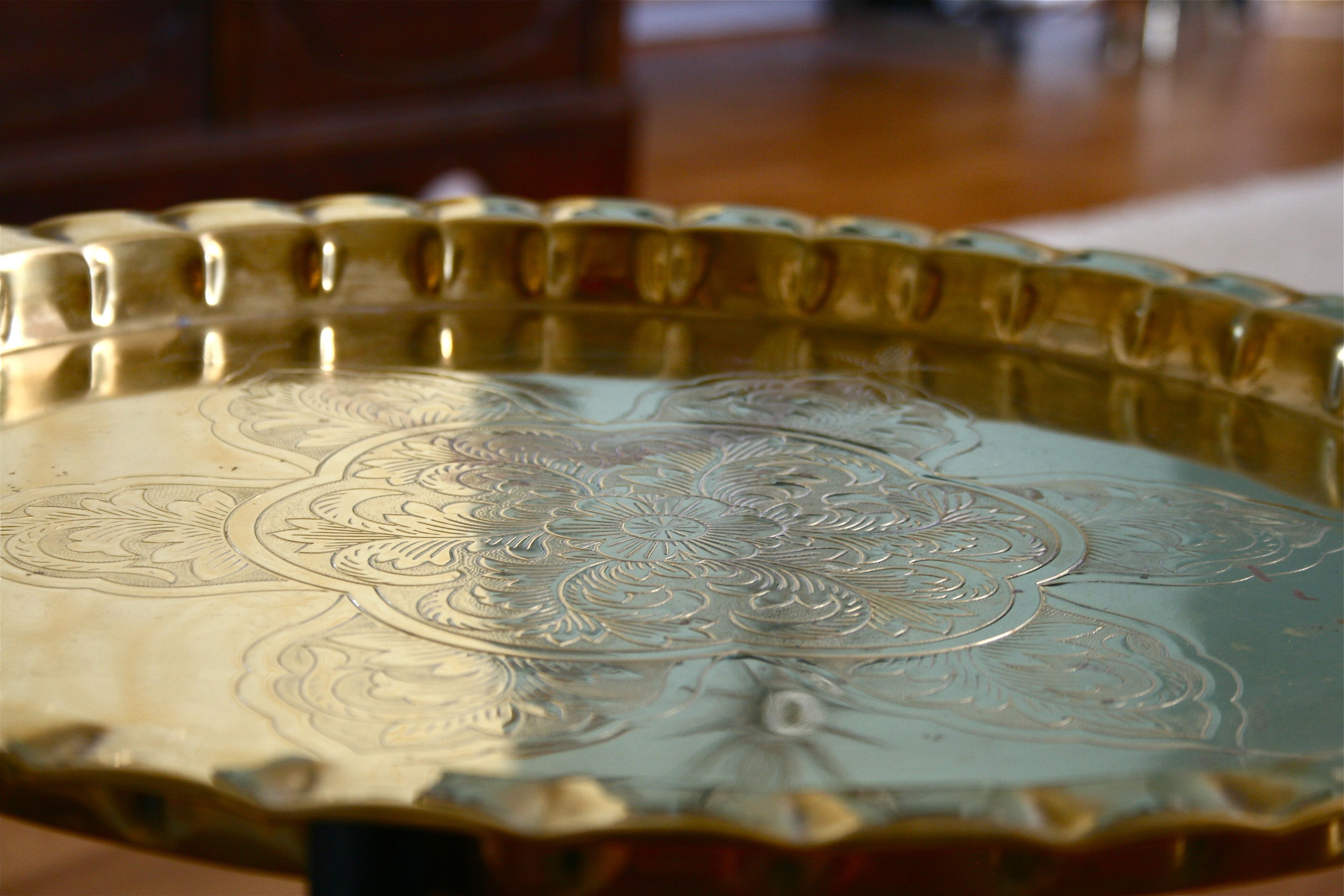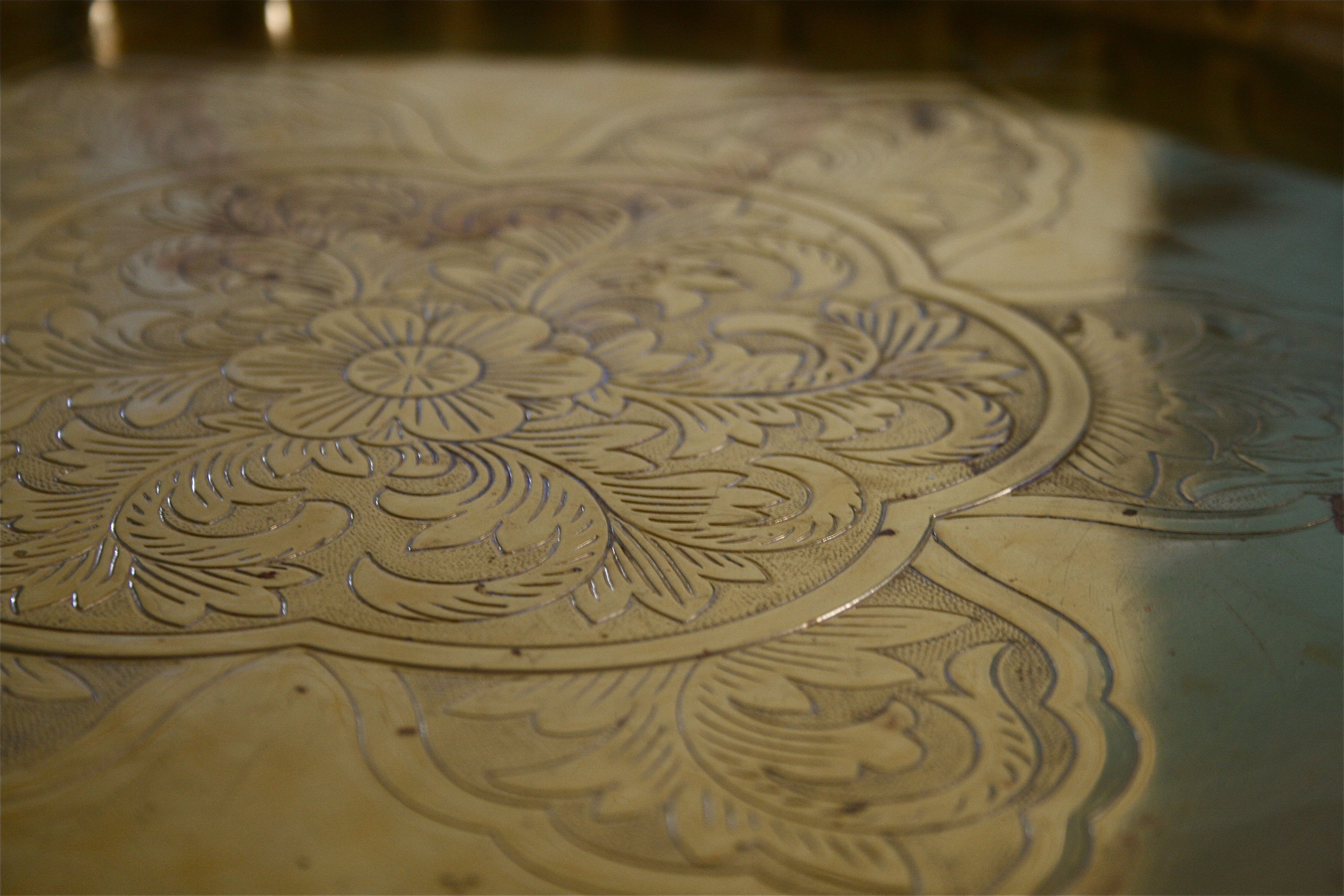 I love all of that intricate detail! And the metallic finish definitely plays up the gold tones throughout the room – Like the yellow stenciled wall and new art print.
Here it is all styled up – It looks like Ginny the cat thinks it's pretty enough to stare at!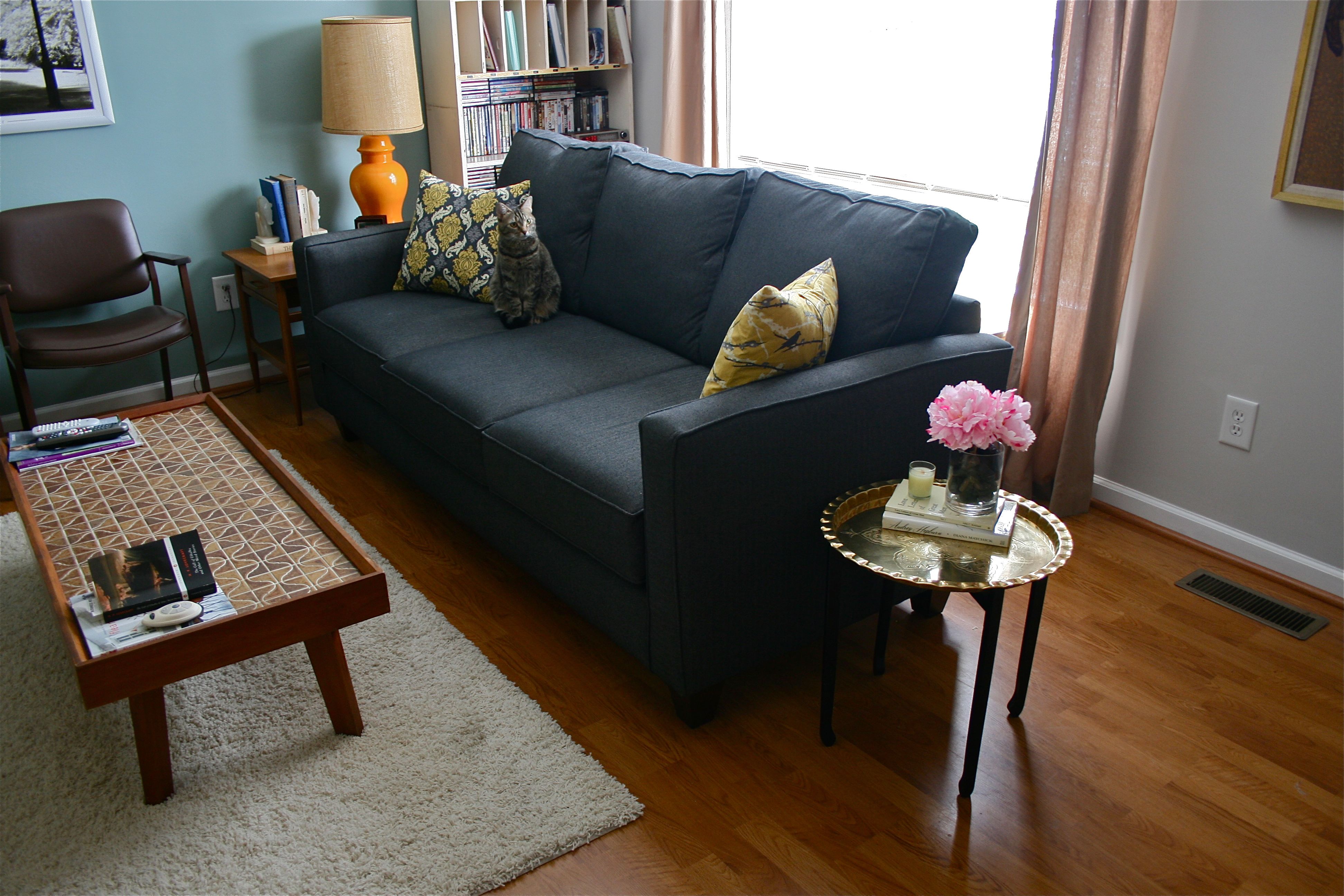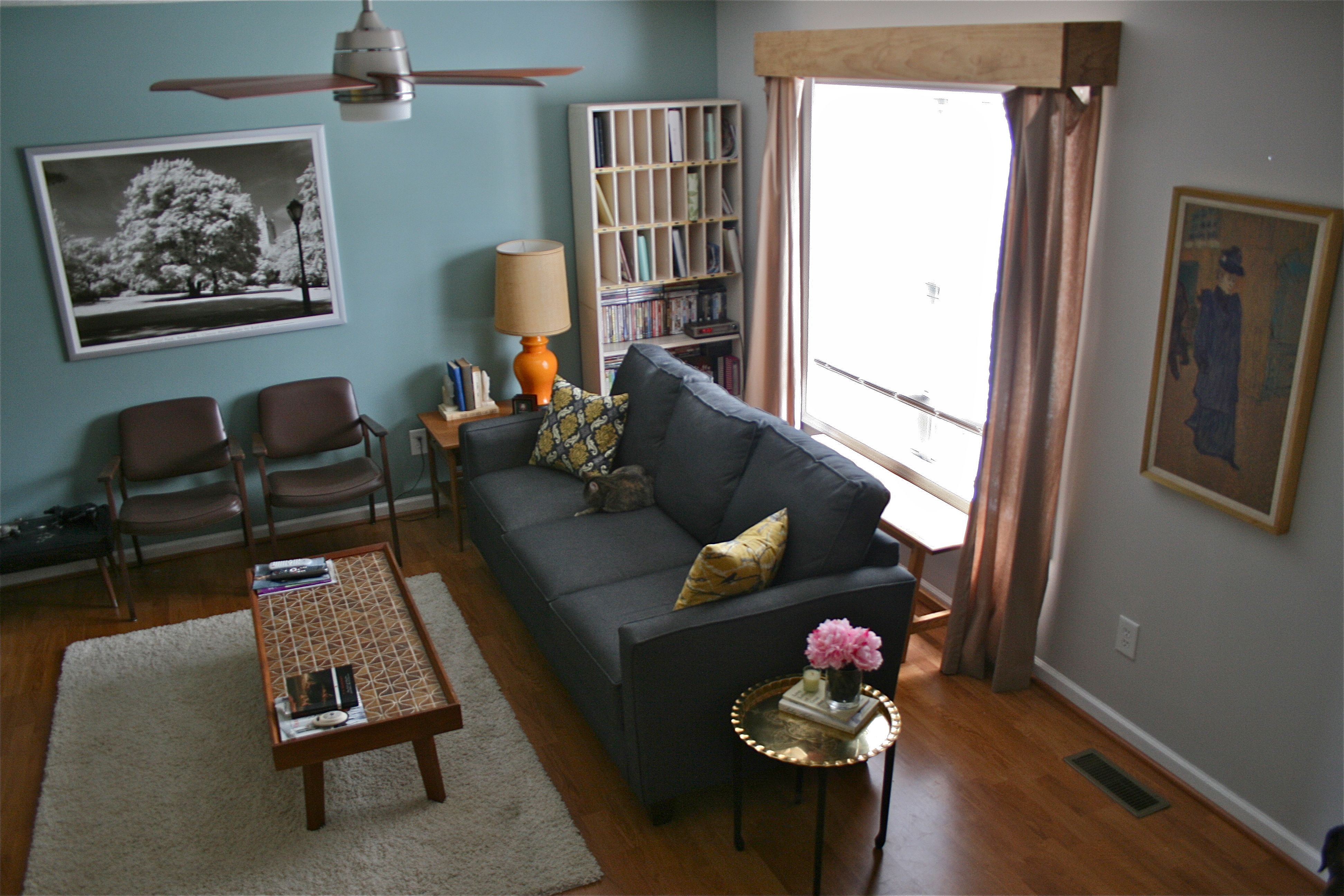 I was a little sad to displace the awesome magazine holder (a past "Thrift Store SCORE" gushed about here), but it found a new home upstairs in our bedroom and I think it works very well in its new spot.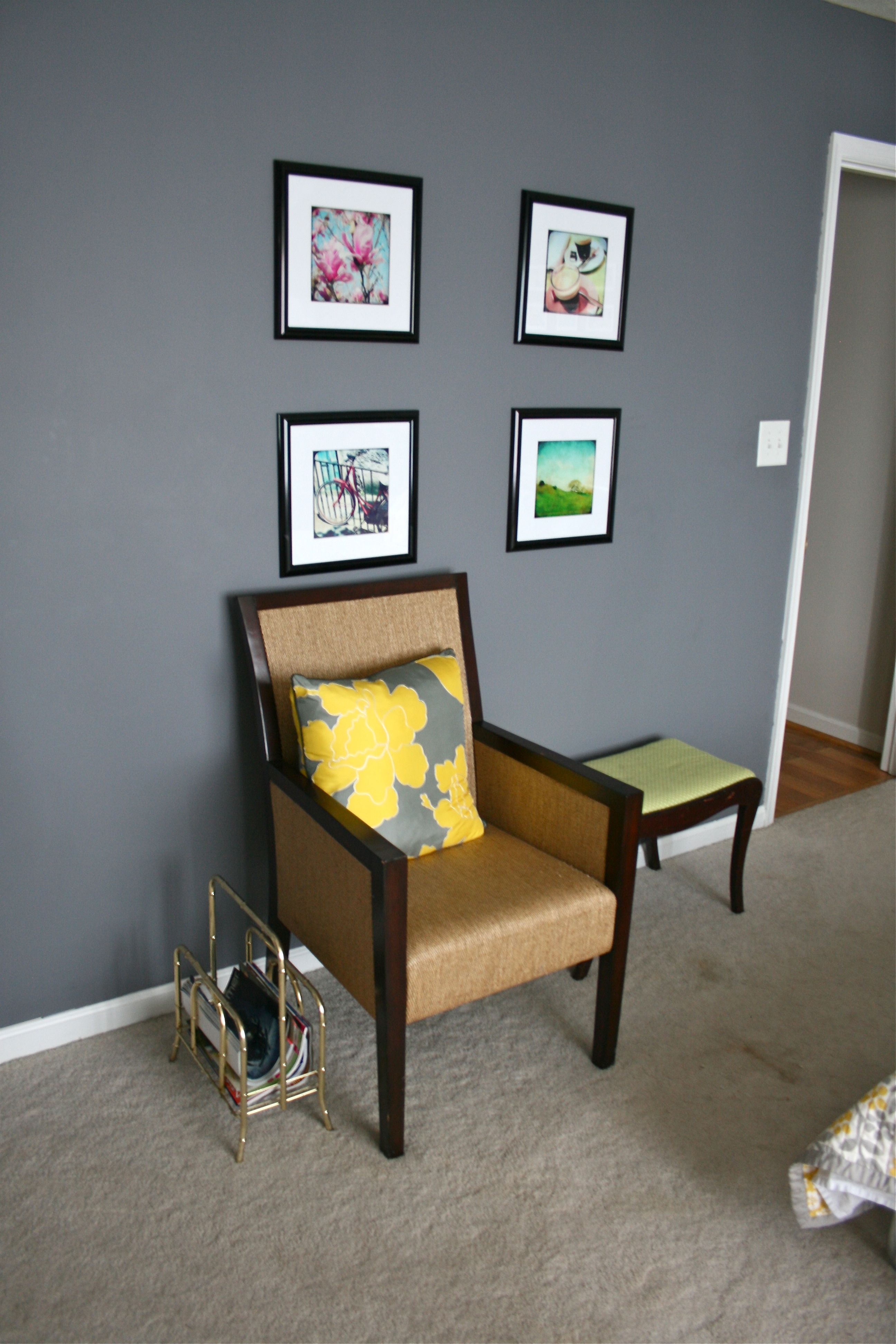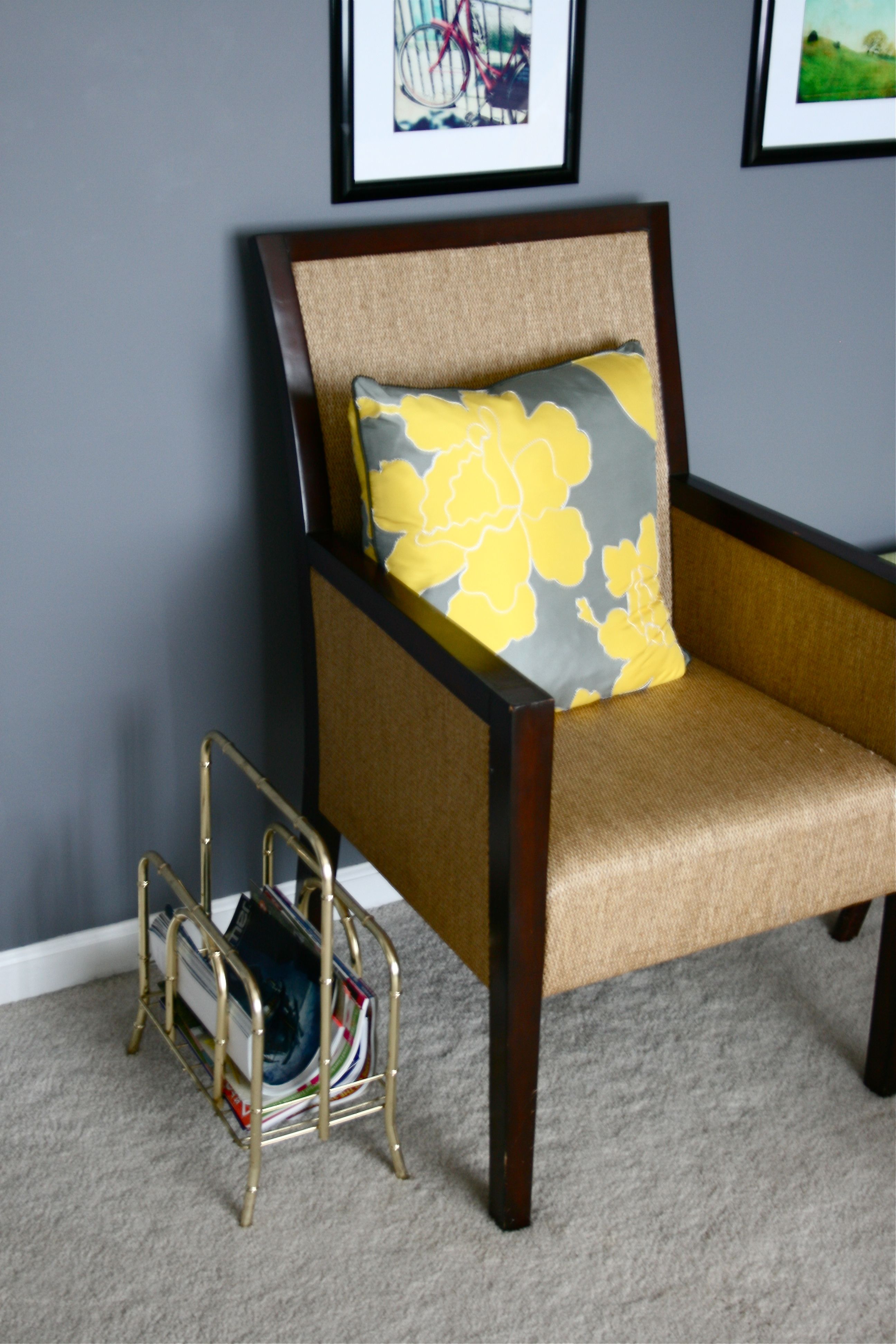 A place for everything and everything in its place…
Hope you have a great weekend and happy thrifting!!! John and I have plans to hit up our favorite out-of-town thrift store tomorrow so stay tuned next week (hopefully) for something new I've got up my sleeve 🙂