We are back with another installment of "Mag Tag" – This time we're flipping through the latest Better Homes and Gardens, the September issue. There were so many fun features between this month's pages! And most of them were all about my favorite time of year: Fall…Oh, how I have enjoyed my morning walks with Rocky as of late – The air is so crisp and fresh. Of course, by lunch time, all of that cool deliciousness is gone after the sun toasts everything up nicely…But at least the dog and I get to enjoy it for ten minutes. Pretty soon it will be Fall-like all day long! Can't wait…It always seems to go by too quickly though. Before you know it, I'll be on here complaining about the bitter cold of Winter (which I am NOT a fan of), but oh well…I should enjoy each and EVERY day as it comes, right??
Anyway, on with the Mag Tagging…Love the cover with all it's oranges, reds and browns.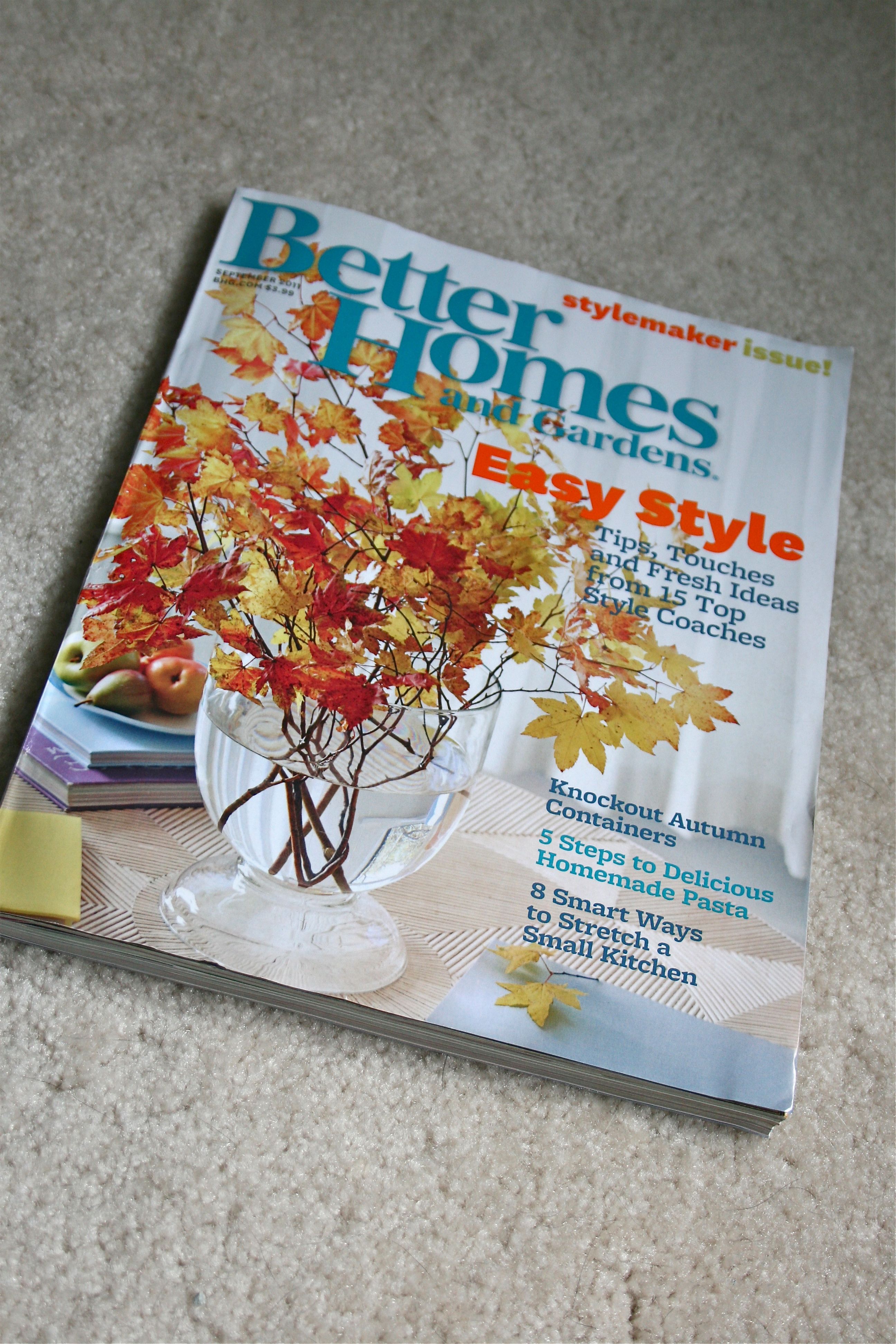 They had a small featurette about e-readers, which I thought was fun. I am still very much enjoying my Kindle (you can read all about my initial reaction and researching here) – This is kind of terrible to admit, but I am actually finding myself reading more often then before. Who knows, maybe it's just the novelty of it all (did you catch that little pun I threw in there?? 🙂 ). My mom bought a Nook over the weekend and seems to be really enjoying it so far. I never thought I'd say this, but power to the e-reader!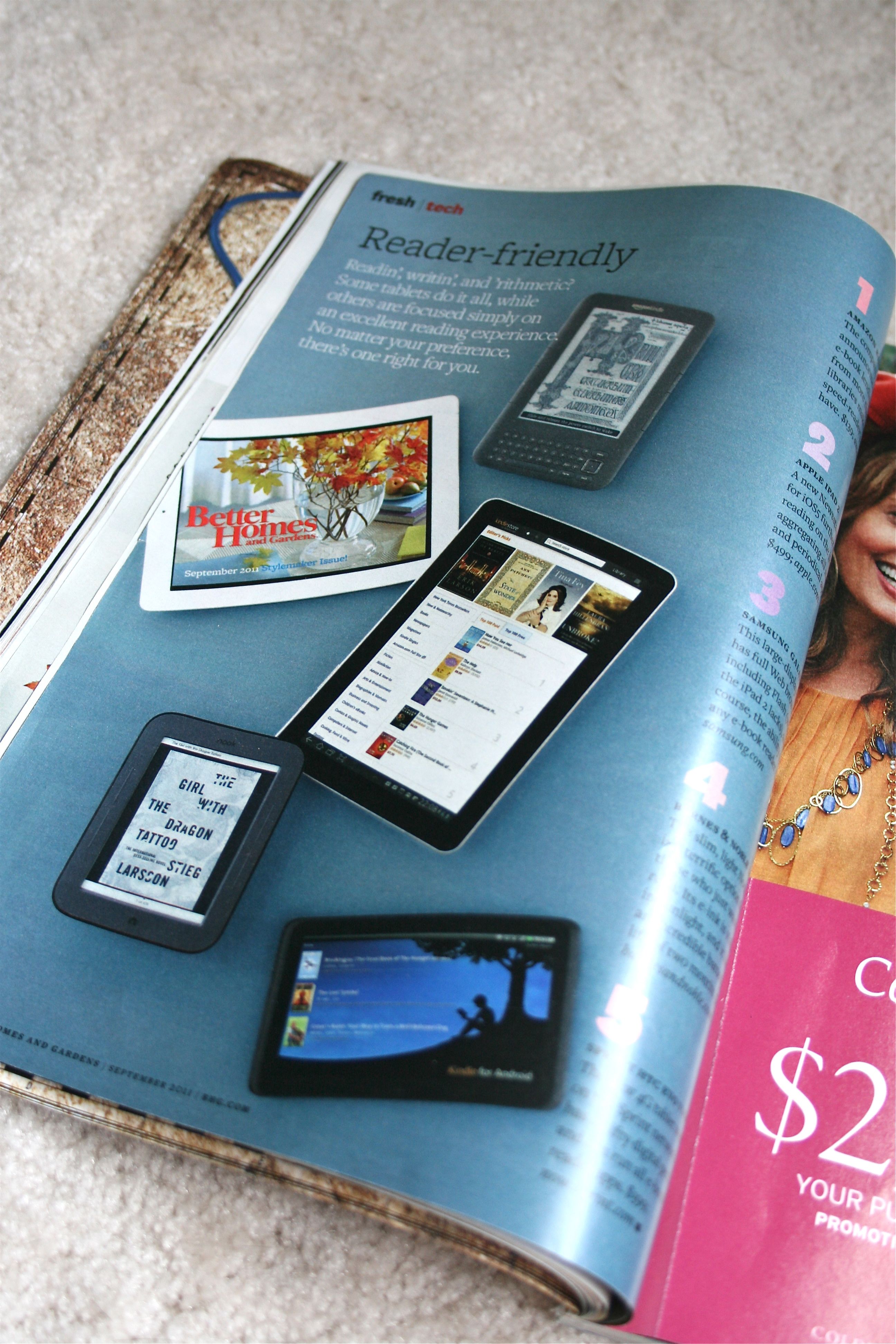 I saw this and had to gush a moment – Seems like my good friend, Savannah, has set yet ANOTHER trend (see the first one in last month's "Mag Tag" here) – This time, BH&G writers are spouting off about a very familar material to be used behind glass in a tray…Corks!!! You can't see it very well, but it's in the big lefthand photo with wine glasses sitting on top.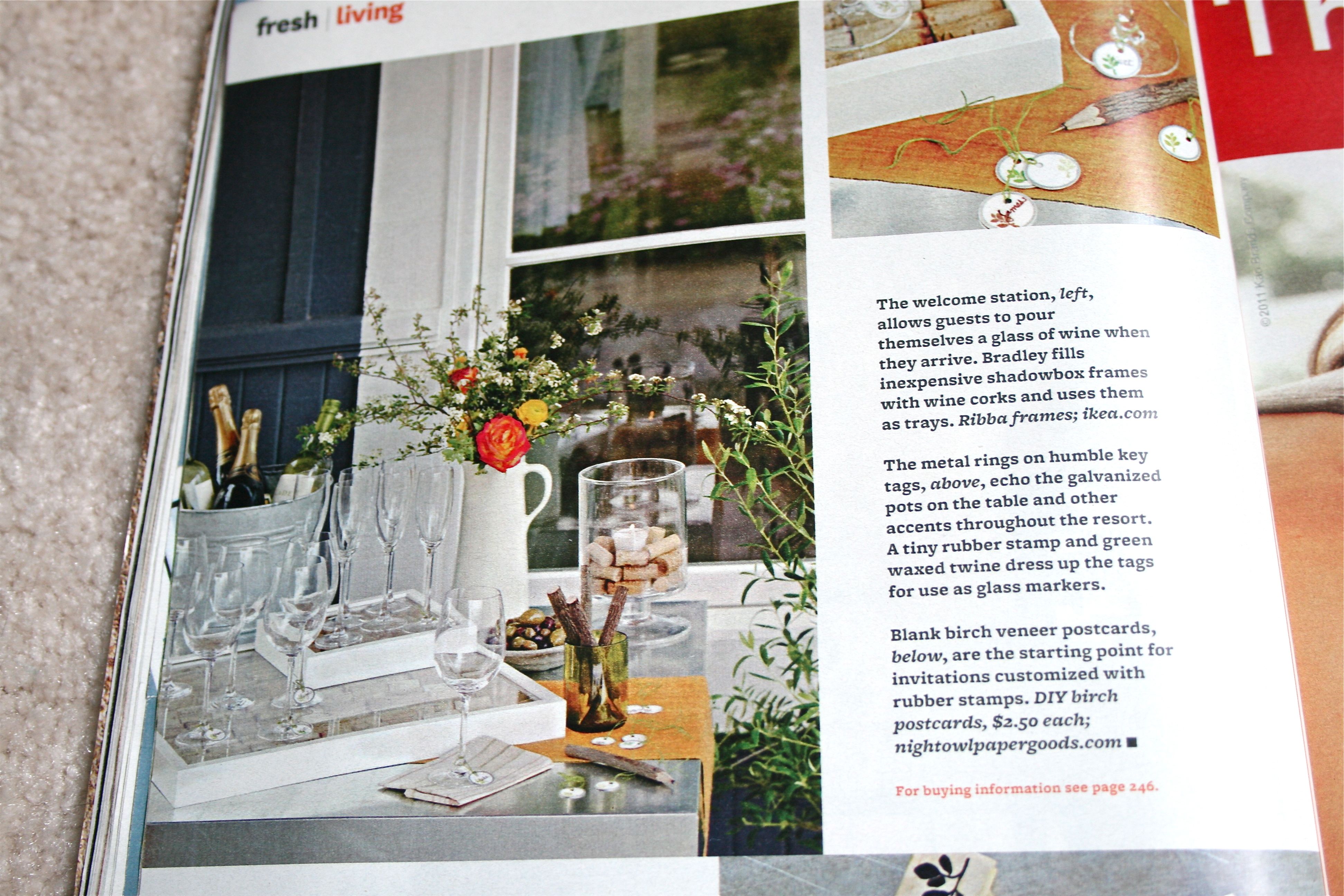 Here's a small closeup they snuck into the upper corner of the page. Pretty neat idea – Way to go, Savannah, on beating them to it!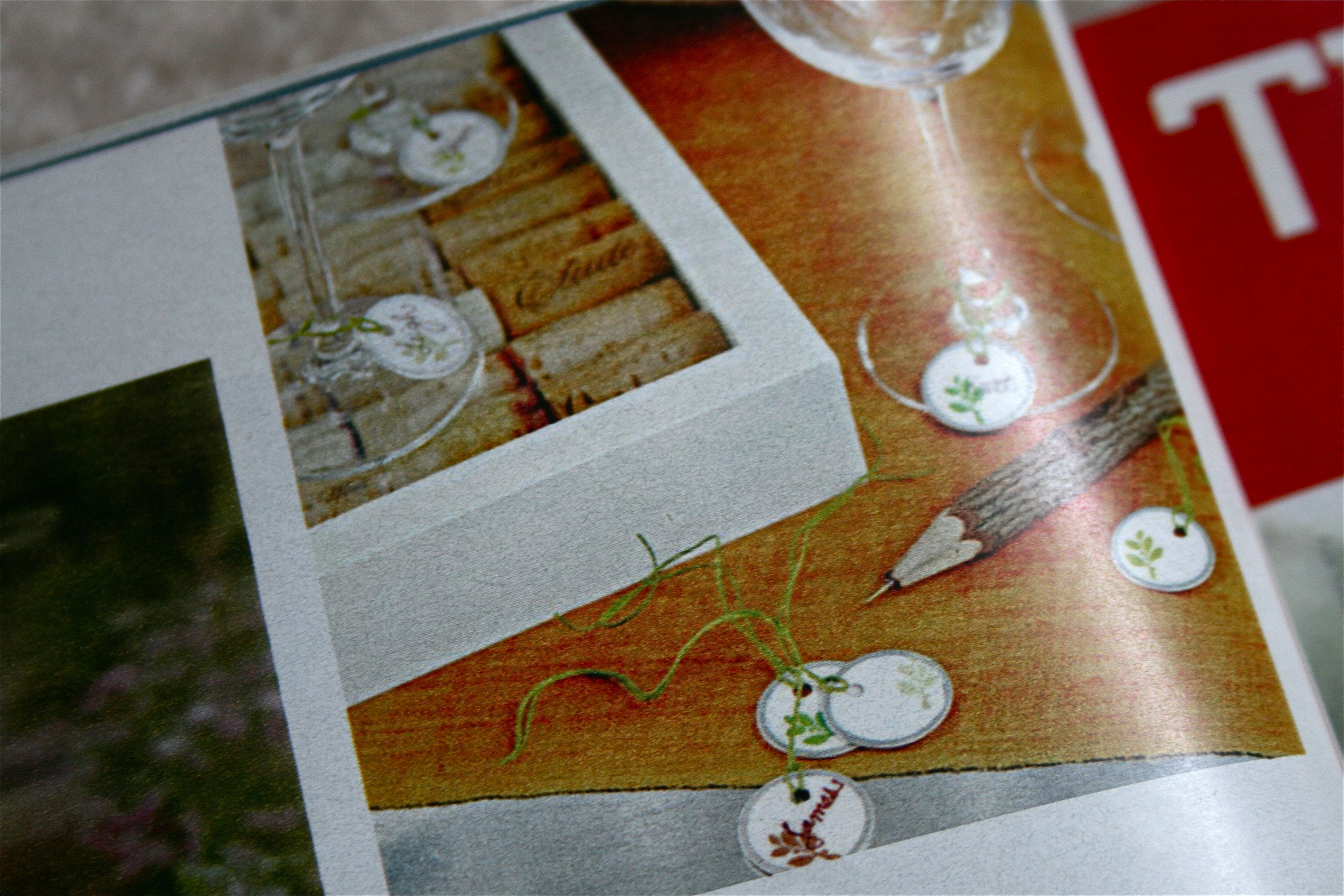 Check out this amazing idea for postcards!!! They are actually made out of slivers of wood! By grabbing some fun stamps, you can really dress up this organic take on paper snail mail. Find them here (for only $3.25 each!).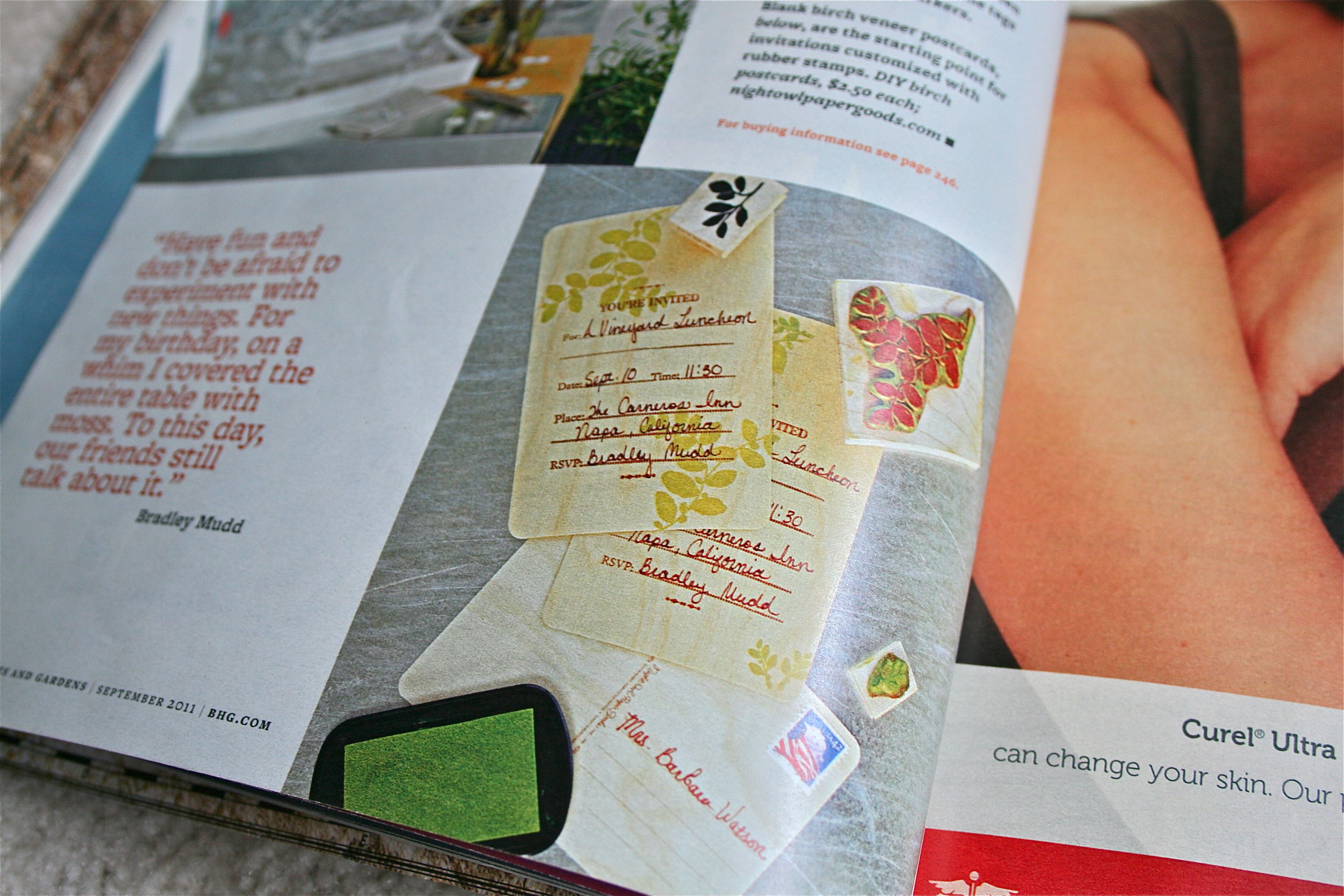 The rainbowed bookshelf below reminds me of my own bookshelf styling 🙂 Mine's not quite as hip though…Still need to get rid of a few novels before it looks as light and airy as this shelving unit. I love the bright yellow color they used! And the little accessories throughout have my heart going pitter patter. I don't know why, but I am really into bookshelf styling these days. Still trying to get the hang of it…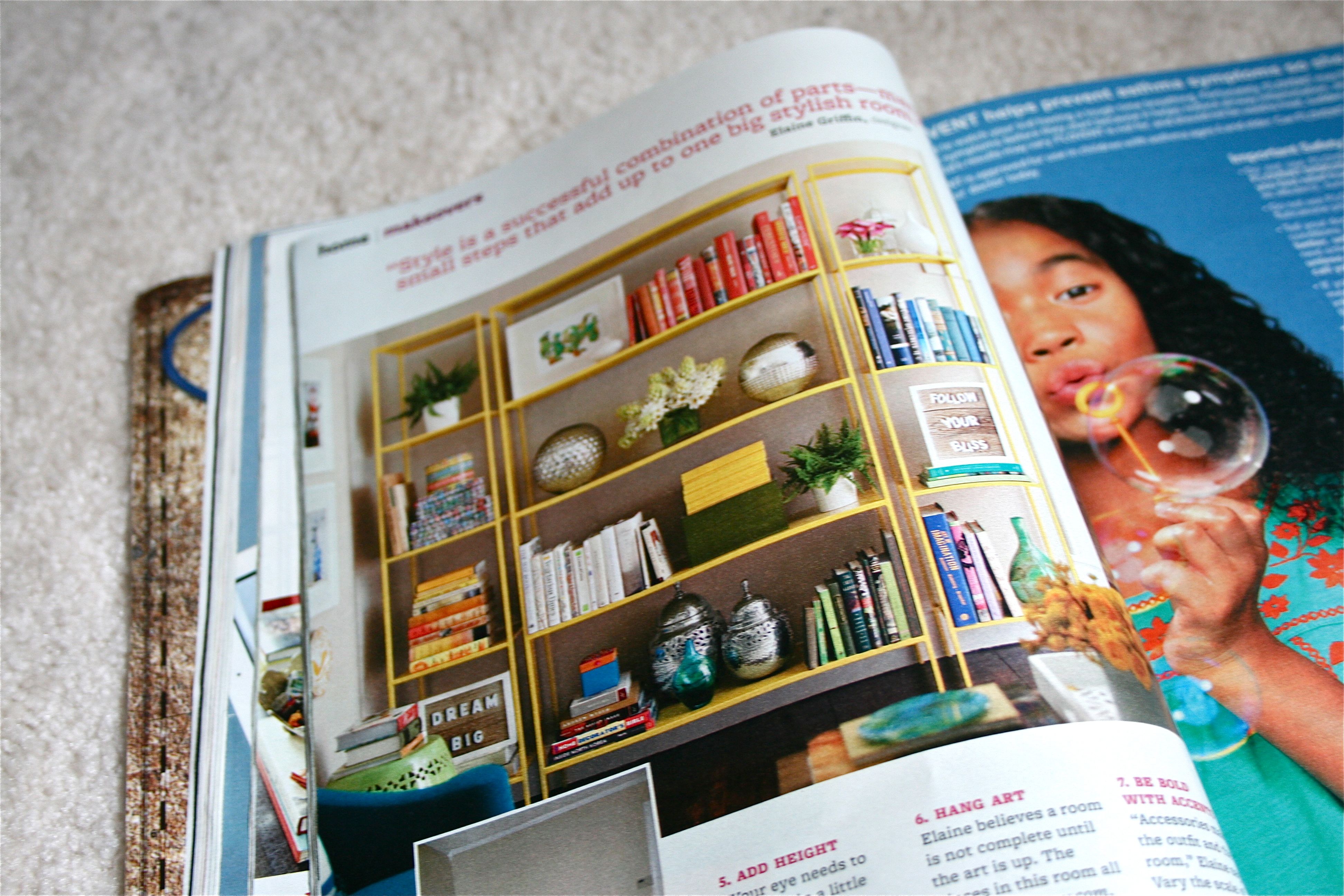 Nice use of could-be-wasted space along the wall descending the staircase by Grace Bonney of Design Sponge – She never fails to impress. Looking forward to flipping through her book, which comes out September 6th!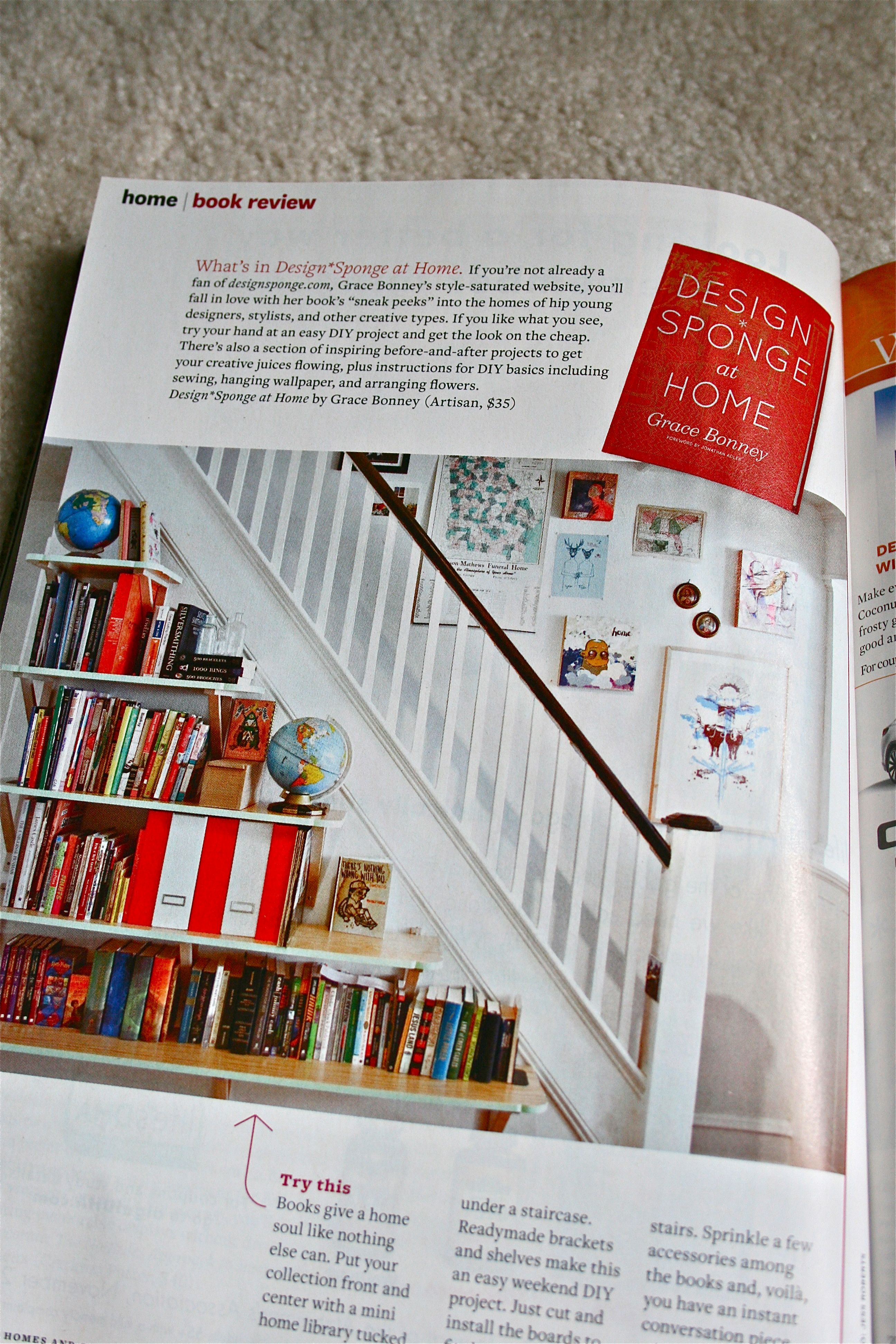 I got super excited when I flipped to this feature 🙂 I love me some Stacy London…The way that woman dresses (and the way she successfully dresses OTHER people) is to die for. I'd love for her to come over and give me a lesson in what not to wear! Although I hope there wouldn't be too many things thrown into the trash…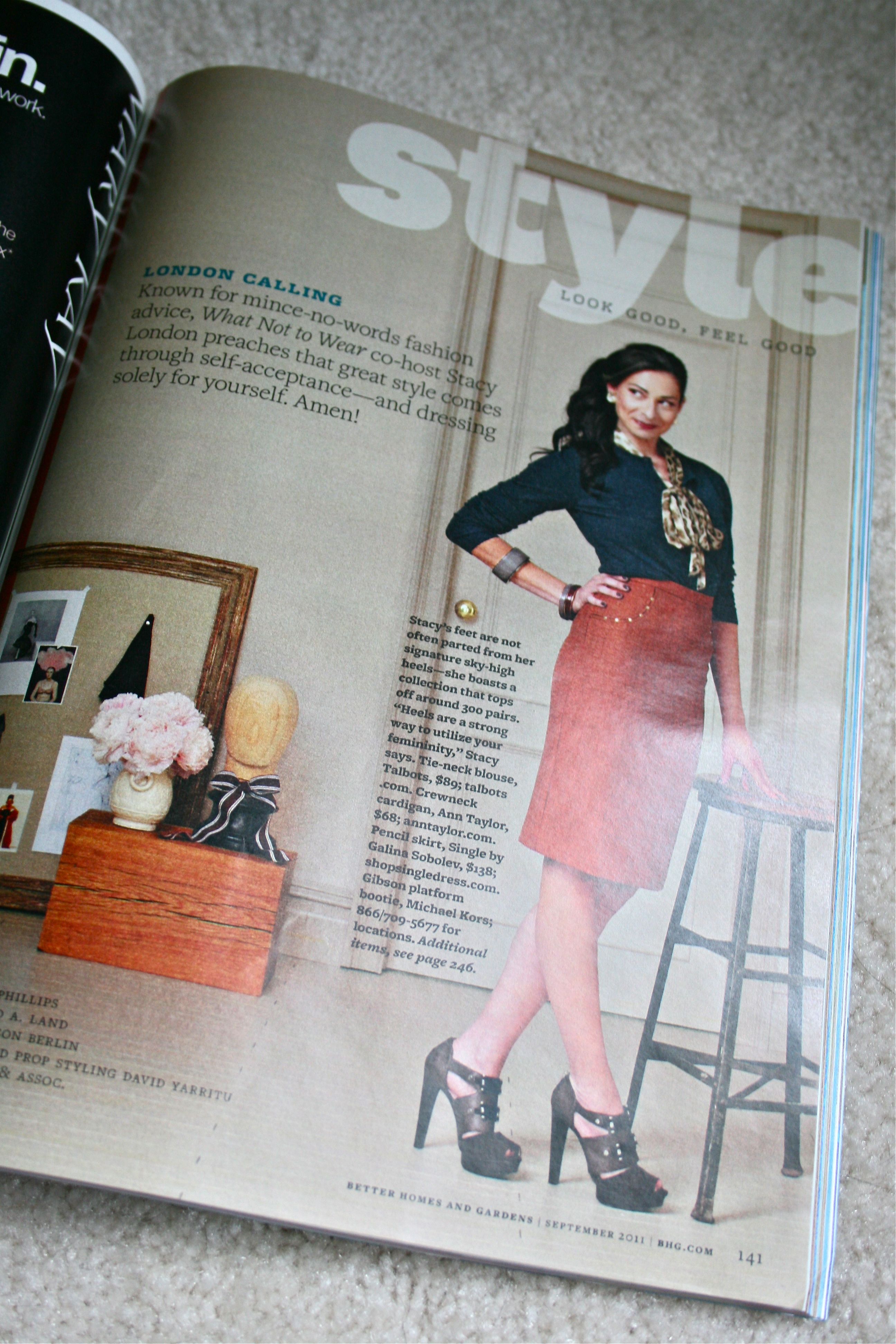 Quick tip, straight from London herself: Three closet essentials are a fitted blazer, a printed blouse and a nice pair of jeans. I am proud to say that I actually have all three of these things (phew!) and I totally agree. All work well together or styled with other closet essentials like a nice pencil skirt or chunky necklace. Lord knows I have my fair share of those…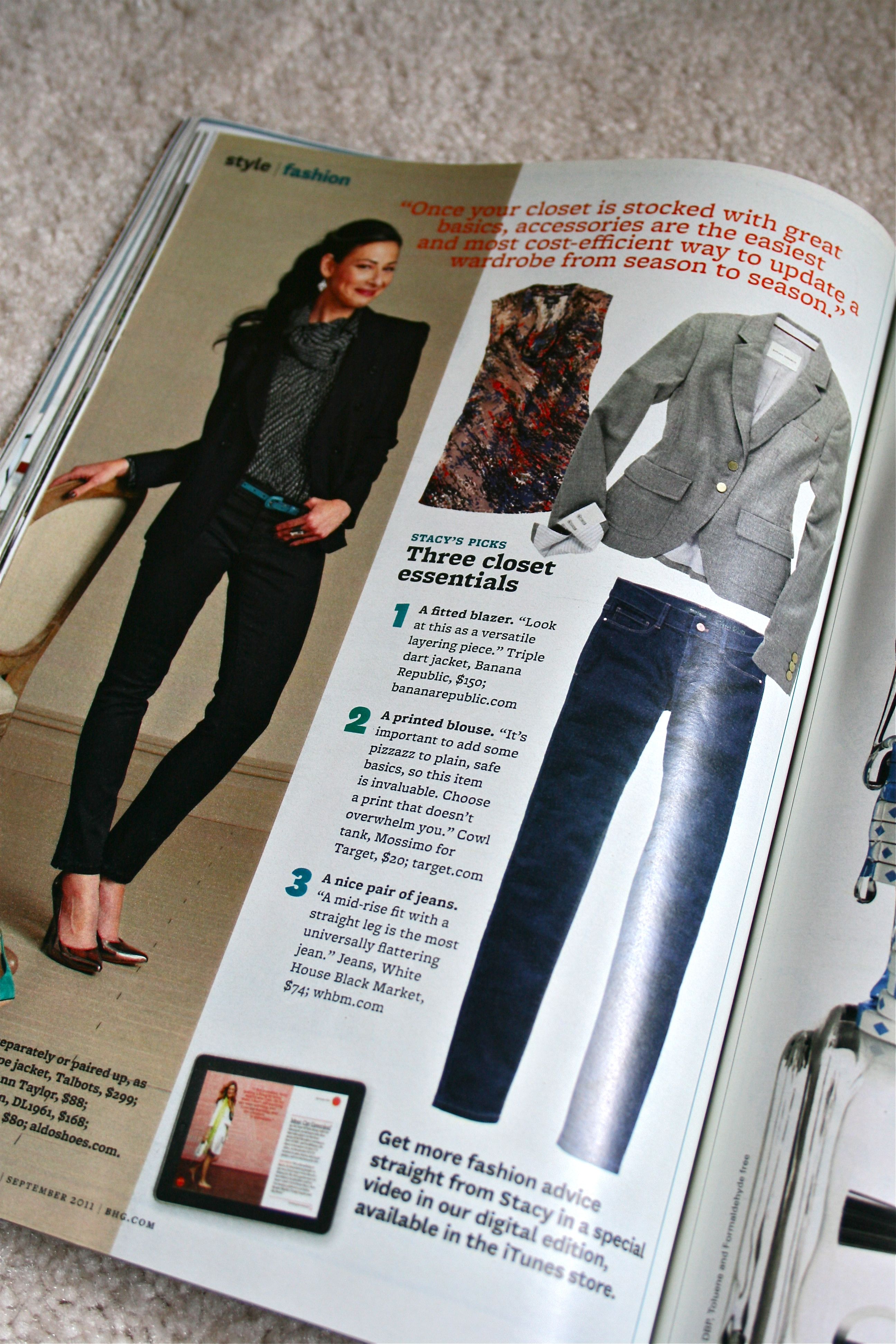 I love this…
Her Mantra: To figure out your personal style, you've first got to come to terms with the raw material: your body. Look at it, really look at it, then decide what you'd like to emphasize and what you need to balance visually. You've got to dress for the body you have. When you dress soley for yourself – your body, you life, your age – you become beautiful.
Alas, I am no longer the thin little 20-year-old I used to be…But this year, I've decided to embrace my soon-to-be late twenties body. I'm going to suck it up and buy clothes that actually fit me instead of trying to continue squeezing into my size 6 jeans (WHICH, I am proud to admit, I finally donated to Goodwill this past weekend). I know it could be a lot worse (and I really do love food too much to care all THAT much about how I look), but we all know it's important to accept things and be confident in the skin we're in.
It. Will. Be. Okay.
Just gotta keep telling myself that…
Speaking of weight, check out this delicious meal idea! An open face chicken salad sandwich…Yumm…Since John and I are pretty religiously following this meal plan for our dinners, we don't often need extra recipes, but this could be a nice filler for one random evening. Or maybe a lunch idea??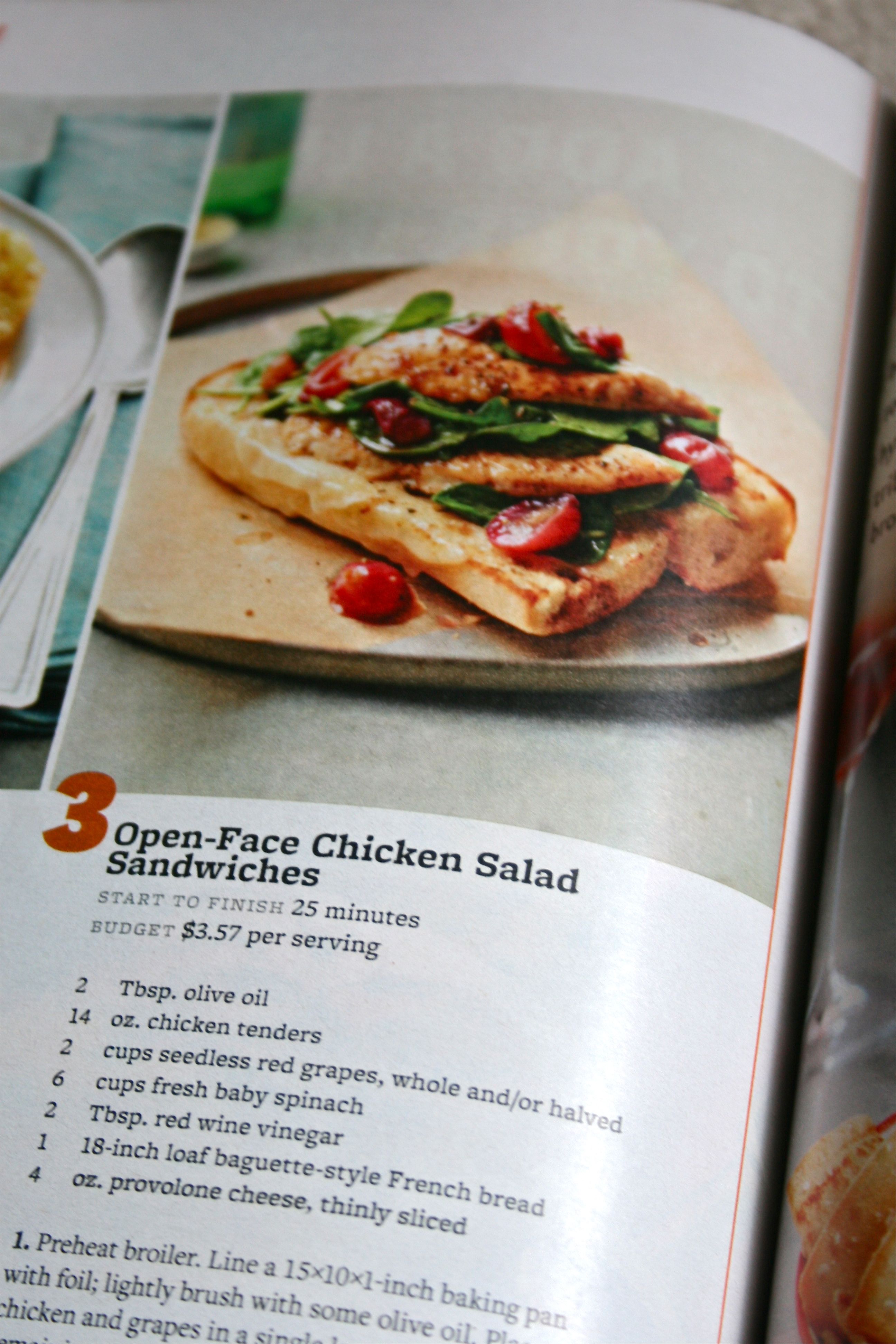 And speaking of weight and diet…Here's a little exercise encouragement – Yoga! I really enjoy yoga. I don't know that it makes you lose weight, but it sure makes you feel GOOD inside and out. I think I'll have to look into joining a class this Fall…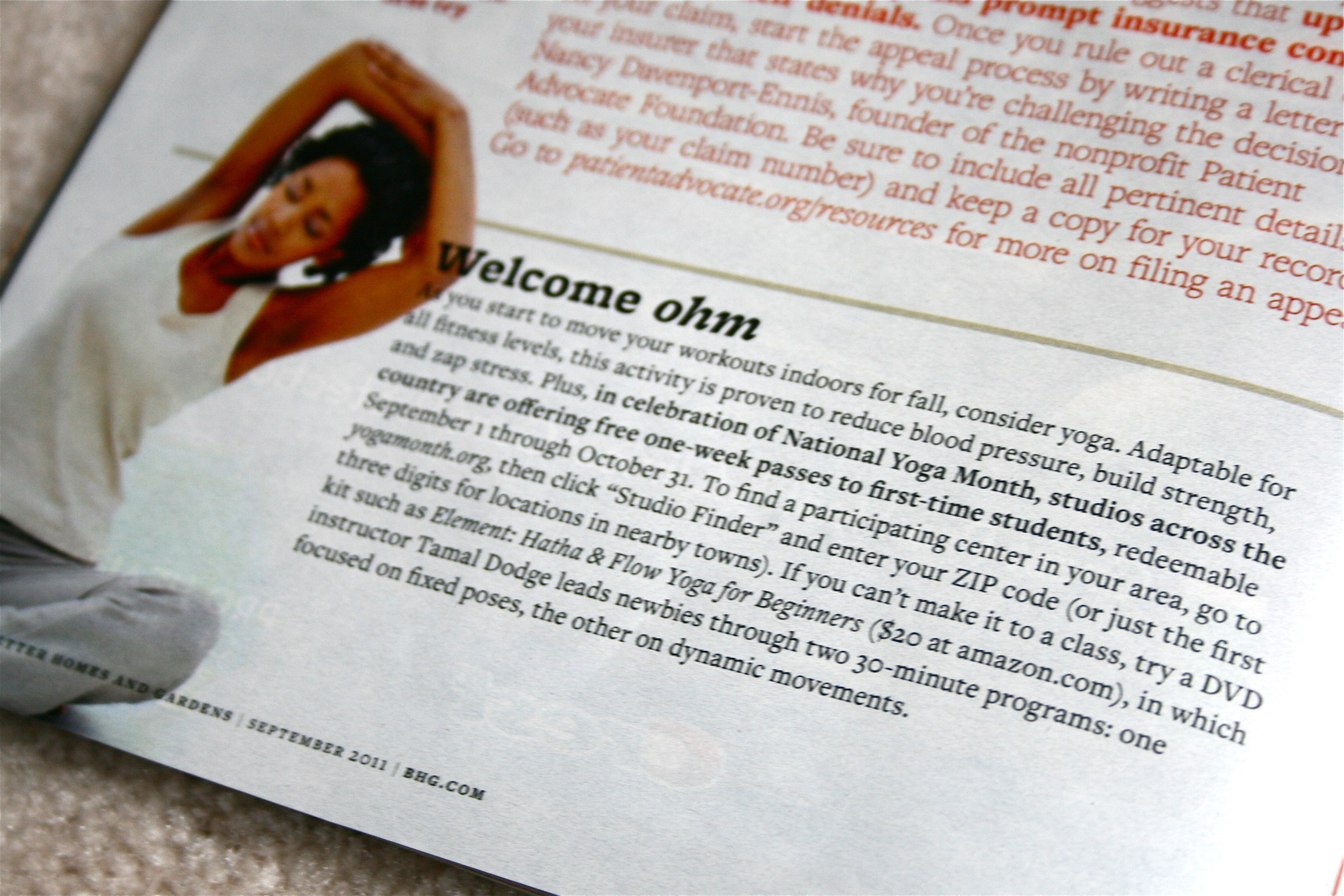 Well there you have it – Another quick run-through of the latest Better Homes and Gardens mag! Hope you enjoyed it as much as I did. Sometimes magazines can be so inspiring…My life goal is to work on one someday. Cross your fingers (and your toes) for me that I can make that dream a reality!!
See you back here on Friday 🙂