I just love versatile framed wall art…Frames are wonderful because you can easily change out the art inside them to give a space a new color scheme or theme. But these days, people are going beyond expressing themselves with what's INSIDE a frame – They are getting creative with the frames themselves!
For instance, today's Pinterest project comes from the new trend of embroidery hoop wall art. What could be more simple then framing fabric in wooden hoops? And really, what could be cheaper too…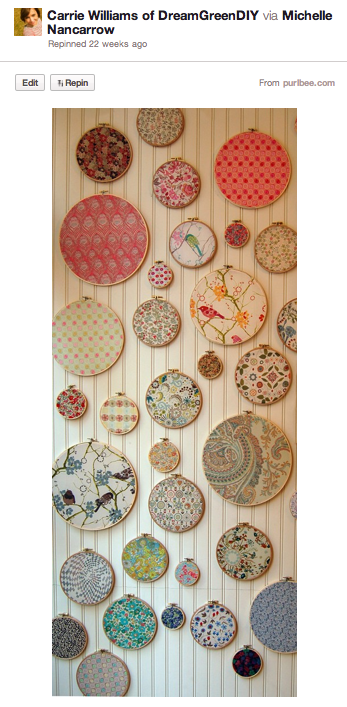 Source: The Purl Bee
I was able to pick up five hoops at our local craft store for – Wait for it…UNDER TEN BUCKS!!! This project ended up being far cheaper than I had anticipated and the final product was just brilliant! Coupled with incredibly simple steps and a quicker-than-quick process time, I am going to be recommending this art project to anyone and everyone for the next week!
As you can see below, I decided to go with all different sizes – The largest is over a foot in diameter at 14 inches and the smallest is 4 inches.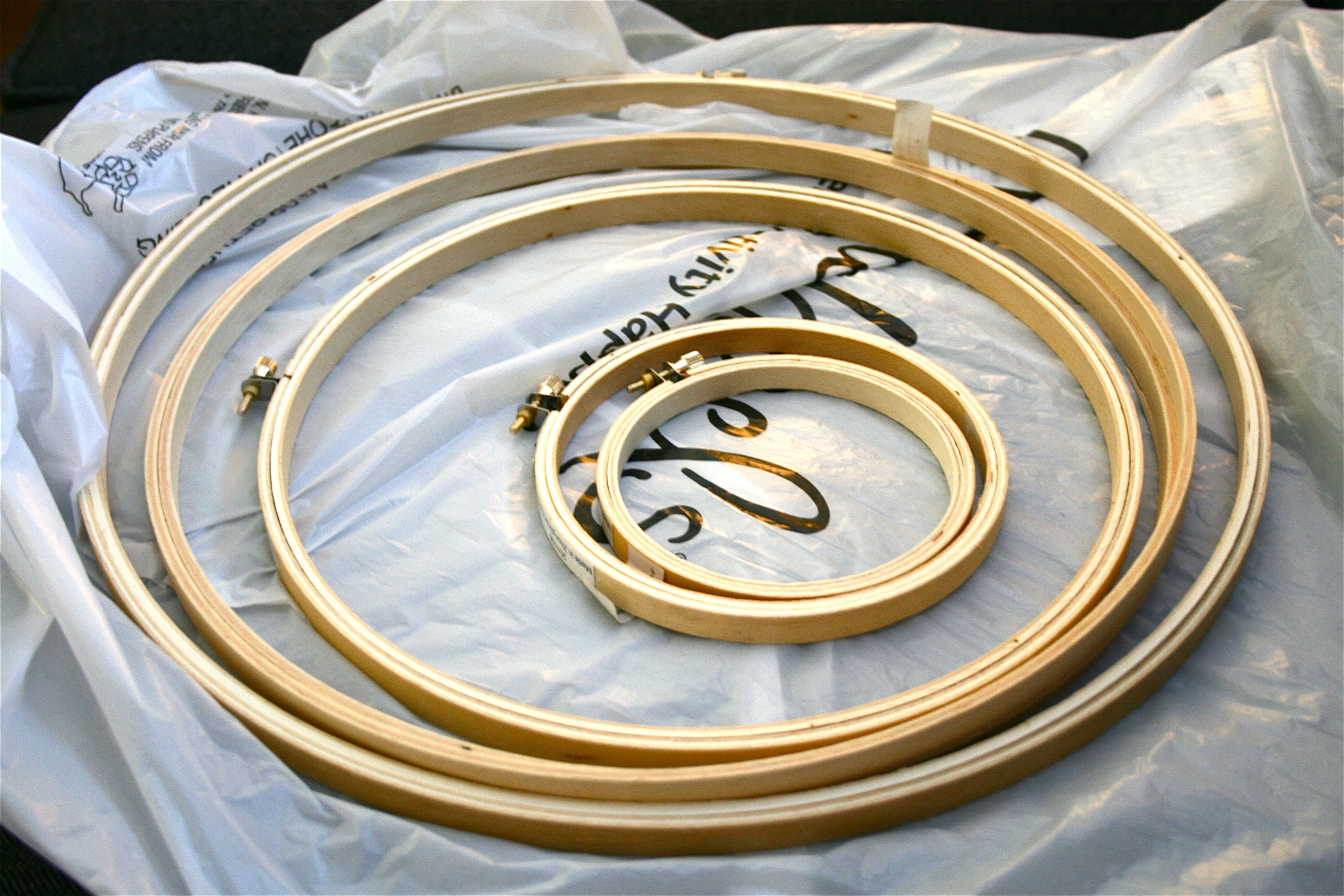 Here's my receipt if you don't believe me on the final purchase price…$8.56!!!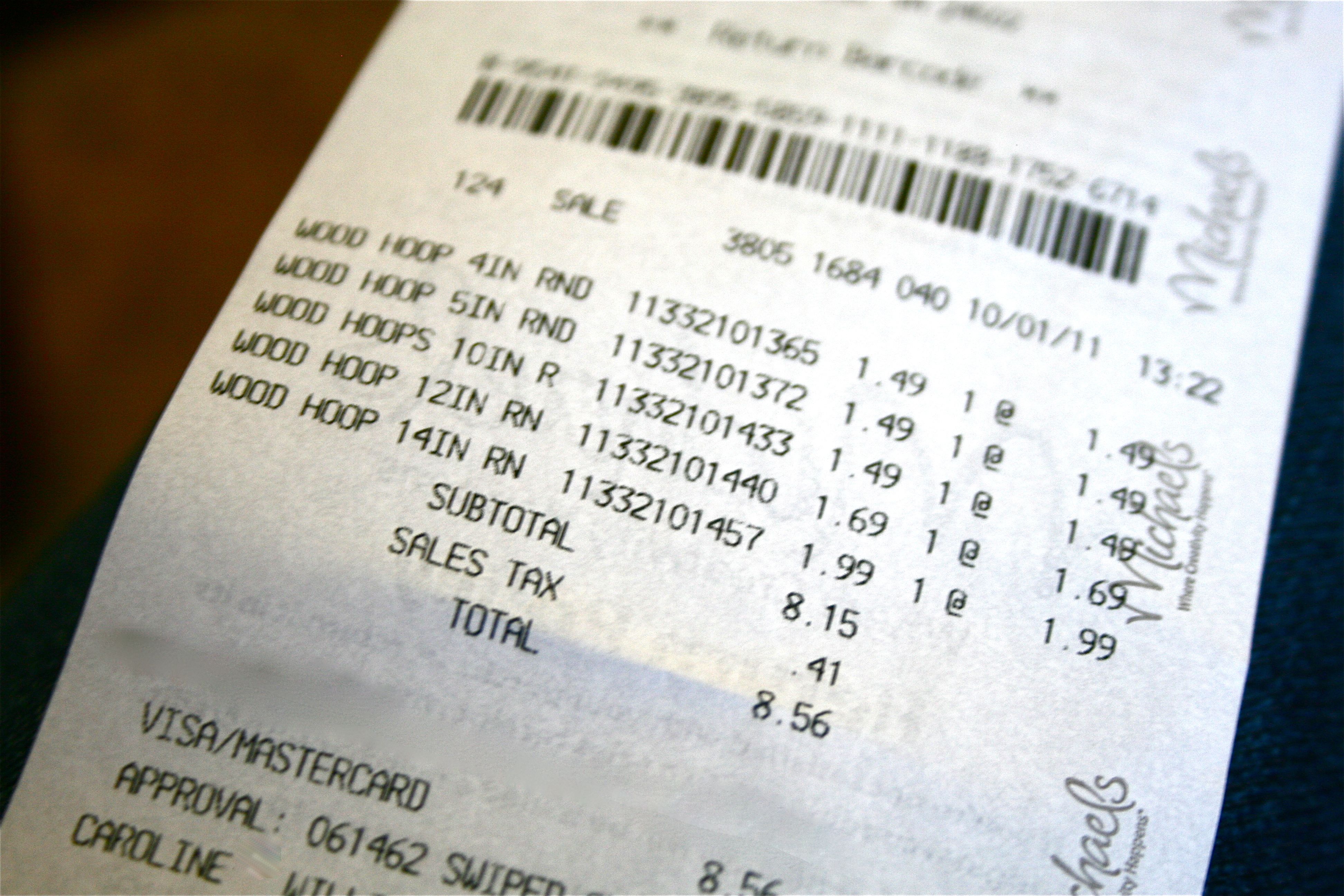 Next, I needed to get some fabric. I could have gone to the nearest fabric shop and picked up a few scraps to make this work, but luckily, I had a few lengths of fabric on hand in my little fabric/sewing basket.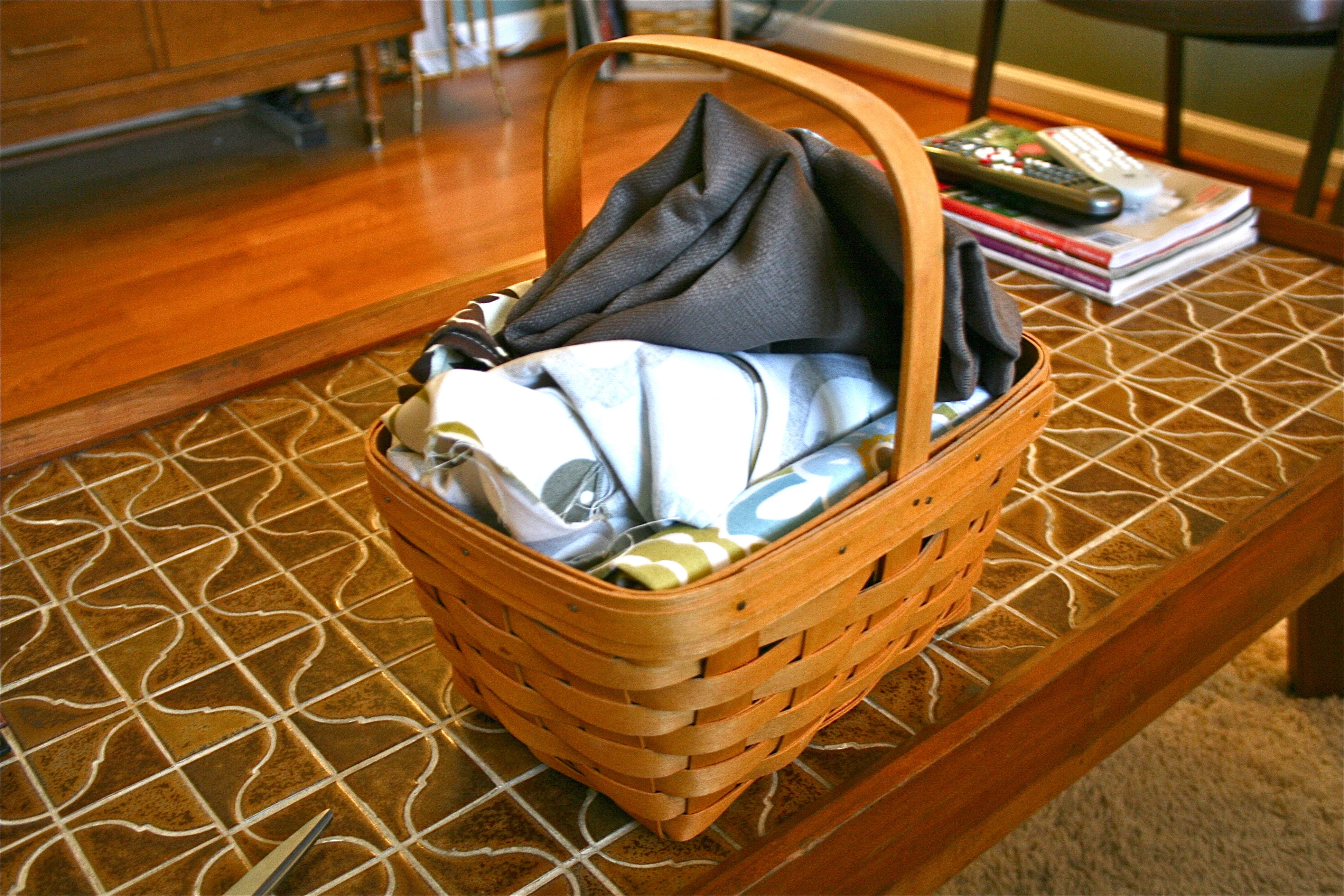 Here were my options: Some leftover brown curtain from this project, leftover green/teal/brown/yellow fabric from this project and this project, and a brown and white graphic print tapestry that I had picked up on clearance at Urban Outfitters a couple of years ago: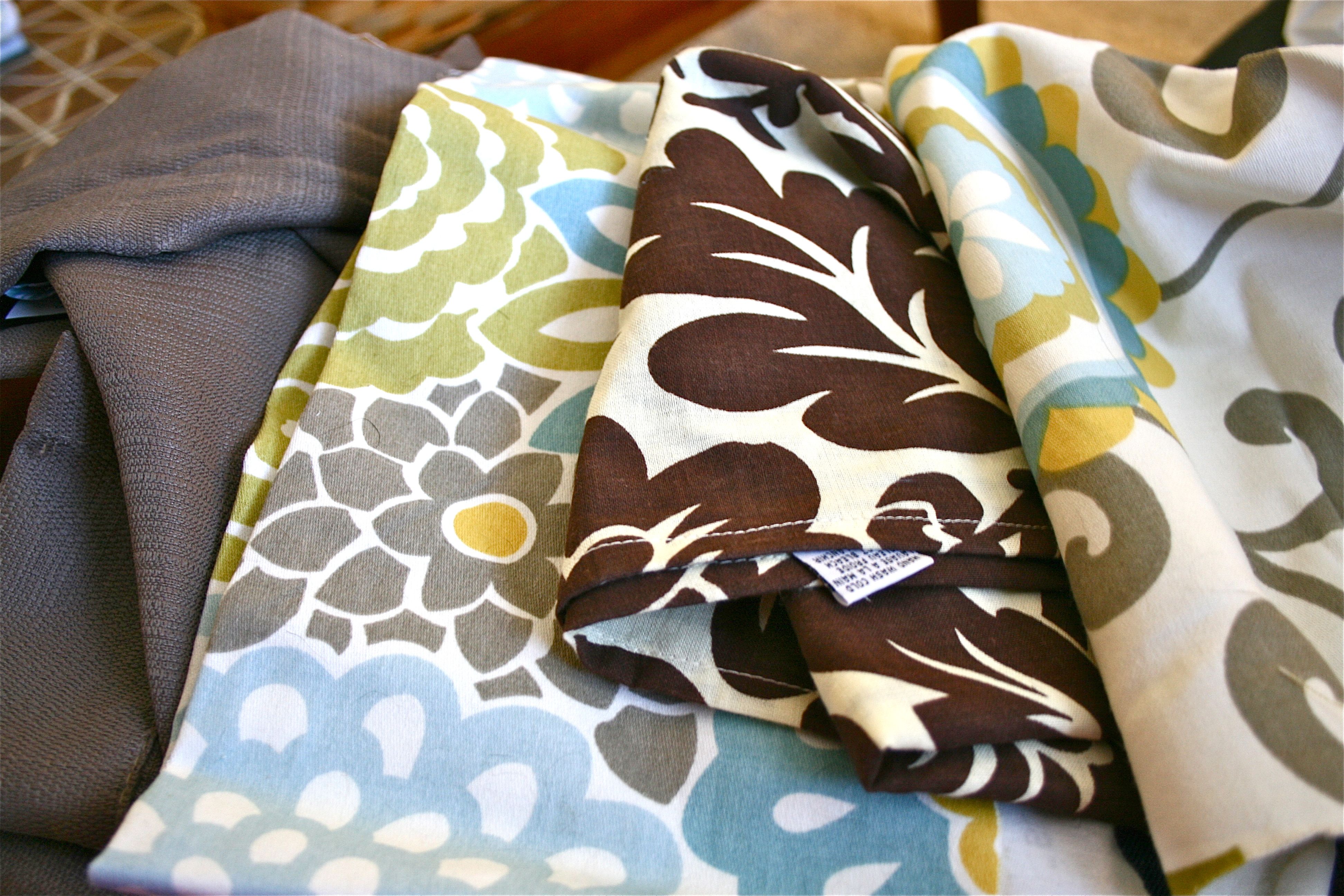 I started with the largest hoop (the 14 inch one) and used the big floral print. I wanted to plan it out so that I could frame one of the giant flowers in the center of the embroidery hoop.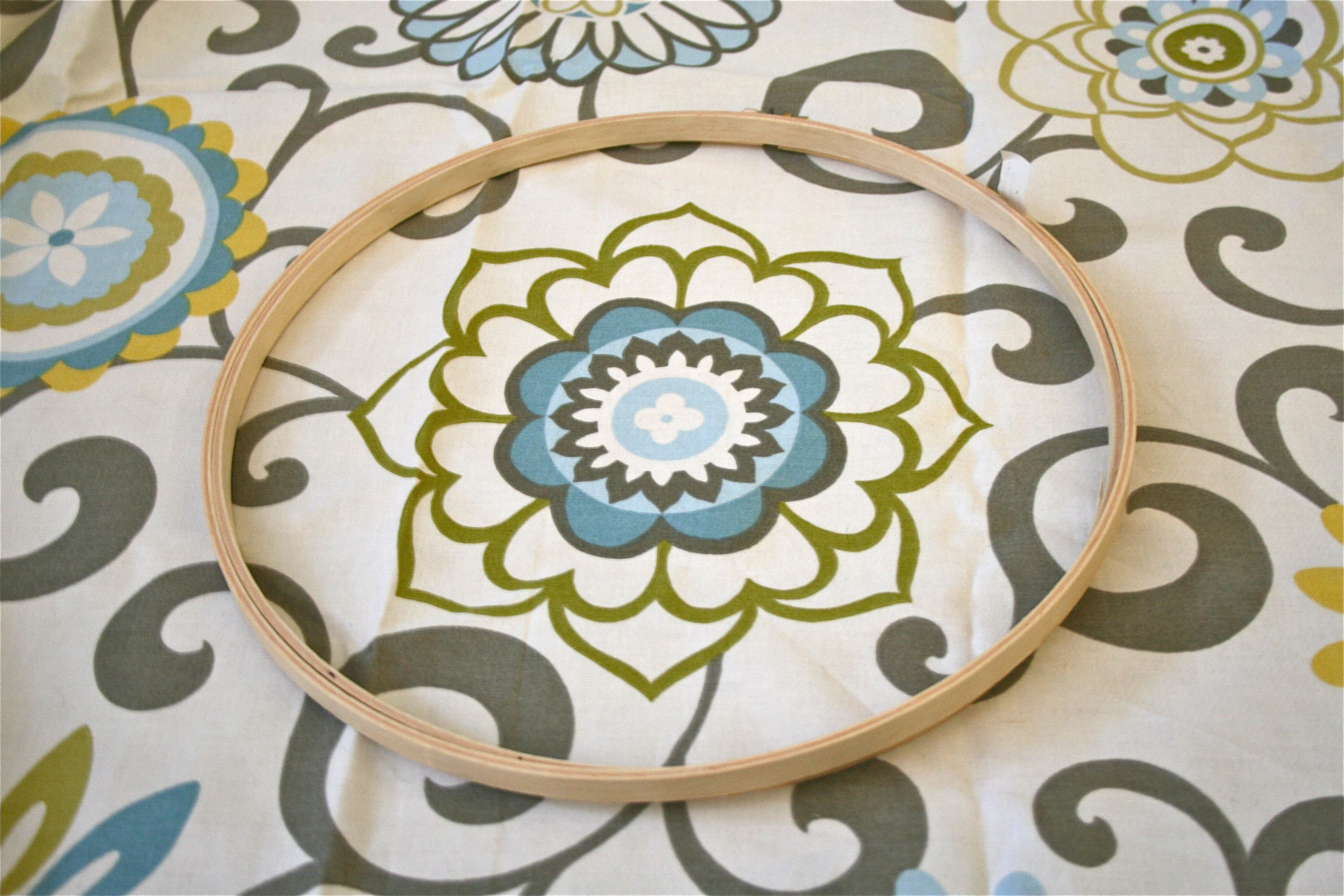 After flipping it over and finding my spot, I used a pen to draw around the circle. I made my line about half an inch to an inch away from the actual edge of the hoop since it needed a little of the fabric to "grab on to" in the last step. If you've worked with these contraptions in the past, you understand. But if not, you'll see exactly what I mean in a moment!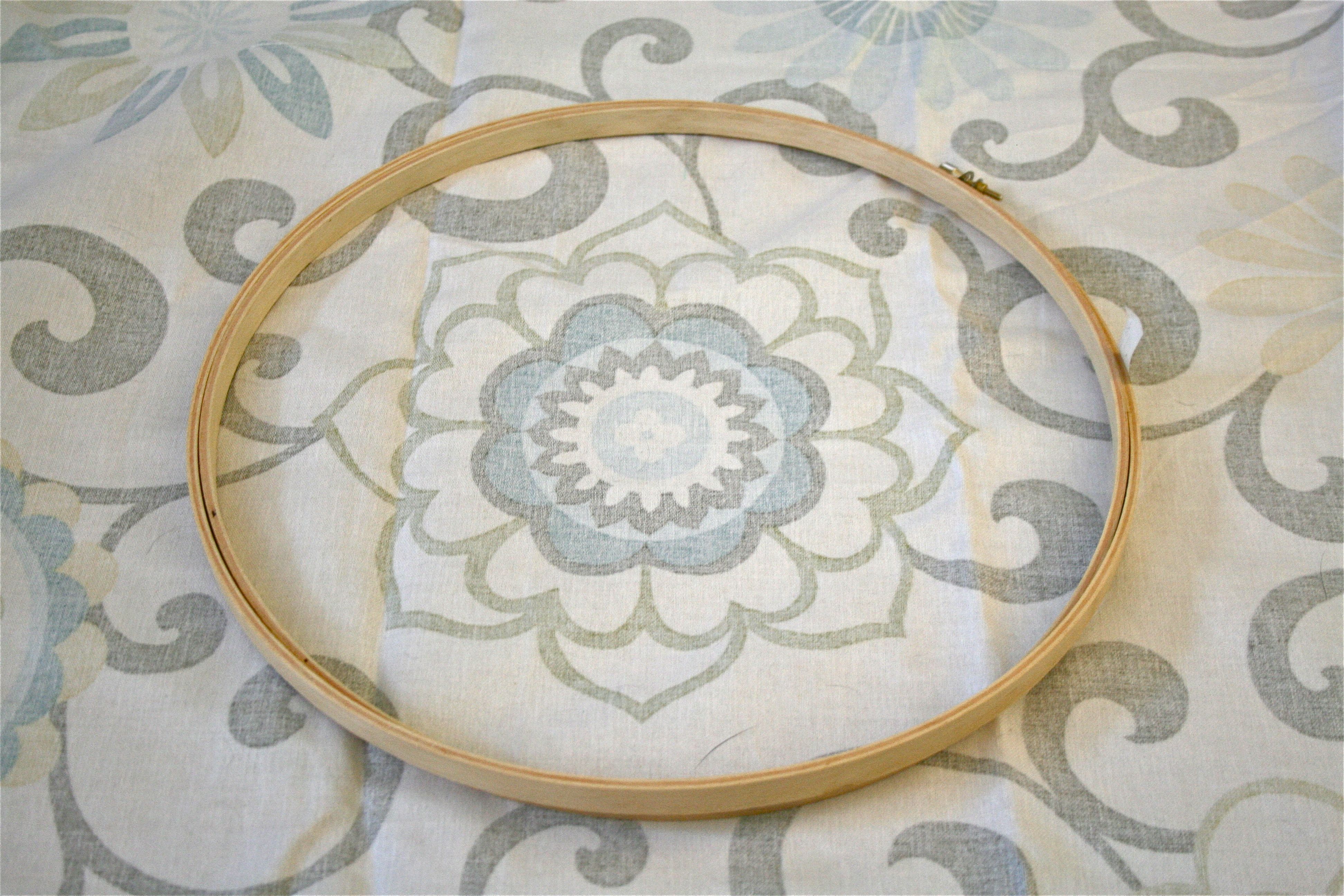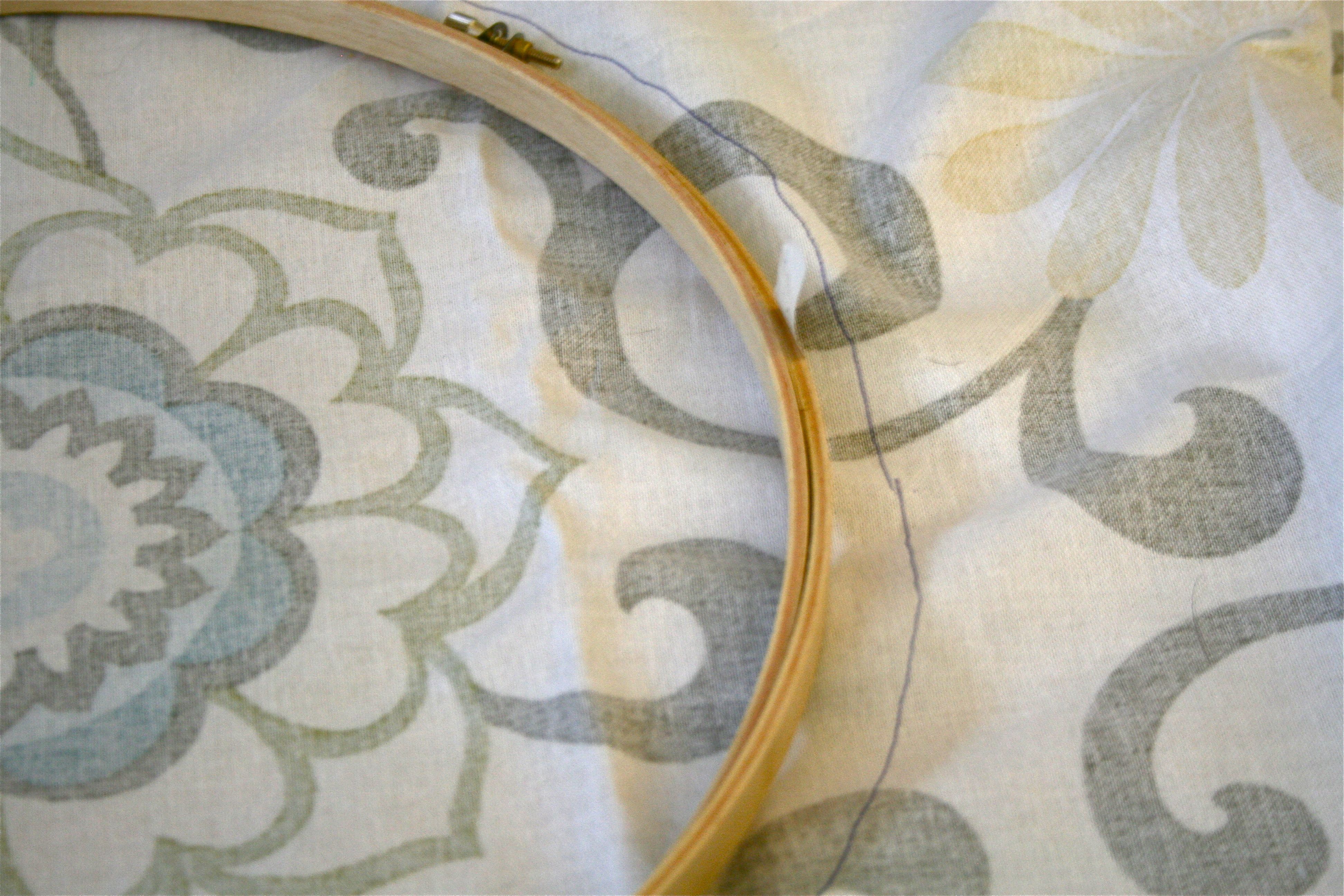 After cutting out my circle, I took the two pieces of the hoop apart by loosening the screw at the top and then I placed the fabric upside down over the bigger hoop.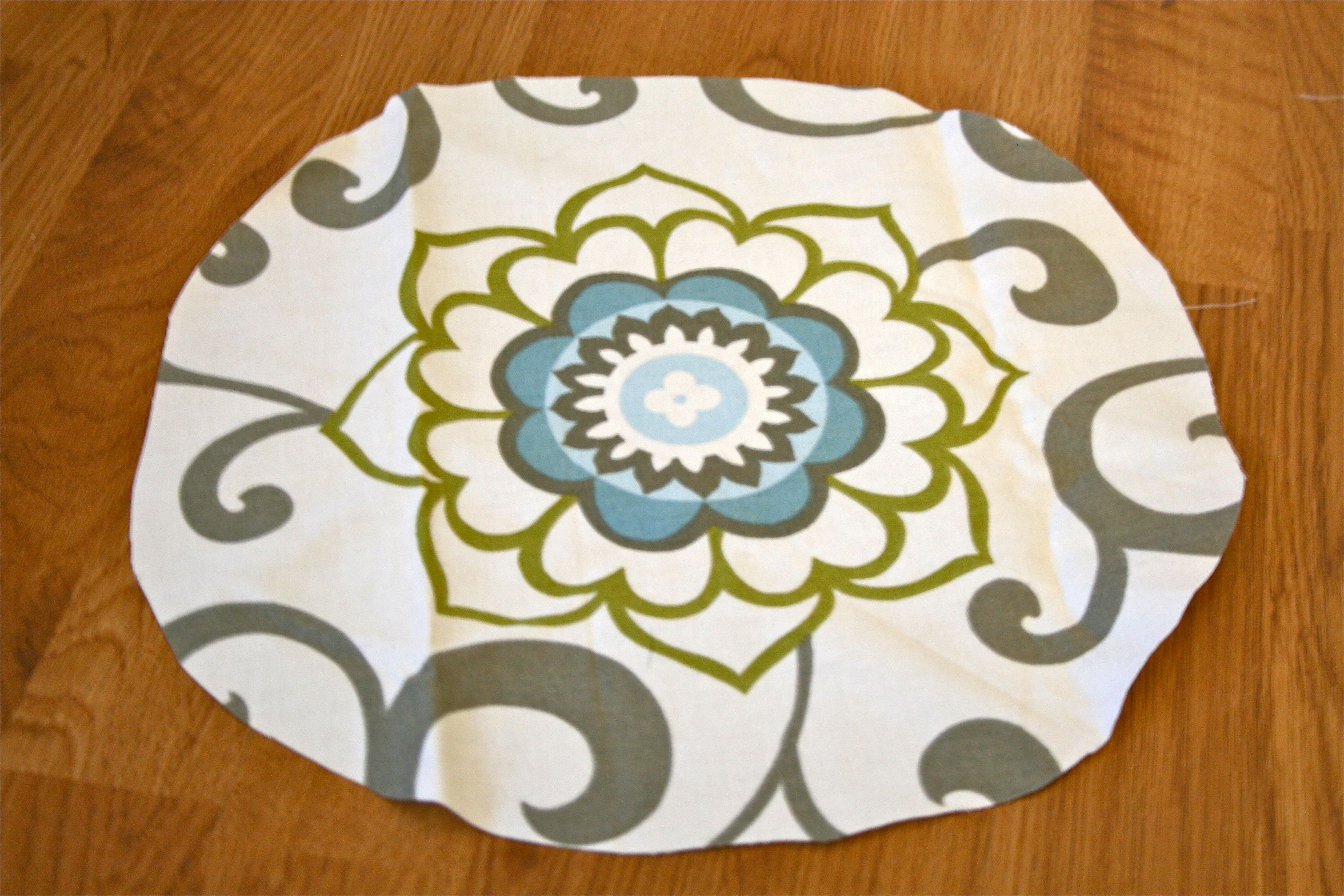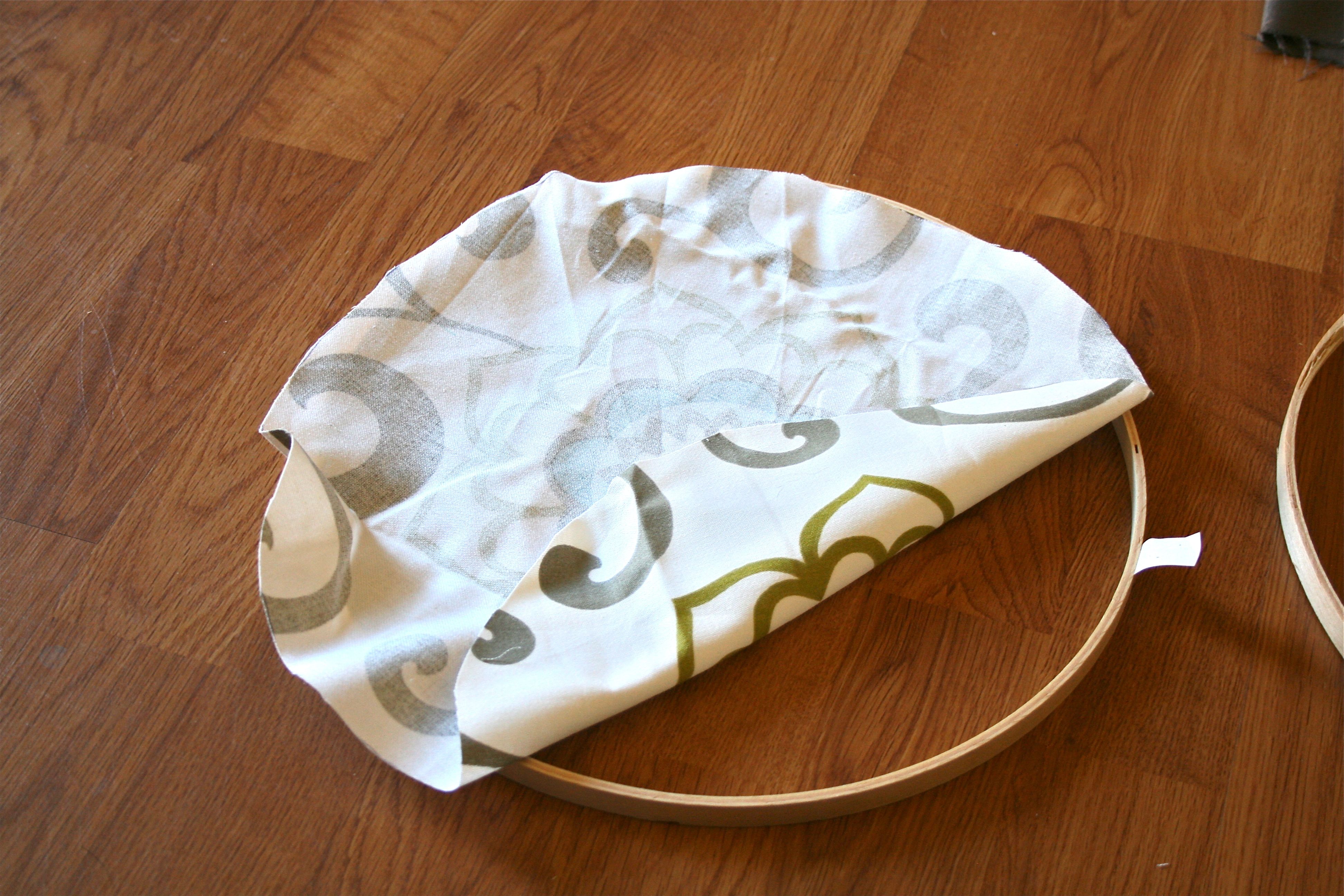 Then I placed the smaller, inside hoop on top and gently pushed down. Now you can see where that extra fabric came in handy around the edges.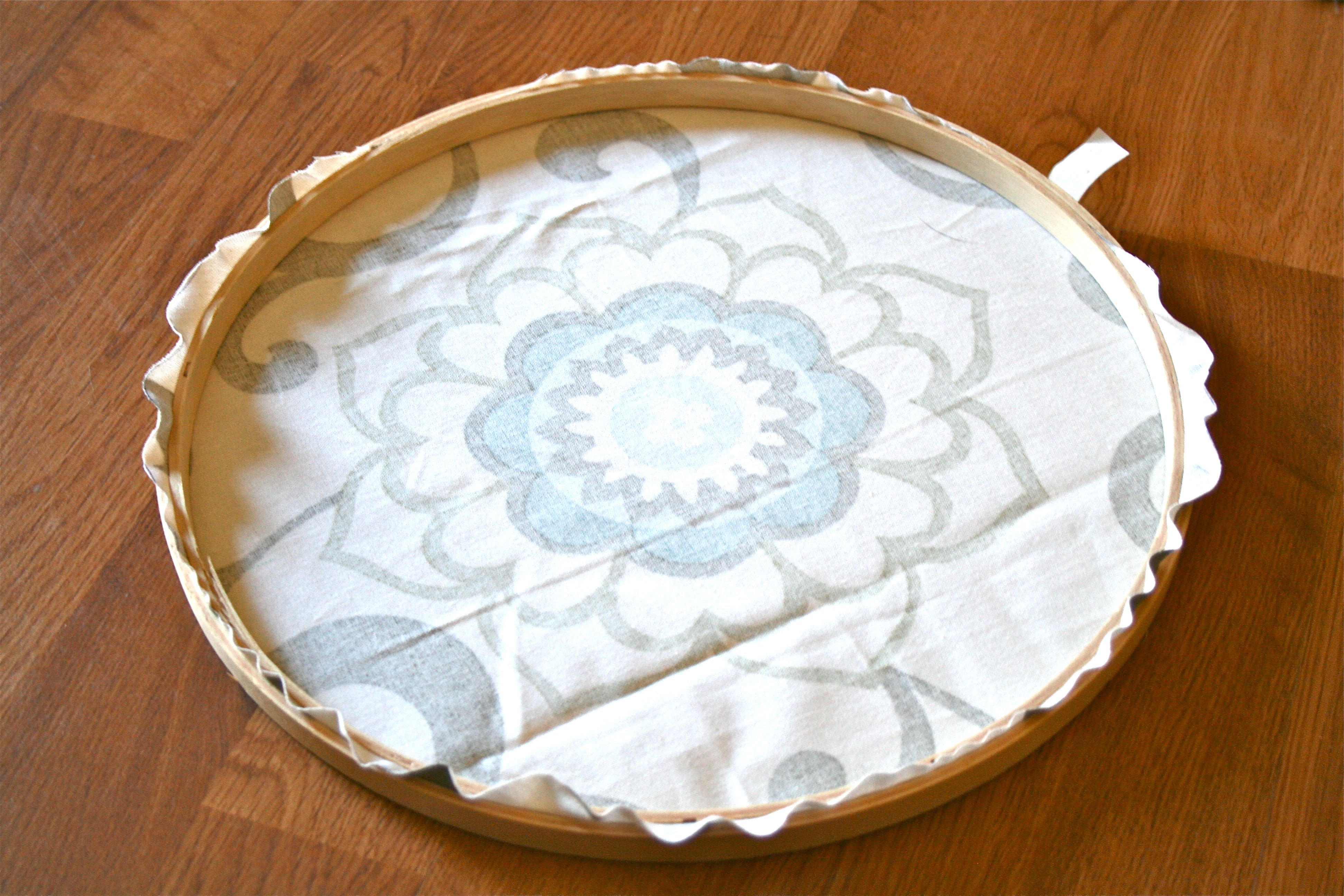 I lightly pulled on the excess fabric around the edges to make sure everything was taut and smooth, then I tightened the screw at the top of the hoop. Here it is all done! Well except for snipping away the excess fabric…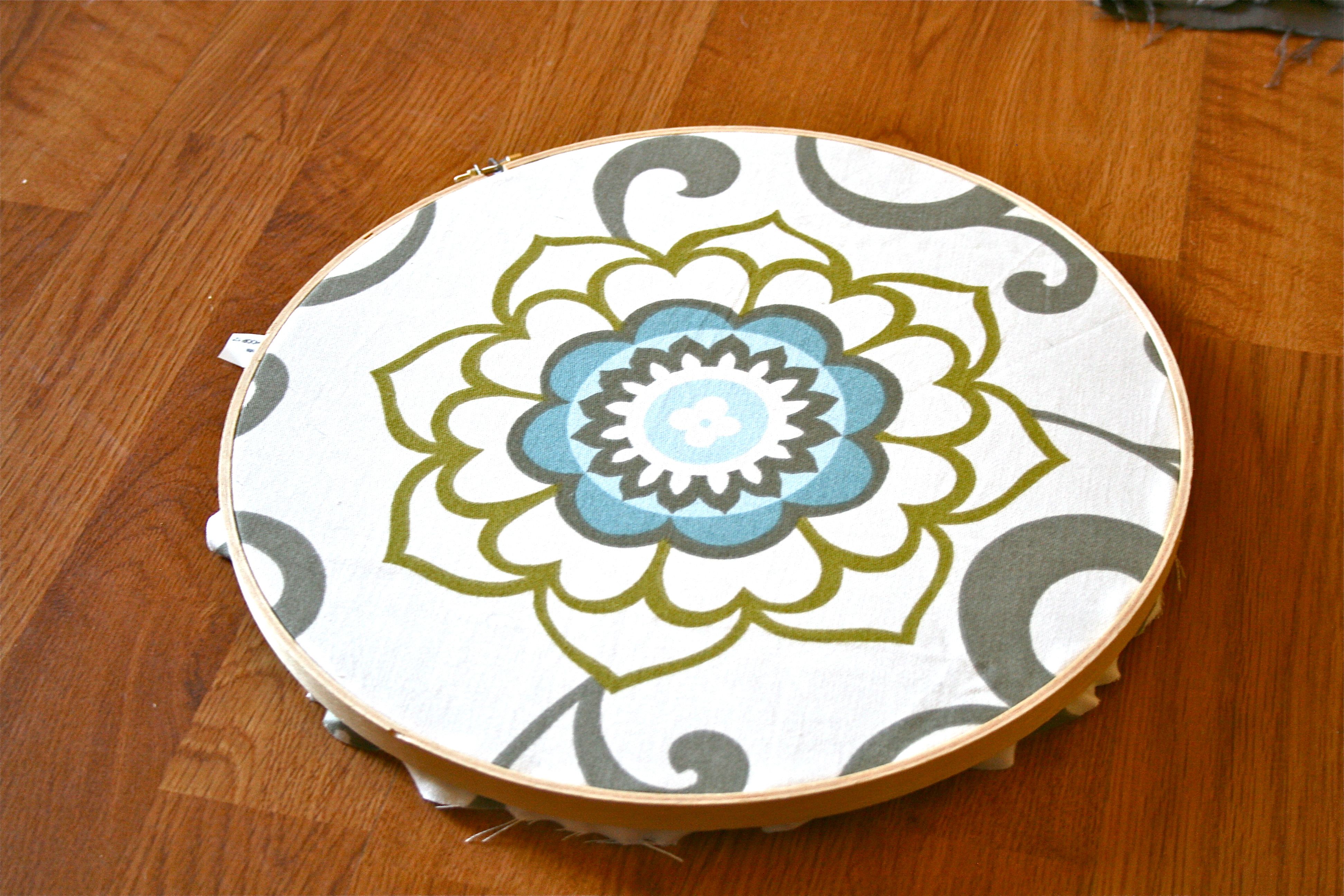 NOW it's done, with pretty edges and a lovely smooth finish.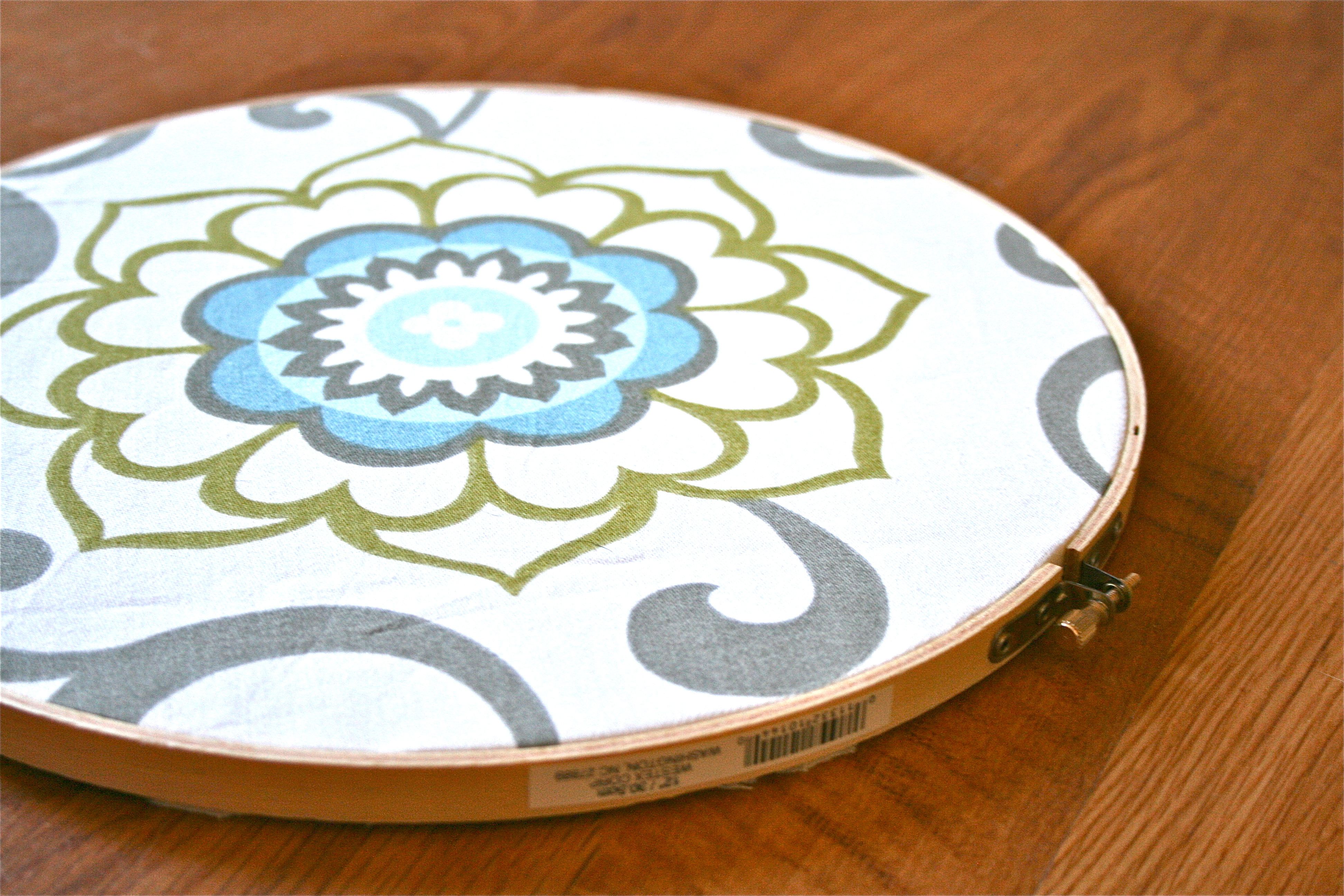 On to the next one! I worked on the biggest hoops first, mostly because I wanted to make sure I had enough fabric scrap for them. The smallest ones just got whatever was left over. I won't bore you with typing out the process again, but you can at least see it one last time in this spiel of photos: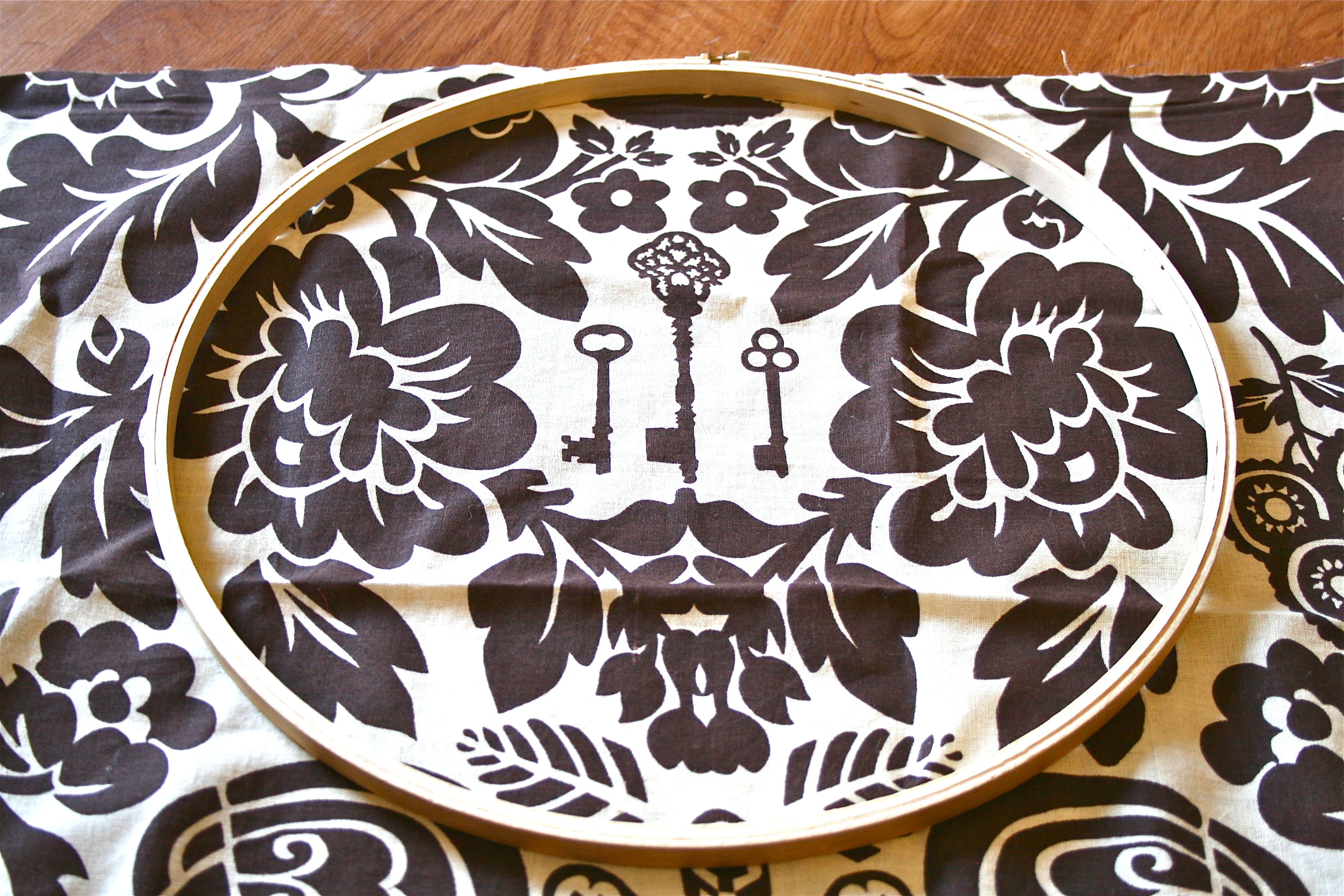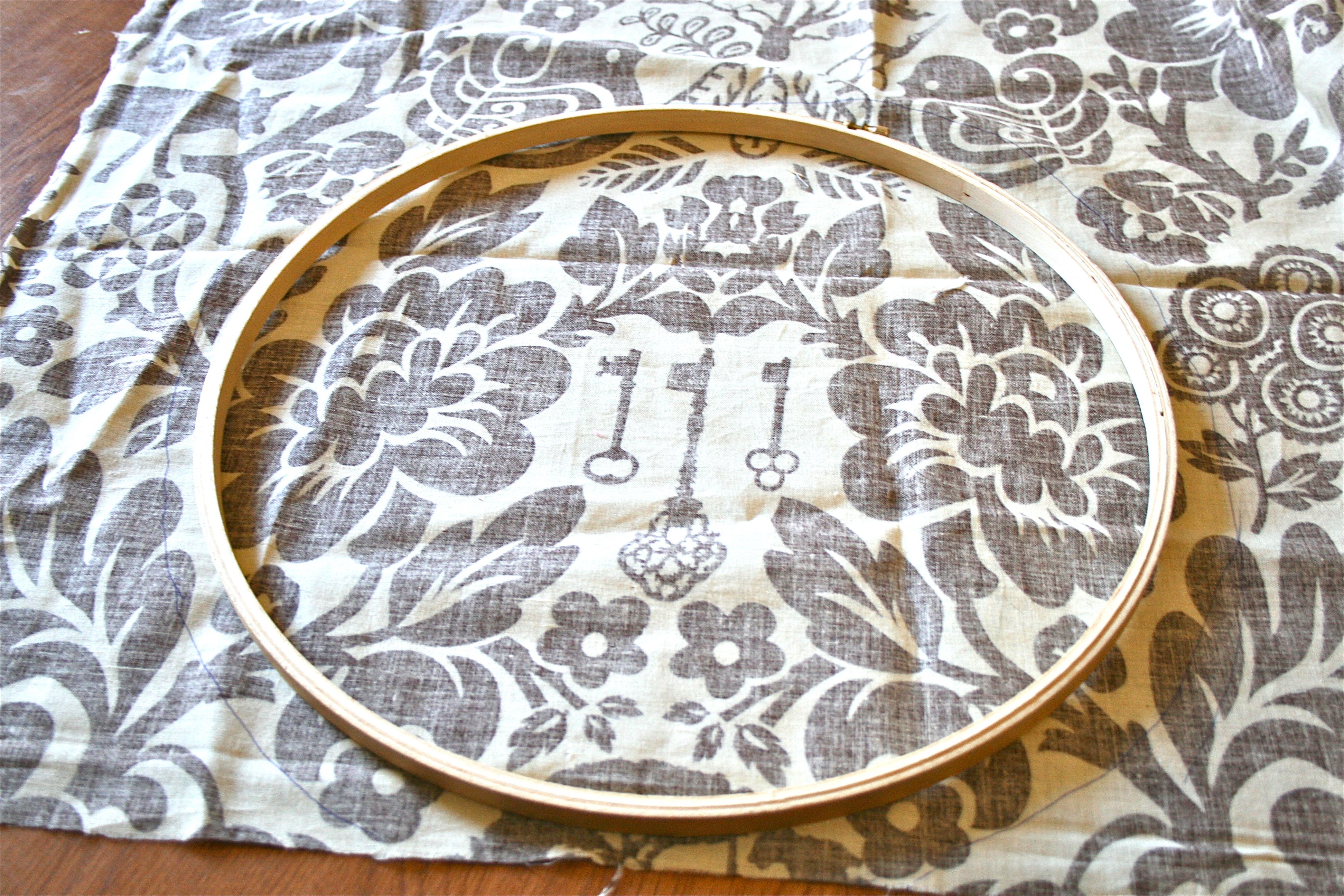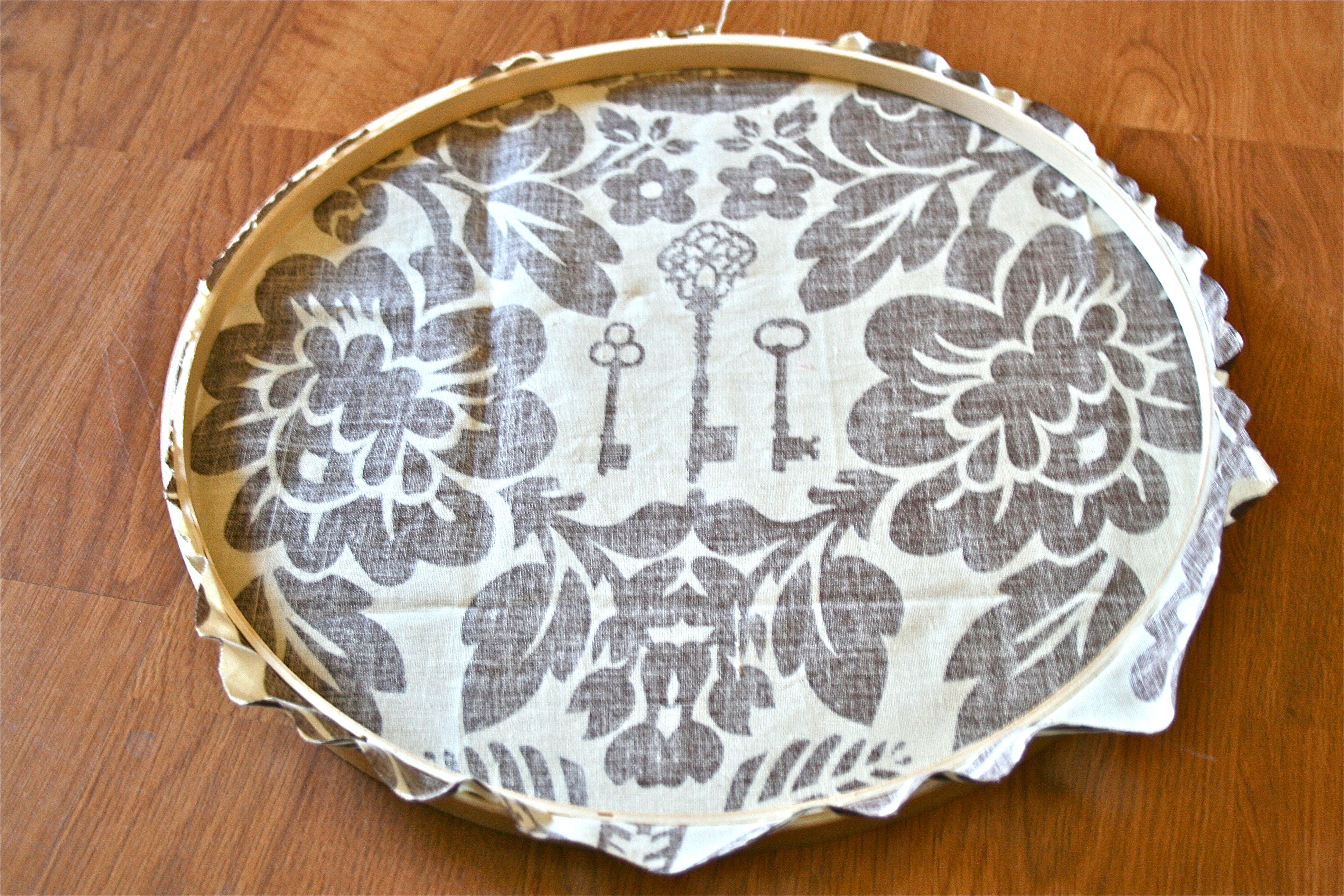 I liked this one because the little antique keys sort of play off of the vintage vibe, courtesy of the feminine embroidery hoops. I don't know about you guys, but I definitely picture a sweet little old lady in pink, sitting on a velvet settee working away on a hankcheif when I see people using embroidery hoops as wall frames. There is an undeniable feeling of "old meets new" in this project.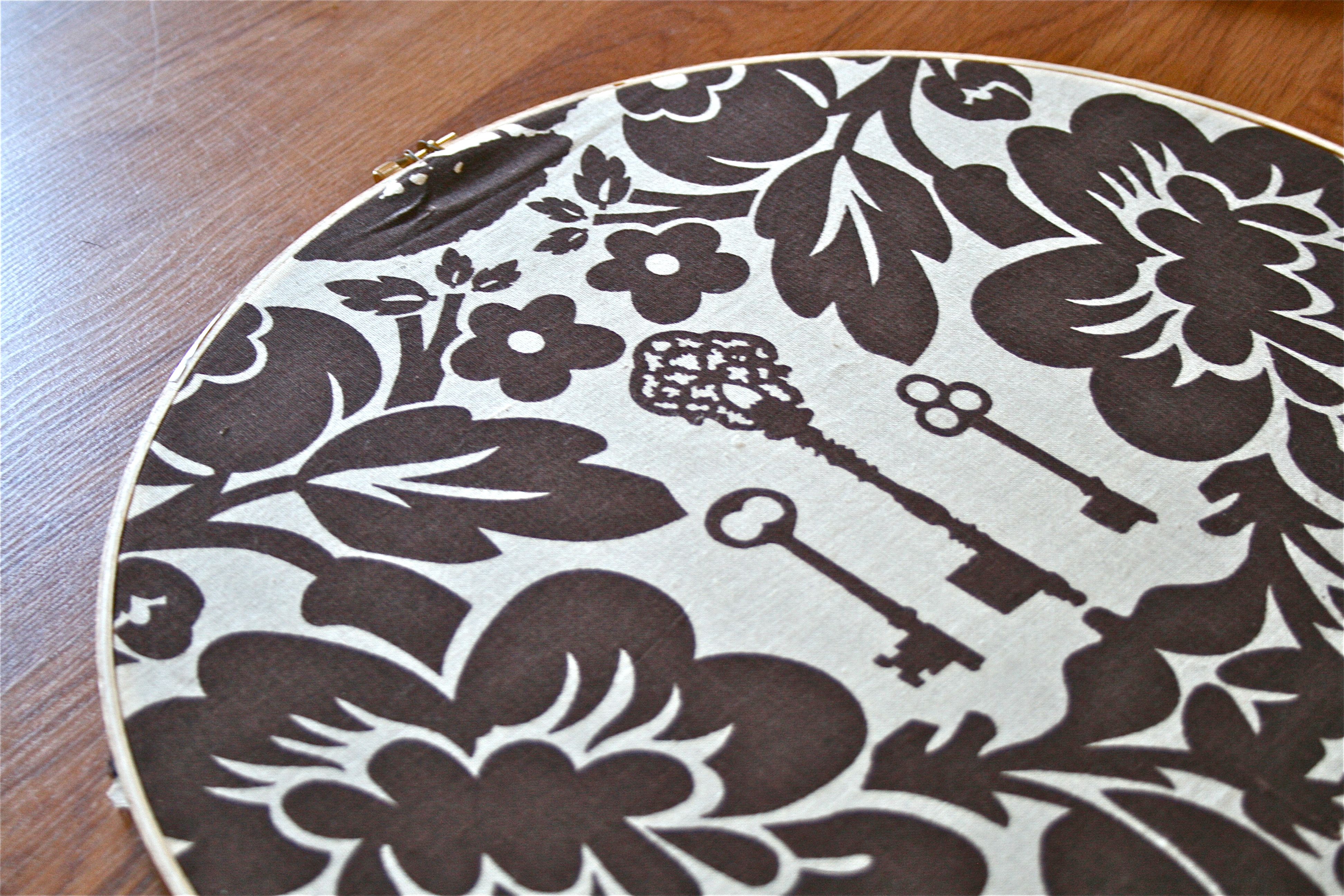 But I digress…Here are the final three hoops with their fabric art on the inside – This is the smallest one with the curtain fabric inside: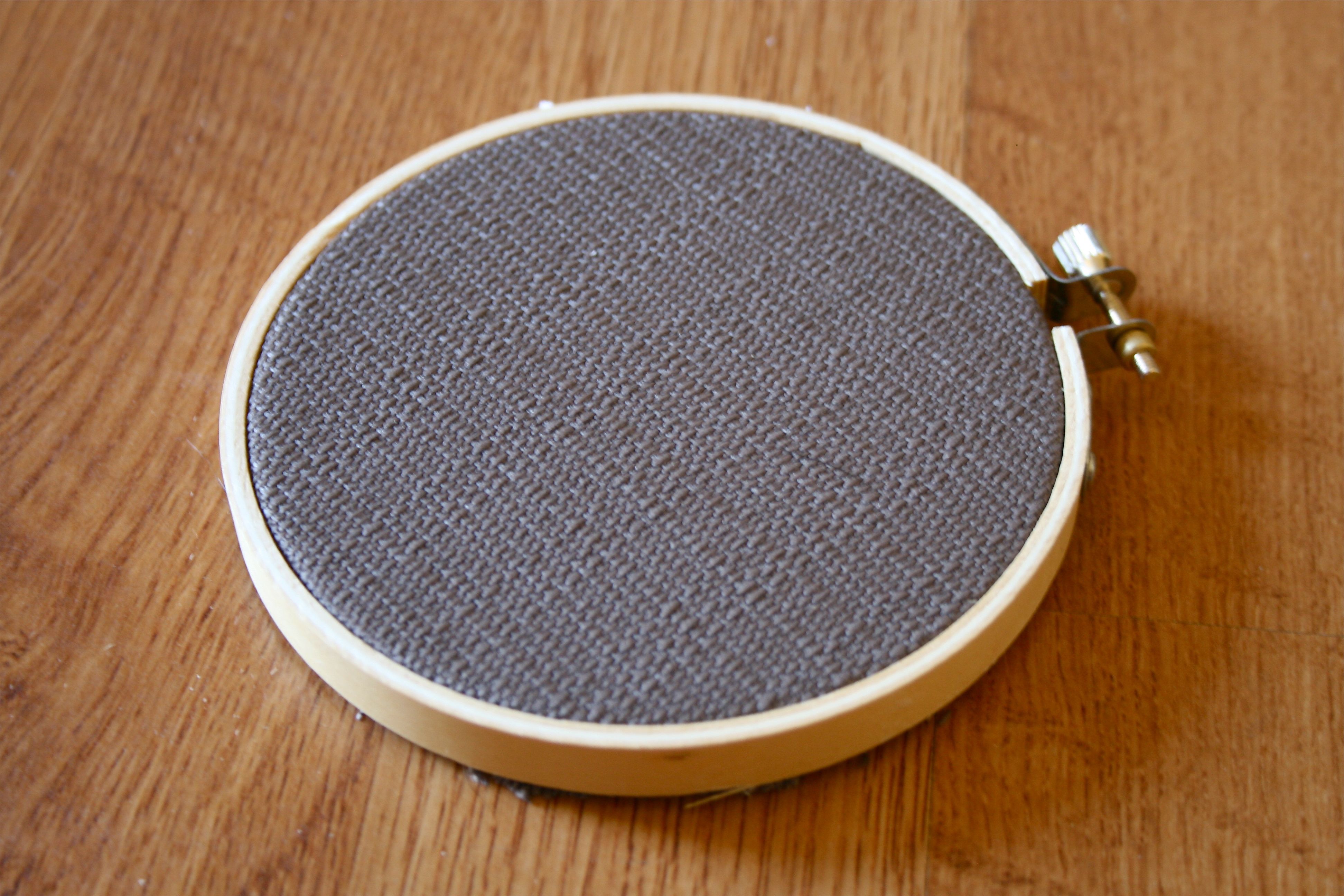 This is the 10 inch hoop with leftover canvas-wrapping fabric from the studio (again, here's the link to that project if you're curious):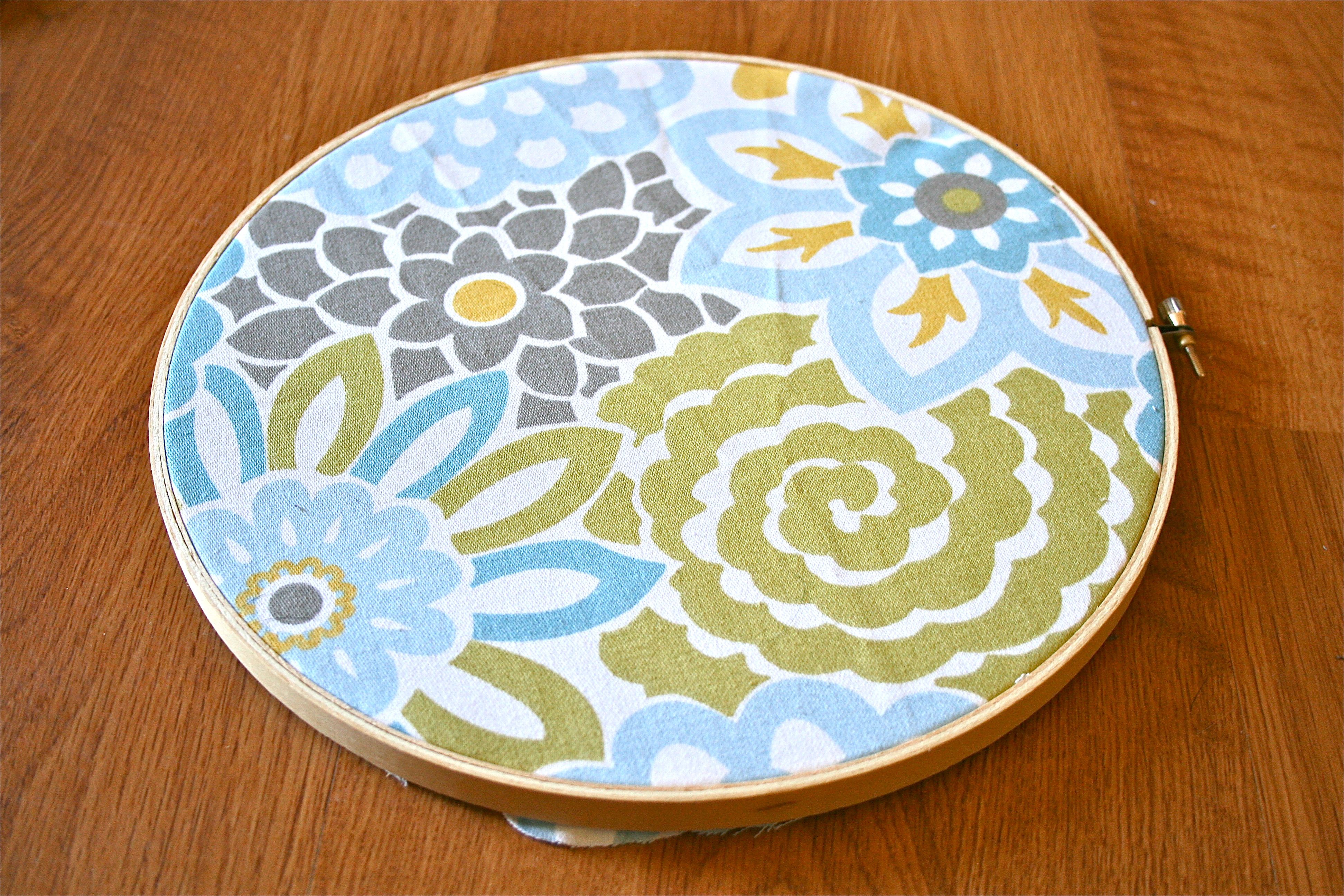 And the 5 inch hoop with more of the same fabric used on the first hoop, just a different flower: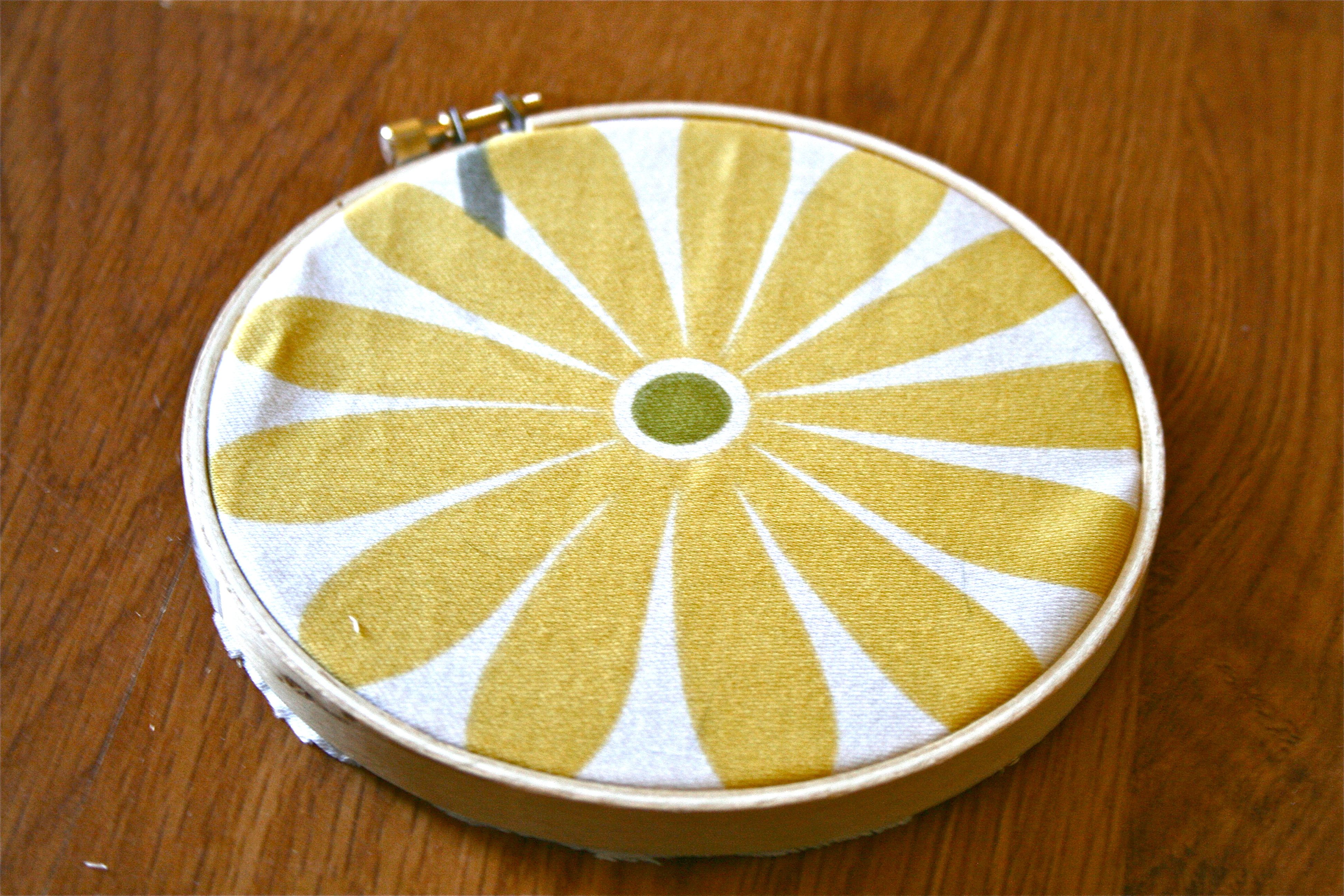 All together now!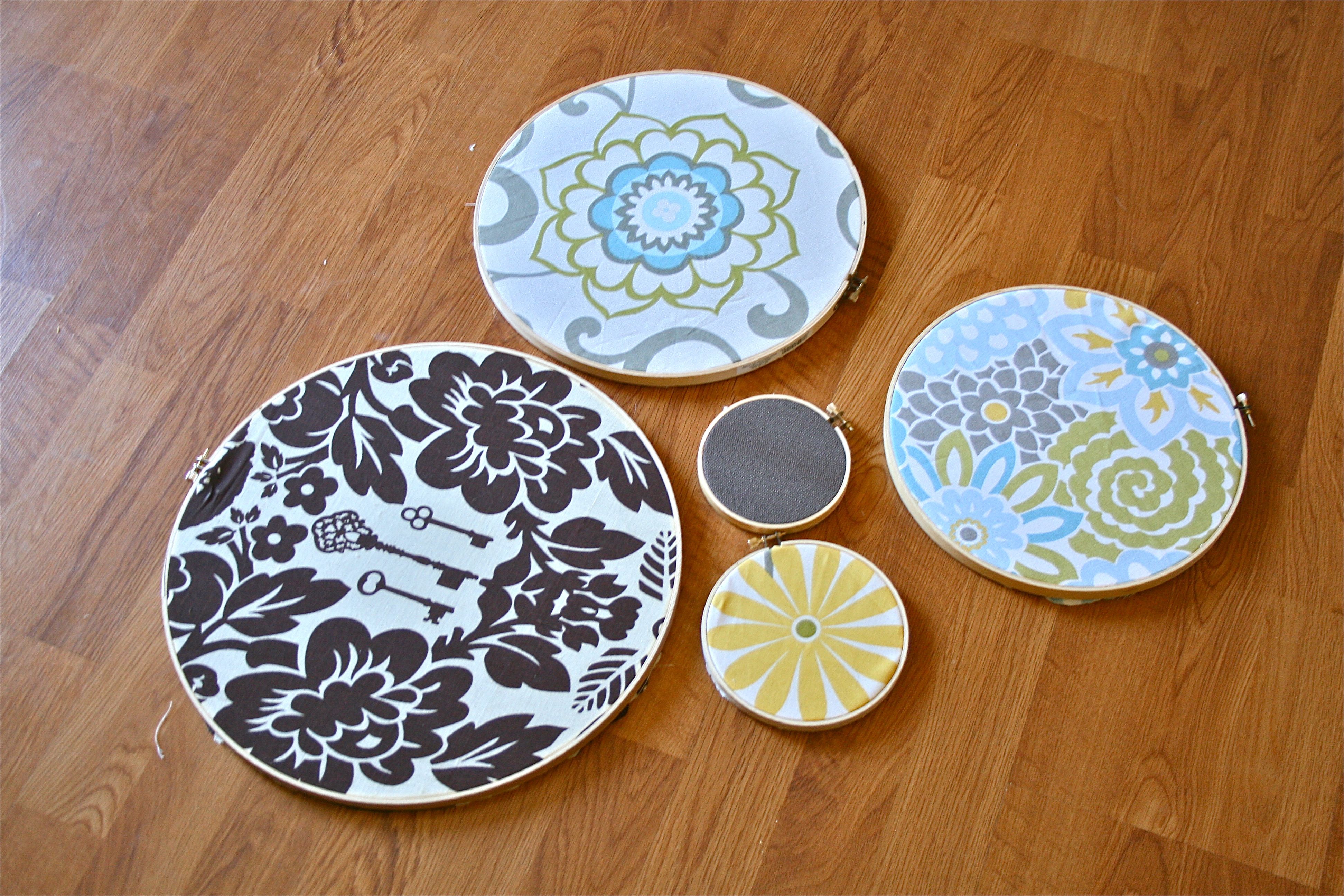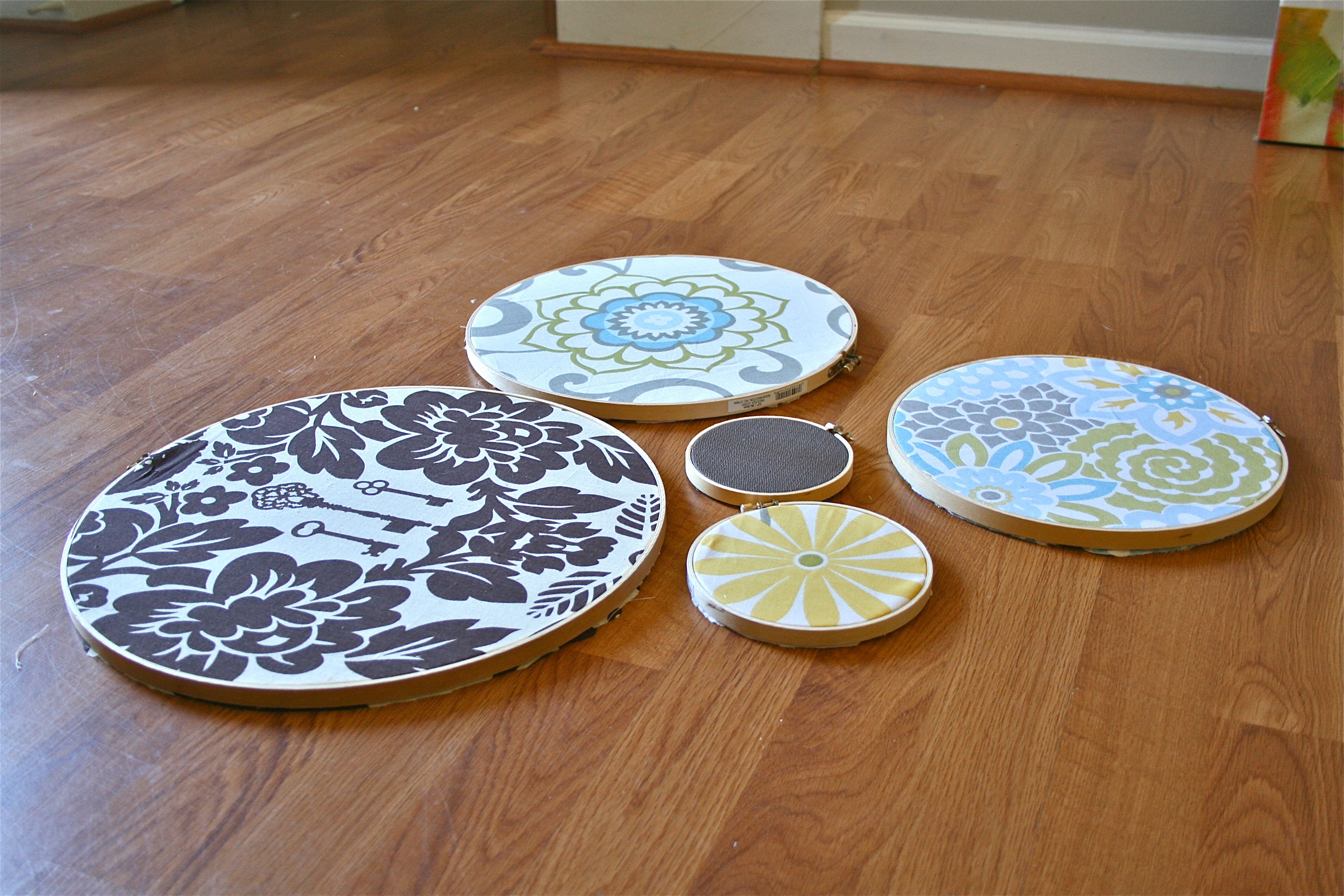 I love how, in the detail shot below, you can see all of the patterns and colors working together – For being random scraps thrown together on a whim I'd say I lucked out…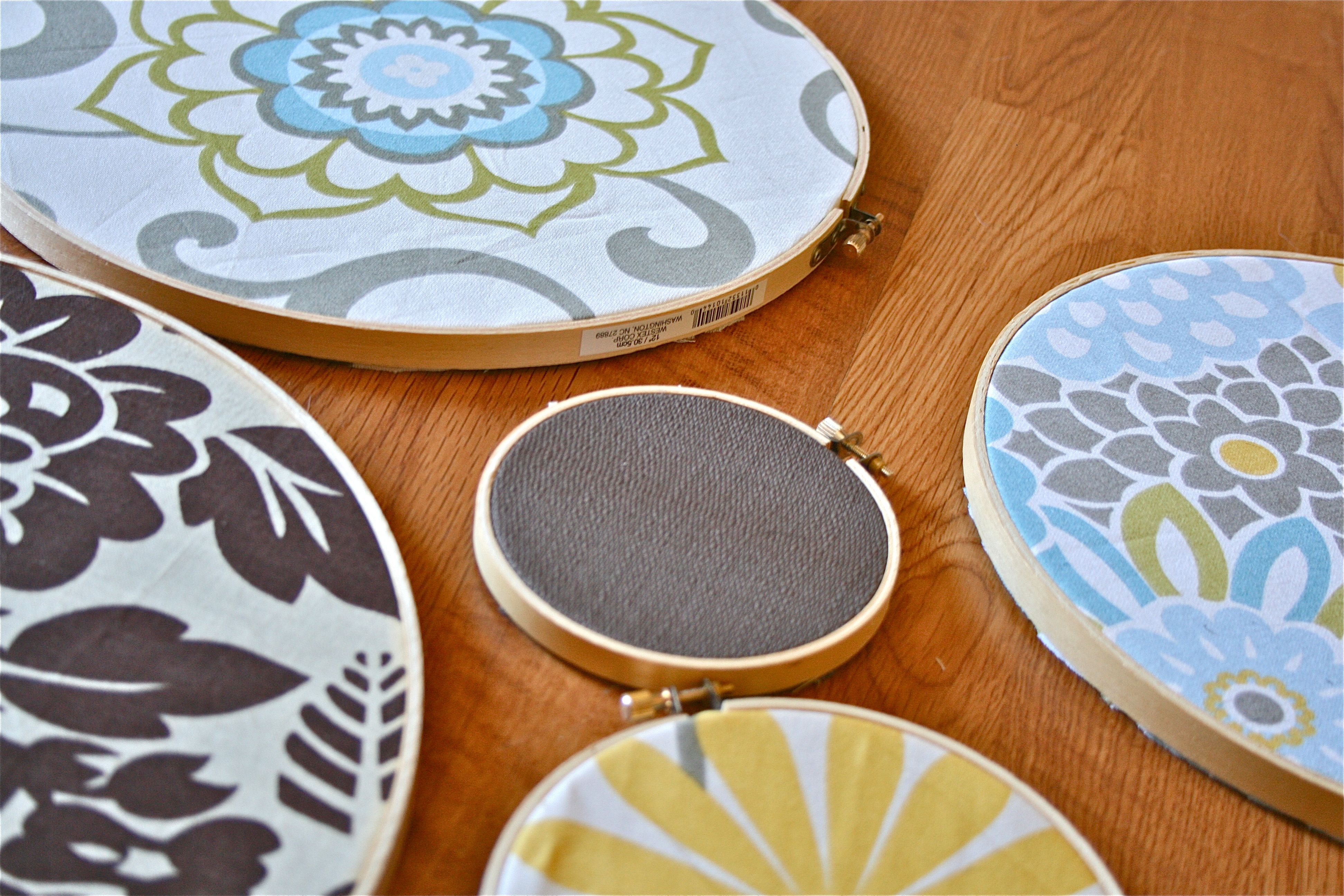 Alas, I don't have a photo of the hoops up on the wall…I don't want to jump the gun because I actually have a special spot for them. John and I have been wanting to create the traditional idea of a family photo collection along the blank wall of the staircase to the second floor.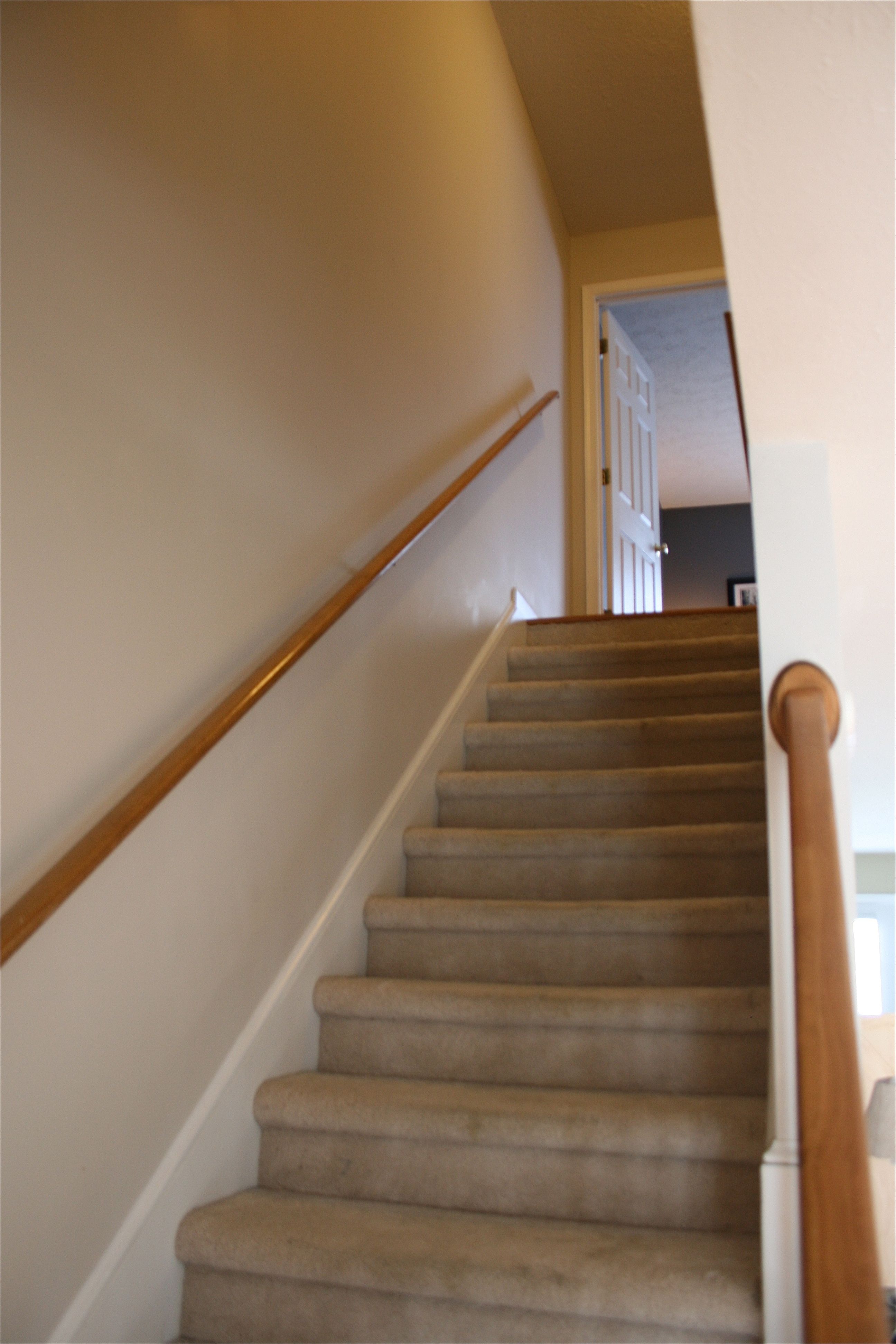 The problem is that we don't yet have enough family photos to do so! But with our engagement photo session coming up next month and our wedding next year, we are sure to have quite a pile to choose from in the near future. I'm thinking of hanging the frames (possibly with place holders until we get the photos back) with the hoops interspersed between – It's just a matter of finding the time to do so…Maybe next weekend 🙂
Hope you have a great Monday!