Last Friday, John and I had some friends over for some good, old-fashioned pumpkin carving – I don't think that carving big (or little) orange pumpkins will ever get old when this time of year rolls around…Get seven people in their mid-twenties into a room with pumpkins, templates and carving tools and you're bound to have a good time. In fact, I think this activity gets BETTER with age because you're able to carve real works of art rather than just the standard smiling face.
We'll get to all that in a moment (and I'll explain how my friends KICKED MY BIG OLE ARTIST BUTT with their intricate and beautiful pumpkins), but first I wanted to tell you the story of a little party treat that went awry…
So since we had people coming over, I though it would be nice to bake a little seasonal treat for everyone to munch on – I had been craving some fun-fetti cupcakes for a while and decided this would be the perfect opportunity.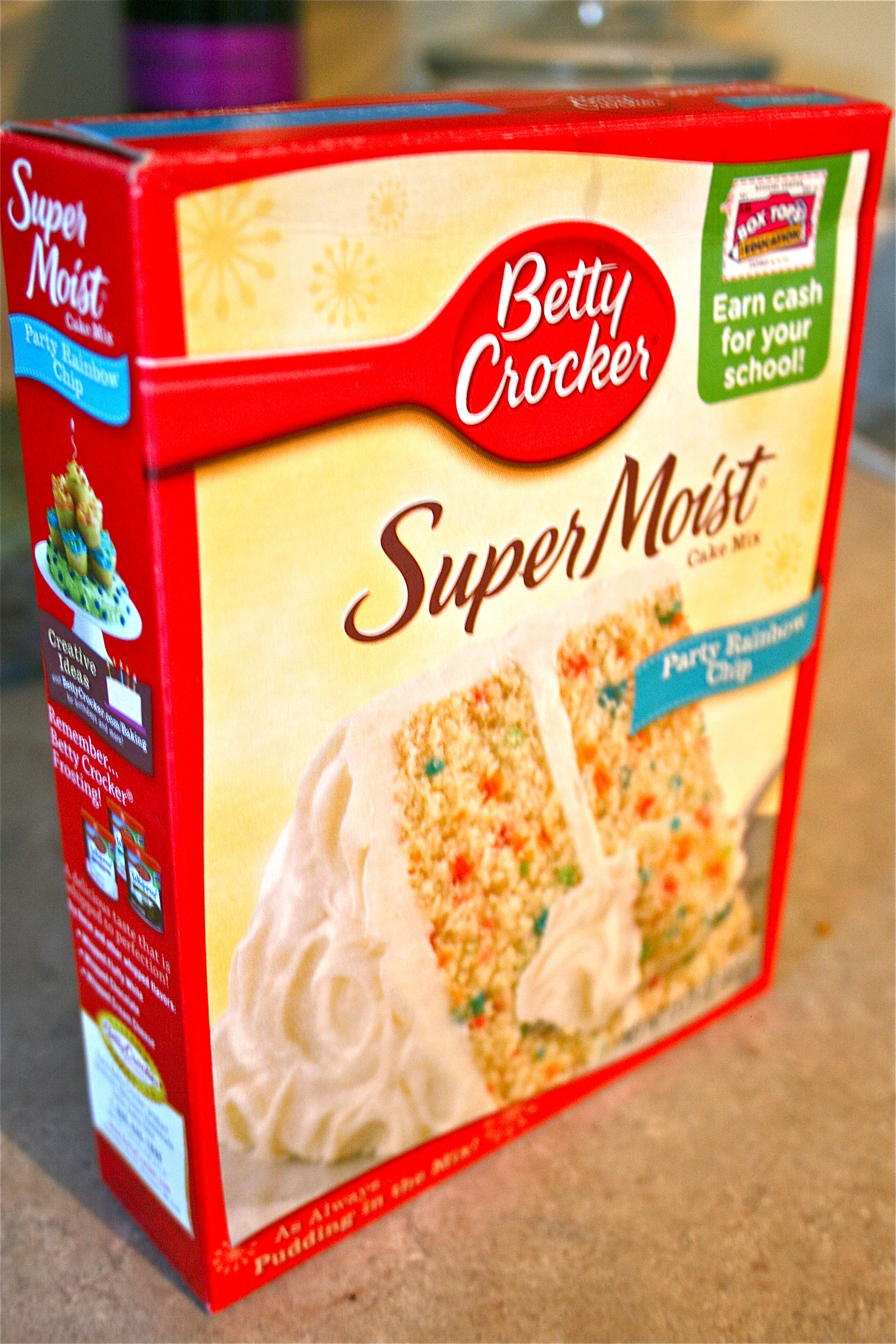 I picked up some Dollar Store cupcake cups with tiny little pumpkins on them to continue the party theme. Here are the finished cupcakes fresh out of the oven!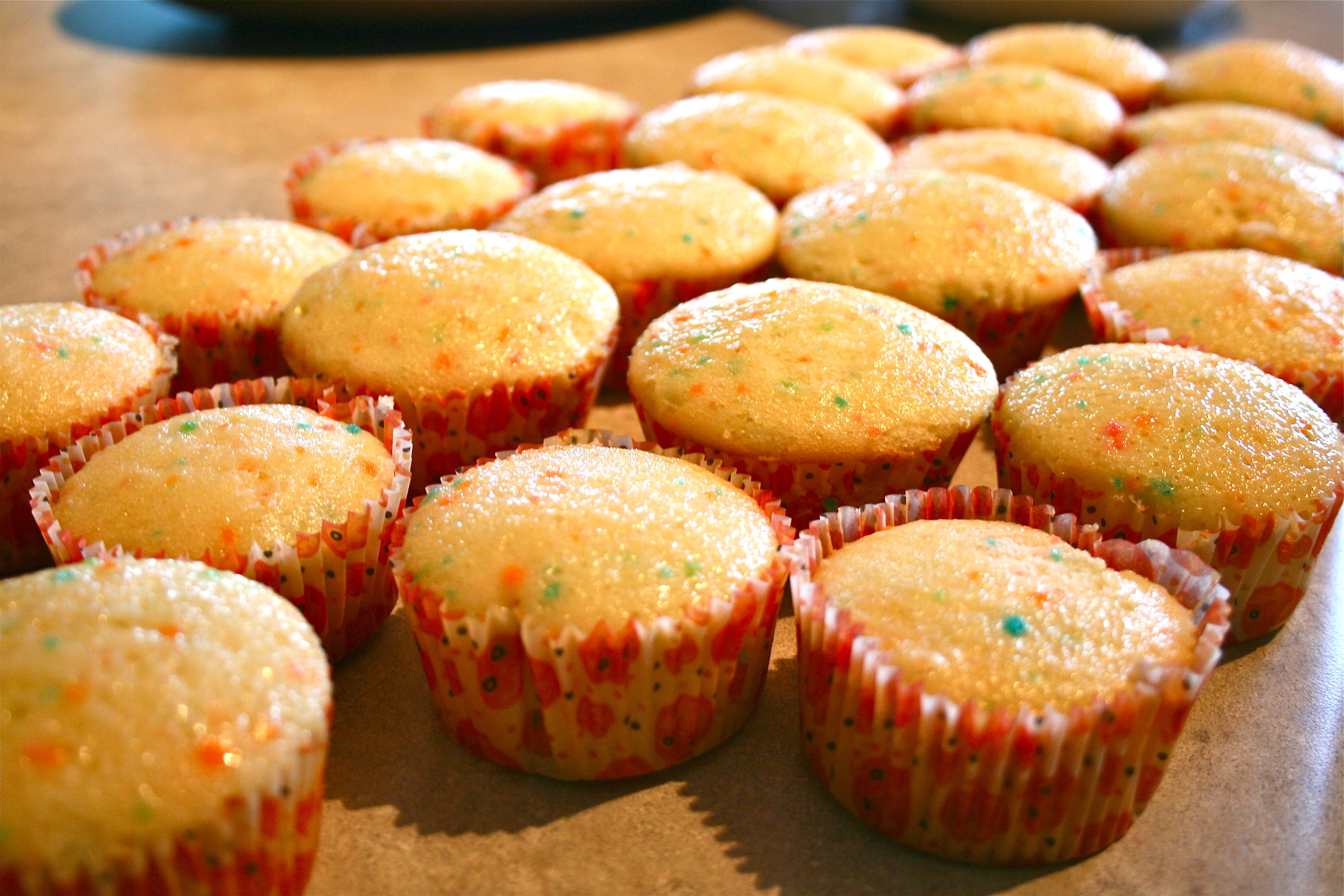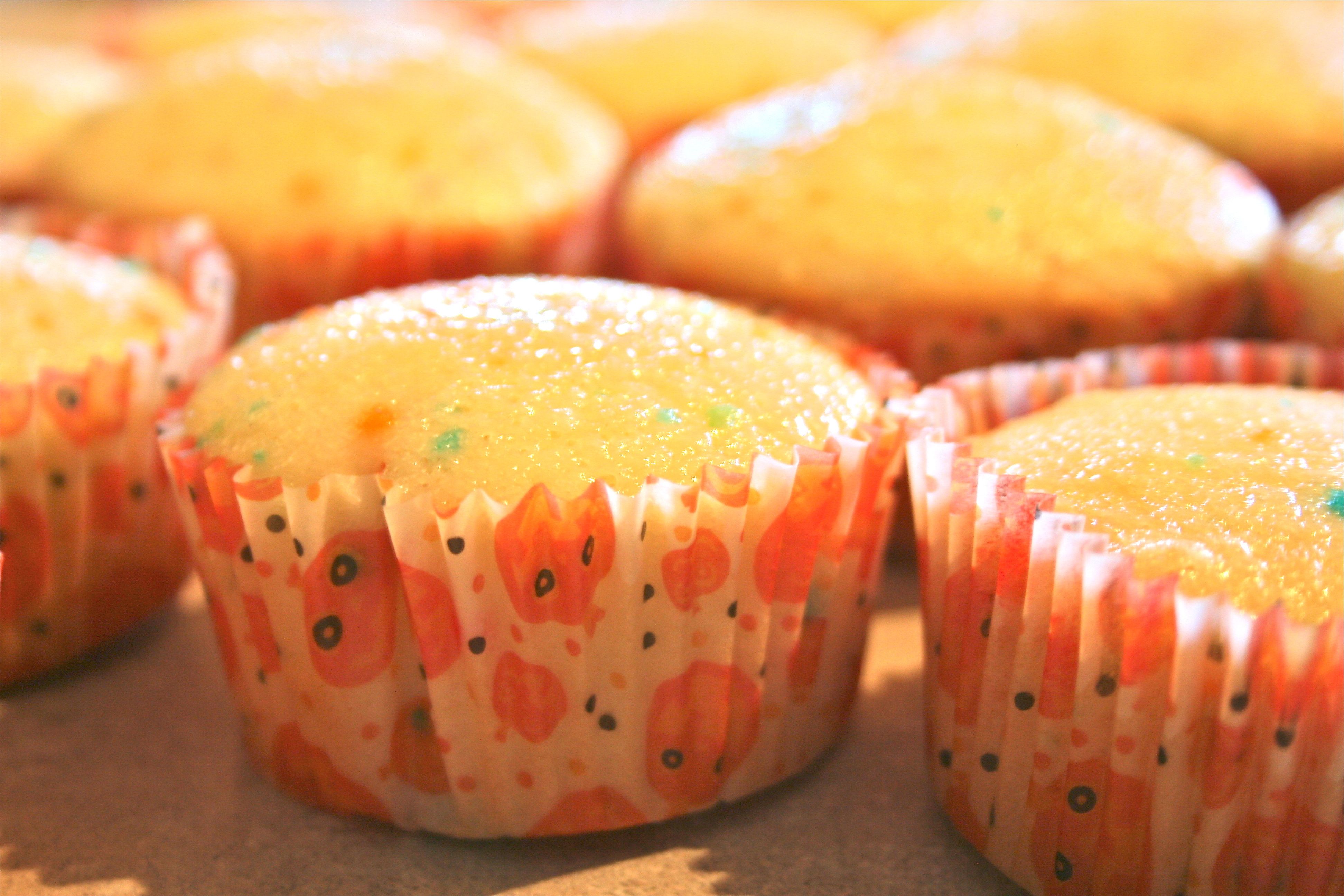 After giving them some time to cool down, I grabbed brown cake icing and a bottle of orange cookie icing I had on hand to start decorating. My plan was to put the brown icing all over the top of the cupcakes and then draw an orange face on top that looked like a carved pumpkin.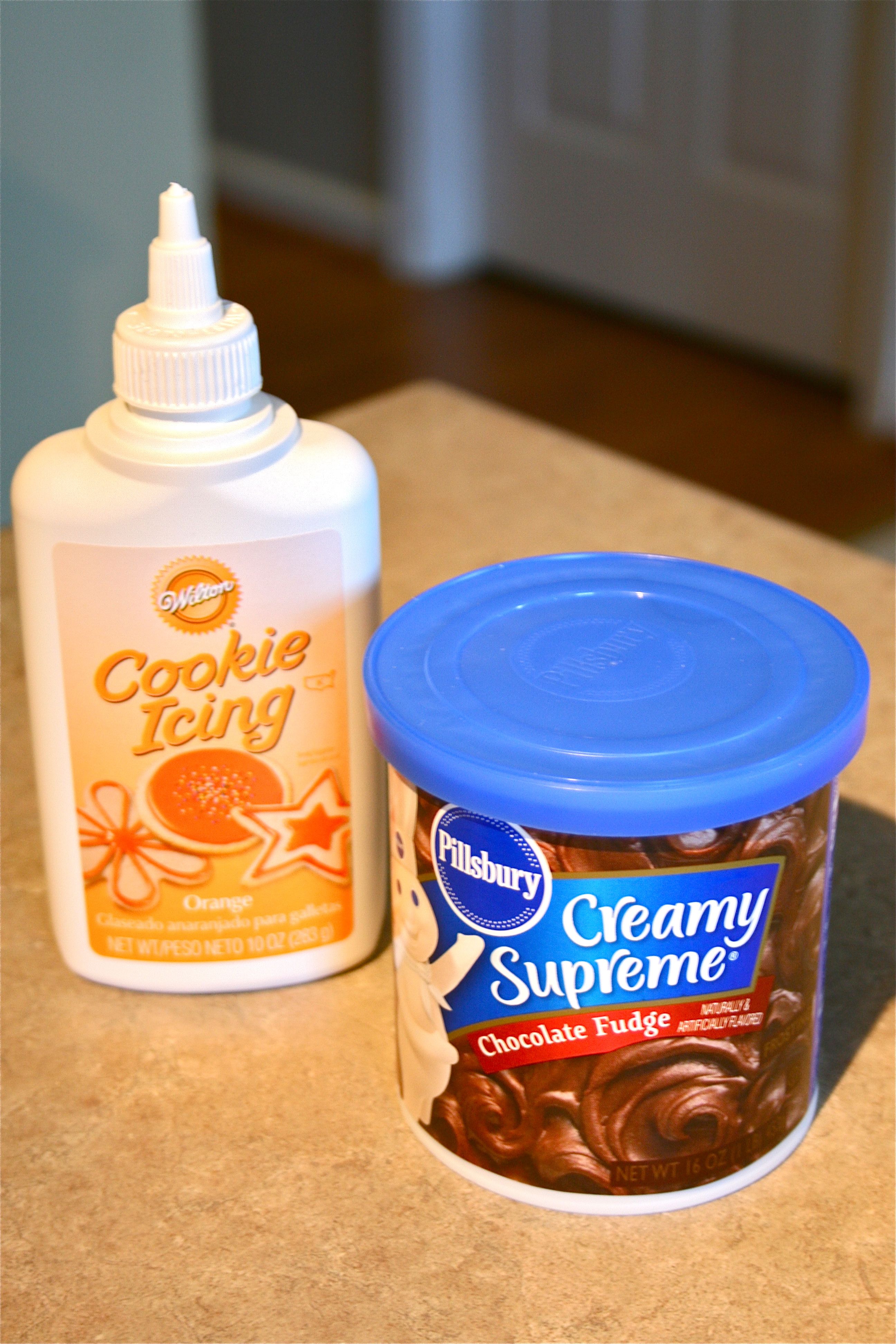 Unfortunately…That didn't go as planned…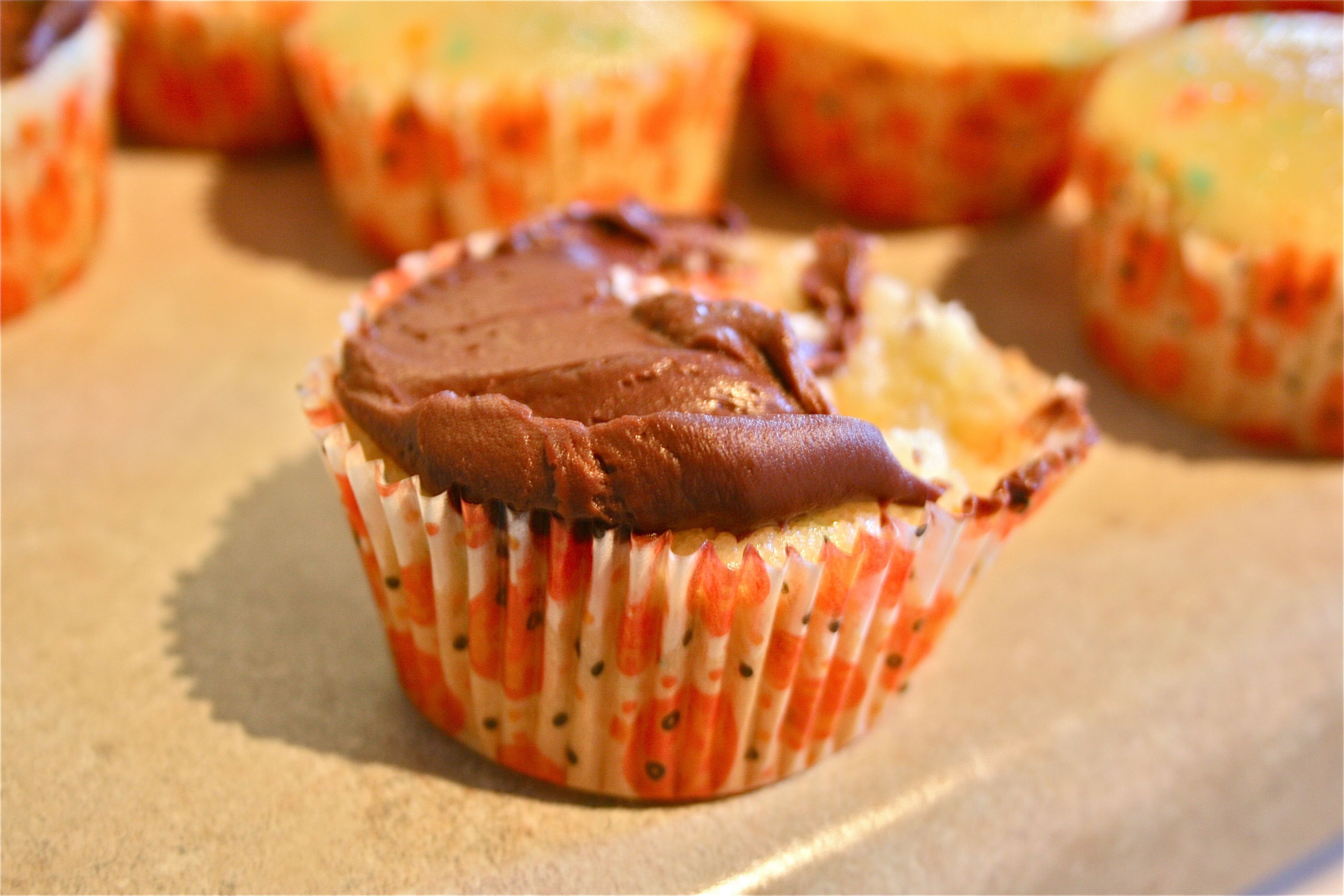 The cupcakes were SOOOO "Super Moist" (as advertised on the cake mix box) that they fell apart as soon as I tried to frost the top!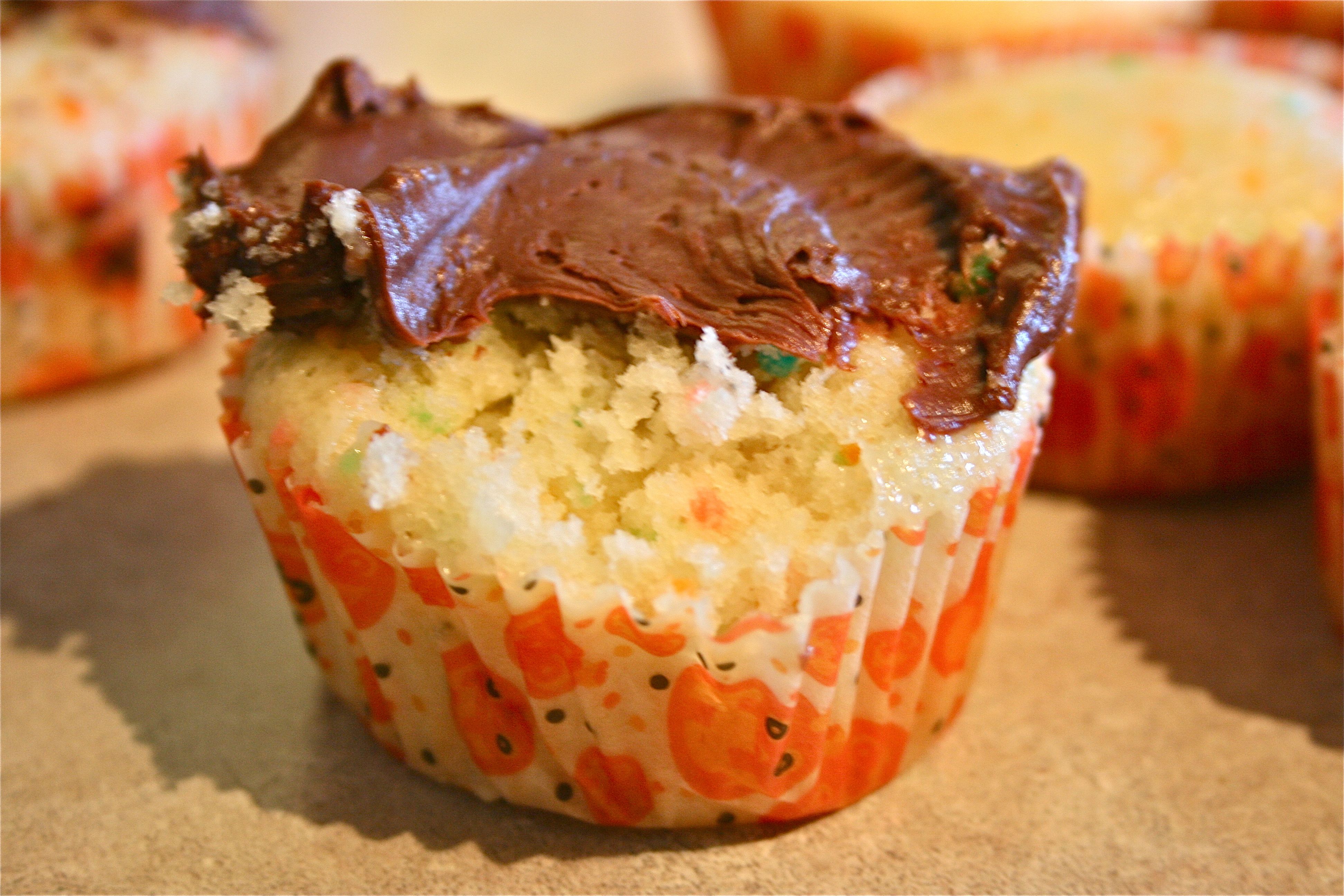 I thought maybe I could get away with not using the brown icing and going straight to the orange pumpkin face on the bare cupcake, but that didn't work either. The icing was really drippy and wouldn't stay in place at all…The center cupcake below was the closest I got to making it work, but after a minute or two it started to look like its messy neighbor to the right.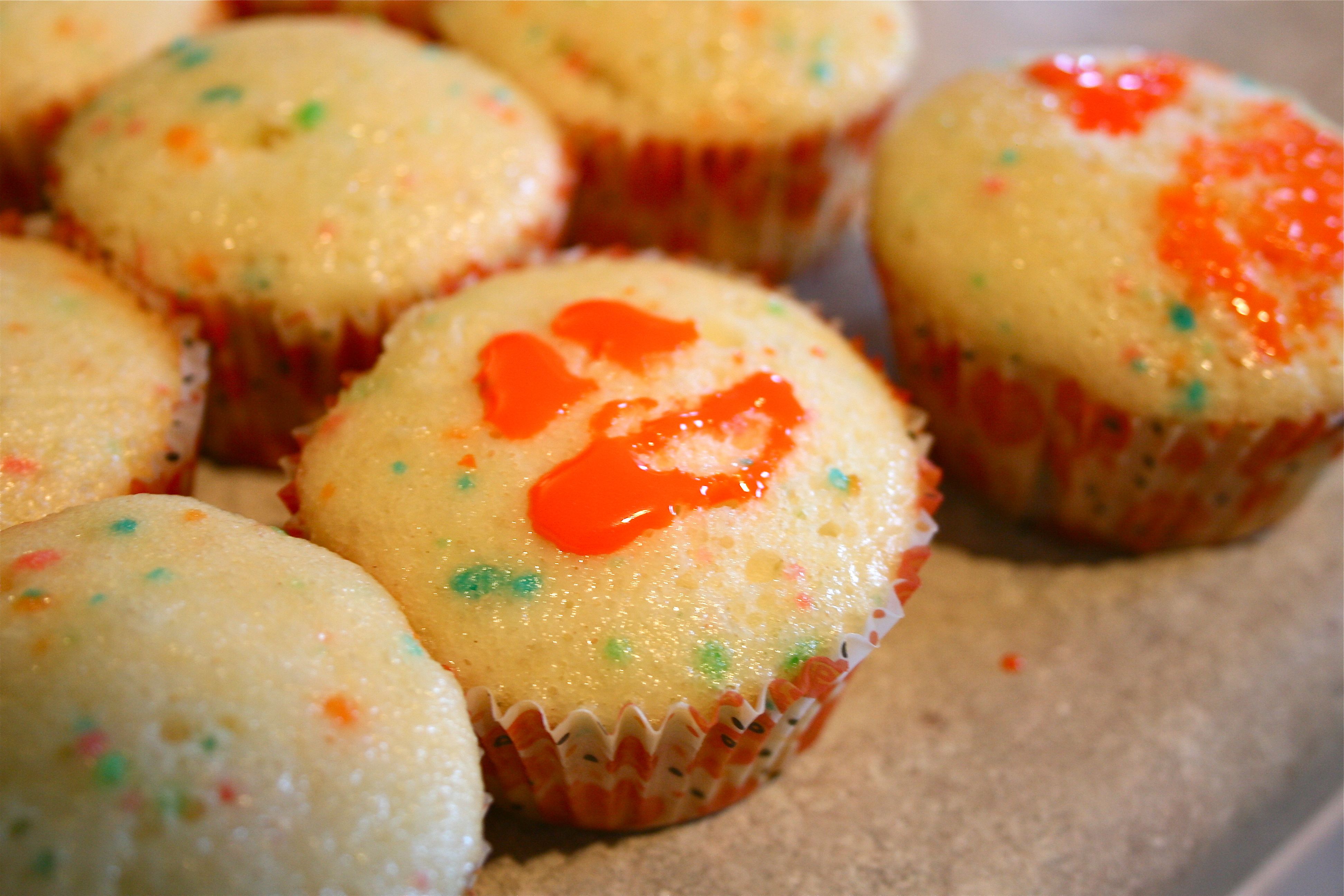 So I gave up entirely and simply stuck some little Halloween flags in the remaining bare cupcakes to finish them off! I still thought they tasted pretty yummy, even without the icing, and they had enough paper decoration to designate them as Halloween treats. Good enough for me!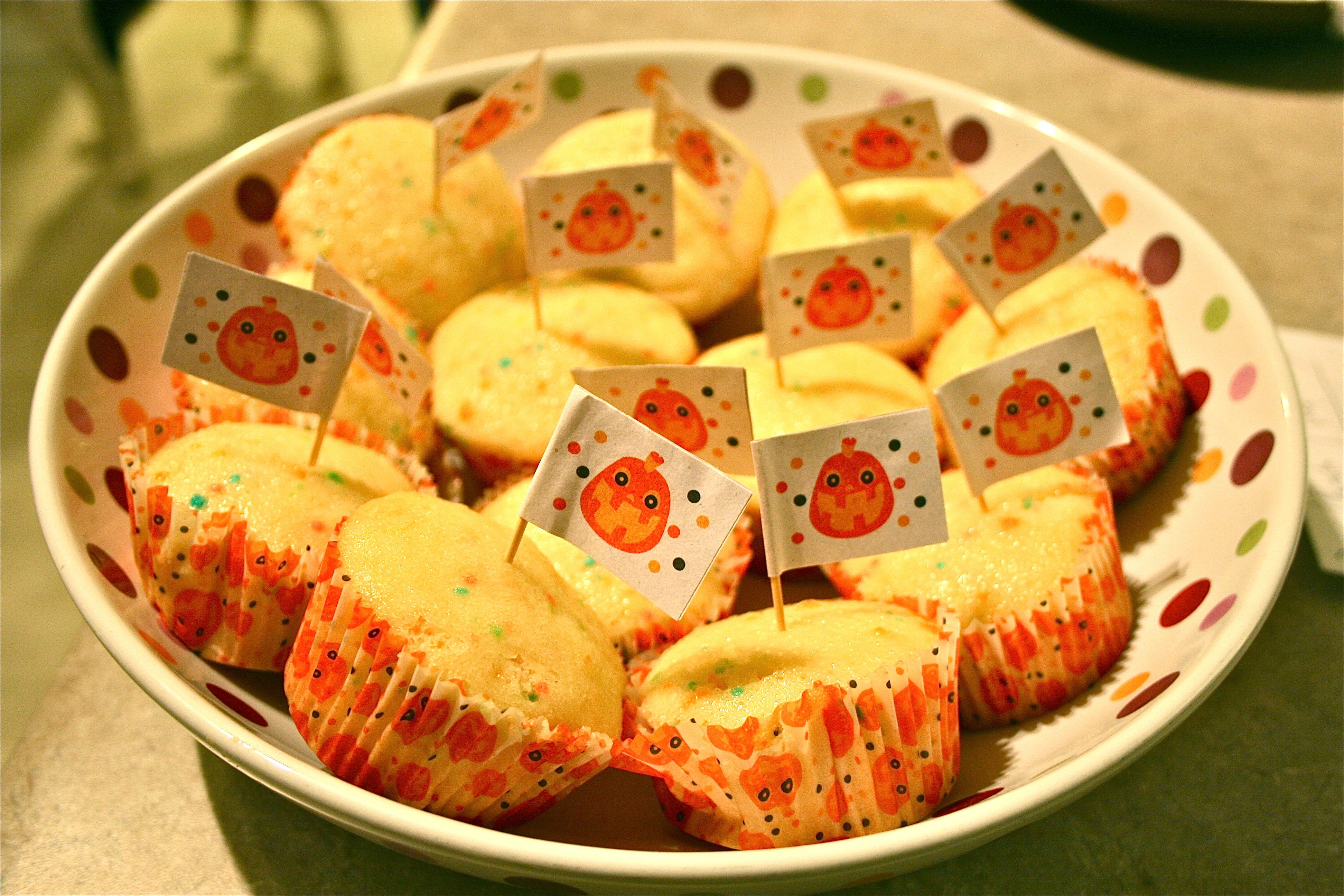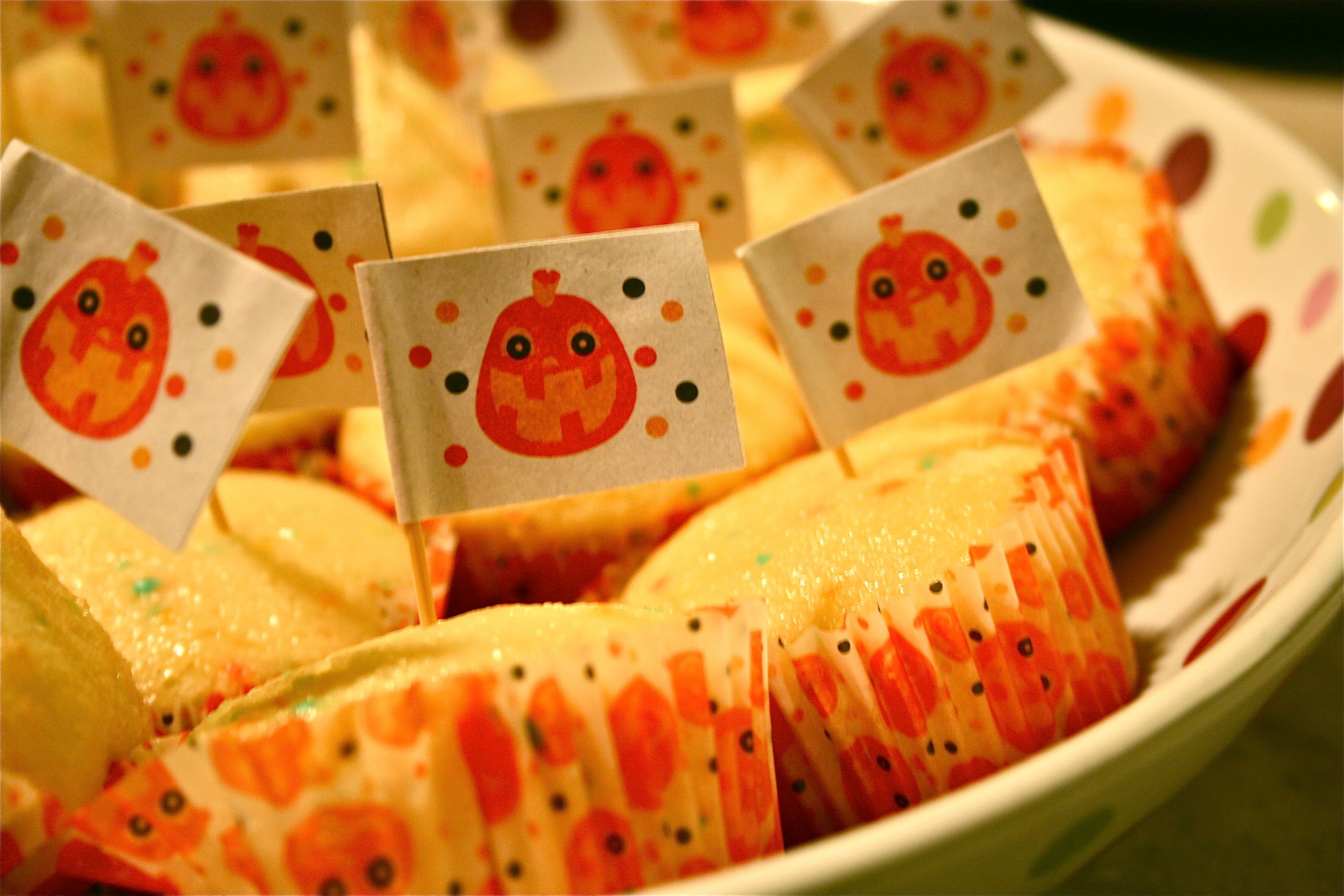 After everyone arrived (and we took a moment to partake in the cupcakes I made and the cookies the other girls brought) we made our way down to the basement garage where John and I had laid out two Dollar Store shower curtain liners as our easy-clean-up solution to all of those pumpkin guts. It was REALLY nice to be able to dump everything on the floor without having to worry about clean up later.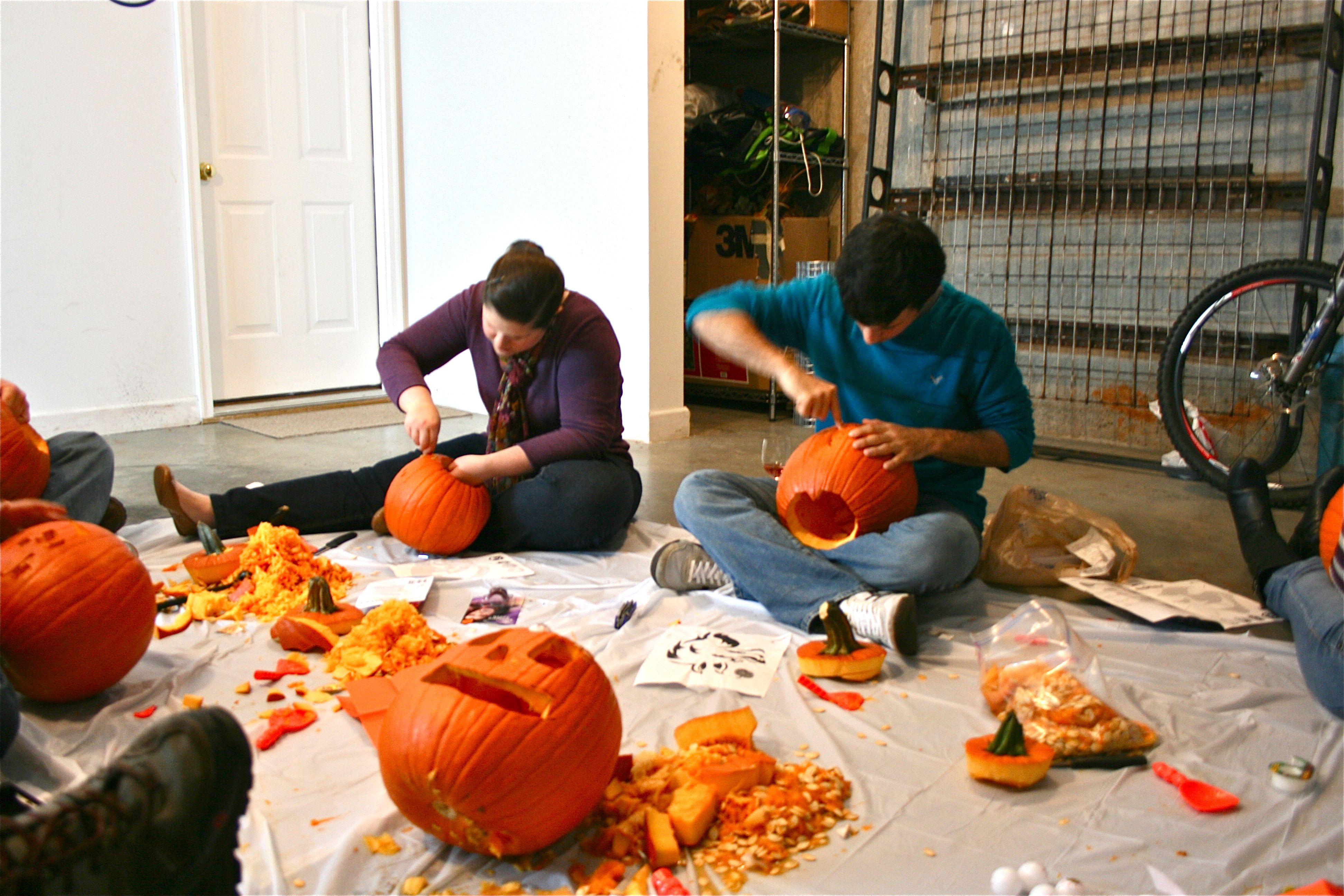 Here's our friend, Chris, carving a wolf face into his pumpkin – You can tell by the motion blur that he was really getting into it 🙂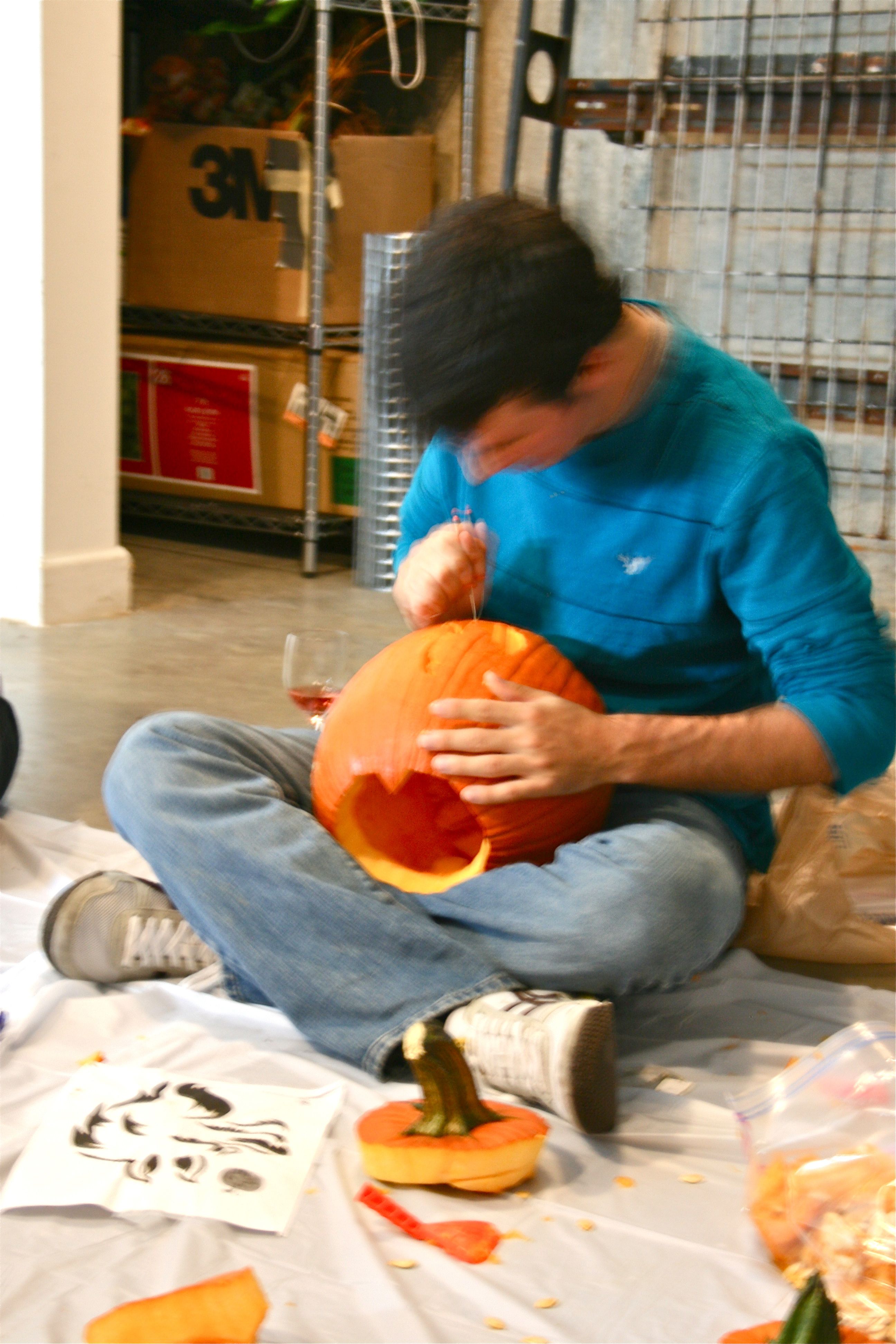 Everyone (but John and I) bought pumpkin carving kits from Kroger that came with a handy book of templates – Turns out that they were THE COOLEST THINGS EVER! As you'll see in a moment when I show you the "After" shots, these templates transformed the pumpkins into little masterpieces!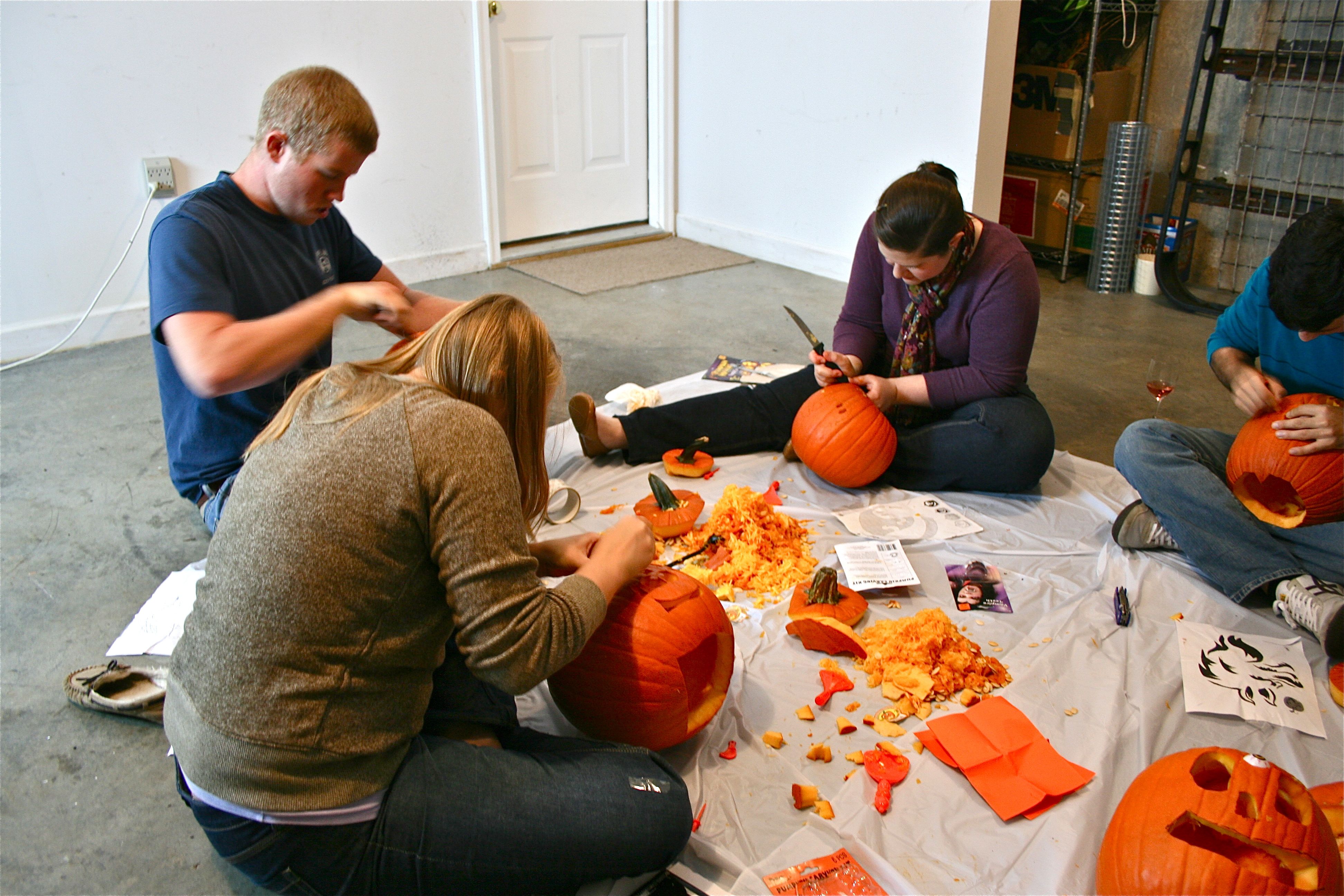 Here's Beth concentrating on her design, which was a couple of little ghosts swooping into the foreground. Wait till you see the neat finished product…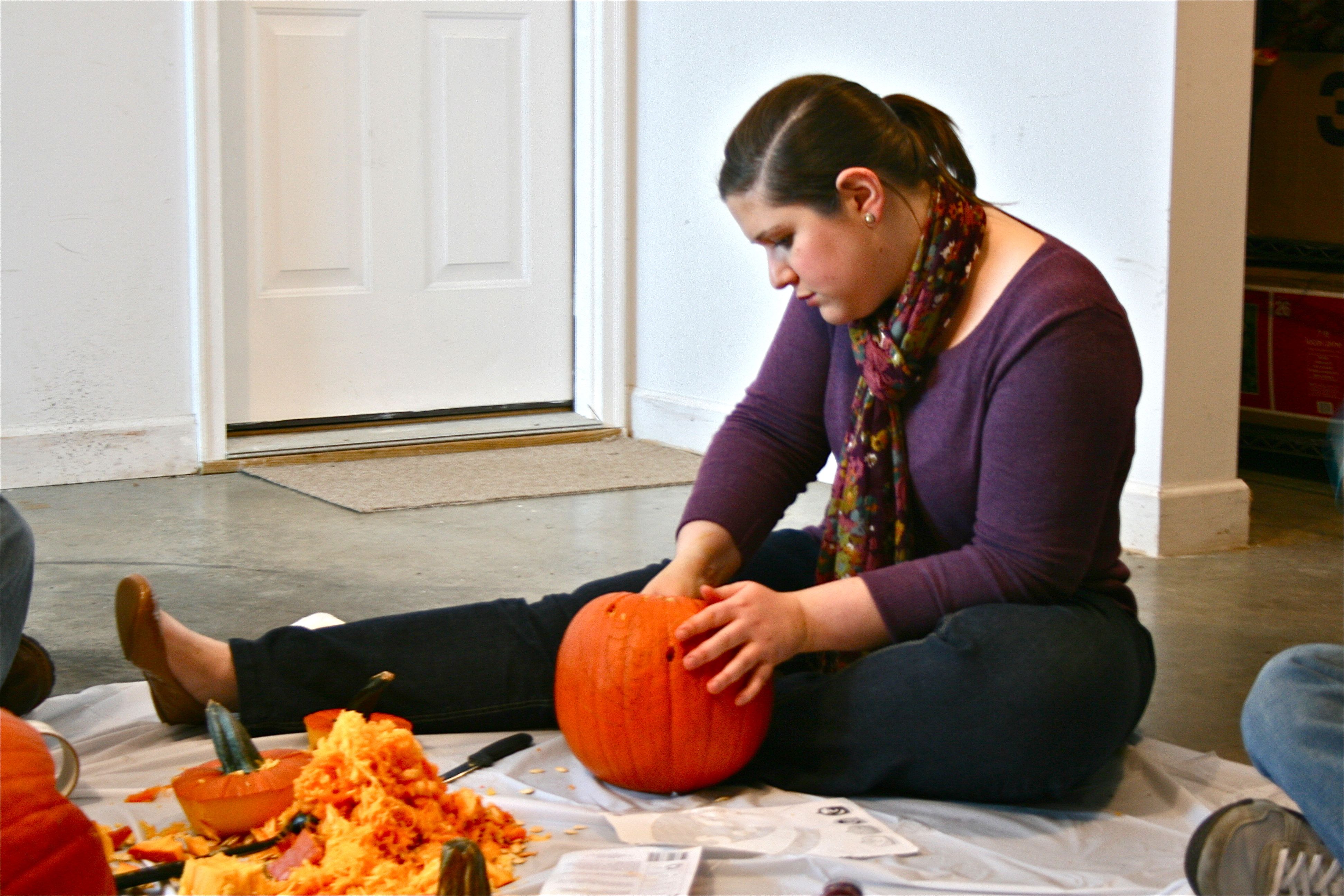 And then of course I, the person who spouted off last week about being a so-called artist, created these two little juvenile pumpkins! I love them, but they are definitely a little less involved and detailed then everyone elses…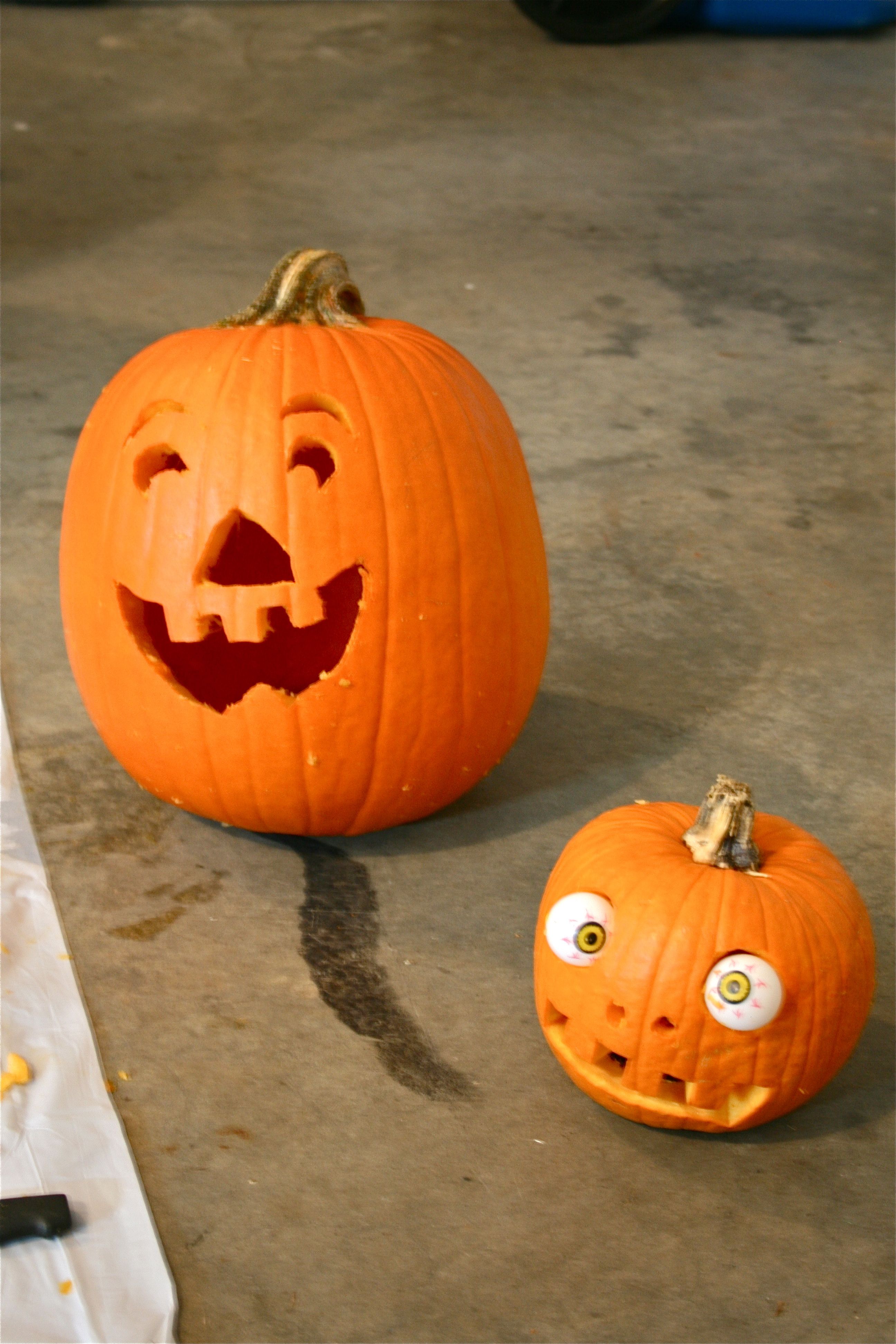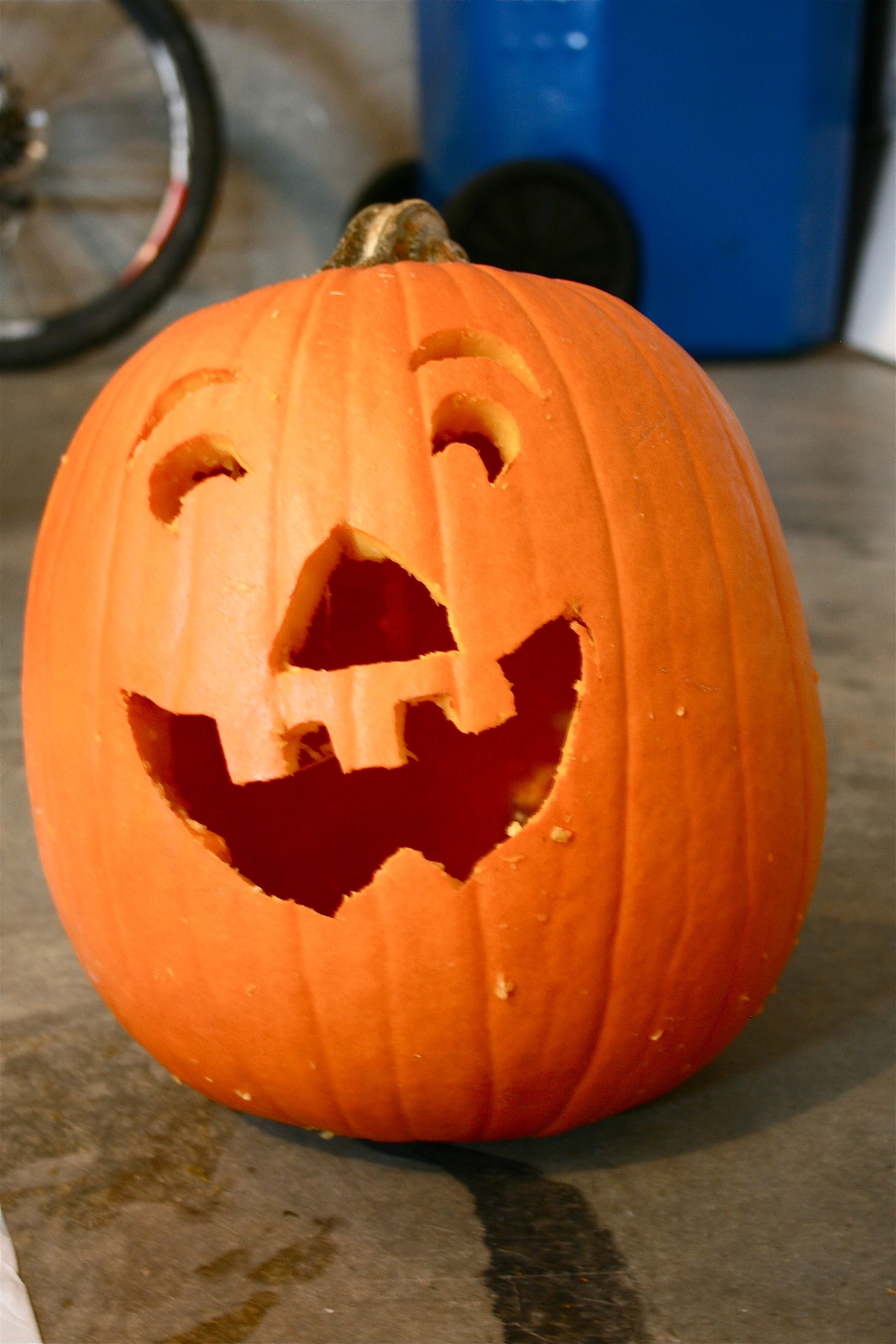 For the one below, I used little $1 googly eyes to fill the holes in the pumpkin face. I think it gives him a pretty distinct personality, don't you? 🙂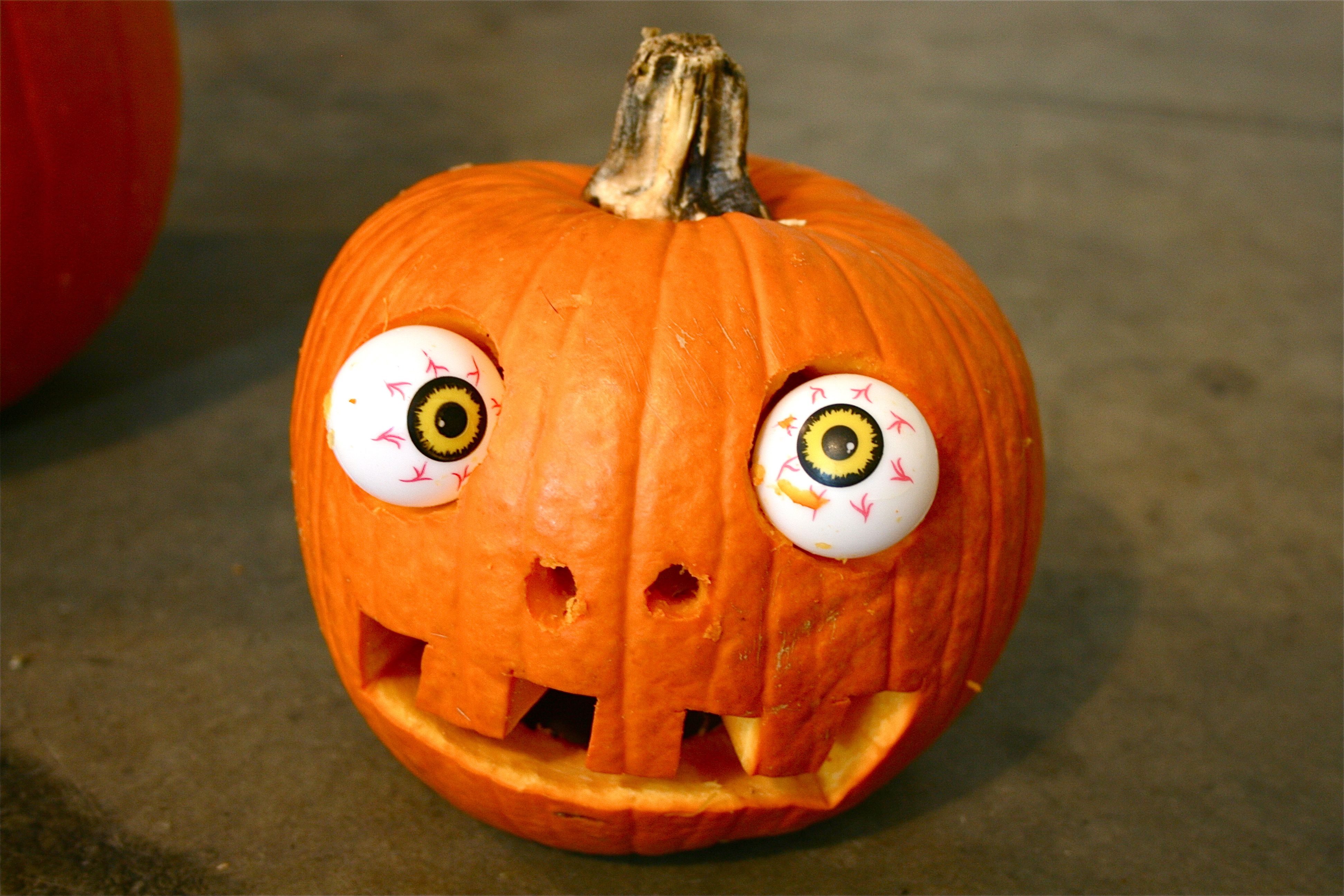 And then here's John's – He was "too cool" for templates and knocked this bad boy out in about ten minutes. As you can see, his marker marks are still clearly visible 😉 And gotta love the little errant google eye in the center!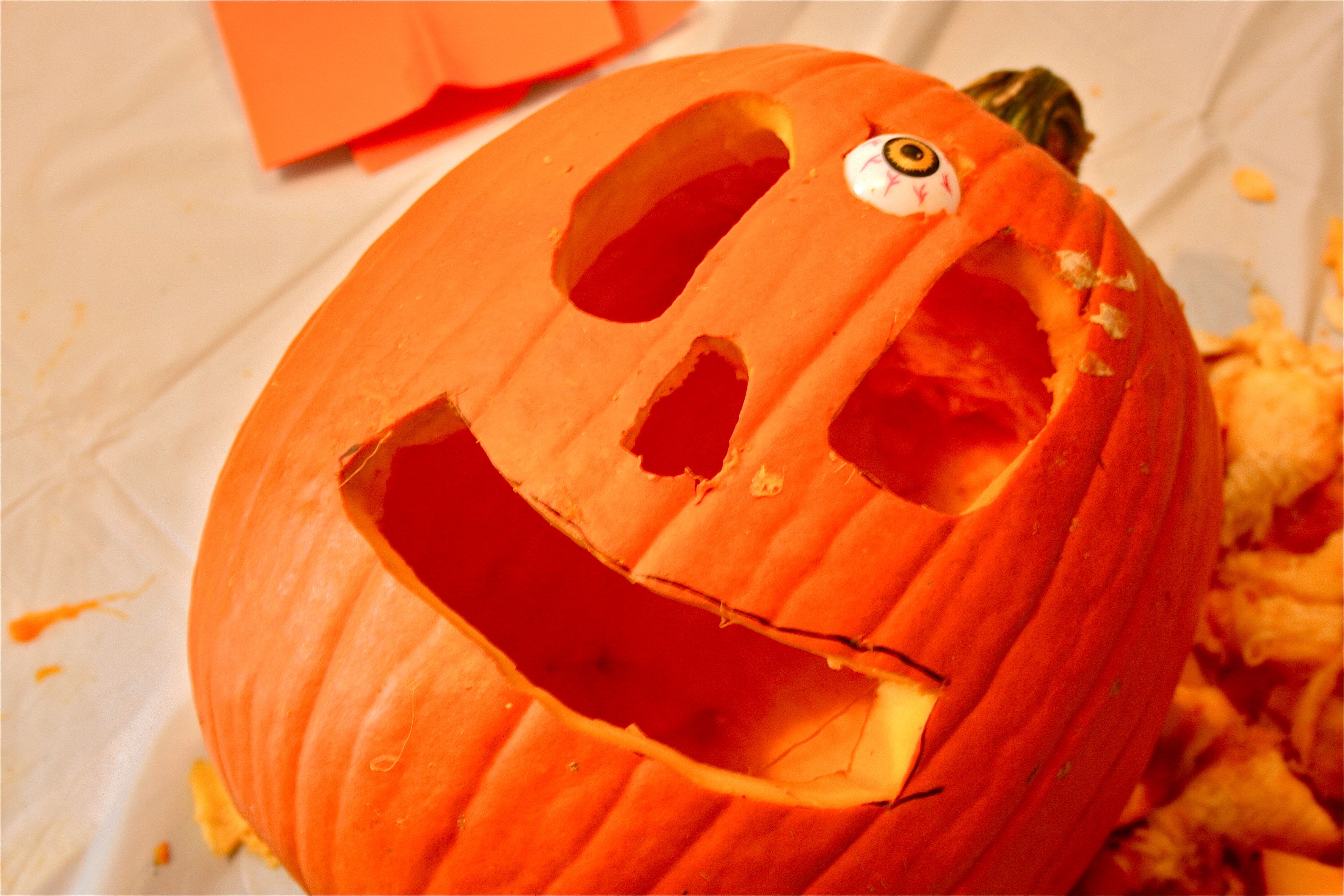 Now for the finale…Here are the shots taken after everyone completed they pumpkin and we lit them up along the wall inside the garage. We all stood back and stared for probably close to ten minutes. There was definitely something surreal and spooky about them all being in one spot. Not only that, but a few of them were downright SCARY!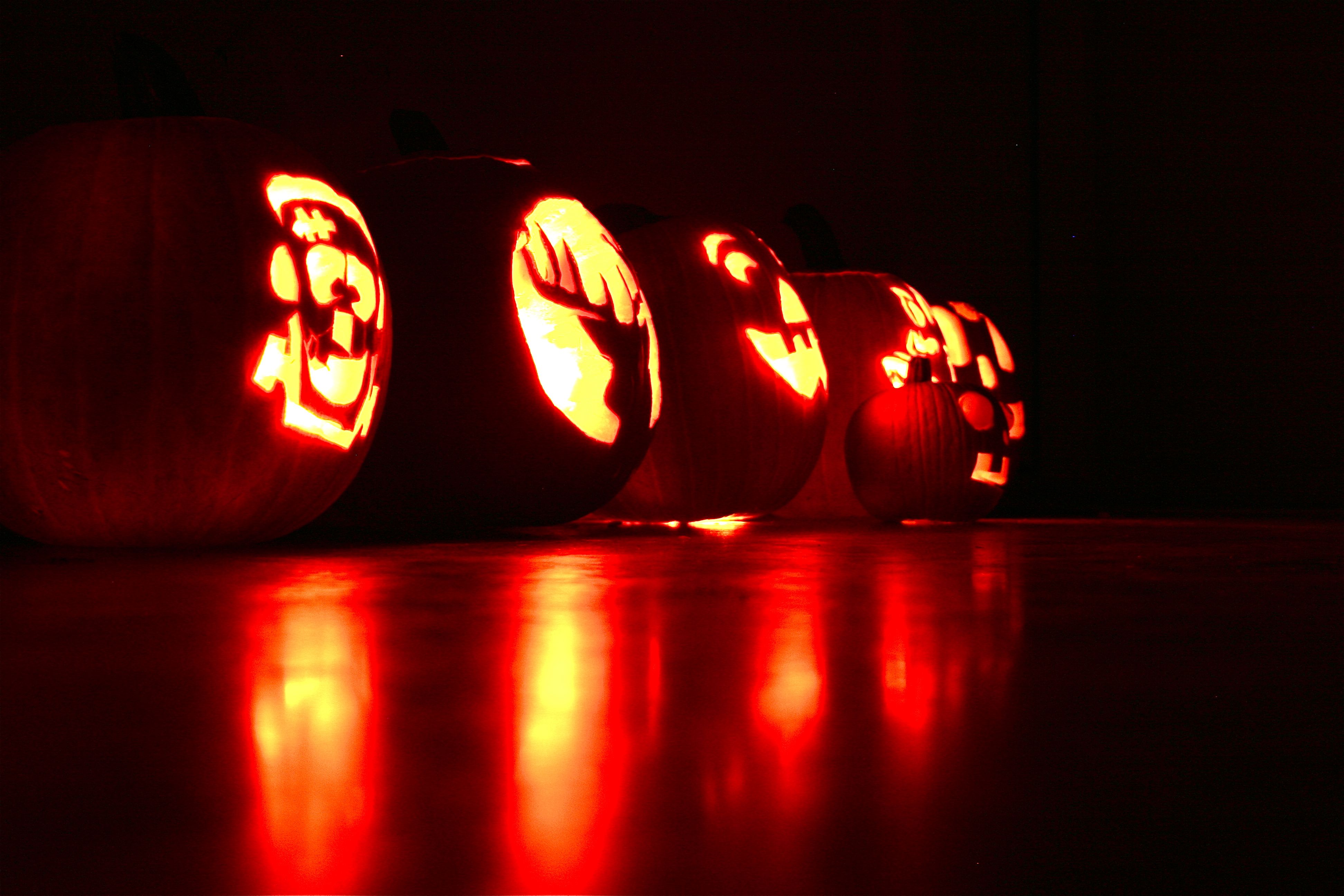 My lovely friend, Tara, created this pumpkin…It is SOOOO beautiful in detail but seriously – This thing is terrifying!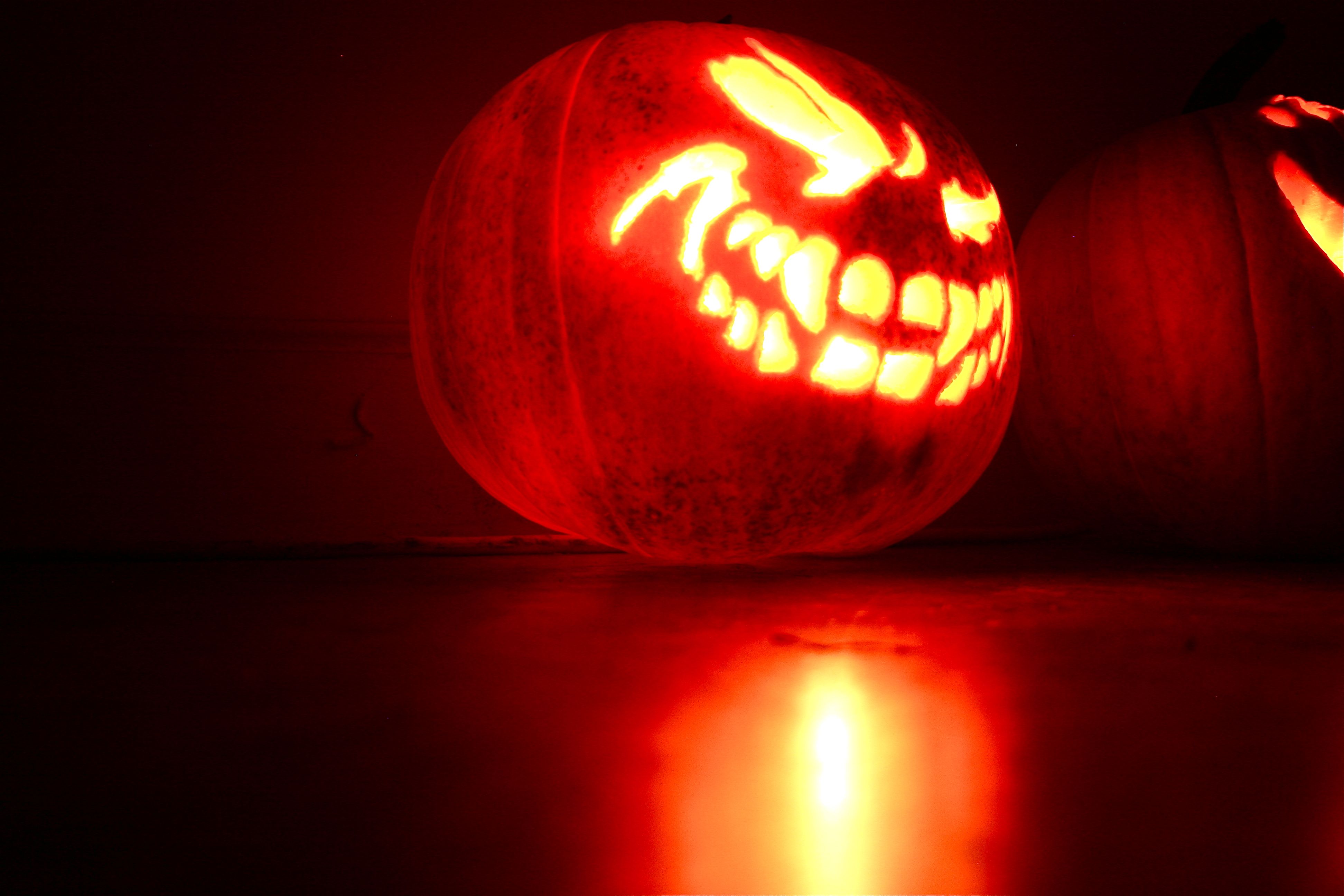 Now for the rest of the details as we make our way down the line…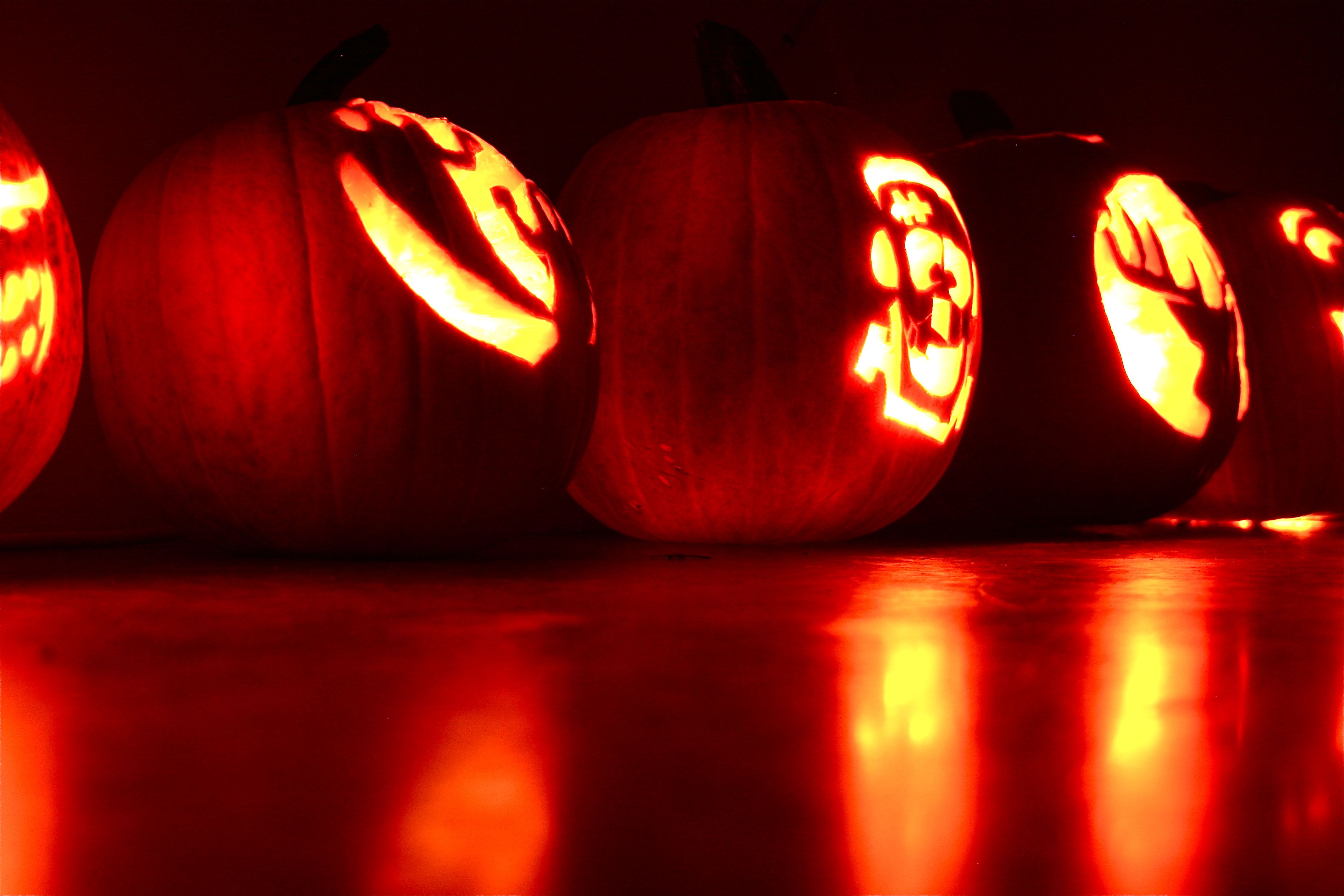 Here's Tara's again ::shivers::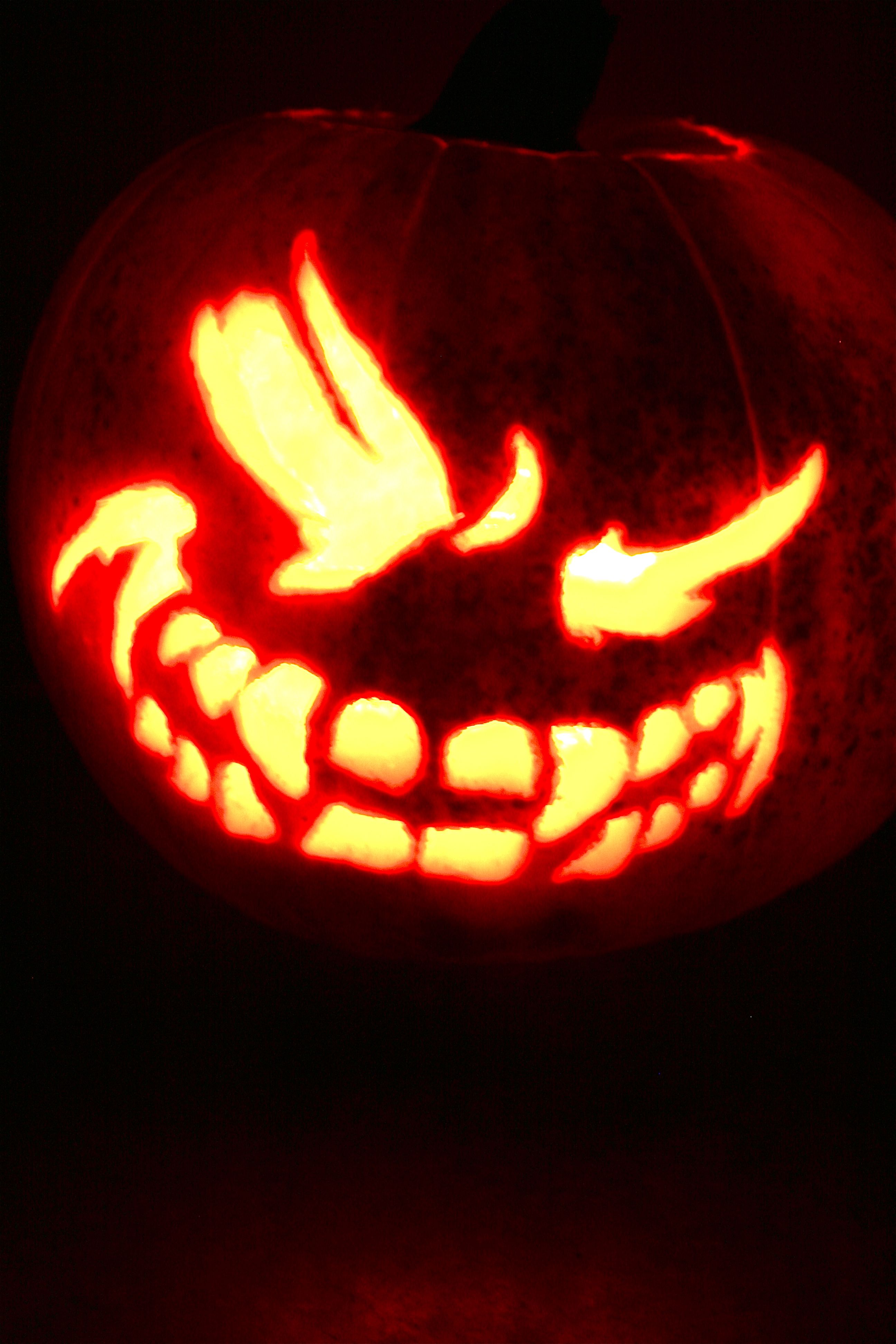 And Beth's: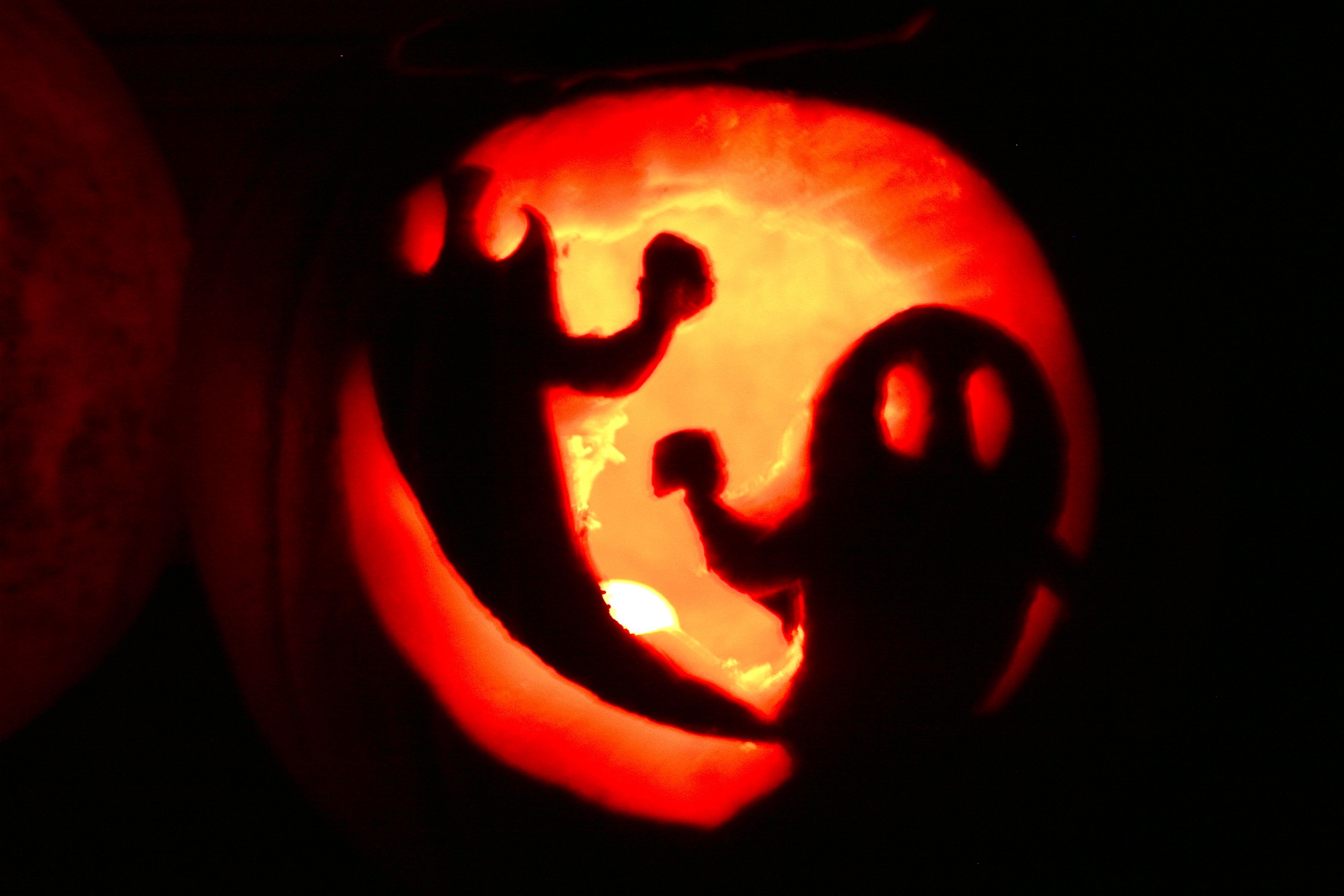 Heidi's: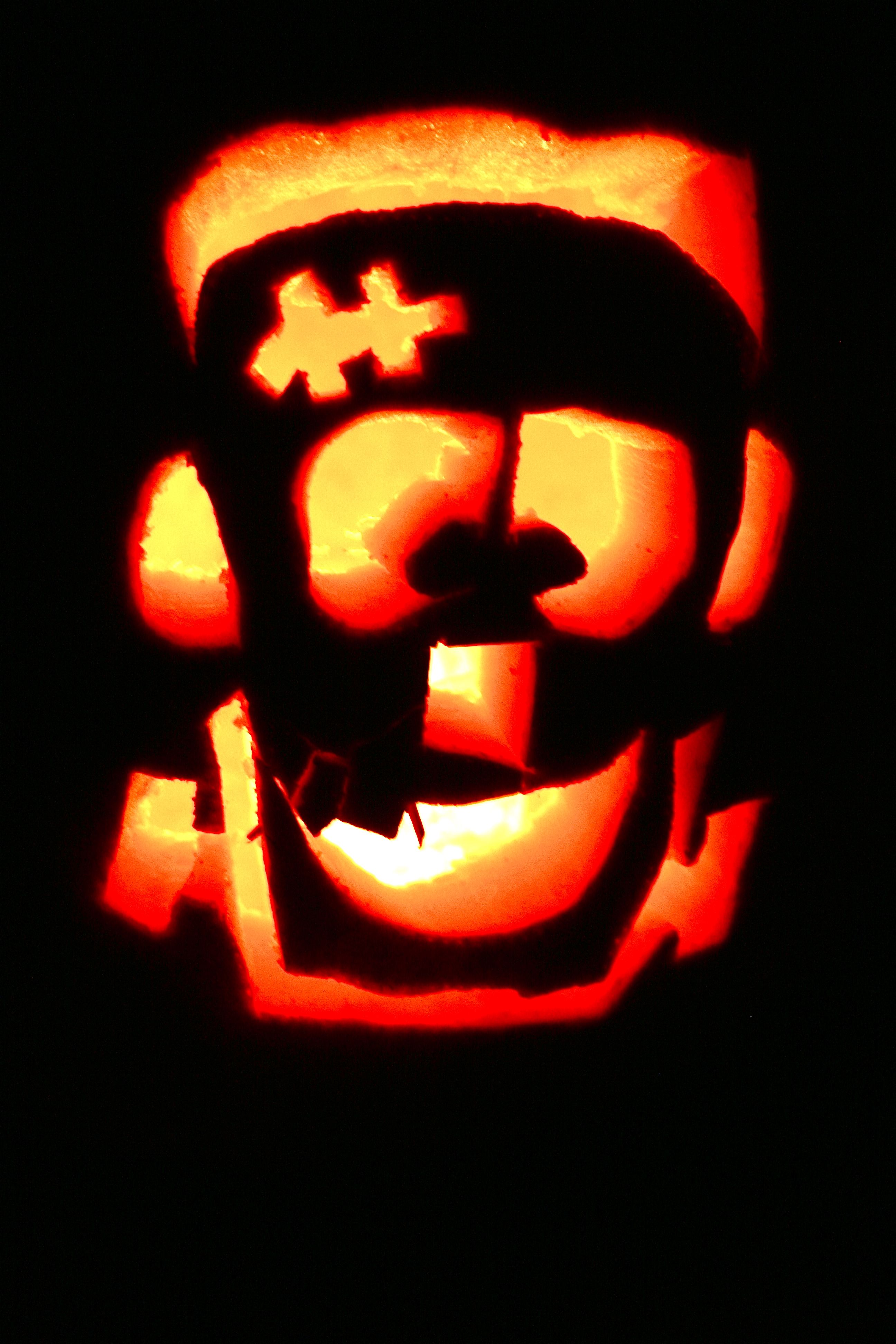 Justin's: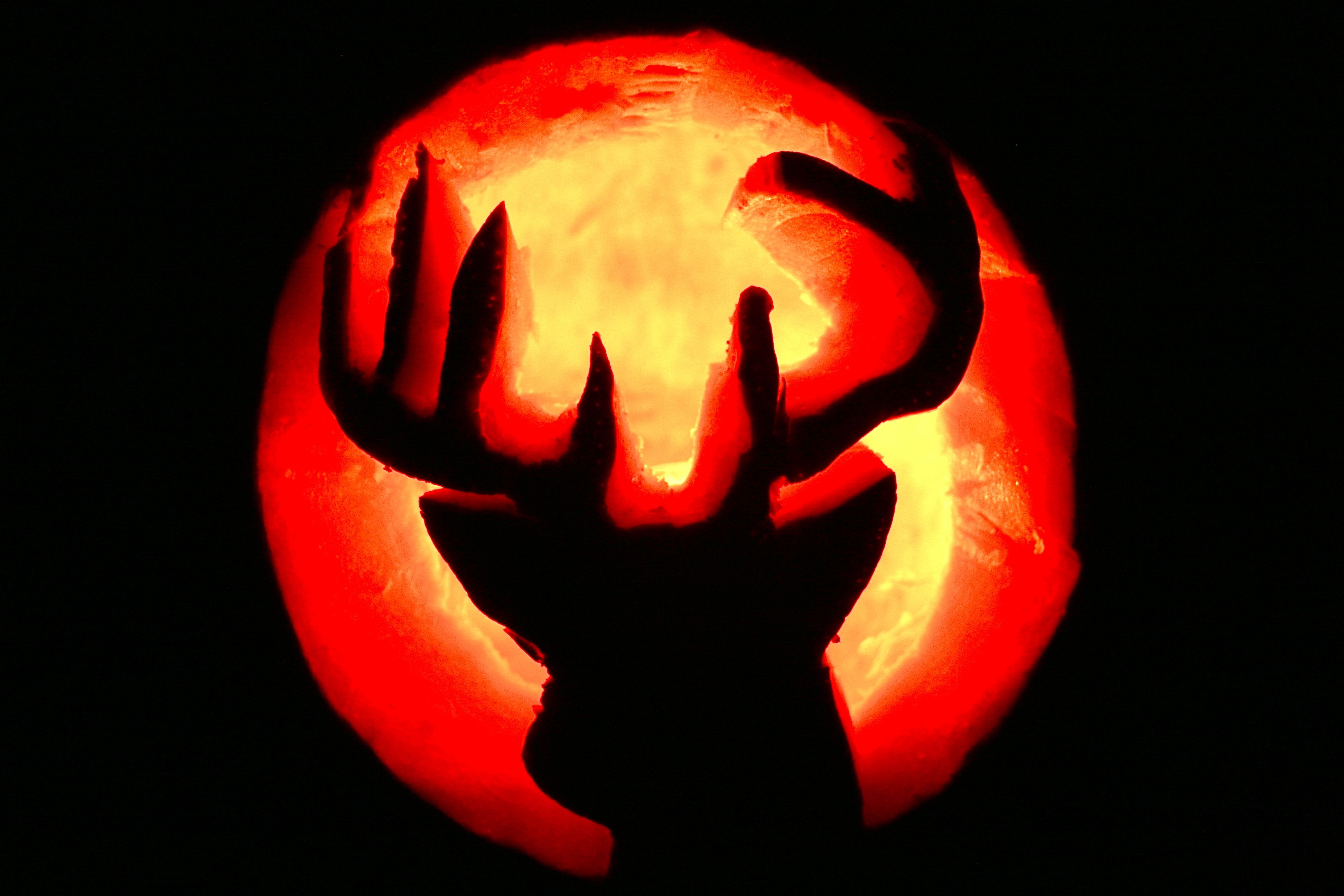 Mine: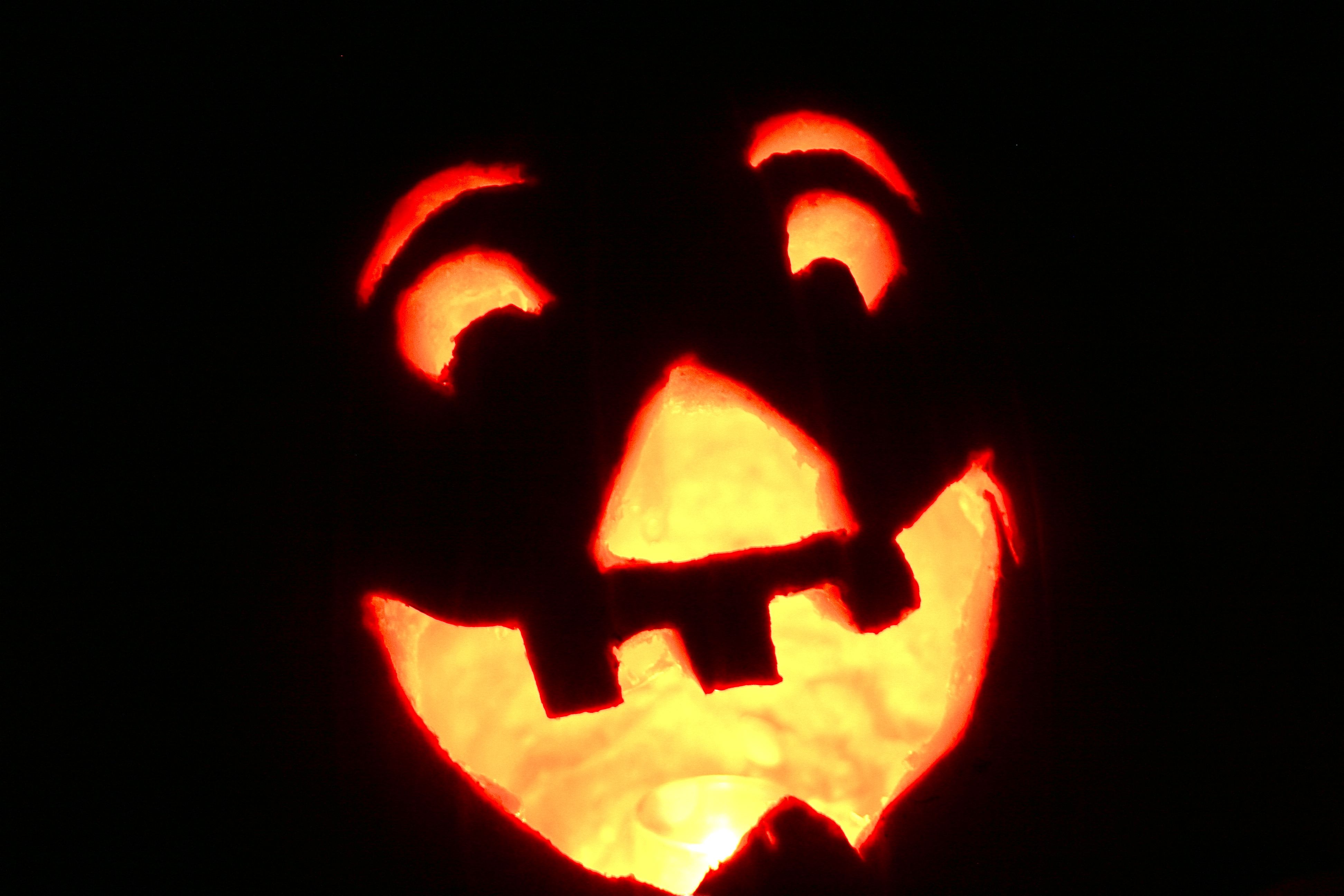 Chris's: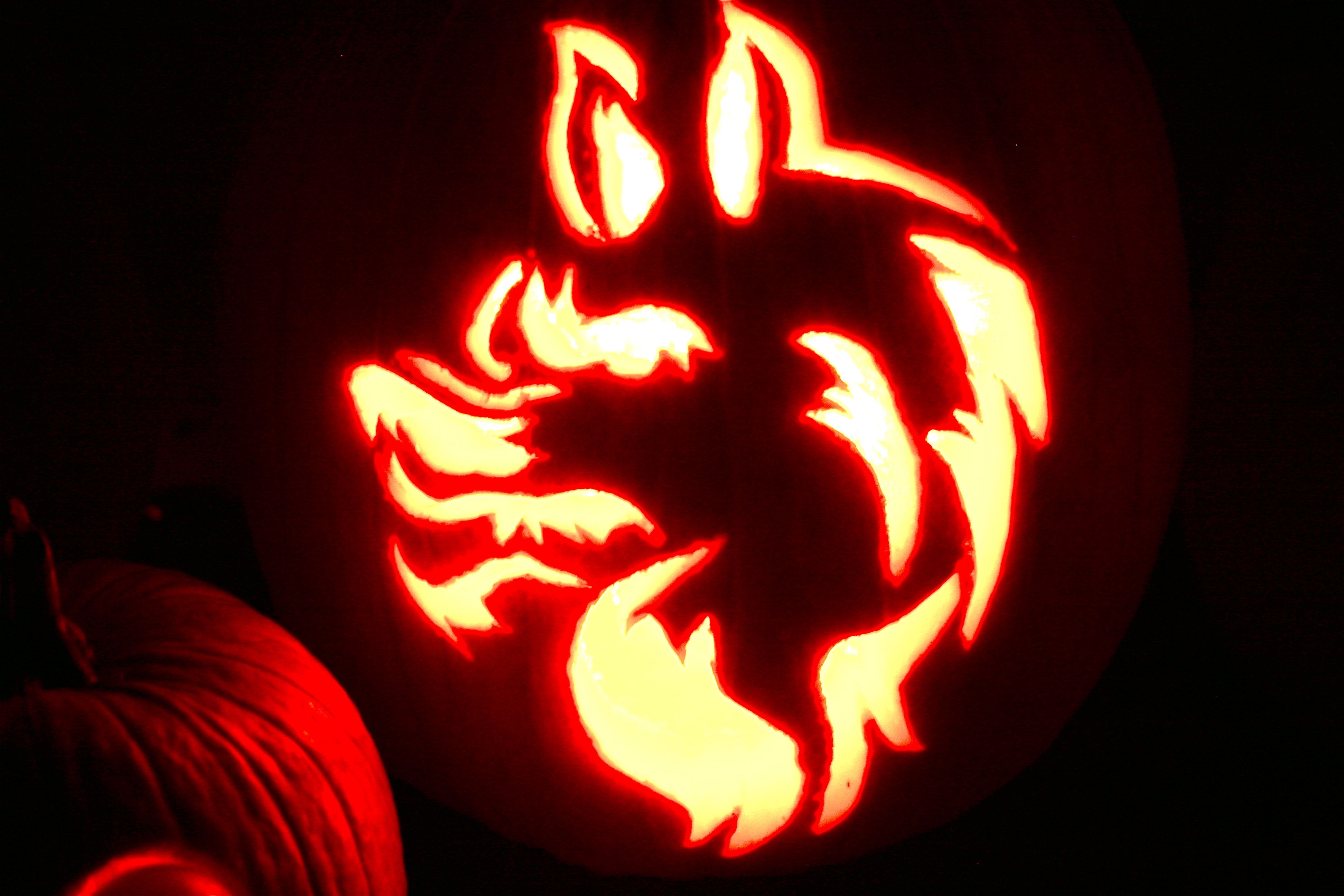 And John's (sorry…It's a little blurry – It was NOT easy to photograph these well in the pitch dark. The shutter stayed open for probably a good ten straight seconds):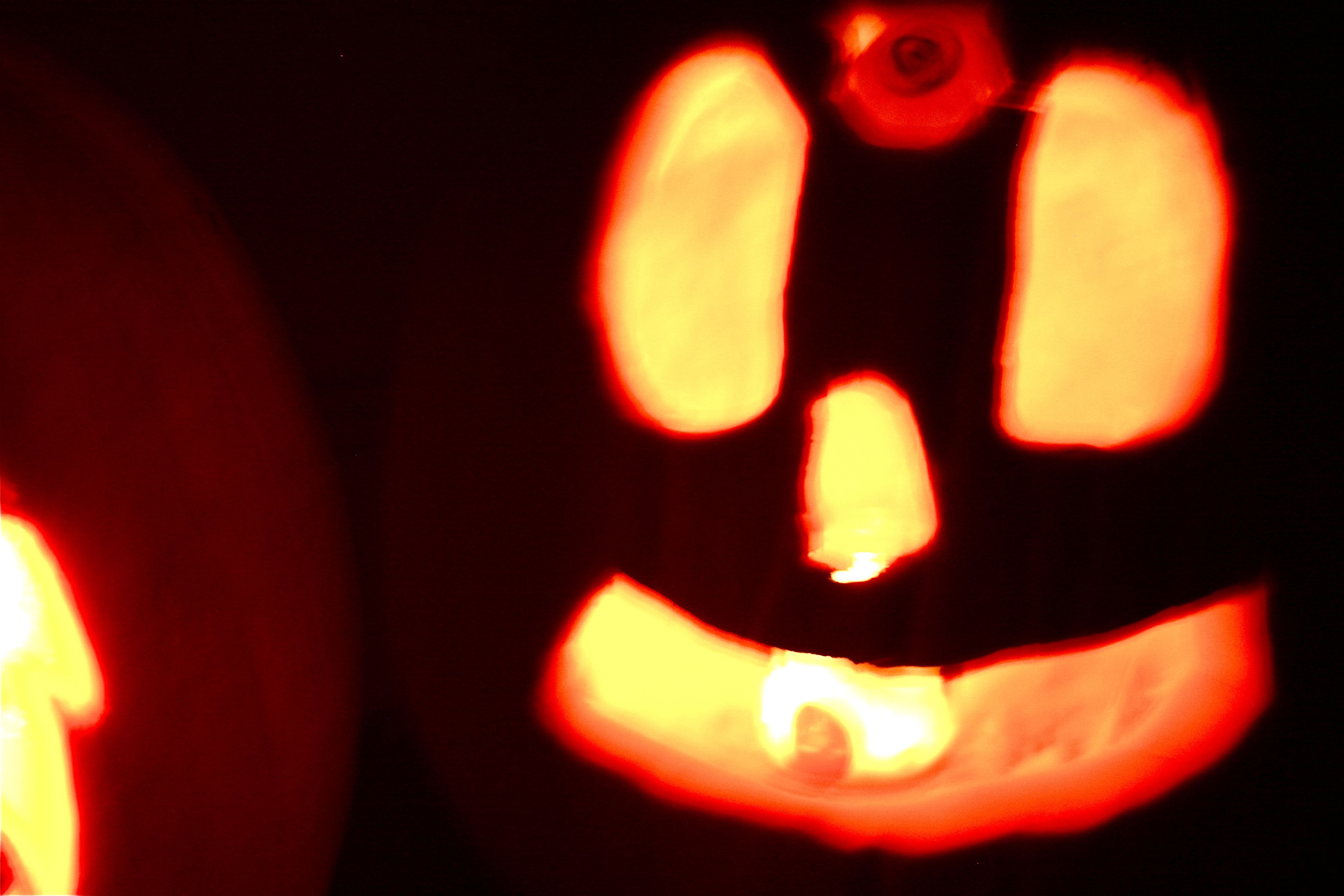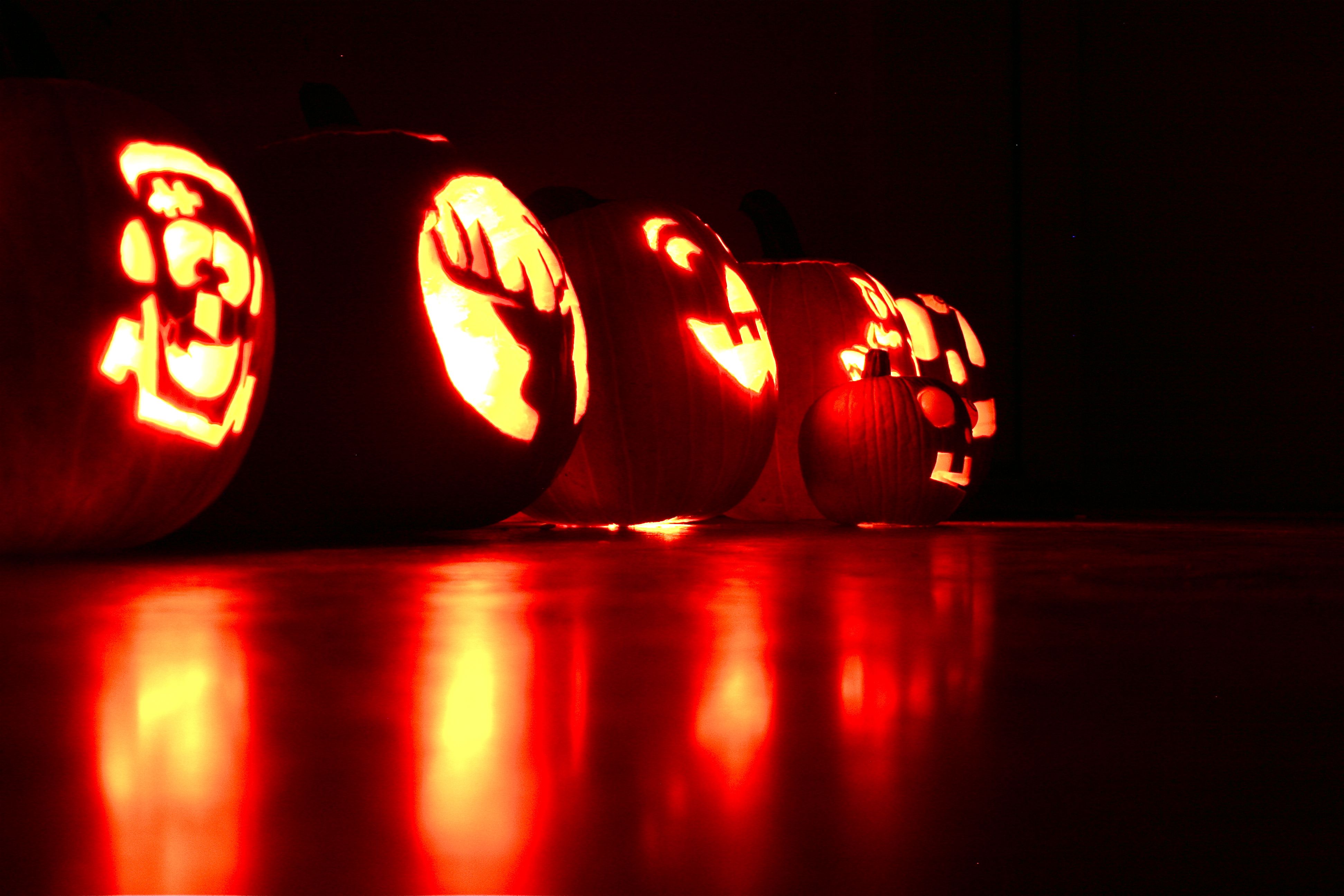 We had a great time reverting back into kids (with vastly improved motor skills) again. We joked about how this particular get-together was the quietest we'd ever been – Everyone was so intent on carving and getting the details just right, that we were more silent then chatty. Definitely an oddity!
What did you guys do with YOUR pumpkins? There are so many cute ideas out there this year…
Oh! And can someone PLEASE tell me what on earth I did wrong with my cupcakes?? I must not have gotten the baking gene or something…Should I have microwaved the chocolate cake icing until it was runny? It was room temperature at the time I tried to use it – Never been refrigerated. I am flummoxed…
Happy almost-Halloween!!!